How to clean white Vans shoes so they can look brand new? Definitely not just me but many Vans' devotees at least one time want to figure out the answer for this question.
Vans is undoubtedly a popular brand name for high-quality and innovative footwear not just in America but also around world. Vans merchandise, especially white shoes, are loved by many people for their basic yet fashionable design, from celebrities, fashionistas to college students and family members.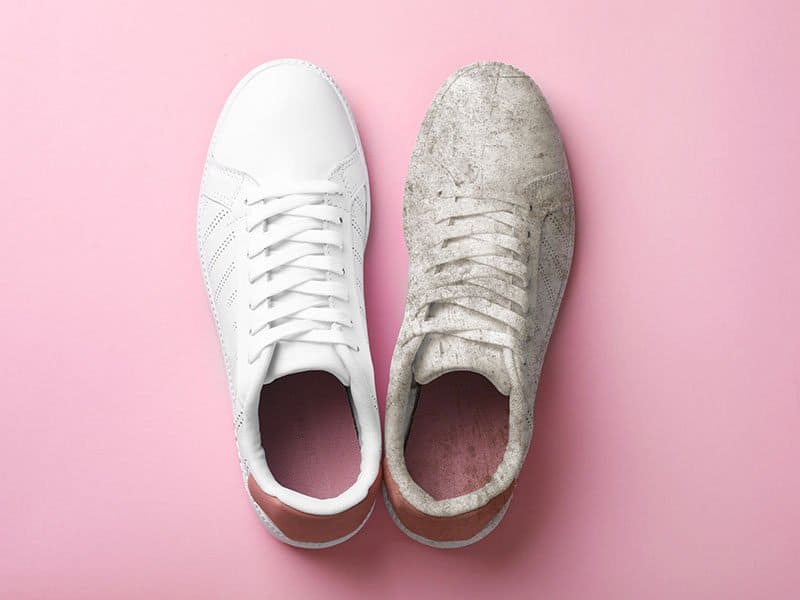 But the problem is that white shoes can easily get dirty and stains or scuff marks, and once they are dirty, their aesthetic value might be ruined, leveling your whole outfit down. Therefore, all you need to do is finding some simple yet effective solutions to solve this problem.
And there you go. I have written this post to give you some best ways of cleaning your white Vans properly. Hope it will be helpful for you. But firstly, let's get to know more about this brand.
About Vans Company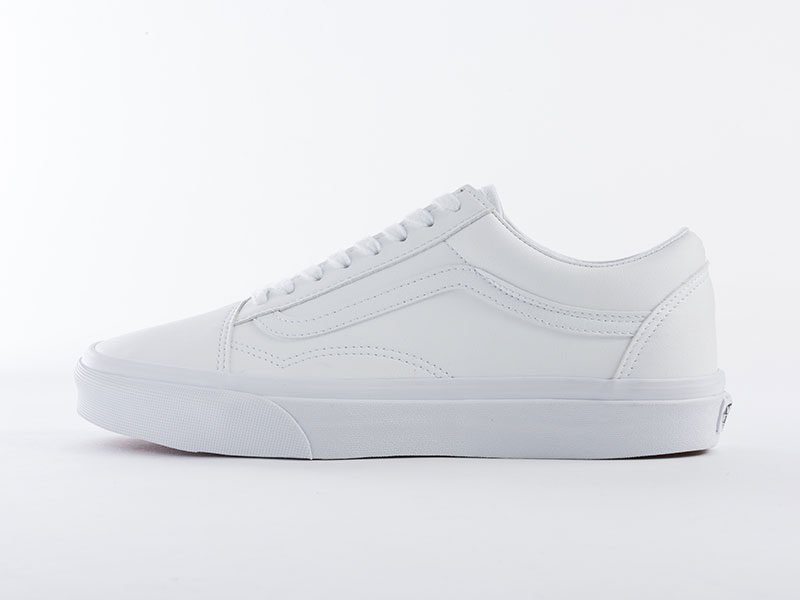 Established in California on March 16, 1966, Vans is the brainchild of brothers Paul and Jim Van Doren. They started to produce deck shoes with their unique gummy sole and sold to twelve customers. And Vans #44 deck shoes, also known as authentic nowadays, became the original product of Vans sneakers.
For many years later, Vans continuously released various remarkable product lines such as: Old Skool model (Vans #36) which is the hallmark shoes of Vans; Sk8-Hi (Vans #38) with the tubular ankle guard for skateboarder; Era (Vans #95) which is the most celebrated product line of the company; Classic Slip-Ons (Vans #98) which becomes the inspiration for the iconic logo of Vans, and so on.
In each product line, white shoes are usually the best seller. White Vans shoes are an ideal selection for anyone of any age. Not only do they can fit with any clothing style in any situation, but they are also the symbol for "simple", "basic", and "timeless". Therefore, they undoubtedly become an indispensable item in everyone's closet.
Materials of White Vans Shoes
Understanding the material of your shoes will never be a waste of time. It helps you comprehend your shoe friends as well as know how to treat them better. Typically, Vans offers three main types of materials for their product line:
Canvas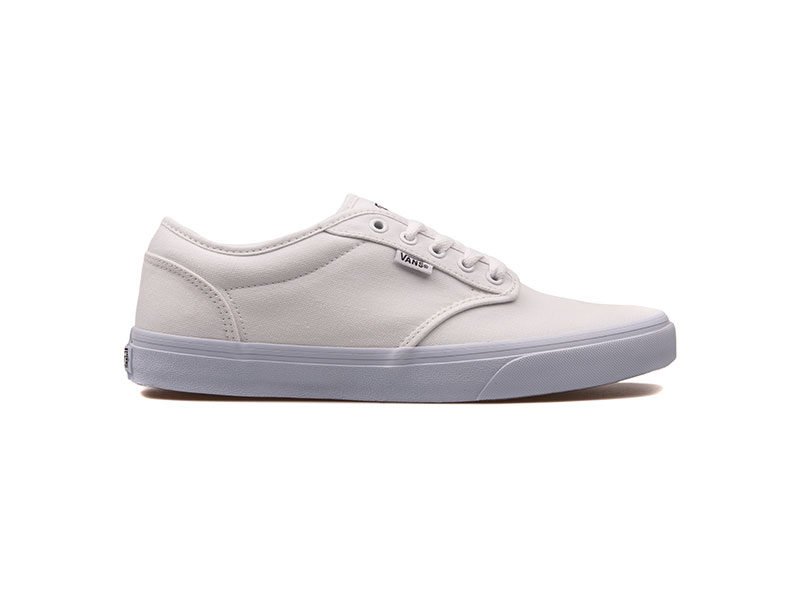 This is probably the most popular and basic choice among other types of fabric.  Due to the economical reason, typical canvases nowadays are made of cotton or linen, along with the participation of polyvinyl chloride. Vans uses cotton from the Better Cotton Initiative to produce their canvas shoes, which helps to reduce environmental impact and enhance the life in producing areas.
Furthermore, canvas shoes are well-known for their durability and low-maintenance requirements. Once you bring a pair of canvas shoes home, forget about complicated special treatment. They are easy to wash and store.
However, canvas shoes are lack of shock absorption. Therefore they are not an ideal option for sport or dance activities. They are suitable for casual life or school activities.
Leather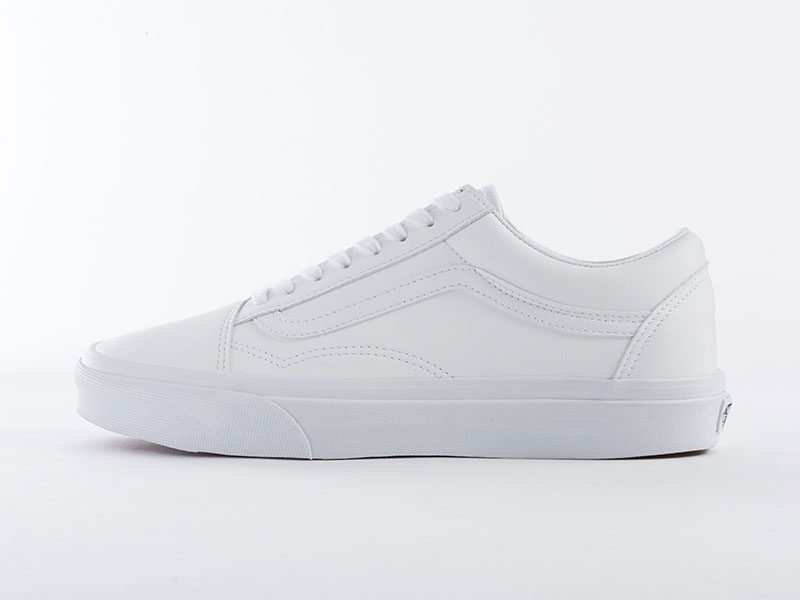 Leather Vans shoes are made of leather certified by the Leather Working Group, which means those materials are produced with less negative impacts on the environment. They are made with less water use, energy consumption, and waste while reducing air pollution.
Thanks to the superior waterproof ability, leather Vans shoes are designed to withstand the changeable weather. Besides, their durability is no joke. However, this type of shoe tends to have scuff marked when contacting other objects, but don't worry, the solution is right there for you after a few more sections.
Suede
This type of material comes from the underside of animal skins, which gives a soft and napped finish to the shoes. It can be the underskin of lambs, calves, pigs, or deers. Thanks to bringing a smooth, delicate, and elegant feeling, suede is preferred in producing luxury outwears and accessories, including shoes.
Still, suede shoes are not really good at resisting water and moisture. The durability is another weakness of this type of shoe when comparing with the regular full-grain leather. Therefore, it requires more careful maintenance to prolong its beauty and lifespan.
How to Clean White Canvas Vans Shoes?
If you are a fan of Vans, the chances are that you will have at least one pair of white canvas shoes in your footwear racks. Below are some effective ways that you should try to get your Vans white like new again.
DIY Method: Using Baking Soda With Hydrogen Peroxide
Baking soda, or sodium bicarbonate, is already too famous for its cleaning and whitening ability. This ingredient is a type of mild alkali, so it works as a cleaning agent. When it comes to removing dirt or stains in a safe and effective way, baking soda performs an incredible job.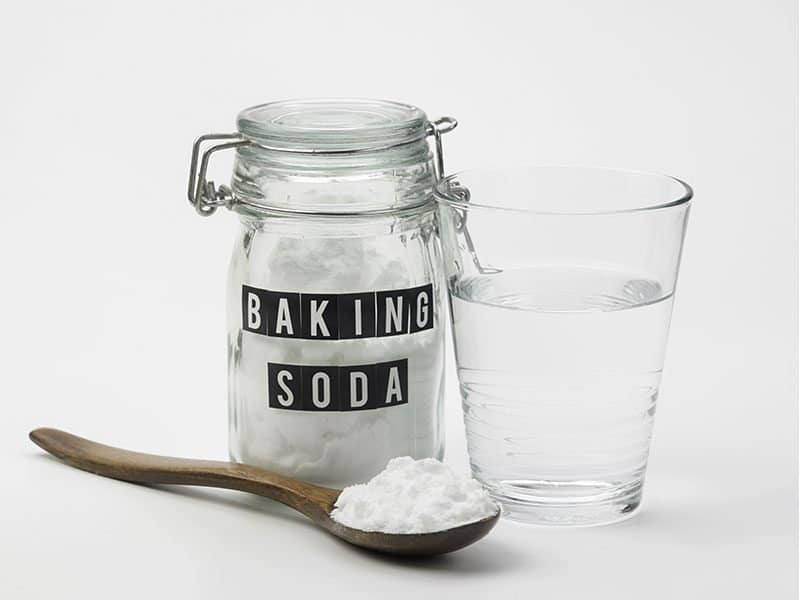 Meanwhile, hydrogen peroxide is a golden candidate for non-toxic cleaning. Appearing in the liquid texture, it is a powerful, versatile yet safe cleaner that can kill bacteria and viruses.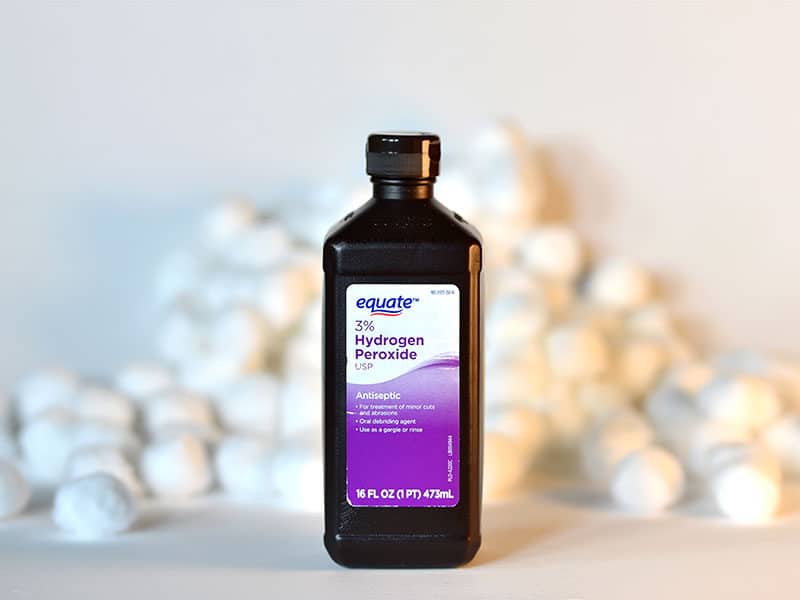 Opt for 3-6% hydrogen peroxide solution since it is versatile enough to deal with many cleaning tasks. Do not go higher or lower because it will not be suitable for cleaning tasks anymore. I highly recommend you choose the 3% solution.
How to Apply:
Follow these steps to clean your white canvas Vans without any hassle:
Step 1: Combine baking soda and hydrogen peroxide with the ratio of 2:1
With every two tablespoons of baking soda, please add one tablespoon of hydrogen peroxide. You can mix the cleaning solution in a bowl.
Step 2: Apply the mixture with a toothbrush or any type of soft-bristle brushes.
Toothbrushes are suggested because their small head will fit in the shoe's surface. Dip the toothbrush into the mixture and scrub in circular moving over your white Vans exterior until the dirt fades away. Do this step over and over until the dirt is gone. At this time, your shoes will be covered in a paste coating.
Step 3: Let your shoes air dry until the coating is getting solid.
With this step, you don't need to rinse the shoes with water or wipe it with dry cloth. Just put the pair of shoes in the place where sunlight cannot directly reach and let them air dry.
Step 4: Clap the shoes together to discard the solid coating until all residue is removed.
With this step, you can also use a clean and dry toothbrush to rub over the shoes if you feel clapping is not enough to completely get rid of residues on the surface. And then, a new white pair of Vans is ready for you to wear on the streets.
For a more vivid demonstration of how to clean white canvas Vans with baking soda and hydrogen peroxide mixture, do not miss this amazing video.
Chemical Method: Using Specialized Cleaner for Shoes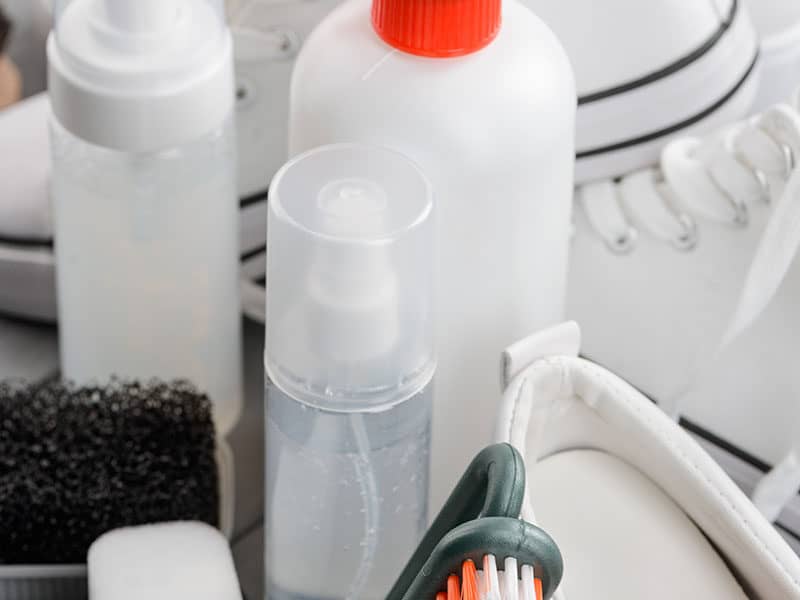 If you want something more professional, this is definitely one of the ideal methods to clean white Vans. Since the shoe cleaners are already measured and produced to clean some specific types of footwear, you can rest assured they will give you satisfying results. These steps will help you master the cleaning task:
Step 1: Mix the cleaner with water
Please follow the manufacturer's instructions printed on the package of the cleaner to have the most effective mixture.
Step 2: Prepare a bowl of clean water.
This bowl of clean water will help you to get rid of all the dirt staying on the brush while cleaning. Place this bowl nearby the bowl of cleaning solution.
Step 3: Use a toothbrush to apply the cleaning solution on the Vans upper.
To effectively remove dirt on your shoes, move the toothbrush circularly. When you want to apply more cleaning solution, remember to dip the dirty toothbrush in the bowl of clean water first. Once all the dirt is out, you can dip the toothbrush in the cleaning solution and continue to clean your white shoes. Repeat this process until your shoes are clean.
Step 4: Rinse the white Vans
You can rinse them with water directly or just simply use a wet cloth to wipe over the surface until they are fully white and clean.
Step 5: Wrap over the shoes with paper napkins or paper towels and leave them air dry.
Well, this is important. One popular problem of white shoes is that they tend to get yellow stains easily after staying air dry under sunlight exposure. To prevent this situation, just simply wrap your shoes with soft paper before putting them outside for air dry.
And this is also the final step of this simple method. Now how about pausing for a moment and watch a fan of Vans making his super dirty shoes white again via this video?
One useful tip for you: buy a versatile cleaner that can also work on leather and suede Vans. Therefore, you can apply this cleaning method to other types of shoes. Remember to be gentle when cleaning leather or suede shoes cause they are more vulnerable and easier to wear out than canvas.
But is it the only way to clean leather or suede Vans? Are there any other interesting methods that you can try on? Keep reading and find out in the next part.
How to Clean White Leather Vans Shoes?
Here I have come up with some other methods for you to deal with dirty leather Vans. Check them out right now!
Method 1: Using Washing Powder or Laundry Detergent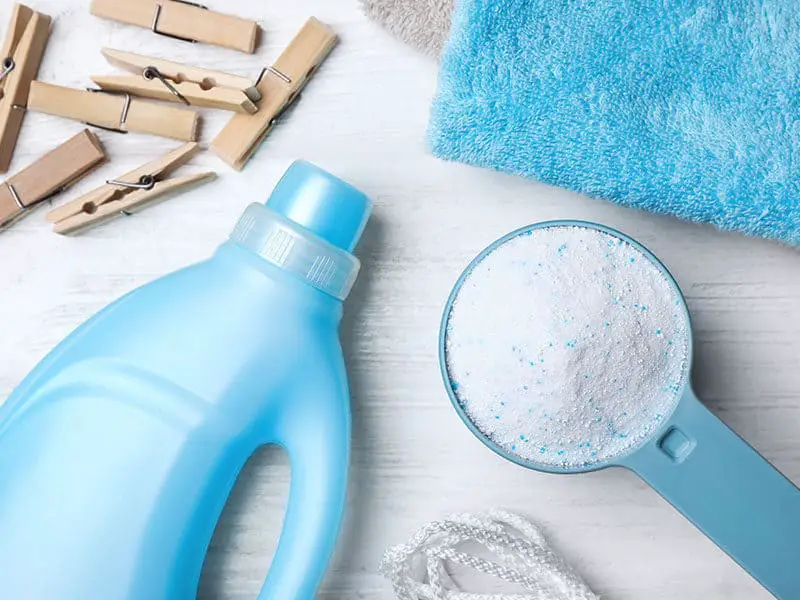 In spite of being different in texture, both washing powder and laundry detergent are used for outwear washing and dirt removing. This method is simply making use of what you already have in your laundry room. Follow these steps to make your leather Vans look like brand new:
Step 1: Wipe the shoes with a damp cloth to remove dry dirt on the surface.
Step 2: Mix around 30ml of laundry detergent or one scoop of washing powder into a bowl of warm water.
I don't recommend using cold water. In fact, warm or hot water is better at removing the dirt from any surface. This is because the molecules of hot water basically move faster than the ones from cold water.
Step 3: Use a soft-bristle brush or a cloth to apply the mixture onto the shoe exterior.
Unlike canvas, leather shoes are prone to wear out if they are under harsh scrub. Therefore, please gently move the brush or the cloth in circular motions to protect the lifespan of the shoes.
Step 4: Once the dirt is gone, wipe the shoes with a dry cloth and leave them air dry.
Make sure the foam or residue is totally gone away before you let your shoes air dry. Don't forget to wrap over your shoes with paper towels to protect your shoes against UV exposure that causes yellow stains.
Method 2: Using Toothpaste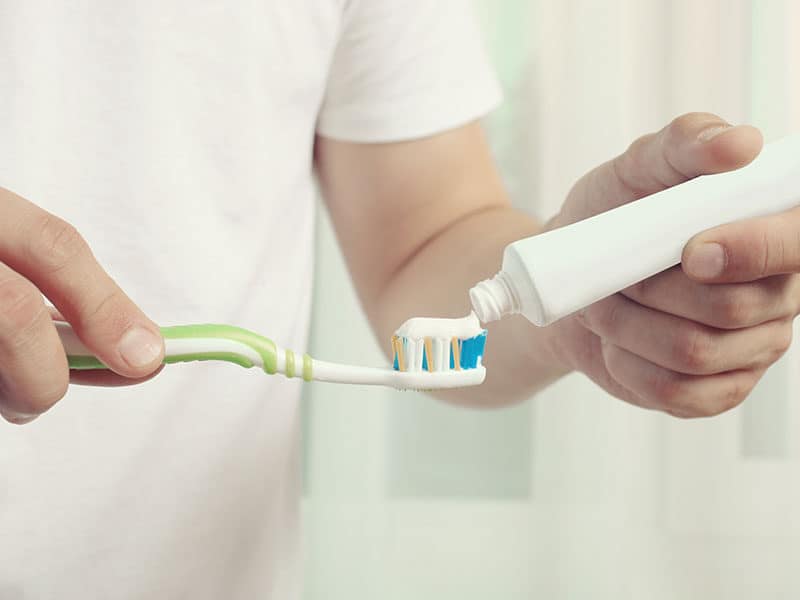 If you still see some stains or scuff marks on your white Vans, it's time to try on this second solution. Common toothpaste contains three main components: Fluorides, abrasives, and surfactants. In this case when we use toothpaste for shoe cleaning, it is essential to talk about abrasives and surfactants.
Abrasive: This component plays a vital role in removing dirt, debris, and some kinds of stain on the surface where it contacts with. Therefore, it takes 50% of the total content of common toothpaste. The most popular abrasive that you will surely know is baking soda, or sodium bicarbonate.
Surfactant: This component allows the toothpaste to work by creating foam, which helps other active components coat the surface. Without the help of surfactant, the abrasive and other components can't find a way to run their power. Sodium lauryl sulfate (SLS) is probably the most common surfactant on toothpaste.
Now, after getting to know two main ingredients of toothpaste, it's time to apply this method on your white leather Vans and see how amazingly it works:
Step 1: Apply toothpaste on a soft-bristle toothbrush
Step 2: Rub over the shoe in circular motions
Thanks to the smooth and glossy texture of leather material, the toothpaste can go easily on it. With the area that is damaged by stains or scuff marks, remember to rub it more thoroughly. Do this step until your Vans are clean.
Step 3: Wipe the shoes with a damp cloth to remove residue and foam
Step 4: Let your Vans air dry.
Here is a demonstration video that will show you clearly two cleaning methods I have mentioned to you above.
How to Clean White Suede Vans Shoes?
For anyone who owns a pair of white suede Vans, this section will be helpful. Suede shoes bring the feeling of stunning and high-end fashion vibe, but keeping it clean is not a simple job that you can do carelessly.
Method 1: Going Natural With Vinegar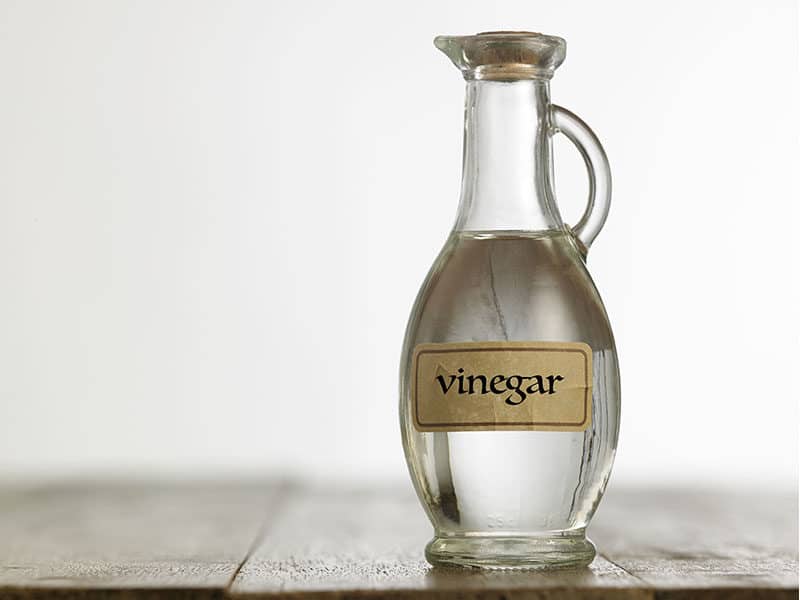 If you prefer a mild and natural cleaning option, then consider this method:
Step 1: Get rid of loose dirt staying on the shoes
It is necessary to prepare a specialized suede brush to protect the exterior of your shoes. Use the suede brush to gently rub over your Vans until there is no loose debris and dirt on them.
Step 2: Use the pink pencil eraser to rub over the stain areas.
Pulverized pumice is added into the production process of making this type of eraser, therefore, it has better abrasiveness than white erasers.
Step 3: Dip the cloth into white vinegar and rub over your suede Vans until they are free from stains.
Vinegar, which contains natural acetic acid, is already well-known for its ability to dissolve dirt, grease, bacteria, or grime on many surfaces. When it comes to shoe cleaning, vinegar provides a safe, non-toxic, and economical solution for everyone. I highly recommend using white vinegar for the best result.
Step 4: Wrap the shoes with paper towels to absorb excess moisture
Step 5: Let them air dry. Do not put them under direct sunlight exposure.
Step 6: Once they are dry, rub the surface with the suede brush to return its smooth appearance as usual.
Method 2: Go for Specialized Suede Cleaners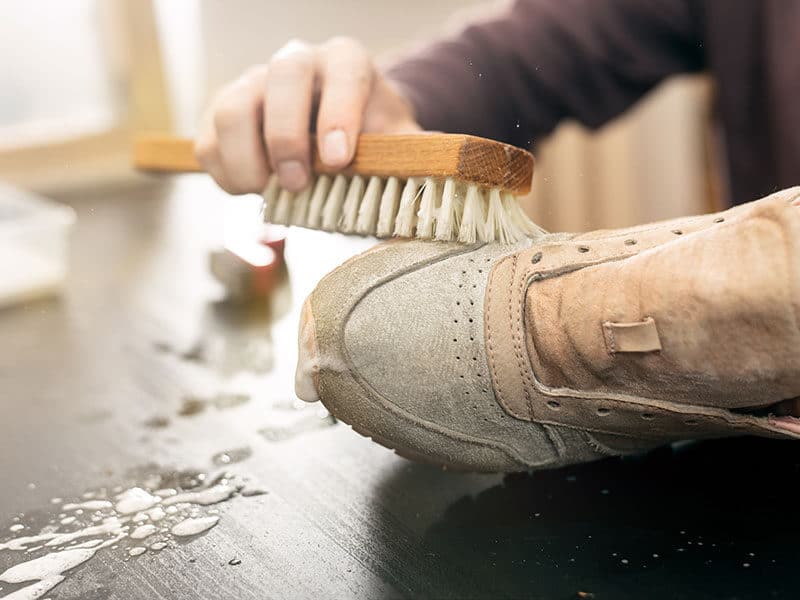 In case you want a more professional cleaning solution, you should look for specialized suede cleaners on the market. Such cleaners are carefully measured and produced to safely work on suede texture without harming it. Now, follow these steps to know how to apply it on your white Vans:
Step 1: Rub over the shoes with a suede brush to remove loose dirt.
Step 2: Apply the cleaner into the suede brush and scrub over the exterior of your Vans.
Make sure the brush is clean before doing this step. You should not rub it too strongly to prevent your shoes from getting damaged.
Step 3: Use a dry towel to apply the "dab and twist" method.
Dab and twist the towel on the shoes surface simultaneously. These actions will take dirt out effectively while slowly bringing the nap back.
Step 4:  Repeat step 2 and step 3 until your white Vans are completely clean.
Step 5: Leave the shoes dry in the air.
It is definitely not a waste of time to check on this video. The guy on the video will show you how to apply the "dab and twist" method properly when cleaning suede shoes.
Some Quick Ways to Clean White Vans Soles
I already give you some useful methods to clean the upper part of your white Vans. And how about the rubber part that we usually call "sole"? This part also gets stains or scuff marks easily. Figure out how to clean Vans sole right now!
Method 1: Magic Eraser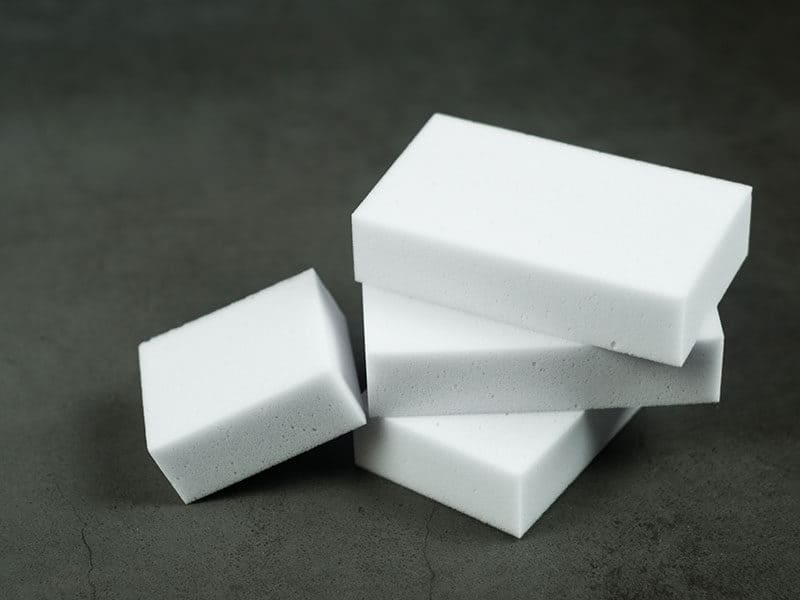 "Magic Eraser" has become a popular term for cleaning tasks in many households. It is produced by Mr. Clean, one of the big brands having its own reputation in the home cleaning field.  It looks like a sponge but works impressively on removing stains. Are you curious about the secret behind it?
In fact, magic cleaners are actually melamine foam sponges. When contacting with a little bit of water, melamine foam will be activated to deal with stains or dirt. This sponge is safe for cleaning purposes, but you should not rub it on your skin or let your kids play with it.
These simple steps below will let you know how to clean the Vans soles with Magic Eraser:
Step 1: Dampen the magic eraser with warm water.
Step 2: Scrub the sponge along the sole lines.
Do it thoroughly on the stained or scuffed areas. If the stains are too stubborn, you don't need to use too much energy and arm strength to scrub them.  Drop a small amount of laundry detergent or shoe cleaner on the damaged area and scrub again with the magic eraser.
Step 3: Once the soles are clean, wipe them with a dry cloth.
Method 2: Nail Polish Remover – a Simple Solution to Remove Scuff Marks on Soles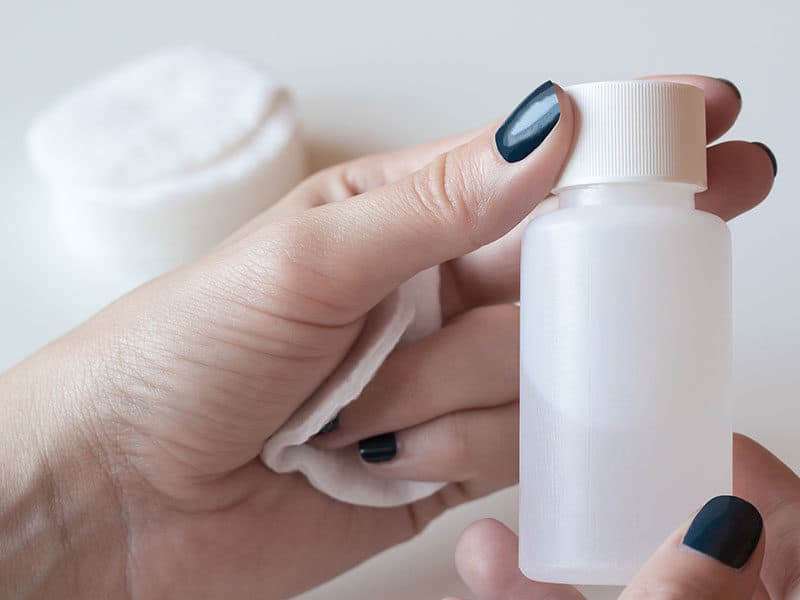 This method is only suggested for shoes with white soles. I don't recommend applying it on sneakers with color soles since it may damage the color. Shoes that are caked with mud are also not suitable for this method. Follow these steps to clean the soles easily:
Step 1: Wash the soles to discard dirt or mud.
This step is important. If the soles are still covered with mud or dirt, applying nail polish remover is completely a useless thing.
Step 2: Add some drops of nail polish remover into a small cotton ball.
Step 3: Scrub the cotton ball in the scuffed areas first.
Scrub over and over again to remove the scuffed marks. If the cotton ball is unable to work anymore, you should change a new ball and repeat this step until the scuff marks disappear. One thing to keep in mind: never apply nail polish remover onto the fabric area of your Vans.
Step 4: Soak a new cotton ball into nail polish remover and clean the whole sole area.
How to Clean White Vans Shoelaces?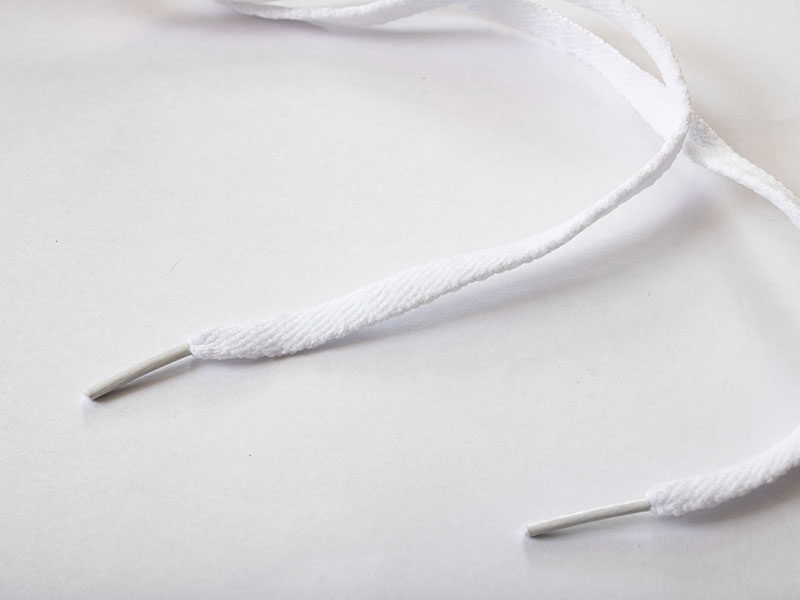 Imagine your shoes look brand new, but the shoelaces are dull and dirty. It's quite disturbing to imagine such an incomplete combination like that, right? Shoelaces are also an important part that you should pay attention to.
Here is a simple method that you can follow to wash your shoelace.
What to Prepare:
Laundry detergent
Bleach (if necessary)
Water
A toothbrush
How to Apply:
Step 1: Remove the shoelaces from your sneaker.
Step 2:  Mix the detergent with warm water into a bowl
Step 3: Put the shoelaces into the bowl and let them soak in for about 30 minutes.
At this step, if your shoelaces get some tough stains, you should add a small amount of bleach into the bowl. The bleach will undoubtedly remove those stains effortlessly. However, you should wear rubber gloves to protect your skin from the bleach.
Step 4: Take the shoelaces out and scrub them with a toothbrush to get rid of stains and dirt.
Step 5: Rinse the shoelaces under direct clean water.
Step 6: Wrings them out of excess water and let them dry by hanging up outside.
This video will show you a clear instruction on how to clean shoelaces in a quick and easy way.
Do and Don't When Cleaning White Vans Shoes
So I have already given you several specific ways to safely clean your white Vans with different material. Now I will sum up some important things that you should and shouldn't do when cleaning your shoes. Write down all of them on your note paper right away:
Do:
Remove the loose soil clinging on the exterior of your shoes before starting to wash them.
Begin with the shoelaces first to save your time. You can clean the shoes and soles while waiting for the shoelaces to soak in the detergent liquid.
If the stains are too tough that natural cleaning solutions cannot solve completely, trying professional shoe cleaners first before thinking about bleach.
If the cleaning tasks are involved in bleach, only use dry-free bleach to prevent your white shoes from getting yellow stains.
Wear rubber gloves if you have sensitive skin or when you have to work with bleach.
Hand-washing is always recommended.
Stuff your white Vans with paper towels before letting them air dry on the outside. It will help your shoes avoid yellow stains caused by sunlight.
Consider using a suitable waterproofing product to maintain its glossy look and protect your shoes from getting dirty or scuff marks.
Don't:
Do not place your white shoes in the dryer.
Do not put your Vans in the washing machine.
Do not clean your white Vans with harsh detergent or chemicals. With bleach, do not use the full strength of it. Instead, please dilute it before using it for shoes.
Do not wash the shoes too often. If your shoes continuously contact with cleaning solution within a short time, the chances are that their lifespan and appearance will be affected.
Do not dry your white shoes under direct sunlight. Find a dry and clean area with shade to place your Vans.
FAQs
Let's discover some frequently asked questions about cleaning white Vans shoes and get to know their answers as well. This part will only take you a few minutes to read, but you will gain extra useful information to treat your shoes properly.
Expectation vs. Reality
Now it's time to apply those methods that I have written above to make your white Vans clean in reality.
The material of the shoes will decide which method you should choose and which tools you should prepare. Do not apply the canvas cleaning method for suede shoes or leather shoes, and vice versa. Besides, hand-wash is always recommended to protect the shape and texture of your shoes.
Finally, I hope you will get useful information after reading my post. If you have any questions or useful tips to share with other people and me, leave a comment down below. I am eager to hear from you. Thank you for spending time on my article. Have a nice day.