A suede couch gives a pleasant and comfortable seating experience and has become a piece of beloved furniture worldwide. However, as the material is not smooth, such as leather, it is a little harder to clean it and more straightforward for dirt to stay on the fabric.
Hence, you should, from time to time, clean your suede couch. But before you get started right away, read in this article how to clean a suede couch the right way. It may surprise you, but there is a lot that you could do wrong when cleaning a suede couch.
And I guess you do not want to make the material age quickly or destroy the suede fabric's comfortable feeling. If you follow the methods that I present to you below, you can rest assured that you treat your comfy sofa positively.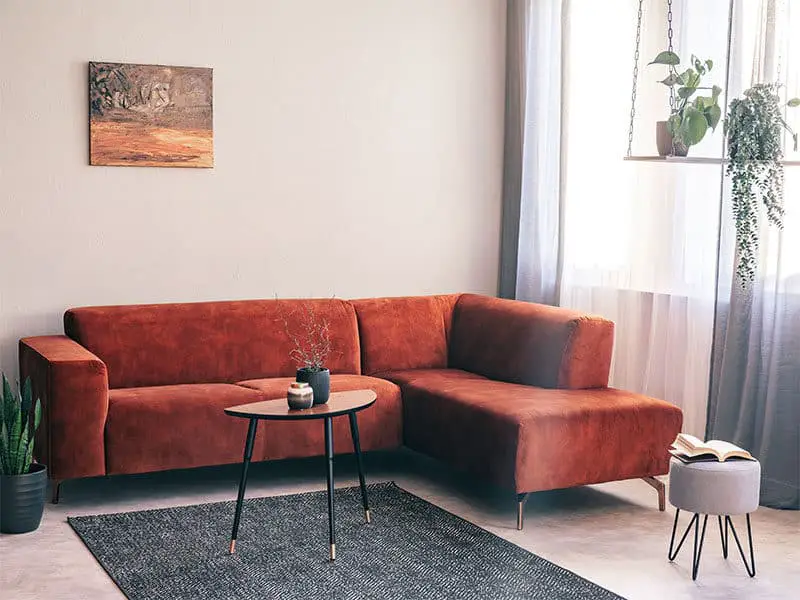 How Often To Clean A Suede Couch
Considering that suede is a rather sensitive material, it is important to find a good balance between regular care without exaggerating it.
As a good rule of thumb, you should do the simple clean-up, later described as method one once a week, ideally at the same time when you vacuum your home. Moreover, spills and stains that happened accidentally must be cleaned at the moment they occurred for best results.
Understanding The Material Suede
It can help a lot if you know the basics about suede, as you can then understand the purpose of all the cleaning methods.
If you a fashionista, you might have come across the term suede, as it is widely used to produce shoes, especially Chelsea boots or sneakers, but also handbags and furniture. It is a soft but rough type of leather crafted from the animal's underside.
Thanks to its many tiny raised fibers on the outside of the leather, it provides a soft and comfortable feeling and has found its application on couches or other seating furniture.
As suede is a type of leather, it has to be treated with the same kind of care as smooth leather, avoiding water and intense heat exposure. Furthermore, the extensive use of chemical products is not recommended as well.
How To Clean A Suede Couch – Step By Step Guide
After you have a basic understanding of the material's sensitivity, it is time to get started with the actual work. Make sure to read every step carefully before getting started so that you will have everything ready.
Method 1: Regular Cleaning
This method is a relatively quick way to clean your suede couch, and it is best to perform it frequently during your weekly house cleaning.
What You Will Need:
Suede suitable stain repellent spray
Suede Brush
Step 1: Stain Repellent
Spray a stain repellent that is suitable for suede on your couch. Work your way from section to section to make sure that you cover the entire sofa. Read the instructions on the bottle and follow the recommendations regarding the ideal amount per sq ft.
Once your full sofa is covered with the spray, give it a few minutes to work well. In the meantime, prepare your vacuum cleaner.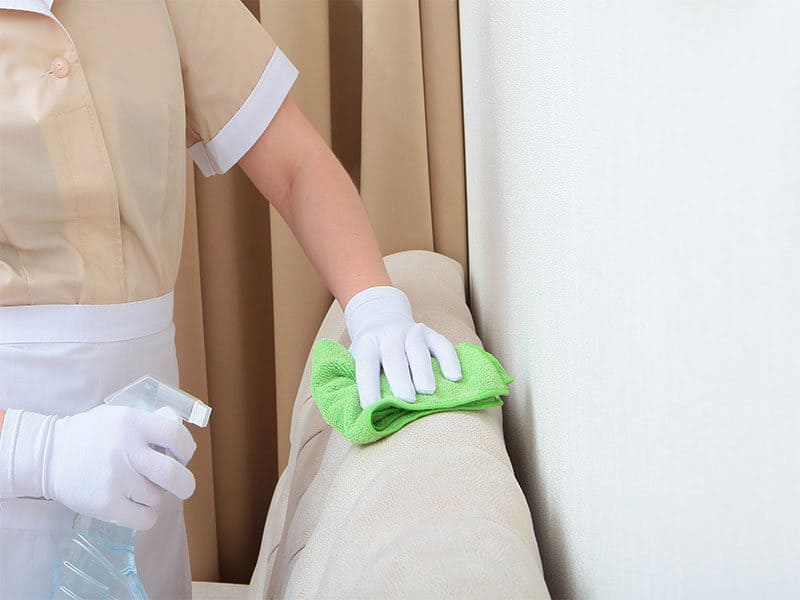 Step 2: Vacuum
Vacuum your entire sofa. Start with vacuuming all sides of the seat cushions, and then remove them from your couch. Continue sweeping the seatbacks, and then use a suitable nozzle to vacuum any trapped hair in between the sections.
Never skip this step, especially if you have pets. Many clouds of dust, hair, and dead skin cells fall in between these small gaps. When you remove them frequently, they will not have the chance to become embedded.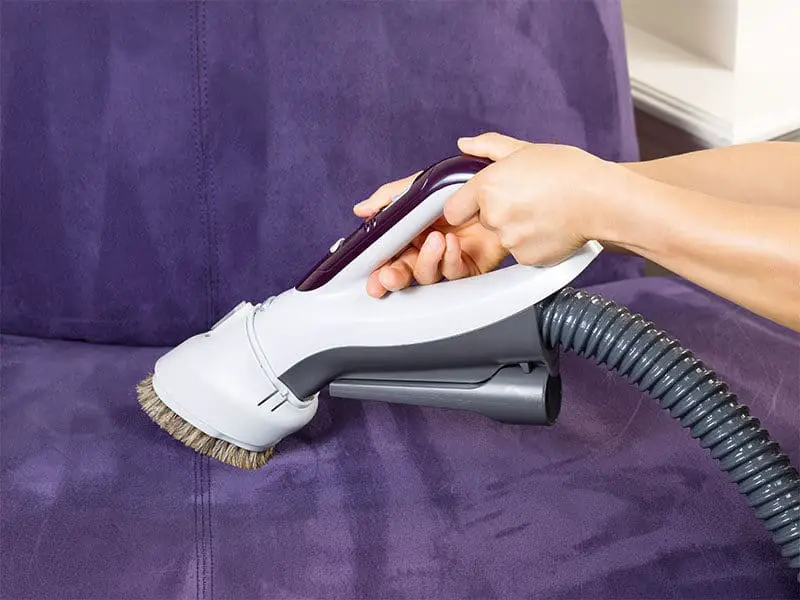 Step 3: Suede Brush
Once done with vacuuming, take a suede brush and wipe all sides of the cushions. This will further remove any dirt that the vacuum had missed before and make the cushions look fresh again.
Cleaning Frequency:
It is recommended to perform these steps once a week. Ideally, you add this to your weekly cleaning tasks. As a result, it will last much longer if the entire home has been vacuumed simultaneously.
Method 2: Removing Wet Stains
This method is suitable for removing humid types of stains, such as spilling a drink or other liquid stains.
What You Will Need:
Two cloths
Suede brush
Suede cleaner
Vacuum cleaner
Step 1: Cloth Cleaning
Take a clean cloth and make it wet by either using a certified suede cleaner or white vinegar. Then carefully rub the dirty areas, making circular movements. You can also rub gently in the cross pattern if you prefer that style.
Step 2: Polishing
Give your sofa a few minutes to dry again, and then continue polishing the surfaces. To do so, take a second suede cloth or a suede brush and softly sweep over the leather to thoroughly remove the liquid stains.
Step 3: Drying And Vacuuming
Before placing back all pillows, make sure that the pot is completely dried. If you wish, you can use this occasion to also vacuum your couch after polishing. This is usually done with a handheld device pretty quickly and conveniently and very useful if you have pets.
Cleaning Frequency:
This method is for on-demand purposes; hence, you do not need to perform this type of cleaning consistently. I want to advise you to get started with the cleaning as soon as the accident happened.
This means if you by mistake spill your drink clean the effective spot immediately, and do never wait a couple of days. The longer you wait, the more your chances of completely removing the stains will shrink.
Method 3: Dry Stains
Use this method to get rid of the dry solid type of dirt effectively.
What You Will Need:
Suede brush
A suede eraser or brown gum eraser
Sandpaper
Step 1: Brushing
Get started by taking a wet suede brush and scrub the surface with a soft touch to collect loose dirt.
Step 2: Erasing
Next, you can take a special suede eraser. In case you do not have one, you may also use a standard brown gum eraser. The eraser is clean and then go over the dirty spot until the dried dirt is wholly gone.
Step 3: Sandpaper As An Alternative
For a tough, tough stain, an eraser may not be sufficient, and if this happened you can use a little bit of sandpaper and cautiously rub it over the dirt. Avoid pressing too hard and do not make a swift movement as this may damage the sensitive suede material.
Step 4: Finishing
If you have been successful, you can finish the cleaning by bringing suede back into a new shape. Take a suede brush or napping brush and gently move from left to right so that the small fiber will stand upright again.
Cleaning Frequency:
As with wet stains, this method must only be applied when needed. So if, for example, you spill some food, do not wait too long and clean it up immediately, following the steps above.
Method 4: Grease Stains
If you like to eat chips or popcorn on your sofa, you can benefit from this method and recover your couch from your last TV night.
What You Will Need:
Talcum powder or corn starch
Vacuum cleaner
Suede brush
A suede eraser or brown gum eraser
Step 1: Power With Talcum
Please take a little bit of talcum powder or corn starch into your hand and sprinkle it over the greasy spots. Please do this as soon as you discover the accident, and then let it sit for a few hours, ideally overnight.
If you have babies, you can use baby powder as well, as it mainly contains talcum. The powder will absorb the fat and oil from the suede, allow it sufficient time.
Step 2: Brush or Vacuum
The next day, you need to the powder again by using a vacuum cleaner or a suede brush. I prefer a vacuum over a brush, as you may distribute the powder to another section of the sofa.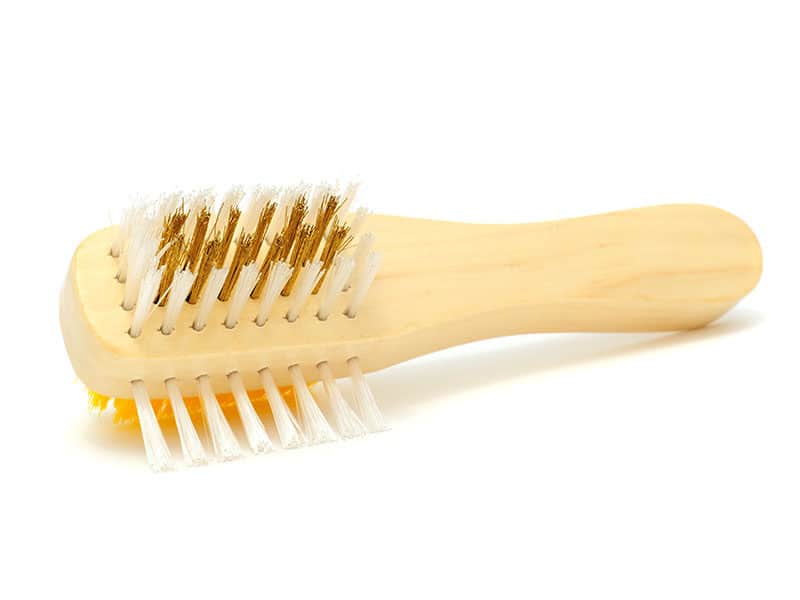 Step 3: Erasing
Following the vacuum, you can take a suede eraser, if available, a standard brown gum eraser to eliminate any residual stain. Depending on how strong the grease spot is, you may need to repeat all those steps a few times.
Cleaning Frequency:
Only use this method if you have oil or fat stains on your couch, and repeat the method as much as needed to remove it altogether.
Method 5: Bloody Stains
To be honest, blood is the most difficult stains to clean out of suede. Nevertheless, there is a promising method that I am going to show you. Before beginning, check the care label of your couch for the cleaning letter.
If it shows an S, a W, or a combination of those, you can continue with the method below. Should you, however, see an X, you cannot use this method as the couch must not get in touch with water at all.
What You Will Need:
Filtered water
Hand soap
Sponge
Cloth
Step 1: Create A Mixture
In a bowl or small bucket, mix warm water and hand soap. Take a chopstick or a fork and stir the mixture to create as many bubbles as possible.
Step 2: Scrubbing
Take a clean sponge and slightly dip it into the mixture while only using the bubbly foam. Then, apply it to the dirty spot making microscopic circular motions. This will prevent spreading the blood further.
Step 3: Drying
If you see that the red color has entirely disappeared, take a clean, soft cloth and press it above the clean area to make it dry. Further, allow for a couple of hours to air dry before putting back pillows on your couch.
Cleaning Frequency:
As suede is rather sensitive against heat and water, do not make it a normal cleaning process, but keep it as a final option if needed.
This video will show you carefully all steps or even additional ideas to clean adamant stains from your suede couch.
General Advice When Cleaning A Suede Couch
In addition to the above steps, it is good to follow these few but beneficial cleaning principles.
If you use any cleaner or detergent, make sure that they are certified for suede.
Also, please read and follow the care instructions that the manufacturer of your couch had provided you when you purchased it.
As suede couch is the best place in the room that offers sufficient ventilation. This can either be achieved by opening windows or using ventilation or air conditioning system.
If you are unsure about some cleaning method, you can test them first as a less visible spot. For example, you used the backside of the sofa, which is not apparent typically.
Expectation Vs. Reality
The methods that I have shown you above are very effective and have been very successful for many people in the past. Nonetheless, some strains can be very stubborn, and you may not be able to get rid of them entirely. In this case, I first recommend you repeat all steps two or three times.
If that does not solve the issue and you want to have your couch clean again, you can still consider hiring a professional cleaning service. There are various providers locatable on the internet, which either perform the cleaning directly in your home or carry the sofa to their facility.
Before making a deal, try to gather as many reviews as possible as, unfortunately, not every service is reliable. On the other hand, if everything went well, I am happy to hear from you about your experience. I am delighted if you drop me a comment. Good luck!