Most homeowners at one point or the other have wondered how to get paint out of the carpet. The carpet in any home is prone to different types of stains including paint stains.
Paint stains are much obvious and hard to remove, they can leave an ugly sight on your carpet especially if they in obvious area of the house. It can be much tougher to remove if the stain is not noticed early.
Removing paint stains from the carpet can be a lot of work to deal with and requires a delicate removal process. In this post, I will guide you through some do-it-yourself means of getting rid of paint from your precious carpet.
Paint Stains
Paint stains happen during the renovation of houses, little spills or streak of paints can get onto the carpet giving it an awful look and ruining the fabric.
Paints are a tough stain to deal with on carpets, and changing carpets regularly can be quite a financial burden on house owners. To deal with paint stains, there are some things to consider and one of them is the type of paint.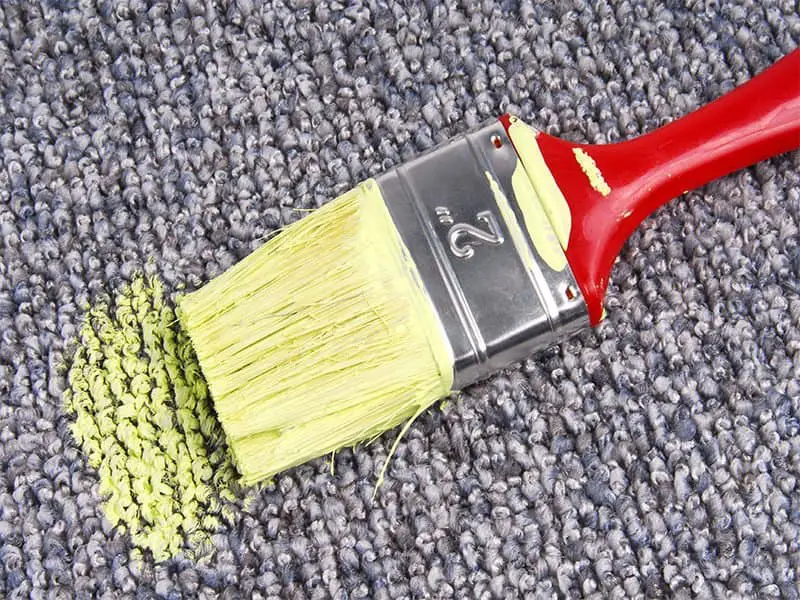 Types Of Paints
There are different types of paints with different characteristics and properties. Understanding how these paints work will enable you to know the best way of dealing with the stain.
Water-based or Latex paint: This type of paint is water-soluble. It is easier to remove than oil-based paint. Even when the paint is dried it is still much easier to clean when compared to other types of dried paints.
Acrylic paint: Although it is water-soluble as well, it dries fast and becomes water-resistant afterward making it hard to clean. The difference between acrylic paint and latex paint is that acrylic paint is chemical-based.
Oil-based paint: Oil-based stains are harder to deal with than water-based paints. It is made from either natural linseed or synthetic alkyd.
Spot Testing
Since there are different methods for cleaning out different paint stains, it is best to identify what stain you will be dealing with first.
The type of paint is usually written on paint containers, you can find out from the paint container you used. Another way of determining the type of paint stain is carrying out the spot test:
Put some methylated spirit on a piece of rag.
Wipe the rag across the paint stain on your carpet.
If the rag is stained by the paint, then it is water-based.
If you do not know which type of paint is on your carpet, treat it as latex first, as this is much safer than starting with the oil-based removal technique.
Preparing For Cleaning Paint Stain
After determining the type of paint stain, you might want to get ready for the cleaning exercise. The cleaning process requires time and effort.
A major preparation exercise is gathering together the materials or equipment needed for the cleaning. You don't want to be at a loss of materials mid-way into the cleaning.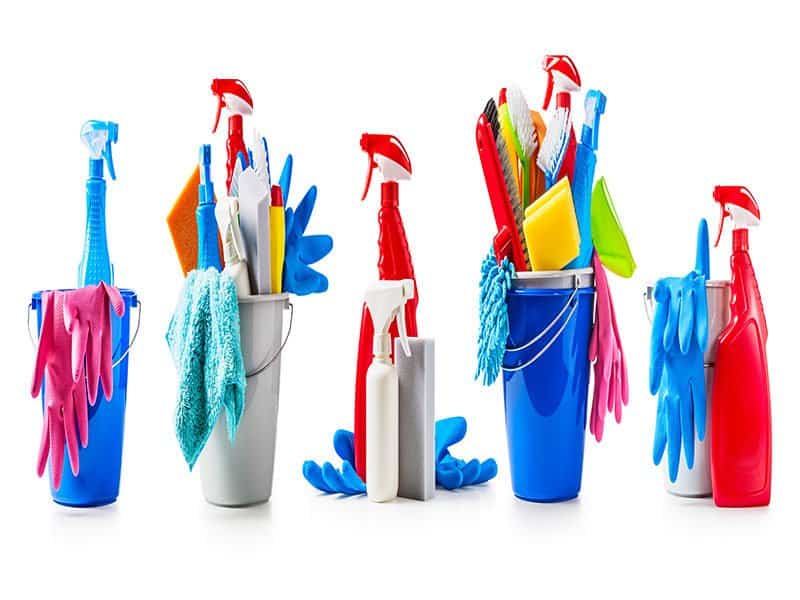 Vacuum Cleaner: Getting a good vacuum cleaner that works best for your carpet. In the case of paint removal, you need a wet vacuum cleaner for cleaning liquid.
Knife: This comes in handy for scraping off dried scaly paints off the carpet fabric. You can also make use of the putty knife as the shape helps in removing paints.
Towel/Rag: You need a soft piece of cloth that is absorbent, preferably not a piece of cloth you use anymore.
Detergent: Detergent is needed to form a soapy solution to wash off some paints.
Liquid soap: This is made into a wash solution for cleaning up paint stains.
Acetone: Acetone helps in removing up paint, especially for water-based paints.
Vinegar: Vinegar serves as a cleaning solution to help in removing paints from the carpet.
Protective wear: Safety has to be ensured when making use of some tools like a knife, and also dealing with some chemicals like turpentine, etc.
Toothbrush: The brush helps in combing out paint stain and removing it.
Turpentine: This is a powerful solvent for getting rid of oil-based paints.
Steamer: This is needed in case there is no wet vacuum.
How To Get Wet Paint Out From Carpet
Dealing with fresh paint is easier and advisable than a dried one no matter the type of paint. If you notice a fresh paint spill or stain on your carpet you should deal with it immediately.
Check out this video on cleaning wet paint from carpets.
Water-Based Or Latex Paints
Step 1: Mop up as much paint as you can from the paint area by dabbing it with a damp towel. Blot the area with a damp towel. Remember blot and do not scrub, scrubbing will continue spreading the paint stain.
Step 2: Add a cleaning solution to the stain. There are several carpet cleaning sprays available to use, you can also make the home-made solution by mixing vinegar and hot water. The solution can be in a spray bottle for ease of spraying on the stained area.
Step 3: If there is a large stain to remove, you can use a putty knife in scraping off some part of the stain. Care has to be taken not to cut off the carpet fabrics while using the knife.
Step 4: Use a wet vacuum cleaner to clean off the rest of the paint, you can also use an effective carpet steam cleaner to do the task.
Step 5: Allow the area to dry, it should come out clean without a trace of a stain.
Acrylic Paint
Step 1: Blot the paint area by adding laundry detergent to a damp towel to loosen the paints. You should blot and not scrub the area.
Step 2: Add acetone to another towel or the end of the initial towel that does not have the detergent.
Step 3: Blot with the acetone to remove more paint from the carpet.
Step 4: Vacuum the carpet using a wet vacuum. If you use a dry vacuum, you can damage it as it cannot absorb liquids.
Oil Paint
Step 1: Remove the fresh oil by taking advantage of the shape of the putty knife to get out the paint as much as possible.
Step 2: If you notice the paint getting dry, you should soften the paint using a steam cleaner. Dab the area with a towel after the paint softens.
Step 3: Add turpentine to a towel and blot. Turpentine is a good solvent for cleaning but can be harmful to the skin, use gloves and glasses while using turpentine.
Step 4: Mix cold water and liquid soap. Use this solution of soap and water to sponge the area to clean off paints and turpentine.
Step 5: Allow the area to dry and vacuum with a wet vacuum.
How To Get Dry Paints Out Of Carpet
If you do not notice paint early enough on your carpet, it tends to dry up and form a tougher stain to remove. These steps guide on getting dry paints out of the carpet.
Watch this video about removing dried paint stain.
Acrylic And Water-Based Or Latex Paints
Step 1: For these dried paints, start by scraping off the paints. Be careful, try not to damage the fabrics of the carpet when scraping.
Step 2: Soften the remaining paint stain by dabbing it with water, allow the water to sit in for some minutes.
Step 3: Use the wet vacuum to dry clean this part
Step 4: Spray the vacuumed area with vinegar, scrub the area using a toothbrush and continue to spray with vinegar till the paints come off completely.
Step 5: Clean the paints and solution by using a wet vacuum.
Oil-Based Paint
Step 1: Due to the nature of oil paints, you need to soften the paint by using a carpet steamer.
Step 2: Mix detergent with warm water or vinegar, put it in a spray bottle, and spray over the affected area.
Step 3: Allow the spray solution to stay in the carpet for some minutes and then vacuum using a wet vacuum.
Dried oil-based paint is one of the most difficult stains to get rid of, some of the dried paint might have clogged up with some parts of the fabric and might need to be cut off.
Protecting Your Carpet
Although the steps highlighted above will help in getting rid of paint stains from your carpet, it is best to prevent paints from getting on your carpet.
Keep furniture painting outdoors: For painting or spraying of furniture, this should be done outdoors or in an area free from the carpet.
Clear up carpets: You should roll up your carpet and place it in the storage room if there is going to be any form of indoor painting (wall painting etc), this is to prevent getting paints all over your carpet.
Keep paints away from kids: Paint cans should be kept away from where they can be knocked over or spilled.
Safety Comes First
Keep the room ventilated while working. it is necessary to keep the room ventilated as you will be working with chemicals like turpentine, acetone, etc. The smell can be harmful if one inhales for long and trigger an allergy.
You will also be working with sharp objects like knives, ensure it is handled properly not to cut the carpet fabric as well as not cutting you. You do not want another bloodstain on your carpet. Ensure safety while cleaning the carpets.
Protective wears are also important for this cleaning task, it prevents contact of the skin with chemicals.
Extra Tips For Your Carpet
If you have a different type of carpet, like the Persian carpet or other types of expensive carpets, the methods stated above might not be suitable for them as this type of carpets are delicate and quite expensive, you don't want to damage them.
A professional carpet cleaner can save you the cost of ruining an expensive carpet. For unusual types of carpets, get the help of a professional carpet cleaner.
As a carpet owner, you might want to try various carpet stain removers to get out paint stain. There are different commercial cleaners, but not all may be compatible with your carpet fabric.
Scrubbing the carpet during cleaning spreads the paint even further, causing damage to more areas of the carpet. As much as possible, do not scrub the carpet no matter how much it appears to be the right thing to do, rather blot.
Avoid the use of salt in cleaning the carpet. Salt may draw out some moisture from the carpet as it is a drying agent, but it eventually creates room for the paint to seep deeper into the fabric of the carpet
Keep Your Carpet Clean By Getting Paint Out
Removing stains from a carpet is not an easy piece of work, especially when the stain is oil-based or dried stains. The steps will guide you in removing the stains, but these steps might need to be repeated several times until the desired result is achieved.
You might be discouraged at first try if the stains are not coming off, especially dried paint stains, but staying on it will remove a lot of paint stains.
Some paint stains might have been deeply absorbed by the carpet, and difficult to remove. In this case, it is okay to call a professional cleaner or make an amendment to the carpet.
I hope you enjoyed reading this guide on how to get paints out of the carpet. What other experiences have you had? And how did you deal with it? Let us know by leaving a comment below.