"When you buy through links on homecleaningforyou.com, We may earn an affiliate commission."
You have invested quite a good amount of money while purchasing that soft luxurious carpet. A single drop of wine on your white carpet or even the stinking pet urine can destroy the flawless look of this material. So, it is high time that you get hold of multiple ways to remove a stain out of your carpet. The steps are simple, and you need to follow them in a proper manner.
Make sure to use the best detergents and other solutions for removing stains from carpets. One stain is different from the rest, or the stain removal methods will vary as well. Just go through all the available options, check out the time of the stain, and then follow the right removal methods.
Steps to Remove a Stain out of Carpets:
Make sure to follow the mandatory steps to help remove stains from your carpet and enrich its glowing new look.
1. Primarily, take two spray bottles and fill out one with cold water. In the next bottle, there should be a mixture of ¼ teaspoon mild dishwashing liquid and 1 cup of warm water.
2. For the second step, spray the detergent solution onto the absorbent cloth. Dab the spot well with the liquid, but make sure not to rub it all the way through. When the stain dissolves, blot it out with a clean cloth. Keep following these applications and blotting processes until you can't see the stain anymore.
3. Now, take another clean piece of cloth and spray it with cold water. Use it for removing the detergent from the carpet. Once done, use the blotting technique with a dry cloth.
4. Take a pile of paper towels and put them on the wet spot. Later, place one heavy pot right on top and leave it like that overnight. This will give enough time to the towels to soak up the residual stain, deep within the carpets. Later, the next morning, use your fingers to fluff the fibers and then allow it to dry in natural air.
5. If the stain is still there, try a more promising and targeted approach depending on the type of stain you are working with.
For some particular types of stains, the removal procedure will vary a bit. So, let's jump straight into those details:
Coffee Stains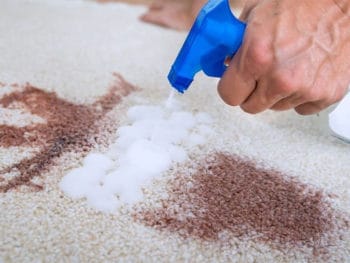 Dry the area using the blotting technique with a white towel
For excessive spillage, make sure not to spread the stain by changing cloths as that might saturate the drink more
Use a mixture of water, vinegar, and a non-bleach detergent
Follow the spritzer method, rinse the stained area, and repeat
Consider this video to see how to effectively remove coffee stain from carpet:
Blood Stains
Use cold water in place of hot for removing blood stains from your carpets
Fill one spray bottle with two teaspoons of liquid and grease-fighting liquid detergent and cold water
Spray it on top of the stain
Moisten up space thoroughly to soak the carpet stain completely
Later, use one dry white cloth or paper towel to blot the bloodstains and transferring those to the cloth
Later, rinse the area with cold water and, if needed, repeat the process
Prefer this video to see how to remove blood stains.
Grease Stains
Blot as much grease stain as you can by applying a substance like cornmeal as one absorbent
Take one brush with stiff bristles to break up the stain molecules
If there are visible grease stains still, apply one dry-cleaning solvent with a clean sponge
Take time to apply dry spotter to the stained zone. This dry spotter is made using eight parts of liquid solvent used for dry cleaning and 1 part coconut oil
Cover the stain using absorbent paper, to help pick up the stains
How to remove grease from carpet? See the video:
Wine Stains
Blot out the excess liquid and try standing on the absorbent cloths if needed
Saturate the stain with Wine Away and then let the solution sit for 5 minutes
Now, blot the area until the stain is completely gone and then remove extra residue with a wet cloth
Stubborn wine stains will need a mixture of one tablespoon dish liquid and white vinegar with 2 cups of warm water
Easy ways to remove wine stain from carpet. See this video below:
Oil Stains
Mix one-quarter of water with 1/4th teaspoon of dishwashing liquid. The liquid brand must not have bleach or lanolin in it
Then apply this mixture on the stain directly using a sponge
Blot the area of the carpet by continuing this process unless no stain is visible
Consider this video to see how you can easily remove oil stains from carpet.
Ink Stains
Wet a cloth with isopropyl alcohol
Then dab this wet cloth on the ink-stained spot directly
Do not rub the liquid in or do not scrub the carpet with it
Let the liquid stand there for a few minutes
Use a vacuum cleaner for removing excessive moisture
Sometimes, you have to treat the stain with alcohol again. Sometimes, nail polish removers or hairsprays might work as well
After using chemicals, rinse the space with water and then vacuum dry the spot or blot it dry
Want to know how to remove ink stains? Consider clicking this video:
Rust Stains
Use a clean white cloth for blotting the affected area
If the residue remains as intact as before, create a mixture by squeezing in lemon juice, salt, and white vinegar together
Apply this mixture onto the rust stain directly
After letting it sit for a few hours, blot it with a damp towel
Removing rust stains from carpet the easy way, watch this video:
Red Wine Stains
Pour two cups of warm water in a bowl and mix one tablespoon of liquid dishwashing chemical and the same amount of white vinegar
Dip one sponge in that mixture and apply it directly on the red wine stain
Continue the blotting process unless the stain got removed
See to video to know how to effectively clean red wine stain from carpet:
Paint Stains
Try scraping off the dried paint as much as you can, using a knife
Then saturate that dried out the paint with water, followed by vacuuming the area with a dry or wet vacuum
Apply a mixture of ¼ teaspoon of dishwashing liquid and vinegar to 32 ounces of water
Spray this mixture directly onto the stain and scrub area with a stiff brush
Then use a dry paper to blot the area when the stains got removed
How to remove paint from the carpet the easy way? Consider this video:
Chocolate Stains
At first, rinse the entire carpet stain with cold water
Now use a little bit of dishwashing liquid and clean dry cloth for rubbing the stain out, using a circular motion
Then, let the mixture sit for a few minutes
Later, rinse the area with cold water all over again, till the chocolate stain disappears
Here is an easy way to remove chocolate stain from carpet – watch video:
Urine Stains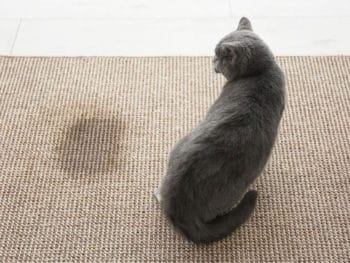 Blot the wet area using a clean towel and absorb the leftover urine
Extract remaining urine using shop-vac
Create a mixture using a one-quarter teaspoon of liquid dishwashing detergent and a cup of warm water
You can spray it with a spray bottle as well
Let the mixture sit for a few minutes before removing it using paper towels
Rinse the area with warm water and follow the process until the stain is completely removed
Click this video to see how you can remove urine stain from carpet.
Tea Stains
Create a solution using lukewarm water and white vinegar in a 2:1 ratio and pour it into a spray bottle
Rub the solution gently into carpet fibers with a cloth and repeat the process
Rinse it with cold water
This video demonstrates how you can clean tea stains from carpet:
Blueberry Stains
Wet the stained area with cold water
Use a mixture of single tablespoon of white vinegar with a half-teaspoon liquid based laundry detergent with one-quarter of cold water
Soak the stain in the mentioned solution for a period of 15 minutes
Rinse it
Consider this video to see how you can remove blueberry stains from your carpet:
Poop Stains
Create a mixture of one tablespoon of dishwashing liquid and a tablespoon of white vinegar with warm water of two cup
Then using a clean white cloth, sponge stain with this detergent vinegar mixture
Blot the area until liquid is absorbed
Use a dry cloth to clean the residue
Did you dog pooped on the carpet? Check out this video below:
Blackberry Stains
Mix solution of 1 teaspoon of the laundry liquid with 2 cups of warm water
Dip white cloth, paper towel or sponge into this solution and blot berry stain with it
Then keep moving to clean cloth area as the stain gets transferred out of the rug or carpet
Use a clean cloth to remove the residue
Removing blackberry stain with ease! Check out this video:
Mustard Stains
Pour a bit of club soda onto the stain directly and use a clean towel to blot it
If the stain is visible still, then spray it with a mixture of 2 cups of lukewarm water and one teaspoon of detergent
Let the stain soak
Here is the ultimate guide to removing mustard stain from carpet:
Dirt Stains
Create a mixture of one cup of warm water and a teaspoon of mild dishwashing liquid
Apply it on the stain, and you can double the amount if needed
Then using a white cloth, blot the solution onto the carpet
This white cloth helps in lifting up the stain
Once dry, use a clean cloth to remove the residue
Here is a video showcasing how you can clean dirt stain from carpet:
Pet Stains
Clean the initial mess and pick up debris, if any, with gloves on
If the residue is wet, blot the carpet to make it almost dry
Use a carpet cleaning item formulated for pet stains, especially
For neutralizing spot and odor, use white vinegar
Mix 1/4th cup of vinegar with a quarter of warm water and spray it on the stain
Let the carpet mix the spray for a few minutes, followed by a blotting technique
Black Stains
Use a mixture of ¼ cup of white vinegar into water and a tablespoon of dishwashing liquid
Spray the area well and let the mixture soak in for 5 to 10 minutes
Then precede it with a blotting technique using a dry clean towel until you can't see any stain
Dark Stains
Create a mixture of 1 cup of clear ammonia in 2 liters of warm water and spray it on the dark stains
Let the mixture get dried up completely and then repeat the process if necessary
Then, use a wet cloth to remove the residue, followed by a dry one to pat the area
Bleach Stains
Mix two tablespoons of white vinegar into 4 cups of warm water
Pour it on the stained carpet area and let it soak for about 15 minutes
Rub the stain with a sponge or clean cloth. The bleach stain will disappear shortly
Set in Stains
Use a bottle with hydrogen peroxide to spray it on the set in stains
Let the stain saturate it for loosing up the dirt particles
Using a stiff brush now starts scrubbing the strain off
Later, use a steam vacuum for sucking up the peroxide from carpet, or use a dry towel as well
Dog Pee Stains
Use a detergent solution to sponge those fresh stains with a cloth
Rinse the area with another set of new cloth using a mixture of white vinegar with water in the same ratio
Let the carpet absorb the liquid naturally
Tough Stains
Use a mixture of 1 tablespoon of dish soap, water, and ¼ cups of white vinegar
Apply it on the area and let it soak for 5 to 10 minutes and then blot the area using a dry and clean towel
Pee Stains
Remember to soak up excessive urine using a cotton cloth or paper towel
Then use a mixture of water and vinegar and mix it in a solution, in equal ratio
Later, pour the solution onto a urine stain and let it soak up for a few minutes
Blot the stain using a paper towel and press over it firmly
Later, use a dry cloth to remove any residue of the mixture
Stubborn Stains
Saturate the stained area with vinegar and then rub the area with a paste made from baking soda and vinegar
If you want, try adding a few tablespoons of laundry detergent and vinegar into a bucket of water and then let the carpet stain soak it overnight
Rinse and then wash the carpet
Red Stains
Blot the area with a dry white cloth, and don't rub the stain more in
Mix white vinegar, water, and dishwashing liquid into a spray bottle and spray it on the area liberally
Let the mixture soak into the carpet fibers for 5 to 10 minutes
Then blot the area with a dry clean towel to remove the red stain
Dog Urine Stains
Create a mixture of 50% water and 50% white vinegar and spray it on top of the dog urine after cleaning excessive urine with paper towels or cotton cloth
Let the fiber soak the mixture for a few minutes before following the blotting technique using a paper towel and by pressing on it firmly
Pet Urine Stains
Create a mixture by using one tablespoon of dishwashing detergent with two cups of water. The water needs to be cold
Then add one tablespoon of vinegar to it and gently stir
Dip on cleaner cloth into this solution and sponge on the urine stains gently
Then start blotting the area using a dry cloth
If the stain is still visible, use 3% hydrogen peroxide to stain, and even a few ammonia drips to stain
Use a clean cloth to dab the area with cold water for removing the chemicals
Dog Stains
Use a mixture of 1 tablespoon of salt and a tablespoon of liquid soap in 2 cups of warm water and ½ cup of vinegar
Then dip a clean sponge or cloth into the mixture and apply it to the stained area
Let it soak for 5 to 10 minutes and blot lightly
Follow the process more than once is the stain is tough
For heavier stains, sprinkle on some baking soda on top of the stain
Old Dog Urine Stains
Saturate the stain with vinegar first using a spray bottle or drizzling the liquid gently on top
Then use a rag or paper towel for soaking up the vinegar
Sprinkle on some baking soda all over the current mattress
Then vacuum up the baking soda from the mattress
Ash Stains
Add a good amount of any absorbent substance like cornstarch, baby powder, powdered carpet cleaner or baking soda on the ash stain
Allow the product to stain on the carpet fibers for 1 to 2 hours
Later, vacuum the powder and loose ask from the carpet using a suction method
Blot the area with a white absorbent clean cloth, well dampened with the dry cleaning solvent
Later, a sponge that carpets with cleaner water to remove the dry cleaning solvent
Ensure that the carpet is completely dried out before resuming foot traffic
Soda Stains
Mix one tablespoon of the dishwashing liquid and a tablespoon of white vinegar into plain warm water
Now, using one cleaner white cloth, you can sponge that stain with the detergent and vinegar based solution
Launder. You can sometimes use chlorine bleach to your wash for a better clean
Watch this link to know how to clean soda stains from carpet:
Old Pet Stains
Rinse the urine area with clean water
Spray affected urine spot with vinegar
Pour some baking soda over the vinegar and then let this mixture soak into the carpet fibers for some time
Later, using a stiff brush, scrap off the urine residue and then use a dry cloth to blot out the residue
Launder
Vomit Stains
You have to scrape off the excess vomit first out of carpet fibers
Then sprinkle in some cornstarch or baking soda on that stain to soap up the puke
Let this mixture stand on your rug or carpet for 10 to 15 minutes before start vacuuming
Later, mix single tablespoon of white vinegar with one tablespoon of liquid dishwashing detergent in two cups of warm water
Launder after scraping off the vomit
Tips to clean vomit stains from carpet – check out this video:
Pet Poop Stains
At first, remove excess feces by blotting up the liquids with a clean absorbent towel and then scrape off solids with a dull knife edge
Later, use a mixture of 1 teaspoon of white vinegar with one teaspoon of liquid dishwashing agent in 1 quarter of warm water
Sponge this mixture on top of the poop stain and rub gently from the back to loosen up the stains
Soak this mixture for around 15 minutes and then rinse
For protein stain, soak the enzyme product for a period of 30 minutes
Soak the stains for quite some time before launder
If the poop color still remains, use chlorine bleach for soaking the fabric a bit more or use oxygen bleach
Launder
Homemade Carpet Cleaning Solutions for Synthetic Carpets:
For creating a homemade cleaner, you need to dip a white cloth into the DIY solutions for the synthetic rugs and then apply the same to stain. Never try to pour the solutions directly onto the carpet as that hampers the fibers of the carpets more.
For the detergent solution, you need to mix ¼ teaspoon of the transparent dishwashing detergent in its liquid form into a one cup of warm water.
While creating a vinegar based solution, mix a cup of this white vinegar with water, measuring at 2 cups, and apply the solution on the stains of synthetic carpets.
You can even create a solvent solution too. Always try to use oil based solvent. Sometimes, you can substitute it with nail polish removal or a gentle non-acetone based polish remover.
DIY Cleaners for Natural Fiber Based Carpets:
After creating the DIY carpet solutions for natural fiber rugs or carpets, place them inside the spray bottles and apply them gently on the stains.
In case of detergent solution, mix a tablespoon of translucent dishwashing liquid detergent into lukewarm water of a cup.
For vinegar, there will be a mixture of ¼ cup of white vinegar alongside a ¼ cup of water.
In terms of ammonia solutions, mix a tablespoon of cleaner household ammonia in half a cup of warm water.
For other solvent solutions, the methods will be the same as the ones used for synthetic carpets.
Catch up With Experts:
Next time you are suffering from carpet stains, you can get the pros to work on it for you. Trying out the DIY solutions is easy but won't work if the stain is way too old, or tough. Sometimes, the carpet cleaning companies might take your stained carpet with them, and they will work on the removal process in their warehouse. Once done and completely dried up, they will give you back the carpet in its original look. It is better to give your carpet up for cleaning at a regular interval if you don't want the stains to stay for too long.