Leather furniture is expensive, so you want to learn how to get stains out of leather in case you ever spill anything on it. If you're reading this, you probably already have ruined your favorite leather item.
Or have you? I'm here to help you restore your leather chairs, couch, or clothes and get those ugly stains off. In this article, I will teach you how to remove different stains, so buckle up and enjoy the ride.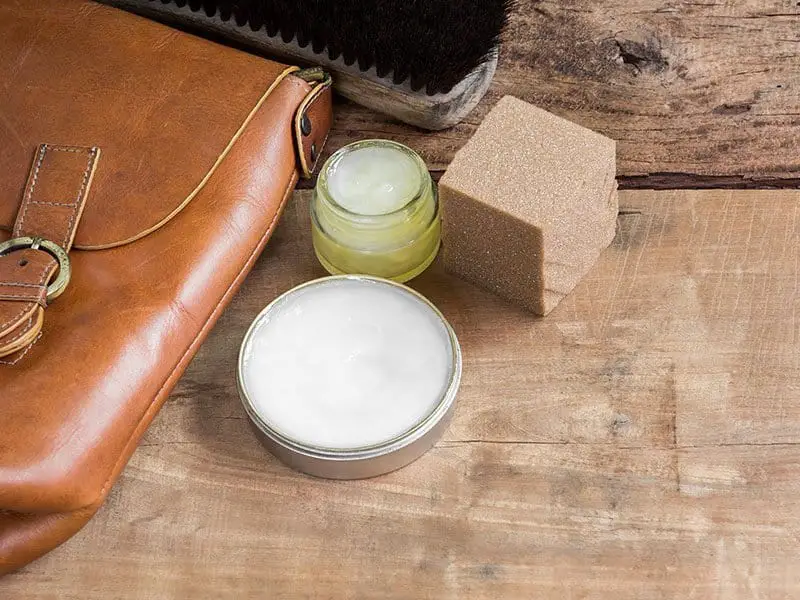 How to Get Stains Out of Leather?
Your lovely couch has a nasty grease stain. Your leather handbag features a pen mark all over it. Instead of panicking, calm down, and read on.
The sooner you tackle the stains, the better the results. And the easier they will come off. You can either treat them with commercial or use some of the following cleaning methods.
Always treat liquid stains with water and mild soap. Ink stains come off with rubbing alcohol. Let's learn how to get different stains out of leather.
Treating Grease and Oil Stains
When you notice the oil or grease stain, blot it immediately. Pick up as much of the spill as possible with a dry and clean towel or paper towels. Just press the cloth or paper against the oil or grease so you don't smudge it. In certain cases, this will be enough to prevent staining from oil, food, or makeup.
Frequent treatment of the leather with a conditioner will help your product resist any stain. However, in case this doesn't help, you can powder the stain with cornstarch, baking soda, or talcum powder.
Let the powder sit on the stains for a couple of hours or overnight. The powder will remove the oil stain. Then, wipe up the powder or vacuum it with a household vacuum cleaner. If the stain is still there, apply more cornstarch. Cover the tough stain with it and rub it with your fingers. Repeat if necessary and don't forget to clean your vacuum cleaner afterward.
Check out this video to know more:
Removing Liquid Stains
When you spill anything on your leather furniture, act fast. Soak up any fresh spills with paper towels. Absorb as much of the liquid as possible without spreading it. Then, use your hairdryer. Fan the affected area until it dries. If you end up with a dark stain, don't panic.
Just mix water and a mild detergent. You can either use a liquid detergent like Murphy Oil or Dawn, or a regular hand soap. Stir until you get a bubbly cleaner. Dampen a clean sponge in the DIY solution.
Make sure the sponge doesn't drip at all. If it feels soaked, drain it. You don't want to add more water to your expensive leather item. Wipe off your item with the sponge. Begin with the new liquid stain.
Move it from the liquid stan to one of the corners of the leather without scrubbing. It won't leave much water behind if you move it away from the stain. Keep doing this until you've covered the whole surface. This technique will stop liquid stains from forming. Lastly, let the leather surface dry on its own.
If you're dealing with tougher liquid stains, try white vinegar. Apply a few drops of white vinegar to the soapy water you utilized earlier. You can also mix equal parts vinegar and water for better results.
Soak your cloth in, wring it out, and utilize it to spot clean the stain. After a couple of swipes, check your cloth. If it's dirty, rinse it off in hot water. For beige or white leather, mix equal parts of cream of tartar and lemon juice. Apply the paste. Let it sit for about 10 minutes. Then, remove it with a wet sponge.
Last but not least, dry the surface with a towel. Exposure to car interior cleaners or regular cleaners will wear out the leather but won't cause permanent damage.
Check out this video to know more:
Eliminating Mold and Ink Stains
Dampen a cotton ball with rubbing alcohol. Make sure it isn't dripping or saturated. You can find cotton balls and alcohol in the personal care section of any store.
Before you start cleaning, spot test the alcohol in a hidden spot. Pick a place that's usually covered, such as inside corners of your bag or under a couch cushion. Press the cotton ball to the leather.
Let the rubbing alcohol act for 10 minutes. Then, check to determine if it stained your leather. Or not. If not, proceed with the following step which is rubbing the rubbing alcohol into the stains.
No matter if you're dealing with ink or mold, the rubbing alcohol will make either stain vanish. However, it will also take away some of the leather's moisture. Meaning, your reward comes with a small sacrifice. Don't worry because you can condition the leather and restore the moisture in record time.
Apply conditioner to treat and look after your item. You can also spot treat the area with a small amount of the product. Opt for a high-quality leather conditioner.
Watch this video to know more:
Tackling Common Stains
If you're dealing with a simple stain, wipe as much as possible with paper towels or clean cloth. Blot the outside corner of the stain first and work towards the middle. This will prevent the stains from setting or spreading. Once you do that, wash the stain with water and soap.
Most food and dirt stains come off with a basic cleanser. Try lifting the stain with warm water or a mix of mild soap and water. Use a cloth or sponge that's wet rather than soaked.
Use the cloth or sponge to wipe the stain from side to side across the surface. If this doesn't help, use a leather furniture cleaner to protect the leather and take care of the stain.
If you notice scuff marks on your leather item, erase them with nail polish remover. Acetone is the ideal solution for stubborn marks such as scratches and scuff marks. Just dampen a swab or cotton ball in nail polish remover and rub it into the stain with circular movements.
Watch this video to know more:
How to Condition Leather?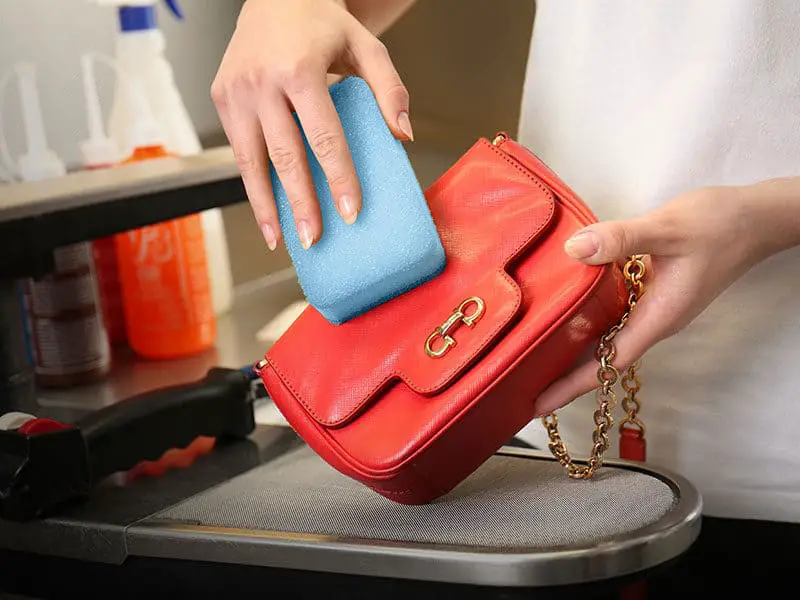 Just like human skin, leather needs to be well-protected and moisturized occasionally if not at all times. You can either use a store-bought leather conditioner or make your own.
I prefer a homemade leather conditioner because it's just as effective as store-bought ones and doesn't cost a fortune. Prepare one utilizing water, vinegar, and natural baby soap.
Mix a splash of vinegar, a tablespoon of natural baby soap, and two cups of plain warm water in a bowl. Utilize a microfiber cloth to apply the conditioning solution into the leather.
Don't soak the surface. Just moisten it and leave the solution on the furniture or clothing. The baby soap has gentle oils that will help to both clean and condition your beloved leather.
Another effective and cheap conditioning solution includes two parts linseed oil and one part vinegar. If you're on a budget, prepare this mixture and pour it into a clean jar with a lid.
Shake the jar well and apply to the surface utilizing a clean soft cloth. Use circular movements, covering the whole area. Gently rub it and let it act for about ten minutes before sitting on your leather couch or putting on your favorite leather jacket. Keep the leftovers for future usage.
Watch this video to know more:
10 Extra Tips and Tricks
Proper and regular maintenance is the key to the longevity of leather items including furniture. With the proper care, they will last for generations. Here's how to care for your leather:
Vacuum Regularly
Begin by removing particles and dust on the surface of your leather couches, chairs, or sofas with a small vacuum cleaner. Use a soft brush attachment to prevent scratches.
Wipe With Mild Detergent
When you finish vacuuming, wipe your leather items with a mild detergent. Avoid utilizing harsh soap or detergent. Otherwise, you will damage the surface of your leather couch or sofa.
Simply dip a dry, clean cloth in a mild detergent and wipe the surface. You can also utilize any detergent designed for washing delicate fabrics if you don't own a commercial leather cleaner.
Clean Stains Immediately
If you have small kids around the home, spills are inevitable. However, they're not unbeatable. You can prevent any stain from setting in by acting quickly. Utilize a clean dry cloth or paper towels to blot stains immediately. Never wipe as this will help the stain spread out. Let the affected area air-dry.
Keep Away from Direct Sunlight
Protect your leather items from being exposed to sunlight. Direct sunlight can cause the surface to age a lot faster and dry up, causing it to discolor and eventually crack. Keep your leather furniture and clothing at least two ft away from direct sunlight and excessive heat sources.
Remove Stains Properly
You can remove different stains using different methods. I've already explained how to remove different stains above. A quick reminder: remove tough ink stains with some rubbing alcohol. Dip a cotton swab in some alcohol and rub over the ink stains.
If you dropped pizza on your leather couch, blot as much grease as possible with a dry cloth. Then, apply some cornstarch or talcum on the affected spot. Let it sit for a few minutes and take it off utilizing a soft-bristled brush or a regular vacuum cleaner.
Weekly Maintenance
Professionals suggest weekly maintenance. Meaning, you need to clean leather furniture at least once a week. Just wipe it with a dry microfiber cloth and apply a leather conditioner.
Keep Away from Animals
If possible, keep your pets off the leather furniture. As you already know, both dogs and cats have claws. And claws are one of leather's biggest enemies, as they can cause irreparable damage.
Sharp Objects are The Enemy
Besides claws, sharp objects are potentially dangerous to leather items. Protect your furniture, clothing, and accessories from sharp objects such as scissors, watch straps, knives, and belt buckles.
Follow Instructions
Most leather items come with a manufacturer's care and cleaning guidelines. Follow them to extend the life of your leather furniture, clothing, or accessories.
Let Professionals Do Their Job!
If you notice rips or cracks on your leather couch, sofa, chairs, clothing, or accessories, contact a leather repair company. Also, hire professional cleaning services occasionally.
Related Questions
Leather Isn't Just a Material, it's a Lifestyle
Leather is both durable and expensive material. I'm a big fan of leather car interiors, furniture, clothes, and accessories. However, I'm not a fan of cleaning and maintenance.
As you learned from this article, leather requires regular and proper maintenance, so protect your items regularly. As I already said, proper care is the key to the longevity of anything leather.
Hopefully, this guide has taught you how to get stains out of leather. Drop a comment with your tips and tricks for cleaning leather. Also, share this valuable information with your friends.