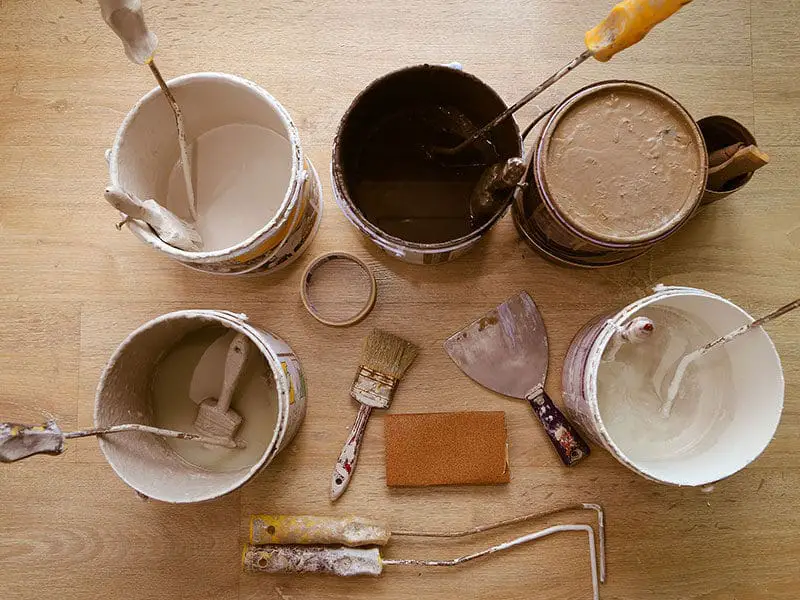 If you're looking for a step-by-step guide on how to paint laminate floors look no further than this guide. Painting over laminate is a cheap and easy way to restore the shine of your laminate surface.
The painting process includes cleaning the room, dusting, sanding, priming, applying multiple paint coats until you get the best results. Some people take it up a notch and apply a sealer like polyurethane.
This step isn't necessary for better durability. Meaning, you can skip it, especially if you apply top-quality paint. Without any further ado, let's learn how to bring back the shine of your good old floor.
How Do I Paint My Old Laminate Floor?
Painting laminate flooring will save you money and refresh your old floor. First and foremost, gather the necessary tools. Then, prepare your floor by sanding. Clean up, prime, and apply your paint.
You can also seal your paint. However, it's not a mandatory step. Homeowners who use top-quality latex paint, skip this step. If you're interested in all the details about the painting process, read on.
Can I Paint Over Laminate?
Absolutely. Painting laminate flooring is a great way to refresh and update the appearance of your floor. Before I teach you how to paint laminate floors, let's learn more about this product.
This flooring is a man-made floor that's made on high-density fiberboard. It consists of 4 layers including a protective overlay, a design layer, a moisture-resistant core board, and a balancing layer.
The protective overlay keeps the flooring safe from scratches, burns, wear effects, stains, and more. The design layer directs the look of the floor while the moisture-resistant core board represents the heart of your laminated floor. The balancing layer is the ultimate stabilizer of your laminate flooring.
Now that you know what laminate flooring consists of, read on to learn what kind of paint do you use on laminate, how to paint laminate floors, and the cost, pros, and cons of this DIY venture.
What Kind Of Paint Do You Use On Laminate?
Experts recommend utilizing latex-based paint for laminate flooring. You should apply this paint over an oil-based primer. Some online resources suggest painting straight onto the laminate surface.
However, sanding is a very important part of the painting process that you shouldn't skip. The laminate boards aren't porous enough to let the paint stick. The shiny layer that gives laminated floors the shine is also what prevents the paint from adhering. Thus, sanding is crucial for a successful paint job.
A quick paint job with laminate floor polish without sanding may appear nice in no time at all. However, the quality won't last. If you want durability, preparation plays a key part in the painting process.
Also, before buying the paint for your laminate flooring, determine what type of aesthetic you're looking for. The paint you select will depend on whether you would prefer a bolder look or a bright neutral. High gloss paint will provide a bright shine whereas matte will provide a soft look in your living room.
Lastly, low-cost paint isn't always the right choice. Look for a balance between quality and pricing. After all, you want your paint to stand the test of time. Now, let's learn how to paint laminate floors.
You can see this video to know more:
How To Paint Laminate Floor?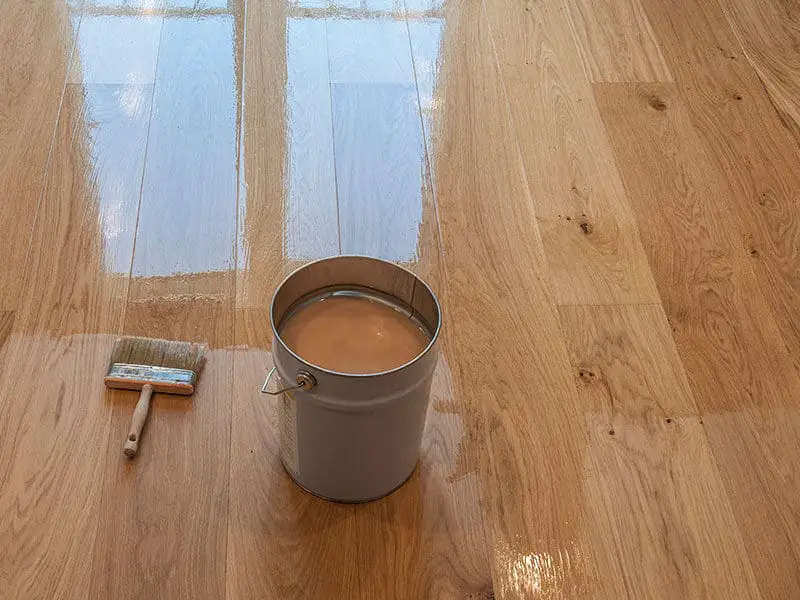 Painting laminate flooring is a tricky process. This is why it's important to pick the right paint and other materials. When you're at the store, buy a paint that's specifically made for laminate flooring.
Also, pick the right primer for your laminate flooring. And buy or rent a high-quality sander. These tools ensure the surface of your laminate flooring will fully accept the paint and save you a headache.
Learning how to paint laminate floors is also important. Once you start, your laminate boards will never be the same. Meaning, there's no going back. The following steps will help you do a good job.
1. Gear Up!
Painting over laminate flooring asks for shopping but don't get stressed right away. You can find all you need in local stores or online. Gather the following appliances and let's get to work.
You will need painting masks, rubber gloves, painters tape or masking, paint tray (and cling film or paint tray liner), foam paint rollers, handle extensions, oil-based primer and tint if you're using a darker paint, latex paint, TSP cleaner, a sealer, sanding paper (120-150 grit), and an orbital sander.
2. Prepare Your Floor
I can't stress enough how important preparing your floor is before painting. Proper preparations of your existing floor can almost consume more time than the actual painting process.
However, it's worth your time and will provide a professional finish. These floors tend to pick up cracks, dents, and even small warping, so examine the floor inch by inch and note any deep scrapes, dents, and scratches that need to be repaired. Even out your flooring for perfect painting results.
You can use caulk to fill in all the imperfections. If you ignore them, you won't be able to do so once the floor is painted. Once you're done, sand your floor by hand or with a fine-grit sanding paper, utilizing an orbital sander. I recommend that you rent a professional sander for the day ($25-$30).
Next, utilize the TSP to clean your surface, removing any grime, dirt, grease, sawdust, and soil. Wash this away and dry your boards completely. Any moisture trapped between the primer and the raw board will cause bubbling of paint. You can utilize AC units, large fans, or heaters for this process.
Also, before you put paint into the trays, prepare corners by masking off any places such as pipes, walls, corners, power outlets, or plumbing that edge onto the floor to keep them paint-free.
3. Apply A Deglosser
Once you've sanded and cleaned your floor with a DIY cleaner, apply a layer of deglosser on the surface utilizing a cloth and let it dry. This will remove any gloss missed out by your sandpaper.
4. Prime Your Floor
Oil-based primers work best with latex paints. This is because laminate flooring is compact and smooth, making adhesion harder. Oil-based primers stick well and with enough curing time, you will get a perfect surface to add your paint to. The next step is edging the floor with a primer and brush.
Apply the paint evenly, reaching the small corners that may later be missed. If you opt for a darker latex paint layer, tint your primer to cut down on the number of paint layers you need to apply.
Your primer may need drying overnight. So, make sure it's completely dry before applying the first layer of paint. A tacky floor will only result in a mess. Gently sand the primer coat for a high-gloss finish. Then, clean with a proper vacuum cleaner and tack with a wet rag to ensure the paint adheres properly.
Give your floor at least 24 hours to completely dry. Then, apply another layer of primer. This step is very important because it will seal any minor cracks or scratches in your laminate flooring.
5. Paint And Seal
You may be tempted to add your paint in perpendicular layers (I'm speaking from experience). However, you should follow the lines of your laminate boards, applying paint with the foam rollers.
If you add the paint coats at 90° angles, you will get splotchy edges. Utilize a handle extension to ensure you don't step in wet paint and destroy your work as you press the roller along the boards.
Finally, apply the sealer. It will dry out the paint fully, providing a smooth finish, once it's dry. Then, sand the sealant gently, clean with a wet cloth, and apply a second coat for a lovely glossy finish.
6. Let It Dry!
Always follow the company's instructions regarding drying time. This will vary depending on where you reside. Oil-based paint can take quite a while to dry but they offer many benefits to the floor.
7. Clean up!
The final step is the real moment of truth. A poorly-painted floor will start scuffing almost immediately. Avoid strong chemicals when cleaning your newly-painted floor and utilize a proper mop.
This includes a strongly mixed vinegar solution that can remove the sealant layer that is protecting your floor. Utilizing water or a soapy solution with a little vinegar will suffice, leaving your laminate floor fresh and sparkling. If you have any painting tips and tricks of your own, drop a comment below.
Cost, Pros, And Cons Of Painting Over Laminate Flooring?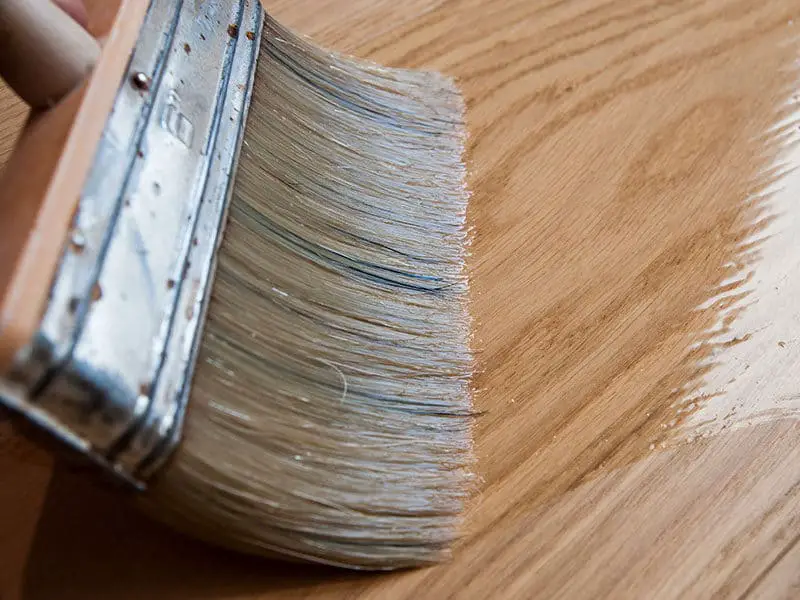 Painting your old dull laminate floor is a cheap way of freshening up your home and if done properly, it's fairly durable too.
Considering your average cost of painting 200 sq ft laminate flooring, costing between $250-$300, it's an affordable option.
Pros:
Once you've learned how to paint laminate floors, it's easy to do. It's time-consuming but cost-effective. And you can do it with basic skills and still get a professional finish.
As I already mentioned, the cost of painting laminate floors is less than installing new floors. The more expensive tools like orbital sanders can be rented to further lower the cost, and with some mindful preparation, you can accomplish a great finish with little fuss.
The type of paint you pick, finish, color, and technique of painting is a 100% independent choice, making it a great adventure for DIY décor enthusiasts and skillful homeowners.
Cons:
You still need some basic skills. You will also need a couple of items such as a sanding machine, a paintbrush, and patience to mark off borders and areas.
Your floor needs preparation before you apply paint and sealing in the end. Meaning, it's a time-consuming process.
Paint, both for the layers of latex paint and undercoat, needs curing time. It needs to be fully dry before applying the last sealant layers. Also, if done the wrong way, the paint will tack onto your carpet and other surfaces, or worse, rub off.
Cleanup is also time-consuming and labor-intensive. Also, you may need to shut down the room where you're working to control the dust that sanding may produce.
The dist and sealant odors can trigger symptoms in individuals with allergies and asthma, so you need to be extra careful.
Related Questions
Bring Back The Shine
Hopefully, this detailed guide on how to paint laminate floors can help you restore your laminate floors and refresh your property. Painting laminate flooring also saves money.
You can successfully mask cuffs, nicks, dents, and other imperfections behind a glossy coat of top-quality latex paint. The best part? The décor potential of a nicely painted laminate floor is endless.
If you have first-hand experiences with painting your laminate floors, questions, or painting advice, drop a comment below. Also, share this article with other DIY enthusiasts online.