Removing bugs from a car is an essential practice, especially for road trips during the bug season or long travel distances. Without proper care and good treatment, you will encounter annoying bug splatters on your car's paint.
My following tutorial on how to remove bugs from a car will surely make your car clean of lovebugs, mosquitoes, and other disheartened insects.
With a few simple ingredients, you will be able to produce a homemade product that is functional and safe for your vehicle's clear coatings.
What Is The Rationale Of Removing Bugs From A Car?
According to GEICO – an auto insurance company based in the U.S, bugs are not simply a temporarily cosmetic annoyance. Instead, bug guts contain acid, which will gradually erode your vehicle's paints if they stay there long enough.
That is the ultimate rationale for cleaning the bugs off your cars in the quickest way possible. If you fail to do it soon enough, these bugs can bake into the paint. Taking them out afterward will be a true nightmare.
However, the main issue is that you can not easily access a hose or a proper car wash service on every road trip. This is when homemade items that can help remove bugs from your car prove handy.
Hang in there, as this article will provide you with the finest recipes for those fit-in-the-truck items.
Three Common Bug-Related Contaminants To Your Car
There are three annoying contaminants that you will often find staying on your vehicle. They are (1) Dead bugs, (2) Tar, and (3) Tree sap.
Dead Bugs: Refer to various types of flying insects that can be caught up onto your car's coatings. Their guts are acidic, which can seriously damage your vehicle's beautiful paints. The most familiar type is properly the kamikaze bugs.
Tar Residue: Means the dark and thick liquid distilled from coal or wood. It is often applied in road construction projects. As the car moves, such a substance can be picked up by the wheel and fling onto many vehicle parts.
Tree Sap Residue: Is the fluid circulating in the plant's vascular system. People often park their cars under trees to avoid bird poops. One side effect of this practice is that you may get tree sap on your vehicle, which can harden and eat through your car's protective paintwork, if let dry under the sun.
What Damage Can Bugs Cause To Your Car?
The foremost damage that bugs can cause to your car is the ruin of the vehicle's beautiful coating.
Moreover, bug splatter contains acidic substances, which can deteriorate the clear protective layer of your car paintwork. Not to mention, the longer those bugs stay on your car, the more challenging it is to remove it without harming the overall coating.
Besides bugs, other elements (tar, sap, bird droppings, etc.) can be problematic as well. Once coming into direct contact with your vehicles, it can cause discoloration and unsightly staining.
Therefore, it is a healthy practice to have some techniques on how to remove them efficiently and swiftly. Keep on reading, as these contents will be unveiled in the latter part of this article.
How To Remove Bugs From A Car?
You will be surprised at how many methods there are to get dead bugs off your car without having to bring your vehicle to a detailer. Among them, some ways are actually very easy to do. In the following section, I will walk you through every method that can clean bugs efficiently.
Method #1: Use Soap And Water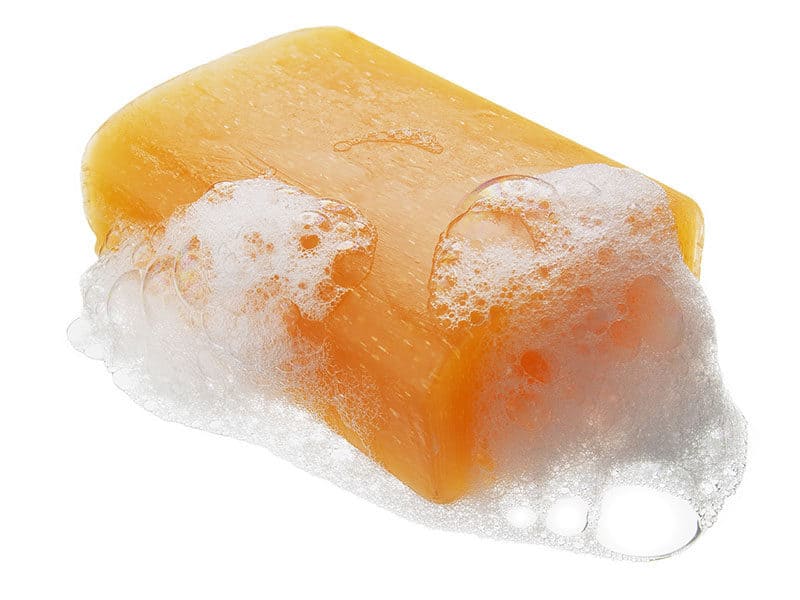 Let's start off with a very user-friendly solution, which involves only soap and water.
This recipe requires you with the following items:
Johnson's baby shampoo
Hot water
Dish soap
Bucket
Bug sponge
Firstly, fill your bucket (or any similar container) with hot water. Next, add a few shots of the baby shampoo and dish soap. Just as simple as that!
All you have to do now is to dip the bug sponge into the newly-made solution and scrub the dead bugs off your vehicle in a circular movement.
The final step is to rinse the car with clean water from a garden hose.
This recipe is perfect for removing bugs from your car's windows, as well as on other parts of the car (coatings, tires, headlights, etc.).
Method #2: Use Baking Soda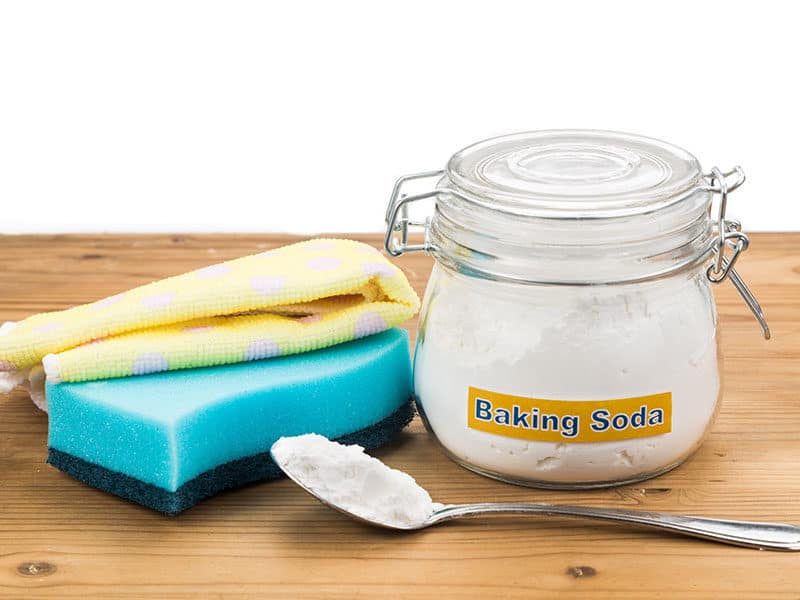 An ideal substitution for soapy water is baking soda. This alkali substance acts as a mild scrubbing agent, which is a great match for getting rid of dead bugs' contaminants from your car.
To make this baking soda solution, you will need:
Four tablespoons of baking soda
One quart (four cups) of warm water
Bucket
Microfiber cloth
Use the bucket to hold the mixture of baking soda and warm water. Afterward, dip the microfiber cloth into such a solution and then scrub it onto the car.
It is highly recommended to apply the cloth on dirty spots in a circular motion to remove the bug-related contaminants.
The final step is to rinse the car with a garden hose and dry it with a microfiber towel.
Method #3: Use Dryer Sheets (For Dead Bugs)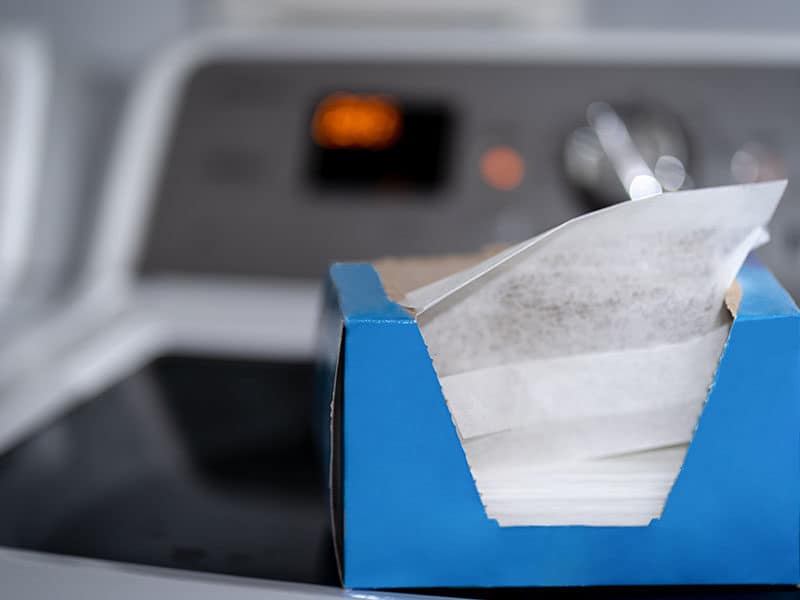 Do you know that dryer sheets, also known as fabric softeners, can be utilized in removing dead bugs and tar from a car, other than their primary purpose of softening and removing lint from your clothes?
These solutions are completely applicable to this task. To pull this off, you have to prepare:
Dryer sheets
Spray bottle
Warm water
To begin, fill the warm water into the spray bottle. After that, spray it onto a softener sheet. Once again, let's apply the circular motion when rubbing the sheet onto the bug-splattered areas of your vehicle.
The dryer sheets help loosen the dead bugs for effortless removal. When their guts and grime are dealt with, wash your car with clean water and apply proper waxing to your car.
Method #4: Use Vinegar (For Car Windshield)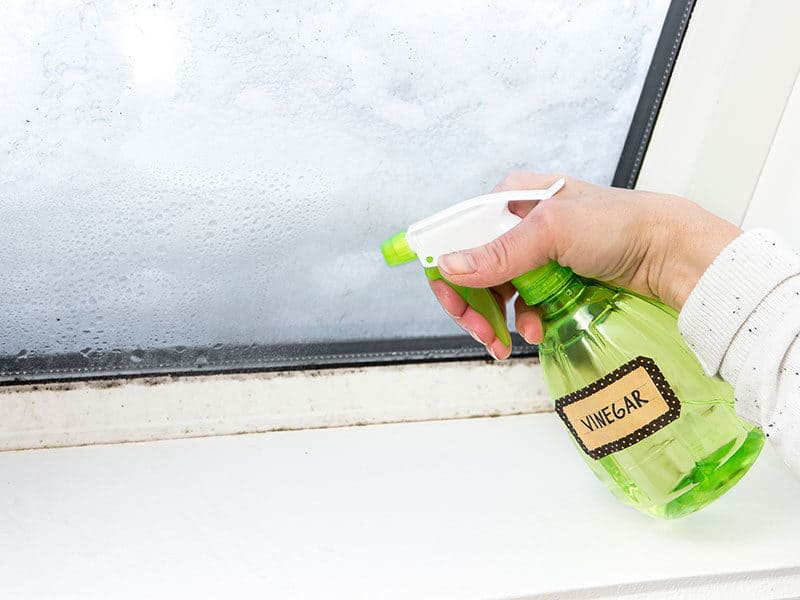 Having trouble removing bugs from your windshield? This following car bug remover with vinegar can blow all your worries away, as it is regarded as the best method in such a situation.
Vinegar is very effective in cleaning all kinds of glass without leaving streaks, owing to its mildly acidic characteristic. Besides glasses, you can apply this solution to aluminum rims as well.
You will need to set up a few ingredients as follows:
One cup of water
One cup of white vinegar
Microfiber cloth
Spray bottle
First off, mix the warm water and vinegar into the spray bottle. You may not use it up at once, so it would be good to label the bottle for later sprays.
Then, apply the solution to the windshield and wipe it clean with a microfiber cloth to remove dead bugs. The same circular motion should be applied here also.
Repeat this spray-wipe process to remove any residue remaining on your vehicle.
You can utilize this glass-cleaning solution onto virtually every other car part, both internally and externally.
Method #5: Use Oil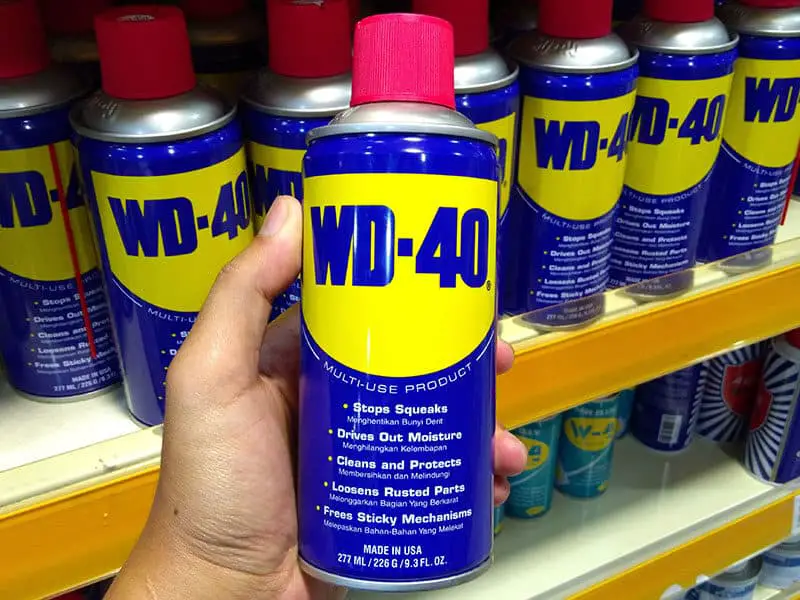 Household oil substances are ideal partners in dealing with bugs and tree sap staying on your car. Below is my advised ingredients that can get your task done quickly:
Baby oil, lamp oil, cooking spray, or WD-40
Microfiber cloth
Utilize one of the aforementioned oils or sprays on your soft piece of cloth. Then, rub it onto the buggy spots or tree sap stains on your car in circular motions.
Once the contaminants are gone, rinse your car with soap and clean water. Proper waxing afterward is also highly recommended.
Method #6: Use Magic Eraser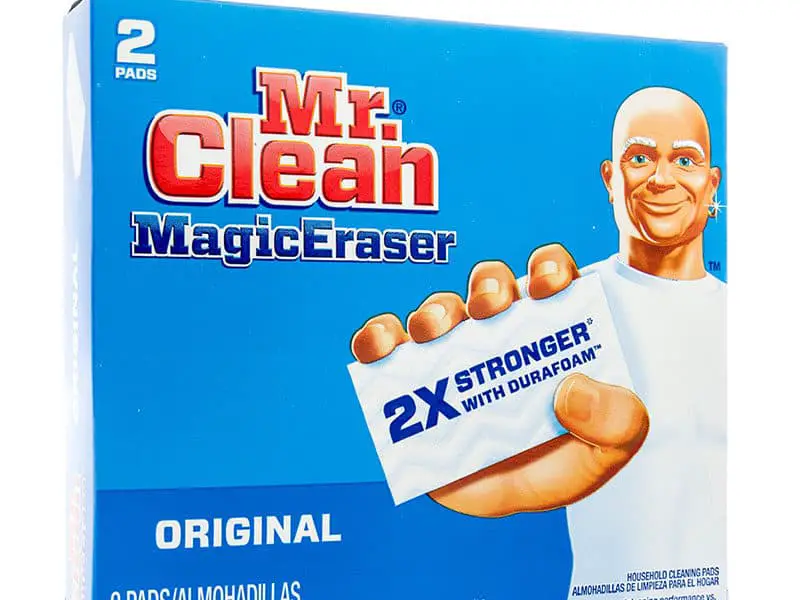 As the name infers, Magic Erasers can get rid of just about every contaminant. Hence, it may not be a surprise to know that it can remove bug splats from your car as well.
Get yourself a wet Magic Eraser and rub it against the bug stains on your vehicle using a gentle force. Remember not to apply too much pressure on the dirty spots with a dry Magic Eraser, as it can seriously harm your car paintwork.
Method #7: Use Car Soap And Sponge
One additional means to get rid of all the annoying bugs from your car is the utilization of some homemade car wash soap and a bug sponge. You should use a 5-gallon bucket and pour some amount of car soap in it.
About the sponges, rest assured that they are widely available, and you can pick them up easily at just about any store. These sponges' textured surface is a great match for eradicating bugs from a substance.
One important note is to make sure the sponge's surface is lubricated properly. Otherwise, you will get your car some light scratches.
This method is applicable for windshields as well.
Method #8: Use Bug Removal Products
If you are looking for some help on softening dried-on bugs, using a bug removal spray is great assistance. This category of bug and tar remover is easy to find, both in aerosol and spray forms.
What you need to do is spray, wait for 30 seconds before wipe it off with a microfiber cloth.
How To Prevent Bugs From Your Car?
Method #1: Car Bug Remover With A Bug Deflector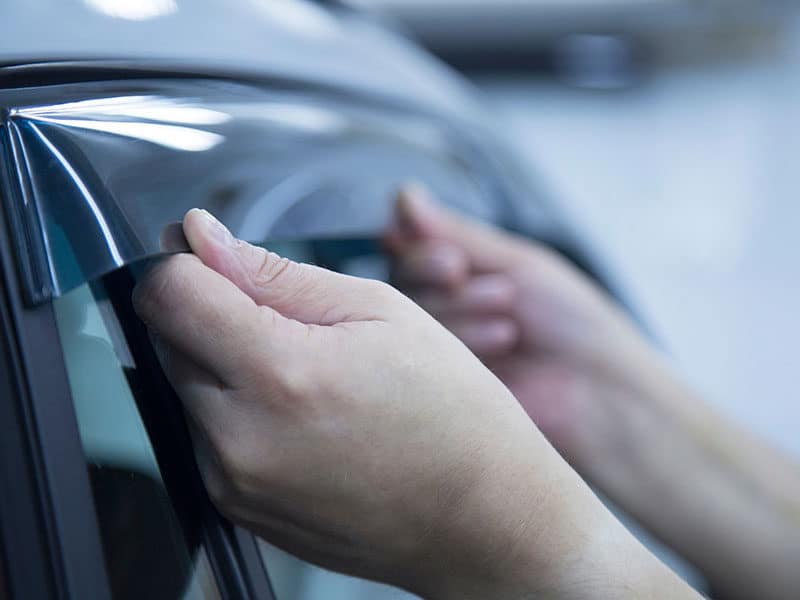 Is there any method that is more straight-to-the-issue than using a bug deflector? I believe the answer is no. Equipping your car's front with a bug deflector can significantly prevent bugs from causing a mess on your vehicle's coating layer.
A bug deflector operates in this way: whenever bugs hit it, they are thrown upwards on top of your car and fly the other way. Thus, there is no chance that a bug can come into direct contact with your car paintwork.
This item is a popular choice of many car owners, as it advocates the saying "prevention is better than cure". You can find a bug deflector at any auto store. Apply it to the front bumper as per the manufacturer's instructions.
Making your bumper bug-free also requires certain skill levels. Follow this video to learn more about this process:
Method #2: Car Bug Remover With A Wax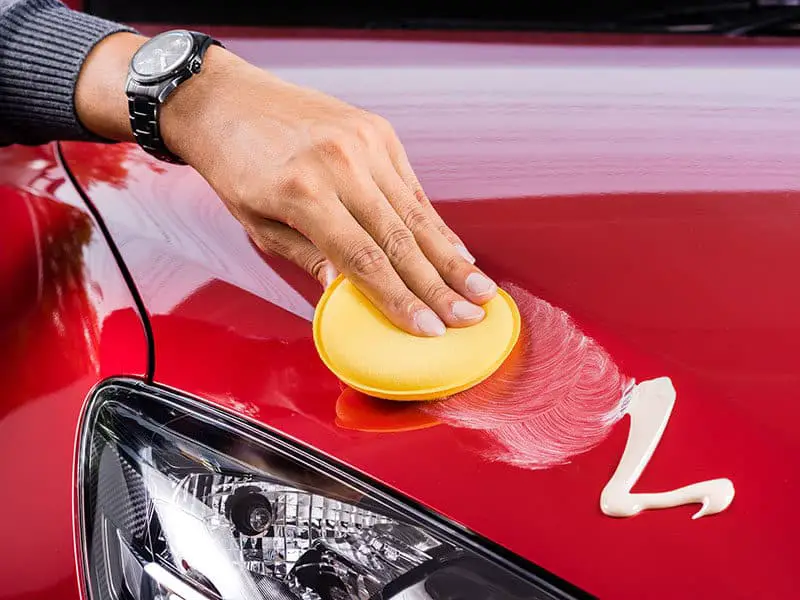 Another wonderful preventive method is to use wax (or car sealant) on your vehicle's front part. Such a waxing layer makes it challenging for bugs to stick to the paint.
Before applying wax to your car, make sure to clean it entirely with soap and clean water. One common car wax is Turtle Wax Bug. You can apply it by using a sponge. Refer to the circular motion when rubbing the wax on various parts of your car.
Method #3: Apply Paint Protection Film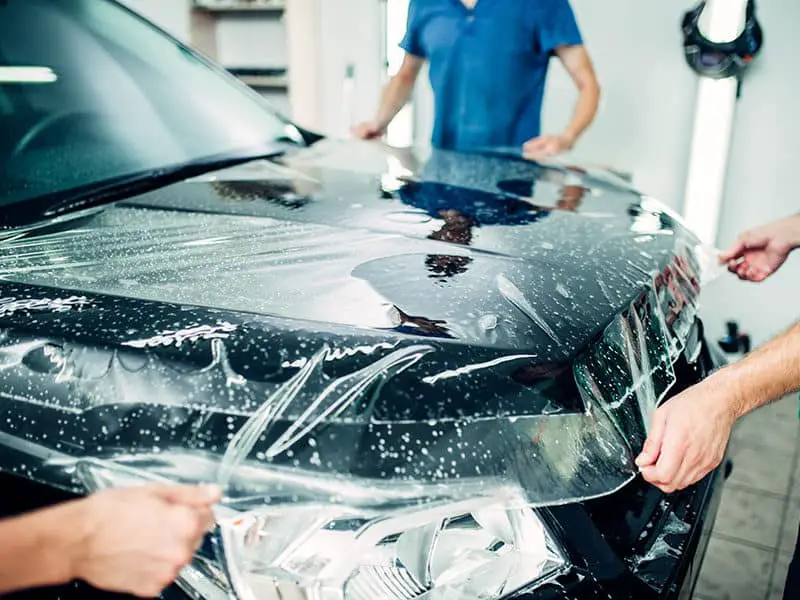 Using a paint protection film proves effective to prevent bugs and other contaminants from your car, especially the vehicle's front part. It is designed to stop even small rocks from damaging your car's paint, preserving its quality for longer terms.
Applying this film to your vehicle can be done via DIY kits, or performed professionally in case your car is of luxurious quality. However, expect to reapply this film over time in order to protect your vehicle's appearance effectively in the long run.
It is recommended to apply this painter film to your side mirrors, grille, and bumper for better effect against bugs.
Method #4: Use Windshield Cover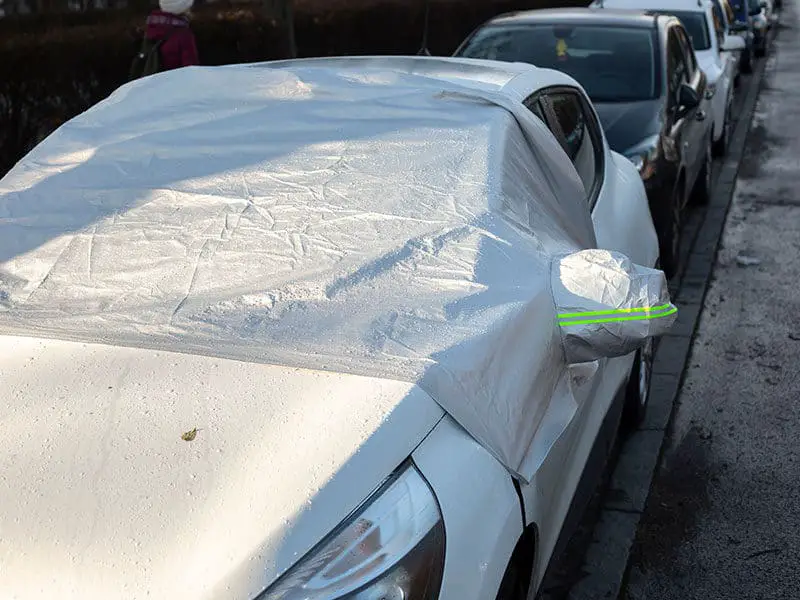 If a garage is not an available option for your car at night, you will need to rely on a windshield cover to lure away those annoying bugs and insects off your windshield when the sun rises.
Another option is to apply bug repellent to your windshield. This approach is also effective in keeping the bugs away in the mornings. However, never use bug spray on the paint itself, as it can destroy your vehicle's clear coat.
How To Remove Bugs Inside A Car?
Do not expect to find dead bugs on the outside of your car, as they can even be serious trouble inside your vehicle. Therefore, you can utilize certain interior car cleaners, or simply follow these steps to deal with this problem.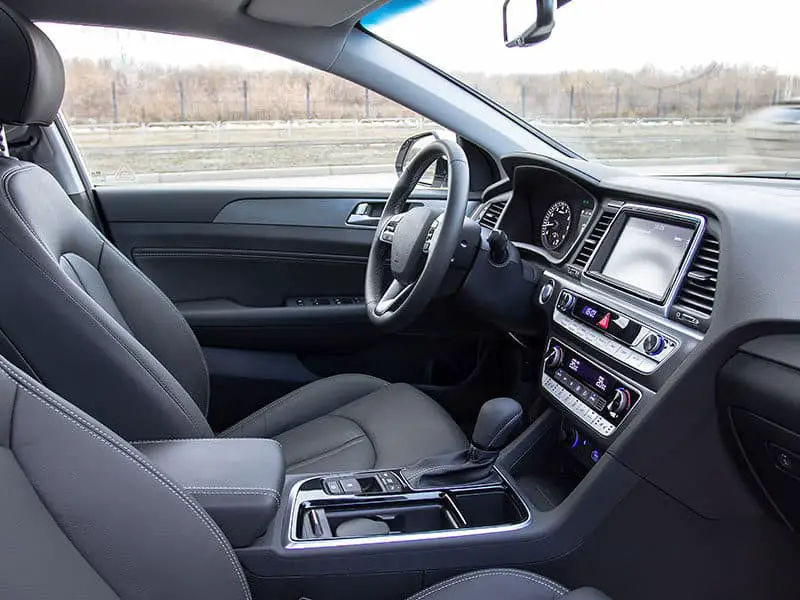 Step #1: Carefully Inspect Your Vehicle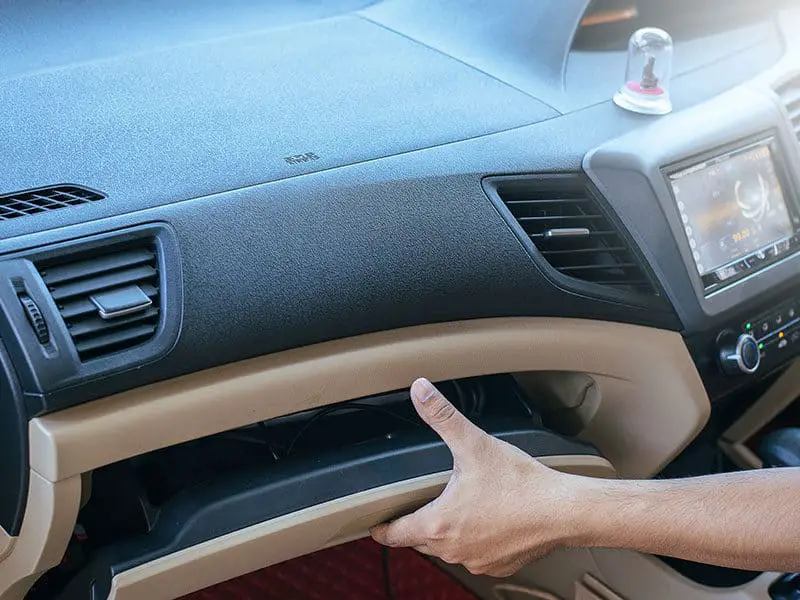 There are various places you can spot bugs inside your vehicle, including console surrounding areas, in-between seats, glove box, floor mats, nooks, and crannies.
Besides the bugs themselves, you may also encounter evidence of their whereabouts, such as blood stains and feces. Therefore, it is a good practice to inspect your car carefully on a regular basis.
One bonus tip is to have a look around your parking spot (both at home and work). There is a high chance that the real source of trouble is in close proximity to where you park.
Step #2: Clean Your Vehicle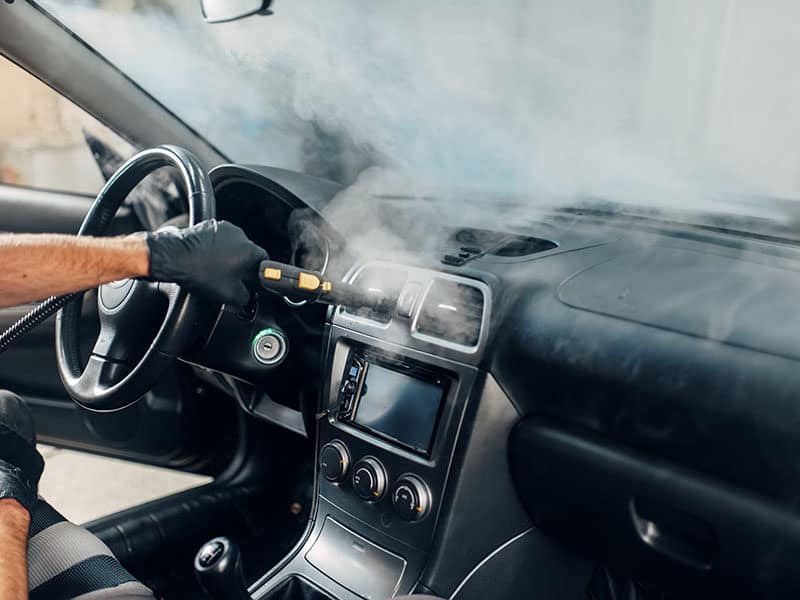 A dirty environment is very appealing to bugs. Therefore, you must check and remove any trash, blankets, old food leftovers, and loose papers regularly.
After removing major contaminants, use a high-quality vacuum for cleaning car detailings and shampoo your entire car, including the floor mats and the upholstery. Steam cleaning is also a great approach to remove all bugs from your car's internal space.
If the aforementioned method does not completely get rid of bugs inside your car, then the bugs are likely stuck in difficult-to-reach areas, such as the wheel wells.
It is best to use a professional car wash service. These car wash stores have steam cleaners used for auto detailing to get your car in impeccable conditions without relying on chemicals.
After the car wash, do not forget to inspect it for bugs over the next couple of days.
If you want to learn more tips in removing bugs from your car via shampoo, do not hesitate to refer to this video:
Step #3: Utilize Bug Chemicals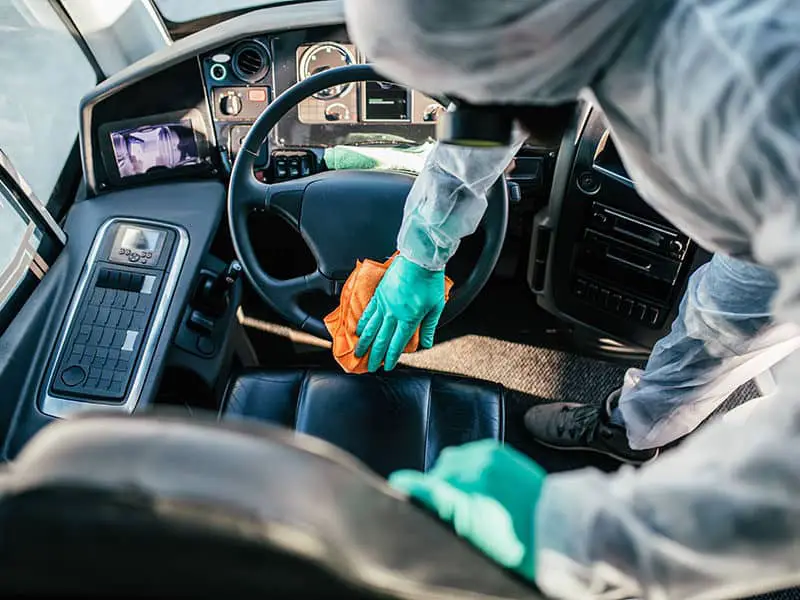 If the above two steps still prove ineffective, it is high time to call out bug chemicals. These items are usually designed to deter specific bug types; hence using them requires some sort of understanding.
For example, a  water and lemon spray is beneficial in preventing spiders, while a eucalyptus spray can fight off cockroaches.
In addition, insecticide contained in bug traps is a great option as well. You can place them under your seats and in various areas of your car to get rid of ants and bed bugs.
Step #4: Apply Fumigation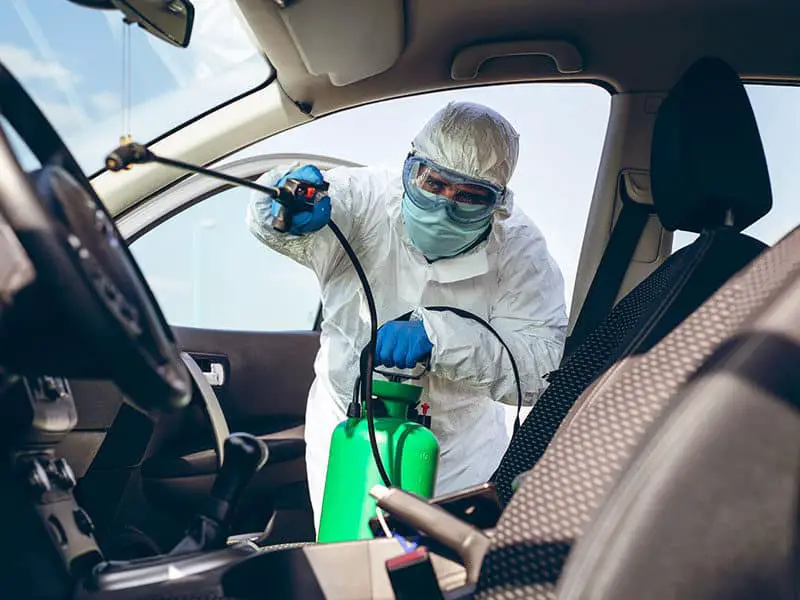 If the bug problem still exists until now, you should consult a professional fumigator for proper car treatment. Car fumigation is very much like the way pest control companies fumigate your home. Your car will be sealed up, covered with a tarp before being fumigated.
Store some more skills in removing bugs from your car interior by watching the following clip:
Step-By-Step Tutorial On How To Remove Bugs From A Car
In this part, I will show you the general procedure on how to remove bugs from a car. Additional tutorials on removing bugs from car windows are also included in this section.
General Procedure On How To Remove Bugs From A Car
Step #1: Deal With The Top Dirt Layer
Your first attempt should be scraping off any bugs or tars that can harm your vehicle paintwork.
Use Turtle Wax MAX Power Wash, together with a bucket of soapy water to clean your car's surface and get rid of all the dirt and grime.
It is advised to utilize special sponges for the removal of bugs and tar splatters.
Step #2: Handle The Contaminated Area
After your first wash attempt, if the bug splatters remain, it is high time to pick up a more specialized bug remover for your car. You can rely on products such as Turtle Wax Bug And Tar Remover to wipe away those troublemakers without worrying about your paintwork being damaged.
Spray the bug remover on your contaminated areas, such as the grill or hood, and wait for about a minute so that the product can fully activate.
The final purpose is to loosen the contaminants from the car's surface to pave the way for easier scrubbing. This helps prevent the paintwork from being damaged from hard cleaning actions.
Step #3: Restore Your Car's Shine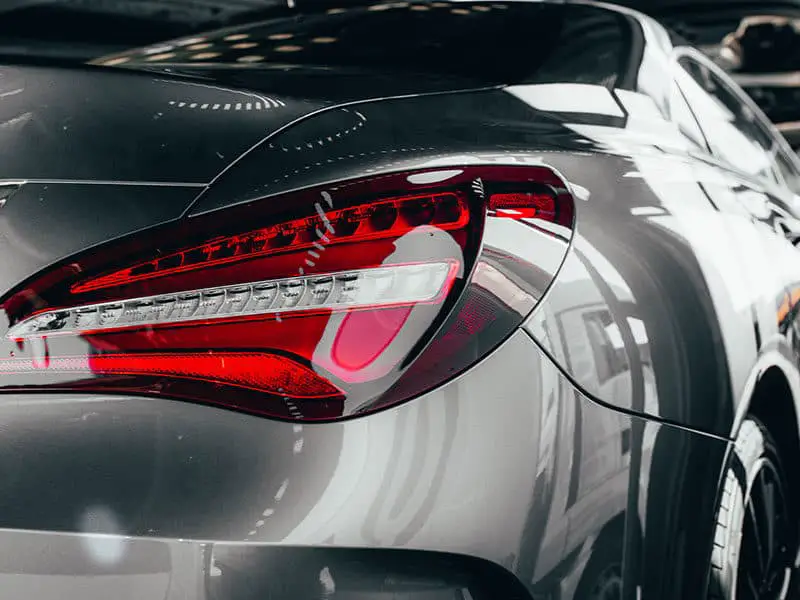 The final step requires a decent amount of water to rinse the bug remover off the car. After that, dry the contaminated area with a clean microfiber cloth.
If you still spot certain stains remained, a wise move is to repeat the process.
Ultimately, let's wax the car's surface after the bug removal process by utilizing products such as the Turtle Wax Carnauba Cleaner Wax Paste. It will restore the paintwork's shine and prevent future bug stains.
Procedure On How To Remove Bugs From Car Windows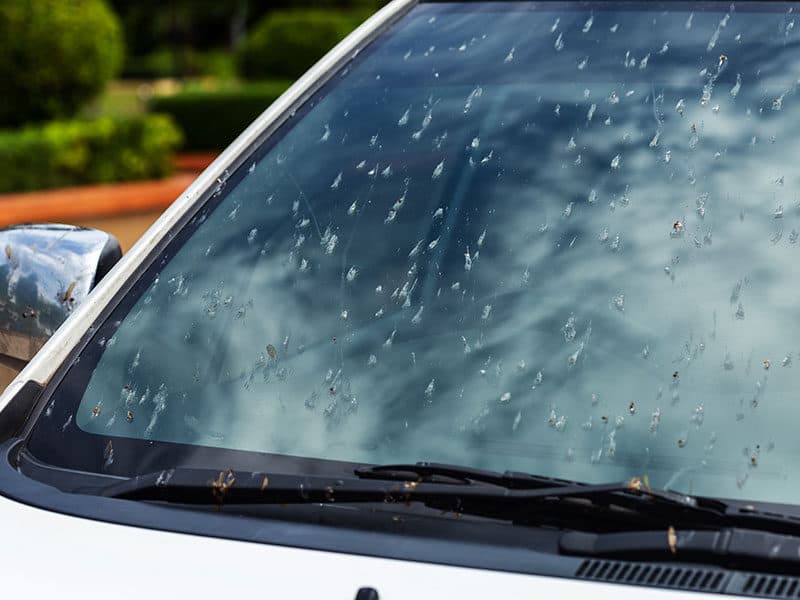 Step #1: Soak The Contaminated Area
Removing bugs from the windshield is a more challenging task. A good practice is to soak the stain before starting the cleaning process.
To do this, use a piece of cloth soaked in Turtle Wax Bug and Tar Remover and cover up the dirt spots.
You should use a microfiber cloth on your car windows, as it leaves less lint than regular clothes.
You can refer to the following video to know how Turtle Wax Bug And Tar Remover looks like in action:
Step #2: Wash Away The Contamination
In this step, utilize the Turtle Wax Max Power Wash to remove all the debris that you have loosened from your car paintwork. Then, gently scrub the car's surface with a microfiber piece of cloth. Remember to apply in circular motions and remove any excess contaminants with paper towels until the surface is sparkling.
The final treatment should involve the Turtle Wax And Dry Spray, which is an ideal choice for glass surface protection.
Useful Tips To Remove Bugs From A Car
Below is a small collection of tips to remove bugs from a car, which will help you achieve a bug-free vehicle in a more efficient way.
Tip #1: Remove Bugs Off As Quickly As Possible To Prevent Paintwork Damage
Serious problems will arise if dead bugs are not removed swiftly from where they land on your vehicle (front bumper, grille, windshield, etc.). Besides the corrosive effect, bug splatters can attract bacteria, which will eat away at your vehicle as well.
Therefore, the best advice is to remove bugs from your car as soon as possible.
Tip #2: Wash Your Car Regularly During The Bug Season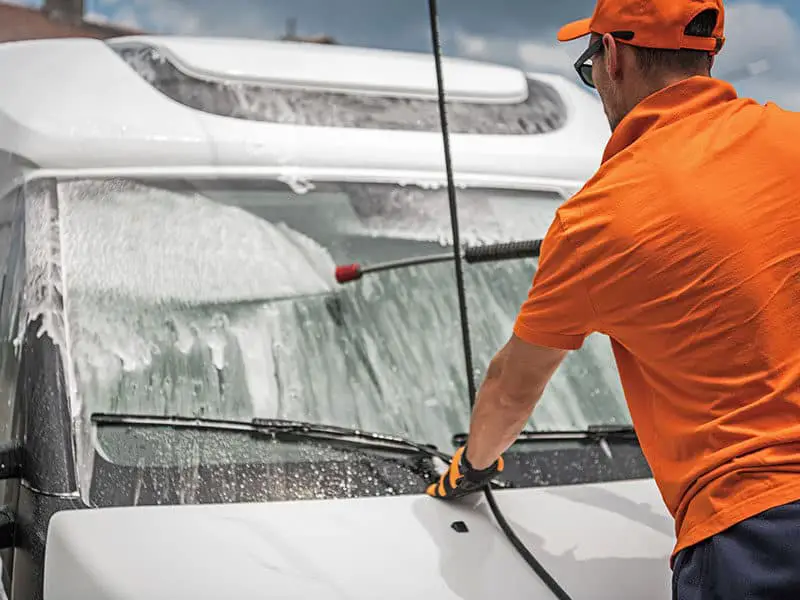 Let's mark on the calendar your car washing schedule. A good rule of thumb is to do it every two weeks, with bug removal the top priority. Sometimes, you can get your car washed immediately after a long drive on the highway, not having to wait for the strict preset schedule.
Annual waxing is also a wonderful practice to protect your vehicle's paintings. This move paves the way for easier car washing, which in turn will enhance the efficiency of bug removal. However, be aware that waxing will not directly remove bugs from your car.
Frequently Asked Questions
This part will provide answers to some of your most common inquiries about the topic.
Additional Advice On Removing Bugs From A Car
Additional advice, and probably the best one, on how to remove bugs from a car is to utilize a bucket of water and a microfiber cloth. You do not want to scratch your car's surface with terry clothes as they are too abrasive, especially on dark vehicles.
All in all, there are various ways and methods that you can use to remove bugs efficiently from your car. Just start off by following my above tutorial, and you will achieve great results.
It is done for my sharing. I want to hear more from your side about which methods you have used and whether they are effective? Do not hesitate to drop a comment down below and spread the good practices to others.