Moss growth on external concrete floors is by far the most disturbing issue that you could face. If you find your concrete surface to be covered in shaded and moist footprints throughout the whole day, you will see those annoying green substances grow tremendously.
The existence of moss and algae on your concrete floors can degrade the beauty of your home. Moreover, it poses a serious danger of slippery surfaces if it grows on concrete walking paths.
Therefore, it is very crucial to learn how to remove moss from concrete. This topic shall be discussed in detail throughout this writing. After reading, you will learn certain effective approaches to remove moss and maintain good condition for your concrete floor.
Without further ado, let's dive right in!
Why Is Moss Troublesome?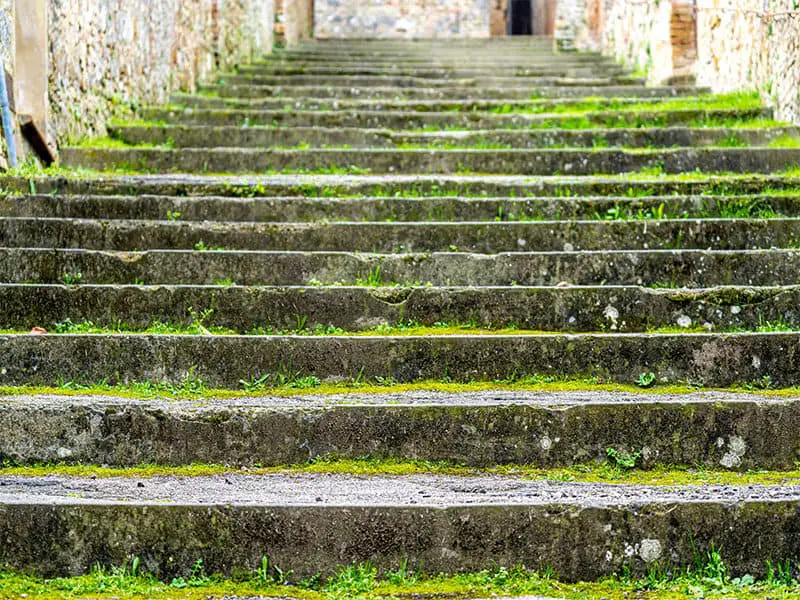 Some of you might assume moss is another form of fungus. However, this is not necessarily true. This green substance is indeed a flowerless, low-growing plant that grows in mats or large patches in moist and shady areas.
Fairly speaking, moss is ecologically important and causes no biological harm to humans. The velvety green plant organism is perfectly safe for concrete as well.
Nevertheless, the fact that it grows on concrete surfaces, such as sidewalks, wall structures, and driveway, is extremely undesirable and troublesome. Not only does it make everything look untidy, but also poses a hazard of slipping on such surfaces.
That is the reason why learning how to remove moss from concrete should be a top priority. Fortunately, the task is easy to perform with simple and accessible ingredients. All best practices related to the topic in question shall be covered in the following section.
I will start with the least toxic method, which involves little to no chemical content. The later methods will rely more on the utilization of chemicals. Therefore, only use the later approaches if the initial one is not very effective.
Best Approaches On How To Remove Moss From Concrete
This section will put together some of the best practices on removing moss from concrete and on maintaining your concrete floors.
Approach #1: Use Boiling Water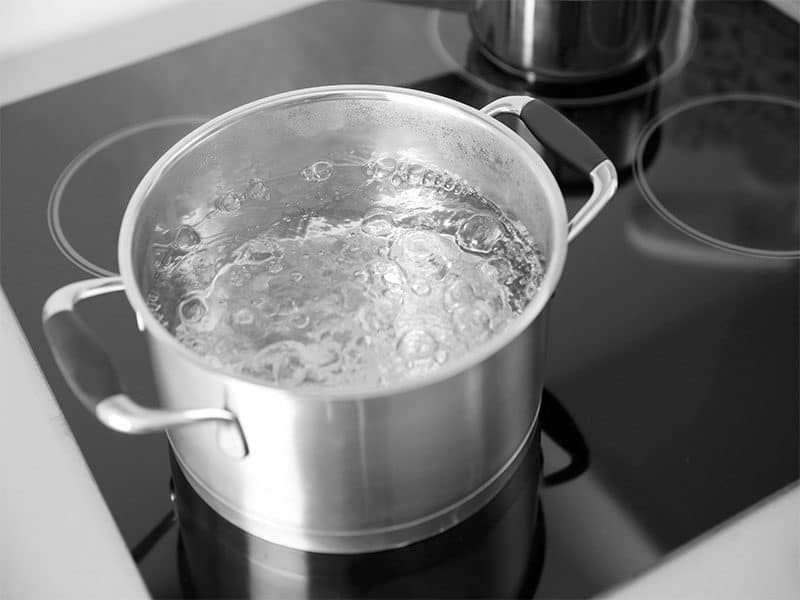 This first method is probably the most straightforward and environmentally friendly practice to remove moss from concrete. It requires no chemical-based cleaner. All you need to prepare is boiling water and several gadgets:
A scrub brush
A garden hose
A watering can
Once you finish boiling the water in a large pot, pour it carefully into a watering can or a tea kettle. After that, water directly onto the concrete floor's mossy footprints. Wait for a few minutes to let the area cool down. Then, pick up your scrub brush (or broom) to remove all that is left on the surface.
Finally, spray the area with a garden hose to get rid of the moss debris. Remember to keep checking the area for a few days to ensure that all moss is eradicated.
This cost-effective method is ideal for cleaning small moss patches growing on your concrete driveway or sidewalk.
Approach #2: Use A Pressure Washer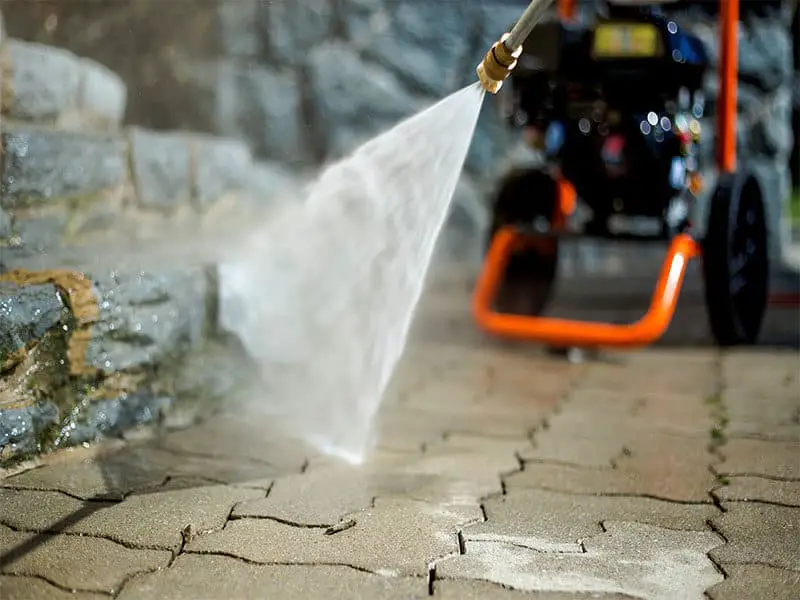 If using boiling water requires careful conducts to avoid getting burnt, relying on a pressure washer to clean moss from concrete areas turns out to be a safer option. Not only that, the second approach is also faster in removing moss from concrete, as its main actions include blasting away the surface and leaving it clear.
However, there are still certain precautions you should address when using this method. A pressure washer can unintentionally damage nearby plants and other items. Therefore, make sure to cover them probably with some plastic sheetings.
Once you have finished covering surrounding areas, you should prepare the following equipment:
A power washer with a 25-degree nozzle tip
Protective glasses
Always strictly follow the manufacturer's instructions. After wearing a pair of protective glasses on, you should be ready to turn the device on.
During the washing session, try to aim the washer nozzle 2-3 feet away from the affected footprint, and employ a side-to-side sweeping motion for more efficient moss removal.
This approach is super easy and fast to conduct. However, it is more suitable to combat moss growing on small concrete areas. Rinsing sizable concrete surfaces, such as a driveway, may take a significant amount of time and a great deal of water.
Approach #3: Use Baking Soda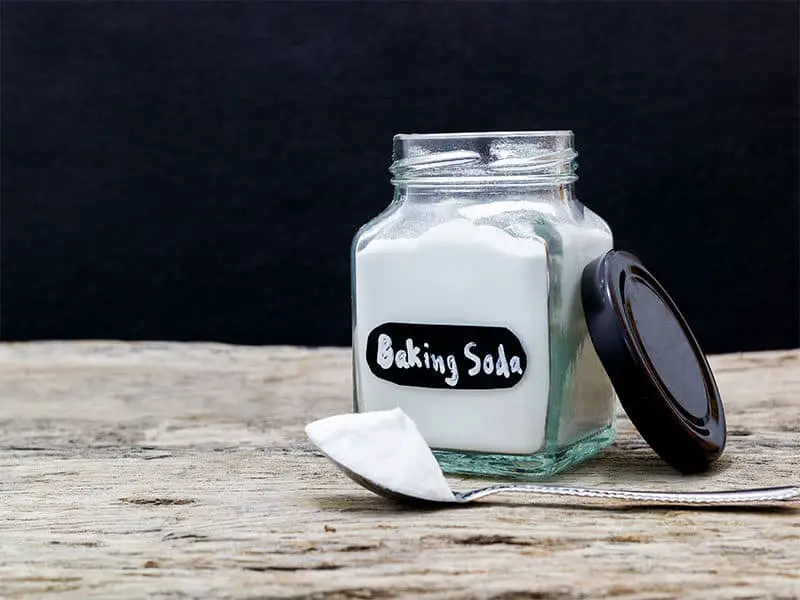 Baking soda poses a very cozy home vibe to it. I believe that no household lacks this material in their kitchen cupboard, owing to its versatile cleaning ability. For moss removal, the white powder is capable of neutralizing the acidic conditions required for the velvety green plants' thriving growth by increasing the pH.
This simple approach is ideal to be implemented on dry days. All you need to do is to sprinkle the baking soda over the mossy areas on your concrete surfaces and leave it there for at least 24 hours. Come back a day later and simply use a stiff-bristled broom to sweep away all moss remnants.
Approach #4: Use Household Bleach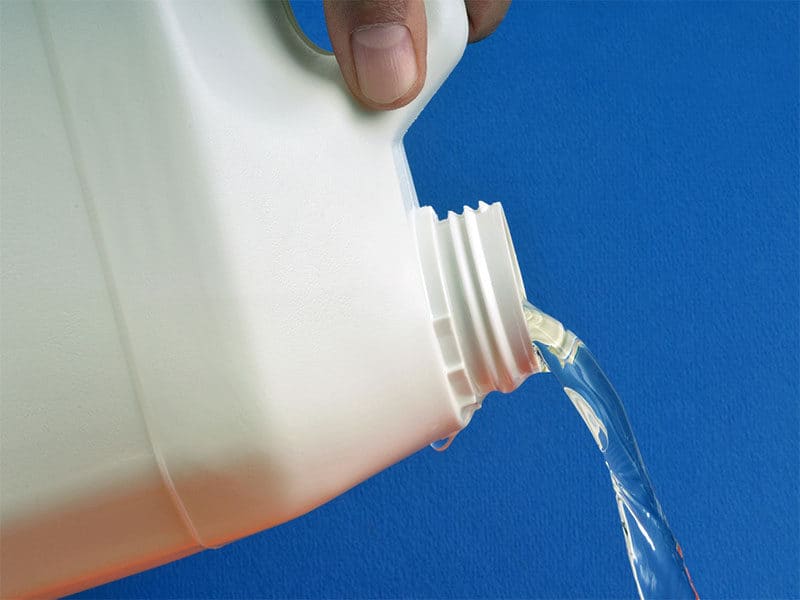 From this method onwards, I will show you certain moss cleaning practices utilizing chemical-based solutions. This upcoming approach will reveal the effectiveness of household bleach. The solution is capable of not only cleaning moss but also preventing it from regrowing.
Below is the list of necessary materials and gadgets for this method:
1 cup of chlorine bleach
4 cups of warm water
A scrub brush
A spray bottle
A pair of rubber gloves
Start off putting on your rubber gloves for safety. The next step is to mix chlorine bleach with water inside a spray bottle. After that, sprinkle an even layer of bleach mixture over the mossy footprint and leave it there for at least 30 seconds. Then, pick up your brush and start scrubbing to remove moss from concrete floors. The last step is to rinse everything with water.
One remark is to cover the surrounding floras carefully to prevent the bleach solution in reaching them. Otherwise, your favorite flowers and plants could be killed. Moreover, you should always handle bleach products carefully by following exactly their directions on the containers.
This approach guarantees to prevent moss from regrowing for as long as a year. This concoction is one of the most effective DIY homemade concrete cleaners that you can try out.
Approach #5: Use White Vinegar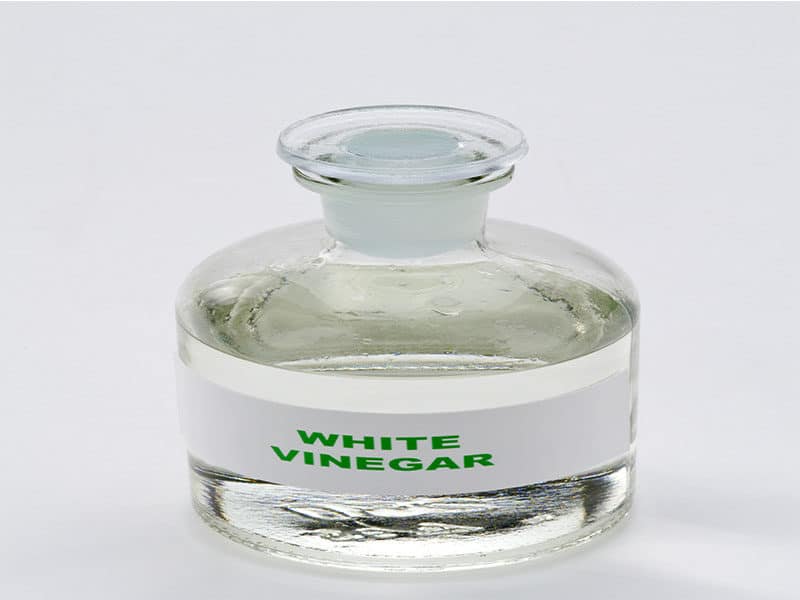 White vinegar is an inexpensive, simple to apply, and effective ingredient in both removing moss from concrete and preventing its regrowth. Besides, the material is a great option for cleaning oil stains from concrete as well.
To kill moss with this approach, you will need the following preparations:
2 cups of white vinegar
2 cups of warm water
A scrub brush
A spray bottle
Garden hose
First off, mix white vinegar and warm water in your spray bottle and shake it up well. After that, spray the solution directly on the concrete's mossy areas. Then, you should leave everything as it is for a few days. Once the wait is over, inspect the area to see if the moss is dry or not. If the answer is no, you can respray the solution.
Finally, use a hard-bristle brush for sweeping away all the dead moss on your concrete surface. Rinse everything carefully with water and you are done.
One small tip is to add more sea salt into the solution for stronger cleaning effects.
Approach #6: Use Ammonium Sulfamate
If you have time to browse through stuff at a garden supply store, you may see an item called "ammonium sulfamate". Actually, it comes in various names, such as Amicide, Ammate, Amcide, Amidosulfate, Fyran 206k, Ikurin, Sulfamate, and Silvicide. This solid product is water-soluble, hence you will need to prepare a garden sprayer to apply it.
Whenever you deal with chemical products, safety should be the top priority. Get yourself a protective gear to keep your eyes, skin, and lungs from harmful irritations. Moreover, you should strictly follow the producer's instructions.
Ammonium sulfamate works best on no-wind days. Without wind, the solid cleaner will not get blown away and come into direct contact with other plants. Practically, it is easier to control during the application of this product when the air is still.
To apply the item, gently mix it with water in a spray bottle (or a watering can with a sprinkling spout) and drench the entire mossy areas on your concrete surfaces.
Approach #7: Use Sodium Pentachlorophenate
This is the place for tough chemical cleaners now. My next recommendation for you is sodium pentachlorophenate, which is widely known as a carcinogen. Therefore, its application requires extreme carefulness and consideration. If you can remove moss from concrete with other safe methods, use them instead!
Put on your protective gear! Then, mix 1 part of the chemical with 8 parts of water. Then, cover the mossy areas with the solution and let it sit there for at least 24 hours. When you come back, bring a broom with you to brush away all the dead moss.
This method guarantees to prevent moss for at least several weeks.
Approach #8: Use Zinc Sulfate
Zinc sulfate is another strong chemical for you to clean moss from concrete. As always, wear your safety gear probably before handling it.
Start off by mixing 3 pounds of zinc sulfate with 5 gallons of water. Then, apply this concoction on your mossy areas. However, make sure to cover nearby plants carefully during this application process, as the solution can be harmful.
Avoid applying this mixture near water as well, because it can be toxic to underwater species as well.
Utilizing this solution can prevent moss from growing for a few years. Pretty amazing, right?
Approach #9: Use Wet & Forget Moss Remover
Most of the above methods focus on the DIY materials, which you can formulate on your own. However, if you do not want the hassle of DIY things and plan to utilize reliable concrete cleaners, simply go online and purchase a product dedidated for moss removing tasks – Wet & Forget.
To get ready, simply grab a Wet & Forget bottle and a garden sprayer for yourself. Mix 1 part of the chemical with 5 parts of water. After that, spray the solution on your concrete surfaces and leave everything as it is for 4-5 hours. This duration is needed for the Wet & Forget solution to do its cleaning job.
And surprise! With this approach, you will not have to do any scrubbing or rinsing. The chemical is bleach-free, non-acidic, and non-caustic, so you can utilize it everywhere you want.
There is another version of this product that can bring about faster and stronger effects. It is called Wet & Forget Rapid. With a built-in nozzle from this version, you can clean moss on very sizable areas, up to 200m2 in just 10 minutes.
Extensive Process On How To Remove Moss From Concrete Without Using Power Washers Or Chemicals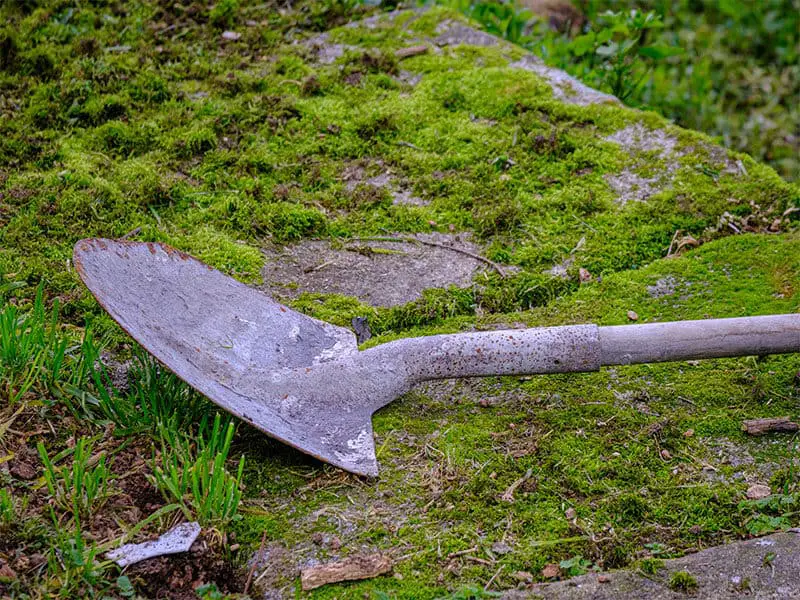 In eradicating moss, using chemicals or power washers is not a must. There are actually manual ways to remove moss from concrete. This following part will guide you through 4 basic steps in doing the task without relying on power washers or chemicals.
Step #1: Preparing Essential Gadgets
Without chemicals, you will mainly gather certain cleaning tools as follows:
A flat shovel
A broom
A wire brush
A gardening knife
A garden hose for water
Except for the wire brush, other gadgets can be substituted out for something analogous.
Step #2: Removing The Thick Stuff First
In this step, you will utilize a flat shovel to remove a majority of the thicker stuff. This process will generate a lot of noise, so be aware of it.
Then, pick up the gardening knife to deal with the thinner and more troublesome stuff. One tip is to pour some water on the mossy areas to loosen them up. This practice will give you an easier time in handling the thinner parts.
Step #3: Performing Deeper Cleaning
After performing one or two passes of Step #2, you will see most of your mossy footprints disappear. At that time, you will start seeing some dirt layers underneath. Therefore, it is high time for deeper cleaning by using a wire brush to sweep the entire place. Keep brushing until you see dirt no more.
Step #4: Finishing Up And Rinsing
The final step is to sweep away all the dirt on your concrete surface with a broom. You can go a bit further by rinsing all the dirt away with water, as not all contaminants can be removed by the broom.
Frequently Asked Questions On How To Remove Moss From Concrete
This section will explain some of your most common inquiries about how to remove moss from concrete.
Important Advice On How To Remove Moss From Concrete
Important advice on how to remove moss from concrete is to always utilize the mildest solution possible with an aim to minimize the harmful effects for surrounding areas. If the current method is not effective, simply move on to a slightly stronger concoction.
All in all, the aforementioned methods are great approaches for you to remove moss from concrete surfaces. They are easy to use and arranged based on the strength of the chemicals' being used. Moreover, you can simply clean moss manually without relying on any concoction.
Is there any method above that you have used before? Or are there other approaches that you can share to us? Feel free to drop a comment below. I look forward to hearing from you.