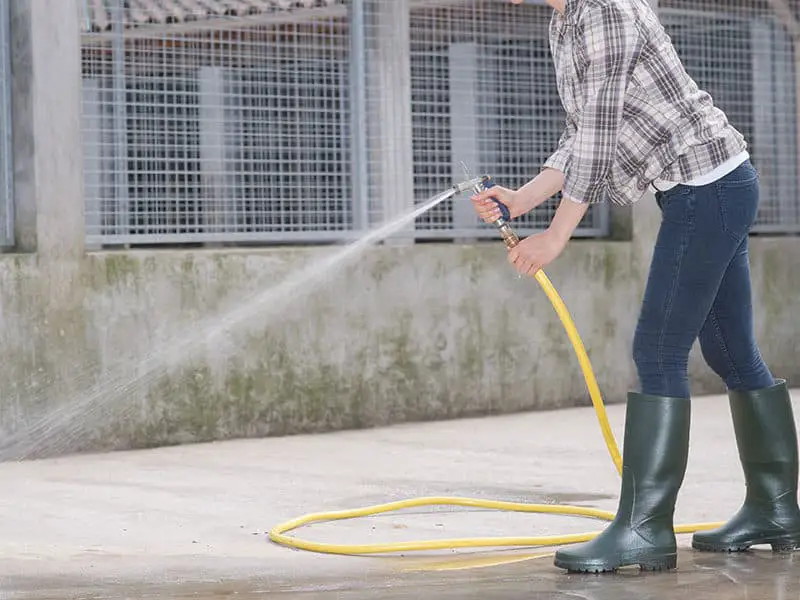 How to remove rust stains from concrete is a common question among homeowners because rust looks hideous and can appear due to different reasons. Luckily, there's a solution to this issue.
If you have rust stains all over your driveway, garage floor, or patio, this article is for you. First of all, the sooner you tackle a rust stain, the easier it will be to remove, so you should start immediately.
In today's article, I will share methods on how to get rid of rust stains using both natural and commercial solutions. That being said, let's dive into the topic and give your concrete a full makeover.
How Do You Get Rust Stains Off of Concrete?
Rusty metal plant pots, outdoor furniture, and tools can pass that horrible brown color to your concrete. Rust stains can be difficult to remove completely but the next methods can certainly help.
A fresh rust stain can surrender to the mild acid of white vinegar. Just pour some white vinegar over the rust stain, give it 10 minutes to do its magic, then scrub with a stiff brush. Rinse and repeat if the stain doesn't give up. If you're dealing with large, old rust stains, utilize a commercial rust remover.
It contains a stronger acid than vinegar, so protection for your hands and eyes is mandatory. Let it sit for about 15-20 minutes before you rinse the concrete with your hose, and repeat if necessary.
Let's see this video to collect more understandings:
How to Remove Minor Rust Stains from Concrete?
If the rust stains on your garage floor, patio, or driveway are small and new, try some of the next natural solutions before progressing to commercial-grade rust stain removers if necessary.
The majority of commercial rust removers contain acid to lift the stains. Therefore, if you're looking for a more natural alternative, lemon juice is an excellent option that works wonders.
It has a high concentration of citric acid that can fight rust stains. Just spray or pour lemon juice onto the rust stains. Let the juice sit for about 10 minutes before you start scrubbing with a wire brush.
Finally, rinse with cold water and repeat the process if necessary. If you have a painted concrete, utilize a stiff-bristled nylon brush and a mop for concrete floors to prevent further damage.
In case lemon juice isn't effective but you still want to avoid rust removers, perhaps white vinegar is the answer to your prayers. It's the most popular natural remover for slightly tougher rust stains.
Spray or pour it onto the stains. Let it sit for a while, then scrub with a wire brush. Rinse with water. For painted or delicate surfaces, dilute the vinegar and use a sponge to prevent further damage.
How to Remove Heavy Rust Stains from Concrete?
For larger and more stubborn rust stains, you will need to purchase a commercial rust remover. Opt for a heavy-duty solution and follow the instructions on the label for effective and safe application.
Most commercial rust removers come with safety precautions and detailed instructions for use. Usually, these products should be applied in a well-ventilated place, and you should wear protective gear.
Cleaning products that contain oxalic acid are often utilized to remove stubborn rust stains. They usually come in either powder or liquid form. Sprinkle or spray the product onto the stains.
If you're using a powered cleaner, apply some water according to the instructions on the product. Give it a few minutes before scrubbing in small circles with a stiff-bristled nylon brush to remove the stain.
Finally, rinse thoroughly with cold water. The last step is one of the most important steps in this process. Remove the rust remover completely. Otherwise, you will end up with a discoloration.
Trisodium Phosphate (TSP)
Another commercial stain remover that's perfect for lifting rust stains from concrete is TPS or trisodium phosphate. You can find this product at home improvement stores like Bunnings.
When applying commercial stain removers, use protective gloves. Mix a half-cup of trisodium phosphate with a half-gallon of super hot water. Then, put the mixture onto the affected area.
Give it about 20 minutes before you start scrubbing in small circles with a stiff nylon brush. Again, please rinse thoroughly with cold water because the leftovers will cause discoloration.
If you're looking for a heavy-duty treatment method for tough rust stains, look no further than this acid. It's extremely effective but dangerous. Meaning, it must be applied with great caution.
Always mix hydrochloric acid with water to prevent a dangerous chemical reaction. I suggest one cup of water for every 2 cups of hydrochloric acid. Apply the mixture to the affected area carefully.
Give it 10 minutes before you start scrubbing the rust away. Don't forget to use protective gloves. Lastly, rinse the area thoroughly with water. Repeat if necessary until the stains have vanished.
Also referred to as water blasting, this method is extremely helpful for lifting rust stains that are hard to reach or stubborn. You can use a pressure washer to wash away concrete cleaning products.
How to Prevent Rust Stains on Concrete?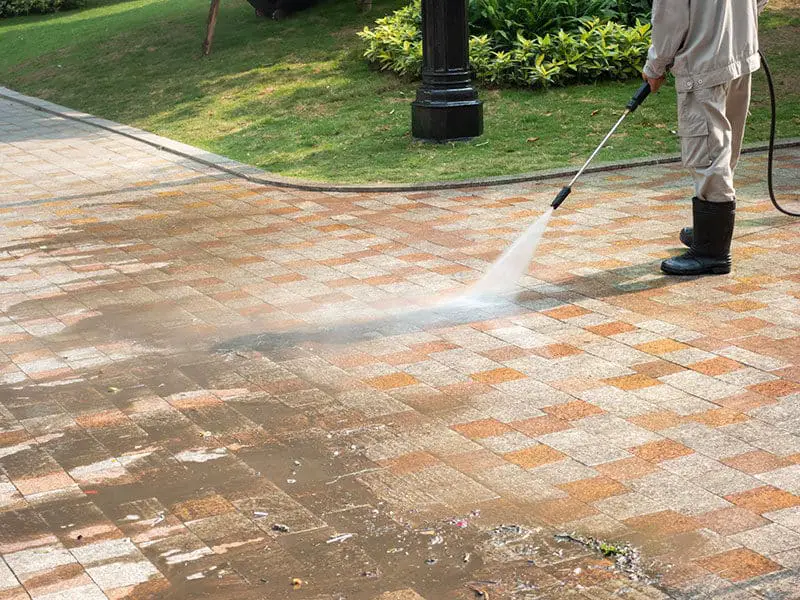 The best prevention against stains is sealing your concrete. Concrete sealer is applied like a wood stain. It soaks into the pores of the concrete and prevents any type of stains.
You can purchase a concrete sealer at any home improvement store. According to professionals, reapply the concrete sealer every 2-3 years for the best results and apply the next tips.
First and foremost, remove any debris with a vacuum cleaner for concrete floors.
Pick a day with a slim chance of rain to apply the concrete sealer.
Wash your concrete and remove any existing stains (apply the methods above for rust stains).
Beginning in the corner, roll the concrete sealer onto the surface.
Let the product sit for 48 hours before putting anything on it.
Avoid putting metal bottomed chairs or other furniture directly on the concrete. If you're out of options, remove it during rainstorms. Usually, rust stains appear due to wet metal furniture but you can easily prevent this with regular removal on rainy days.
Get outdoor mats and carpets or felt runners for concrete protection.
Coat your metal furniture with a sealant to stop rust. Additionally, seal already damaged things to stop the rust from transferring to your concrete.
Interior concrete isn't immune to rust stains, especially if the area is humid or moist. Therefore, be careful what you're placing on your concrete to prevent ugly rust stains.
When laying your concrete, make sure that you have non-corroding bar supports. Certain stains come from within, as the water gets in touch with the metal support bars.
5 Extra Tips for Squeaky Clean Concrete
Do you know that quick action and regular sweeping on stains will decrease your need for a commercial or natural stain remover? Apply the next 5 tips for squeaky clean concrete at all times.
Soak up any spills as long as you see them. Just lay a paper towel on the spill. Allow it to absorb, instead of rubbing the surface that will only push the liquid into the surface.
Borrow your cat's litter to absorb large amounts of liquid spills. Just cover the spills with the cat litter. Let it sit for a whole day. Then, sweep. Keep a bag of cat litter in your home at all times, so that you can act quickly. You can also utilize cornmeal to soak up any liquid spills.
Fairly fresh and new concrete stains can usually be lifted without applying commercial cleaners. Instead, scrub the surface with a natural product such as lemon juice and a brush.
Water enables stains to soak and set deeper into the concrete. Therefore, don't let water sit on any stain. As you can see, cleaning concrete floors can be fast and easy when done regularly.
Check for cracks. Smaller ones can be repaired but if there's a larger crack, perhaps it's time to call a professional. Also, don't forget to seal the surface with a concrete sealer.
Let's see this video to collect more understandings:
Related Questions
Let's Get Concrete About Concrete
The second you see rust stains on your sidewalk, driveway, patio, or garage floor, act immediately.
The longer they stay on the concrete, the deeper they will become and the more damage they will do. If you're looking for a strong commercial rust remover, look no further than Magica rust remover.
However, if you prefer a natural solution, use lemon juice or vinegar. Or some of the other ingredients mentioned in today's article. Please, wear protective gear when using any chemical rust remover.
Was this helpful? Have you ever tried any of these recommendations? What works best for you? Please, share your experiences and questions in the comments. Let's have a chat about concrete stains.
Hopefully, you learned some effective methods on how to remove rust stains from concrete. Feel free to share this article with your social media friends and help people learn useful cleaning information.
And don't forget, regular cleaning and fast action will prevent any concrete stains from setting in.