How to use baking soda as a carpet cleaner? If your carpet is begging for deep cleaning, you may think of renting expensive equipment or purchasing some commercial cleaners for it. However, you don't need to splurge your money on such costly treatments.
All you need is baking soda, one of the most affordable and eco-friendly options you can find in your house. How exactly will you use it to clean your carpet? The answer's waiting for you below, so start scrolling down!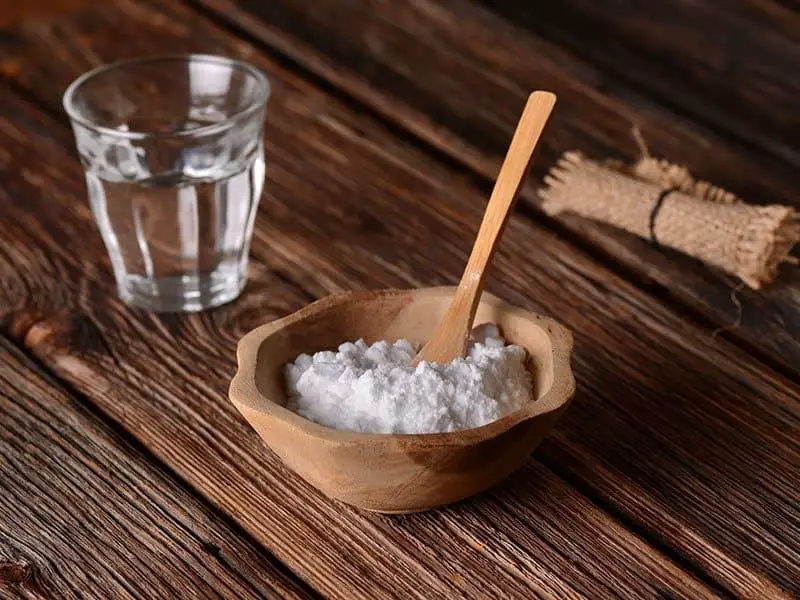 Use Baking Soda To Clean Your Carpet, A Brief Answer
In a nutshell, the job is not too daunting. To pull greasy stains out of your carpet, just sprinkle some baking soda on it (for stubborn stains, bring in a little dishwashing soap). On the other hand, non-greasy stains can be remedied by a mixture of baking soda and hot water.
If the stains leave your carpet with a stinking smell, snuff it out with, again, baking soda and white distilled vinegar.
Now, let's get to know a bit about baking soda, your lifesaver when you clumsily drop a cup of espresso or a dab of cream lotion on your carpet.
Baking Soda, The Miraculous Cleaner You Must Have
Undoubtedly, baking soda is one of the most amazing inventions of humankind. It has many applications in cooking, namely baking and tendering meat, but many people also treat it as a natural cleaning remedy for their household objects.
If your silverware has tarnished over time, a sprinkle of baking soda will bring back the shine effortlessly. In addition, this non-toxic chemical compound can be used to cut through grease or residue on your kitchen appliances and cooking equipment.
And, don't be sad or blame your kids if they have accidentally stained your precious antique carpet. Just grab a few tablespoons of baking soda, and the damage will be reversed in no time. Well, is that magic, you ask? No, it's pure science!
Thanks to its unique mineral structure, baking soda can easily dissolve organic compounds like dirt or grease. Plus, it's abrasive but only to a certain extent, so you don't have to worry about the damage it leaves. Finally, it is super effective in absorbing odors.
That said, baking soda is just the ticket for your household accidents. But how do you use it? Do you have to mix it with anything? The answer is right below, waiting for you to explore.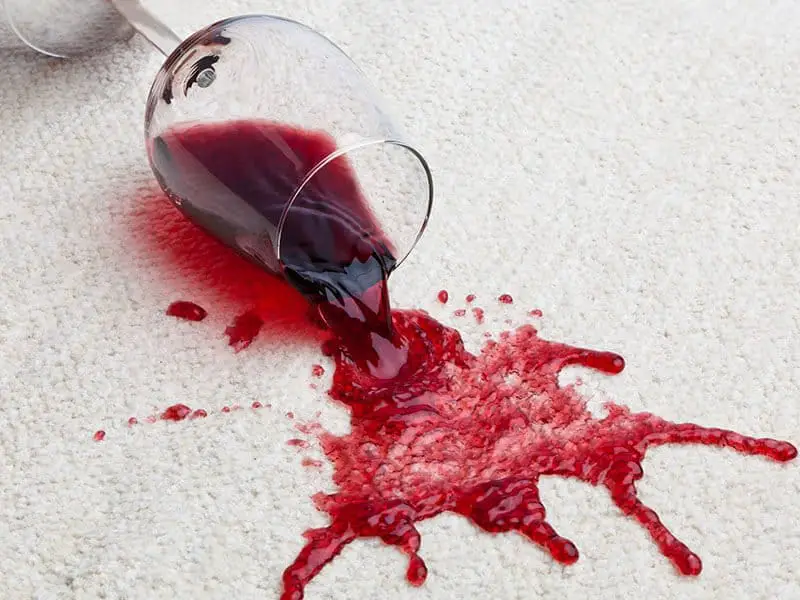 Clean Your Carpet Using Baking Soda With No Effort
Overall, baking soda can quickly remove most of the stains on your carpet. Nonetheless, the approach will vary depending on the type of stain you have. For instance, greasy stains will be slightly more difficult to get rid of, unlike those caused by ink, coffee, or wine.
Grease-Based Stains
Sure enough, greasy stains left by cooking oil, butter, or lotion have given you a headache at least once. They take forever to come off, so some think they have run out of hope when you face such stains.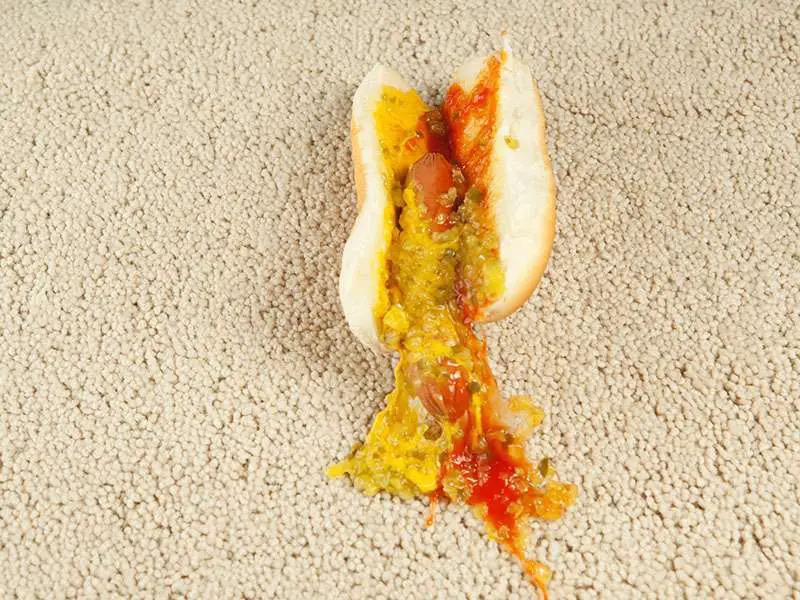 If you are in the same situation, you'll be glad to know baking soda is here to help.
What You Need
Baking soda
Vacuum cleaner
Water
Cloth rag
Soft-bristled brush or old sock (optional)
Dishwashing soap (optional)
Toothpaste (optional)
What You Do
Step 1: First, you will need to vacuum the whole area to suck up the remaining dirt or debris. Otherwise, you will cause more stains by chance.
Step 2: Soak up the grease using a clean cloth rag. Be careful while you're doing this, or the grease will spread to the surrounding area.
Step 3: Scatter baking soda on the stain. Spread it thoroughly so that the stain is covered.
Step 4: If possible, use a soft-bristled brush and scrub the affected area to lift the grease out of the deepest fiber. Do this gently to prevent damage to your textile. You can also turn to an old sock if you don't want the baking soda to clump on the brush.
Step 5: Leave the baking soda on for about eight hours or overnight for maximum effect.
Step 6: After that, vacuum the area to get rid of the baking soda. The stain should disappear at this point. If a slight mark remains, move on to the next step.
Step 7: Apply a few drops of dishwashing soap to the stained area. Next, you will add a little water and blot the residue using a clean cloth rag. Again, ensure that you do this with utmost caution.
Note: If you want something more potent, add an extra dab of toothpaste.
Step 8: The stain should be gone at this point. Should you still be concerned about it, add an extra dab of baking soda to the stain and leave it for approximately three hours. Alternatively, if you are confident that your carpet is back to its prime, rerun the vacuum.
Step 9: Allow the carpet to dry.
Non-Greasy Stains
If you are dealing with other stains like sweat, coffee, or sauce, be positive that everything is still within control. Again, you will seek help from baking soda to remove these stains, along with your vacuum cleaner and a little hot water.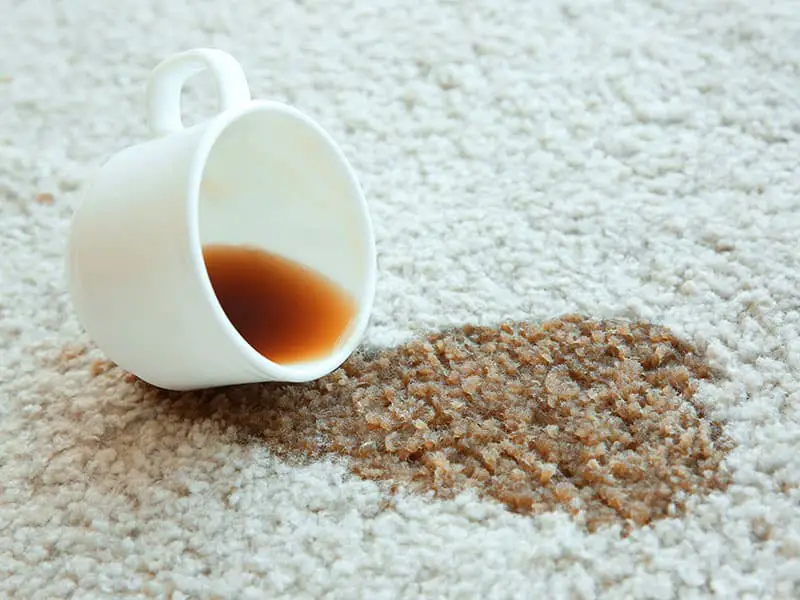 What You Need
Baking soda
Vacuum cleaner
Hot water
Soft-bristled brush
What You Do
Step 1: Likewise, you will do a round of vacuum in advance to get rid of minuscule particles that can get in your way.
Step 2: Cover the stain with a liberal amount of baking soda.
Step 3: Spray hot water onto the stain. The area should be slightly dampened, not soggy.
Step 4: Allow the paste to sit overnight.
Step 5: Run the vacuum to eliminate the baking soda particles that have not reacted.
Step 6: Lastly, take some time for your carpet to dry before letting your kids all over it!
Unpleasant Odor
Baking soda has successfully taken the stains away, but the aftermath is still noticeable. Yes, you know that I'm talking about the obnoxious smell these stains leave behind. Can baking soda help you with this, too? Check out the options below!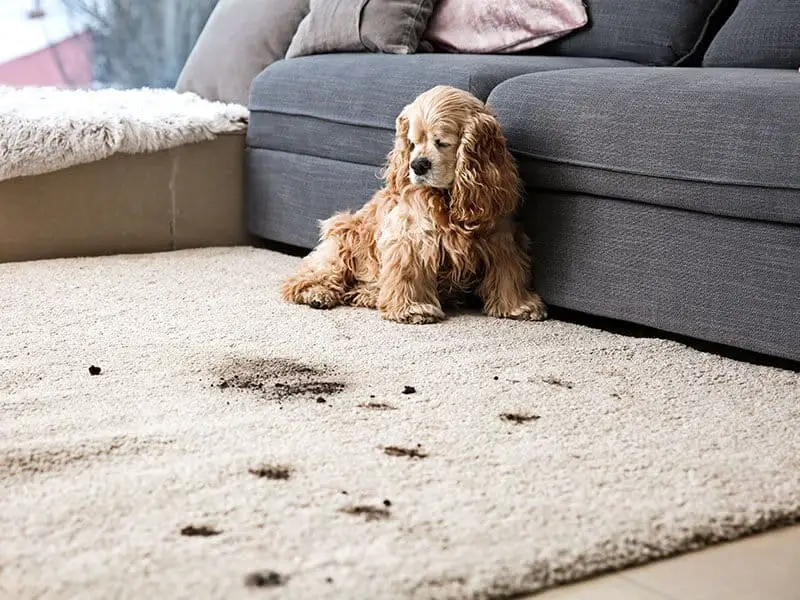 What You Need
Carpet shampoo
Baking soda
Vacuum cleaner
Soft-bristled brush
White distilled vinegar (optional)
Essential oil (optional)
What You Do
Step 1: To begin with, try cleaning the affected area with carpet shampoo. If you don't have it at hand, move on to step 2.
Step 2: For more stubborn stains, you are well-advised to spray white vinegar on them.
Note: Skip vinegar if your carpet is made from wool or silk, as its acidity can ruin the fibers or cause discoloration.
Step 3: If you think you can handle the stains without vinegar, move on to baking soda. Like previous techniques, apply a generous amount and distribute the baking soda evenly on the stains. For a more fragrant result, feel free to add a few drops of essential oil.
Step 4: Wait for a few hours, allowing the chemical reaction to occur and dissipate the smell gradually. For the best result, let the mixture sit overnight.
Step 5: Then, you know what to do next: clean off the soaked baking soda with your vacuum cleaner. Now, take a deep breath, and you will realize that the smell has vanished!
Watch this video to know more:
Why Baking Soda Is The Ultimate Choice For You
Among plenty of commercial carpet cleaners out there, why would you go with baking soda? As I mentioned, it's all about the reasonable cost and its efficiency, but you will love it even more after knowing these facts.
It has multiple cleaning functions: Besides carpet, baking soda can bring the shine back to your kitchen counter, room furniture, and laundry space. It won't cost you a bomb, so stock up a few boxes in case something unwanted happens.
It is eco-friendly: Baking soda is an excellent product for your cleaning project since it is biodegradable. Therefore, it won't pollute the ground or water once released into the environment.
It is non-toxic to humans and animals: If your four-legged buddy happened to lick a little baking soda, there's no need to panic. Baking soda is also used in baking, so it is safe for consumption. Yet, that doesn't mean you can feed your dog with it!
It is not as dangerous as chemical cleaners: Some chemical cleaners can irritate your eyes, skin, and so on. In addition, a few products are flammable, so it can be quite dangerous if you use them to proceed with your cleaning project.
Baking soda has never ceased to amaze me with its performance. However, keep this thing in mind while you're working with it. Ensure that you use only an adequate amount of baking soda, or it will wind up at other corners of the room.
And, assuming that baking soda failed to help you with this job, I'm sorry to say that you will need an experienced cleaner for this job. Or, perhaps you are on a budget, you can try other chemical products on the market.
Tips To Keep Your Carpet Spotless And Flawless
There's no better solution to remove stains other than prevention. If you live in a house with kids and pets, I'm sure that there will be loads of laughter. Accidents, too, unfortunately. So, have a quick look at these tips to prevent your carpet from getting all messed up.
Food and drinks are off-limits: You can't say no to a movie night with snacks and drinks, but you will say oh no when they are on the carpet. Thus, set a rule that no one is allowed to eat or drink in carpeted space.
Leave your shoes at the doorsteps: If you have guests coming over, you can ask them (in polite manners) to take off their shoes before entering the living room. This will keep your carpet away from dust or stains trapped on the soles.
Consider using a rug: Carpet makes your house look 10x fancier, sure enough, but things will turn upside down when someone splashes their drinks on it. Hence, a rug sounds like a more superior option for your living space.
Act fast while it lasts: If something spills on your carpet, don't hesitate to grab your towel to blot it. Then, seek help from baking soda to obliterate the stain. If you don't resolve the problem right away, it will get worse.
Spray a protective layer: There are numerous types of carpet protectants you can find on the market now. They don't help fight the stains but rather halt the fibers from absorbing the spilled liquids.
Vacuum your carpet yearly: This can be tiring and impractical if the carpet is large or sits under heavy furniture like a sofa. Nonetheless, if it's a small one, you can try washing it once a year. You can have a laundromat take care of it as well.
You can refer to this table below to determine how often you should clean your carpet.
| | |
| --- | --- |
| Household Factors | Cleaning Frequency |
| Light traffic | 12 months |
| High traffic | 6-12 months |
| Children | 6-12 months |
| Pets | 3-6 months |
| Family with allergies | 2-3 months |
| Smokers | 3-6 months |
Vacuum your carpet like a pro with this easy guide.
FAQs
Got some questions on cleaning your carpet using baking soda? Stop right here for all the answers you want.
No (Carpet) Stains, No Pain
With the help of this comprehensive guide, I'm sure that you have known how to use baking soda as a carpet cleaner. These unsightly stains used to be a pain in the neck, but you will be jumping with joy once baking soda is here.
Did you succeed with lifting the stains out of your carpet? Don't be shy to brag about your success with other readers and me by sharing your experiences in the comment section. And, feel free to leave me more tips on carpet cleaning. I'm waiting!