If you are ready for a DIY home renovation project, but you aren't sure how to use self leveling concrete, this article is for you. Self-leveling concrete can crack after a short time if you don't apply it properly. But, today I will cover everything there is about self-leveling concrete, so there is no room for mistakes.
You can use this guide whenever you need to repair floors, or before you put on tile floor, carpet, or anything else.
Quick Answers: How To Use Self Leveling Concrete?
Two things are most important when working with self-leveling concrete.
You have to follow the instructions for mixing the compound with water carefully, and you have to work fast. Here is a quick guide for working with self-leveling concrete at home:
Prepare the floor first.
Use a floor sweeper to collect dust, vacuum, and fill in the cracks with a floor-filler or sealant.
Cover the floor with primer and let it dry until it gets tacky finish.
Mix water and compound powder in a large bucket.
Use a drill and mixing pedal to get the right consistency.
Start in the corner of the room, opposite from exit.
Pour the mixture on the floor and work your way toward the exit.
Leave the floor to dry for several hours to one day.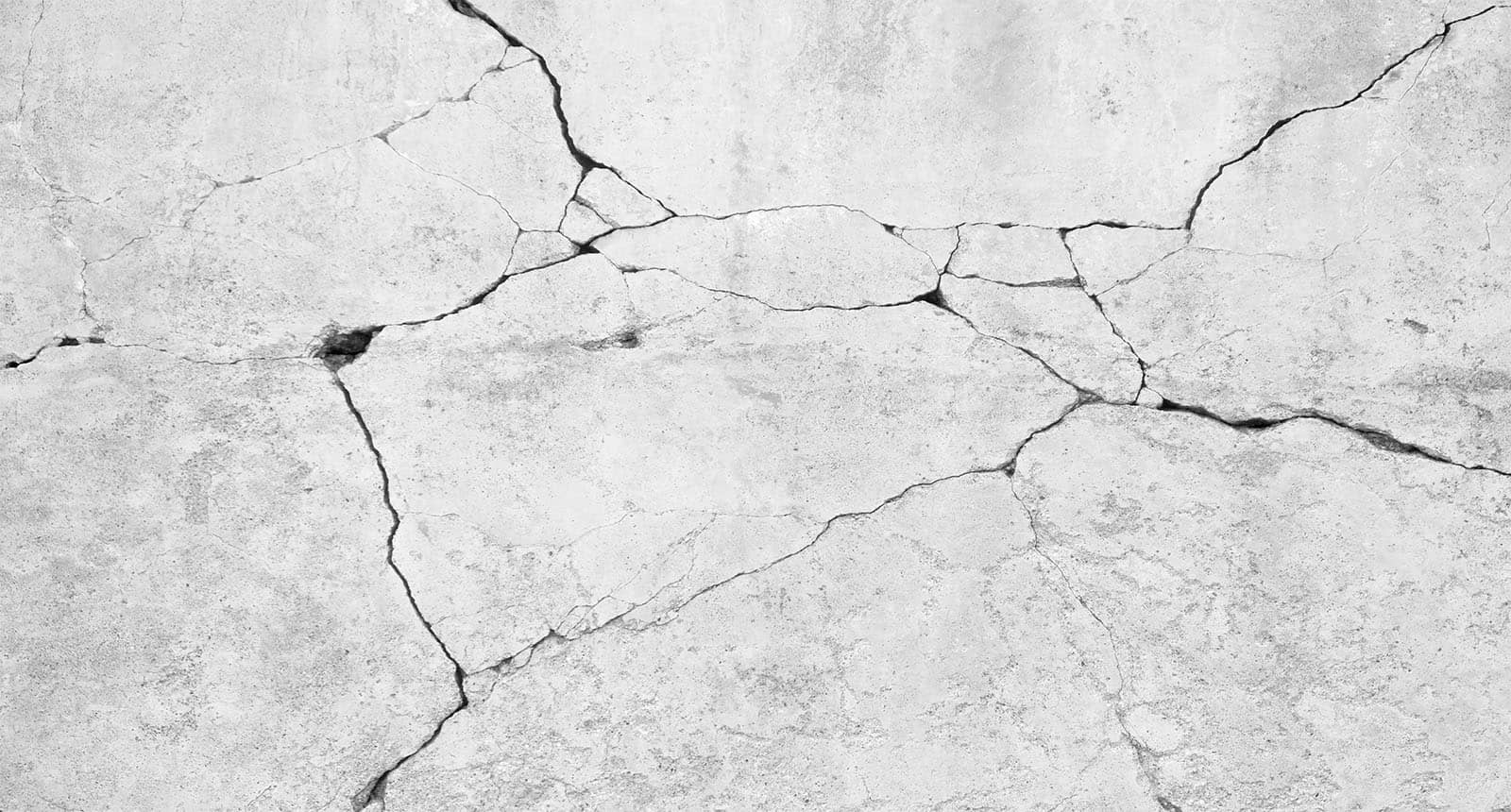 What Is A Self-Leveling Concrete?
You have probably heard about self-leveling concrete, as it is quite a popular trend among modern property owners and architects. The ease of use and ability to install it before and after the construction make it quite a versatile product.
It is cement modified with polymer, which gives it high flow properties. Compared to traditional concrete, the self-leveling type doesn't need a lot of water to be applied.
Most people use self-leveling concrete to smooth out the surface and prepare it for the interior floor.
You can use it on top of plywood, tile floors, etc. Generally, self-leveling concrete is fool-proof, and most people appreciate its hypoallergenic features as well.
Benefits Of Self-Leveling Concrete
Self-leveling concrete is popular for so many reasons. It is an easy and cost-effective way to revamp your floors, smooth them and change the coverings. A new carpet will lay so much better over the exterior without bumps.
Even if you call a professional to help you repair the floor, he won't use traditional concrete. Nowadays, professionals also reach for self-leveling concrete. So, why not do it yourself?
Here are the advantages of self-leveling concrete.
Less Mess
One of the differences between traditional and self-leveling concrete is the amount of needed water. Because self-leveling concrete doesn't need that much water, there is no mess and fuss. Also, you won't overwater it and ruin the texture.
Smoothness And Strength
Self-leveling concrete is smooth, but strong, which makes it an ideal interior floor underlayment. Because it ensures smoothness, some people also use it as a stand-alone floor option.
Versatile
There is more you can do with self-leveling concrete, apart from leveling concrete. Because of its texture, you can put it on top of numerous surfaces. It also works with non-flexible ones. Those include LVP, wood, plywood, ceramic tile, etc.
Ease Of Use
Self-leveling concrete is easy to use. Even if you have never handled similar materials, you won't have issues using it.
With a few tips and correct procedures, self-leveling concrete can look perfect from the first time you use it.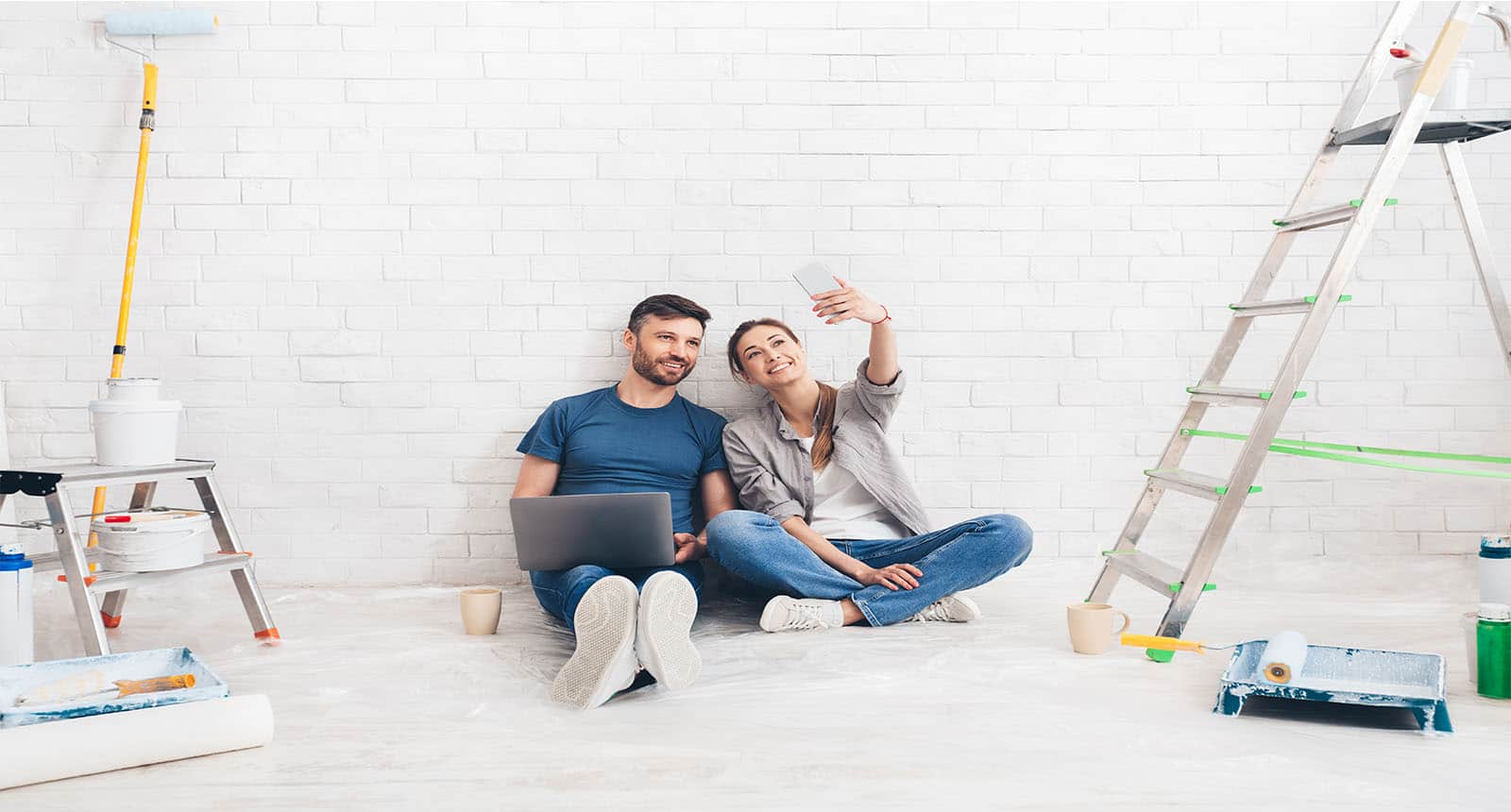 Reinforcing
One of the features of self-leveling concrete that people often forget is the ability to add necessary strength to structures. Therefore, it prolongs the lifespan of concrete construction.
Hypoallergenic
Unlike traditional concrete, you don't have to worry about allergic reactions with self-leveling concrete.
Traditional concrete can cause chromium allergy and lead to occupational asthma. Self-leveling concrete is safe.
Mold Resistance
Mold is a persistent problem that happens in all environments, especially if you live in humid conditions. The self-leveling concrete texture is less prone to mold and mildews, therefore, it requires less maintenance.
Fast-Drying Time
Lastly, self-leveling concrete dries fast. Therefore, you don't need to wait for days to continue with your renovation project. One day or so will be enough, so you will finish your projects sooner. Also, because it dries so quickly, there are fewer chances that someone will leave footprints in it while it is still drying!
Drawbacks Of Self-Leveling Concrete
While benefits overpower drawbacks vastly, I need to mention a few drawbacks of self-leveling concrete.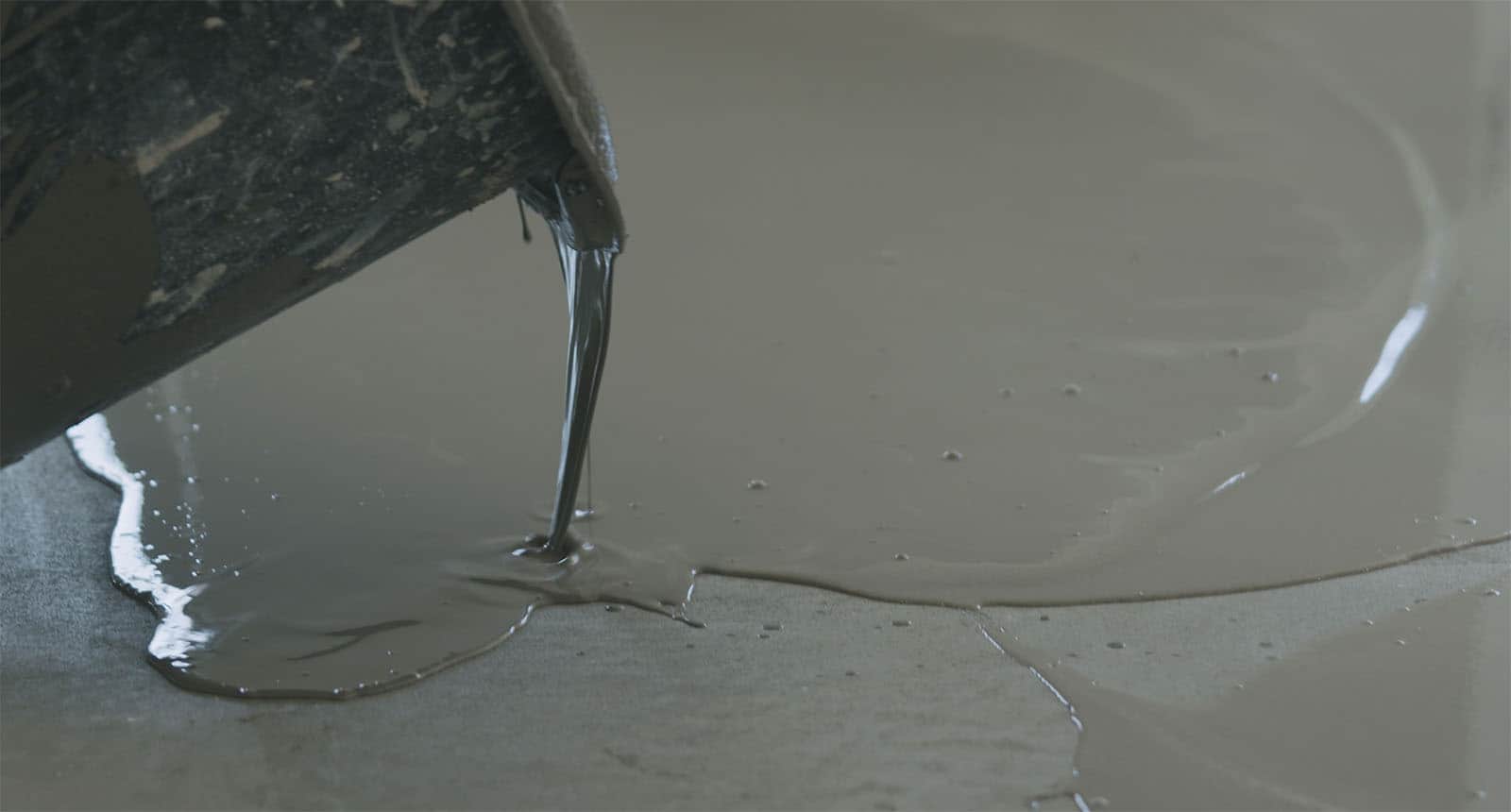 Fast-Drying Time
Fast-drying time can is an advantage from one perspective, and a disadvantage from the other. While it is great to complete the project fast, quick-drying time also means that you have to work with it fast. In most cases, you have as little as 20 minutes to prepare the mixture and pour it.
Doesn't Improve The Underfloor
While self-leveling concrete is sturdy on its own, the quality of the floor beneath can affect the lifespan of the self-leveling concrete.
For example, if the subfloor loosens, the self-leveling floor will also loosen and cause damage to the floor covering on top of it.
Cleaning Tools
As I already mentioned, self-leveling concrete is strong and dries fast. It means that it can stick to the tools or anything else such as doorsteps and surround battens. To prevent permanent stains, clean the tools immediately after you are done with self-leveling concrete.
Types Of Self-Leveling Concrete
Self-leveling concrete is available in two compound types. Let's see more about each type.
Acrylic Self-Leveling Concrete
The acrylic-based self-leveling compound is resistant to abrasion and scratches. It contains liquid acrylic polymers mixed with cement powder.
The compound is elastic and needs more time to dry than a water-based mixture.
Water-Based Self-Leveling Concrete
Water-based is more common and looks more like standard concrete. It dries fast and is available in cement powder which uses less water to create a fluid texture used for smoothing surfaces.
How To Use Self-Leveling Concrete: Step-by-Step Guide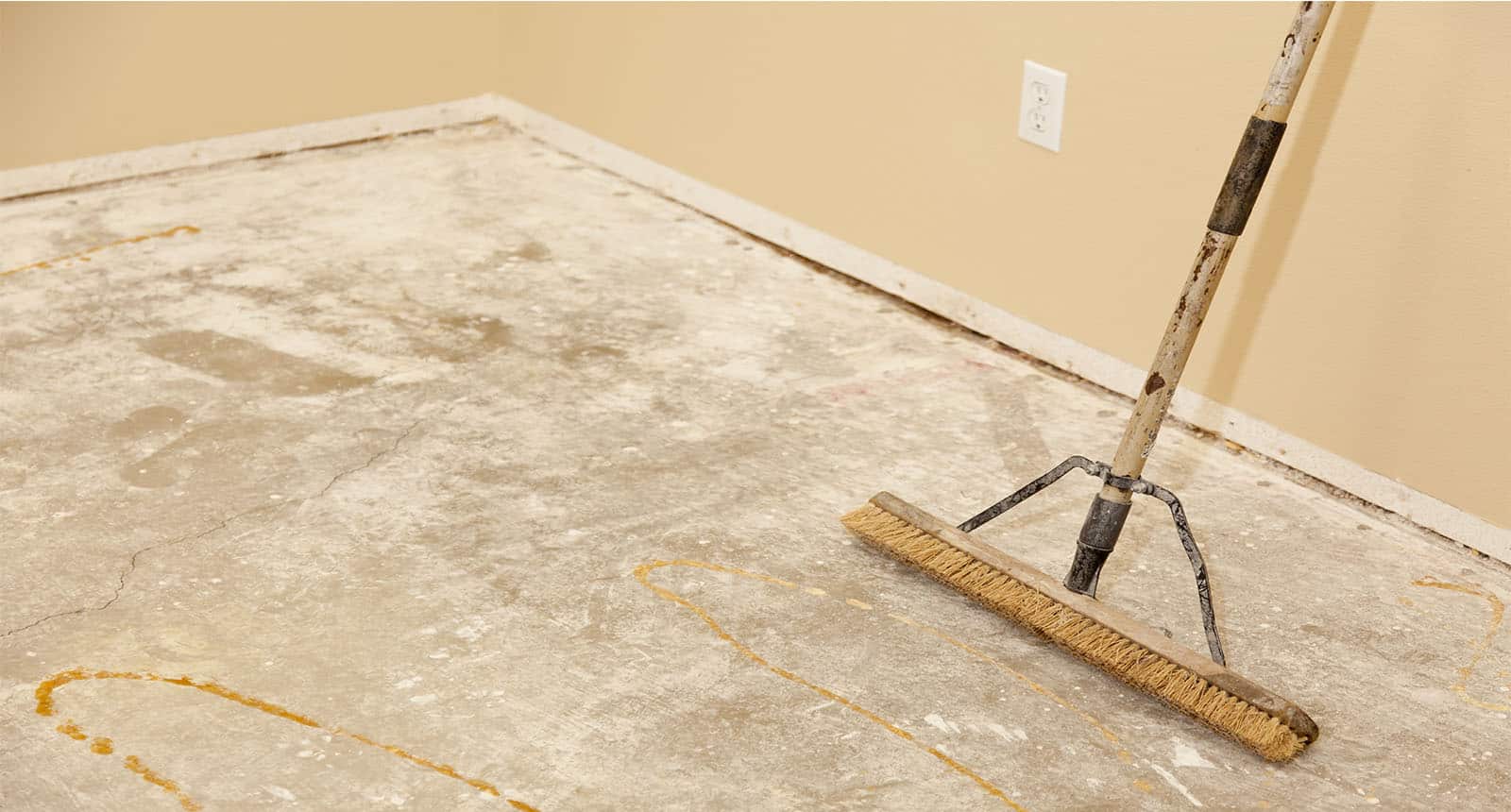 Learning how to use self-leveling concrete includes the correct procedure, and situations in which you can use self-leveling concrete. You need to find out how to prepare the floor before application.
When You Can Use Leveling Concrete
You can only level your floor at home with a self-leveling mixture to some point. If a floor isn't leveled significantly, you'll have to step out and let the professionals do the work.
Everything below 5mm out of level is suitable for self-leveling concrete.
You can measure it with a long-spirit level:
Take the lower end of the level tool, align it so that the bubble stands in the middle.
Then, measure the gap between the level end, raised part, and the floor surface.
Mark The Floor
Prepare a pencil to mark the problematic spots on the floor. Those could be bumps, low spots, high spots, dips, and any other imperfections. Also, if you are working on the existing concrete and you had a carpet on top, don't forget to remove any carpet glue leftovers to even the surface.
Once you clean the floor, inspect it one more time to see if you missed anything.
Step 1: Cleaning
Self-leveling concrete needs to be applied to the clean surface. You need to remove furniture and appliances from the room and clean the floor.
Make sure there isn't anything on the floor.
Sweep and vacuum the floor thoroughly. Use a crevice tool to vacuum around the edges and in the corners.
Once the floor is clean and dust-free, you can continue.
Step 2: Filling The Cracks
Inspect the floor for cracks. If you haven't done renovation for years, you will have large cracks on the floor. But, don't worry, you can easily fill them with a filler and concrete sealer.
Put the nozzle of the concrete filler bottle in the crack and let enough product come out until the crack is filled.
You can also use a trowel. It will help press filler deep in the crack. Check the instructions on the backside of the filler bottle to see how long the filler needs to dry.
Complete the procedure for all cracks you can find on the floor. The better you fill the cracks, the better results you can expect after pouring self-leveling concrete.
If you skip this step, the concrete will flow in the cracks and fill them, so you will need more leveler than expected.
Watch this video to know more:
Step 3: Priming
Priming is important because it helps the self-leveler to stick better to the surface and works like a clean canvas.
While the floor is clean, apply the primer according to the instructions. In most cases, you can put it on with a soft-bristle broom. Let it dry and obtain a tacky finish. Some primers need only several hours to dry, while others require one full day. Check the instructions for precise information.
Watch this video to know more:
Step 4: Mixing And Applying
I already mentioned that self-leveling concrete dries quickly. So, before you start with the next step, make sure you won't be disturbed for at least 30 minutes. Also, always work one bag at a time to ensure you have enough time to pour the mixture before you move on to mixing additional bags.
If you have a larger surface to cover, ask a friend to help you. While you are pouring the first bag, your friend can work on the next bag, and mix it in the meanwhile.
You will need:
Bucket
Bag of self-leveling concrete
Mixing paddle and drill
Trowel (optional)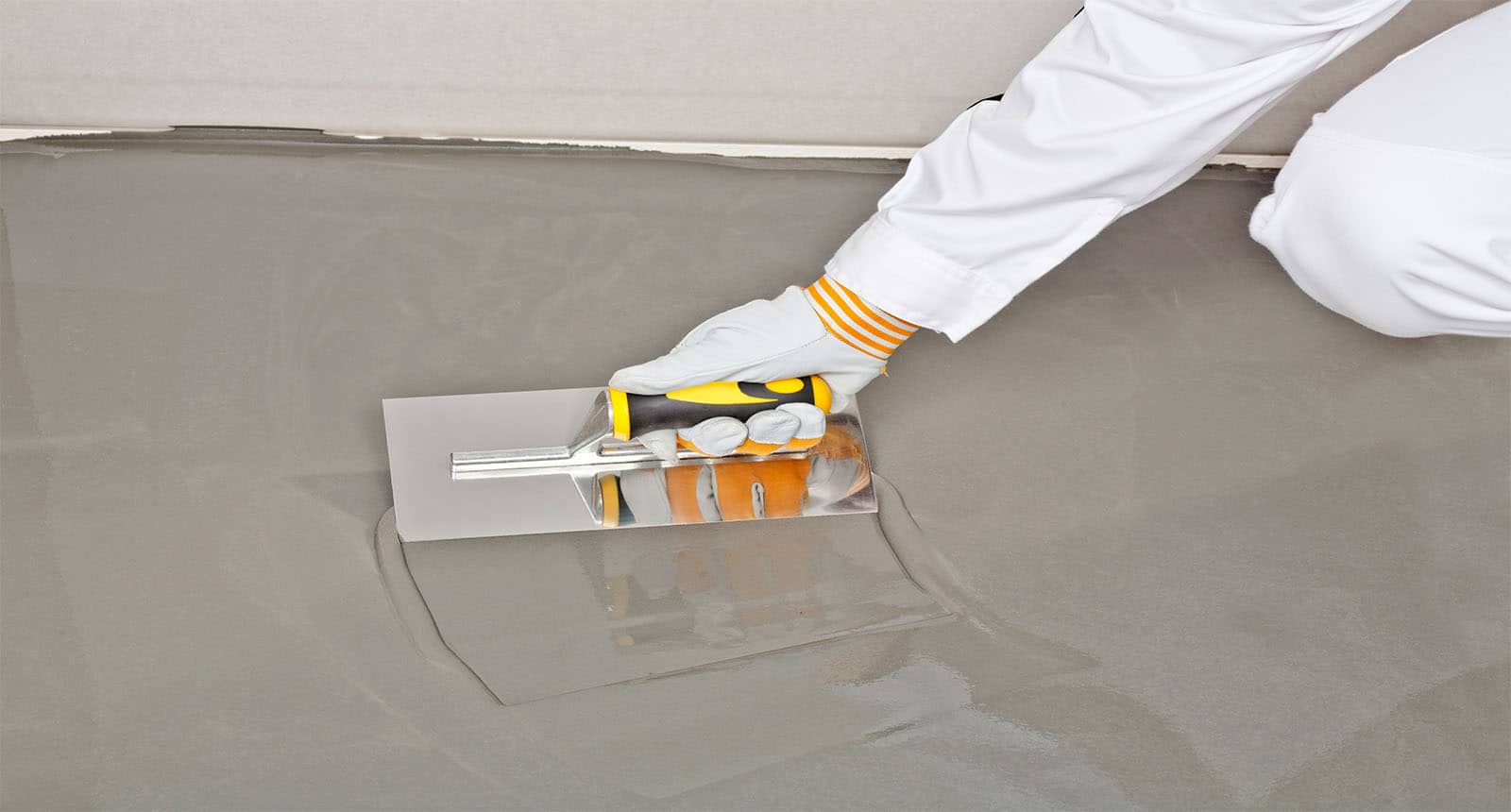 Follow the instructions on the bag for the amount of water required for the amount of cement you've got.
Add the water first, and then add powder gradually.
Mix the product using a mixing paddle attached to the drill.
The consistency should be almost like thick paint.
Don't stop mixing until you are ready to pour the concrete on the floor. The moment you stop mixing, the compound will set, which will affect your application.
Once the texture is suitable, stop mixing and go into one corner of the room, across the exit side.
Start pouring the mixture on the floor.
Work quickly and move toward the exit.
If you have done everything well, the liquid should spread on the floor evenly.
If you notice a bump or uneven coverage, use a trowel to push the concrete further.
Watch this video to know more:
Step 5: Cleaning
As soon as you are done with pouring the mixture, clean any drips, because they can stain.
The longer you wait to clean drips, the higher the chances are that you won't be able to clean them.
Don't forget to clean tools, trowel, and mixing paddle.
Step 6: Drying
There you have – all you have to do at this point is to wait until the self-leveling concrete dries. Check the manufacturer's instructions to see precise information about dry time.
Most brands dry in four hours partially, so you can walk on it.
Wait until the floor is dry to continue with other projects, such as installing tile flooring or carpet.
Also, remember that drying time depends on humidity conditions. If the weather is humid, wait a couple of more hours to install the top floor over the self-leveling concrete.
How To Fix A Bad Self-Leveling Job?
If you came across my self-leveling guide too late, I prepared several tips to fix a poor job.
Yes, self-leveling concrete is easy to do, and it is quite unlikely that you will do something wrong. However, if by any chance that happens there is a way to fix it.
Identify The Issue
You need to know where it went wrong to be able to fix the problem. Sometimes, people add too much water to get more products, which can result in a soft compound. It is probably the worst issue to fix.
Remove the concrete layer and do the process again, following the steps I described above.
Mix the exact amount of water as stated on the compound packaging. Adding more water will increase the amount, but the compound will be useless.
If some areas aren't leveled, you can try to sand them down.
Remove The Bad Concrete
Before you start working on repairs, put on a face mask, goggles and gloves. You can expect a lot of dust flying around while working. Spray water around to reduce the dust.
If you need to fix small areas on the floor, try to chisel them to level them with the floor. An orbital sander is practical as it will help you to get it down. You can also remove larger parts that you can fill with the new mix.
Removing the entire floor of poorly done self-leveling concrete is more complex. Use a hammer to break large areas and pick the remaining debris with a paint scraper. Try to scrape and remove as much as possible.
Hold a water spray near you and wet the surface occasionally to prevent dust from flying around.
Watch this video to know more:
Applying New Mixture Or Calling For Professional Help
Use the step-by-step guide to repeat the procedure. Try to work fast and undisturbed, hold the trowel next to you to smooth the surface if necessary.
If you don't feel like pouring self-leveling concrete and you are worried you'll mess up again, hire professionals to do it for you.
Save Money Using Self-Leveling Concrete
Self-leveling concrete is a cost-effective solution for fixing old floors. It doesn't require any special skills, and most people are happy with the results.
Remember to work quickly and to prepare the floor by cleaning it and filling the cracks. If you mess things up, don't worry, you can always fix it either by spot-repairs or doing everything again from scratch.
Have you ever used self-leveling concrete? Were you happy with the results?
I find my guide useful, don't forget to like it and share it on your social media! Pop a question in the comment section if you have any, and I'll be happy to help!