Laminate flooring is economical, but what are the average laminate flooring costs and what affects the price? Let's find out!
Many homeowners turn to laminate flooring because of the simple maintenance, low costs and pleasant appearance. Surprisingly, laminate flooring, despite wood composite structure, holds well for years. The condition of the subfloor is important, so underlayment is required in most cases. The look, the quality, protective features and textured surface are some factors to consider when researching affordable laminate flooring.
Laminate flooring is a compromise between hardwood floors and budget-friendly prices. It looks stylish, is suitable for DIY or inexpensive installation, is less durable than hardwood floors, but is more water-resistant.
I will walk you through the most important information about laminate flooring and give you an average price range, updated for the 2021 market.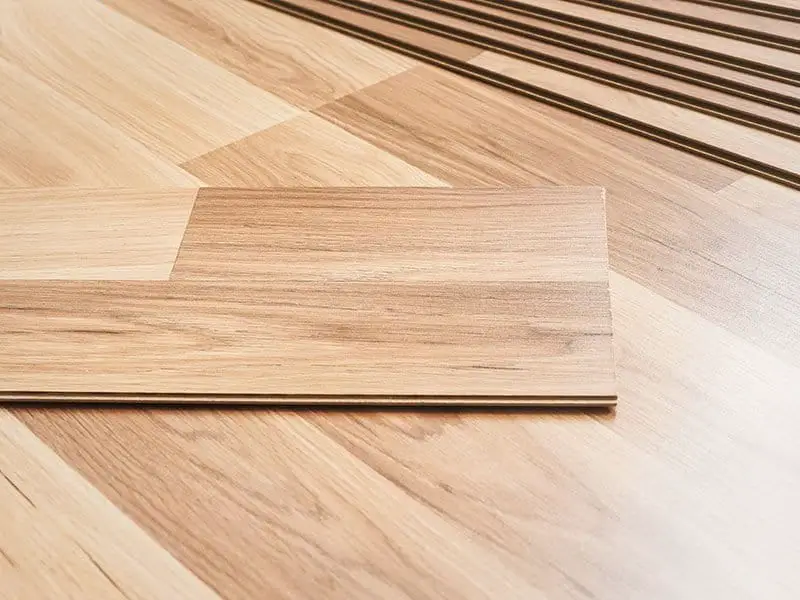 How Much Does Laminate Flooring Cost With Installation?
The laminate flooring will cost you between $2.70 and $10 per square foot for installation and material.
Laminate flooring costs similarly to vinyl flooring and carpets, and it is more affordable than stone or hardwood floors. Within laminate flooring, you can find the following options:
Cheap laminate flooring – $0.50-$1.50
Standard laminate flooring – $1.50-$3.50
High-end laminate flooring – $3.50 -$4.50+
Labor costs of laminate flooring installation, on average, are between $2 and $8.
Quick Overview Of Laminate Flooring
Laminate flooring has been around for 50 years and is still one of the excellent inexpensive options for flooring. Essentially, it is flooring made from wood composite material, constructed from multiple layers. Laminate flooring is designed to reduce costs and add style and functionality to modern homes.
The three basic layers of laminate flooring are:
Dense core
Image layer – the realistic image of wood, rarely stone or metal
Sheer, protective, water-resistant layer
There are many different laminate flooring options on the market. Some come with the underlayment attached to the laminate board, while others require you to install it separately.
In most cases, suitable underlayment for laminate improves the soundproofing options and makes the laminate more comfortable and moisture resistant.
5 Magnificent Pros Of Laminate Flooring
If you aren't familiar with laminate flooring benefits and features, the next section is for you.
Sturdiness
Laminate flooring is human-made to address some drawbacks of hardwood floors and reduce costs. Therefore, it is scratch-resistant, long-lasting, and has a tough resin coating on top that keeps it safe from mild water damage and outer conditions.
The laminate flooring quality, among other factors, depends on the top layer. If you need laminate flooring for commercial application, or you've got a big family with pets, products with an AC rating of three provide maximum resilience.
Over the years, the floor might get a dull look, which you can solve by applying a laminate floor polish to make it shine like a brand new floor.
Inexpensive Or DIY Installation
I already mentioned that laminate flooring is inexpensive. It is also suitable for DIY installation and further cost reduction.
The boards interlock together, for a simple, quick and adhesive-free installation. It is a type of floating floor. But, if the boards don't come with padding, you need to install the underlayment first.
Even if you don't want to spend time and install the underlayment yourself, you won't pay too much money for professional installation.
Also, laminate flooring goes on top of almost every subfloor, so you don't have to pay extra for old floor removal.
Is the installation of laminate flooring on stairs too complex for beginners? You can see this video to know more:
Appearance
Laminate flooring is manufactured in a large variety of wood looks, stone and ceramic and porcelain tiles. It might not offer an extensive range of looks like vinyl flooring, but I am sure you'll be amazed by the options.
Also, high-end laminate flooring looks very similar to hardwood.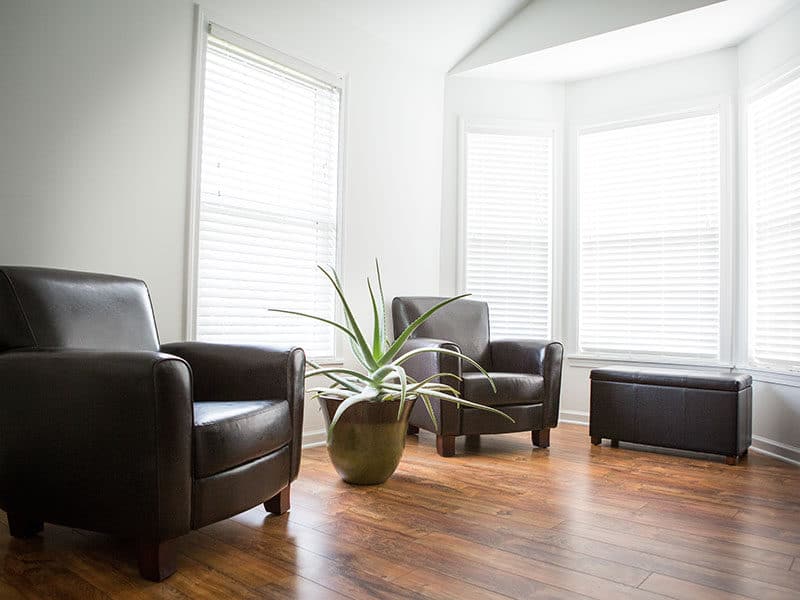 Maintenance
Laminate flooring is easy to clean, and it doesn't require refinishing or expensive coats. Because of the flat surface, robot vacuums for laminate flooring are an effortless way to keep the floors clean. You can also use a conventional vacuum or a broom to remove dirt.
Hypoallergenic Properties
Laminate flooring is flat so there are no tiny places where dust, allergens and pet dander can collect. Furthermore, if you install it with underlayment, it will reduce the risk of mold and mildew development.
Because it is so easy to clean, you don't have to worry about floor dirt triggering allergies.
3 Things To Know Before You Install Laminate Flooring
Despite all the good sides, and wide application around the house, laminate flooring isn't without drawbacks. Here are the most important cons of laminate flooring.
No Refinishing
Unlike hardwood floors, laminate flooring cannot be refinished and restored. So, it has a limited lifespan, which you cannot improve by sanding and applying new coats.
Also, bigger scratches and deeper holes cannot be fixed. The only solution is to change the affected laminate planks.
You can see this video to know more:
Cheaper Options Look Tacky
Laminate options in the past didn't look like hardwood floors, and the image on top looked too artificial and plastic.
Nowadays, the technology has improved and high-end laminate flooring looks expensive and attractive. But, cheaper options are still too plasticky to be considered beautiful.
Not Water Impervious
Laminate flooring is water-resistant to some point, but it is composite wood flooring, which means it is also prone to water damage, like other wood products.
Also, as time passes and the top protective layer wears off, the core becomes more exposed to water damage. Therefore, your laminate flooring starts to wear off sooner than you expected.
5 Basic Laminate Flooring Cost Factors
You can pay laminate flooring less than $1 per square foot, but don't expect a cheap product to perform well.
Therefore, before I discuss current prices, let's talk about cost factors for laminate flooring.
Overall Quality
As you probably expect, cheaper laminate flooring is lower quality because of thinner wood, less protective coatings, and lower scratch resistance. The cheapest laminate flooring also doesn't look very realistic and won't hold up well in areas with high traffic.
Opt for mid-priced laminate flooring products with better resistance, performance, and appearance. Those will have a thick wear layer and an excellent interlocking design to prevent the boards from separating.
Board separation is one of the most common issues to expect with cheap laminate flooring.
Warranty
Warranty is a nifty way to inspect the product quality. In simple words, manufacturers provide the warranty for the time the brand believes the flooring will last.
Products with less than a 15-year residential warranty and without a commercial warranty are a red flag. Those are cheap and won't last a very long time. Opt for a 15+year warranty and at least a 7-year commercial warranty.
Underlayment Pad
The boards with attached pads are 25 to 50 cents more expensive than those without them. They are also easier to install. On the other hand, if you get those without an attached pad, expect to pay the same amount or more per square foot for underlayment.
Improved Waterproof Properties
Cheap laminate flooring has basic waterproof properties and cannot withstand wet mopping, steam-cleaning, standing water, or high humidity. But, premium laminate flooring products do a great job in handling water.
These waterproof options are half a dollar to a dollar per square foot pricier than standard options. But, they simplify cleaning and make the laminate flooring suitable for more rooms in your home, such as a bathroom and basement.
Realistic Texture
More expensive laminate flooring looks and feels a lot like hardwood floors. It has to do with a textured surface. In flooring jargon, the boards have been hand-scraped or embossed in register (EIR).
How Much Does Laminate Flooring Cost per Square Foot?
Homeowners turn to laminate flooring because of the excellent value for the money. The average price range for laminate flooring installation is between $2.70 and $10. The price range refers to the costs of laminate boards and installation.
Within the price range, you can find laminate flooring products of all qualities and different warranties.
Let's take a closer look at what you can expect in laminate flooring in different quality categories.
Cheap Laminate Flooring 
The cheapest options for laminate flooring on the market cost less than $1.50, most commonly around 50 cents per square foot. It is very affordable, but the features and lifespan aren't admirable.
You can expect these cheap floors to last around seven to ten years. The warranties on these products are limited to residential, 10-year warranty.
The planks are 7 or 8mm thick with a thin protection layer and not a very realistic image on top. These floors might be a good option if you are selling your home and you want a quick and cheap way to improve the flooring. These panels also may be good for walls, or guest rooms.
The AC rating is 3, and you will have a hard time finding the brand that sells these cheap laminate flooring products.
Larger brands such as Mohawk or Shaw are focused on mid-priced, quality laminate planks. Try Tarkett or Quick-Step if you are interested in cheap laminate flooring.
Standard Laminate Flooring 
Laminate flooring within the $1.50-$3.50 price range is considered standard quality. You have the largest selection of products in this quality category, and most reputable brands have collections that match these prices.
The board thickness varies from 8mm to 12mm, with a residential rating of AC3 or AC4. The construction in most cases is solid, with a dense core and medium-thick wear layer. The exact lifespan depends on the product itself and the amount of traffic in the room.
If you follow the guidelines for maintenance and prevent pets and furniture from scratching, you can get from 10 to 15 years of lifespan and exceptional performance.
The warranties also vary, but it goes from 30 and 50-year to limited lifetime residential warranty. Usually, the more expensive products have a light commercial AC4 rating and 10-year commercial warranties.
Overall, the flooring from this category meets the needs of average homeowners, even families with pets.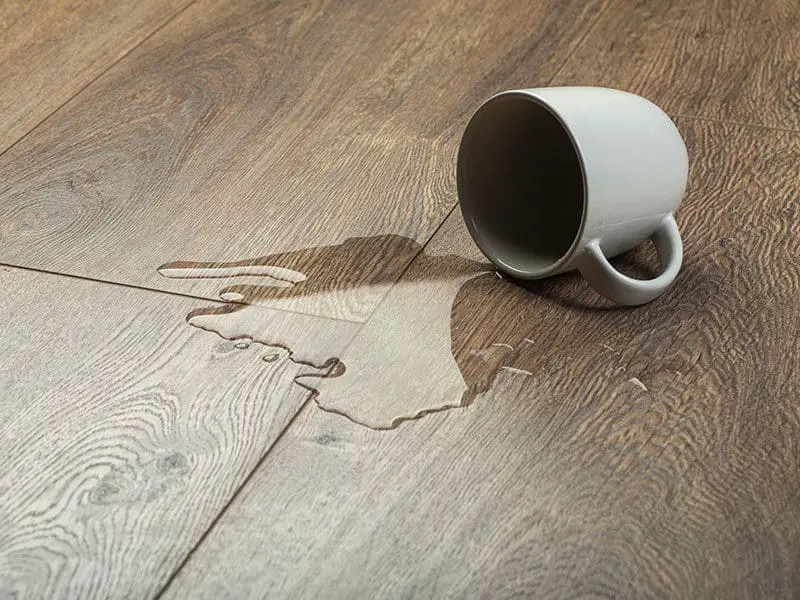 Premium Laminate Flooring
There is a limited selection of premium laminate flooring on the market. The average price range is between $3.50 and $4.50+ for premium laminate flooring products.
These high-end options often have exceptional waterproof properties, textured surface, thick wear layer, and a highly realistic image of wood or stone.
The lifespan can be up to 20 years if you care for the floors properly and avoid scratches. Overall, the warranties are limited to lifetime residential and commercial warranties of 15-years.
Only a few brands make high-end laminate floors. Armstrong is one of them.
The premium laminate flooring has an AC rating of 4.
Is Laminate Flooring Installation Expensive?
Laminate flooring is suitable for DIY installation. So if you decide to install your new floors yourself, the costs are minimal and include underlayment and tools if you don't already own them.
Professional installation is much cheaper than hardwood floor professional installation, for instance.
The average labor costs for laminate flooring installation is between $2 and $8 per square foot. But, the price includes adhesives, underlayment, trimming and installation in irregular-shaped rooms and stairs.
If you need to remove your old flooring, that would be an additional $1 or so per square foot, if you decide to hire a professional.
You can see this video to know more:
Laminate Flooring Brands With Best Selection: Comparison Chart
As you can see, the largest and best selection of laminate flooring falls within the medium quality category. The following are the best brands of laminate flooring, all qualities included:
Quick Step
Mohawk
Pergo
Shaw
Analyze the table to get more information about the laminate products of these brands.
Brand
Quick Step
Pergo
Mohawk
Shaw
Price
$0.57 – $2.29
$1.99 – $3.49
$0.98 – $4.00
$2.86 – $3.37
Warranty
Residential, limited lifetime
Commercial/residential, limited lifetime
Limited lifetime residential, 5-year light commercial
30-year residential

5-year light commercial

Plank Thickness
10 mm
12 mm
12 mm
12 mm – 11.5 mm
AC Rating
AC 4
AC 4
AC 4
AC 3
Most Popular Low-Priced Floorings Compared To Laminate Flooring
What is cheaper carpet or laminate flooring? How does laminate flooring cost compare to vinyl flooring expenses? Those are the most common questions that homeowners interested in budget-friendly floorings face.
Laminate Flooring Cost Vs Carpet
Even though initial costs for carpets might be slightly lower, around $1 per square foot, laminate flooring provides better value. The carpets might last several years or even a full decade. For the same costs, you can install laminate flooring and expect them to last ten to 15 years.
Moreover, laminate flooring is easier to install by yourself than carpets, so you can save money on DIY installation instead of professional.
You can see this video to know more:
Laminate Flooring Cost Vs Vinyl Plank
In the mid-quality flooring category, laminate and vinyl flooring come in the same price range. But, if you want to explore premium flooring options, you will pay more for high-end vinyl flooring than high-end laminate flooring.
You'll also have a broader selection of styles and colors if you choose high-end laminate flooring.
Budget-Friendly Option With Excellent Payoff
Laminate flooring is an excellent, highly affordable wood composite flooring. You can get a lot in the standard, mid-priced, mid-quality laminate category, which may cost below $3 per square foot.
Overall, the costs for laminate flooring installation are significantly lower than hardwood flooring and similar to vinyl plank and carpet flooring.
Would you install laminate flooring in your home? In which rooms?
If you enjoyed the article, please like it and share it to have more people learn about laminate flooring costs!