Linoleum flooring review makes you wonder if such flooring is still manufactured. Fortunately, this type of flooring is still one of the favorite flooring choices around the world. Although today, you can find a variety of designs and modern looks, linoleum flooring is still an affordable choice.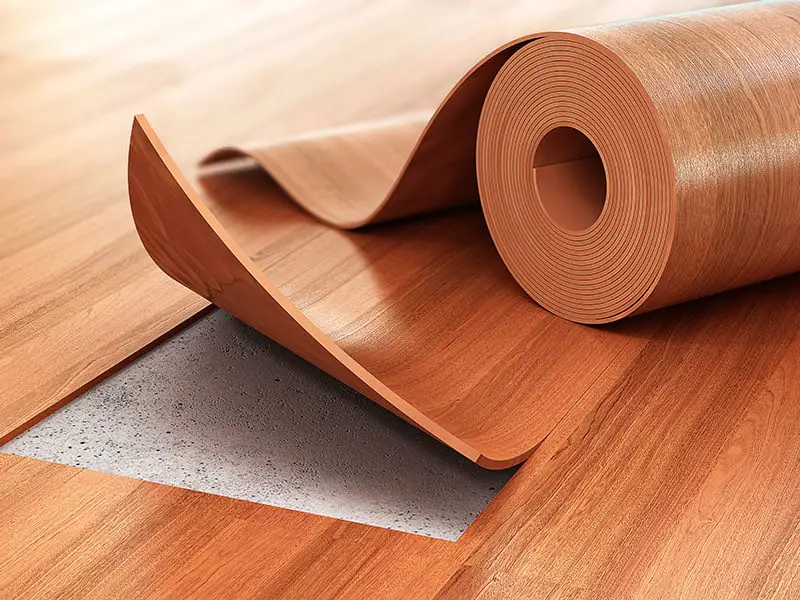 To tell you the truth, being so versatile and durable is what made linoleum flooring so popular even today. Linoleum that you may remember in the past has now become a greatly improved floor with the same durability that we remember.
Is Linoleum Flooring Good?
Yes, with its durability and long warranty, linoleum flooring is one of the best eco-friendly flooring choices. This resilient flooring type is manufactured with a variety of designs, colors, and patterns which makes it even the better choice for any space.
Although linoleum has its bad sides, those good ones prevail. This affordable flooring type can be installed even in spaces with high traffic. You can choose to install it as a sheet, tiles, or planks, and decide what will look best in your space.
What Is Linoleum Flooring?
Linoleum flooring is a type of flooring made of a floor surface produced from hardened linseed oil, pine resin, crushed cork dust, sawdust, and mineral additives like calcium carbonate, usually with a burlap or canvas backing.
To get the required color finish, pigments are frequently applied to the components. Today, the styles, colors, and patterns choices of linoleum floors are endless and enable you to choose the right fit for your home or office styles.
The Advantages of Linoleum Flooring
It is not strange that this flooring remained popular after all those years since it first appeared. With its many advantages, linoleum flooring was known widely and appreciated in many homes and businesses that were looking for something both durable and attractive.
Durability
The first and the most obvious advantage of linoleum flooring is certainly its durability. To tell you the truth, if you want flooring that is both affordable and can withstand high traffic with a minimum chance of damaging it, then linoleum is the right choice for you.
This thick and yet flexible material can be put in places where even tiles would crack. This flooring type can last for up to 40 years which is longer than you would intend to keep any flooring type without wanting to change it.
Design
Also, if you are tight with the budget but still want a good-looking floor design, then linoleum floors with their incredible color and pattern choices will suit even the most demanding home decorator. As a matter of fact, you will probably struggle to decide which one will look better.
Today, you can choose sheet, plank, or tile style and combine colors and designs that best fit your space. The options are almost endless. If you want to create an unforgettable floor experience in your shop or store, linoleum will provide you with it.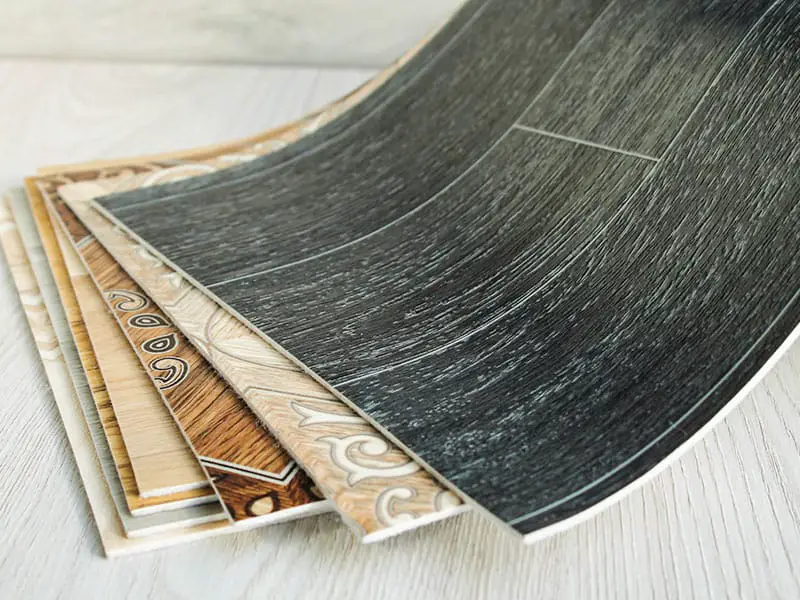 Pricing
Have you already heard that it is an affordable flooring type? Well, to tell you the truth, you will not find so versatile and durable flooring that is also affordable as much. Linoleum flooring is a bargain when compared to wood, ceramic tile, and natural stone while being somewhat more expensive than vinyl.
An estimate of $3 to $5 per square foot installed is a fair starting point. Hardwood flooring, on the other hand, costs between $8 and $15 per square foot. So, it is a win-win situation where you get desired design at a small cost.
Eco-Friendly Material
Wood flour, rosins, crushed limestone, powdered cork, colors, jute, and linseed oil are all used to make real linoleum, as opposed to synthetic variants like vinyl. As a result, it is one of the most environmentally friendly flooring alternatives available today.
The old linoleum, as well as leftovers and residues from the manufacturing process, maybe recycled to make new sheets. Linoleum is also almost carbon neutral, as it is manufactured from natural resources. The energy generated by incinerating it is nearly equivalent to the energy required to create new linoleum.
Maintenance
Thanks to its extreme durability, it is even easier to keep this flooring clean. It is more than enough to sweep it and use a mop with a damp cloth to clean it. Do not use the soaking wet mop for cleaning the floor, and make sure to dry the floor to avoid watermarks on it.
Although it can be scratched, the linoleum layers prevent this surfacing damage to be noticed easily. Scratches and dents are less noticeable as the pigments are distributed through the thick material rather than simply on the surface.
Warranty
Most manufacturers give 25 years warranty, but with proper care, linoleum can last up to 40 years. Warranty usually covers normal household use, guarantees that it will not curl up or wear through. Some manufacturers also promise that the flooring will not lose its shades and colors.
Warranty does not cover any damage by sharp objects such as high heels or chair legs. There is no guarantee that the flooring is scratch-free or that it will not be damaged by using excess moisture on the flooring. Make sure to ask for installation, as the bad installation is not covered by the warranty, either.
Disadvantages of Linoleum Flooring
Where there are advantages, there have to be bad sides, too. Linoleum, although a trustworthy and durable flooring type, has its imperfections, too. Let's have a look at the things you need to consider before installing this type of flooring.
Prone To Damage
If you are not careful, sharp objects such as high heels or chair legs can cut and scratch the linoleum flooring. Also, if you want to move your furniture around, make sure to lift it and move it, rather than pull it and risk damaging the floor.
Small scratches may not be visible at first, especially with the linoleum floors that have patterns that may camouflage the cut. Also, some linoleum types may be damaged if exposed to a lot of sunlight and cause the ambering of the floor, resulting in the changed color of linoleum.
Water-Resistance
Some linoleum brands are advertised as waterproof, but they are rather water-resistant till some point. It is better to avoid installing linoleum flooring in the bathrooms or spaces with a lot of moisture. Too much wetting can damage the flooring and make it curl.
Linoleum Flooring vs. Vinyl Flooring
Vinyl and linoleum are two forms of durable flooring materials that have a lot in common. Because the materials are so similar, many people use the names interchangeably. However, there are several significant distinctions between linoleum and vinyl.
Linoleum was the preferred flooring material in kitchens and other utility rooms from the late 1800s until the 1950s. Linoleum nowadays is mostly made of linseed oil, which is a naturally occurring material derived from flax seeds. This is combined with other renewable resources like cork dust, wood flour, and rosin, then compressed into sheets used as flooring.
| Vinyl Flooring | Linoleum Flooring |
| --- | --- |
| ·         Non-renewable | ·         Completely recyclable |
| ·         Cheap and affordable | ·         Bit pricier |
| ·         Manufactured in sheets and tiles | ·         Sheets, tiles, and planks designs |
| ·         Variety of designs and colors | ·         Variety of colors |
| ·         Waterproof | ·         Water-resistant |
| ·         Easy to clean | ·         Easy to clean |
| ·         Lasts around 10 years | ·         Needs to be sealed |
| | ·         Lasts around 40 years |
Check this video to see:
The fact that linoleum is made entirely of natural materials is arguably the most significant distinction between it and vinyl floors. Vinyl is a synthetic substance first found in the 1920s, made primarily of PVC, unlike linoleum (polyvinyl chloride).
In the 1960s, it became popular as a less expensive alternative to linoleum flooring. Vinyl is made from a range of hazardous chemicals, which has generated worries among ecologically aware modern customers. Moreover, vinyl also contains different phthalate plasticizers.
Types Of Linoleum Flooring
When installing linoleum flooring, you should opt for a certain design that would suit your space the best. Whether you choose sheet, tile, or plank, the design and colors that you choose will certainly refresh your space and give it a new appealing look.
Sheet
Sheet linoleum flooring is at its peak of popularity as it is also the most widely known type of linoleum design. The popularity also comes from the fact that this design offers the widest variety of designs and colors.
This sort of linoleum comes in massive rolls and needs a meticulous and time-consuming installation. Sheet linoleum may be the ideal option for you if you worry about water damage or have a lot of space to work with.
Tile
This sort of linoleum is an excellent substitute for costly ceramic, porcelain, or stone. If you don't like plain colors, linoleum tiles come in a larger range of styles and patterns. They're also less expensive to install if you do not want to employ an expert.
The majority of the tiles come in the size 12″ × 12″ and are either adhesive-backed or click-lock. Each part can even be put on top of another pre-laid floor, creating a warmer setting than tile. Make sure that the pre-laid floor is installed properly before adding tile linoleum over it.
Plank
Plank linoleum flooring is just as simple to set up as the majority of laminate floors commercially available. They include the click and lock planks which can be installed without any issues and without using glue. This design will provide you greater thickness, but you will have to deal with seams.
Planks must be sealed exactly like tile. With linoleum planks, your color selections are also restricted, and having a layer of underlayment beneath makes a big impact.
Where Is Linoleum Flooring Used?
Linoleum flooring can be installed just about anywhere where you need to lay an attractively designed floor at a reasonable price. You can also install it over the subfloor as long as it is installed and leveled properly.
Linoleum is prone to dampness and that is not suggested for use in bathrooms, laundry rooms, or other locations where spills or excessive dampness are likely. Although labeled as water-resistant, it is still not completely waterproof which does not make it an ideal choice for wet spaces.
Cost Of Linoleum Flooring
If you are buying tile or plank linoleum flooring, it will be priced by the square foot, but it might also be purchased by the square yard or the roll when it comes to sheets. Keep in mind that the warranty and thickness have a significant impact on the pricing. The installation price has its part, too.
Sheet linoleum typically costs between $4.00 and $8.00 per square foot. Tiles are more costly on the low end, with most starting at $3.50 and peaking at approximately $6.00. Linoleum using a click-lock system costs approximately $3.50 to $7.00 per square foot.
Best Linoleum Flooring Brands
All linoleum brands on the market try to distinguish themselves with the renewable and green options for your space. They manufacture different linoleum types such as sheet, tile, and plank. The difference lies in type, dimensions, the thickness of the layers, and finally warranty length.
| Brand Name | Collection | Type | Dimensions | Thickness | Warranty | Installation |
| --- | --- | --- | --- | --- | --- | --- |
| Armstrong | Marmorette | Sheet / Tile | 200 cm wide, 20 to 31 m long | 2.00 mm / 2.50 mm | 5 years (extendable to up to 10 years) | Gluing |
| Nova Flooring | Floating floors | Tile / planks | 12.00" x 12.00" x 3/8" and 12.00" x 36.00" x 3/8" | 10.00 mm | 10 / 20 years warranty | Gluing |
| Forbo | Marmoleum | Sheet / tile / plank | 200 cm wide, 20 m long / 100 cm x 25 cm | 2.50 mm / 9.80 mm | 15 / 25 years of warranty | Gluing |
| Tarkett | Harmonium | Sheet | 200 cm wide, 20 m long | 2.50 mm / 3.80 mm | 5 years of warranty | Gluing |
Installing Linoleum Flooring
When installing linoleum flooring, the half work is the preparation. As linoleum is not the most forgiving flooring you can find, the preparation will help you ease the installation by half. Here are some preparation tips that you should follow before installation.
Watch this video to see:
General Installation Tips
Here are some general installation tips that are relevant for installing any type of linoleum. Preparation is vital as it will bring fewer problems during the installation and lower the chances of ruining the linoleum.
Check for variations in elevation between your new floor and the flooring in adjacent rooms. There's nothing more aggravating than finishing a floor and discovering you can't get it into the other rooms.
Linoleum is a thick, rigid material. Allow 48 hours for the product and adhesive to acclimatize in a temperature range of 65–80 degrees Fahrenheit, and keep this degree throughout the installation. It will be a lot easier to install it.
Measure, as it the most vital part in laying the perfect look of your linoleum floor.
If necessary, sand the subfloor and apply a high-quality patching product to make the surface finish even and smooth.
Keep in mind that while linoleum tile and planks are easier to install than sheet linoleum, they are also harder to locate and have a smaller selection.
Installing Sheets Tips
Sheets may be tricky to install especially if you need to cover large spaces. As in any flooring system, preparation is essential, so follow these tips to make sure you do not go wrong with the installation.
Make sure to leave some extra space around the edges as the linoleum is the material that expands and shrinks due to temperature change. You want to avoid unnecessary bulges.
If you have fixtures where you need to cut linoleum around, it is best to make the template and to cut it before installing
Always measure first and then later cut the linoleum within the template
The surface needs to be dry before installation as the moisture is not welcomed with linoleum.
Installing Tiles Tips
Linoleum tile is easier to install than sheet linoleum and is better suited to do-it-yourself projects. And color combinations are almost endless as you can combine them in the design you imagined.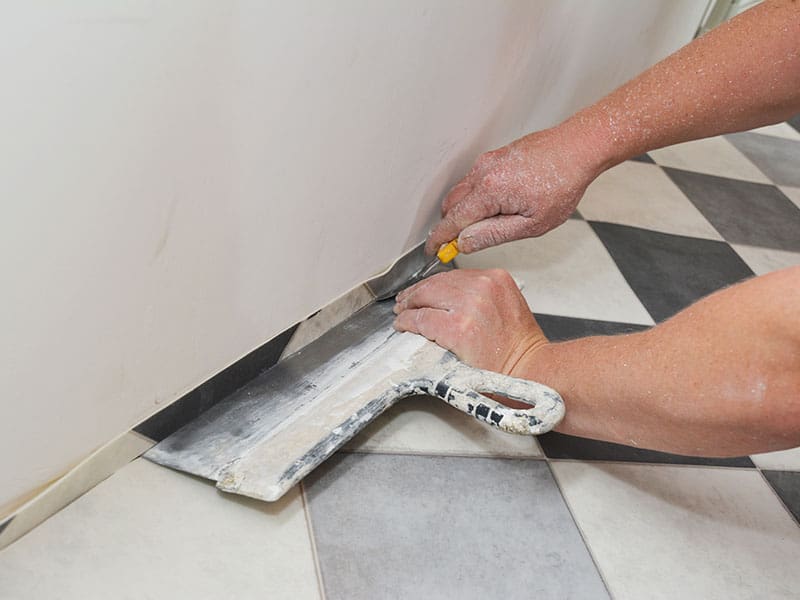 Make sure to have a dry surface before installing linoleum tiles.
Begin in the middle of the room and work your way out to the edges. Make sure your tiles are regularly spaced to avoid odd-looking cut parts near the walls that tend to lift or create a ridge.
As you continue, double-check that your joints are straight and that the tile pattern is facing the right way.
When dealing with flooring adhesives, always use the right size notched trowel. This can make the difference between a bumpy, never-drying floor and a smooth, walkable surface in a day or two.
Installing Plank Tips
Installing plank linoleum is far simpler than any of other linoleum types. You do not use adhesives, only patience and attention to detail are the key elements.
You do not need adhesives to install click-on plank linoleum
Linoleum click flooring may be installed over any clean, dry, solid, and level subfloor
To protect your floor from the impacts of moisture, use a thin plastic sheet or a roll-on type vapor barrier if you're placing it on top of concrete.
Cleaning Linoleum Flooring
How to clean linoleum floors may seem like a question with a straightforward answer. But there are some things you should stick to as you do not want to damage the flooring with cleaning tools or harsh chemicals.
When it comes to cleaning tools, opt for those that will not damage the flooring. Use a dusting mop or a vacuum cleaner without a beater to remove the dust on the floor. Even robot vacuum cleaners will do their best to leave your spaces spotless.
Clean high-traffic areas using a dry microfiber mop regularly to eliminate dust and dirt. Remove dirt and debris once a week using a soft-bristled brush or vacuum attachment. Using a solution of one gallon of hot water, one cup of vinegar, and a few drops of dish soap, gently mop the floor.
Cleaners containing alkali, ammonia, or any substance with a high PH level should be avoided since they will severely harm the linoleum surface. For linoleum flooring, you should opt for specialized cleaners.
FAQs
Some questions about linoleum rise naturally, as we may be guided with misconceptions believing some things about this flooring. Let's take a look at some of the most common questions about this type of flooring.
Why Linoleum Flooring?
If you read all the previous lines, you would probably answer with Why not? It is an eco-friendly product, attractive and versatile with styles and designs, affordable to install, and renewable.  So many pros for this product make it explainable why linoleum flooring is so popular, even today.
Cleaning and maintenance are simple as you do not need anything other than a mop and sweep to collect all the dust and debris found on it. And what else to say except enjoy the colors and designs of your new, eco-friendly and modern floor.
Have you already decided on your linoleum floor style? Do you have your ideas about how to incorporate lino in your home? Share your thoughts with me in the comments below.