If you are thinking about new floors for your home, my Mannington laminate flooring review is for you. Mannington flooring seems too good to be true – it is affordable, durable and doesn't look cheap like old laminate floors.
Laminate floors are manufactured by pressing wood, which makes them very tough. The top layers are coated for protection, and some laminate floors are also waterproof, which expands their application. But, are they for your home?
I will break things about Mannington flooring to see if it is worth the attention and suitable for your home.
How Good Is Mannington Laminate Flooring?
For a laminate flooring type, Mannington laminate floors are exceptional. The floorings are reinforced with protective coatings which makes them more water and scratch-resistant than cheaper laminate alternatives.
Mannington laminate planks are easy to install and maintain. The flooring looks stylish and doesn't look anything like cheap laminate flooring used in the past.
But, despite all benefits and exceptional similarity with hardwood floors in appearance, Mannington floors have some drawbacks.
The planks are subject to swelling caused by moisture from underneath. Also, to install the Mannington laminate floor, you need to prepare the subfloor well.
Ultimately, Mannington laminate floorings are cheaper than stone and hardwood floors. But, compared to some other laminate floorings brands, they are quite expensive. With the added costs for subfloor preparation, you might as well add a little more money and install a more durable floor.
What Is Mannington Laminate Flooring?
Mannington laminate flooring is one of the most affordable flooring options. You get to choose between numerous varieties of colors and textures. These floorings resemble the real wood appearance but have different features and benefits.
In simple words, a laminate floor consists of three layers – base, image and wear layer. People install them all around the house.
During the manufacturing process, wood particles go through the high-pressure process to be pressed into sheets. A realistic image of stone, wood or tile is then added to the sheet, and covered with a transparent wear layer.
The last layer is thin plastic, which protects the layers below from outer conditions, such as UV rays, damage, and moisture. Mannington laminate floorings pride themself in creating beautiful and highly realistic images of material the laminate floor should resemble. The brand highlights the Restoration Collection with superior waterproofing technology, which makes their floor extremely water-resistant.
Mannington Laminate Flooring Styles Available
Mannington offers an excellent selection of their laminate floor styles, colors and shades. Their most popular laminate collection – Restoration includes almost 80 different styles.
You can choose between light, dark and medium shades and different textures.
The rustic style is many people's favorite because it resembles the expensive engineering used in hardwood floorings. Also, you can find options that have a more natural and reclaimed wood effect.
Mannington brand follows market trends and offers products in high demand on the market, such as weathered and distressed hardwood looks, suitable for farmhouse interior designs.
The brand includes marquetry options with unique patterns that are a statement piece in every room. Their style Chevron with neutral shade is great for hallways.
My favorite is Arcadia laminate flooring, offered in the color Bark. It looks natural and has slight warm tones that realistically mimic the look of the hardwood floor.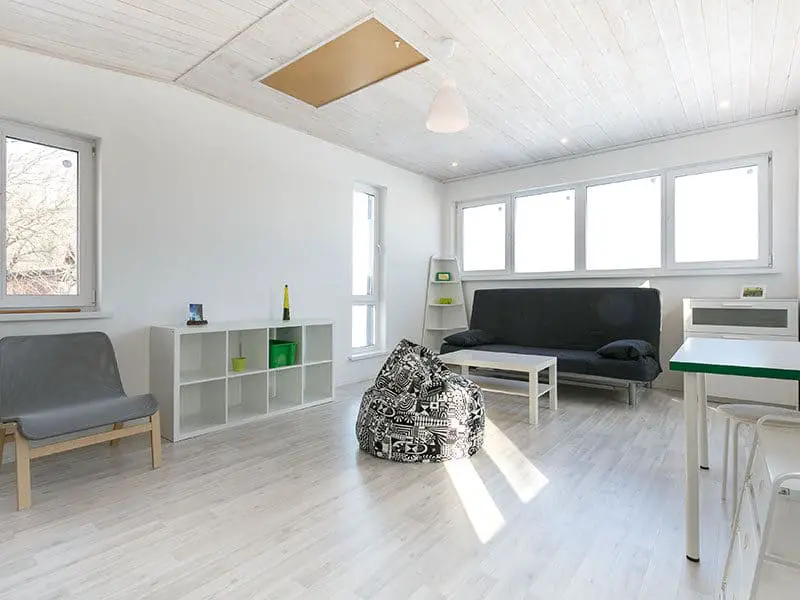 Mannington Laminate Floor Layouts
A great thing about laminate floorings is that the installation layout can be used for customization. Because laminate floors come in planks and are installed as floating floors, by interlocking, there are different laminate patterns you can apply.
Wide Planks
Mannington offers wide planks, which are specifically designed for large areas. The installation is simple and quick, and the floors get a uniform look. It is a straightforward solution for large rooms.
When installed in residential areas, it might make the floor look too artificial or dull.
Mixed Width
Getting laminate planks with a different width will create a more dynamic structure on the floor. The mixed layout goes perfectly with dark shade styles and can contribute to the rustic effect.
Diagonal Layout
If you want to give your space more depth and highlight the floor as one of the bold elements in the interior design, choose a diagonal layout.
Watch this video to know more:
Mannington Laminate Flooring Features
Mannington laminate floors have a few brand-specific features that make Mannington stand out from competitors.
I'll go briefly through the most important features of Mannington laminate floorings!
Waterproof Properties
Because of the manufacturing process, laminate floors are water resistant but only if the water is coming from the top and not the bottom.
Mannington floors feature even better coating on the top layer for ultimate water protection. The so-called Spill Shield Technology reinforces the top layer of Mannington floors.
Unlike some other laminate floorings, Mannington floorings are suitable for laundry rooms, kitchens, even bathrooms.
USA-Origin
An average consumer doesn't think much about the origin of the products he buys. But, when you are buying floors for your home, the origin is important.
Mannington floors are made in the USA, which means they contribute to the American economy. Also, their products comply with American laws and pass strict quality standards.
Because there is no overseas shipping of the timber, there is less fuel consumption, which ultimately reduces greenhouse gases.
Lastly, Mannington floors are made in the USA. Therefore, your orders arrive on time without delays and potential issues in overseas shipping.
Health Aspects
Mannington laminate products have FloorScore® certification, which means that floors contribute to excellent indoor air quality.
Laminate doesn't collect dust or allergens, and all the dirt that falls onto the floor is easy to clean with a sweeper or vacuum.
NALFA-Certification
North America Laminate Flooring Association (NALFA) tests laminate floors in 14 categories, and only the laminate floors that achieve excellent results get the NALFA certification.(1)
The certifications vouch for performance and quality in categories, such as impact resistance, wear resistance, castor-wheel chair resistance, surface bond, maintenance, etc. Mannington is one of the laminate floor manufacturers with NAFLA certification for superior quality and performance.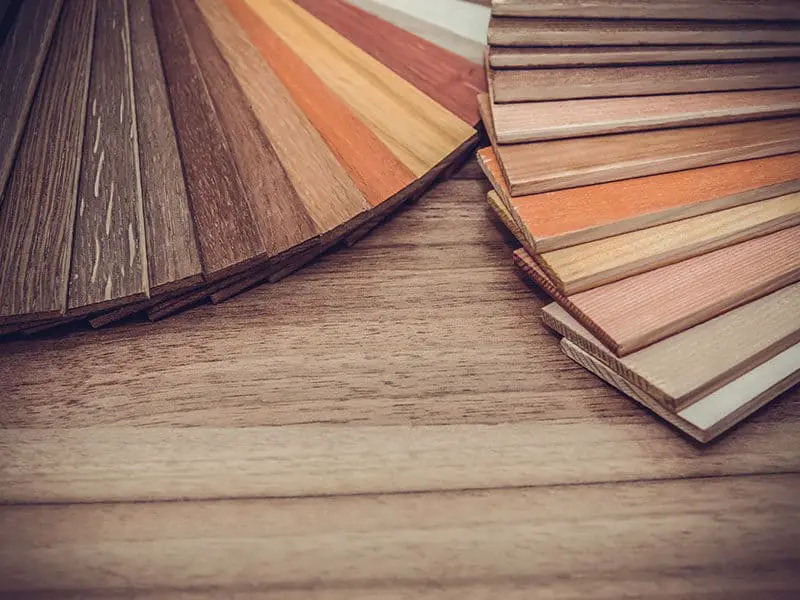 Environmentally Friendly
A high percentage of Mannington laminate flooring comes from recycled content. Also, the manufacturing process includes environmentally friendly procedures, such as printing decorative layers with low-VOC systems.
Watch this video to know more:
Mannington Laminate Flooring Installation
Mannington floors are easy to install and perfect for DIY home renovation projects. The Mannington planks come pre-finished.
But, the most important part before Mannington floor installation is to prepare the surface underneath. You can do it by yourself, or hire professionals to do that for you.
If the underneath surface is concrete, the first thing to do is clean the concrete thoroughly and let it dry.
For unleveled surfaces, apply a layer of self-leveling concrete to ensure the entire installation goes smoothly.
Rooms with linoleum or vinyl subfloor don't have special preparation. If the floor is too damaged, you can apply a layer of leveler to make it more even.
Mannington laminate planks are easy to install because they feature a tongue and groove design. So, the installation comes down to the click system. There is no gluing or nailing! The floors come with detailed instructions, so make sure to check them.
If you are interested in DIY installation, check the next section to see if you are grown up to the task.
Step-By-Step Installation Guide
Once your laminate planks arrive, shuffle them and inspect them for damage. If everything seems well, you can start. First, put spacers along the wall, you'll later remove them and install appropriate moldings.
The first thing to do is to remove the tongues from the planks of the row. Position the planks with that edge facing the wall.
Continue with the next rows by inserting the tongue into the growing of the previous plank.
Angle the plank a bit until two elements lock together with a click.
Repeat the process until you cover the entire room.
When working around the wall, keep a 5/16" expansion gap between planks and other fixed elements in the room.
Once you cover the entire room, go back and remove the spacers you installed at the beginning and replace them with suitable moldings.
If you are installing Mannington laminate floors in the bathroom, fill the gaps for expansion with silicone, to prevent the moisture from damaging the floors from underneath.
Watch this video to know more:
Maintenance
Mannington floors are straightforward to clean. You can remove dust and dirt with a sweeper or a vacuum. Occasionally, mop your laminate floor using laminate-suitable cleaning products.
Don't use water and soap to clean the laminate floor, because it can cause the laminate to swell sooner. Additionally, never use abrasives on Mannington laminate floors, such as steel wool. It can scratch the top layer and speed up the deterioration.
After a spilling accident, absorb the liquid with a cloth and wipe the floor with a homemade laminate cleaner.
Watch this video to know more:
Mannington Laminate Flooring Benefits
Let's discuss some of the most important benefits of Mannington laminate floorings.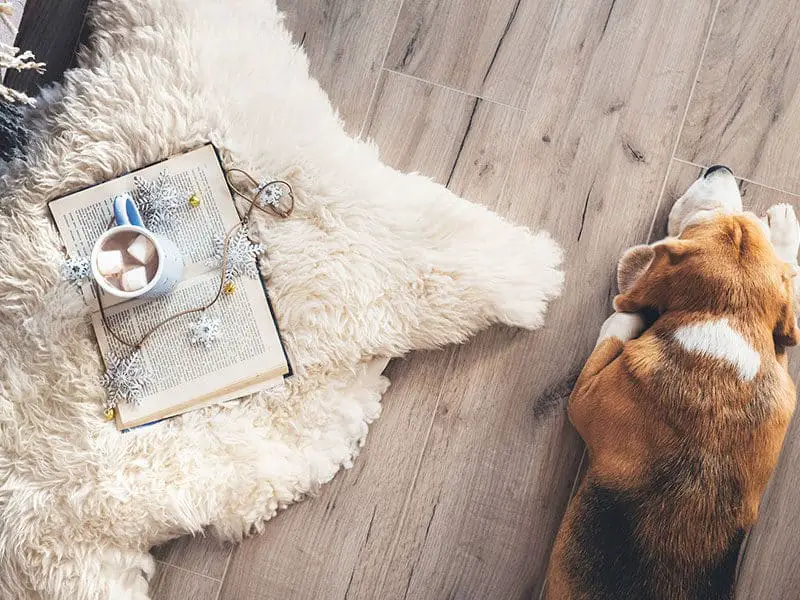 Warranty
Whichever flooring option you choose you can expect a warranty. But, Mannington offers an impressive 25-year limited warranty in case of residential purchases and 5-years for light commercial applications.(2)
Scratch and Water-Resistance
All laminate floors have the top plastic protective layer, which prevents scratches and water damage. But, Mannington floors have advanced protection, which makes them up to five times scratch-resistant. So, there is no risk of scratch damages by pets, heels, furniture scuffs, etc.
I already mentioned their waterproofing technology, which expands the number of rooms in which you can install Mannington laminate floors.
Appearance
Mannington brand uses modern rendering technology to create exceptionally realistic and stylish planks. Some available styles look exactly like hardwood floors! But, they are much cheaper and easier to maintain.
Because Mannington offers so many styles, shades and textures, it is possible to achieve whatever effect you want by choosing a good layout and appropriate shade of wood.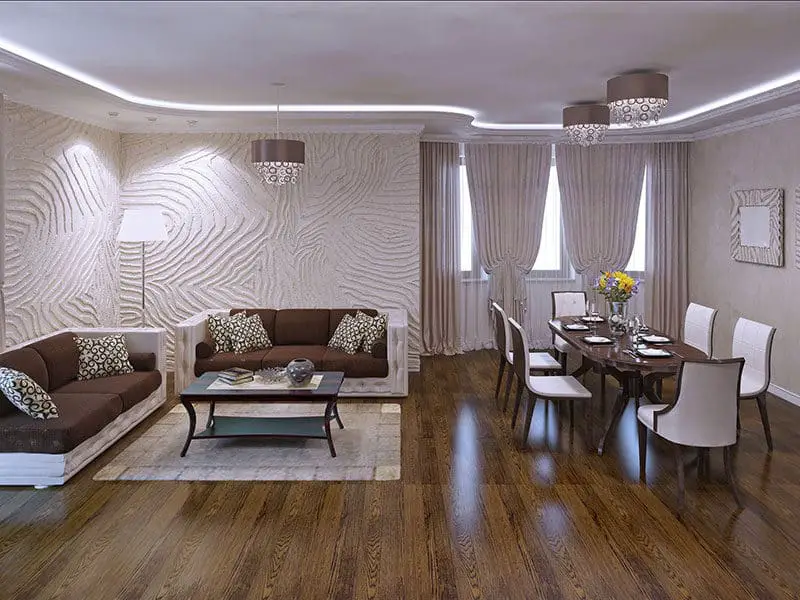 Suitable for People With Allergies
Mannington laminate floors don't absorb dust, dirt, pet dander or allergens. Everything is left on the surface and cannot penetrate the middle layers of the planks because of the top protective layer.
Straightforward Maintenance
Robot vacuum cleaners work well for Mannington laminate floors. Therefore, if you own one, the cleaning gets even simpler.
Anyway, Mannington floors have a flat surface without bumps so you can easily clean them with almost any cleaning tool you've got on your hand.
Watch this video to know more:
Mannington Laminate Flooring Disadvantages
Here are several disadvantages of Mannington laminate floorings that might talk you off installing them in your home.
Price
Laminate floors are generally cheap, significantly cheaper than other flooring types, such as tile, hardwood, even carpeting.
But, Mannington laminate floors are more expensive than other similar laminate options on the market. Therefore, you might add a little more money per square foot and get other flooring types.
Doesn't Improve The Resale Value Of Your Home
Property buyers look down at laminate floors. Old laminate floors can lower the resale value of your home. Mannington laminate floors are high-end and have their benefits, but they are still cheap flooring that might repeal potential buyers from your home.
Moisture Damage
Mannington floors are prone to damage caused by excessive moisture from underneath. It can cause the planks to swell and deteriorate much sooner than expected.
Subfloor Preparation
Installation of Mannington laminate flooring might look simple, but preparing the subfloor can be tiresome. Applying leveling products, cleaning and waiting for the products to dry can take time.
Armstrong Laminate Flooring Vs Mannington Laminate Flooring
Lastly, let's compare Mannington with its strongest competitor – Armstrong. Both brands offer attractive and more affordable alternatives to hardwood floors that can be installed via the clicking method!
Armstrong and Mannington offer a large variety of colors, shades and styles. However, Mannington Restoration collections offer more options in terms of slight shade differences and warm tones. Also, Mannington has a wider range of distressed wood styles than Armstrong.
While Armstrong is widely available around the country, Mannington only sells its products through specialized retailers.
Another difference worth mentioning is the warranty. Mannington offers a 25-year warranty, and Armstrong laminate products are backed up with a 15-year residential warranty.
Overall, when it comes to quality, it is a tie. Both companies offer brand-specific technologies for reinforcing planks.
Are Mannington Laminate Floors Worth Investing Into?
Mannington laminate floorings are possibly the best option on the market if you are exclusively looking for laminate floors. They are strong, handle water exposure well, and have durable coatings. The installation is simple.
I also appreciate the numerous opportunities for colors, textures and layouts.
You can improve the look of your living room, hallway, bedroom or entryway with Mannington floors.
However, the floors are still less durable than hardwood floors or ceramic tile floors. Eventually, the planks will start swelling and the protective layer on top will wear off and cause scratches.
Before you decide, contact your local contractors to compare prices for other floorings, to make sure you are getting the best for your money.
Would you invest in laminate floors? Please share your reasons in the comment section below!
If you think my article is useful, share it with your friends and family!
References:
Performance Testing – North American Laminate Floor Association. Nalfa.com. https://nalfa.com/consumer/performance-testing/. Published 2021.
Durable Laminate Flooring Tiles. Mannington.com. https://www.mannington.com/Residential/Laminate/Search. Published 2021.