In the US, one in every three people suffers from asthma or allergy, and some of the common triggers for these allergies are found in home cleaners. Take for example ammonia, it is famous for causing breathing problems, and it is a skin irritant, but it is quite common in most cleaners. Quats, on the other hand, which are prominent in fabric softeners are known asthma triggers.
To exacerbate the issue, the government does not require manufacturers to list the ingredients used to make the products. But there is a silver lining in that none of these cleaners are necessary to keep your home clean.
Below are several natural home-cleaning recipes.
Natural Home Cleaning with Tea Tree Oil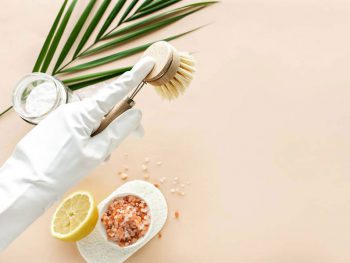 Tea tree oil is commonly used in health and beauty products, but it is remarkable when it comes to concocting cleaners. Thanks to its antimicrobial, antiviral, and antiseptic properties, it makes for an ideal replacement of most cleansers.
Tea tree oil makes for an excellent all-purpose cleaner, deodorizer, air purifier, and even laundry cleaning booster. However, you have to mix with different products and in different portions.
All-Purpose Cleaner
Ten drops of tea tree oil
2 cups of water (hot)
½ to 1 cup of vinegar
Add to a glass spray bottle and mix well. You can use this on most surfaces other than granite or marble as vinegar might etch at the stone.
Laundry Cleaning Booster
Tea tree oil laundry cleaning booster is as simple as adding a teaspoon of the oil to the washing machine. You can also add a scented oil such as lavender to give it a flowery smell.
Bathroom Scrub
Ten drops of tea tree oil
Hot water (2 cups)
Castile soap
Vinegar
Baking soda
Mix and stir until you eliminate all the lumps then pour into a glass spray bottle. The tea tree oil will not only kill bacteria, but it boosts the cleaning power of vinegar.
Natural Metal Cleaning Recipes
Seeing as metal rarely gets the attention it deserves, it slowly becomes dirty and tarnished. However, metal does not need a cleaner to restore the shine, but you need to apply the chemicals well, depending on the metal you are cleaning.
Silver
One of the best ways to restore silver is through a tarnish dip.
Fill a sink with hot water
Two tablespoons of baking soda
Two tablespoons of soda
Aluminum foil
Mix the salt and baking soda before adding it to the boiling water, then place an aluminum file at the bottom of the sink. The resulting ionization will restore the silver to its initial shine.
Brass
Brass tarnishes, and I recommend you get a sealant after cleaning to keep them from tarnishing again.
To prepare a brass scrub, mix one cup of vinegar with one or two teaspoons of salt, and scrub the brass using a cloth. You can also use ketchup, but I recommend the salt and vinegar mixture.
Natural Healthy Cleaning for your Laundry Using Soap Nuts
Though they are famous for their use in laundry, you can use them to clean anything in the house.
Soap nuts are not nuts, but instead berries that grow on trees native to the Nepalese region. It is also known as soapberry, as it produces a natural soap that dissolves in the water giving a cleaning solution.
The berries are harvested from wild trees, where they have not come into contact with pesticides and are a great alternative to modern cleaning solutions.
You can use soap nuts in one of two ways.
Use the Whole Nut
As soap nuts retail with a muslin bag, you can fill the bag with five nuts and drop it in the washer together with the clothes. Let it agitate the clothes to remove the dirt. You don't have to remove before rinsing, as soap nuts do not leave a residue.
Remove the bag and reuse it clean the next load. You can use each bag to clean about ten loads before the nuts lose their effects.
As a Liquid Concentrate
A liquid concentrate of soap nuts is excellent as an all-purpose cleaner.
10 to 20 soap nuts.
2 or 3 cups of water.
Drops of any essential oil.
Boil the soaps in a pot and let it simmer for about 1-hr under low heat. Strain the liquid after it has cooled down, and then add essential oils.
Natural Home Cleaning on a Budget
Budgets are getting tighter and tighter, but we still have to keep our homes in pristine conditions. Well, I will have you know that some of the household items sitting on your shelves will leave your house sparkling.
You can even make a wide variety of cleaners, with a bit of knowledge about combining ingredients.
If you are on a budget, and the hunt for a house cleaner, I will let you know that vinegar is a remarkable cleaner. You can mix equal parts of water and vinegar to restore the shine on most surfaces.
The same mixture will help prevent molds from occurring in the bathroom.
For a floor cleaner, mix one teaspoon vinegar, one quart of warm water, one teaspoon vegetable oil, and a few drops of an essential oil. Mix well before mopping. And speaking of mops, here are the best mops for hard floors.
Baking soda is also a great alternative to expensive cleaners, and its abrasive properties will eliminate most stains.
Where to Find Natural Cleaning Ingredients
Though the natural cleaning wave is catching on, getting these ingredients is still a bit difficult. However, the online space can help you with your search. Here are some terms you can use:
Natural cleaning ingredient shops near me
Natural cleaning ingredient shops in my location
Natural cleaning ingredient shops in (enter your location)
You can customize these terms to suit your needs. Also check the online reviews for a better understanding of the place.
Conclusion
I recommend natural cleaning products not only for the fact that they are cheap but also for the health benefits. That's it, but feel free to leave a question or thought in the comments below.