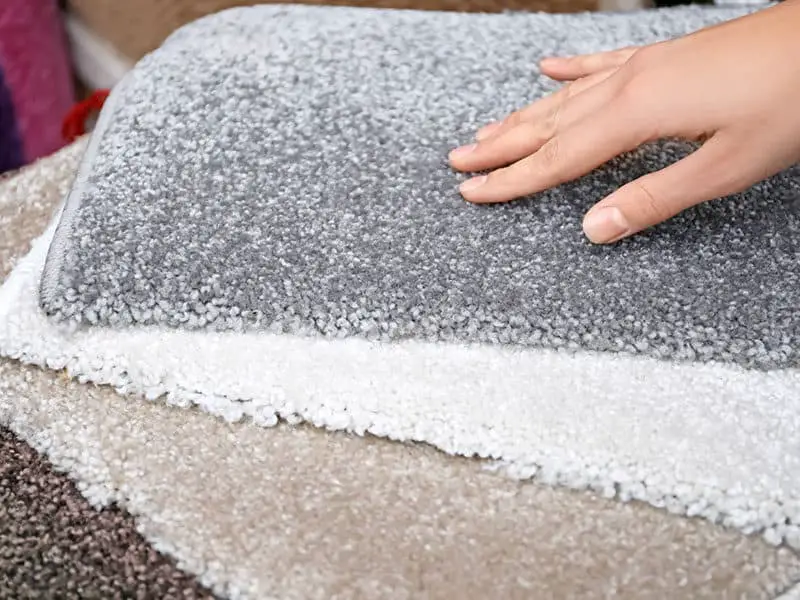 Nylon vs polyester carpet, which one is better for your home? How can you tell the difference between nylon and polyester carpet? In today's article, I will address all these questions and more.
These two materials are the most popular ones in the synthetic carpet fiber market. That said, let's take look at both and determine which one meets your needs, environment, and budget best.
Nylon Vs Polyester, Which One Is Better?
Both nylon and polyester have their benefits and downsides. Some of the features of nylon respond to the needs of certain buyers, while others prefer polyester carpets for their many benefits.
In my opinion, they're both excellent choices for residential purposes. However, nylon is more durable. If you're looking for durability, opt for nylon but if you're on a budget, pick polyester.
Both materials share similar advantages and disadvantages. The only crucial difference lies in durability. Installing and cleaning both carpets is a breeze, so keep reading to learn more details.
Nylon Features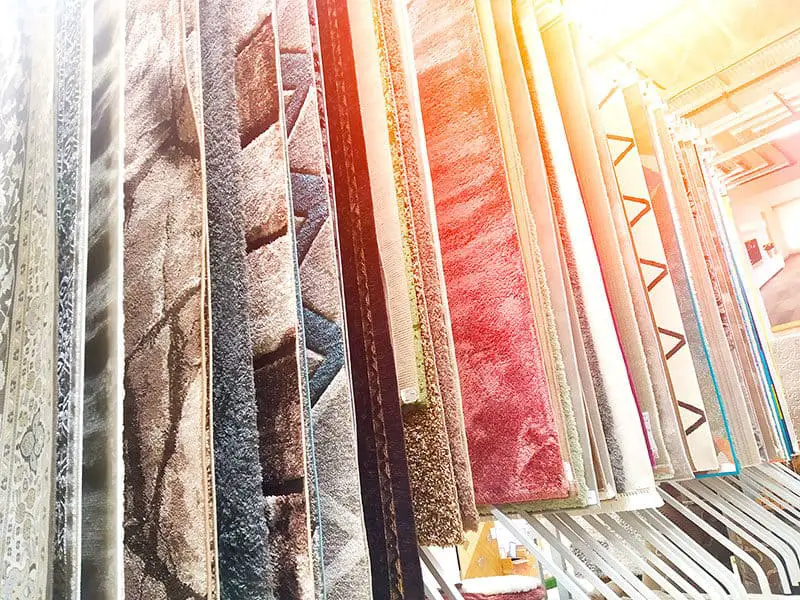 Nylon carpet is a common option for residential use. It's highly desirable because nylon is strong, easy to clean, and cheap. The best part? It's available in many style options that meet different tastes.
If you opt for a nylon carpet, you opt for something that will stand up well to daily wear and tear. So, it's perfect for places with high foot traffic. Now, let's talk about the main features of nylon carpets.
Durability
The retention is what's responsible for the durability of nylon carpets. Meaning, the fibers of this carpet won't keep compression marks from heavy furniture for too long.
Durability is also crucial for homeowners with pets that scratch flooring. If you opt for nylon carpets, you can place them in your hallway, bedroom, and entertainment area.
Stain-Resistance
The high-stain resistance is another benefit of nylon carpeting. Meaning, if you spill red wine, coffee, or something else on a nylon carpet, it won't leave permanent stains behind. You can easily remove stains using a method that's 100% safe for nylon.
Maintenance
Taking care of nylon carpet is a breeze because it contains hydrogen molecule that's easily rejuvenated after steam cleaning the fibers. Your carpet will look new.
So, if your nylon carpet fibers crush over time because of heavy objects like furniture or high foot traffic, you can easily revive it by heating your floor with a steam cleaner.
To keep your carpet in good shape, vacuum it weekly with a carpet vacuum and steam clean it annually. Also, utilize mild cleaning products to clean up liquid spills but avoid bleach.
Texture
The texture of this material can either be soft or rough. Manufacturers can make plush carpeting out of nylon by making thinner fiber strands.
However, these strands may not provide the same durability as thicker nylon carpeting. So, most nylon carpets are thick with a rough texture.
Price
Nylon has the highest price out of all synthetic carpets because it's the most expensive fiber to produce. You can expect to pay between $2-$5 per square foot of nylon carpeting. Also, if you wish to add carpet padding, you can expect to pay an extra $1-$2 per square foot.
Nylon Pros And Cons
As previously stated, nylon is the most popular synthetic fiber because about 50% of the carpet is nylon fiber. It's a common option for residential commercial carpet applications. Yes, it's expensive. However, it's also long-lasting and very durable.
With padding and stain treatments, the price can increase as well. Now, let's take a look at the pros and cons of nylon carpets and make a pick.
Pros:
Pet-friendly
Easy to clean
Excellent retention
Perfect for high-traffic places
Doesn't trigger allergic reactions
Mold and mildew resistant
Easy to maintain
Cons:
Rougher as other carpet choices
Costlier than other synthetic carpets
Provides a bunch of static electricity
Polyester Features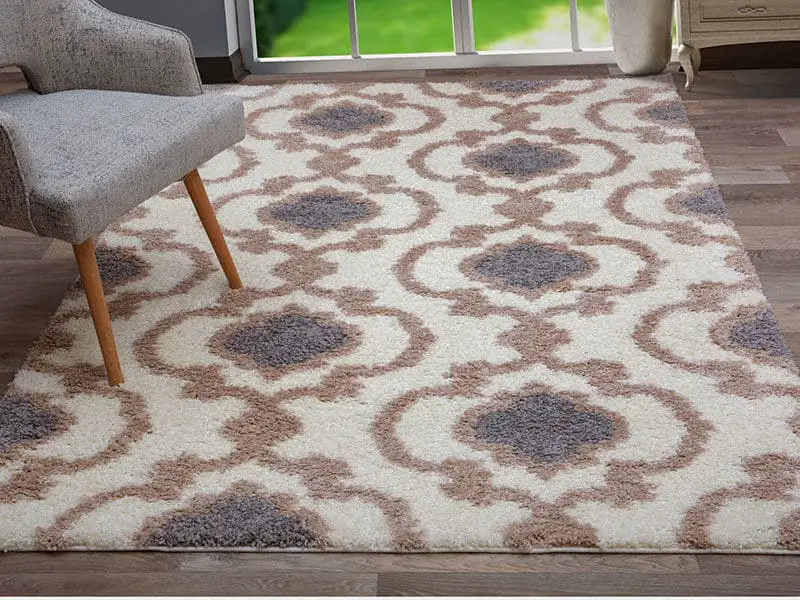 Polyester carpet is the second most popular synthetic flooring out there. Also, polyester fiber is the least expensive alternative to nylon. Therefore, if you prefer an eco-friendly carpet, opt for polyester but first, learn about the key features of this option, so you make a wise pick.
Durability
The fact that polyester is less durable than nylon can be the reason why it's cheaper. A carpet made of this material has a life expectancy of 5-15 years. Over time, polyester carpets start to reveal significant wear in high foot traffic places.
They also don't have high retention. Therefore, the fibers won't bounce back up once they've flattened under the weight of heavy objects.
However, with proper care, you can prolong the life of your polyester carpets. The best part about these carpets is that they have higher water resistance and mold resistance. So, they will dry a lot quicker after you've washed your carpets.
Stain-Resistance
Polyester is highly stain-resistant. However, not against oil-based items. Meaning, if you spill oily lotions, liquids, or foods on your polyester carpets, it may have a stain on the surface. And you will have to hire a professional company to clean your carpets.
Maintenance
Taking care of polyester carpets can be a breeze if you do it often. It's crucial to vacuum your polyester carpet using a good carpet vacuum once a week to prevent wear from dust and debris.
Never allow direct sunlight to sit on the polyester carpets to protect their color. Additionally, clean spills asap with a mild detergent and a handheld carpet cleaner to stop stains from setting in.
Texture
Polyester has a velvety and soft texture that's comfy to walk on with bare feet. Thus, if you want to add more padding to hard floors, then polyester is the perfect option.
But here's the kicker. You can also install this type of flooring in your child's room for more safety or set polyester flooring in your living room to make a warm atmosphere.
Price
As stated before, polyester carpeting is the cheapest flooring out there. Therefore, if you want to install wall-to-wall polyester carpeting, it will cost you between $1-$3 per square foot.
Polyester Pros And Cons
After nylon carpeting, the second most popular type is polyester carpeting because of the many benefits it delivers. First and foremost, it's a quality carpet fiber that lasts for years. So, you don't need to replace it often. The key benefit is that it's budget-friendly but let's compare the pros and cons.
Pros:
Affordable
Mold-resistant
Velvety, soft texture
Eco-friendly carpeting
Low static electricity
Absorbs less water
Pet-friendly
Cons:
UV-sensitive
Not stain-resistant to oil spills
Low retention
Nylon Vs Polyester Carpet: 9 Differences You Need To Consider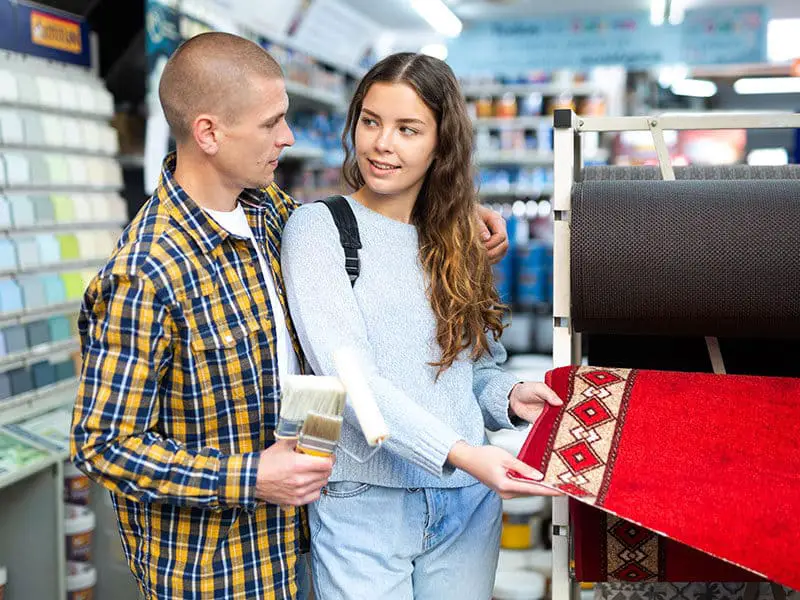 Nylon vs polyester, two of the most common carpet materials on the market. When purchasing a carpet, the material is the key thing you need to consider.
Thus, the following section is a good place to start when shopping for carpets. It will help you determine whether you should install polyester or nylon in your home.
I will break down polyester and nylon by durability, cost, stain resistance, price, and more, so let's begin and decide what works best for you and your home.
Why Is The Material So Important?
The carpet material is very important because it determines how your carpet will perform. Meaning, the material directly impacts the performance. In this article, I focus on polyester and nylon because they're by far the most popular. Other materials cost a lot or have poor durability.
Which Is More Expensive: Nylon Or Polyester Carpet?
Right out of the bat, polyester is about half the price of nylon. They're both affordable but polyester has a lower price.
In some cases, a well-made polyester carpet will have a higher price than poorly-made nylon. Polyester costs about $2 per square feet while nylon costs $4 per square foot.
Nylon is often superior. However, polyester still wins the game in other categories. So, let's take a closer look at both materials.
What Lasts Longer: Polyester Or Nylon?
When it comes to carpets, the first feature most homeowners consider is the durability of the carpet. If you prefer a super durable material, opt for nylon. It's considered the most durable one.
Polyester, on the other hand, is also durable and long-lasting. However, it shows wear after a couple of years in high-traffic places. It also tends to crush. However, it's still a good, cheap option.
Which Has Better Stain Resistance?
When I discussed durability, I was referring to the performance of the carpet. However, there's another important factor that determines the durability of every carpet. And that's stain resistance.
What's the point of having a durable carpet when it has yellow or red stains all over it? Fortunately, both polyester and nylon have high stain resistance. However, this doesn't mean they won't stain.
Thus, wipe up spills right away. Also, certain nylon carpets resist stains better than certain nylon carpets. With polyester, stain resistance is a natural part of the fiber while nylon requires treatment.
Which One Has Better Styles And Appearance?
The material won't impact the appearance of the carpet (okay, only a little). Polyester is usually easier to dye. Meaning, it's available in a wide array of bold colors. However, nylon carpets come in various colors too. Therefore, it's a personal preference what color or appearance you will pick for your home.
Is Nylon Or Polyester Softer?
Softness is another point for polyester. However, just like colors and appearance, this tiny gap between the two is finally shutting down with technology. Usually, nylon is rougher than polyester. Nowadays, it's produced in small, thin fibers that make it silk-soft. Still, if you care about softness, buy polyester.
Which One Is Eco-Friendly?
Since polyester carpets are partially made with different recycled materials such as bottle caps, they're marketed as "recycled carpets". However, once you remove them, they're hard to recycle. Nylon, on the other hand, is easier to recycle. Thus, if you prefer a green and eco-friendly option, opt for nylon.
Is Polyester Or Nylon Better For A Room With A Moisture Problem?
They're both synthetic fibers that resist moisture. However, there's a bigger issue you will need to solve in this type of space. That's the backing, padding, and moisture trapping under the pad and subfloor. As for the carpet material, opt for whatever meets your other needs and doesn't exceed your budget.
Is Polyester Or Nylon Carpet Better For Allergies?
Polyester and nylon tie in this department. People who suffer from allergies usually face two challenges when it comes to carpet: making sure the carpet isn't a dust mite trap and making sure no mold/mildew grows. For the mold challenge, both polyester and nylon resist mold, so don't worry.
However, you may still get mold and mildew that have nothing to do with the fiber. For allergens getting stuck in your carpet, the material won't make a difference. You can go with polyester or nylon.
Some people claim that any carpet is better for allergies than no carpet at all since it traps the dust that otherwise would float in the air and get into your lungs. Thus, carpets act as giant filters. Deep cleaning regularly is crucial. It will not only remove mites and particles but also refresh your carpets.
Watch this video to know more:
Nylon Vs. Polyester Comparison Chart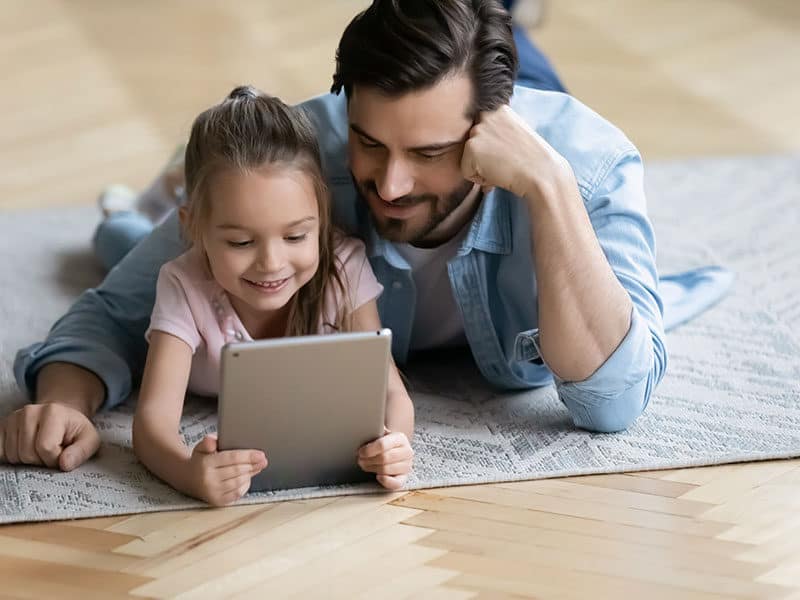 Honestly, nylon has a better reputation than polyester. It's considered a more durable synthetic fiber in the industry. Nylon carpets are usually more resistant to stains. And their fibers keep their shape well. If you're searching for a carpet that holds up well to high foot traffic, opt for nylon carpets.
They're both easy to install and maintain. The biggest advantage of polyester is that it's both cheap and somewhat durable. It's not as durable as nylon. However, it does take in less water, meaning, they won't house mold that easily.
Check out the following comparison chart for more details on both.
| Characteristics | Polyester | Nylon |
| --- | --- | --- |
| Type: | Synthetic fiber | Synthetic fiber |
| Comfort: | Cushy and soft beneath your feet | Comfy, however, not as soft as polyester |
| Durability: | Durable, long-lasting, and sturdy building material | Highly durable material, great for high-traffic places |
| Stain-resistance: | Hydrophobic fibers, perfect natural liquid stain resistance | Not as stain-resistant as polyester, requires treatment |
| Eco-friendly: | Wide selection of carpeting made of recycled materials, but don't recycle easily | You can find certified products, they recycle easier than polyester carpets |
| Common issues: | Shedding, pilling | Static |
| Installation: | Professional installation recommended | Professional installation recommended |
| Price: | $1-$3 per square foot | $2-$5 per square foot |
Shop Wisely
When it comes to nylon vs polyester carpets, they both have their advantages and disadvantages. Thus, whatever you choose depends on your needs and budget.
If you want something that will last for over a decade and doesn't cause allergies, opt for nylon. The best part? Unlike polyester carpets, nylon carpets can be easily recycled.
Meaning, if you want to purchase a new carpet in a few years, you can recycle your old one. However, if you reside in a place with high humidity levels, consider both choices.
They're both water-resistant and won't grow mold within the fibers. However, if you're on a budget, opt for polyester carpets. They're also durable and cost less than nylon carpets.
What do you think is better based on today's article? Do you have nylon or polyester carpeting at home? If so, share your experiences, opinions, or questions in the comments.