Before you order your new flooring for your home, you need to be aware of oak flooring costs.  If you want to improve the aesthetic of your home with oak flooring, be prepared for investment. If done and chosen well, oak flooring can be the last flooring you'll ever install in your home.
It is because the lifespan of real oak is outstanding.
If you are interested in oak flooring, read the following information carefully so you can plan your flooring budget.
Moreover, I'll share some information about oak flooring that property owners need to know before installation.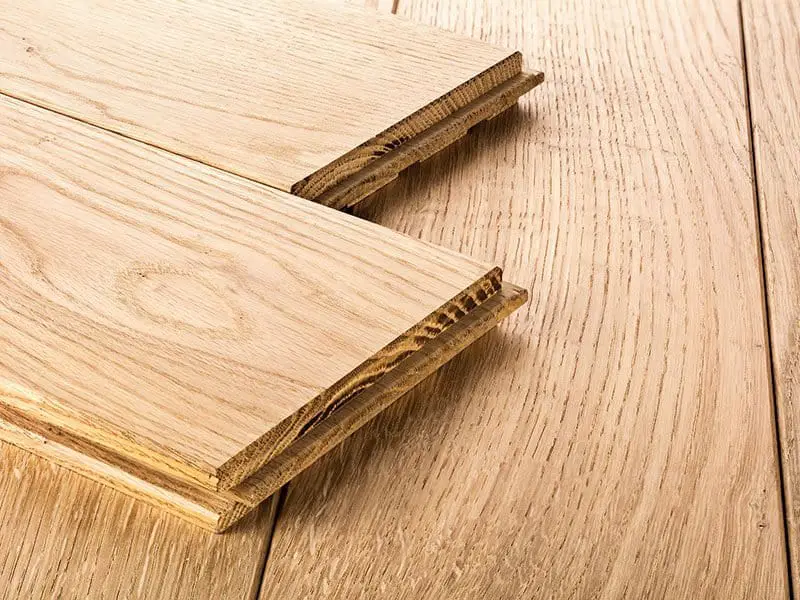 How Much Does Oak Flooring Cost?
Many factors affect the price tag of oak wood flooring. Refer to the table for a quick overview of the price range for oak floors and additional costs:
| | |
| --- | --- |
| | Average Costs (per square feet) |
| Red Oak | $2-$6+ |
| White Oak | $5-$8+ |
| Finished | $5+ |
| Unfinished | $3-$4 |
| Refinishing | $2-$6 |
| Professional installation | $4-$8 |
| Engineered Oak Wood |  $3-$10+ |
Things That Affect The Oak Flooring Costs
Without previous inspection of the room in which you want to install solid hardwood floors, it can be difficult to answer the question: how much does it cost to get oak wood flooring?
But, here are all the things to have in mind that can affect the total costs of oak flooring:
Wood Type – Red or White Oak
Style – Finish or Unfinished
Type – Solid Wood or Engineered
Installation – Professional or DIY
Additional: Old floor removal, subfloor preparation, installation in irregularly shaped areas, unseen adjustments, etc.
Brand – Variety in prices offered by different brands
Size area
Oak Flooring – Features And Benefits
Alongside walnut, maple and cherry, oak is the most common choice for hardwood floors. In fact, many historical buildings have oak floors! Therefore, there is a specific set of properties that make oak floors so convenient for installation.
Let's take a closer look at the most important oak flooring features that justify the price tag.
Stability
In the flooring industry, stability refers to the resilience of the floor to conditions, such as moisture. Shrinking and expanding are normal for wood, but some wood types are more susceptible to these issues than others.
Oak is highly stable, and it takes significant changes in outer conditions to cause shrinking and expansion. Compared to hickory or maple, oak is more stable. Therefore, it has a wider application and almost risk-free installation.
Even though it isn't standard kitchen floor material, it can work pretty well there, too.
Wear Resistance
Oak is hardy wood and excellent for high-traffic areas. It is resistant to wear to some point, and some species, such as white oak do well with water damage.
Because of its dense structure and stable texture, oak doesn't chip when cut or nailed down to the floor. Therefore, there is less risk that something will go wrong during installation.
Also, red and white oak are versatile, and you can apply the treatments you want or stain the flooring to match your style preferences. Treatments won't damage the floor or weaken it.
Simple Maintenance
Like every other hardwood floor, oak flooring requires a bit of love and care to perform and look the best possible. You can use simple furniture pads to protect the flooring from scuff marks. Any mop safe for hardwood floor or suitable vacuum once a week will be enough for keeping the floor clean.
You can mop it easily with any wood-approved cleaning solution.
The best thing – if any scratches appear on the floor, you have two ways to deal with it. You can either sand the area and refinish it or only replace the board that has been scratched. There is no need to replace the entire floor or change the furniture layout in the room to hide the damage!
Lifespan
Oak flooring finish can last up to ten to 15 years. But, when you refinish the flooring, you can achieve a fresh look and the same excellent performance.
Overall, before you have to replace the flooring completely, you get to sand and refinish oak flooring several times. It gives you a total life expectancy of oak flooring from 70 to 100 years.
Of course, the lifespan depends on multiple factors, such as proper maintenance and lack of catastrophes, such as floods and fires.
While 100 years is possible, your oak flooring will, most likely, last between 50 and 70 with average maintenance. Still, lifespan is exceptional, especially for high-traffic areas, because most floorings cannot hold up well for two decades.
Style
Elle Decor has named oak flooring, specifically European white oak, for the trendiest floor for 2020. (1) Since then, its popularity is growing, and interior designers around the world focus on oak and ways to incorporate it in modern homes and buildings.
Oak is always trendy because it fits well in every color scheme. The subtle warm tones of oak and organic texture and make every place cozier and home-like.
Oak can also add a luxury touch to your place.
Overall, oak is an excellent choice for style-conscious homeowners and improves the ambiance wherever you install it.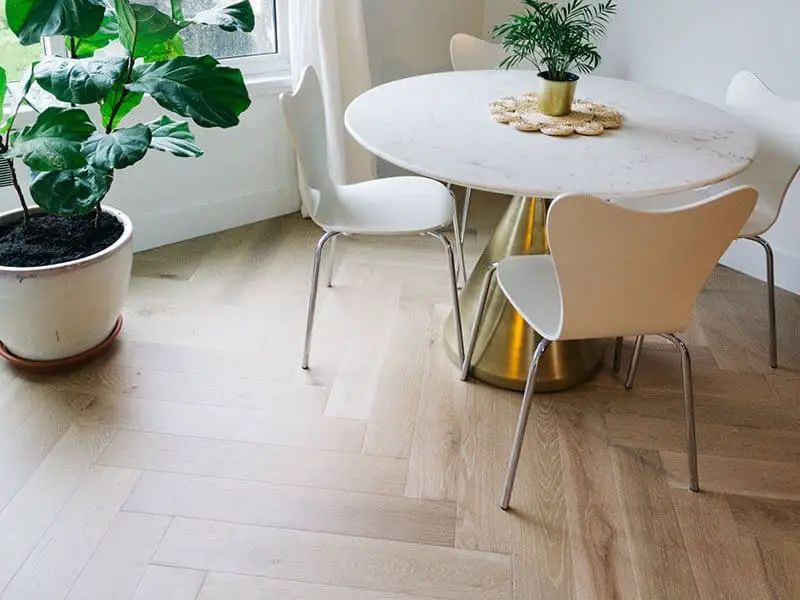 You can see this video to know more:
Oak Flooring Cost Per Square Feet
Oak flooring is manufactured from quality wood, so the costs are a bit higher. One oak board comes from a single piece of wood which makes it strong and stable.
The price tag depends on several factors, including the brand of oak flooring, labor work, potential subfloor adjustments, adhesive costs, the oak type, etc.
Let's break things down into details to discuss every aspect that affects the total costs of oak wood flooring.
You can see this video to know more:
Red Oak VS White Oak
As the name suggests, the difference between red and white oak is the color, more specifically, the tone of color. Surprisingly, white oak can be darker than red oak, but it has neutral shades and tones. Red oak is a beautiful blend of pinkish and brownish shades.
Overall, white oak is hard and a bit denser than red oak. Therefore, some manufacturers charge more for white oak boards. Red oak is easier to hide scratches and scuff marks, because of specific grain patterns.
On average, red oak flooring costs from $2 to $6 per square foot, without labor costs. White oak is pricier, with a price range from $5 to $8 per square foot. (1) But, some premium oak flooring products can cost more than $10 per square foot.
These are just the price ranges for flooring boards and don't include any additional costs for moldings and installation costs.
You can see this video to know more:
Prefinished VS Unfinished
The next thing to decide is whether you want prefinished or unfinished oak planks. Prefinished planks come ready for installation and once you nail them down to the subfloor, your flooring is complete.
Unfinished planks require sanding and applying protective coats after the planks are installed.
Generally, initial costs for unfinished planks are cheaper than finished.
But, there is much work you have to do when you install unfinished planks. It will cost you money and time, which can last for weeks. Applying coats and waiting for the coats to cure will prevent you from bringing your furniture in for a long time.
For example, if you are installing oak flooring in your office, it means that the office will be out of service for longer, which eventually means less profit.
But, finishing once the floor is installed, gives you more freedom and precision so you can control the final results.
The plank size also affects the price tag, and in most cases, wider planks are more expensive.
Narrow planks of unfinished white oak flooring can cost you around $3 to $4 per square foot. Finished white oak flooring starts at $5.(2)
Some brands offer unfinished red oak boards with a starting price tag of $2.5. Finished planks are at least $2 more expensive than unfinished.(3)
Solid Hardwood Oak VS Engineered Wood Oak Flooring
Lastly, there is an additional thing to discuss, that might affect the price.
Property owners can choose between solid and engineered wood for their floors. But, the pricing isn't all black and white.
Hardwood floor planks feature one piece of wood construction, and engineered planks are built from multiple layers and a layer of oak wood on top.
As always, there are different quality products on the market. Therefore, high-quality engineered wood with five layers of reinforced plywood and a thick oak layer on top are considered premium quality floorings.
Their price tag can be quite high, sometimes even higher than for solid wood flooring. It is because the layered construction of engineered oak flooring is stable and less susceptible to moisture damage than solid wood.
Poorer quality products, like those with three layers and thin veneer, can be more affordable.
Engineered oak flooring is from $3 to $16 per square foot. (4) But, it is more suitable for DIY installation, which might be a way to save some money.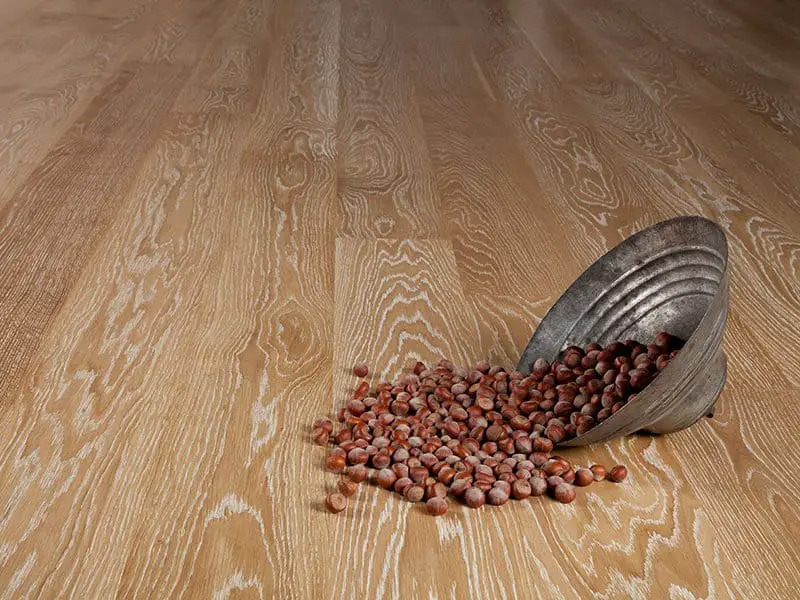 Oak Flooring Installation Cost
The next thing you have to add to your oak flooring budget is the labor costs for installation. Hardwood floors, including red and white oak flooring, aren't suitable for DIY installation.
It might be possible, but you have to rent professional machines and have certain skills to ensure every board is nailed down well. Also, some rooms have irregular shapes so installing wood planks require cutting, measuring and fitting the planks, which is better to leave to the professionals.
Some brands offer all services – installation and material. On average, the cost for installing typical wood floors, such as the oak, is from $4 to $8 per square foot. (5)Installing engineered wood is more expensive.
Additionally, contractors can charge for unexpected adjustments, irregular shapes, and maybe offer you a discount for large areas.
Some contractors charge additionally for site preparation and potential changes to the subfloor before installing hardwood floors. In some cases, removing the old floor is included in the price, but you have to pay extra for it sometimes.
Therefore, if you are interested in installing oak floors in your home, your safest bet for budget planning is to hire a cost estimator to come on-site, inspect it and calculate all costs.
You can see this video to know more:
Oak Flooring Refinishing Cost
As I already mentioned, oak flooring is beautiful and can keep its pleasant appearance for a long time if you maintain the floors well.
Maintenance includes standard cleaning and occasional sanding and refinishing of the floor. The costs are similar to other hardwood refinishing costs and slightly vary based on wood type.
You can do it every ten or 15 years, but it depends on the use and signs of wear and tear. On average, expect to pay from $2 to $6 per square foot for professional sanding and refinishing service.
Less demanding tasks, such as buffing and applying a new coat of finish, are cheaper and can cost around $2 per square foot.(5)
Can You Save Money On Oak Flooring?
As you can tell, installing oak flooring is costly. But, you might be able to save some money with the help of my next tips.
Prepare The Subfloor Yourself
If you have old carpets you want to replace with an oak floor, you can rip them yourself. Be thorough and remove all the staples, scrape any leftover glue and empty the room yourself.
Compare Prices
If you sign up for complete contractor services, it will cost you a certain amount of money, but you don't have to worry about shipping, materials, etc. You can order materials online once and only pay the contractor for its professional installation services.
Ordering material by yourself gives you the chance to search for discounts and compare prices from different brands.
Do It In The Winter
During the busy- season, summer and spring, the installation costs are higher. The price tag can even be higher if you want to be considered a priority by your chosen contractor. If you have waited so far, why not wait a couple of more months and schedule the work for winter? You might even get a discount.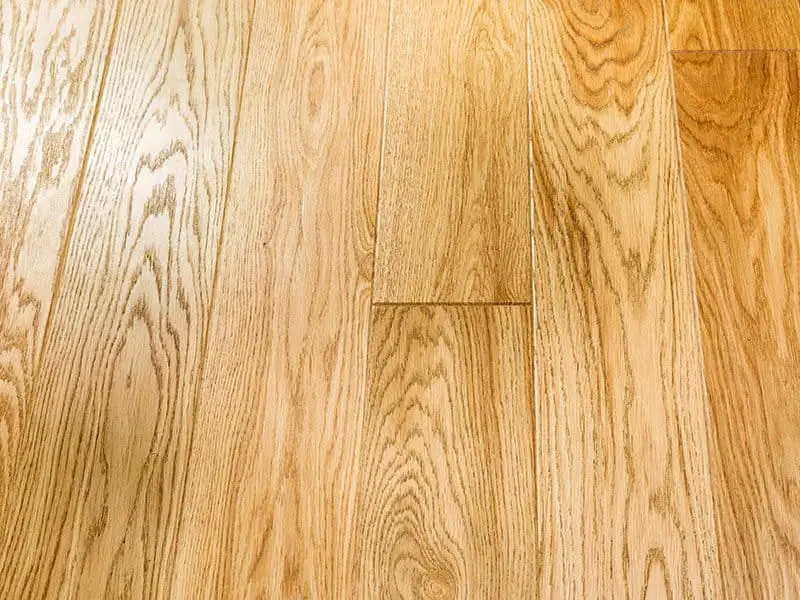 Oak Flooring The Best Home Investment You'll Ever Make
Oak flooring is beautiful, whichever type of wood you choose. It can be the one thing to change in your home that will improve the complete aesthetic.
But, oak hardwood floors are costly. The exact price depends on several factors, but you can expect to pay a lot more than if you have chosen laminate or synthetic floors.
Oak is the mid-priced wood type for hardwood floors, but it has great benefits compared to other commonly used wood.
Would you install oak flooring in your home?
If you found what you were looking for, don't forget to like and share the article.
References:
1. Designers Are Obsessed With These Hardwood Floor Color Trends. ELLE Decor. https://www.elledecor.com/design-decorate/trends/g29252196/hardwood-floor-colors-trends/ Published 2021.
2. Bigger Than the Three of Us. Bigger Than the Three of Us. https://biggerthanthethreeofus.com/ Published 2021.
3. Red Oak #1 Common Grade Unfinished Solid Hardwood | Hardwood Floor Depot. Hardwood Floor Depot
4. Lowe's. https://www.lowes.com Published 2021.
5. 7 Steps to Save on Hardwood Flooring Costs – NerdWallet.