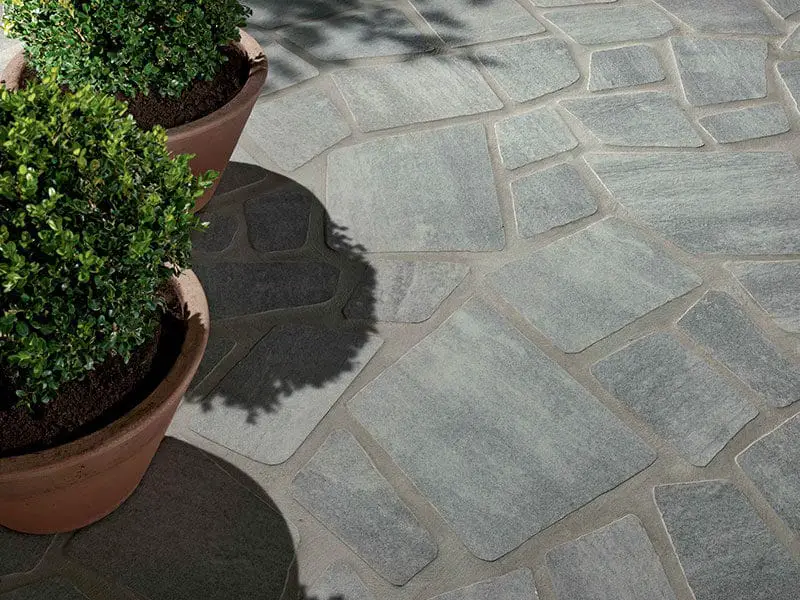 When choosing the right flooring for your backyard, you're overwhelmed by dozens of outdoor flooring options. In today's article, I will review 15 of the most popular and not-so-popular flooring options.
I will also share a short buying guide on how to choose the right outdoor flooring for your property and help you with your final decision. Without any further ado, let's learn more about outdoor flooring.
Which Is The Best Option For Outdoor Flooring?
People usually forget about outdoor flooring when designing or renovating their backyard. However, it's a very important part of your property that will add enjoyment and utility to the area.
If you're wondering what's the best outdoor flooring, the short answer is none. The reality is, there's not a type of flooring that's suitable for every homeowner and every property in the world.
This is why I made a list of 15 different flooring options you can choose from. Some homeowners prefer hardwood and stone, while others enjoy rubber and carpets. What's your preference?
Best Outdoor Flooring Options – Comparison Chart (2021)
The next chart can help you narrow down your outdoor flooring options by learning key features about each option like the average cost per square foot (keep in mind that prices may vary depending on your current location), slip-resistance, maintenance, and more. So, let's take a closer look!
| Outdoor Flooring Options | Average cost per square foot | Cool/hot flooring | Slip-resistant | Maintenance |
| --- | --- | --- | --- | --- |
| Hardwood | $15-$25 | Gets hot in the sun | Certain finishes | Easy |
| Gravel | $4-$6 | Stays cool in the sun | When it's wet, it's slippery | Easy |
| Stone | $2-$10 | Stays cool in the sun | Slip-resistant | Easy |
| Ceramic tile | $0.50-$35 | Stays cool in the sun | When it's wet, it's slippery | Easy |
| Brick and concrete pavers | $8-$25 | Stays cool in the sun | Slip-resistant | Easy |
| Artificial grass | $5-$18 | Stays cool in the sun | Slip-resistant | Easy |
| Rubber tile | $4-$10 | Stays cool in the sun | When it's wet, it's slippery | Easy |
| Composite decking | $9-$16 | Stays cool in the sun | Slip-resistant | Easy |
| Concrete | $4-$6 | Gets hot in the sun | Slip-resistant | Easy |
| LVP | $4-$15 | Gets hot in the sun | When it's wet, it's slippery | Easy |
| Carpeting | $3-$11 | Stays cool in the sun | Slip-resistant | Easy |
| Plastic tile | $4-$14 | Gets hot in the sun | When it's wet, it's slippery | Easy |
| Ground-cover plants | $3-$12 | Stays cool in the sun | Slip-resistant | Easy |
| Foam tile | $1.50 | Stays cool in the sun | Slip-resistant | Easy |
| Fake grass tile | $3-$7 | Stays cool in the sun | Slip-resistant | Easy |
15 Best Outdoor Flooring Options For Your Home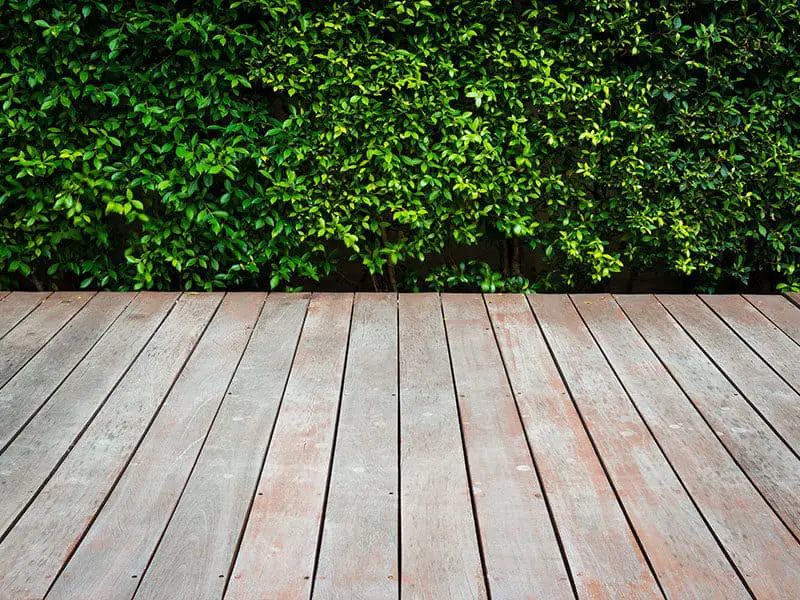 Most people spend a lot of time renovating and designing the inside of their property, that they forget their landscaping and outside of their property matter too!
If you're someone who enjoys a good old barbeque in the backyard with friends and family or spending any amount of time outdoors, it's important to consider the exterior of your home as well.
There's a wide selection of outdoor flooring options on the market. However, the following list will help break down your choices and find the right outdoor flooring.
1. Hardwood
If you're looking for something traditional and timeless, look no further than wood decking. It's been on the market forever. It's also one of the most popular outdoor flooring options.
The best part? There's a wide selection of wood flooring types in the USA you can choose from including cypress, western red cedar, and redwood. They're all quite popular among homeowners.
Keep in mind that wood flooring isn't cheap, however, if you're not on a budget, pick something that will also add value to your property such as teak, ipe (Brazilian walnut), mahogany, and others.
Wood decking must be treated to endure the elements properly and that costs extra money. So, you will need to treat hardwood flooring prior to installation and seal every 1-2 years.
You can see this video to know more:
2. Gravel
Gravel is one of the greatest outdoor flooring options for demanding landscapes. The installation can be a nightmare. And if you have a one-of-a-kind landscape, it can be even harder.
However, gravel makes a great DIY flooring option because it needs little preparation. You can also alter the shape of this flooring option and make it match your terrain. The best thing about gravel is that you can simply install it over the existing ground, just like indoor floating flooring options.
The biggest downside is that things underneath will influence the flooring on the surface. That said, you will have to add a landscape fabric to perform as a type of underlayment first.
You can see this video to know more:
3. Stone
If you're a fan of natural beauty, then install natural stone in your backyard or patio. There's something about this flooring option that just feels like home. It's super durable, long-lasting, and pretty.
However, it's also expensive. If you're in the mood for spending some money, you can choose a natural variation with different shapes. Or you can install a straight-cut stone for a more uniform look.
I recommend utilizing a locally sourced stone. This way, you can save coins on transportation costs while promoting sustainability by installing stone flooring that originates from your local landscape.
You can see this video to know more:
4. Ceramic Tile
If you're searching for low-maintenance and super versatile outdoor flooring, then a ceramic tile is ideal for you. I like tile for different reasons including low price and water-resistant features.
Ceramic tile costs less than most of the outdoor flooring options on this list. But here's the kicker. It also doesn't cost much to install, unlike stone or wood. So, ceramic tile is an affordable option.
However, no one mentions the limitations of ceramic tile. Changes in temperature can influence ceramic tile flooring. For instance, super low temperatures may cause this type of flooring to crack.
Contact a local retailer to learn if a tile is a good choice for your location. Ask about the slip resistance as well. Ceramic tile can be super slippery when damp, so it's not suitable for pool places.
You can see this video to know more:
5. Brick And Concrete Pavers
If you're in the market for fast and easy outdoor flooring, then brick and concrete pavers are the perfect flooring choice for you. Making a driveway can ask for a professional installation.
However, you don't need to learn how to change a flooring to use brick or concrete pavers from scratch. These cheap materials can provide a long-lasting, elegant garden path or walkway in no time.
Expect to pay 60 cents per brick paver or between $1-$5 per square foot. You can also recycle stones or bricks from previous tasks and save money.  They're low-maintenance and don't take too long to install. All you need is patience and you can make a walkway utilizing a few common tools in 2 days.
Once they're laid and all the holes are filled with sand (opt for polymeric sand) maintaining your flooring is a breeze. Just sweep any debris and use a hose to wash away dirt when necessary.
You can see this video to know more:
6. Artificial Grass
If you like grass but hate mowing grass, then artificial grass is the perfect solution for you. You will have the most beautiful grass at all times without all the work that goes into maintaining a lawn!
On second thought, fake grass versus actual grass resembles the laminate versus wood flooring debate. Everyone prefers a more natural appearance. However, not everyone wants to pay a high price.
Also, unlike real grass, artificial grass doesn't require a lot of maintenance and makes a great choice for allergy sufferers. No seeding, no mowing, no fertilizing, no watering. What's there not to like?
You can see this video to know more:
7. Rubber Tile
Rubber tile isn't the first option that comes to mind when searching for outdoor flooring. However, it's a good option because it's extremely strong, shock-absorbant, and slip-resistant.
Certain types of rubber tile mimic the appearance of brick, stone, or asphalt. The best part? You will pay only $2 per square foot. Rubber tile is the perfect choice for homes with small playful kids.
Kids prefer softer and gentler surfaces. Therefore, rubber tile is the perfect choice for playgrounds. It's a highly-rated flooring for playgrounds and similar places where kids play and run.
You can see this video to know more:
8. Composite Decking
If you want a cheap but long-running hardwood flooring substitute, then composite decking is the right choice for you. If the thought of beautiful wood floor patterns in your backyard fills you with happiness, but the annual sealing or cleaning infuses you with disgust, ignore hardwood.
Instead, invest in composite decking. It's one of the most popular outdoor flooring options because it's a hard, nonporous synthetic material that consists of wood flour, thermoplastic resins, and wood strand but here's the kicker. It's less expensive than standard wood and ensures a super-fast installation.
The only disadvantage of composite decking is that it's nonporous, meaning stain and paint can't adhere properly. Therefore, pick your design carefully. However, as long as you pick a style and color you enjoy, composite decking will provide a fresh and pleasant appearance for very long.
You can see this video to know more:
9. Concrete
This type of outdoor flooring is classic, timeless, and flexible. It's a popular option among homeowners. And justifiably so. Concrete doesn't cost a lot and lasts forever if you take good care of it.
Concrete can cost between $4-$6 per square foot. You can also put concrete pavers but they cost more than basic concrete. The greatest part about concrete is the wide selection of design options.
You can stain or paint the concrete and make it look like real tile, stone, or wood. It can be stamped and burnished. You could even add a non-slip, metallic-finished epoxy resin if you prefer this look.
The best part about concrete is that it's low-maintenance. You can clean concrete with DIY cleaners and save money. Also, be aware of rust stains from metal furniture that can develop over time.
You can see this video to know more:
10. LVP
If you like LVP, you're in luck because you can also install it in your backyard. In my opinion, LVP is one of the greatest flooring types out there. It's eye-catchy and long-lasting.
LVP looks a lot like wood and delivers all the perks of vinyl flooring with low VOC. Nowadays, companies have a wide selection of both indoor and outdoor flooring options you can choose from.
PVC flooring costs very little. The installation is also cheap and easy. Opt for something that's created for the outdoors instead of something only suitable for outdoor applications.
You can see this video to know more:
11. Carpeting
Carpets aren't just for indoors! Nothing can beat the softness of carpets underfoot. If you want to step up your outdoor flooring game, consider carpeting.
You can find budget-friendly products like the peel-and-stick carpet tiles at Home Depot. They sell by the crate. The best part? You can install them yourself in no time.
Outdoor carpets don't resemble indoor carpets. They're usually sturdier low-pile carpets, similar to what you would see in buildings such as school buildings or offices.
The only bad side is that you may need to replace carpeting sooner than the rest of the flooring options on this list, so it's not suitable for humid climates.
You can see this video to know more:
12. Plastic Tile
You can either love or hate plastic. However, you can't deny that it's highly durable, super-versatile, and user-friendly. Thus, it's an ideal outdoor flooring option. And if you're a passionate environmentalist, opt for plant-based or recycled plastic tile.
You can see this video to know more:
13. Ground-Cover Plants
If you want to embellish your outdoor space in a natural way, you can use various ground-cover plants as outdoor flooring. They will also positively contribute to your ecosystem.
Common plants you can use include Deadnettle, Candytuft, Japanese Pachysandra, Canadian Anemone, and Creeping Phlox. They're better than grass because they don't require a lot of maintenance.
Certain plants can handle being stepped over and could terminate the need for mowing completely. You can use flowering plants to support butterflies, bees, and other living beings.
You can see this video to know more:
14. Foam Tile
Comfortable and springy, foam tile is a new great innovation. It's super soft and ideal for somersaults. It resembles cork flooring, however, without the downsides of cork flooring. It's also suitable for backyard barbecues and picnics. You can easily move around and install these tiles alone.
You can see this video to know more:
15. Fake Grass Tile
I've already talked about the positive sides of fake grass. However, did you know that some fake grass is available in tile form? It's movable and makes a great option for small places such as interior courtyards or rooftops. Instead of purchasing a large roll, pick smaller tiles and save money.
You can see this video to know more:
How To Choose The Best Outdoor Flooring?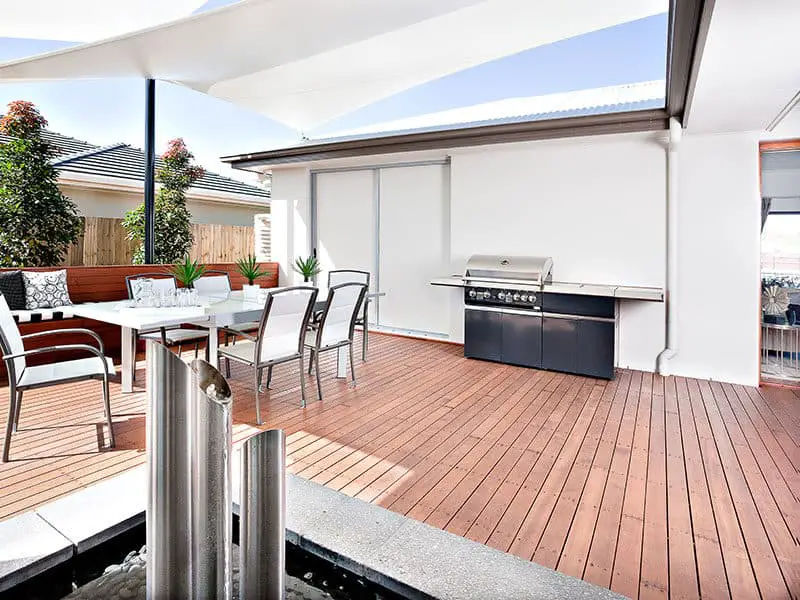 When looking for the perfect outdoor flooring for your patio or backyard, there's a list of factors you will need to consider. The following factors can help you make a well-informed choice.
Different outdoor flooring options have different prices. Therefore, before you choose anything, you will need to determine what option is within your budget.
Moreover, don't forget about the ongoing maintenance and installation costs, especially if your outdoor flooring is part of a bigger backyard makeover project.
Lifestyle And Usage Needs
Determine your needs before you make a choice. Do you want something that looks modern and sleek? Or would you prefer something capable of handling daily wear and tear?
Also, consider how you want your outdoor area to be used. This is very important, especially if you have kids as you will need a slip-resistant, soft, and safe flooring material for them to play on.
Additionally, if you're a party person who regularly entertains friends and family, your outdoor area will need to be durable and easy to clean such as concrete or natural stone.
Different flooring options have different levels of environmental impact. So, you will need to straighten out your priorities based on the environmental advantages and disadvantages before making a decision. Also, consider cool outdoor flooring only, especially if you live in warmer climates.
Why Choose A Cool Outdoor Flooring Option?
Your outdoor space is meant for peaceful enjoyment and relaxation. And a hot floor can ruin your whole experience. Moreover, it can be annoying if you have to deal with it daily in the hot sun.
Imagine being unable to set foot on your patio or porch when it's too hot outside. This is why choosing cool outdoor flooring matters. Super hot floors aren't safe for adults, children, and pets.
They could cause injuries and burns, especially to elders and babies. Pets and other animals are likely to get burned severely owing to their sensitive paws. Having guests over is another concern.
What if you forget to warn your guest about your hot outdoor floors? If they're not informed on time or at all, they could end up with injuries, too! Let's take a look at a few cool flooring options.
Actual grass
Rubber flooring
Composite decking
Outdoor patio tiles
Properly picked paver stones
Wooden deck with cool foot paint
Concrete with a cooling paint
Painting bricks light
Natural stone tiles
Artificial turfs
What Is The Easiest Outdoor Flooring To Install?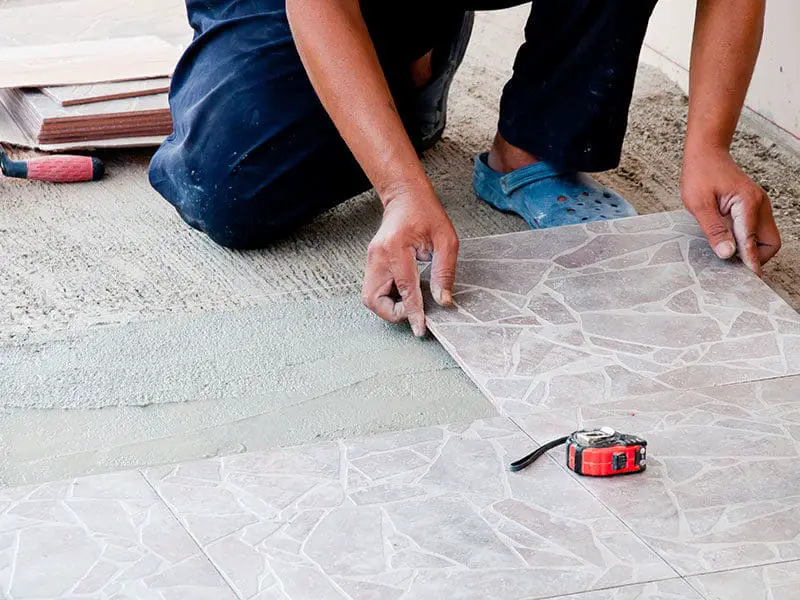 The easiest outdoor flooring is definitely peel-and-stick carpet tile. However, you may need to replace it sooner than most of the outdoor flooring options available out there.
I would suggest that you take some time to learn more about the basics before you start thinking about the features and details that you want to add to the design of your flooring.
For instance, step outside and throw a closer look at the outdoor space that you want to cover. Consider all elements that need to be reorganized or removed to prevent issues and challenges.
Pick an outdoor flooring depending on your location, weather, and climate. For instance, if you reside in a place with a lot of sunny or rainy days, you will likely want to install a roof.
However, in any case, the outdoor flooring will have to endure both heat and cold. Otherwise, your new outdoor flooring will crack, fade, and deteriorate easily, so choose wisely.
Take Your Style Outside!
The market is flooded with outdoor flooring options. Therefore, there's not a universal outdoor flooring that will meet every homeowner's needs, requirements, and of course, budget.
The landscape and outdoor space at hand, location, weather, and other important factors will influence your final choice. Therefore, it's best to ask for professional advice from a local retailer.
That being said, let's chat about the topic. Do you have a favorite outdoor flooring option yet? Feel free to drop a comment below. Also, share this article with your social media friends.