Back in the day, penny floors were reserved for skilled crafters, but in 2021, you can install your vintage decor project with the help of the almighty internet.
Penny floors aren't a modern finding but are getting more popular because of their unique appearance, costs and DIY installation.
Therefore, if you are up for a home renovation project that can transform rooms in your home, penny floors are a perfect solution.
But, you can't just spill your coins on the floor, there are a few things to know about penny floors before placing.
Keep reading for a complete guide on penny floors – including installation, costs, maintenance, durability and practical inspiration for the best-looking penny floors in 2021.
Are Penny Floors Any Good?
Penny floors have a high aesthetic value and can improve the look of your bathroom, kitchen, hallway, shower floor, etc. Compared to other floorings, they are budget-friendly but highly resilient and suitable for rooms with high traffic.
Therefore, penny floors can be used in commercial areas as well.
Installation is simple but takes time, and you can refinish the floors when epoxy coating gets dull or damaged.
What Are Penny Floors?
Penny floors are made of penny coins and sealed with grout or epoxy resin. They have a vintage and decorative appearance. They are also great for creative individuals, who don't mind spending hours gluing the coins in a specific pattern to the floor.
As a construction material, a penny is a highly durable and resilient material, almost indestructible. The topcoat – epoxy resin or grout will keep pennies in place and make the surface flat and even.
You can see this video to know more:
Penny Floors Installation
The final result of the penny floors is astonishing and some patterns look like real masterpieces. Installing penny floors isn't complex, but it is tiresome. It requires careful planning and a lot of patience and precision to glue down more than 25000 penny coins for a room of average size.
You'll need two things – penny coins and epoxy.
The first thing to do is to measure the floor size. It will help you make square foot tiles out of pennies. If you lay pennies really tight, which I highly recommend, you'll need approximately 256 or pennies per square foot.
Here is the deal with cleaning. Even for small rooms, such as bathrooms and kitchens, you'll need more than 10.000 pennies, which is tiresome to clean. Also, pennies are extremely difficult to clean, and used pennies look unique and are more suitable for artistic projects.
The next thing to do is to decide whether you'll randomly lay down your pennies or you want to follow a pattern and create some art on the floor.
In both cases, you would want to make sheets of coins – DIY penny tiles.
You can use a square picture frame, for example, 12×12 inches and contact paper. Lay your pennies as close as possible on the contact paper inside the frame to get a tile.
If you want to follow the pattern, you'll have to sort out all the pennies you collected and then design the tiles to match your style.
Once you have tiles ready, glue them to the floor.
Penny tiles go best if the floor is level and flat because any gaps in penny patterns will show the subfloor, which might ruin the appearance.
Once you glue every tile on the floor, take clear epoxy and follow the manufacturer's instructions on how to mix it and seal the floor. I recommend using UV-resistant epoxy to prevent floor yellowing and maintain the perfect look.
You can see this video to know more:
Penny Floors Maintenance
The topcoat is what determines the proper maintenance. The epoxy layer is hard and easy to clean. It doesn't scratch or gets damaged easily. You can sweep it, vacuum it, and mop it with neutral or homemade floor cleaners.
Another great thing about penny floor maintenance is simple disinfection. An affordable steam mop is the easiest method to clean filthy floors. Steam will lift the grease and dirt from the floors, kill germs and leave your penny floors bright, disinfected and clean without the use of chemicals and scrubbing.
If you don't own a steam mop, you can clean penny floors as you would clean any epoxy surface. You can dilute two ounces of ammonia or less in one gallon of hot water. Use a microfiber mop to clean the floors, and it should be enough to leave your floors bright, clean and shiny.
Avoid standard baking soda and vinegar cleaning solutions, as well as citrus cleaners, because acid cleaners can remove the glossiness of the topcoat on your penny floors.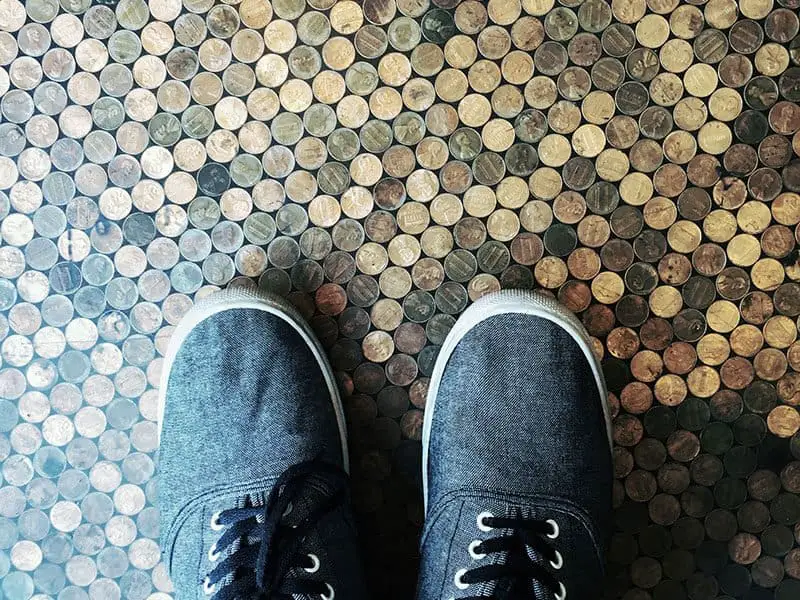 Penny Floors Durability
As I already mentioned, penny coins are hardy and durable. When you install them as a floor with an epoxy coat, you can expect them to last for a while. Penny tiles won't get damaged, but the epoxy coat can wear out.
The average lifespan of epoxy layers is three years. But, you can apply a new layer of epoxy over penny floors easily. All you have to do is sand the floors lightly to ensure a flat surface and get rid of any bumps and scratches.
The exact lifespan depends on many factors, but you can get a few years of perfect-looking floors. The third and fourth epoxy layers might make the penny tiles less visible and blurry, which will ruin the effect of the floors.
You can see this video to know more:
Penny Floors Cost
If you follow my 12 x 12 inches penny tile method, you can expect to give around $2.56 per tile. Include money for the glue and epoxy, and the cost might be around $3 or more per square foot, without labor.
But, the thing that bothers most homeowners is the time that it takes to install penny floors. Some people don't think that installing penny floors is worth the time. You can add a bit more money and install high-quality CoreLuxe Vinyl Plank Flooring.
Rooms To Install Penny Floors
Penny floors may look spectacular but are better suited for smaller areas. In large rooms, such as a living room or bedrooms, it will take a lot of time to install penny tiles. Also, penny floors can look tacky if spread across a large area.
The floors also do well with moisture, so they are perfect for wet areas.
You can install them in the bathroom, kitchen, in the shower, etc. They are also beautiful for the entryway and hallway.
Penny Floors Pros
Before I move on to the best ideas for penny floors, let's briefly talk about the good sides of penny floors.
Simple DIY Installation
There is a reason penny floors got more popular in recent times. Because of the pandemic, more people turn to DIY home renovation projects, and penny floors might be the most spectacular change you can make from a weekend project.
It takes time and patience, but you can easily manage to install penny floors by yourself. You don't have to pay for professional installation.
Affordable
Compared to other hard floors, penny floors are on the budget-friendly side. They are more affordable than laminate, vinyl, wood floors, tile, stone, etc. But, they aren't as cheap as you would probably think. You will have to collect many, many penny coins.
Artistic And Unique
Penny floors give you a lot of opportunities in terms of design and playing with shades and patterns. Newer penny coins are bright and shiny, while older ones have a unique dark patina. So, you can make mosaic tiles and explore different creative ideas.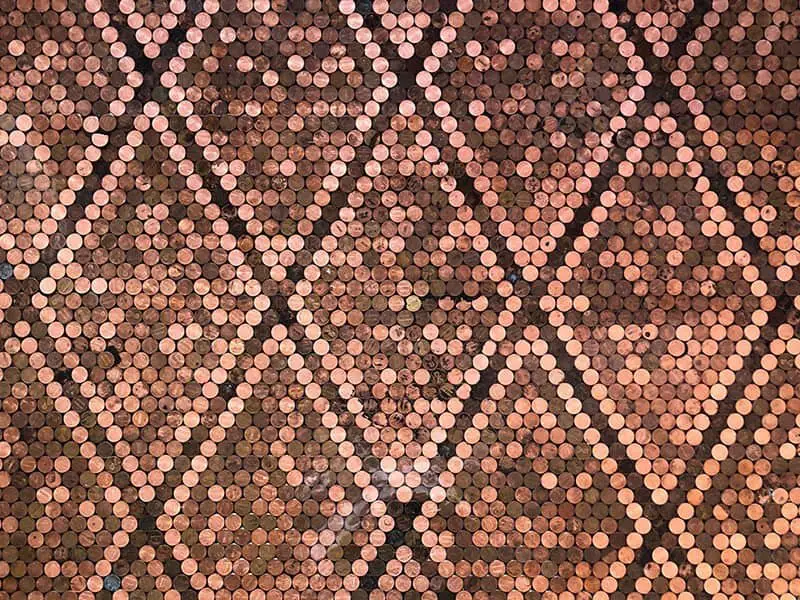 Great For Moisture
Because they do well with water, penny floors are perfect for bathrooms and kitchens.
Cons
Despite their unique appearance, penny floors come with several downfalls.
Limited Lifespan And Difficult Removal
Let's face it, penny floors aren't as near as durable as hardwood or tile or even laminate floors. They can last a limited time after which you'll have to remove the tiles, which can be really tedious and take you a lot of time.
The glue you use for gluing penny tiles might damage the subfloor, so you'll have to fix it before you install new flooring.
Not Suitable For All Rooms
Penny floors are striking and they aren't suitable for every room and every interior style.
Slippery
Top epoxy coating is somewhat slippery once you first install it. Penny floor is slippery as much as hardwood or terrazzo flooring.
Top Ten Best Ideas For Penny Floors In 2021 To Try ASAP
Hopefully, by now, you understand the essential aspects of penny floors! So, it is the perfect time to get into the best ideas for penny floors that will help you design stylish and signature floors in your home!
1. Vintage Bathroom Floors
Traditional bathroom floors have geometric elements, and you can easily achieve that if you decide to install a penny floor in the bathroom.
The first step to do is to measure the floor and make a rough sketch of how you would like the floor to look when completed. Then, sort out the pennies in shades and colors, from darkest to lightest and start gluing! You don't have to make tiles for this project!
2. Simple Tiles
If you want something a bit more striking, you can make art in every penny tile and then glue the tiles to the floor. For example, a simple contrast between dark and light pennies will elevate the look of the entire floor. Clean lines and symmetry will look elegant in whichever room you install it.
3. Organic Pattern
If you have a lot of penny coins in different shades, shuffle them and lay them down in an organic pattern, without previous planning and designing. The final result is a dynamic-looking floor with a unique pattern.
4. 3D For Patient Crafters
Shades are essential for creating the illusion of the third dimension. You can achieve a 3D look on the floor if you mix light and dark shades wisely. You can follow some tutorials on how to use dark shades to create depth.
5. A Month Long Project For Impressive Results
If you are up for something more complex, take your time to plan and don't rush the application. For example, you can follow the carpet-like patterns and install pennies in the same manner on the floor.
Highlighting the central piece on the floor will create the illusion of a bigger space.
6. Diagonal Alley
Embrace the geometry elements, and lay the pennies down in the same shades diagonally. It will work perfectly for square-shaped areas. If the room isn't square, you can always lay down pennies randomly around the door to separate them from the central part of the room.
7. It's All About Contrast
Come up with your own pattern and stick to it until you cover the entire floor. But, check if you have enough pennies of different shades to cover the area.
8. Large Tiles
If you don't want anything complex, but you want your floors to stand out, pre-design every tile before you glue it down. The simplest, yet most effective way is to lay the outer layer in the dark, then lay light shades and work your way toward the center of the tile.
9. Shiny Sun
Select the shiniest coins you've got and make a sun in the center of the room. The rest of the floor should be laid randomly to highlight the sun even more.
10. Brand New Shower Floor
If you don't have time or enough pennies to cover the entire bathroom floor, consider laying coins on the shower floor. It will make a spectacular change in the bathroom, and make it more elegant.
Are Penny Floors Worth The Effort?
There aren't limits when it comes to designing penny floors. You get to choose the pattern, the shapes you want to reproduce on the floor and create the illusion of deeper space.
Penny floors are simple to install, but they take a lot of time and nerve. Do you think you are up for a challenge? It will be worth all patience and hours spent because the final result is unique, shiny and resistant, easy-to-maintain penny floor!
I give a penny for your thoughts on the article and ideas! Please share them in the comment section below! Don't forget to like and share the article if you enjoyed it!