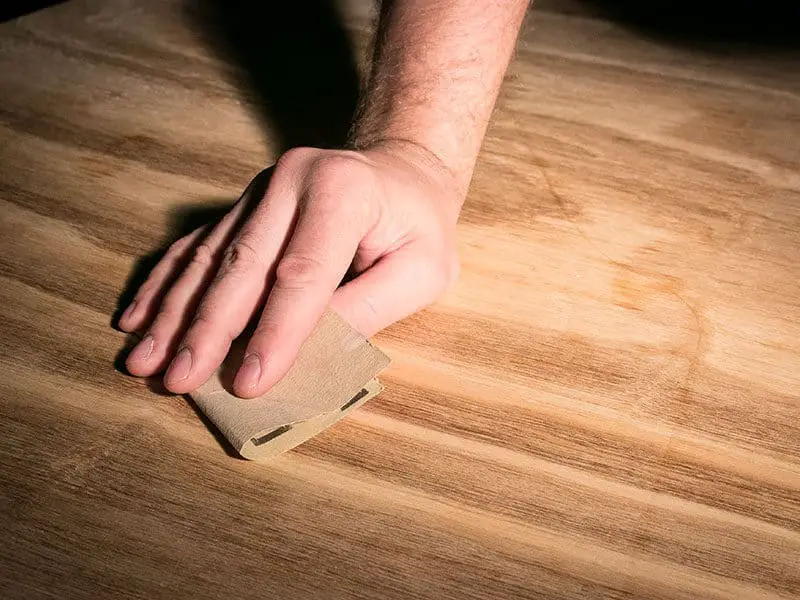 Can you refinish bamboo flooring? The short answer is yes!
Perhaps you're looking into bamboo flooring as a non-toxic laminate flooring substitute. Or maybe you already have bamboo flooring you appreciate, but it needs a little love.
Either way, you can absolutely refinish this type of flooring. However, it entirely depends on the type of bamboo flooring that you already own or want to purchase for your property.
No matter the case, you're in luck! Below, I will answer all your questions regarding this type of flooring and share a detailed guide on how to refinish bamboo flooring properly.
Without further ado, let's learn more about bamboo flooring.
Can Bamboo Flooring Be Sanded And Refinished?
Some people like to call bamboo flooring 'fake wood flooring' and they're technically right since bamboo isn't designed of actual wood but grass. Therefore, it's technically grass.
However, I like to view it as a hardwood floor substitute since it appears and acts just like other types of wood flooring. So, you can definitely sand and refinish bamboo flooring.
How To Refinish Bamboo Flooring?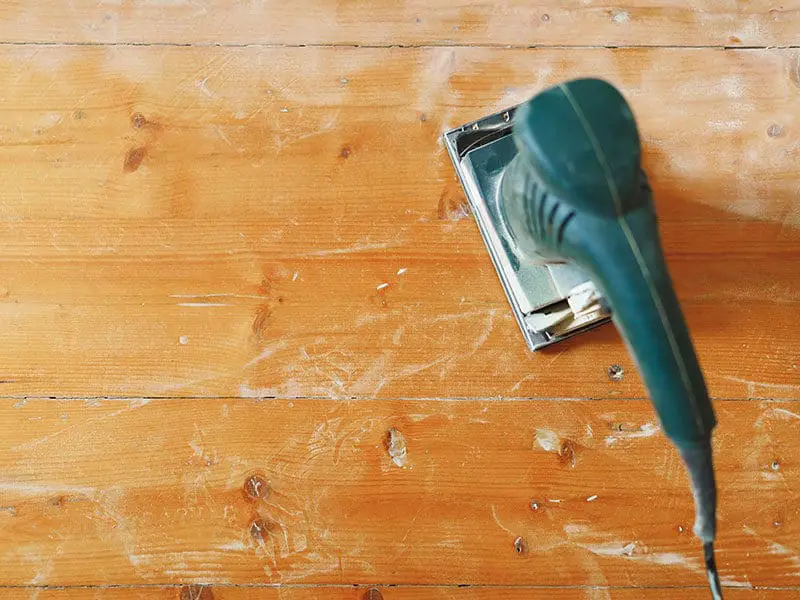 Bamboo flooring is created of long strands of bamboo sliced into lengths and glued together with resins or polyurethane to create a floorboard.
This flooring costs less because bamboo is a renewable resource that grows fast, making it eco-friendly as well which is why people prefer it over other flooring options recently.
Bamboo flooring has super hard-wearing, scratch-resistant coatings. But the flooring gets older, looking dull in high traffic places isn't something you can prevent from happening.
Luckily, you can refinish bamboo flooring. If you take the DIY route, follow the next steps on how to do it properly and give your floors a new look.
Prep Your Room
Starting this project with a clean workspace is the key to success. So, make sure to tape up your rooms to prevent the dust from going elsewhere on your property.
I would also suggest renting or buying a wet-dry shop vacuum for the same reason. Eco-friendly flooring can produce dust and chemicals that you don't want to take in.
Take Off The Old Finish
First and foremost, take off what's been left from the old finish. You can utilize a sander with medium grit. Make sure you add consistent force to ensure you're removing the old finish only.
Removing the old finish will help leave a clean and smooth surface. Don't forget to wear proper gear to avoid taking in dust and debris. Most flooring options including bamboo contain chemicals.
If you're familiar with low-VOC flooring, you might have heard of some of the chemicals used in flooring. Certain bamboo flooring even has formaldehyde (something you don't want in your lungs).
Bamboo is one of the most sustainable flooring options in the industry. However, it's not guaranteed to be VOCs-free, so wear personal protective gear and stay safe when refinishing your floors.
Remove Superficial Scratches
Sweep your floor to identify the spots with scratches. Then, wash your flooring with a mild cleaner. Once you're done, utilize sand with fine-grain sandpaper to remove superficial scratches.
This step will leave the surface smooth. Lastly, sweep again or vacuum with a vacuum cleaner to remove any grime, dirt, and other particles before covering your flooring with polyurethane.
Refinish Deep Gouges
Purchase a quality wood filler that's close to bamboo flooring texture as much as possible. Add the filler into scratched parts and refinish deep gouges. Then, flatten the putty. Scrape the excess product to give it a flat surface. Let it dry. Finally, sand it with fine-grit sandpaper.
Apply Wood Stain
After sanding, certain sections of your floor are left lighter-colored than untouched sections. So, you will need to add a light layer of wood stain to those sections to match up the flooring shade.
You can also apply it to the entire flooring surface. Then, let the stain dry before sealing. If you've never applied wood stain before, there's a guide at the end of this article on how to do it right.
Pick A New Finish
The final step is adding a new finish. Once it has dried completely, seal with polyurethane. The sealant is tough and scratch-resistant. Let the sealant dry completely before you add a second layer.
You can see this video to know more:
How To Seal Bamboo Flooring Properly?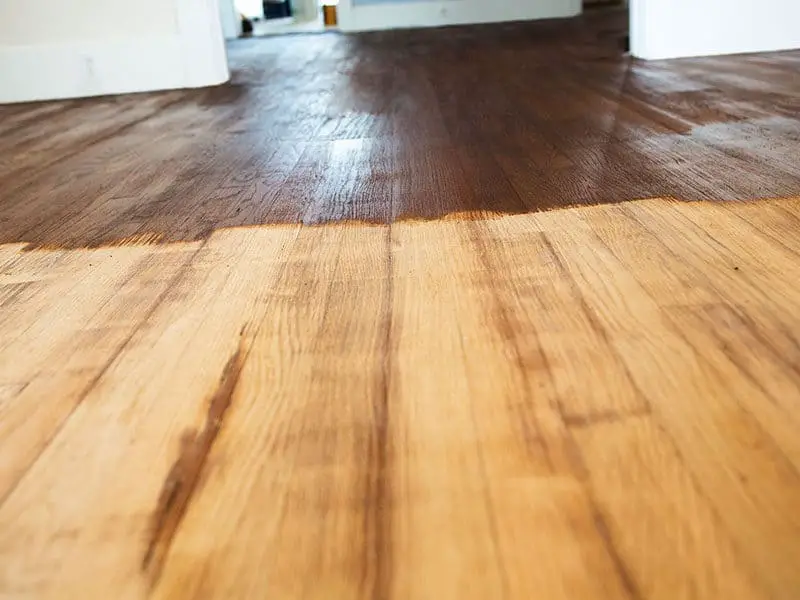 Sealing can add to the overall durability and longevity of your flooring. It also helps stop the premature decline of your flooring. The best part? It can also help to protect it from daily wear and tear.
It's advisable to add sealer on your bamboo flooring semi-annually. If you can't complete that quite, add sealer at least once per year. Now, let's learn how to seal your bamboo flooring the right way.
Clean Your Floor
First of all, take out all the furniture in the area. Clean your bamboo flooring thoroughly with a sweeper or cordless shop vac to remove any grit, dirt, and residue.
Opt for mild cleaning products, especially items produced for hardwood flooring. Ensure your cleaning product works for the existing finish of your bamboo flooring.
I prefer neutral cleaners because they're gentle to bamboo floor finishes. I also use a soft-bristle broom to sweep. Lastly, lightly mop your flooring and let it dry.
Add Your Sealant
Opt for a sealant that's suitable for your finish from a local hardware store. You can also contact experts and inform yourself of high-quality bamboo flooring sealants.
Then, follow the instructions on the package and add evenly to your flooring. Allow your sealant to dry before bringing back the furniture and walking over your flooring.
Also, avoid pushing and pulling furniture. Otherwise, you may damage your refinished bamboo flooring. Instead, ask someone to help you put everything back to place.
How Much Does It Cost To Refinish Bamboo Flooring?
The final cost depends on your intended preferred impression of your flooring or ingredients. However, the price per square foot varies between $1.50-$4.50.
Thinner bamboo flooring requires extra care and can only be lightly sanded once, whereas high-quality, thicker bamboo flooring can be refinished multiple times.
Aftercare Tips
Bamboo flooring isn't a very demanding flooring option. Meaning, a daily sweep with a soft brush and a weekly thorough clean with a microfiber mop and a mild cleaner will do the job.
You can also easily prevent different damage and scratches to your bamboo flooring by removing shoes before walking on your flooring, using doormats at the entrance doors, and applying pads to the bottom of heavy objects such as furniture. Also, clean up liquid spills as quickly as possible.
Unfortunately, bamboo flooring can't handle sitting moisture. Water damage can cause your flooring to distort, warp, and become discolored. So, take good care of your bamboo flooring.
Which Bamboo Flooring You Can Refinish?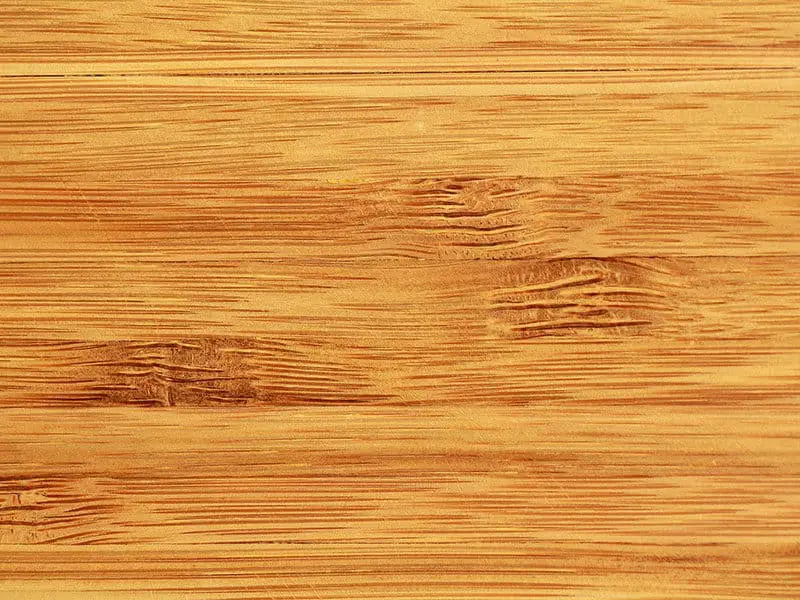 Bamboo flooring is made of bamboo stalks. However, the manner it's designed can alter the appearance dramatically. And change the refinishing requirements.
You can find the following three types of bamboo flooring sold by different flooring brands including Cali Bamboo, Morning Star, and other reputable companies.
Therefore, if you want to refinish bamboo flooring, consider these options. Also, don't forget to check if the flooring is carbonized or natural, solid or engineered.
Horizontal Bamboo Flooring
I'm starting with the most preferable of the three bamboo flooring options. Thus, anyone who thinks of bamboo flooring is probably imagining this type. Horizontal bamboo flooring is created of stalks that are glued together horizontally to create a plank.
Vertical Bamboo Flooring
This type of bamboo flooring is also created of thin strips of bamboo. However, they're glued together vertically. You will notice more lines in this type due to the way it's constructed. It also has a streamlined and modern appearance.
Strand-Woven Bamboo Flooring
Unlike the previous two types of bamboo flooring, strand-woven isn't made of strips. It's made of stalks that have been shredded into fibers and then glued with adhesives.
Utilizing heat and pressure, this combination is then pressed into blocks. The whole making process adds to the strength of this type of flooring. Strand-woven bamboo is even more durable than wood flooring. It scores almost twice as high as ash flooring on the Janka hardness scale.
Thus, you won't need to refinish this type of bamboo flooring as frequently because it's scratch and dent resistant. However, it may be more difficult to sand down when you do.
You can see this video to know more:
Related Questions
As Good As New!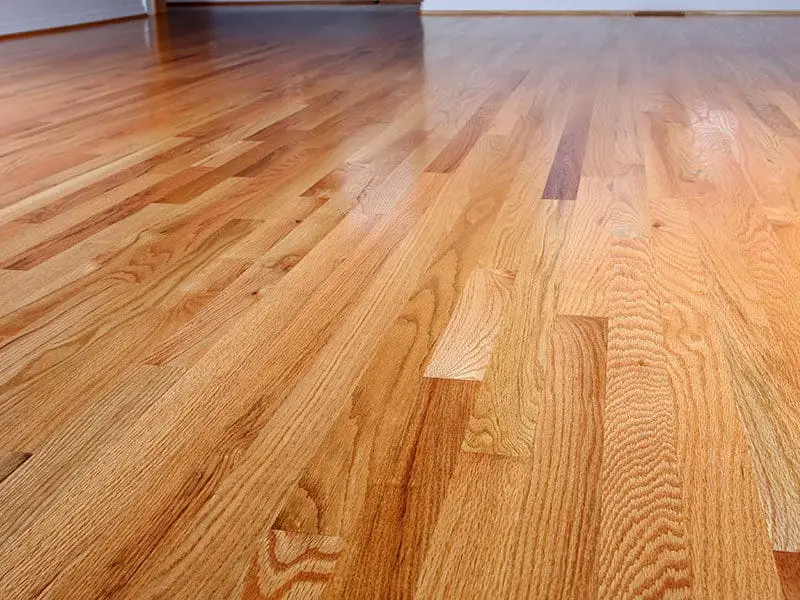 If your bamboo flooring has only suffered shallow scratches or mild wear in some spots with high traffic, you can revamp the old finish without sanding.
This process is known as screen and recoat and includes scuffing up the previous finish with a buffer and a 120-grit sanding screen, then applying 1-2 layers of a brand new finish.
However, if you want to refinish bamboo flooring properly, follow the detailed guide above. What's your opinion on bamboo flooring? Do you have any refinishing tips and tricks?
If so, drop a comment below and help DIY enthusiasts who want to refinish their floor. Also, don't forget to share this article with your social media friends.