Despite impressive reputation and popularity, you should read my Shaw carpet reviews to get aware of what you are getting for your money.
As a brand, Shaw is well-known on the US market for its flooring products. Apart from carpets, Shaw offers laminate, vinyl, tile, stone and hardwood.
What started as a small post-WWII company developed into a market leader for flooring products. Since then, the market has expanded and there are more brands to choose from that might offer better products and services. We are here to find that out!
But, most people know the brand because of their carpet flooring, so it is what I will focus on today.
Keep reading to learn everything about Shaw carpets, including benefits and potential drawbacks and places for installation.
How Good Are Shaw Carpets?
If you are looking for carpets for your home, Shaw carpets are definitely the way to go. The brand offers an excellent range of carpets with different fibers, reinforcement, stain and odor resistant properties.
With a few different collections and different fiber types, Shaw carpets are suitable for every room in your home, and every lifestyle. I especially recommend their carpets made for pet owners and luxurious carpets from the Caress collection.
The carpets are durable, practical and stylish, but you might struggle with installation or navigating through their online store.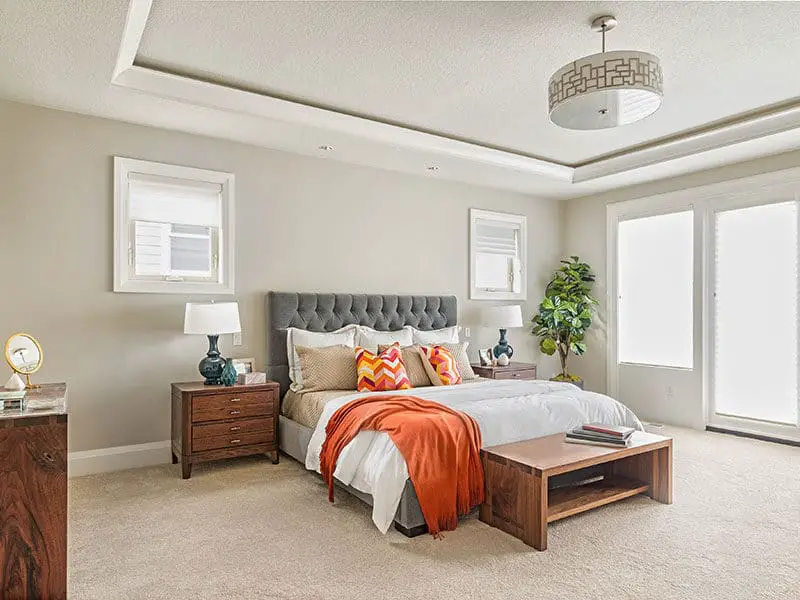 Shaw Carpets At A Glance
Shaw carpets are installed in homes around the country, and for many users, Shaw is a synonym for quality. The brand offers a vast array of carpets with different textures, patterns, shades, thickness, etc. The brand develops its own technologies for making the carpet more stain-resistant, durable and resilient to different outer conditions.
Moreover, the brand makes its own backing system to enhance the carpet benefits. The price range of Shaw carpets is wide, so there are lower-quality models and high-end carpets.
Shaw Carpets Types
Let's take a closer look at Shaw carpet types and their construction, fibers and features. Shaw produces their carpets by sewing different strands on the back material, so there are different carpet constructions.
For example, the largest group of Shaw carpets is cut-pile carpets that are easy to vacuum but may show signs of wear quite soon. Saxony carpets, on the other hand, have low piles and smooth finishes.
Broadloom Carpets
If you are looking for a carpeting solution from wall to wall, you can check the broadloom carpets by Shaw. The Shaw broadloom carpets are tightly woven and suitable for large rooms. In most cases, you can install them without seams. However, you need to install them over the cushion.
Carpet Tile
You can find pre-sized carpets with built-in backing. For example, the Floorigami collection is easy to install, because it operates under the peel-and-stick principle.
Shaw Carpets Materials
Apart from different woven techniques, Shaw features carpets made from different fibers – nylon, polyester and polypropylene.
Nylon
The majority of Shaw carpets feature nylon fibers. These carpets are durable and easy to work with. You can find nylon fibers carpets in different colors, patterns and textures.
Other brands of nylon fiber carpets aren't stain-resistant, but Shaw applies the special procedure to reinforce the nylon against spills and stains.
Check out this video to know more:
Polyester
Shaw carpets made from polyester are very soft and durable. The polyester structure holds up well against sunlight and harsh conditions, so the carpets don't fade and maintain the original colors for a long time.
Check out this video to know more:
Polypropylene
Lastly, polypropylene Shaw carpets are better suited for specialized styling, because of the stylizing limitations. These carpets are very resilient, and won't stain or fade over the years. Carpets with polypropylene fiber are the better choice for low-traffic areas.
Shaw Carpets Collections
Shaw Company has several collections with carpets of distinct features, quality, and purpose and price range. Here is a short overview of the current collections.
Simply The Best Values
If you are looking for an inexpensive carpeting solution, and you don't want to consider other brands, the collection Simply the Best Values will be good for you.
The carpets are backed up with a 15-year warranty. These carpets are an excellent combination of modern design and traditional carpets structure.
Foundations
The carpets from the Foundations collection are basic carpets that will look good in every room. The classical design, patterns and textures are suitable for people who don't want to experiment with their floorings.
The carpets also include a 20-year warranty. These carpets are also made from nylon fibers and feature specific backing technology which ensures wrinkle-free operations.
Bellera
If you have pets, the Bellera collection might interest you. Shaw designed the carpets from the Bellera collection with pet owners in mind. All carpets have special stain-resistance treatment, and a worry-free warranty that covers the pet stains.
The collection has carpets in warm and cool tones, different patterns, but lacks stylish patterns, and more interesting color options.
Caress
Caress is a category of luxury carpets. All carpets from the Caress collection are made from nylon fibers and coated with special stain-resistance treatment.
The brand includes a 20-year warranty with the carpets of the Caress collection. Generally, the carpets are wonderful, with modern design, stylish patterns and colors.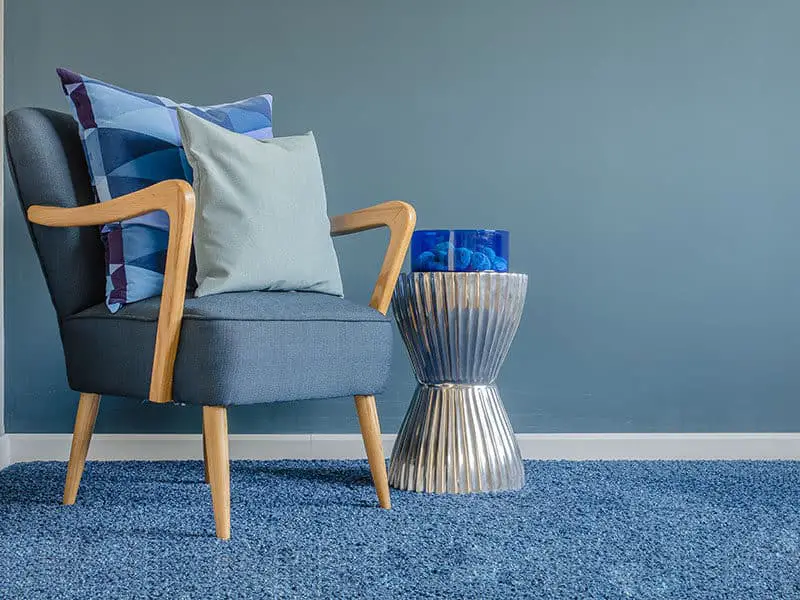 Shaw Carpets Expected Costs
The costs for Shaw carpets depend on the carpet, style, material, and carpeting technology. You could probably be able to get high-quality Shaw carpets from the Foundation collection for $15 to $25 per square yard. But, you have to include the costs for installation and backing, if it isn't included in the price.
The most expensive is the Caress collection, and the prices may go from $65 to $100 per square yard. Other collections are more affordable.
Shaw also offers professional carpet installation services, but you might get a better price from your local contractors.
Additionally, if you have to remove the old carpets from your floor, the costs are higher.
You can always score some discounts that will lower the carpet price, but the installation costs will remain the same.
Check out this video to know more:
Where Can You Install Shaw Carpets?
Because of the large range of carpets of different quality, styles, colors and patterns, Shaw carpets can be used in almost all rooms, except wet rooms. The versatility is actually one of the best benefits of Shaw carpets.
You can install Shaw carpets in hallways, bedrooms, living rooms, playrooms, nurseries, etc. Because Shaw carpets are stain-resistant, you won't have to struggle to clean the milk out of carpet, and other common spills. You can confidently install Shaw carpets in the kitchen too.
DIY Or Professional Shaw Carpet Installation
The professional installation gives you peace of mind and excellent results. But, if you are interested in DIY carpet installation, it will be tricky, but achievable.
I recommend professional Shaw carpet installation for the best performance of carpets. You can apply for Shaw installation, or hire some of the local workers to install your carpets.
A great thing about Shaw carpets is that whichever retailer you choose, you can expect estimators that will precisely measure the space to minimize carpet waste.
If you already have old carpets, the hired professionals will remove the old ones and dispose of them. Molding and trims are always removed as the first step of the carpet installation.
Keep in mind that you might have to hire a carpenter to trim the doors if you have bought a thick carpet.
If you are interested in DIY Carpet installation, check the Floorigami carpeting solution by Shaw. It is a special type of carpet that comes in tile form. You can install tile carpets by yourself easily.
You don't have to prepare floors or install backings. Just clean the subfloor and stick the carpet tiles to the hard surface.
Other Shaw carpets are more difficult to install by yourself.
Shaw Carpets Advantages
Shaw carpets wouldn't win the hearts of many users if the carpets didn't add practical and stylish value to homes. I'll go through the most important advantages of Shaw carpets that make them stand out from the other carpeting brands.
Odor Reduction
Shaw carpets that have LifeGuard and R2X technology are great for odor reduction. Odors won't linger in the fibers after you remove the stain from the carpet or blot the spills.
It makes them suitable for people with pets, smokers and installation in the kitchen.
Check out this video to know more:
A Something For Everybody And Full Service
Shaw is one of the largest companies in the flooring industry in the US. Their wide range offers carpets for almost every user – pet owner, commercial use, people buying on a budget, people looking for high-end carpets, etc.
It means that if you want to install carpets in your whole home, despite the size, you can find everything you need in the Shaw offer.
Shaw carpets are available around the country, in almost every area. Not only do they offer many options, but they also include full service – installation, inspiration and maintenance.
Stain Resistance
When thinking about carpet flooring, most people consider stains as one of the disadvantages. Unlike hard surfaces that you can wipe clean, carpets can absorb the liquids. Different liquids can penetrate deep into the fibers and result in nasty stains.
It is impossible to prevent stains completely, but Shaw introduced their stain-resistance system. The company invested in research and created carpets that can handle stains and everyday spills better than competitors.
In simple words, Shaw carpets offer better protection against stains, because of the special fibers treatment. Also, if you spill something that will most likely leave the stain, such as paint or blood, Shaw carpets ensure you have more time to react. You have to blot the liquid and clean the carpet as soon as possible.
You can try different techniques to get paint out of the carpet and be confident that it won't cause a stain.
The stain resistance treatment is possible on all carpet fibers. So, Shaw carpets are excellent for people with kids and pets.
Check out this video to know more:
Warranty
On average, when you install carpet flooring in your home, you can expect a warranty of five to ten years. Shaw offers an impressive 15-year warranty for budget-friendly options and a 20-year warranty for luxurious carpets.
Warranties cover pet and soil stains, texture retention, backing, abrasive wear and plenty of other potential carpet issues.
Social Responsibility
Shaw carpets are a socially responsible brand. The company donates a certain amount of money from the special carpet sales to the St. Jude's Children's Research Hospital.
The donations and the hospital support started years ago and improved and expanded over the years.
Therefore, investing in your new carpets at home supports medical research and treatment of children's cancers and leukemia.
Shaw Carpets Disadvantages
Let's talk about some things that Shaw Company can improve.
Online Store
Shaw carpet's online store is a bit complex. With the global pandemic and everything that is happening, an average user will start the research online. Shaw's online store is complex with a poor navigation menu.
An average consumer will be happier with a simplified online shop. That way, he or she can explore the offer of different carpets quickly. Also, carpets come in distinct colors, but not all color options are realistic.
You might have a hard time imagining the specific color of the carpet, because the provided image doesn't seem right.
Sometimes, you cannot get a full impression until you go to the store and talk with the employer.
Installation
Shaw carpets aren't impossible to be installed by yourself, especially if you choose tile carpets that get installed by sticking method. Other carpets are more complex to install, especially if your room isn't strictly rectangular and has an unusual shape.
Stretching the carpet during standard installation is tough, and requires special tools. Moreover, the Lifeproof backing offered by Shaw in some collections is quite difficult to work with, if you are a rookie in the carpet installation process.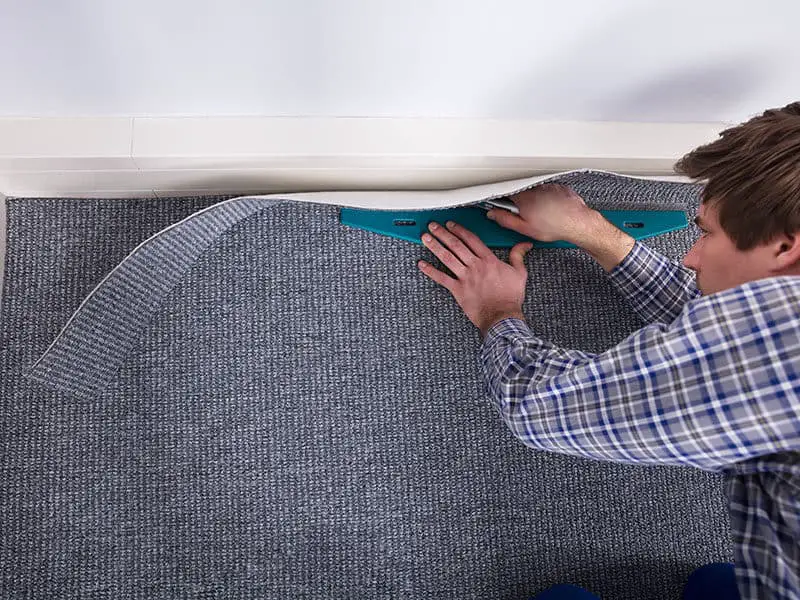 Service by Retailers
I must mention the ambiguity when it comes to prices. Sometimes, retailers charge individually for carpets and installation. Other retailers state that their installation is free to attract potential customers.
But, in those cases, the costs for installation are included in the price. Therefore, the retailers charge you more money for less quality Shaw carpets to compensate for free installation.
Shaw Carpets Vs Mohawk Carpets
Mohawk is another excellent carpet brand on the US market. Mohawk carpet lines are well-known in the flooring industry because of their superior durability and soft fibers.
Essentially, Shaw and Mohawk are similar. The brands both offer products with excellent stain-resistant and odor reduction properties. They have a wide range of products available in different price ranges.
However, Mohawk seems more focused on luxurious carpeting, while Shaw's offer seems optimized for customers with different budgets.
If you have a limited budget for your carpets, you might have better chances to find what you want and need in Shaw carpets.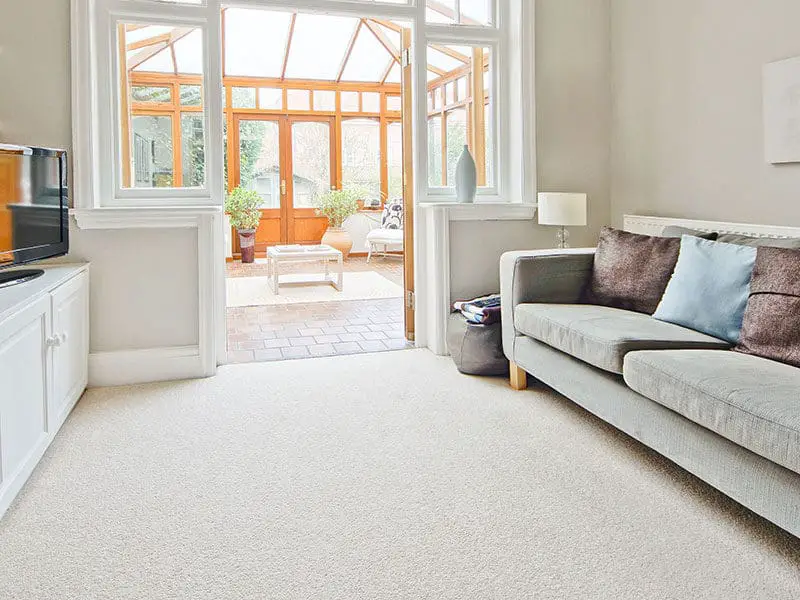 Are Shaw Carpets A Safe Bet?
Shaw is a trusted brand, and whichever carpet you choose for your home, you won't regret it. The company takes good care about its public image with socially responsible behavior, great customer service and quality products.
Therefore, if you don't have time to experiment with floorings, Shaw carpets are a good choice. However, you can always search for indie brands and see what small enterprisers have to offer.
Sometimes, a modern and fresh approach to design can be what you are looking for in your space.
Have you ever installed Shaw carpets in your home? What are your impressions?
If you enjoyed the article, please like and share it so more people can share their experiences with Shaw carpets!