A carpet can lift your house from mundane to marvelous in a matter of minutes. It often happens to be the focal point and can draw attention, taking it away from the less attractive parts of your house.
However, a carpet starts to age the moment it is laid down. The traffic will crush the fiber, and the dirt acts as an abrasive leading to further damage.
As such, carpet care is essential to not only maintain the appeal but to ensure the carpet lasts long. In this carpet care guide, you will learn of everything there is to taking care of your carpets; from simple cleanup tips to detailed cleaning.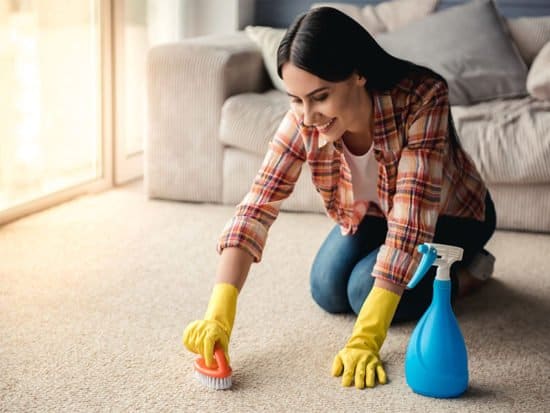 Key Benefits of Carpet Cleaning and Vacuuming
Carpet cleaning should not be confused with vacuuming. The two are different, and each has its advantages as well as shortcomings though vacuuming is a part of carpet care.
While vacuuming is fast, and the carpet is ready for use instantly, it does not remove as much dirt as carpet cleaning.
Below, you will learn the many benefits of each method of carpet care. After all, this is a total solutions carpet care guide.
Carpet Cleaning
Extends the life of your carpet – First, carpet cleaning ensures you can use the carpet for a long. Dirt, allergens, and grime collect on your rugs over time, and these will eventually cause the carpet to deteriorate. Moreover, they act as abrasive and damage the carpet further. Cleaning eliminates this build-up improving longevity.
Healthier Environment –As pointed out earlier, allergens, dirt, and pollutants collect on your carpet, and other than damaging it, they create an ideal environment for bacteria to thrive. Carpet cleaning creates a healthier environment by eliminating the dirt, destroying any chances of bacteria getting into the house.
Complete Removal of Bacteria – Unlike vacuuming, which relies on power, carpet cleaning can eliminate all bacteria. Whether you are using hot water extraction or detergents, there and tried and tested methods that will get rid of bacteria.
Removes Stains – Pet stains, wine and coffee spills, ink spills, dirt, and mud; at one time or the other, your carpet will get one of these stains. Vacuuming will not be enough, and only cleaning will get rid of spots, especially if they are set-in.
Takes Care of Traffic Lane Effects – Areas that receive high traffic such as hallways and the center of the room happen to sustain more damage and collect more dirt than say carpet surfaces under furniture or on the side of the room. Carpet cleaning in darker areas in your home that don't appear as traffic lines can get rid of this effect.
Carpet Vacuuming
Similar to carpet cleaning, vacuuming also gets rid of dirt and debris, resulting in longer carpet life. Furthermore, you improve home hygiene as you will eliminate the allergens, and prevent dirt build-up if you do it frequently.
Though these are important, let's focus on some of the benefits that are exclusive to vacuuming.
Time-Saver – Connect a vacuum to any outlet, and you are set to go. Compared to carpet cleaning where you have to check if you got the solution right, you have to empty the dirty water, and refill with clean water; vacuuming is a time saver. You also don't have to wait an hour for the carpet to dry.
Cut Costs – Think about it, when it comes to carpet cleaning, you have to purchase detergents, and as you are using water, you have to keep an eye on the water bill. These are some costs not involved with vacuuming. Yes, you might have to purchase dirtbags, but you can get a bagless unit to cut these costs. By and large, vacuuming will be cheaper than cleaning.
Hygienic – There is ever the issue of left-over chemical residue involved with carpet cleaning. The residue might be harmful to pets and kids. These are issues not associated with vacuuming.
Though vacuuming sounds like a better alternative to carpet cleaning, it cannot replace it. You should work out the balance between carpet cleaning and vacuuming. Also, have you ever wondered how often should you vacuum your home?
Carpet Care Tips
This total solutions carpet care guide might be lengthy, and some of you might be pressed for time.
Here are some tips on how you should look after your carpet with care, though I recommend coming back later for a better understanding.
 Keep Away from Sharp Ends – Sharp ends include the legs of furniture, say chairs, tables, and beds, that might damage the fabric. Keep any furniture with sharp ends of the carpet or go for furniture with flat bottoms.
 Move Furniture Around – Other than avoiding furniture with sharp ends, move heavy furniture around to prevent pile crushing. Though this may not always be feasible, I recommend doing it.
 Make Use of Doormats –The dirt that collects on carpets is tracked from outside. Doormats will do wonders when it comes to reducing the sand and soil tracked into your home. The ripple effect will be a longer life for your carpet.
 Vacuum Daily –Yes, daily. Frequent vacuuming prevents any dirt build-up. If you cannot keep up with the required frequency, then get a robotic vacuum for thick carpet to save you the trouble.
 Clean Spills Immediately – Red wine, ink, or even mud are not difficult to clean when they are first made. However, they become a pain once they settle in. Therefore, you should clean any spots or spills immediately to keep them from setting in. Soapy water often works well, but you can get any of these spot cleaners.
 Avoid Boots and Stilettos on Carpets –Though stilettos and boots are the worst culprits when it comes to damaging your carpets, slippers aren't any better. Make it a policy that no shoes are allowed on your carpets. First, shoes have been all over the city and that is dirt you should keep off the mat. Stilettos, on the other hand, have sharp ends that crush the surface.
 Keep away from Direct Sunlight – To preserve the color and brightness, you should not allow prolonged exposure to sunlight. The keyword is continued exposure.
 Deep Clean – As I said, vacuuming will not be enough. You should take time to deep clean or hire professionals for such tasks. Deep cleaning allows you to get the tough stains, and remove any dirt you might have missed.
With the above tips, you should be able to keep your carpets free of allergens and increase life. Nonetheless, there is more to learn in this total solutions carpet care guide; from proactive and reactive types of carpet cleaning to the required cleaning frequency.
You will learn how to remove odors, stains, and even specialty care cleaning. In the end, I welcome you to leave a comment if you feel there is something I missed.
How to Clean Different Types of Carpets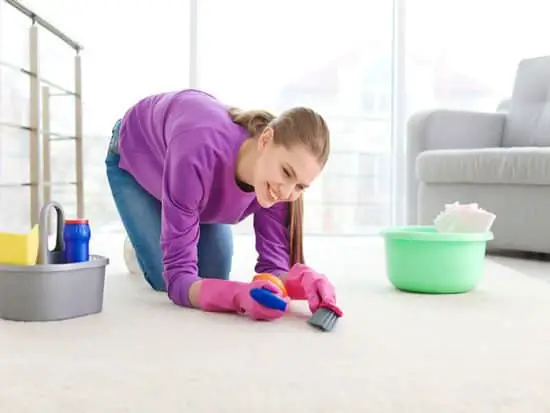 When cleaning carpets, you should stop and consider the kind of pile you are working with. You could be cleaning low-pile, medium, or deep-pile carpets and all these need different expertise. The fibers happen to be different. You can have nylon, polyester, olefin, or wool fibers.
Cleaning these different combinations will not be a walk in the park. You are in luck though, as here are the care guides for each type of carpet.
Cleaning and Maintaining Polyester Carpets
Polyester carpets have a lustrous look and happen to be stain-resistant. They are a favorite among most homeowners thanks to these attributes and because they are inexpensive.
On the downside though, they wear out quickly and require more maintenance. They attract dirt and dust since they are oil hydrocarbons, and cleaning is crucial to maintain the lustrous look.
Though polyester is stain resistant, it does not resist oil stains. Therefore, your cleaning methods should be geared more to oil stains over other types of stains. As for the stain removal method, it should be carpet friendly as polyester is not durable.
Stain Cleaning
In case of a liquid stain, you should blot it up and not scrub. Use white paper without a color design or a dry cloth to collect the fluid. If you have to scrub, ensure you are using a soft bristle brush over tough bristles.
For solid stains, first, scrape the waste with a spoon and then use a spot carpet cleaner.
For set-in stains, pick something from our best steam mop reviews or apply a detergent on the spot, wait a few minutes, and then clean with cold water. If the soap affects the color, use a gentler cleaner or a white vinegar solution recommended by the Carpet Rug Institute.
Regular Cleaning
You should vacuum regularly with a focus on trafficked areas. I recommend using some of the best suction vacuum cleaners to avoid beater bars that might damage the carpet; remember the durability issue?
You should also deep clean, also known as restorative cleaning to remove deeply embedded dirt. I recommend hot water extraction as there is no leftover soap residue.
Maintenance
As for maintenance, remember to move the furniture around, and avoid furniture with sharp ends.
2. Cleaning Nylon Carpets
Nylon is one of the most durable carpets. It also happens to be popular, and therefore, there are many tried and tested ways of cleaning the carpets.
Regular Cleaning
Given the durability, you can use sturdy bristle brushes or a vacuum with a motorized head to get rid of dirt. You should vacuum your nylon rugs regularly to get rid of dirt and stains. As for cleaning, you can hire a professional cleaning company or you can DIY.
Should you choose to DIY, avoid strong detergents with high alkaline content as they might lead to discoloring. Instead, a mixture of soap and water will be enough or a cleanser with a pH of less than 10.
Stain Removal
When it comes to stain removal, you are in luck as nylon carpets happen to be stain resistant. However, that does not make them stain-proof.
Clean spills as soon as they happen to prevent them from setting in. If you're too late, don't worry. This guide on how to get stains out of carpet can help!
3. Cleaning Wool Carpets
Wool carpets are preferred as they are environmentally friendly, they are stain-resistant, and they are durable.
You can use a tough bristle vacuum cleaner to eliminate deeply embedded dirt without damaging the fabric.
Here are more tips to help you maintain your wool carpet.
First, you should opt for a vacuum for wool carpet and vacuum regularly. Vacuum it daily during the first week to get rid of lint and dust that might have collected during installation. Afterward, clean highly trafficked areas twice and the other places once a week.
As for spills, you are in luck as wool deters liquid from absorbing into the fibers. Use plain water to clean up fresh spills, and blot them up with a dry piece of cloth or paper. As for stubborn stains such as lipstick, I recommend using mineral turpentine.
Finally, you should steam clean once a year and get professional cleaning once every 24-months.
4. Cleaning Olefin Carpets
Similar to Polyester, Olefin carpets love oil. The first step in maintaining them would be to avoid laying them in areas where they are near oil. I am talking of garages and even kitchens. However, olefin is extremely colorfast, it is stain resistant, and liquid stains will not affect it. It is ideal for areas where water is tracked, and kid playrooms.
Another proactive maintenance tip is to avoid placing it in areas with high traffic. Olefin has weak resiliency and will flatten down fast.
When it comes to cleaning, use Olefin-specific conditioners if you are using detergents. These detergents have more solvency and emulsification ability to remove oily stains. You can still use any chemical cleaner without worrying about harming the fiber.
You also have to prevent wicking. I recommend the use of oxygen when cleaning. By oxygen, I mean applying liquid peroxide or sodium percarbonate. These add more oxygen to your carpet bleaching away any dull appearance or yellow sheen.
Every carpet fiber has its characteristics, and you cannot battle them with the same means. Ensure you are applying the right methods to tackle the dirt.
How to Get Rid of Different Carpet Odors?
Seeing as carpets are soft, they tend to hold pungent smells, which can be challenging to combat unless you're using professional carpet deodorizers. Again, you are in luck as here are some of the odors you will most likely encounter and how you can remove them with natural ingredients from your kitchen.
Pet Odor
With pets, pee stains are inevitable. Pet odor is also just unavoidable, and your carpets will suffer the most. Cleaning the smells, though, is not an easy task, but I have made it a walk in the park with the information below.
First, your best defense in case of a "leak" is to blot as much as you can. You do not want that pee settling as then it will be a pain to remove. Next, you can apply a bit of detergent, plus a little water, and then use a dry towel to collect the remaining pee.
However, there is more to pet odor than leaks. Pet hair and dander also contributes to the bad smell.
You should vacuum your house at least twice a week and use a vacuum that can remove deeply embedded pet hair. I recommend these vacuums for pet hair, but I love Shark vacuums most, especially those with DuoClean tech and HEPA filters.
Don't forget to clean under and behind furniture to ensure you get all the hair and dander.
Finally, you can be proactive instead of reactive. Bathe your dog often. Keeping your dog clean is a crucial step to keep pet odors off your carpets. You should stick to the veterinarian schedule, but you should also clean it whenever it gets soiled.
Second, invest in pet wipes to clean the pet's feet whenever you come from a walk or from playing. However, you have to ensure the pet develops a positive association with paw cleaning.
Finally, brush the pet regularly to get rid of dander. Do it on an easy to clean surface such as a hard floor or outside.
Smoke Odors
I will say this right off the bat; smoke odors on carpets are a result of cigars and cigarettes. Therefore, the best way to keep the smell of your carpets is to smoke outside. However, I realize it is not always that simple, and that is why I have included these few methods.
First, you can try airing the carpet. Airing will only work for standard house rugs; as for installed carpets, you can use vinegar or ammonia. Place two bowls in the room and leave for 24 hrs. Though it will not remove the scent completely, it will start the breakdown process.
However, I prefer using a steam cleaner as that is faster and will result in a cleaner carpet.
Mold Odor
Another typical odor is mold odor. If you are smelling mold, it means that you have high moisture content in your house. You have to address the source of moisture before you can set to get rid of mold odor on your carpets.
Why? Despite cleaning your carpet, the mold will continue thriving until you reduce the moisture.
Afterward, you can set to clean the carpet.
Proactive and Reactive Ways to Clean Stains
Carpet stains are inevitable. It is notably worse in a house with kids and pets. But with the right knowledge, you can prevent carpet stains, and treating them will be like a hot knife through butter.
Preventive Measures
First, you can add a stain-resistant or protectant to your carpet. In a way, you will be applying a seal to the fibers keeping the stains at bay. Many new carpets retail with this stain-resistant feature, but I encourage you to consult a professional before you come to that conclusion.
I recommend you use plastic mats and rugs under furniture and in highly trafficked areas. The maps will keep spills and dirt from the carpets.
Curative Measures
You can only prevent so many stains. Eventually, wine or mud will end up on the carpet, and you will have to clean up. Here are a few steps that will help you eliminate the stains.
First, patience is the most important thing. You might have to repeat the same steps severally. You should act fast to keep the stain from setting.
Blot don't scrub, or you will spread the dirt to other areas. For solid stains, first, scrape it up then clean. Next, use a cleaning solution and rinse with warm water to get rid of the left-over residue.
How to Clean Stubborn Carpet Stains?
I don't know if gum, lipstick, and wax count as carpet stains, but these can be difficult to remove. A spot cleaner will not work, and neither will most of these cleaning solutions. They call for a different bag of tricks.
This is only one of the many ways for removing gum.
Place ice cubes in a zip bag and place on the stuck-on gum.
Leave it on the stain for a few minutes. The stain will harden and become easier to scrape off the carpet.
Get a scrapping tool or a spoon to scrape the gum off the surface.
Next, you need to employ a cleaning agent such as 409. Use a sponge to apply the agent.
Finally, collect any remaining liquid with a dry piece of cloth and rinse the surface.
General Cleaning
The above cleaning was for specific carpet problems. But what about general cleaning?
First, you need to clean your carpet regularly. Most people make the mistake of vacuuming in one direction, that is forwards and backward and don't cover all areas as carpet fibers are often twisted. When vacuuming, vacuum forwards as well as sideways to ensure you cover all areas.
The 5 Carpet Cleaning Methods Explained
Wait, you thought I was done with this? Well, we still have a long way to go. Don't worry though I will make it enjoyable for you. Next, we have the most common cleaning methods and the benefits and drawbacks of each.
Hot Water Extraction
I recommend hot water extraction, otherwise known as steam cleaning, especially if you are looking for a safe carpet cleaning method. It relies on hot water to agitate and collect dirt. It has several benefits over other cleaning methods, and I consider it the best carpet cleaning method.
First, it sanitizes your carpets without using harmful cleaning solutions. Your kids and pets will be safe from dirt and pollutants and safe from chemical residue.
It also happens to be environmentally friendly. Though cleaning solutions are effective, they happen to be harmful. So, if you are looking for an environmentally friendly cleaning method, nothing beats hot water extraction.
Hot water extraction happens to be the most effective way to clean carpets. It is fast and removes most pollutants with ease. Carpets also dry quickly seeing as you are cleaning with hot water, which will evaporate faster. Also, there is the fact that you are using very little water to clean.
Finally, it is time-saving. With other cleaning methods, you have to rinse to remove the soap residue. Think about it, you first clean, then rinse. That is twice the time it would take to clean with hot water extraction.
However, it is not without its shortcomings. One thing that stood out for me is that it can result in over-wetting if you are no skilled.
Carpet Shampooing
Carpet shampooing was a popular carpet cleaning method before encapsulation was introduced and now hot water extraction. It remains the most popular stain removal method as the cleaning agents are readily available, and you don't have to invest in a machine unless you want to.
However, it is not recommended for full carpet cleaning. First, it will be quite the work seeing as you will have to scrub the surfaces. Second, you will leave foam behind, and this will result in the carpet taking longer to dry, and since no rinsing is done, it will be sticky, leading to rapid re-soiling.
Bonnet Cleaning
If you are looking for a cleaning method that works without much moisture, I recommend bonnet cleaning. It is great for hotels and other high traffic areas as you can clean without causing any inconveniences.
Bonnet cleaning involves, a rotary brush dipped in a solution to clean the top surface of the carpet. Dirt and grime are thus transferred to the pad. You will have to replace the pads when they are worn out, and the state of the carpet will determine the frequency of replacing the pads.
Though it allows the carpet to dry quickly, it is not effective when it comes to deep cleaning.
Encapsulation
Encapsulation is an interim cleaning method, and it is valuable in any carpet maintenance plan. First, it results in a deeper clean, unlike vacuuming, and it does not disrupt fibers as much as hot water extraction.
In encapsulation, as the name signifies, you will encapsulate soil in a cleaning agent then vacuum the dried crystals.
Encapsulation is also referred to as dry cleaning, but this is a misnomer.
As for the benefits, you will appreciate the fast drying time. The carpet does not become soaked with water, and it is ideal for facilities that don't want to experience downtime.
Furthermore, with less water, there is a lower possibility of resoiling or wicking. With other cleaning methods, as water evaporates dirty water at the bottom travels up the fibers, and the stain reappears.
However, encapsulation captures all the dirt using the cleaning agent and does away with wicking.
Finally, it improves carpet appearance as it gets too deeply embedded dirt.
Dry Cleaning
Finally, there is dry cleaning. It is a new method and one that is gaining popularity as it does not need drying time. It involves applying a cleaning powder using a motorized counter rotating brush. The brush can get deep into the pile resulting in superior results.
The cleaning powder absorbs the dirt, and can later be cleaned. One shortcoming is that the process itself takes time as you have to vacuum the cleaning powder with the dirt again. Also, the chemicals are harsh and might not be friendly to kids and pets. It can also result in a lot of dust in your house.
So which is the best carpet cleaning method? Well, I stand behind hot water extraction. Though it takes longer to dry than say dry cleaning and encapsulation, it does not leave harmful residue behind, and it is environmentally friendly.
The Differences Between DIY and Professional Carpet Cleaning
DIY is all the rage, and rightfully so given that it is fun, and everyone should challenge themselves. Though DIY has its perks, there are some benefits you can only get from hiring a professional cleaning company.
To help decide a clear winner between DIY and professional carpet cleaning, here are a few things to consider.
Quality of Clean
Although DIY cleaning may help you lower the price, you will be compromising the quality. Why? Well, most carpet cleaners for hire are only good at surface cleaning. Deep cleaning requires better machines which are often not up for rent. By and large, rental carpet cleaners are weak machines and will do a superficial job at best.
You also have to contend with finding the best cleaning solution. Professionals can tell what works on what, and what doesn't. They can tell which chemical is safe for your carpets and which will result in them losing color. Should you choose to DIY, you have to figure these things out, and you might end up ruining your carpet.
Finally, you will be sacrificing the experience that comes with hiring a professional.
The Temperature Difference
Again, this boils down to the machine you will be working with. Most DIY carpet cleaners cannot heat the water to the temperature levels required to get rid of deeply embedded dirt. Heck, most of these devices don't even have internal heaters, and you have to add hot water.
Professional machines, on the other hand, heat water to the required temperature to sanitize and get rid of the dirt. Yes, the results are better with professional cleaners.
The Drying Process
Remember when I said that most DIY carpet cleaner machines are weak machines? Well, this is another area where their weakness is pretty clear.
When cleaning carpets, the water has to be collected to reduce the drying time. Seeing as DIY machines lack the power, they leave the carpets pretty soaked, and they will take forever to dry.
Professional machines, on the other hand, extract more water cutting the drying time significantly.
Carpet Damage
Finally, you run the risk of damaging your carpet when you DIY. Some cleaners are harsh, while some machines happen to be outdated or not suitable for your carpet.
However, it is not all doom and gloom when it comes to DIY carpet cleaning. One benefit is that it reduces the cost of carpet cleaning. Engaging the services of a professional carpet cleaner is an expensive undertaking. DIY, on the other hand, is cheaper.
I would not recommend DIY over a professional, and neither would I recommend a professional over DIY. I believe in getting the perfect balance between the two.
DIY for daily and interim carpet cleaning, but hire a professional to clean your carpets once every year.
Here are the pros and cons of DIY carpet cleaning as well as those of professional cleaning.
Carpet Cleaning Myths and Misconceptions
With so many misconceptions related to carpets doing the rounds, it is time to set the record straight.
A New Carpet Does Not Need Cleaning
If you think about it, it does make sense. It is a new carpet, after all. However, you should clean your mat after installation. First, you need to eliminate the lint and any dirt that might have settled during installation.
Moreover, you don't want the dirt going deeper into the carpet. The longer you wait, the deeper it goes.
Cleaning a Carpet Frequently Will Ruin Its Look
That will have been the case if you are using a harsh carpet cleaner. However, thanks to ever-evolving technology, new carpet cleaners are gentle and will do more than preserve your carpet's look.
If you are apprehensive of carpet cleaners, I recommend trying it out in an unnoticeable place and see what the results will be. That should tell you if it is carpet friendly.
A Deodorant is Enough to Keep the Carpet Fresh
Nothing could be further from the truth. A carpet deodorant will only keep the carpet fresh and smelling good, but it cannot replace carpet cleaning.
Also, you should not use the deodorants frequently as they are insoluble and will eventually stick to your fiber.
Professional Carpet Cleaning is Only Necessary for a Stained Carpet
This dear reader is a lie. Yes, stains will need you to hire an expert, but the bulk of their work is in dealing with general carpet dirt.
A rental carpet cleaner is not enough to eliminate deeply embedded dirt, and neither is a vacuum. Only professionals can clean and restore a carpet to its original look.
The rule of thumb is that you should have your carpet professionally cleaned at least once a year.
Stain Resistance Means I Can Clean My Carpet Less
There is a misconception that built-in stain resistance means you will clean your carpet less. Not true. Yes, stain-resistance will help prevent stains, but that is all it will do. It will not keep dirt off your carpets. Any dirt tracked from outside will collect on your mats.
The bottom line is that you have to maintain the same cleaning frequency. Yes, it will prevent stains, but it will not prevent dirt.
You Should Only Clean Carpets to Remove Dirt
How long can you go without washing your underwear? Or your kitchen floor? You don't clean these things to remove dirt but for hygiene purposes. I bet you would wipe the floor frequently were it not for the carpet.
Therefore you should clean carpets for hygiene purposes. It might not be noticeable, but they hold a lot of dirt. Vacuum every day if it is possible, and hire professionals at least once a year.
Hot Water Extraction Works for Everyone
Undoubtedly, hot water extraction is one of the best carpet cleaning methods. However, it is only ideal for residential houses and not commercial settings.
Think about it. Commercial settings cannot afford the downtime waiting for the carpet to dry. Yes, you can clean over the weekend, but you are not certain the rug will be dry come Monday morning.
Therefore, restrict hot water extraction to residential settings. I recommend dry cleaning for commercial settings.
Final Thoughts
Well, that was one long total solutions carpet care guide, but I had to ensure I covered all areas. Carpet cleaning is a rather complicated process, and I recommend getting a professional to help you out. However, the tips here should be enough to cover most of the requirements.