With the best steam cleaning tips, your steam cleaner becomes your best cleaning buddy. Most people use steam cleaners to clean their floors, and it works like a charm. But your steam cleaner is more versatile!
If you have never used a steam cleaner, keep reading to learn how it works and what it can clean without added chemicals. I will also help you use your steam cleaner to its full potential by sharing some time-saving and safety tips. Lastly, you will find out some creative uses for a steam cleaner, and things that should never be cleaned with hot temperature steam.
Steam cleaner models on the market come with various practical attachments for different applications. Don't just keep the attachments in the box, start using them!
Steam cleaning reduces the need for chemicals, allowing it to clean your home more thoroughly and safer. You can use it around pets and children.
How Does Steam Cleaning Work?
Every steam cleaner has a water tank in which you pour clean water. Next, the steam cleaner boils the water to create steam, which is a powerful cleaning force. Then, the device directs the steam through a nozzle with a cleaning tool, brush, or detailed tool.
Steam effectively cleans grease, grime, dust, mold, mildew; it kills bacteria, staph, and allergens.
Therefore, it is useful for cleaning the house and different outdoor spaces.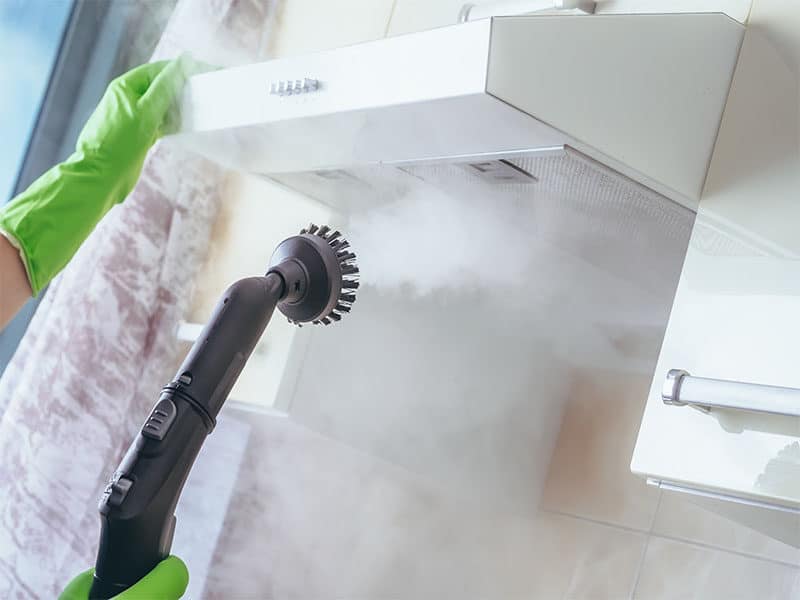 What to Never Clean with a Steam Cleaner?
Removing tough dirt with almost no effort and chemical-free using a steam cleaner sounds tempting, but some things should never be steam cleaned.
Heat-Sensitive Items
For example, water-based paint shouldn't be cleaned with a steam cleaner. Steam will break the paint and ruin your items. The same applies to cardboard surfaces and poor-quality wood items.
Porous Surfaces
Never use a steam cleaner on exposed bricks or stucco surfaces. Stucco surfaces include water, and steam can change the structure.
Plants
Steam is essentially boiled water and can burn plants and kill them.
Delicate Fabrics
Silk and velour are delicate and can be ruined by steam. Also, thin plastic items can melt or lose their shape when in contact with steam.
Musical Instruments and Antiques
Steam cleaning musical instruments can ruin their finish or cause some metal parts to rust.
The same applies to steam cleaning antiques. They have a shellac finish which shouldn't be exposed to high temperatures.
Steam Cleaning Tips
Steam cleaners aren't cheap, and it would be petty not to use them to their full potential.
Let me share some foolproof steam cleaning tips with you!
Most of the tips apply to all steam cleaners, including portable handheld devices, steam cleaner mops, commercial steam cleaner, etc.
Safety First
Whenever you use a steam cleaner, wear shoes with closed toes to prevent burns.
When steam cleaning glass, consider the difference between outside temperature and steam cleaning temperature. If you are steam cleaning a glass window in extremely cold weather, the difference between the two is large, and the glass can break.
If possible, postpone the cleaning session, or be extremely careful not to cut on the glass.
Always refill the water when the steamer isn't plugged and check if every tool is attached tightly.
Lastly, if you put down the device, handle it with care. The steam cleaner needs time to cool down. Once you are done with cleaning, don't put it near heat-sensitive surfaces even if it is unplugged.
The device is still hot and can burn you or anything nearby, including cardboards, plants, and other porous things.
Use Distilled Water
I recommend using distilled water for all steam cleaning devices. Hard water contains minerals, which will accumulate in the cleaner pores.
Minerals can harden and clog the pores causing the steam to go out unevenly. Eventually, the steam won't come out at all.
Cleaning clogged pores can be challenging and sometimes impossible.
Therefore, if you use distilled water you can keep your steam cleaner operational for longer.
Plan Your Cleaning Session
Before you fill the water in the water tank, think about your steam cleaning routine. The surfaces can stay wet after steam cleaning, and you shouldn't go over them until they are completely dry.
For example, if you want to use a steam cleaner for carpets, plan your path. The same applies to cleaning the floors with a steam mop. Let the clean surfaces dry!
Clean the Pockets First
If you plan to steam clean clothes, clean pockets first. Pockets are quite dirty and can hold a large amount of debris, and steam can push the debris out. If you have already clean the cloth, you will have to clean it again. Therefore, always clean pockets first and then the rest.
Change the Cloth
If you are steam cleaning an extremely dirty surface, make sure to have a spare cloth to put over the steaming tool when it becomes soiled. If you don't do it, you will smear dirt over the remaining surface, and the cleaning won't be that effective.
Vacuum First
To get the best results, vacuum the area or sweep with a broom to remove larger debris and loose particles. If you don't do it, you risk dragging debris with you as you clean.
Steam Cleaning Tips – Top 10 Ways to Use a Steam Cleaner for A Clean Home
A steam cleaner is a versatile cleaning device, but you can expand its purpose and clean surfaces other than floors. The majority of steam cleaners come with multiple attachments most people don't use.
Here are the best ways how you use a steam cleaner to its full potential!
1 Grill
Baked-up grease is tough to remove from a grill, but a steam cleaner can help. If you own a gas grill, make sure to disconnect the gas supply or unplug the electrical grill. Remove the parts and fill in the steam cleaner water tank. Let it take enough time to heat up and start by cleaning the trays.
If your steam cleaner comes with a grill brush or a similar one, attach it and clean the grill with it. If not, use a general steam attachment and keep a scrubbing brush in your other hand. As you go over walls, burners, and top cover with a steam cleaner, wait a few seconds for steam to cool off and scrub the surface.
2 Range Hood and Oven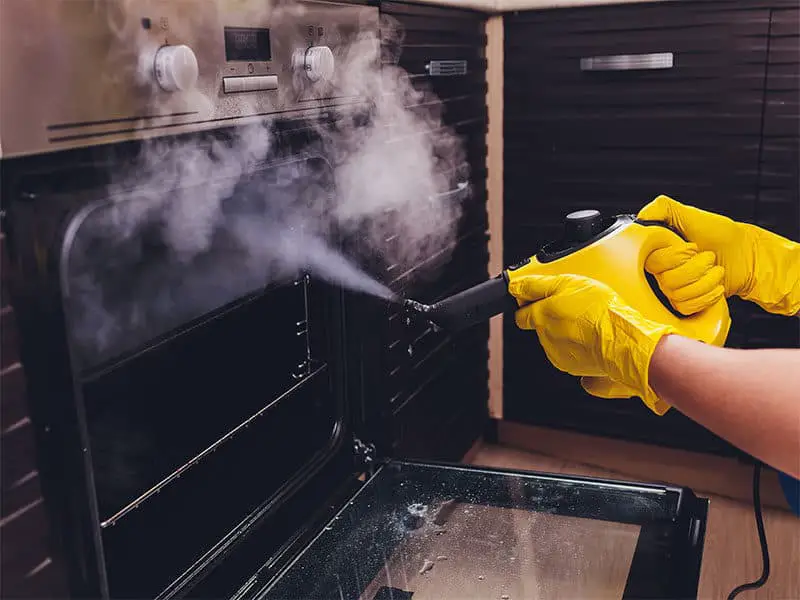 Many people neglect and forget to clean range hood. However, if you don't clean it often, the range hood can collect too much grease and lose its purpose. Not to mention, that it looks gross and that it takes too much effort to clean it conventionally.
The same applies to your oven. You can use a handheld steam cleaner for this purpose.
Unplug the range hood from the electrical outlet and detach the filter racks. I recommend putting the filters in the sink and blasting the steam on them. It will break the baked grease and disinfect it.
Then, use a steam cleaner with a small, detailed brush to clean the outer surface, top cover, and sides.
Apply a similar procedure to the oven, and clean oven racks with cleaners, walls, and over doors separately.
Once you clean the oven door with a steam cleaner, you can actually see through the door and maintain the baking process next time!
3 Remove Wallpapers
If you are participating in a DIY home renovation project and you want to remove the old wallpapers, a wallpaper steamer can help you with that. Removing old wallpaper by hand is tough, and you will have to scrub, use a scraper, and still have old wallpaper leftovers.
The first thing to do is to remove all pictures out of the wall to have easy access to the wallpaper.
Prepare your steam mop and put absorbing cloths on the floor. I also recommend perforating the wallpaper with a needle to allow the steam to penetrate and loosen the glue. Wear rubber gloves for protection.
The procedure is the same as if you were using the dedicated steam stripper. Hold the steamer on the wall until you notice the wallpaper is wet, and use a scraper to move the edges. I recommend starting on top of the wall and working your way down. As the wallpaper starts moving downwards, you can easily strip the rest of the wallpaper in the same direction.
4 Garbage Can
No one likes to clean the garbage can, but you have to do it from time to time. Even if you are using garbage can bags, there could still be dripping or food leftovers.
A powerful steam cleaner will clean and disinfect even the filthiest outdoor and indoor garbage cans. If you don't have a garden, I recommend doing this cleaning task in the tub because it will get too messy too soon.
5 Freezer Defrosting
Defrosting a fridge takes time if you leave the ice to melt on its own. Luckily, any steam cleaner can help.
Prepare a lot of absorbing towels and place them around the fridge to protect the floor. Unplug the fridge and prepare your steamer.
Any attachment with a wide nozzle will work.
All you have to do is blast the steam toward the largest pile of ice and watch the ice melting. Use the towels to collect water!
6 Garden Tools
If you are into gardening, you know how important keeping your gardening tools clean is. It isn't only for aesthetic and practical purposes. Dirty garden tools can spread infection from one plant to another and possibly, kill your plants.
Washing your garden tools can be messy and ineffective in killing fungus and nasty viruses that can damage your plants.
Use a smaller attachment to clean the tools quickly and easily. Steam will remove soil leftovers and kill any germs or bacteria on the tools.
7 Car Seats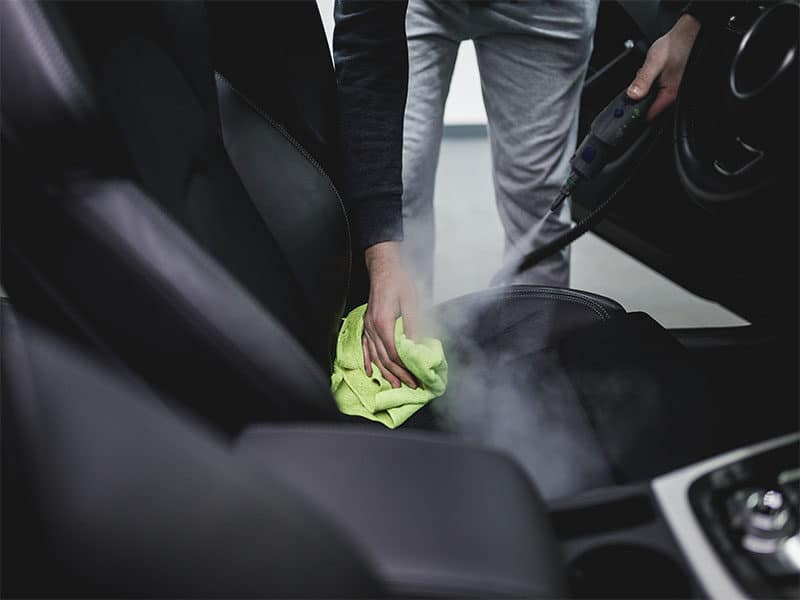 Deep-cleaning car seats is pricey, but necessary, especially if you have kids. Before you start steam cleaning car seats, you should use a vacuum for car to remove debris and loose dirt particles. Attach the upholstery attachment to the steam cleaner. Next, fill in the water tank reservoir and let the steam cleaner heats.
Go over car seats and leave the window in the car open to let the seats dry sooner. Watch this video to know more:
8 Remove Wrinkles on Curtains
Curtains are large and difficult to iron. As you remove wrinkles on one side, the wrinkles appear on the other side. Luckily, a steam cleaner can help.
Install the curtains on the curtains rod and prepare your steam cleaner.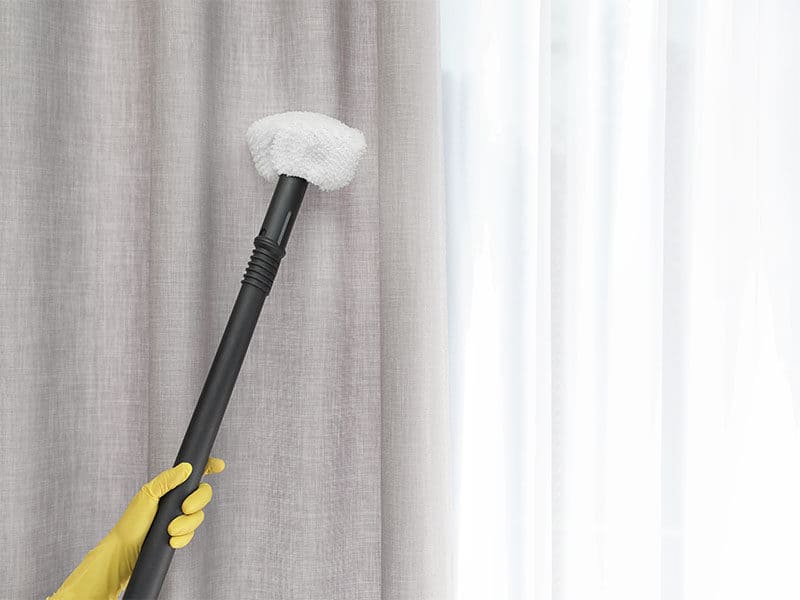 However, don't place the attachment too close to the curtains, especially if they are made from delicate material. Keep the steam cleaner 4 inches away from the curtains and repeat the process if you see more wrinkles.
It will also refresh the curtains between two washing cycles.
Let's see this video to collect more understandings:
9 Patio Furniture
Steam cleaning is also effective outdoors and very practical for your patio. Patio furniture gets dirty soon, and you can use a steam cleaner to make it clean and disinfected effortlessly.
Also, patio furniture contains lots of tight space that cannot be easily washed away with a garden hose. That is why a steam cleaner is a better choice.
Start by using a wide nozzle to clean large pieces of furniture, and repeat the process with a detailed nozzle if needed.
10 Mattress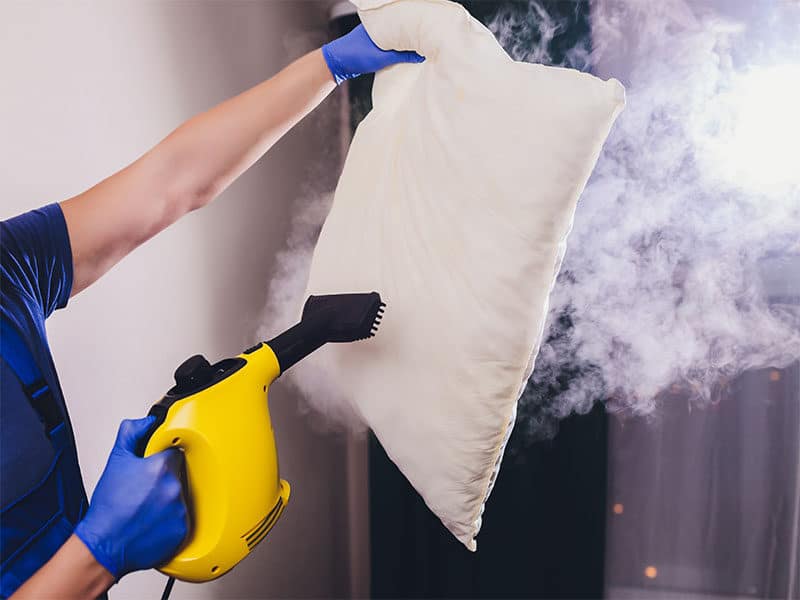 Steam cleaning your mattress can kill bed bugs, remove stains, dead skin cells, and allergens.
The first thing to do is to remove sheets and vacuum the mattress to clean the hair, and any other larger dirt particles.
A suitable steam cleaner for mattress reaches 212 degrees Fahrenheit. Otherwise, it won't be that effective. Use an upholstery attachment to go over the mattress on both sides, paying special attention to edges and sides.
Let the mattress dry and complete the procedure occasionally to keep your bed clean and fresh!
Watch this video to know more:
Steam Cleaner – Modern, Versatile Household Appliance
A steam cleaner is an easy, effective, eco-friendly, and time-saving method of cleaning multiple surfaces. You don't have to use chemicals to clean and disinfect.
To use your steam cleaner to its full potential, utilize it for kitchen surfaces, outdoor furniture, grill, garbage cans, cars, etc. Avoid using it on delicate and porous surfaces and fabrics.
How did you like my steam cleaning guide and tips? What is your favorite thing to clean with a steam cleaner?
Don't forget to share the article and like it to get more people to find out about awesome steam cleaning hacks!