Keep your house good-looking with the best floorings for pets! Whether you have cats or dogs, rabbits, rats or any other pet that walks on the floor, you know that it can become quite messy, quite soon.
If you are remodeling your home, you have to adjust your environment to become more pet-friendly and easier to maintain. The better the floor you choose around pets, the less time you'll spend cleaning it and hiding scratches and stains.
Let's discuss several floorings that will work fantastic for pets and things to consider when choosing your flooring around four-legged friends.
Also, I'll mention the flooring types that are a big No-No around pets!
Let's hop right into the best floors for cats, dogs and other pets!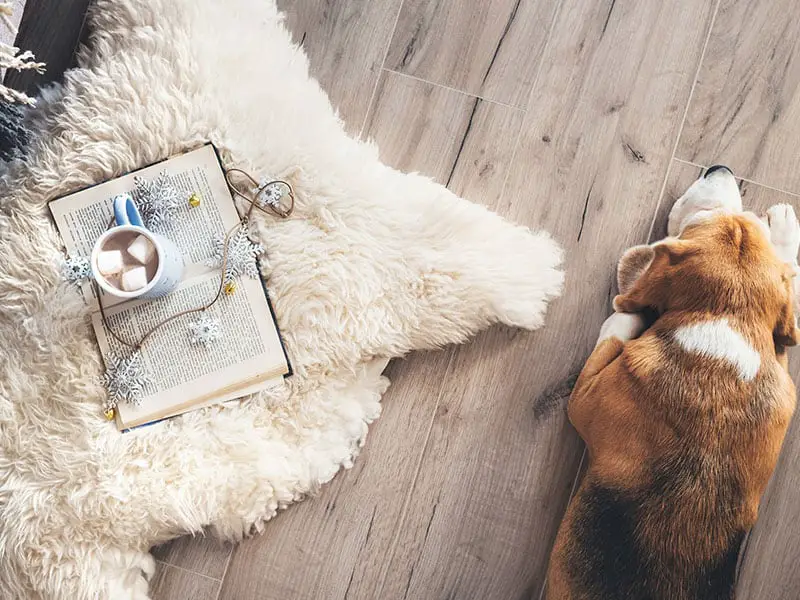 What Are The Best Floorings For Pets?
Best floorings for pets are waterproof, stain and scratch-resistant and easy to clean. Ultimate floorings for pets are:
Tile flooring
Vinyl flooring
Cork
Bamboo and
Laminate flooring.
Avoid carpets and expensive hardwood floors, if you don't want to spend all the time cleaning and vacuuming and a lot of money in repairing your floors.
Essential Things To Consider When Choosing Floorings For Pets
Choosing a floor requires more than just analyzing appearance. Performance becomes the most important factor when you live in a home with pets.
Whether you have a shedding dog or a cat with long nails, your new floor needs to withstand different kinds of accidents and be suitable for everyday cleaning.
Let's discuss the most important features of pet-friendly flooring that make them highly recommended for families with pets.
Water-Resistance
Pets can be trained to do their business outside, but accidents can still happen for various reasons. Also, pets can bring water to your home after being outside. For those reasons, it is important to get flooring that is at least water-resistant, if not completely waterproof.
Some floors, such as hardwood floors, can suffer irreparable damage after being exposed to water if you let the water sit.
Installing water-resistant floors will ensure the excellent durability of your floors, so you don't have to keep an eye on your dog or any other pet for every single water droplet.
Simple Maintenance
Not only can pets bring water to your home, but they can also bring dirt and mud. Pets can shed which can irritate people prone to allergies. Most pet owners need to clean floors every day to keep their homes clean and sanitized.
Therefore, pick the flooring that is easy to clean and doesn't require special tools or cleaners.
No-Scratches
Dogs and cats have sturdy nails that can scratch the floor while walking or playing. Cats, for example, like to sharpen their nails on different surfaces in the home, so it is practical to find a floor that isn't easy to scratch.
If you choose soft floors, the appearance will be ruined soon after installation.
I also recommend finding the floors with interesting patterns so potential scratches will be less visible.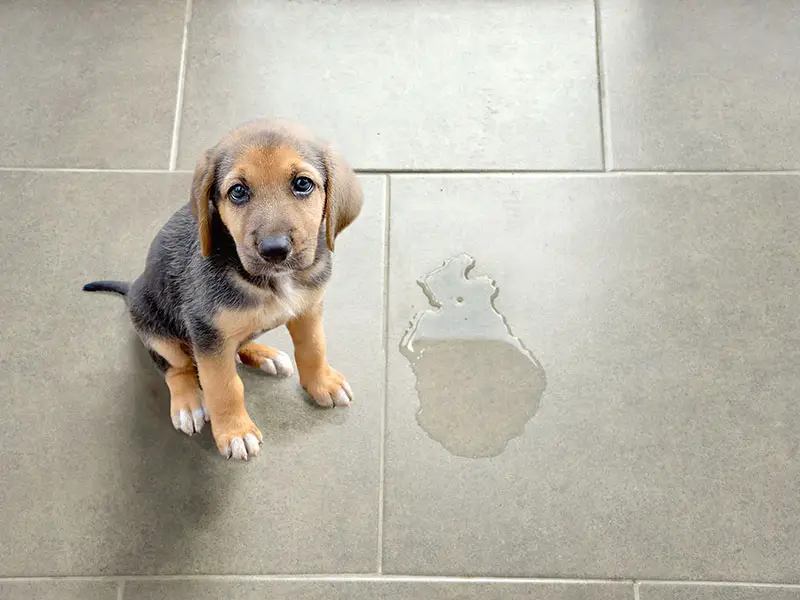 5 Ultimate Flooring Options for Pets to Install ASAP
Now when you know what properties your pet-friendly floor needs to have, here are several recommendations! Luckily, more than flooring type is great for pets, so I am sure you'll find something that matches your needs, budget and preferences!
Tile Flooring
Stone tiles, ceramic and porcelain tiles are excellent for pets. The water-resistant and waterproof, the maintenance is simple and tiles don't stain easily. Also, whatever pet you have, tiles can handle the mess, the claws and nails without showing damage.
Another superb thing about tile flooring is that it can fit your budget, whatever it is. Ceramic tiles are the most affordable, and the price starts at $1 per square foot. Porcelain tiles are more expensive, while stone is considered a luxury premium flooring material for tiles.
But, tile isn't the most comfortable flooring. They are hard and cold, so you will have to get a couple of area rugs and pet beds.
Another thing you can do to overcompensate for coldness is to install radiant underfloor heating. Tile flooring is compatible with both water and electric heating systems, which is a huge advantage.
Watch this video to know more:
Pro and Cons
Here are all advantages and disadvantages of tile flooring, summed up.
Pros:
Waterproof
Available in the wide price range
Available in numerous styles
Compatible with underfloor heating
Easy to clean
Cons:
Professional installation required for best performance
Cold
Hard
Best Brands
If tile flooring seems like a good match for your needs, please consider the following brands:
Ann Sacks
Arizona Tile
Florida Tile
Hakatai
Vinyl Flooring
Vinyl flooring is a budget-friendly option for families with pets. Not only is the vinyl flooring easy to maintain, comfortable and affordable, it also comes in an excellent range of styles and colors. It can look like stone, hardwood or ceramic and porcelain tiles.
Vinyl flooring, in general, comes in sheets, planks and tiles. I recommend luxury vinyl plank flooring because the planks are thicker and sturdier than other types.
Vinyl planks are water-resistant, and when installed with tight seams, vinyl plank flooring can get waterproof properties.
Overall, it doesn't stain and scratch easily, and you can clean discoloration on vinyl flooring as well.
The price is excellent, and the cheapest planks cost less than $1. More expensive and quality vinyl planks may cost around $6. (1)
Pros and Cons
Are you close to choosing your new pet-friendly floor? If not, here are the pros and cons of vinyl plank flooring that might help you decide!
Pros:
Inexpensive
Scratch-resistant
Water-resistant
Available in many styles and colors
Suitable for DIY installation via the click-and-lock system
Cons:
It doesn't improve the resale value of your home
Cheaper planks aren't very durable
Best Brands
Vinyl flooring is in expansion on the market. Brands compete in making high-quality and realistic vinyl planks. Here are the best brands of vinyl flooring!
Shaw
Mohawk
Armstrong
NuCore
Cork
Cork flooring is one of the best floorings for pets and allergies for many reasons. It has an attractive appearance, and isn't prone to mold, mildew, bacteria growth, etc.
Even if your dog has an accident, or brings harmful allergens on the paws, your cork flooring will stop bacteria growth.
Cork flooring is useful for people with families who live in buildings or multiple-floor homes. It has natural sound-absorbing properties so your furry friend can run and play without disturbing your neighbors.
Cork is moderately scratch-resistant. As long as you keep the nails of your pets trimmed, the risk of scratching is low. You can apply a scratch-resistant coat to protect it more.
I also recommend cork because of the softness, warmth and comfort it provides.
Cork flooring is also excellent for your budget, the price range is from $3 and $12. (2)
Pros and Cons
Cork might not be the most luxurious flooring option, but it has so many benefits that make it an excellent all-around flooring option, suitable for pets.
Pros:
Resistant to mold, mildew, bacteria
Sound-absorbing
Soft
Comfortable
Budget-friendly
Cons:
The floor may scratch
It doesn't improve the resale value of your home
Best Brands
Cork isn't A-list flooring material, but you have a couple of excellent brands on the USA market.
WE Cork
ICork
Globus Cork
US Floors
Jelinek Cork
Watch this video to know more:
Bamboo
Bamboo is an excellent natural material, great for families with pets. It is more affordable and scratch-resistant than hardwood floors, and more comfortable for you and your pets.
Pet owners should focus on finding quality strand-woven bamboo flooring because it will last longer than other bamboo types.
It is moderately priced, compared to other floorings. The price range is between $5 and $15. (3)
I like how easy to clean bamboo flooring is. It won't absorb dirt or water. Additionally, if you are eco-conscious, you can choose bamboo flooring because it is one of the most environmentally friendly flooring options.
Pros and Cons
With bamboo flooring, you don't have to worry about spills and pet mess. But, it isn't the only good thing about it.
Pros:
Stain-resistant
Scratch-resistant
Environmentally friendly
Moderately priced
Cons:
Choosing bamboo flooring might be challenging because there are many types of different quality
Watch this video to know more:
Best Brands
Consider the following brands for a high-quality strand or solid bamboo flooring.
Plybo
Cali Bamboo
Home Legend
Home Decorators Collection
Laminate Flooring
Ultimately, laminate flooring is an excellent solution for stylish and practical floors. Every mess is easy to clean from laminate flooring, and you can choose whatever wood type look you want. In simple words, it gives you the appearance of hardwood floors, with simpler maintenance and a fraction of the cost.
But, laminate flooring doesn't provide enough traction for little paws. Therefore, it can be a bit slippery. You can solve the issue by choosing textured laminate flooring.
Also, if a mess happens, a prompt reaction is essential for keeping laminate flooring intact.
The price range for laminate flooring is between $2 and $8. (4)
Without a doubt, laminate flooring is one of the most practical floorings suitable for people with different needs. Here are the advantages of it:
Budget-friendly
Stylish
Easy to install
Simple maintenance
Cons:
You need to clean spills as soon as possible
Slippery
Best Brands
Many manufacturers focus on offering quality floorings. The following are the best brands in laminate flooring:
Watch this video to know more:
Quick & Simple Comparison between Pet-Friendly Floorings
I provided you with several flooring options great for pets. But, how to choose? I hope my comparison chart will help you!
| | Tile Flooring | Vinyl Flooring | Cork | Bamboo | Laminate Flooring |
| --- | --- | --- | --- | --- | --- |
| Scratch-resistant | Yes | Yes | Moderately | Yes | Yes |
| Waterproof | Yes | No | No | No | No |
| Water-resistant | Yes | Yes | Yes | Yes | Yes |
| Comfort | Low | High | High | High | Moderate |
| Cost per square foot | $1 -$10+ | $1-$6 | $3-$12 | $5-$15 | $2-$8 |
| Brands | Ann Sacks | COREtec Vinyl Flooring | WE Cork | Plybo | Mohawk |
| | Arizona Tile | Shaw | ICork | Cali Bamboo | Shaw |
| | Florida Tile | Mohawk | Globus Cork | Home Legend | Pergo |
| | Hakatai | Armstrong | US Floors | Home Decorators Collection | Mannington |
| | | NuCore | Jelinek Cork | | |
| Advantages | Easy to clean, durable, wide range of prices and styles | Inexpensive, simple maintenance, wide range of styles | Sound-absorbing, comfortable, warm, mold-resistant | Environmentally friendly, comfortable, stylish | Stylish, easy to clean, affordable |
| Disadvantages | Cold, hard | Doesn't add value | May scratch | Only strand and solid bamboo flooring are quality | Require immediate cleaning after spills |
Worst Floorings to Install with Pets
While you can make most floorings work around pets with more effort and frequent maintenance, installing certain types doesn't make sense at all. Here are which floors to avoid and why.
Carpet
Carpet flooring might be warm and comfortable, stylish and inexpensive, but it is the worst thing you can do for yourself and your pets.
Many manufacturers offer so-called pet-friendly carpets with improved stain resistance, but in reality, the protection only works if you clean the mess as soon as possible.
Also, if your pet is shedding, carpet is the most challenging flooring to vacuum. Whatever vacuum cleaner for the carpet you own, small pet hair will still collect deep in carpet fibers.
Hardwood Floors
Hardwood floors are premium floors that are considered the biggest flooring investment. They also scratch and stain easier than other types. You can install them with pets around, but you risk ruining them soon after installation.
Scratches and stains will be easily visible. Even though you can refinish hardwood floors, having them around pets means that you'll spend a lot of time cleaning, fixing, and worrying that your furry friend will damage the floors.
You won't be relaxed and playful with your dog, worrying about replacing and floor replacement costs.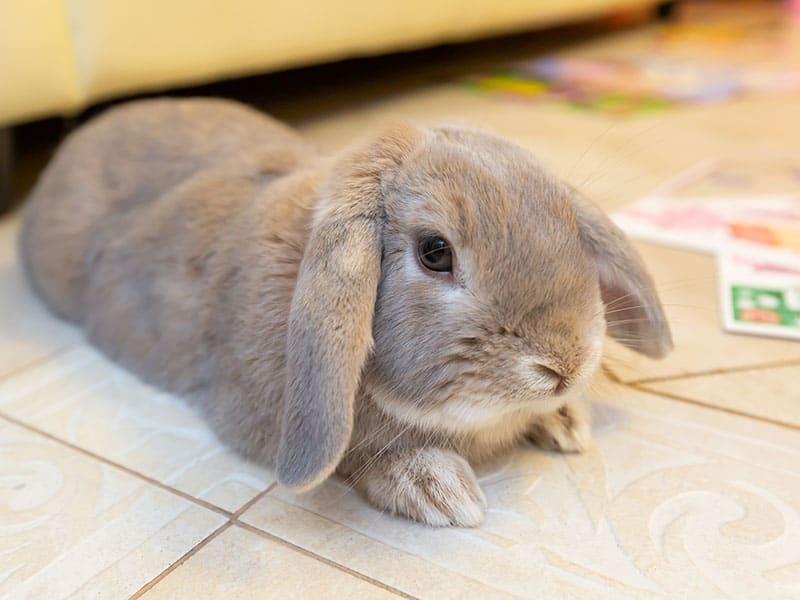 Less Cleaning and More Playing With Awesome Pet-Friendly Floorings
Having pets means you'll never feel alone. To make your life easier, pick floors that won't become a struggle to clean and maintain around your pets.
Hard floors, such as vinyl and tiles are the easiest to maintain and a practical solution for whatever pets you have. If you opt for wood-like floors, laminate, bamboo and cork flooring are perfect.
Whichever floor you choose, make sure it is water-resistant! Less cleaning means more playing!
Which flooring do you prefer – cork or bamboo? If you have experience using any of the floors from my list around pets, share your biggest challenges!
Have more friends with pets? Share the article with them to help them choose their flooring for their next home renovation project!
References
Flooring Clarity | Flooring Reviews, Cost Calculator & Guides. 2021. Vinyl Plank Flooring Prices and Installation Cost 2021.
com. 2021. Learn how much it costs to Install Cork Flooring.
com. 2021. Learn how much it costs to Install Bamboo Flooring.
com. 2021. Learn how much it costs to Install Laminate Flooring.