Are you considering terrazzo flooring for your home? Great choice, for sure! But, to get the most out of it, there are a few things to know.
Terrazzo flooring is beautiful, with a dash of Italian style. It is subtle and sophisticated, and extremely durable and versatile.
In the past, terrazzo has been common in corporate buildings, historical landmarks, and beyond.
But, what exactly is terrazzo flooring? How good is it? In which rooms to install it?
Let's find out together!
Is Terrazzo Flooring Any Good?
Yes, it is. Terrazzo flooring is highly durable and resilient and only requires simple maintenance. Terrazzo works in all areas, including indoors and outdoors, and areas with heavy foot traffic.
Terrazzo floorings are stylish and give you plenty of options to choose the aggregate materials and colors, to get the most desired effect.
However, terrazzo is one of the most expensive materials for floors.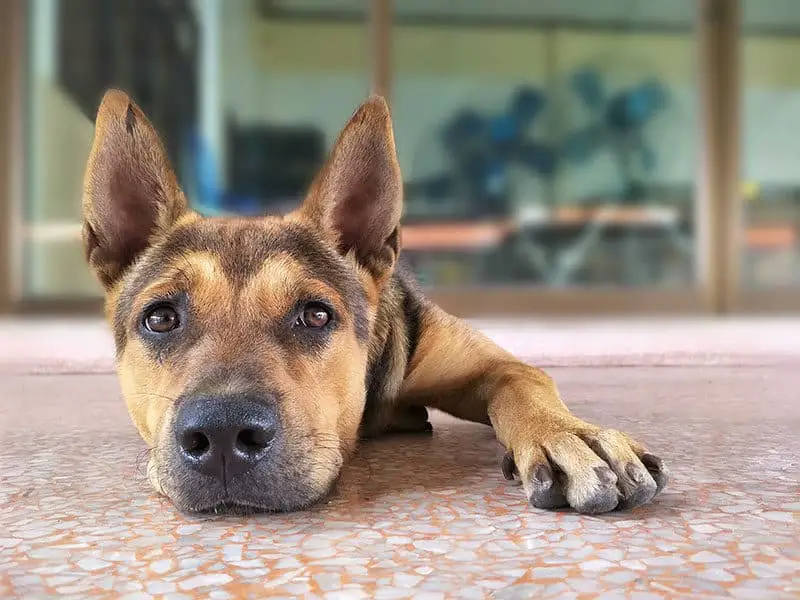 What Is Terrazzo Flooring Made Of?
Terrazzo can be used for flooring, countertops, walls, stairs, and other products. Terrazzo is a composite material, which includes marble, quartz, glass, granite, shell chips and other stuff.
Traditionally, terrazzo floorings were achieved by scraping marble chips on the concrete surface and polishing the floor. But, nowadays terrazzo is available in tile form as well. It can also be refinished multiple times.
Terrazzo requires a binder to form flooring. The most common binders for terrazzo are cement and epoxy matrix.
Terrazzo has a half-century-long tradition and originates from Italy, but similar floors were discovered in Turkey centuries ago.
Most terrazzo installations today use epoxy because of quicker application and cost-effectiveness.
Terrazzo Flooring Asbestos Issues
Fabricated terrazzo formula with marble, granite and other elements mixed with cement or binder doesn't contain asbestos. But, terrazzo tile and some vinyl floorings may contain traces of asbestos on the tile backings.
If you have some old terrazzo floorings around your home, and you notice black mastic as an adhesive between the tiles, the chances are that your flooring has asbestos.
The floorings made between 1960 and 1980 have a slight chance to contain it. Modern terrazzo is free of asbestos.
Let's see this video to collect more understandings:
Terrazzo Flooring Types
There are several types of terrazzo floorings made from various materials.
Let's go briefly through several terrazzo systems used today.
Thin-Set Or Epoxy Terrazzo
If you are looking for great strength and high-impact resistance, I recommend choosing thin-set terrazzo, which uses epoxy resin as a matrix.
It has better impact resistance compared with cement and better vapor transmission.
Generally, the thin-set terrazzo is installed the same as other terrazzo types, but with a minimum thickness of 3/8 inches.
The epoxy resin bonds to the concrete slab and reinforces the entire flooring structure. The thin-set terrazzo is used widely in commercial buildings.
It is easy to install, has a durable finish and is less prone to cracking. It is also available in different colors.
Epoxy terrazzo works for floorings and countertops. If you are looking for a floor with the lowest maintenance, you'll be happy with this type of terrazzo flooring.
But, it is better suited for indoor application because it cannot handle harsh weather.
Cement Terrazzo
The alternative to epoxy resin is monolithic cement terrazzo.
A 1/2 inch terrazzo topping goes on top of a concrete slab. The installation is simple, as workers pour panels directly on the surface.
Cement terrazzo is great for high foot areas, such as public institutions and universities. Also, it is more affordable than epoxy and versatile.
But, when installing cement terrazzo, weather plays a vital role in preventing cracking.
When properly installed, cement terrazzo lasts for over half of the century.
Sand Terrazzo
A special type of terrazzo flooring, sand terrazzo is only suited for professional installation.
Terrazzo goes on wire-reinforced panels of sand and cement.
The mixture is called a mud bed and needs to be soft when installing a terrazzo. However, for the best results, you need to install an isolation sheet under the mud bed.
Sand terrazzo comprises different layers, wire mesh, isolation sheets and sand. It is great to cover up any floor defects and allows plenty of color customizations.
Rustic Terrazzo
Rustic terrazzo flooring is sometimes called washed terrazzo. It is suitable for exterior applications, and it has a slip-resistant finish.
The polished finishes come from washing away cement before curing, so the marble and other elements are more visible.
The application is smooth, and a rough surface is excellent for outdoor hotel areas, townhouses and areas around the water.
It is used around pools, artificial waterfalls and fountains.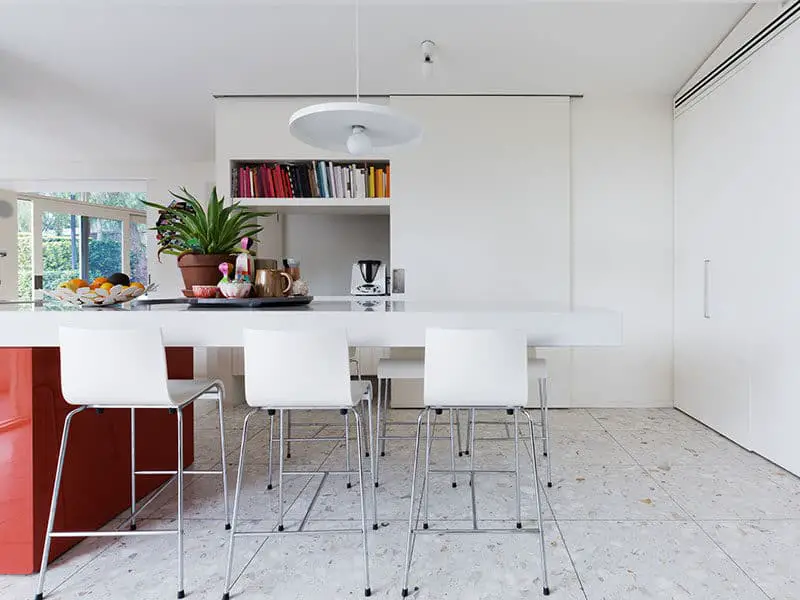 Terrazzo Flooring Features
Let's briefly cover the most important features of terrazzo flooring that distinguish it from other flooring types for commercial and residential use.
Non-Slip Flooring
A common misconception about terrazzo flooring is related to its slippery features. Terrazzo flooring isn't slippery, because it contains chips of different materials. But, terrazzo flooring becomes slippery because the sealer most workers use in the installation is slippery.
Nowadays, you can find sealers for epoxy terrazzo floors with a marking Slip-Resistance. These sealers ensure sufficient friction coefficient, so the floors aren't slippery.
Additionally, you shouldn't wax and use all-purpose cleaners on terrazzo floors.
If you are worried that a terrazzo floor will become slippery in wet conditions, ask your contractor for a water-based sealer with a marking – Antislip when wet. It will improve the grit on the floor, even when the floor is wet.
Let's see this video to collect more understandings:
Cleaning
Terrazzo floorings are easy to clean and care for with the right choice of products. Sweeping terrazzo floors is simple, and the best way to remove dirt and debris. Once a week or more frequently, damp your mop in a cleaning solution dissolved with water and mop the floor.
You should use a neutral cleaner, to prevent the chemicals from damaging the topcoat.
Let's see this video to collect more understandings:
Restoration
Terrazzo flooring is sophisticated and durable, but the top finish can become dull after some time. You can restore the shiny look of terrazzo floors at home, or you can hire professionals to revamp the look of your precious terrazzo.
If you are ready for a DIY sealer application, use a sweeper to remove dust and mop the floor with a neutral, terrazzo-suitable cleaner.
Let the floor dry, and apply a layer of sear with a buffing machine and polishing powder. Let the surface absorb the powder, and use a damp microfiber mop to clean the surface.
If you aren't satisfied with the results, repeat the process with a buffing machine and polishing powder until you're satisfied.
Homeowners also wonder if the terrazzo floor is easy to repair. The terrazzo floor isn't prone to cracks. But if you drop something extremely heavy, any floor, including terrazzo, will crack.
You can call professionals for larger cracks, or tackle small cracks by yourself.
You can mix epoxy and color and apply the mixture to the crack.
Let's see this video to collect more understandings:
Use
Terrazzo isn't only suitable for floorings in modern, contemporary and Scandinavian interior aesthetics. It has a wider application.
Terrazzo is a common choice for commercial buildings and public institutions, statement floors in restaurants and small shops. It holds up well in case of heavy foot traffic.
You can use it around the pool, on your patio, or to create a beautiful and durable floor in the living room. Moreover, it is great for offices, hallways and kitchens. Terrazzo is one of the best floorings for bathrooms, too. It gives you endless possibilities in terms of colors and design patterns.
Zero VOCs
Seamless terrazzo is healthy, easy to clean and completely safe for indoor use. That is why you have seen it so often in institutions and hospitals.
However, pick terrazzo epoxy resin with zero VOCs that ensure healthy indoor air.
Because terrazzo doesn't emit harmful fumes, is easy to clean and prevents mold and mildew development, it is one of the healthiest flooring options out there.
Terrazzo flooring Price
Terrazzo flooring is one of the most expensive floorings these days. According to data from Improvenet.com, the total costs, including material and labor for terrazzo flooring installation, are between $25 and $90 per square foot. (1)
The large variations in the prices are because of different materials used for terrazzo flooring. For example, pearl or marble terrazzo floorings are significantly more expensive than glass terrazzo. Granite is also an affordable terrazzo material, compared to premium materials.
Also, terrazzo tiles are more affordable than installing terrazzo floors on-site. Terrazzo tiles usually cost between $15 and $40 per square foot.
The surface size affects the total price. If you decide to install the terrazzo flooring on-site and you have a large surface to cover, labor costs per square foot will be higher.
Additionally, if the subfloor requires a lot of work to become good for installing terrazzo floors, it will raise the initial costs.
Next, if you want complex and creative work, get ready to pay more money.
If terrazzo seems out of your budget, you can choose ceramic tiles or luxury vinyl planks. Those might not be as durable as original terrazzo flooring, but those can look similar, and cost significantly less.
Terrazzo Flooring Advantages
As you can see, terrazzo flooring is a flooring type worth considering for long-lasting and stylish floors. But, let's sum up the most beneficial features of terrazzo floorings.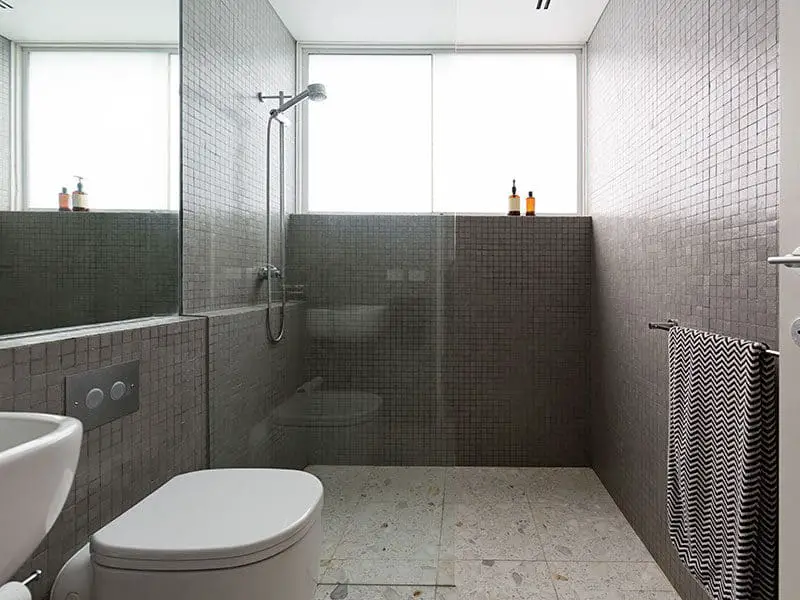 Durability
Terrazzo floorings last longer than a building! Think about schools and other public institutions. Countless people are walking on terrazzo floors day by day, and it rarely shows signs of wear and tear.
Therefore, if you install it in your home, terrazzo floors will last for a long time with simple routine maintenance.
Style Variations
Terrazzo allows for various creative and stylish combinations. Some like to mix different materials, such as marble and glass to create a unique look. Every terrazzo floor is, in fact, unique and can be customizable.
If you are installing terrazzo in commercial property, you can add a company logo on the floor, or create whatever symbols you want.
Environment-Friendly
When used for commercial purposes, terrazzo is actually economical. But, more importantly, it is an environmentally friendly flooring solution. Most terrazzo manufacturers use sustainable materials and engage in environmentally friendly installation.
Sturdy Floor
Terrazzo floor requires a lot of force to get damaged. It is resistant to water, fire, chemicals, etc. Choosing the right sealer will improve the floor protection and make it even more resilient and slip-resistant.
Versatility
The durability and lifespan of terrazzo don't depend on the amount of foot traffic, which means you can install it anywhere. It also retains heat well and can be used with underfloor heating.
Because it is resistant to water, mold and microbes, terrazzo can be installed in moist areas and outdoor environments.
Terrazzo Flooring Disadvantages
Here are some disadvantages of terrazzo flooring that will make you think twice before investing money in it.
Installation And Costs
Installing terrazzo flooring is much more complex than installing other floorings. It requires professional installation and a careful approach.
Also, unique designs and creative variations of terrazzo floorings, that add value to your property, often cost significantly more than plain terrazzo flooring.
If you are interested in terrazzo flooring, make sure to talk with a couple of contractors, to get more rates and save some money.
Let's see this video to collect more understandings:
Cold
If you don't install underfloor radiant heating, terrazzo flooring is very cold during the winter months. For the same reason, it isn't the best choice for a kid's room or bedroom.
Quality Depends On Installation
If not installed properly, the terrazzo floor can crack soon. Therefore, it isn't enough to hire professional workers to install terrazzo for you. Find skilled workers with proven work.
Terrazzo Flooring – At a Glance
Here is a simple chart that sums up all important information about terrazzo floorings.
| | |
| --- | --- |
| Materials | Granite, glass, marble, stone, quartz, shell chips |
| Bounder | Cement, epoxy resin |
| Use | Residential, Commercial |
| Style | Modern, traditional, contemporary, industrial |
| Installation | Professional, tiles or on-site |
| Maintenance | Routine cleaning with neutral cleaners |
| Slip-resistant | Yes |
| Water-resistance | Yes |
| Odorless | Yes |
| Eco-friendly | Yes |
| Antimicrobial | Yes |
| Residential use | Living room, bathroom, kitchen, basement, indoor and outdoor |
| Average lifespan | 75 – 100 years |
Terrazzo Flooring Vs Polished Concrete
Terrazzo outperforms polished concrete in terms of aesthetic value, durability and sturdiness. But, polished concrete is a more affordable option for many homeowners.
In general, polished concrete and terrazzo differ by cement and composite material used.
Polished concrete contains a high percentage of cement, while terrazzo contains more compounds of glass, marble, granite, or whatever material you choose.
Commonly, if you want to install cement terrazzo the ratio of marble chips and cement is around 70:30. Oppositely, polished concrete contains 70% cement and 30% aggregate.
If your budget allows you, invest in terrazzo, as it will pay for itself in the long run.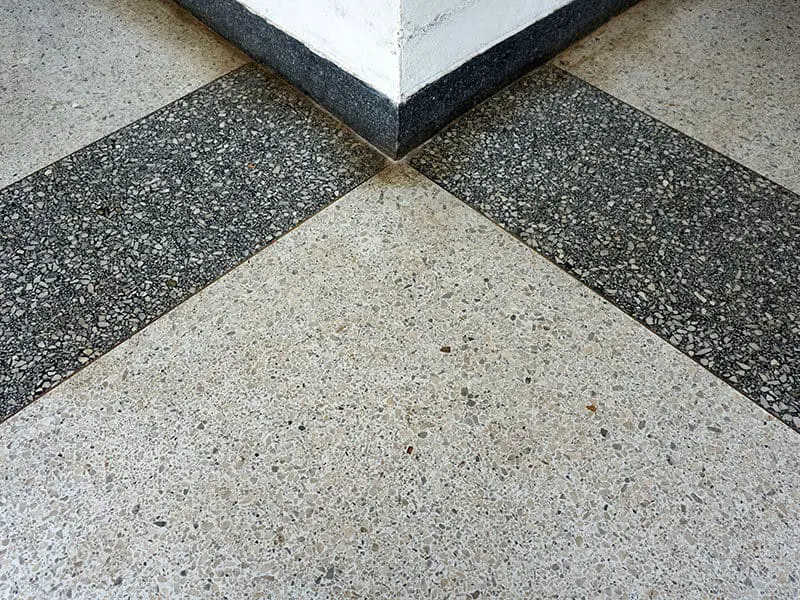 Unique Terrazzo Flooring For Style-Conscious Homeowners
Terrazzo has a great comeback these days. If you are wondering whether to install it, I highly recommend it.
But, to ensure comfortable floorings year-round, invest in underfloor radiant heating.
Terrazzo gives you numerous opportunities to customize your floorings and create unique and statement floors across your home. The best thing – the floors will require routine cleaning and last for generations in your home!
What do you think about terrazzo floorings? Would you install them in your home?
Don't forget – sharing is caring! Share the article and like it so more people can consider terrazzo floors for their homes.
References:
2021 Terrazzo Flooring Cost | What Is Terrazzo Flooring? | Terrazzo Floors. Improvenet.com.