Here is a comprehensive TimberTech VS Trex guide to help you choose the best decking brand.
TimberTech and Trex offer flooring options made from similar materials and features. Hopefully, by the end of the article, you'll be ready to make a choice which one suits your needs more.
Installing decking can alleviate your home, and not only in aesthetical value. It can improve the resale value of the home and increase your living space. Installing decking nowadays is simple. Brands such as TimberTech and Trex have an excellent offer for decking.
Both brands are popular among property owners and deserve to be considered as the best decking brands. But, which one is more durable, stylish, easier to maintain and install? Let's discover!
Which Is Better: TimberTech Or Trex?
TimberTech outperforms Trex because of the longer warranty, multiple style options, and different capping technology. But, it doesn't mean that Trex decking is of poor quality.
On the contrary, Trex and TimberTech are both exceptionally durable decking options, suitable for people who want the best value for the money.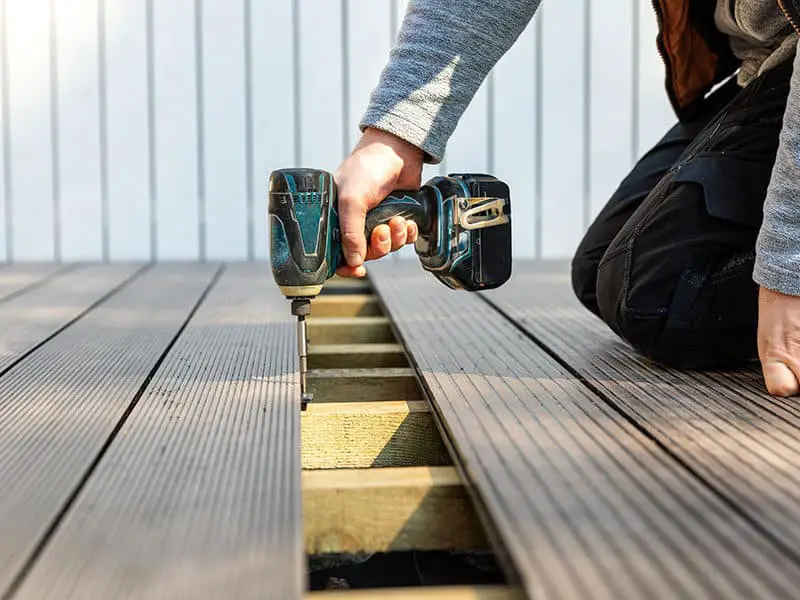 TimberTech Vs Trex – Comprehensive Comparison
Composite decking, in general, is excellent because it is durable, has simple maintenance and isn't overly difficult to install. If you ask any expert about the best brands, the chances are that you'll hear about TimberTech and Trex.
Let's compare them in detail.
Materials
Let's start with the most important differences between TimberTech and Trex – the material and capping.
Both brands offer decking material made from a mix of recycled wood and plastic. The plastic compound in these products comes from recycled milk jugs and bags.
But, the difference between the two is in the upper parts of the boards, or decking jargon – the capping.
Generally, capping prolongs the lifespan of the boards and increases mold and fading protection. A cap is simply a top plastic shell, but it has a huge effect on the quality of composite decking.
Both TimberTech and Trex have capped boards, but with a different design. The Trex boards are capped on the top part of the boards, so the bottom is open. It allows the board to breathe and deals with moisture.
TimberTech boards are completely capped with PVC coating. The brand seals the boards and prevents moisture from coming in, so the breathability doesn't play a role.
If you are wondering which one is better, you have to consider your common weather conditions. If you live in a rainy area, with lots of rain or near the coast, TimberTech might be a better overall solution.
But, Trex is suitable for average conditions, as there is proper airflow so the boards can dry.
Watch this video to know more:
Style
Style is an important deciding factor for all buyers, and the two brands offer different styling options. Trex has a more realistic wooden design and is better suited for a rustic aesthetic. If you prefer a classic decking look, you can check Trex for more ideas.
On the other hand, TimberTech offers a wide range of styling options and colors. The available finishes include low-gloss, classic, wire-brushed, etc. You can also choose between boards of different sizes and mix them to create a unique decking look.
Trex has three style lines. Transcend is earthy, Select has brown and warm tones, while Enhance line leans more toward neutral shades.
Because TimberTech has so many style options, it can be challenging to narrow the choice. You can try its tools on the TimberTech website, which allows you to play with the patterns and shades and get a realistic presentation of the TimberTech decking.
Installation
The two brands I am reviewing today have similar installations. But, TimberTech installation is more user-friendly and suitable for DIY installation.
Trex collections are intended for different construction. For example, the Transcend line can be used on different subfloors, including sand. If you have timber or steel railings, any Trex style will be easy to install on top of the subfloor.
Also, the boards are easy to customize and cut so you can match the construction design. It is especially important if your deck has an irregular shape. Nailing the boards might be a bit tricky, but if you have already installed floorings with a nail-down system, you will be able to do it.
TimberTech has its own deck building center online and offers a huge range of videos and instructions you can follow for DIY decking installation. The videos are tailored to match the best installation methods for TimberTech boards.
But, you can hire professionals to install decking, whichever brand you choose.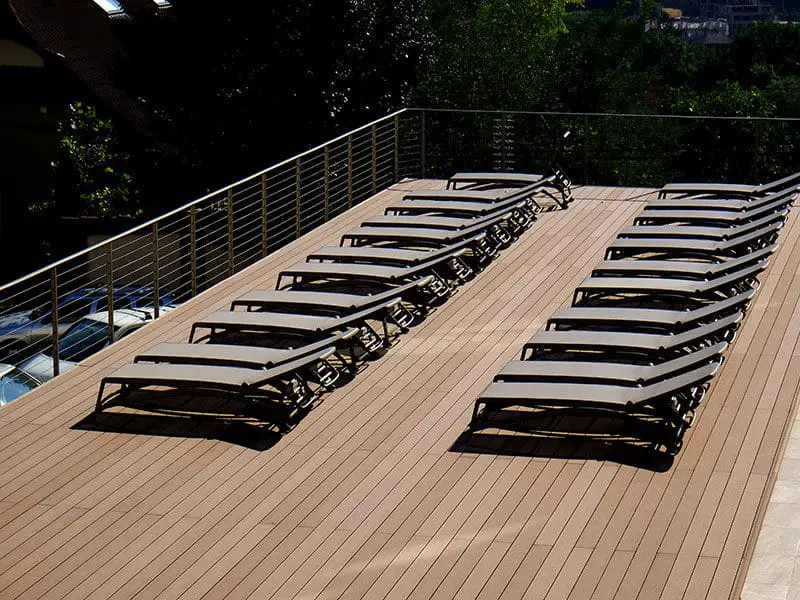 Watch this video to know more:
Heat Handling
Direct exposure to the sun can cause any deck to get hot to the touch, including TimberTech and Trex. If you are worried about your deck getting too hot, make sure to choose a lighter shade. It will disperse heat better than the dark deck, and the fading will be less visible.
Because TimberTech has a fully capped design, it handles heat somewhat better than Trex. The boards are less prone to fading, and it is slightly cooler.
If your decking is exposed to the sun during the hottest part of the day, pick light shades and consider TimberTech to make your deck good-looking for longer.
Durability
The durability of your decking depends on multiple factors, not only the decking material brand. However, choosing the best brand in terms of longevity gives you a great head start.
The durability of the decking board depends on the caps because the upper parts of the board are walked on and exposed to sun and extreme winter temperatures.
The boards from both brands will slightly fade in the first couple of months after installation. It is normal and won't affect the future look.
Capping provides protection but to some point. Trex products, especially those from the Transcend line are very scratch resistant.
In reality, if you maintain your decking well and avoid pushing sharp objects and furniture around, both brands will serve you for years. Moreover, both brand deckings won't easily crack or warp over time.
Trex will resist scratches better, but PVC coating on TimberTech will keep entire boards protected from the sun, hence fading.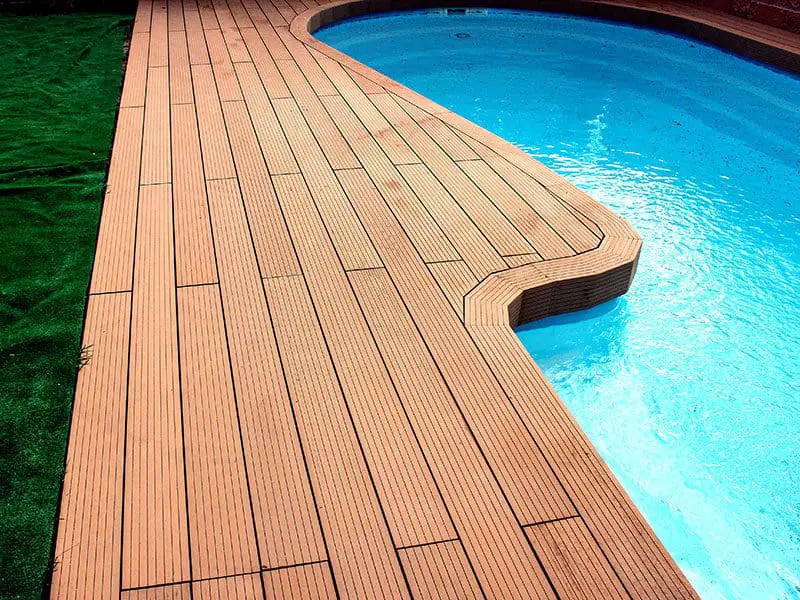 Maintenance
It is a tie as far as the maintenance goes. None of the brands require sanding and additional coatings. All you have to do is wash your deck with soapy water once the deck becomes too dirty. You can also use a versatile store-bought deck cleaner to keep the deck good-looking.
If you spill something, make sure to clean it soon, as it can cause stains in contact with the sun.
Generally, composite materials are low-maintenance, which is an additional plus when deciding among different types of decking.
Watch this video to know more:
Price
When choosing your decking, a price tag is essential. With other features and benefits, it shows you the true value of the products you intend to buy. It is especially important when you're deciding between two similar products, such as TimberTech and Trex deckings.
Overall, both brands offer a wide range of products in different price ranges, from low to high end.For example, the TimberTech Terrain collection is of similar quality as the Trex Select line.
Both brands have premium collections – TimberTech Legacy and Trex Tranched. Here is where we can see the differences in what you get for your money.
TimberTech charges more for the comprehensive capping and a variety of styles, while Trex boards are highly realistic, but the quality is similar. Higher-end collections by TimberTech are more expensive than Trex.
But, keep in mind that ultimate costs for your new decking depend on different factors, such as size, shape, potential subfloor adjustments, labor, etc.
Warranty
In most categories, Trex and TimberTech are quite similar, and the choice depends on your preferences. But, when it comes to warranty, TimberTech beats Trex significantly.
All Trex products are covered with a limited residential warranty of 25-years. Warranty of products from high-end Trex collection covers even fade and stains for the full warranty period of 25 years. Pretty impressive, don't you agree?
But, TimberTech offers products with a 50-years warranty for high-end collection Azek. Some decking from TimberTech is backed with a 25-year and 30-year warranty, which covers splinters, rots, cap issues, and material defects.
Still, TimberTech and Trex warranties don't cover mold and mildew development. But, if you have had issues with mold before, I recommend choosing TimberTech because of the sealed board and less risk of mold.
Availability
Lastly, let's talk about the availability of the two brands. Whichever brand you choose, you can order the products from the brands' websites.
TimberTech has a lot of showrooms across the country that can help get a full impression of their products. A simple store locator on the TimberTech website will let you know where the nearest showroom is.
Additionally, TimberTech decking is available through large retailers such as HomeDepot and Lowes.
Trex is also a widely available brand of decking materials. It is sold in over 40 countries around the world, on their website, through Lowes and Home Depot.
Because Trex offers a similar store-locator service on the brand website, it is simple to find the closest retailer and see the materials. Check both websites to see which one has stores closest to your city.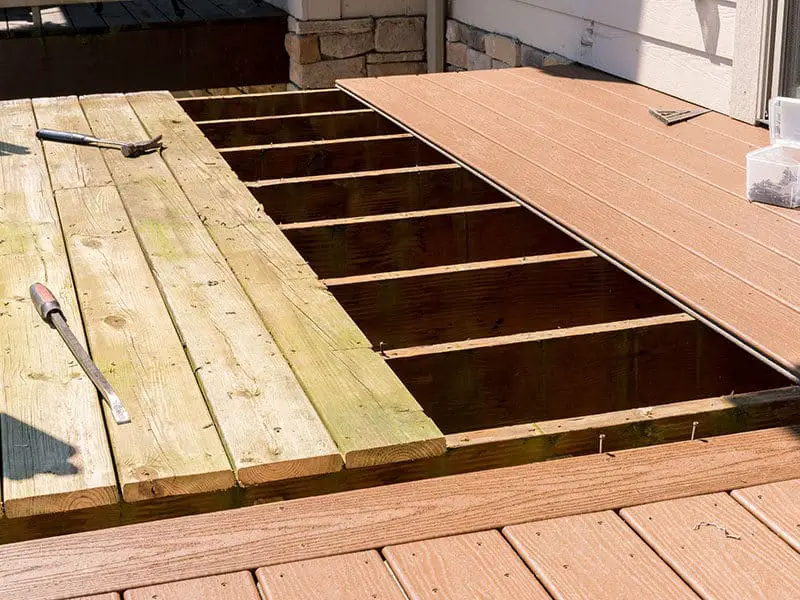 TimberTech Vs Trex – Comparison Table
Here is a comparison table, holding the most important features and benefits of TimberTech and Trex decking.
| Brand | TimberTech | Trek |
| --- | --- | --- |
| Type | Composite decking | Composite decking |
| Capping | Fully encased | Top only |
| Warranty | 25, 30 and 50-year | 25-year |
| Use | Residential, Commercial | Residential, Commercial |
| Pros | Durable Fading-resistant Better mold and mildew resistance | Durable Scratch-resistant Multiple size and shapes boards |
| Cons | Pricy | Limited color range of some collection |
Why Choose TimberTech?
If simple decking installation is important to you, and you like to engage in DIY projects, TimberTech might be the best choice for you. The multiple design options will probably meet your preferences, so you don't have to look for other brands.
Whether you are looking for a budget-friendly or high-end decking product, TimberTech has a lot to offer. The decking is also super-easy to clean with a homemade deck cleaner or brand-name product.
Moreover, if you are eco-conscious, you'll be happy with your TimberTech choice, as the vast majority of decking material comes from recycling sources.
Ultimately, if you don't mind paying more for high-quality decking, TimberTech makes sense. The impressive 50-year warranty of the premium decking collection makes it a safe purchase.
Why Avoid TimberTech?
Composite decking is more expensive than genuine wood in decking construction, but it has exceptional benefits for deck owners. But, if you want the most realistic wood look of your decking, some other brands on the market might do a better job for decking appearance.
Why Choose Trex?
If you are on a tight budget, and you want premium decking material, maybe Trex has suitable products. Also, if you own pets, the impressive scratch-resistance properties of Trex decking will ensure a pleasant appearance for a long time.
If you want a wooden deck, but without common problems, Trex might be an excellent alternative. For example, ipe wood is beautiful and excellent for decking, but it comes with a set of specific ipe wood problems, so Trex is a low-maintenance choice.
Watch this video to know more:
Why Avoid Trex?
If you live in an extreme climate, whether it is overly dry or overly rainy, Trex boards might deteriorate sooner, because they aren't sealed like TimberTech.
After heavy rains, you may notice mold and mildew on the sides of the boards. Try effective mold and mildew cleaner to remove them.
Watch this video to know more:
TimberTech Or Trex – Homeowners Favorite Brands
TimberTech VS Trex is a tough decision for sure! However, composite decking is expensive, low-maintenance and beautiful. If it sounds like something you are interested in, you won't choose wrong with either brand.
But, when investing a lot of money into decking, most people prefer to have a longer warranty for a list of potential issues you can expect with your deck. And that is where TimberTech is unbeatable on the market.
Its 50-year warranty is impressive and can be a determining factor for many people. But, make sure to analyze both brands to see which brand aesthetic is more suitable for you.
Which brand seems more appealing to you?
Don't forget to like and share the article to let more people know about the similarities and differences between TimberTech and Trex decking.