Baking Soda and vinegar happen to be the most common answer when to chemical cleaning products. These two (baking soda and vinegar) are not only inexpensive, but they are healthy alternatives that will leave your house sparkling.
How does a Baking Soda and Vinegar Cleaning Recipe Work?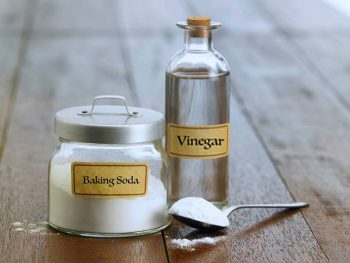 It is a rather straightforward process. On their own they have their cleaning perks, but they are better when put together. Baking soda, on the one hand, is an excellent deodorizer and abrasive.
Therefore, it is ideal for scrubbing and absorption.
Vinegar, on the other hand, is remarkable at lifting water stains.
When combined, the fizzing action of mixing an acid (vinegar) and a base (baking soda) helps dissolve gunk and messes, so they are easier to wipe away. You can use one of these mops for better results.
Nonetheless, baking soda and vinegar recipes should not be your first cleaning solution as you are left with saltwater once the fizzing stops. You have to create another mixture to continue cleaning.
Though the duo should not be your first cleaning defense, there are instances where they come in handy. Below are some of the areas you can use the two.
In the Kitchen
The kitchen is one area where the duo of baking soda and vinegar comes in handy.
Cleaning a Stainless Steel Kitchen Sink
Start by wetting the sink and sprinkling baking soda on the wet surface. Scrub the sink, and rinse. Make sure to clean the rim and caulk. Then soak some towels, preferably paper towels in vinegar, and line the sink. Leave for 20 to 30 minutes.
Cleaning the Drain
Vinegar and baking soda are also ideal when it comes to unclogging your drain. Pour four tablespoons of baking soda down the drain, followed by a cup of vinegar. Rinse with warm water once the fizzing stops.
Cleaning the Refrigerator
When cleaning the refrigerator, you will use the two separately. Use equal parts of vinegar and water to clean inside and outside the fridge. Vinegar is excellent for preventing mildew growth.
Afterward, place a box of baking soda inside to keep odors away.
Cleaning Mugs
Mugs and stains in cups and carafes are no match for this baking soda and vinegar duo. Add equal parts of the two, scrub, and then rinse. The fizzing action helps eliminate all tough stains.
In the Bathroom
You can use vinegar and baking soda separately or together to clean various parts of the bathroom.
Cleaning the Toilet Bowl
First, spray the bowl with vinegar until it is wet. Follow this by sprinkling baking soda into the wet toilet bowl. The baking soda should stick thanks to the vinegar. You can spray some more vinegar to start the reaction, then scrub the toilet bowl thoroughly after two or three minutes.
Cleaning the Shower Head
Limescale and mineral build-up is inevitable, especially if you live in areas with hard water. But baking soda and vinegar are here to save you from the ugly shower head.
Ziplock bag.
Vinegar.
Baking soda.
Place the shower head in the ziplock bag and cover it with vinegar. Let it sit overnight, then clean with baking soda the following day.
Other Bathroom Surfaces
¼ cup of baking soda.
Vinegar.
Showerhead tablespoon of castile soap
Mix then use. You will stir until all the lumps dissolve, and only use a spray bottle so that it lasts.
Carpet Cleaner Recipe
With the baking soda and vinegar duo sitting in your pantry, you need not be worried about carpet stains.
First, create a paste using the baking soda, and add a bit of vinegar. Work the paste onto the stained carpet, and leave it to sight overnight, or for 12-hrs. After the 12-hr period, vacuum the remnants.
You can also use baking soda separately to freshen up your carpet. Sprinkle baking soda on your rug at and vacuum after 15-minutes using only the best vacuum cleaners.
Cleaning with Vinegar
Your grandma used it, and now it is your time to discover the cleaning benefits of vinegar. It is perfect for eliminating water stains, and for rinse free cleans.
Where can you use it? Well your only limit is your imagination.
You can make a window cleaner by mixing equal parts of water and vinegar. Vinegar also comes in handy when cleaning automatic coffee makers to dissolve minerals. Fill the maker with distilled vinegar and run it through a brewing cycle. Afterward, rinse with distilled water.
The microwave will also benefit from vinegar. Boil a ¼ cup of vinegar, and 1 cup of water until there is steam on the window. Then wipe with a clean cloth.
Nonetheless, when cleaning with vinegar, avoid granite or marble surfaces as vinegar will react with such rocks.
Other Household Uses of Vinegar and Baking Soda
Though together they are nearly unstoppable, here are more recipes using each component separately.
Mop floors using half a cup of baking soda and a bucket of water. Baking Soda is an abrasive and will eliminate those tough stains.
Use vinegar to neutralize unpleasant odors. White vinegar is a remarkable air and fabric freshener and can be used on furniture, shoes, or carpets.
Use a toothbrush doused in vinegar to clean crayon marks from walls and floors.
Vinegar helps remove rusted bolts. Pour a few drops over a rusted bolt and leave it to settle. The vinegar will break down the rust, and the bolts will be easier to remove.
Vinegar helps keep flowers fresh. Pour a mixture of water, two tablespoons of vinegar, and two tablespoons of sugar into the vase.
FAQs
Here are answers to questions you may have about this cleaning duo. I also welcome you to leave more questions in the comments below.
Conclusion
Yes, vinegar and baking soda are remarkable, but remember, the mixture is only valid until the fizzing stops. The mix after fizzing does not have much difference than ordinary water.
Also, use the two appropriately to avoid damage. The recipes above should help you with cleaning the different surfaces. That's it, folks, if you feel there is something I missed, let me know in the comments below.