Wood look tile flooring combines the best of both worlds – the appearance of wood floors and simple maintenance and waterproof properties of tile floors. But, when choosing floors, you have to think about more than appearance.
Let's discuss all important aspects of tile flooring that look like hardwood to help you decide whether it is a suitable alternative to genuine wood floors.
In recent years, many homeowners choose tile flooring over hardwood for their excellent benefits. They are cheaper and easier to clean some other floorings. Are they the best floors for your home?
Let's find out.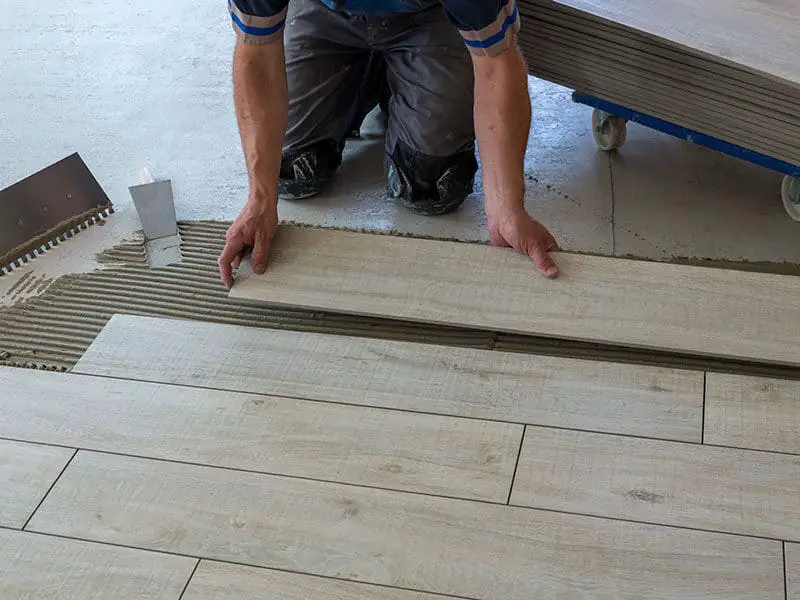 Is Wood Look Tile Flooring Good?
Yes, it is. Modern wood look tile floors are stylish, and closely mimic the look and texture of hardwood floors. But, the tile flooring with wood effect is suitable for use in wet rooms and easier to maintain.
The average lifespan of 20 years is excellent and doesn't depend on procedures, such as sanding, refinishing and complex maintenance.
You can install wood look tile floors all around the house, as long as the subfloors are in good condition, and you have professionals install the floors for you.
But, be prepared for the coldness and hardness of the tile flooring.
What Is Wood Look Tile Flooring?
Many flooring types look like wood but don't have wood construction, such as vinyl flooring. Wood floors are a golden standard in flooring aesthetics, but an expensive and demanding investment.
In simple words, wood look tile flooring consists of ceramic or porcelain tiles designed to mimic the look of wood. The flooring sometimes comes in planks, like real hardwood floors, but you can find tiles in different shapes and sizes as well.
It is a durable and cost-effective floor that has a wide residential and commercial application.
Manufacturers developed new producing and printing techniques that closely mimic even the texture of wood, and not only tones and shades.
At a glance, wood look tile floors are perfect, but they do come with a specific set of drawbacks that might talk some homeowners out of installation.
Keep reading to get a complete picture of these floors.
Best tips for coming up with a realistic wood pattern for wood look tiles
Ceramic & Porcelain Wood Look Tiles
You can find ceramic and porcelain wood look tiles, which can be hard to distinguish. The difference is in the material strength, quality and pricing.
In most cases, porcelain and ceramic tiles can be installed in the same locations. They are made from the same materials – clay, water, and sand, but the manufacturing process differs.
The clay combination is slightly different for porcelain tiles and includes feldspar, which gives them a denser and harder structure.
The Porcelain Tile Certification Agency (PTCA) certifies porcelain tiles based on their water absorption properties. To be classified as porcelain, the tiles need to absorb less than 0.5 % of water. Ceramic tiles absorb more, so they are better suited for dry locations and indoor use.
Porcelain tiles cost almost double as ceramic tiles.
There are two types of porcelain tiles due to different printing techniques. Through-body tiles have images and colors printed through the complete structure of a tile.
So, I recommend them for a wood look tile floor, for a more authentic appearance. If the surface layer chips or scratches, the damage will be less visible and look more like a damaged hardwood floor.
Color-body tiles feature color only in the body of a tile with an outer shear coating.
Ultimately, you can find high-quality ceramic and porcelain tiles with high-resolution images that mimic the appearance of real wood.
Installation Cost For Wood Look Tile Flooring
Costs for installing new floors depend on materials you choose, old floor removal, professional or DIY installation, brand, quality, etc.
In case of a wood look at tile flooring, I recommend professional installation. To install wood look tiles, you need to set up certain grout joint thicknesses to get the best performance. If you fail to do so, the tiles can break and the floor can be uneven.
Most manufacturers offer ceramic and porcelain tiles in a wide price range, shapes and sizes. You can get tiles in standard wood plank sizes, such as 6 x 24 inches, but also hexagons, chevrons, etc.
For example, Tileshop.com offers wood look tiles at $1.98 which is a minimum price. Higher-end tiles can cost nearly $10 for quality porcelain tiles, and realistic wood images.(1)
The installation might cost you an additional $5 per square foot for labor work. Comparing wood look tile floors will hardwood floors reveals a significant difference in pricing.
A wood floor will cost you between $5 and $10 with an additional $4 to $8 per square foot for installation. (2) But, exotic wood species cost twice as much as standard wood types used for flooring.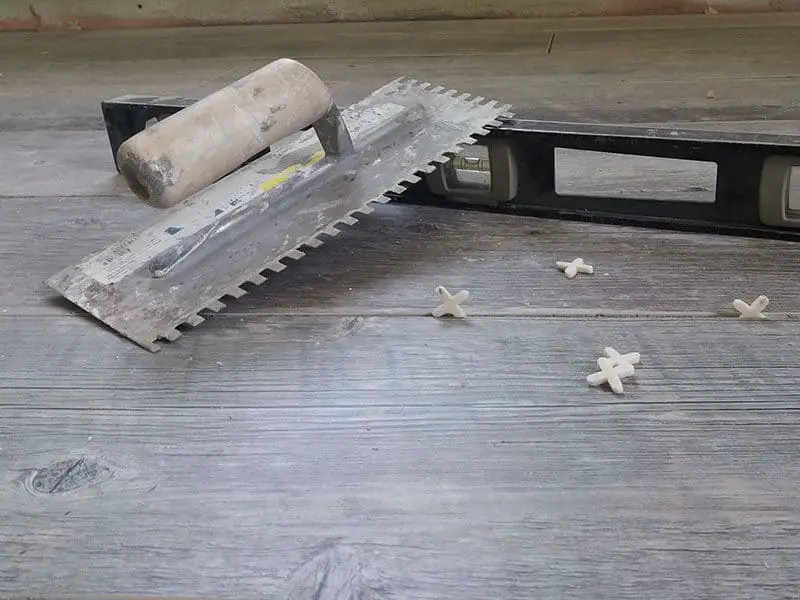 How To Clean Wood Look Tile Flooring?
If you are wondering how to clean wood look tile flooring, the answer is simple. Unlike real hardwood floors, wood look tile floors are easy to clean and don't require specialized cleaners. You can sweep the dust and mop the floor with any homemade or commercial floor cleaner.
Also, vacuum the floor with any vacuum cleaner suitable for tile floors. If you own pets, use a rubber brush to collect the pet hair. Once you remove the dust and dirt, you can mop the floors with warm water and a pH-neutral solution.
It will easily remove all grime and grease, and leave your wood looking tile floors sparkly clean.
Sweeping or vacuuming twice a week and mopping once a week will be enough to keep the floors clean in most households.
9 Advantages Of Wood Look Tile Flooring You'll Appreciate
Here are the best features of wood look tile flooring that make this flooring type stand out as one of the most practical and stylish flooring trends for 2021.
Cost & Value
Wood like tile flooring is considered moderately priced flooring, and it offers a lot of good features for the money. Hardwood is expensive, and you often have to compromise for less appealing wood types and smaller planks.
But, if you choose tile flooring with the wood effect, you can get large planks priced exactly like smaller tiles.
Also, the wood type determines the price. But, tile pricing is calculated differently. It means that mahogany-looking tiles and knotty pines often came at similar price tags.
Straightforward Maintenance
Tile flooring is simple to maintain. Vacuum or broom and a mop are everything you need to keep the floors clean. Mild soap and warm water are perfect for mopping, so you'll save money on floor cleaners.
Wide Range Of Styles
Wood look tile flooring comes in a variety of styles and wood options. You can choose the wood type, and the exact color and shade that match your style preferences.
Also, some manufacturers allow for customization, but you'll have to pay a bit more money for custom-made wood look tiles.
Weathered wood look tile and sun-bleached effects are also available.
Lastly, wood look tiles come in different plank and tile shapes and sizes, so you can create authentic wood-like flooring.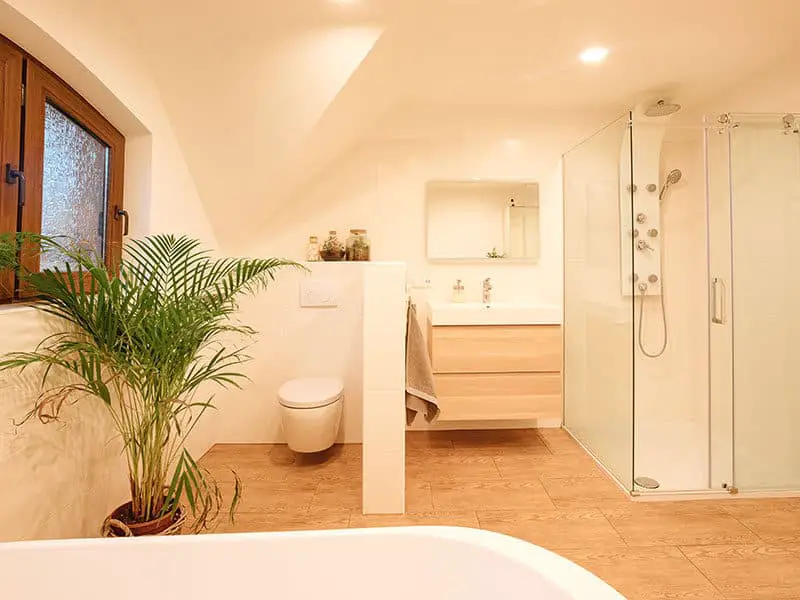 Things to know before you buy large wood look tiles. You can see this video to know more:
Pet-Friendly
Wood look tile is one of the best options for families with pets. You don't have to worry about scratches because most tiles are scratch-resistant.
Additionally, cleaning pet stains from hardwood floors is tiresome, if you don't know the technique. With tile floors, you can wipe clean the affected area on the floor and it won't leave any stains.
Pet hair is also easy to collect from tile flooring, unlike carpet. I recommend using light-colored tiles because pet hair is more visible on darker shades of wood look tile floors.
Suitable For People With Allergies
If you or your family members have allergies, wood look tile floors are the perfect solution. The flooring is resistant to pollen and dust mites and doesn't collect dirt like carpet. More importantly, ceramic and porcelain tiles are waterproof, so there is no risk of mold and mildew.
Wide Application
A great thing about wood look tile flooring is that you can install them in any room you want. It also means that you can cover the entire home with the same floors. Because they are waterproof, wood-look tile floors are suitable for the kitchen, bathroom, basement, mudroom.
They look stylish and are compatible with underfloor heating. Thus, you can install them in the nursery, living room and bedroom. Ultimately, because of the simple maintenance, wood look tiles are perfect for entryways and hallways.
Luckily, there are enough styles and colors available so you can find the looks you want.
You can see this video to know more:
Environmental Impact
Porcelain and ceramic tile floorings are eco-friendly with zero VOCs. Additionally, the flooring is recyclable, so the amount of waste in the environment is reduced. After disposal, wood look tiles are used for roads.
Long Lifespan
Ceramic and porcelain tiles with wood effects are one of the most durable materials that don't require complex refinishing to stay good-looking. The average lifespan is around 20 years.
Hardwood floors last longer, but they require occasional sanding and refinishing during their lifespan.
Compatible Underfloor Heating
If you want to install underfloor heating, wood-look tiles are an excellent choice. Essentially, ceramic and porcelain tiles are colder than wood floors.
They conduct heat well and give the room a warmer ambiance, which further contributes to the appearance and feel of a real hardwood floor.
With the underfloor heating, wood look tiles are an excellent choice for the living room and bedroom, because underfloor heating overcompensates for the cold effect of tiles.
Also, because of the excellent thermal conductivity, ceramic and porcelain tiles retain warmth for longer. They also work with both water and electric underfloor heating systems.
The best thing about wood look tile flooring is that you can install them with underfloor heating in every room, including wet rooms, such as bathrooms.
4 Disadvantages Of Wood Look Tile Flooring
Despite all the good sides of wood effect tile floors, consider the next aspects before you install them in your home.
Installation
As I already mentioned, wood look tile floors aren't suitable for DIY installation. Also, the subfloor needs to be perfect so the tiles can be laid evenly and have all the good benefits I described above.
Sometimes, the protection of the tile floor is recommended to prevent the growth of bacteria underneath tile flooring.
The final look of wood look tiles depends on the layout. Therefore, it takes a trained eye to come up with the most realistic design that will mimic the real hardwood floors.
The installation costs might be high, and the subfloor adjustments can raise the expenses significantly.
Too Cold Without Underfloor Heating
Tile floors are cold to walk on barefoot, especially in colder climates, if you don't install underfloor heating.
Another thing you can do is to install area rugs to provide warm spots to walk on when you crawl out of bed in the morning!
Discomfort
Tile flooring is hard and not suitable for standing for long. It can cause discomfort and leg, knee and back pain.
For that reason, some people avoid installing it in the kitchen. But, you can always get a comfortable mat and put it around the sink to prevent pain from doing the dishes.
Should you choose wood-look tiles over vinyl plank flooring that resembles wood?
Slipperiness
Tiles are slippery. Pets and children can slip easily, as well as the elderly. But, if you want to prevent slipperiness, you can choose textured, hand-scraped tiles. They are even closer to the look and feel of real hardwood floors.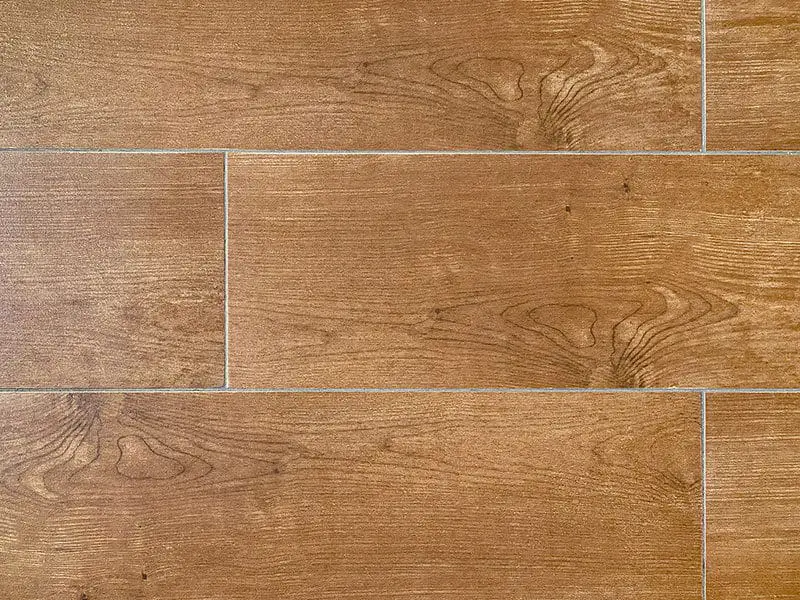 Best Wood Look Tile Flooring Brands
If the mentioned disadvantages of wood look tile flooring aren't deal breakers for you, look at the best brands in the county that sell the most beautiful and quality wood look tiles.
Merola
Merola wood look tiles are available in around 40 styles and planks of different sizes. The company nurtures excellent customer service and sells everything you need for your new tile flooring! They are known for their hexagonal wood-like tile mosaics and quality porcelain tiles.
Ragno USA
Ragno tiles are moderately priced but with a high-end look. The HD printing technology and the HD ink make the wood look tile stand out by their appearance. There are several collections and multiple wood types replicated on different tile sizes.
Daltile
Daltile is one of the largest tile suppliers in the country, and a subsidiary of Mohawk. Daltile makes the wood look tile in several collections and multiple patterns. If you are looking for unique wood patterns, Daltile is where to look for them.
Porcelanosa
Porcelanosa sells high-end tiles and has three wood look tiles collections. They sell textured tiles with frost-resistant features and anti-slip properties, suitable for indoor and outdoor use.
Wood Look Tiles Or Real Wood?
Wood look tiles are more practical than hardwood floors. You don't have to worry about water damage, pet scratches and stains or the use of specialized cleaners.
But, even though wood look tiles look almost identical to hardwood floors, they can never mimic the pleasant warmth and softness of genuine wood.
You have to decide your priorities and see if radiant floor heating is an option to overcompensate for the cold.
Would you install wood-like tile floors rather than hardwood?
Share your thoughts.
Send the article to your friends and family who are considering changing their old floors in their home to help them decide!
References:
Wood Look Tile – The Tile Shop. Tileshop.com. https://www.tileshop.com/featured/wood-look?pageNumber=1&pageSize=24&sort=featured.
Roberts K. Wood-Look Tile vs. Wood: Which Type of Flooring Is Better? Pros, Cons, and Costs. Alabama Association of REALTORS.