Hello, and welcome to Home Cleaning For You!
We're all here with one goal in mind – having a clean and well-organized living space – and that's precisely what this website has to offer. It was designed with real people – and actual problems – in mind, and it's here to make your day-to-day life not only easier but more enjoyable, too.
Forget everything you thought you knew – we're here to show you a new approach to keeping a clean house.
Whether you're here looking for help with making an informed purchase decision, or tips on how to keep your home organized and dirt-free,
Home Cleaning For You
has got your back!
Common Myths & Misconceptions About Vacuuming
We're baffled by the number of myths and misconceptions regarding vacuum cleaners, and vacuuming in general, doing the rounds. With so much misinformation circling around, it's no wonder that so many people struggle with keeping their homes – and their carpets – clean.
Let's bust the three most common myths and misconceptions right now – and we'll address the rest in our articles!
Misconception #1: You should put off cleaning your carpets for as long as possible.
Please, don't do this to your carpets because you're convinced that they'll last longer – they won't. Dirt can be extremely abrasive, and whenever you step on the carpet, you grind it further into the fibers, forming micro-tears in them, and causing it to show signs of wear and tear sooner, rather than later. In short, no, regular maintenance won't "destroy" your carpet – waiting too long to clean it will.
Misconception #2: All vacuum cleaners are pretty much the same.
That one's wrong; otherwise, you wouldn't need our help – you'd go and buy the first vacuum cleaner you come across, without ever considering its features and what it has to offer performance-wise. Granted, vacuum cleaners do work on somewhat similar principles, but their design, features, suction power, filtration system, and ease of use can vary significantly from one model to the next.
Misconception #3: More amps equal better performance.
The first thing vacuum cleaner manufacturers will mention are motor power ratings, which is probably why this myth took off in the first place. However, all those amp and watt ratings only tell you how much electric energy the unit consumes during operation, and not how efficient it is regarding airflow and sealed suction – the two factors that are truly essential when it comes to performance.
Meet Our Team
Before you go any further, we figured you might be interested in learning more about the minds and faces behind Home Cleaning For You.
Well, here we are!
Kevin Jones
After spending over a decade working in retail, Kevin decided it's time for a change – and that's when he and his wife started a successful cleaning business out of their home. Their older daughter soon joined them, turning their entrepreneurship endeavor into a full-blown family business.
He still feels passionate about helping people make informed purchase decisions, which is why he decided to team up with Jeannie, and become a part of the Home Cleaning For You team.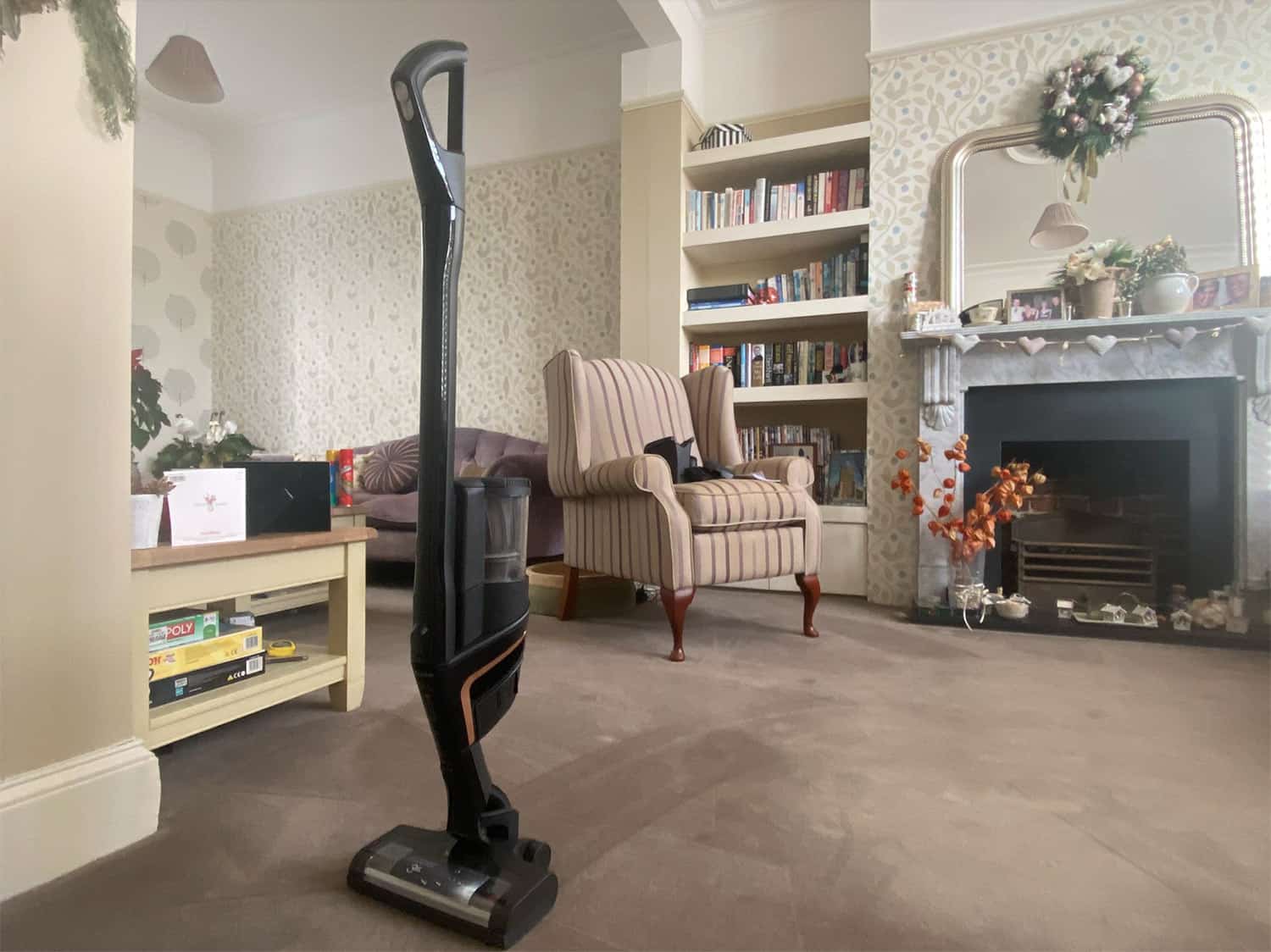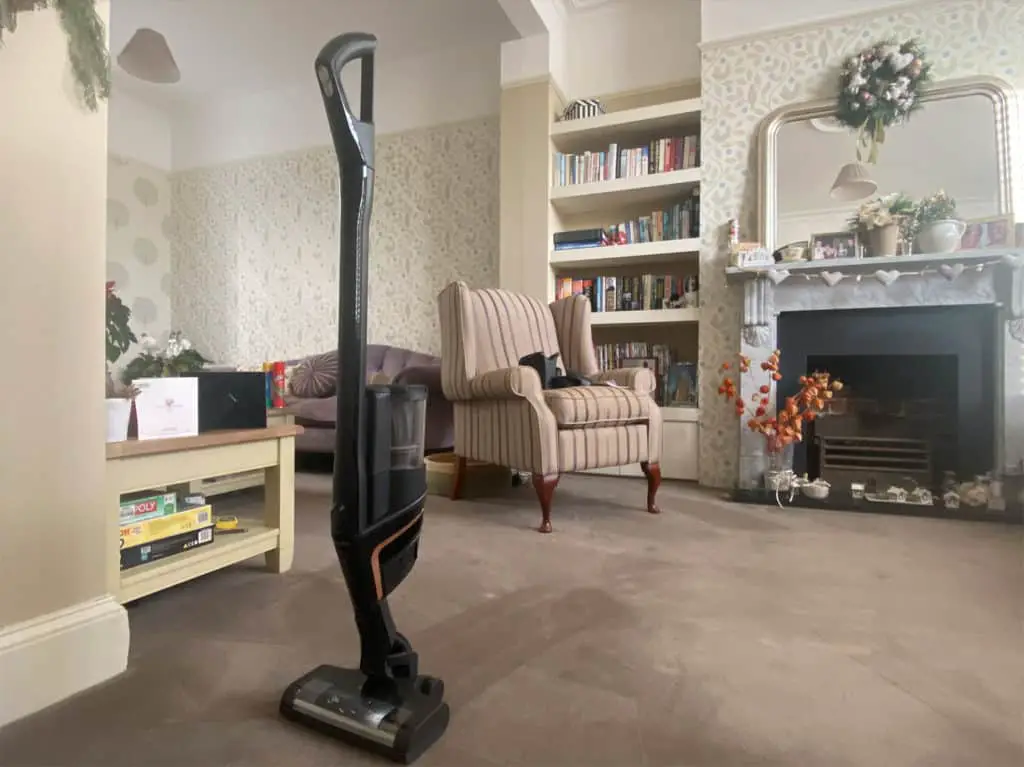 Meet Miele Triflex, my new cordless vacuum. It's the most versatile model on the market, thanks to the 3-in-1 design. It came with a spare battery and I enjoy the cordless experience. But how does it measure up to rivals such as my old Dyson? I'm yet to find out.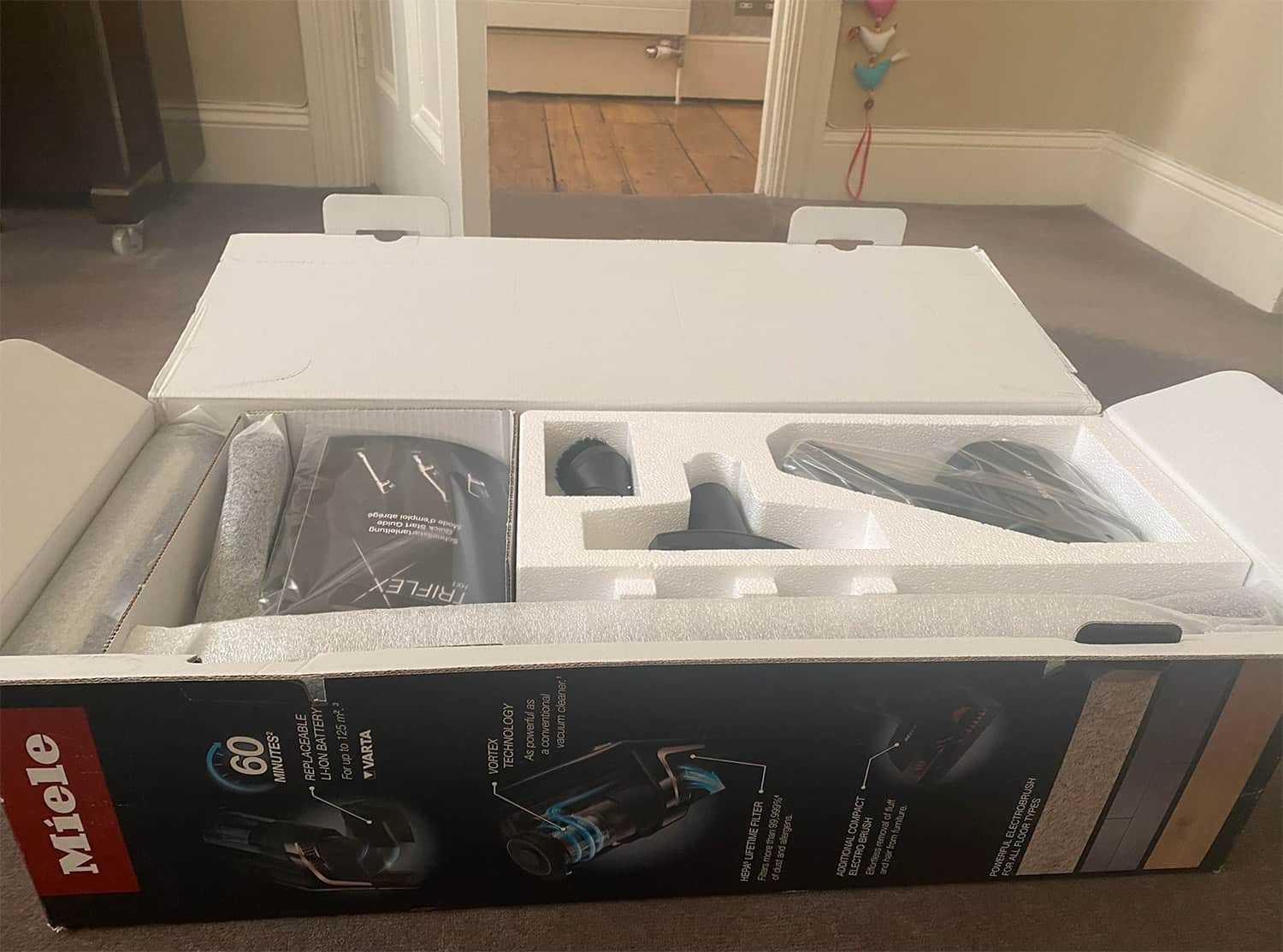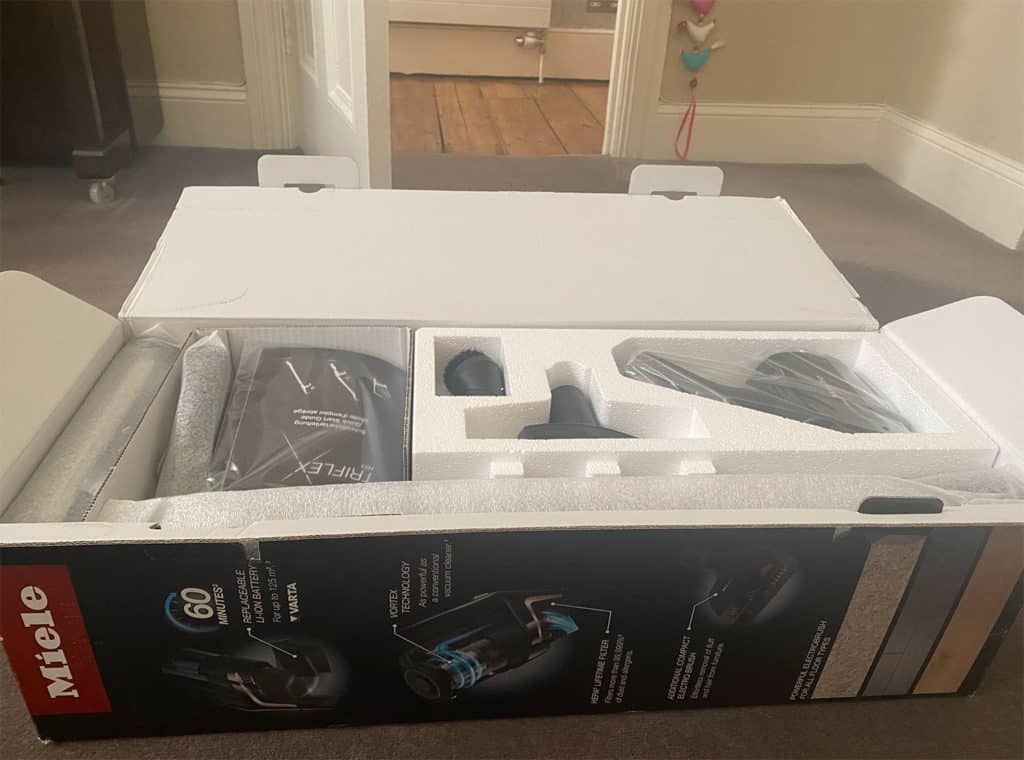 The day this workhorse entered my home, I was super excited. I felt like a child who just received their long-awaited toy for Christmas. So far, I like how this unit performs.
It lacks some features such as auto cleaning mode, digital display, and controls. However, taking into account the compactness and convenience, it's worth the extra cost.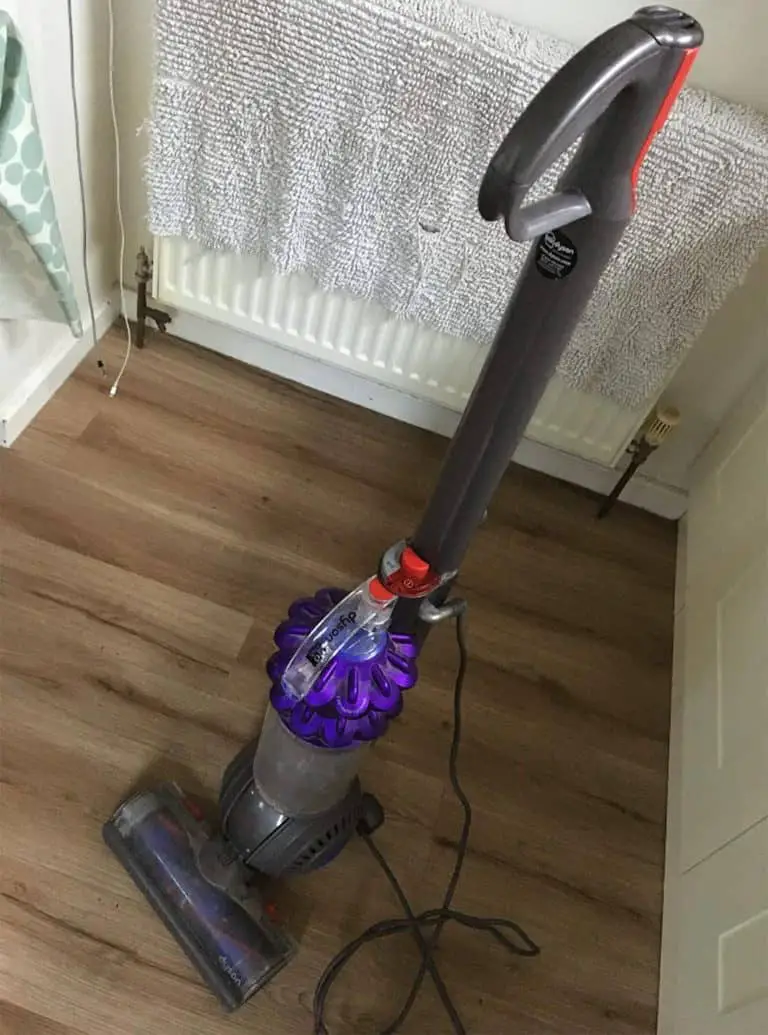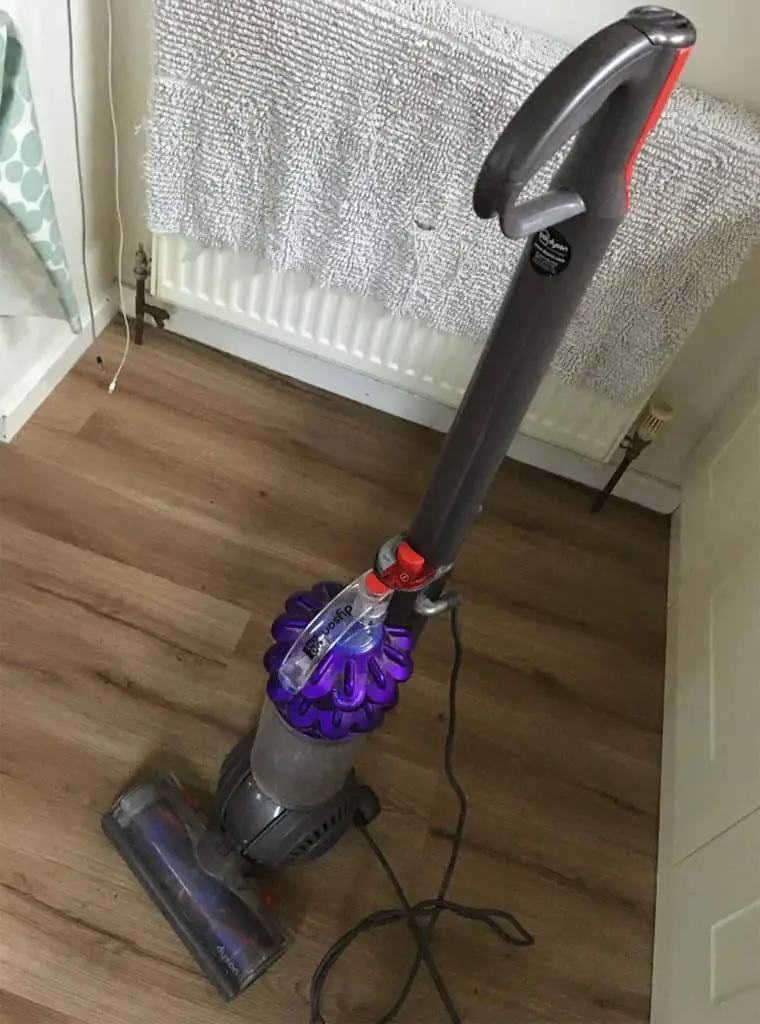 The Dyson Cinetic Big Ball Animal Upright was one of my first and favorite vacuums. It's a user friendly, multi-floor vacuum. However, I decided to switch to Miele and compare the two. I still miss my old but gold Dyson but I have to admit that I also enjoy my new cordless Miele.
Expert Opinion: After over a decade long career in retail, I've learned a lot about people – what they think they need, what they truly need, and how to bridge the difference between the two. And that's easily one of the most valuable skills to have when you want to help others shop smart!
Jeannie Dawson
A mom of two, and a lifestyle expert, Jeannie is always on the lookout for new and creative cleaning strategies to simplify family living, as well as products that could make the mundane tasks around the home much easier to handle.
All she wants in life is to have a clean and organized home to get back to after spending as much time as possible outside, with her growing family – and she's here to help you establish that balance, too!
Expert Opinion: Cleaning can be a lot more enjoyable if the tools and appliances you use in the process are not only effective but easy on the eyes, too. There's no shame in wanting a vacuum cleaner that shines in both areas – performance and looks!
Why Trust Home Cleaning For You?
The short answer would be:
Because we've gathered a lot of experience over the years, and after joining forces, we've decided to share our knowledge with the world.
The long answer would be:
We Speak From Personal Experience
We're firm believers in the "practice what you preach" approach. That's why you won't ever find us blabbing about something without testing it ourselves, or doing extensive research, first. We're confident in the info we share because we're speaking from our personal experience.
We Keep It Simple
We believe that simple is indeed better, which is why we always try to present the info at hand clearly and concisely, free of unnecessary paragraphs, distractions, and fillers. You'll never see us throw useless info your way. Our website's layout follows the same principle – you'll find that everything's split up into categories for maximum convenience, making it easy for you to find what you need.
We Share Practical Info & Step-By-Step Guides
When you identify a problem and turn to us for advice – whether it's about choosing the best vacuum cleaner for your needs or finding new (and simple) ways to keep your home dirt-free – we're dedicated to providing practical advice and actionable, easy-to-follow tips.
We Keep Our Opinions Unbiased
We don't shy away from pointing out the downsides, and we would never withhold information that might affect your purchase decision because we're worried about making particular products "look bad." And in the spirit of keeping things unbiased, if we find something wrong with a specific product, you'll be the first to know.
Home Cleaning For You: Our Mission & Goals
Our ultimate goal is to help others keep their homes clean, organized, and dirt-free, without spending all of their free time cleaning.
That brings us to the next question – and a crucial one, for that matter:
Who is this website for, anyway?
Home Cleaning For You is dedicated to all the people out there looking to:
Improve the appearance of their home
Find more straightforward ways to ensure a clean and safe household
Learn new organization and cleaning skills
Find new ways to be more productive when it comes to cleaning
Live an overall healthier and happier lifestyle
And yes, we can help you achieve all those goals!
How?
By regularly sharing only the most practical tips and advice, and reviewing products that will make home maintenance a breeze!
Here are some of the points you'll find covered on our website:
Guides on how to find the best vacuum cleaner for your needs
Detailed comparisons and reviews of the market's leading products
Addressing everyday home cleaning and maintenance issues
Tips and tricks for keeping your living space in top shape
So, if you ever found yourself wondering about any of the things listed below, you came to the right place:
How often should I vacuum my home?
What are the best vacuum cleaners for allergy sufferers?
Should I choose a vacuum cleaner with or without a dust bag?
What is the best vacuum cleaner for pet hair?
Does a more powerful motor mean more suction power?
The idea behind Home Cleaning For You is to make it easier for you to keep your household in top shape by providing expert advice, actionable tips, and all the tools you might need along the way.
Mission #1: Helping You Make An Informed Purchase Decision
Our primary mission has always been helping our readers find the best vacuum cleaners, as well as other home cleaning tools, through detailed buying guides and honest reviews. That's why a considerable portion of our website is dedicated to unbiased vacuum cleaner reviews, put together with careful research, comparative analysis, and our first-hand experiences with these products.
Mission #2: Sharing Reliable Information
We want you to trust the information you find here at Home Cleaning For You, which is why we made it our personal goal to always do thorough research before sharing anything with you. We want this to be a reliable source of information regarding all things cleaning-related, wrapped up in engaging content – and we hope we're living up to the high standard we set for ourselves.
Mission #3: Making Your Life Easier With Actionable Tips
We started Home Cleaning For You in hopes of making your life easier by sharing home organization tips and advice – proven solutions that worked wonders for us, and may work for you, too. You'll find nothing but the most straightforward, most effective, budget-friendly solutions for keeping your home in top shape here, along with vital tips for adapting them to your unique situation, so that they'll work no matter how busy you are, or how big your home is. We don't believe in the one-size-fits-all approach, so we don't preach it, either.
How To Get The Best Of Home Cleaning For You
We do our best to make every piece of information provided here on Home Cleaning For You easy to track down with nothing more than a quick search, but if you're still having some trouble navigating around the website, let us get you up to speed.
Here's how things work around here:
Our most popular content will be laid out on the Home page for your convenience, and you can always track down our newest articles in the blog section. If you're looking for something specific, though, be it vacuum cleaners, cleaning products, or flooring, you'll find it in one of the dedicated sections of our website. A quick search will help you find what you need, too!
Here's a quick sum up of the categories you'll come across while browsing through Home Cleaning For You to get you started – but feel free to look around on your own, too:
Vacuum cleaners, where we put together round-ups of the best vacuum cleaners on the market, and share our first-hand experiences with them, along with valuable info on how to pick the best products for your specific needs, neatly wrapped in the form of our buying guides. If you're searching for the best of the best, this is where you'll find them!
Cleaning products, where we focus on providing quick solutions and expert tips on how to keep your home well organized, clean, and grime-free, and answer some of the most common cleaning-related questions. If you're not that interested in the reviews and want to focus on cleaning tips and tricks, check our blog section. It's loaded with useful expert advice on cleaning and other interesting topics!
Flooring, where we put multiple of the market's leading floor-related products head to head, and see how they compare to one another in all the key areas, including performance, user-friendly features, and price. You'll find some exciting Brand vs. Brand show-downs in this section, too. If you're having a bit of a hard time deciding between products, you'll find your answers here!
Oh, and don't skip signing up for our newsletter! You'll have our newest content, trending posts, cleaning guides, and top product reviews delivered straight to your inbox – so you'll never have to worry about missing out on a vital piece of info again!
Want To Get In Touch?
We're excited to hear from you! Whether you have any questions and comments, or just dropping by to say "Hi," you're more than welcome to do so – we're dedicated to helping every single one of you with keeping your home in top shape! Get in touch with us via email at [email protected], leave a comment on any of the posts, or drop us a line through our Contact Page.
Address: 4738 Scott Street, New York, NY 10013
Phone: 845-519-2154
We'll try our best to get back to you as soon as possible!