During some seasons, many people struggle with how to remove mold from basement walls. The solution might be easier than you think.
Basements usually don't have enough sunlight and have high humidity. Dark, moist spaces are ideal for mold development. You should know how to get rid of mold in basements, too, since cleaning basement walls is not enough to return your free-of-mold space and save your time for cleanups.
You don't need to be an expert to identify the mold problem in the basement, and you can see it with naked eyes. Mold isn't only an aesthetic problem. It can cause harm to your health and aggravate allergies and respiratory infections.
Mold spreads quickly, and it won't be long until it completely covers the large portion of the wall with it.
Luckily, you don't have to be an expert to solve the mold problem.
I will share the most useful solutions for mold in the basement – homemade cleaners and the process.
Also, keep reading to find out how to stop mold from coming back.
Before we hop on the techniques, let's differentiate the mold from another common issue in basements.
What is Mold and Why do you Have it in Your Basement?
Mold is everywhere around you, both indoors and outdoors. It is basically a fungus and can be white, green, orange, purple, and black. The fungus needs moisture to grow and a surface to spread on. Mold forms lightweight spores for reproduction that are continuously present in the air and aren't harmful in small amounts.
When it has ideal growing conditions, mold reproduces extremely fast.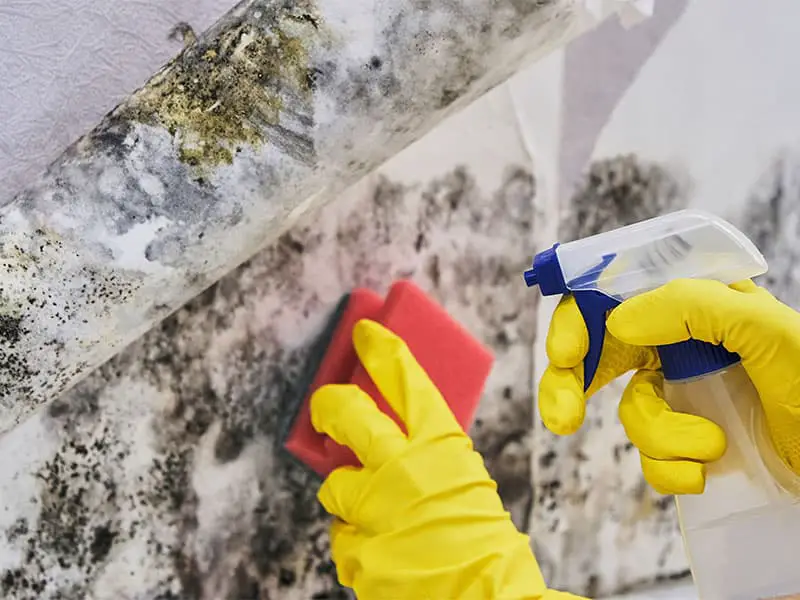 Drying a poor-ventilated basement is difficult, and mold can appear. In simple words, mold spores float in the air and need moisture to reproduce.
There are numerous reasons why your basement is wet, even if you don't have water damage or a leaking problem. The foundation walls might be wet because the water might penetrate the porous concrete walls.
Some people keep the dryer in the basement, which releases the humidity, or the air around the basement is humid, and it has access to the basement.
Whatever the reasons for mold are, you can control it and remove it, but it can be a daunting task. Making mold cleaning part of your regular household cleaning routine can help you sustain it.
How to Recognize Mold in Your Basement?
The first sign that you have mold in your basement is the unpleasant musty, almost earthy smell in your basement. It is similar to the wet wood smell. Once you notice the smell, look around places where mold appears.
Mold develops around pipes and vents, in the ceiling, around the dryer, and as it starts growing, it can overtake the wall. Mold will generally make the area look dirty and speckle sections with black dots or spread in irregular shapes. It can start in dark corners and work its way around to the wall and ceiling.
Mold VS Efflorescence
If you have never dealt with mold before, you might confuse it with efflorescence, as the two look quite similar.
Efflorescence happens on concrete when moisture goes through the material and absorbs the minerals from the water. Then water evaporates, and the minerals stay on the surfaces, which looks like a white growth.
If you aren't sure which one is in your basement, you can find out easily.
Sprinkle the growth with water, and if it disappears, it means that the minerals dissolved in the water and you have efflorescence.
If the growth stays on the surface, keep reading to find out how to get rid of it.
Mold VS Mildew
Mildew is also a fungus, similar to mold. It appears in warm and damp areas and is usually grey, whitish, and sometimes yellow. Mildew is easy to clean with a detergent and a scrubbing brush, while mold requires more effort.
Health Risk of Basement Mold
Mold can cause health issues, especially to children, the elderly, and people with the compromised immune system. The most common health problems caused by mold are respiratory issues, including coughing, wheezing and sore throat.
Further, prolonged mold exposure can lead to headaches, nausea, eye irritation, skin rash, and in severe cases heart, and neurological problems.
How to Remove Mold From Basement Walls?
There are several ways you can remove the mold from basement walls. The success depends on the size of the affected area and the surface.
If you have small mold spots on the wall, you can try tea tree oil, but for severe cases, you might need something more powerful.
What do You Need to Remove the Mold from Basement Walls?
Here is a list of things to prepare when you are ready to tackle the mold problem in your basement:
Protective gear – gloves, goggles, respiratory mask
Spray bottle
Sponge
Scrubbing brush
Bucket with water
Cleaning solution
The following ingredients are effective against mold:
Hydrogen peroxide
Vinegar
Tea tree oil
Bleach
Borax
Baking soda
First Steps
First of all, you need to ventilate the area and remove excess water if there is any. Use a dry/wet vacuum to remove water and prepare the area.
I recommend turning the HVAC system off while you work to prevent spreading live mold spores throughout the house.
Put on your protective gear to prevent severe mold exposure, and don't forget to wear a respiratory mask as you'll work closely with the spores.
Cleaning the Mold from Basement Walls with Bleach
Bleach is a common ingredient in many mold and mildew cleaners. But, it can only be effective against surface mold, and cannot penetrate the concrete to remove severe cases of deep mold.
But, you can try to remove the surface mold from the wall.
Mix water and bleach in a 3:1 ratio in a spray bottle or large bucket, depending on the area you want to clean.
If you have a larger area to clean, soak the sponge in the solution and apply it over the wall. Bleach will kill the spores, but you need to physically remove them from the wall.
The only way to do it is to scrub the wall until you're satisfied with the results.
You can pour the mixture into a spray bottle and spritz it over the infected area.
Leave the bleach and water mixture to sit for several minutes before you start scrubbing.
Cleaning the Mold with Hydrogen Peroxide
A 3% hydrogen peroxide is a versatile cleaning solution for households. It can kill mold and mildews, too.
Pour hydrogen peroxide into a spray bottle and spritz it over moldy spots. Let it sit for ten minutes and scrub the area to remove dead mold spores. However, if the mold problem is severe, you can repeat the process several times until you are completely satisfied with the results.
Cleaning the Mold with Borax
Borax is also effective against mold. Here is how you can prepare a borax spray to remove the mold from your basement. It works exceptionally well with cinder blocks.
Mix one cup of borax with a gallon of hot water. Pour it into the spray bottle and apply it to the surface. Use the sponge to remove the mold from the wall.
However, borax might kill mold spores and help you remove them, but some stains might be left on the wall.
While mold stains aren't a health hazard, they can look unpleasant.
You can apply a layer of paint to hide them or try concrete cleaners.
Cleaning the Mold with Vinegar
Vinegar might be the most environmentally friendly solution for mold, but you might need a detergent to remove the stains. It will also quickly remove the moldy smell from the basement.
Soak the sponge into undiluted vinegar and soak the wall parts with mold. Let the vinegar sit on the wall for half an hour.
Use the scrubbing brush to remove the mold leftovers and a detergent to clean the stains.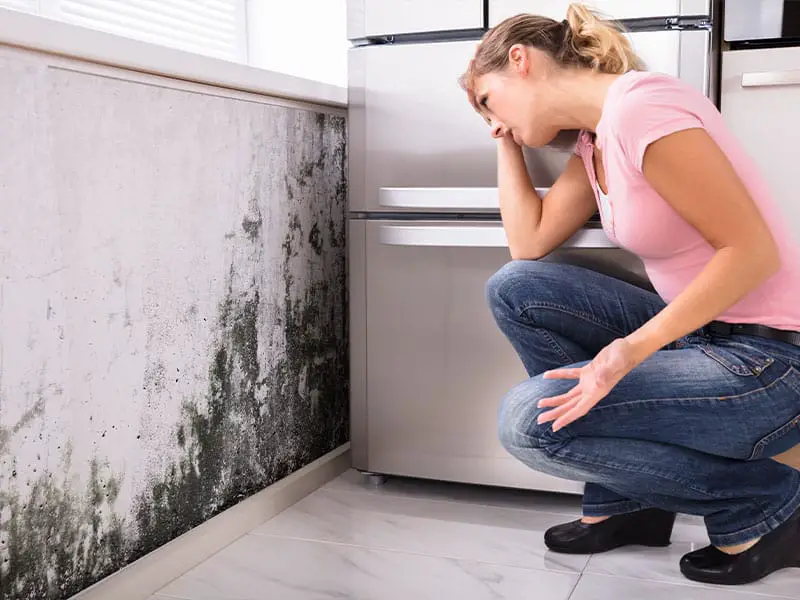 Cleaning the Mold with Baking Soda
Baking soda is a universal household cleaning product. It works best against mold in the form of a paste. Mix enough baking soda and water until you reach the appropriate paste consistency.
Then apply the paste over the moldy spots and leave it overnight. Tomorrow, scrub mold areas and repeat the process if needed.
Similar to the vinegar method, you might need to use detergent to clean the stains.
Tea Tree Oil Method for Cleaning the Mold
Tea tree oil is a powerful disinfectant and fungicide. It is a common part of acne treatment because of its antifungal properties. However, I recommend the tea tree oil method for smaller areas and porous surfaces on the walls, such as plastic light switches, etc.
Mix one tablespoon of tea tree oil on every cup of water, and pour it into the spray bottle. Spritz the mixture over mold and wait for a couple of minutes. Use the sponge to wipe the area clean and repeat the process.
Tea tree oil is an excellent method for removing mold from other smaller areas in the house, such as shower curtains.
However, it might not be powerful enough or budget-friendly to remove mold from large walls. Use this technique if you have just noticed mold appearing on your basement walls to prevent it from spreading over large surfaces.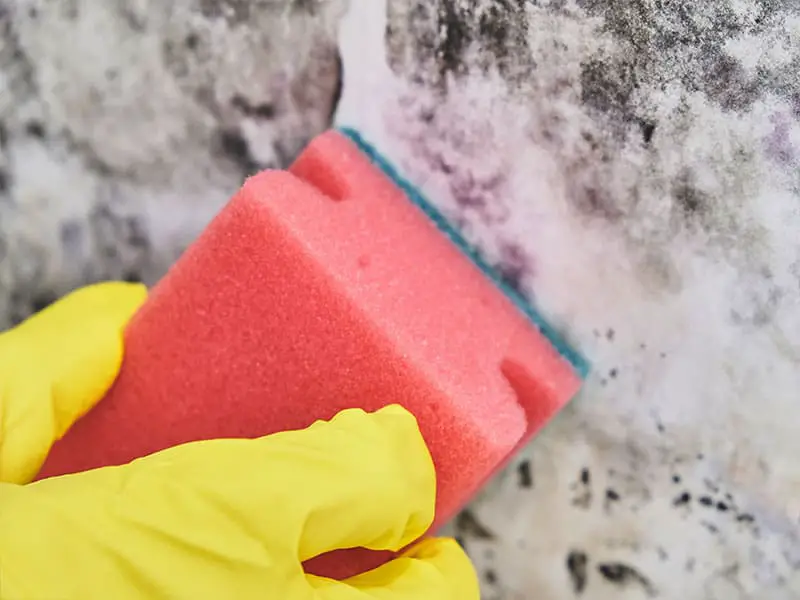 How to Remove Mold From Painted Walls?
Even though bleach is effective against mold on the walls, you should stay away if the walls in your basement are painted. The bleach will cause the paint to fade.
Instead, you can use borax and vinegar methods as safe methods for cleaning mold from painted walls. But, you might need to repeat the process several times to remove mold spores completely.
Also, make sure to use a brush with soft nylon bristles or a sponge instead of a metal one to avoid scratching the surface. Additionally, brush with metal bristles can rust and stain your walls.
When is the Time to Call for Help?
While removing mold at home is possible, I strongly advise you to call professionals for help if you have asthma or any respiratory issues. Additionally, if the mold covers huge areas in your basement and you have children or people with weak immune systems in your home, professional help might be more effective and less risky.
However, if you promptly react to mold development in your basement, you can remove it completely from the walls by yourself, using one of the recipes described above.
How to Prevent the Mold from Growing in Your Basement?
Humidity is the reason number one for mold growth. To deal with it, you should do a couple of steps to keep it under control and on a safe level to prevent mold development.
How to Measure Humidity?
A hygrometer is a tool people use to identify the levels of humidity in rooms. There are different models on the market, and most of them are quite affordable and available in stores and online.
Condensation is a visual sign that the humidity in your basement is high, but a hygrometer is the only way to get precise measurements.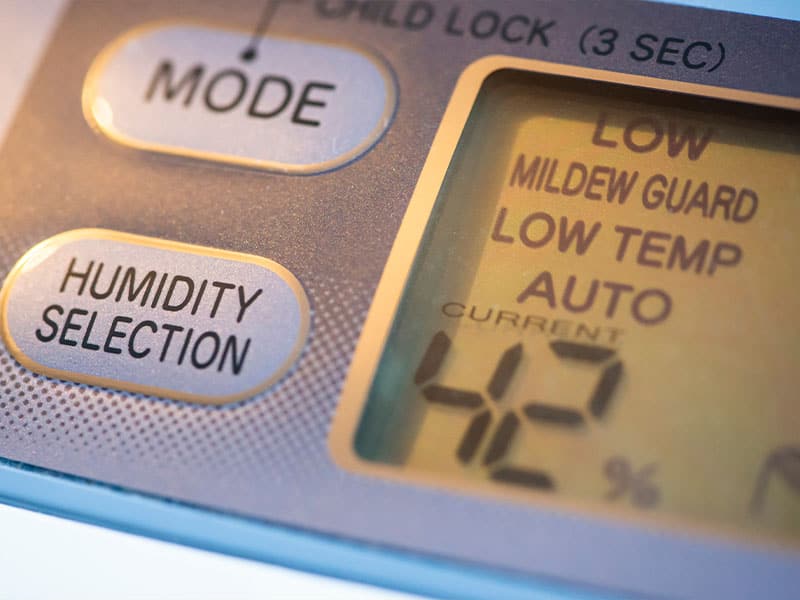 What is Optimal Humidity for a Basement?
Humidity in the basement shouldn't be different from what you consider comfortable for your rooms. The optimal humidity for the basement is between 40% and 60%.
During different seasons humidity varies, and you should measure it several times to get the average values.
How to Control Humidity in the Basement?
There are several ways to decrease the humidity level in your basement and maintain an optimal level. Here are some ways:
Dehumidifiers
Dehumidifiers are household appliances designed to lower humidity. They can work exceptionally well if you choose the model that is suitable for the size of your basement. It can lower the humidity from 90% to 50% in several days.
You can choose between different types, from large industrial dehumidifiers that require a draining system, to small and portable models with removable water tanks.
Installing a Ventilation System
The ventilation system will improve the airflow in the basement, which can reduce humidity. You can connect the basement to your HVAC system, or buy an A/C unit for the area. If your basement is small, you might get good results with fans, too.
Insulation
Insulation is useful for people who live in hot and humid climates because it prevents warm air and water vapor from penetrating your basement through cracks. You can also consider insulating pipes, as cold pipes condensate in summer, which leads to high humidity. It will also protect hot water pipes from freezing during cold temperatures.
Control the Leaks
Lastly, if you suspect that the humidity is causing mold in your basement, inspect it for leaks. If you find puddles or small leakage issues, deal with the problem immediately and dry the area as soon as possible.
If the walls stay wet, mold will grow again.
Mold is Annoying but Treatable
Having mold in your basement is one of the most common issues homeowners face everywhere. Dealing with it is demanding and time-consuming. Luckily, once you remove it entirely from the wall, it can take a while until it appears again, even if you don't control the humidity in your basement.
For example, if you used borax or vinegar, it will stay in the wall for a while and prevent new regrowth.
However, it isn't a permanent solution.
The only solution for mold in the basement is controlling the humidity and consistent inspection for leaks and damage control as soon as they happen.
Did you find the article useful? If you answered yes, don't forget to like and share it!
Also, share your experience with mold in the comments.