How To Clean And Sanitize A Used Couch: A Step-by-Step Guide
Learning how to clean and sanitize a used couch seems to be a quite challenging skill but worth your time, especially for those who crave thrift shop. These used couches not only suit your uniqueness, but they are also valuable for the money. However, bringing home a comfy, eye-pleasing one doesn't mean that you can feel 100% happy with it unless you find a way to clean it first.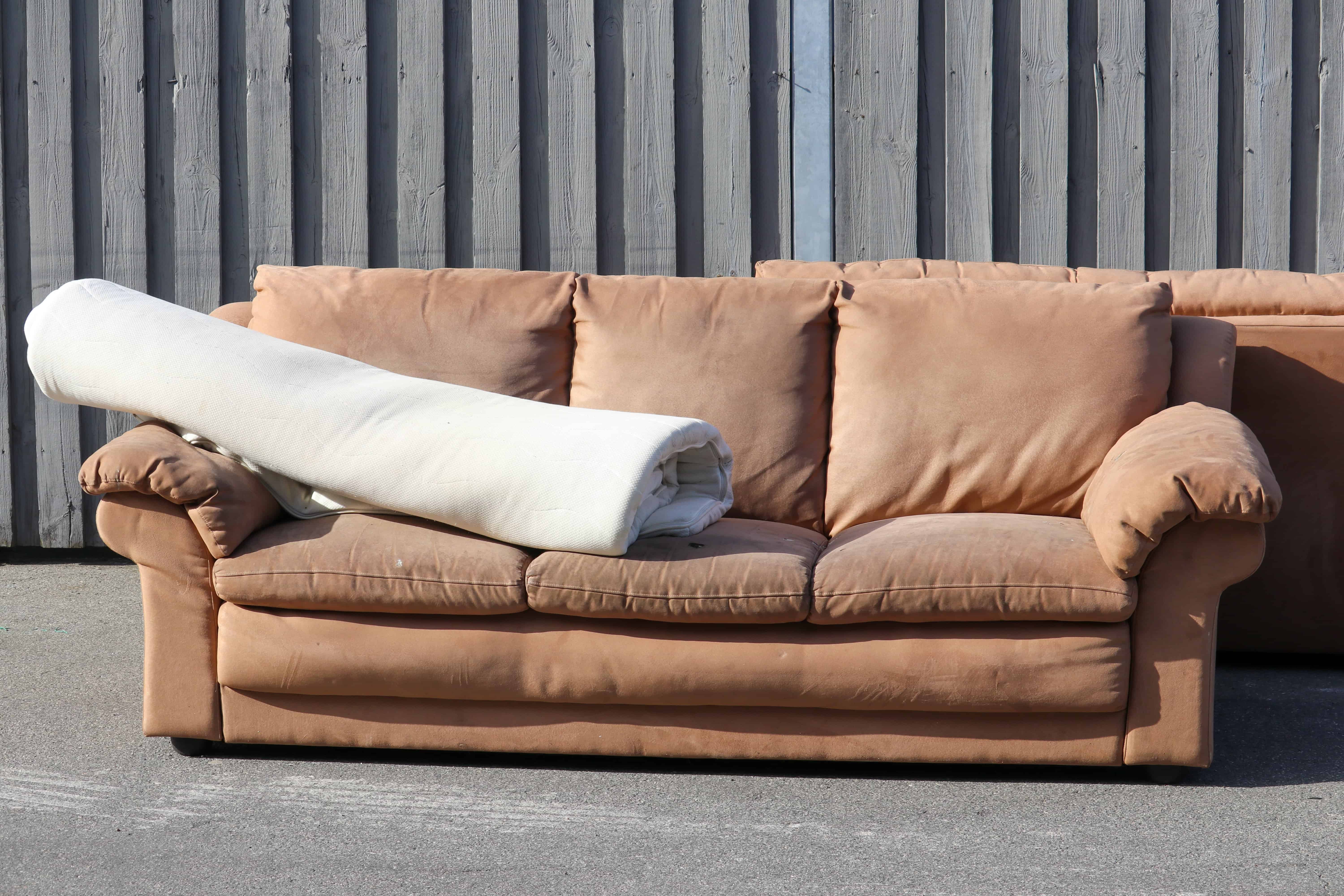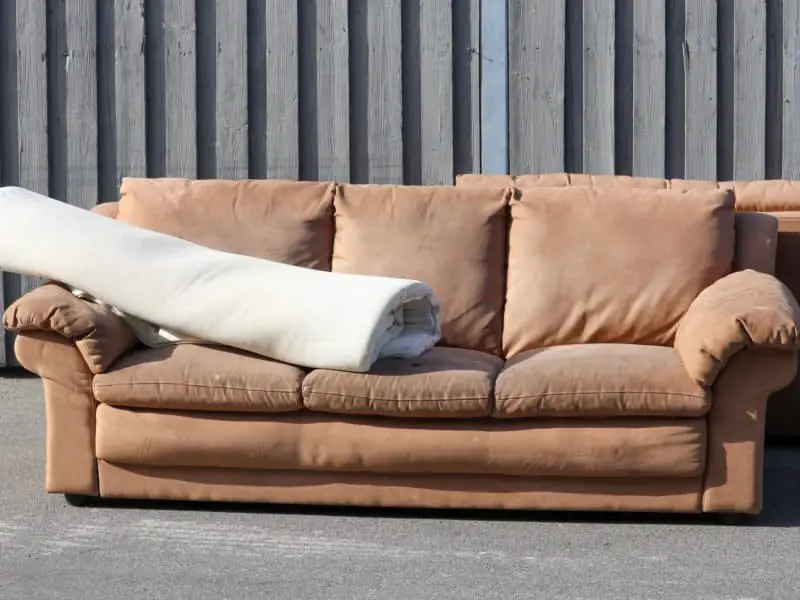 Besides being a decorative item, a couch seems to be the most important and well-used piece of furniture. You, your kids, even your pets love to relax on it. As a result, this thing tends to collect not only memories but also germs, stains, and pet hair. Therefore, cleaning a used couch seems to be a challenging task.
Luckily, you now can take a load off your mind just by following my easy, step-by-step guide, which will target different types of the couch so that you don't risk damaging your precious item in the first place.
Types Of Couches (categorized by materials)
When it comes to cleaning and sanitize a used couch, the material stands out as a crucial factor. As such, I would like to categorize types of couch based on how they are made from.
Fabric Couch
Fabric couches often come with softer, warmer material. They appear breathable and suitable for any time of the year. On top of that, they are available in various patterns, textures, and colors.
However, of all the types of couches I mentioned today, this is the one that easily stains the most.
Leather Couch
Leather is more stain-and tear-resistant than some types of upholstery materials. Although they are costly, I couldn't agree more that leather couches look trendy and complement your modern living rooms. Moreover, it's quite easy to clean.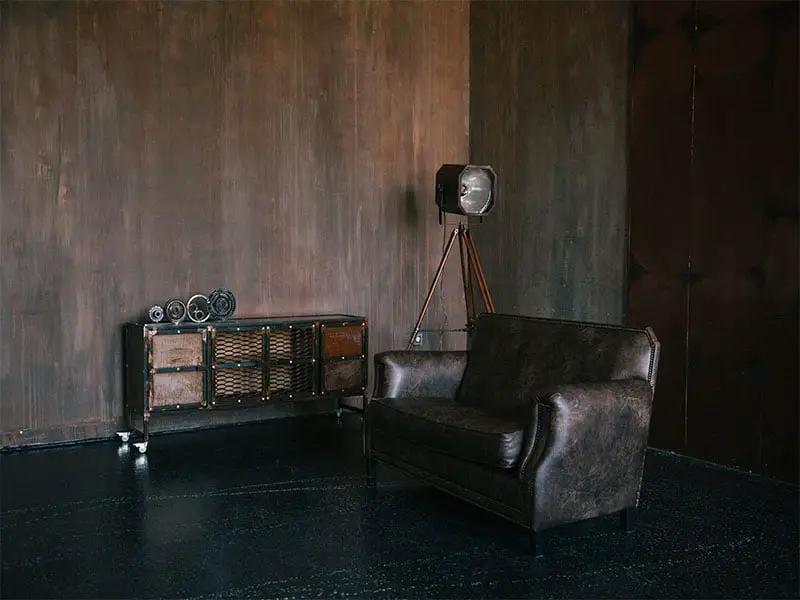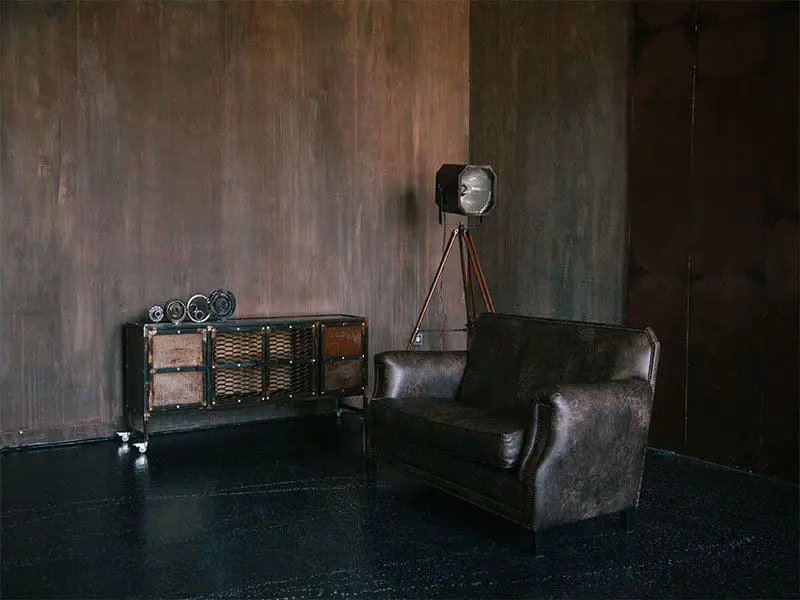 Microfiber Suede Couch (Synthetic)
Microfiber suede (Microsuede) is made with synthetic fibers. Those fibers are woven into a piece of fabric tightly. Therefore, they are more hypoallergenic and also good at preventing liquids from penetrating cushion foam. It also comes in lots of colors and patterns.
Polyester Couch
Polyester is often used in making furniture due to its great strength and durability. It's ideal for both indoor and outdoor upholstery items.
Polyester couches can last long and hold up very well throughout time. They tend to be sensitive to heat and burns.
How To Clean A Used Couch
My step-by-step instruction could help you cover all types of couch you might need to handle. Although cleaning is not easy, I'm pretty sure once you start, you can find it more and more enjoyable. Let's begin now
What You'll Need
Equipment / Tools
Vacuum
Vacuum attachments
Dry brush
Washing machine
Materials
Baking soda
Vinegar
Bug spray
Cleaning spray or wipes
Instructions
Step 1: Bring it Outside
Perhaps it would be better if you bring the couch outside for the following reasons:
More spacious and well-ventilated
Sunlight can act as an effective bacteria killer
Avoid dust and debris when cleaning
Prevent mold and pest from entering your house
If the couch doesn't cost much effort to clean, or you can't manage to carry it in the open air, then in that case, you will be okay with it.
But to make sure you don't have to purge the entire living room when the cleaning process is done, it's recommended that you start outside.
Step 2: Beat It
Beat the dust out of cushions before doing anything else. The couch might need a certain amount of elbow grease because this item has accumulated a ton of dust throughout time.
Pro tip:
You can also use the dry brush to sweep away the dirty surface and make it easier for the further step.
Step 3: Bug Spray
It's highly recommended that you go the extra mile treating the couch with bug spray products, especially if the couch seems not to be taken care of for a long time. Believe it or not, your couch could be a breeding place of bugs and pests which are invisible to the naked eye.
After spraying, let it sit outdoors for a day before bringing it home.
Pro tip:
You can choose bug sprays that are pet-friendly so that they won't harm your furry friends
Step 4: Remove the Cushion Covers
If possible, unzip the cushion covers and put them into the washing machine for thorough cleaning.
Pro tip:
Remember to choose the delicate setting mode and avoid using a dryer.
Step 5: Vacuum
Vacuum the entire couch using upholstery cleaner machines with the right brush attachment for optimal results. Try to pass the vacuum back and forth so that you can make sure that it reaches every corner of the couch. Vacuum all sides of the cushion. Go over the back and arms several times.
Pro tip:
Use a bed bug vacuum to super clean all your couch for bugs and other possible microscopic organisms
Pay attention to any stain on the surface so that you can go back to deal with it later
Step 6: Check The Cleaning Code
To make sure that you won't damage a part of the couch surface permanently, you might refer to the tag that comes with the product to know the proper cleaning method.
W: For water-based cleaners
W/S: For water-based and solvent-based cleaners
S: For only solvent-based cleaners
X: No cleaners should be used, only vacuum and brush
Besides some powerful natural cleaning solutions I will mention in the following section, you could consult a list of effective enzyme cleaners.
Step 7: Sanitize
It's time to spray and wipe down the couch for deep cleaning so that you and your family can enjoy spending time on this lovely piece of furniture.
There are a number of choices in terms of spraying solutions as well as cleaning wipes. You might want to take advantage of household ingredients to create a homemade upholstery cleaner, or you might want to buy a reliable one from the local store. Either way is fine as long as the product does a good job of cleaning the couch.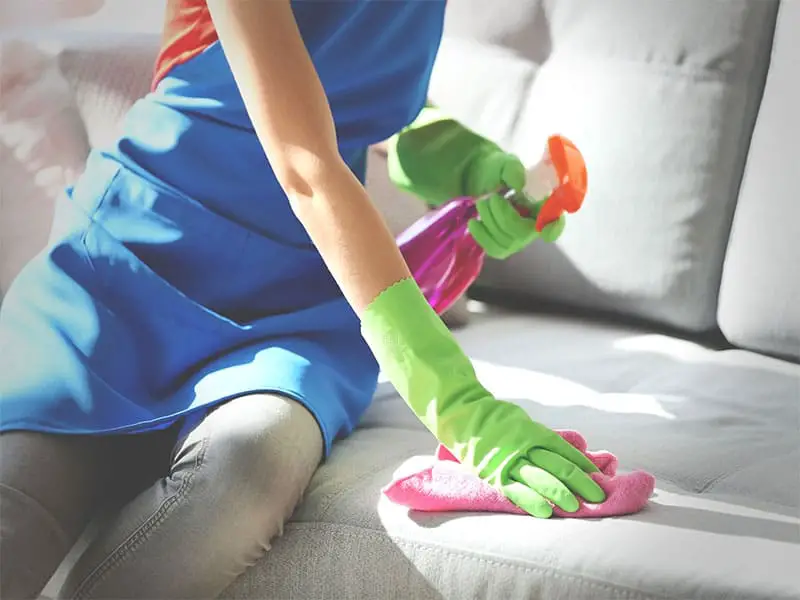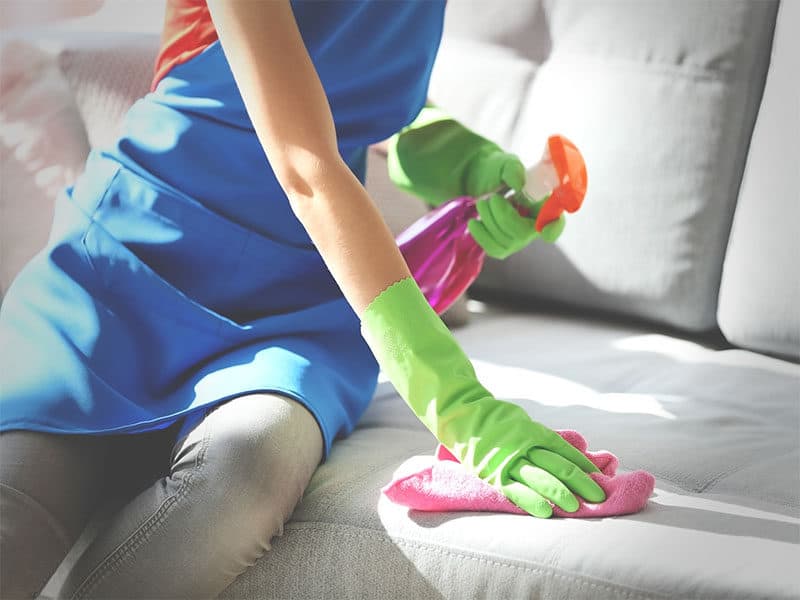 Pro tip:
Follow the mixing instruction and prepare a small batch first, then test on a small area. If everything seems to be fine, go on spraying and wiping.
You should stay away from cleaners with bleach as an ingredient because the bleach will damage the other parts of the couch which are not made from fabric
Step 8: Remove Odors
A smelly couch could be trouble; however, it's easy to solve this problem using a simple ingredient in your kitchen: baking soda.
Spread the baking soda powder on your item evenly and wait for a few hours before vacuuming it up.
Pro tip:
If the unpleasant odor is still lingering around the couch, mix vinegar and water, then spray on it and let it dry.
Let's watch a quick step-by-step instruction on how to clean and remove odor from a couch
How To Sanitize A Fabric Couch
There are many cleaning methods and tips dedicated to this popular type of couch. I would like to introduce a simple way of using only kitchen ingredients to sanitize a fabric couch. Following my guide below and you can achieve an expected result soon.
What You Need:
Water
White vinegar
Spray bottle
Fan
Instruction
Step 1: Mix a cup of water with a cup of white vinegar and shake vigorously.
Step 2: Spray all over the couch.
Step 3: Allow the couch to get dry.
Step 4: Turn on the fan to make the drying process faster.
How To Disinfect A Leather Couch
Among all types of the couch, a leather couch appears easier to clean. However, improper purification could lead to permanent damage to the leather surface, which is quite sensitive to chemicals. For this reason, I suggest a disinfecting recipe for you to consult today.
What You Need
Water
Vinegar
Bucket
Absorbent cloth
Instruction
Step 1: Create the mixture of vinegar and water.
Step 2: Pour it into the bucket.
Step 3: Soak the cloth into the cleaning solution.
Step 4: Squeeze the cloth to remove the water.
Step 5: Use it to wipe the couch carefully.
Step 6: Repeat until the surface is clean.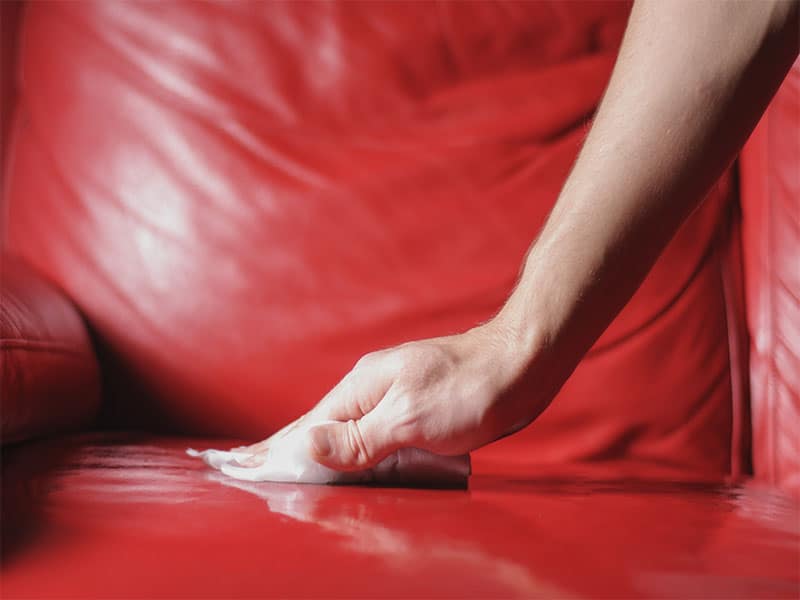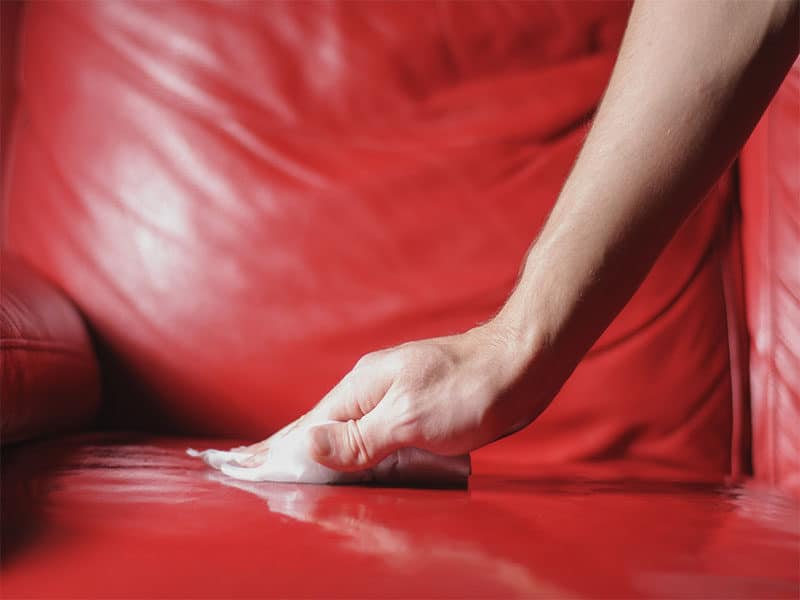 How To Disinfect A Microfiber Couch
Rubbing alcohol is proved to be effective when it comes to sanitizing microfiber couch. Let's find out how to make cleaning mixture with this popular ingredient.
What You Need
Water
Baking soda
Dish soap
Rubbing alcohol
Spray bottle
Sponge
Soft scrub brush
Instruction
Step 1: Make a cleaning solution.
Step 2: According to the product's cleaning code, you can use an appropriate approach to get the expected outcome.
For W-code, blend water with some drops of dish soap and baking soda
For S- or SW-code, use rubbing alcohol or vodka
Step 3: Spray on the surface of the couch.
Step 4: Gently wipe with a sponge for deeper cleaning.
Step 5: After the couch gets dry, brush it with a soft scrubber to restore the softness.
How To Sanitize A Polyester Couch
Try this easy-to-follow guide to freshen a polyester couch fast and effectively right at your home
What You Need
Warm water
White vinegar
Mild laundry detergent
Spray bottle
Cleaning rag
Soft brush
Instruction
Step 1: Combine water, vinegar, and mild laundry detergent.
Step 2:Pour into the spray bottle and shake well.
Step 3: Apply on the couch and making sure that you don't let the solution penetrate the padding.
Step 4: Wipe all over the couch with a cleaning rag.
Pro tip:
Use shampoo and a soft brush to attack stubborn stains
Removing Stains From A Couch
If stains happen, it would be helpful if you tackle them as soon as possible. The longer the stain is, the more difficult you can remove it from your couch.
Rust: Dampen a clean cloth in white vinegar, then sprinkle salt on the stain and lay the fabric on top of it for half an hour.
Food stains: Combine water with dish soap and use a sponge or an absorbent cloth to remove stains. If this mixture doesn't work, give enzyme cleaners a try.
Greasy stains: Sprinkle baking soda on the surface and let it sit for 15 minutes so that baking soda can saturate the oil as much as possible. Remove the baking soda with a vacuum, then apply dish soap and gently scrub the stain.
Wine stains: Spray the solution made with vinegar, laundry detergent, and water on the stain.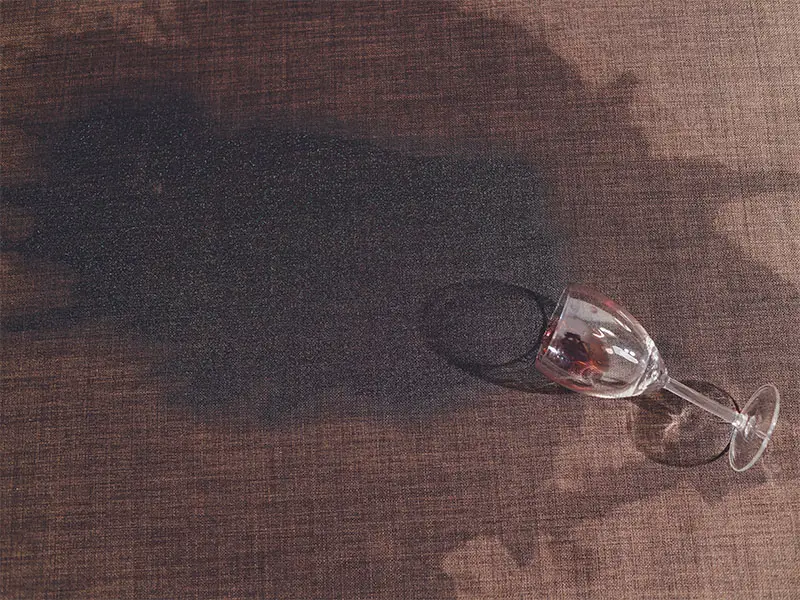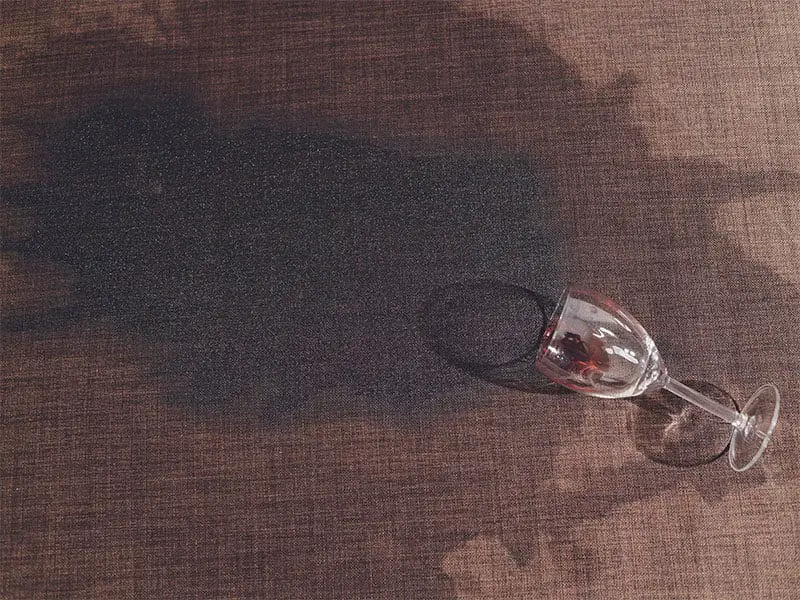 Coffee stains: Immediately after spilling coffee, you should use a kitchen towel to blot the area gently. Then mix lemon juice, dish soap, and water as a cleaning solution.
Ink stains: Use a cotton ball soaked with rubbing alcohol and gently rub on the surface until the mark disappears. For stubborn stains like ink, they might require more patience.
Crayon stains: Remove any excess crayon using a spoon and spray WD40 on the remaining stain.
Pet pee: Mix water with white vinegar and pour on the stain. Blot it with cleaning towels to remove the moisture. To deodorize the couch, apply a generous amount of baking soda on the treated area and dry before vacuuming.
Pro tips:
Never soak the stain with too much cleaning solution because the couch might take a lot of time to get dry and this may cause the stain to become larger.
The key is to make sure the couch get dry completely by using baking soda after the cleaning process. If not, turn on the fan and allow it to dry overnight.
If you find it difficult to handle yourself, contact the professional for better cleaning quality.
The following video will show you several ways to tackle common stains on your couch. You might find some useful tips after watching it.
How To Steam Clean Your Couch
If your couch is just a bit dirty and you tend to give it a quick clean, steam cleaning method might be the best choice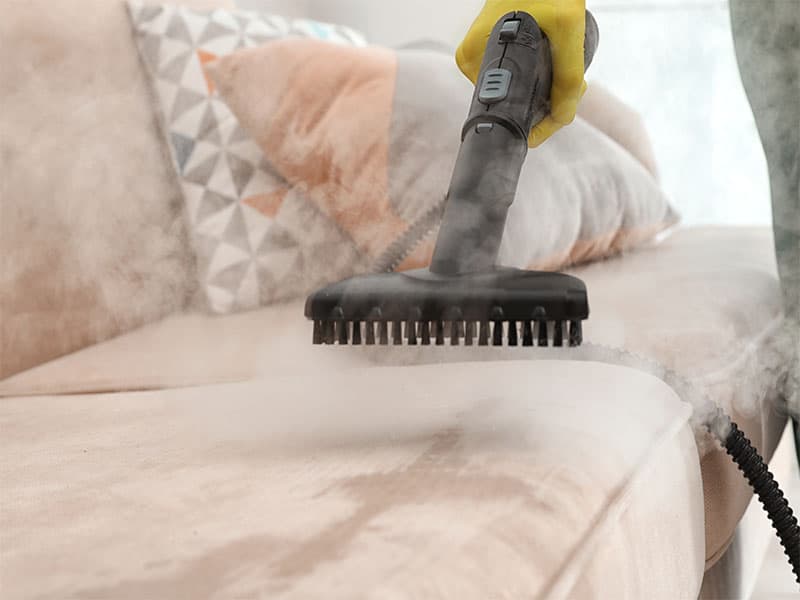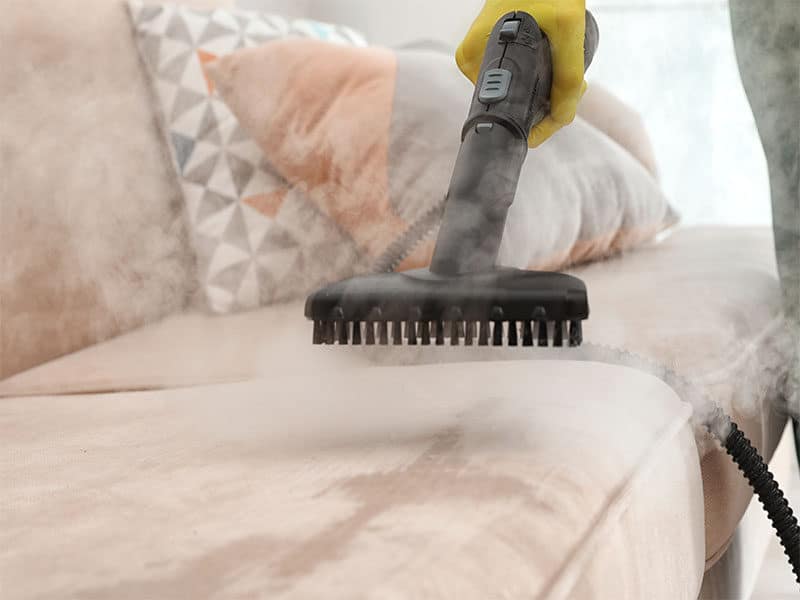 What You'll Need
Instruction
Step 1: Consult the user's manual.
Step 2: Vacuum the couch to remove all dust and debris.
Step 3: Spot test to ensure steam clean does no harm to your item.
Step 4: Let this piece of furniture air dry.
Step 5: Open the windows and point the fan to it to speed the drying process.
Step 6: Vacuum one last time.
Here is a simple way to steam clean your couch so let's watch the video to learn how to do it quick and effectively:
Frequently Asked Questions
This section provides you a quick access to some questions which you might keep in mind when it comes to sanitizing a used couch
Additional Tips To Keep Your Couch Clean Longer
Besides cleaning whenever you notice visible stains, you should attempt to take care of your couch periodically so that you can maintain its cleanliness longer. Cast a quick glance at some of following tips:
Maintain hygiene practices such as vacuum every week, disinfect it regularly, handle spills as soon as possible
Lint roll will do a good job of removing pet hairs from your furniture
For better protection, you could purchase comfy blankets, couch covers, or slipcovers
Condition the leather couch to keep it last longer
Bonus Tips
People who prefer used stuff to new ones because of their uniqueness and eco-friendliness might equip themselves with many cleaning techniques and tips.
In terms of sanitizing a dirty used couch and make it brand new, you could refer to some methods above.
Moreover, for people who are worried about the energy this item could bring to your home, I highly recommend that you burn some sage to ward off negative vibes and cleanse a space one more time before using this lovely furniture.