How To Clean An Area Rug On Hardwood Floor 2024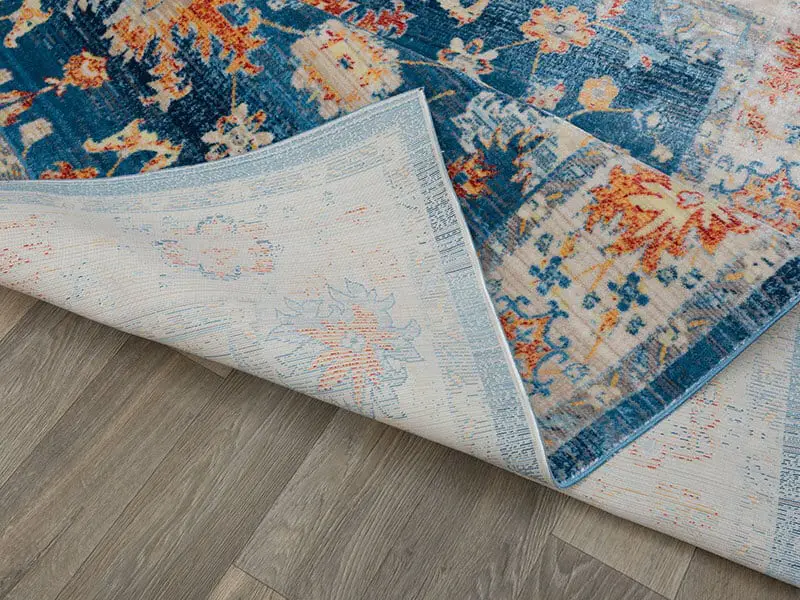 How to clean an area rug on hardwood floor? Is it difficult and time-consuming? The answer is right in this post. But I want to relieve you of the fact that it is not difficult at all, as long as you follow my detailed step-by-step tutorial.
Area rugs are the star of your hardwood floor. It adds more texture to your floor and makes it more beautiful and luxurious. It also helps to protect the floor from scratches and stains. Yet it can also easily get dirty. So you have to clean it frequently. Let's get started!
Your Area Rugs Should Always Be Spotless
Your hardwood floor always needs some area rugs at high-traffic areas to protect and decorate the floor as well as clean and warm up the feet. Area rugs are made with various materials, including wool, fiber, silk, and cotton. All of them must be cleaned often and thoroughly.
A heavily soiled area rug does not only reduce its beauty. It can produce harmful bacteria that can cause health concerns for your children, such as respiratory problems, skin infection, and allergies.
The area rug can also become smelly and may affect the hardwood floor under it. As such, cleaning the area rug routinely and properly is of great importance.
You should deep clean your area rug at least twice per year, depending on how dirty they are. Also, you should do weekly cleaning, particularly if you have a big family and pet. Whenever there are stains on the rugs, they must be removed right away.
For hardwood floor, it is even more important to choose the appropriate methods and equipment since it is one of the most delicate types of flooring and can be easily damaged when interacting with stains or harsh cleaning solutions.
What Kind Of Stains Your Area Rugs May Have?
First of all, let's have a quick look at the most common kinds of stains that can attack your area rugs so later you can choose the suitable equipment and methods to clean them.
Water-Based Stains
These are perhaps the stains that are very frequently seen on your area rugs. These stains include watery products such as soda, juice, tea, wine, and beer. More stubborn stains are ink, mud, and protein-based liquid such as meat juice, blood, and milk.
This kind of stain is relatively quick and easy to remove.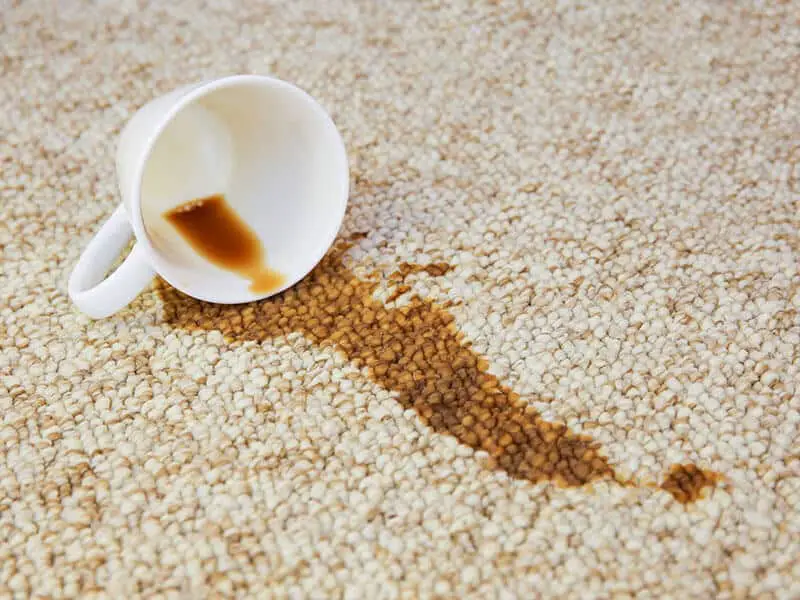 Oil-Based Stains
Compared to water-based stains, oil-based stains require more time and effort to clean. They can be butter, cooking oil, paint, crayon, lipstick, and waxes. These stains are very sticky so sometimes you will need to contact the professional cleaning service for help.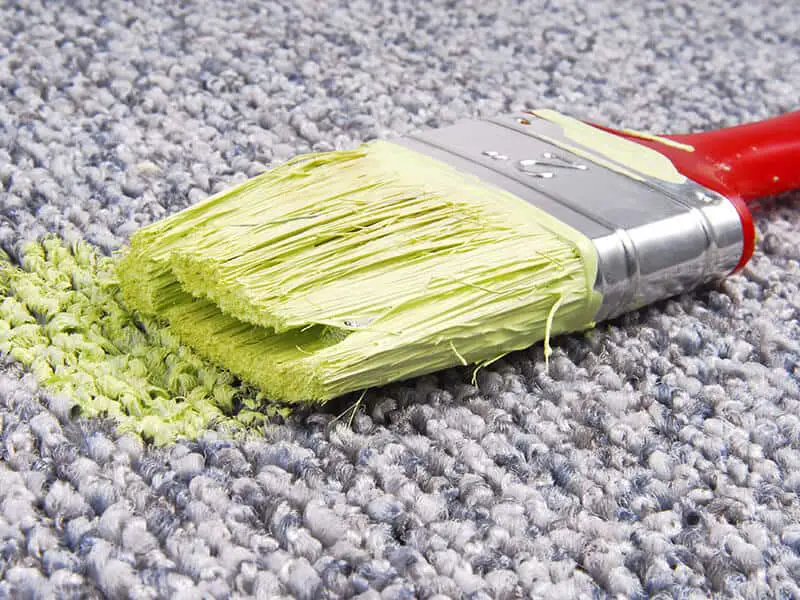 Pet Stains
Your adorable pet will sometimes leave some urine and poop on your beloved area rugs. But it is hard to blame your pet for it. Luckily, this kind of stain is not very difficult to remove. But you have to clean it immediately or else the hardwood food underneath may be damaged.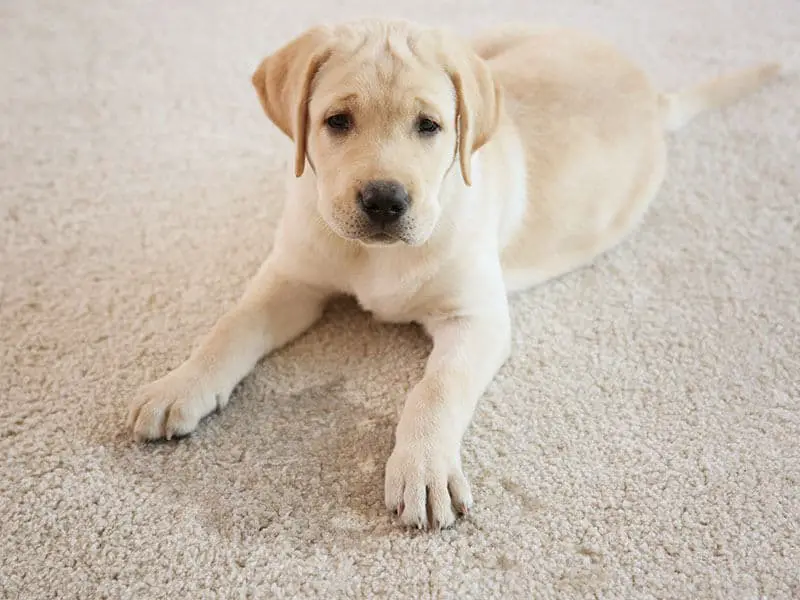 The Quick Method To Clean An Area Rug On Hardwood Floor Daily And Weekly
To do regular cleaning, you just need to vacuum the area rugs to remove all of the dirt and pet hair. You just need some equipment. The procedure is also very easy.
What You Need
Vacuum (use upright vacuum for the best result)
Broom
Rug beater (optional)
Step-By-Step Instruction
Step 1: Flip the area rug upside down. Vacuuming the back of the rug helps to push most dirt and debris to the front side, making it easier to clean.
Step 2: Turn the rug back to the front side and start vacuuming it carefully. Move the vacuum along the strips.
Step 3: Bring the area rug outside and shake it to remove dust. You can use the broom handle or rug beater to beat it so that the hair and dust go away faster. Clean the rug pad as well.
Step 4: Use the broom to clean the fringes of the rug. Do not vacuum it.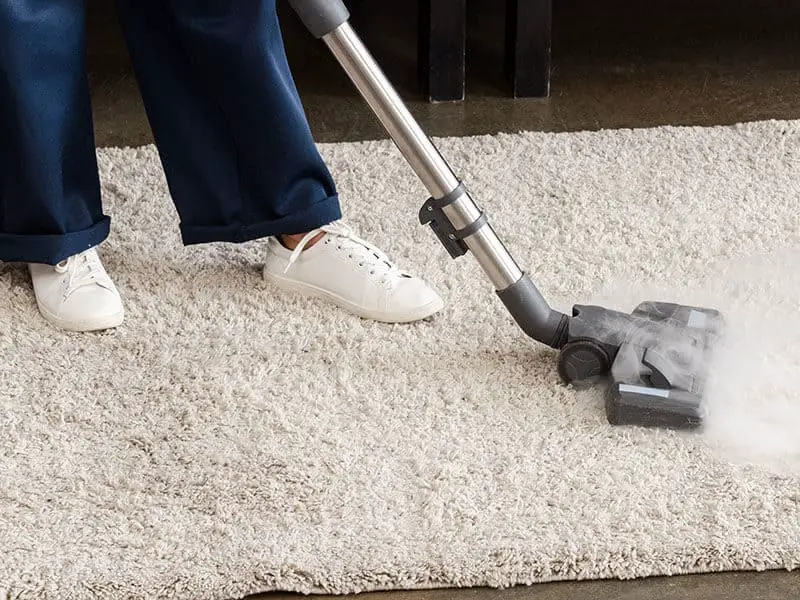 Deep Cleaning Area Rugs On Hardwood Floor Is Very Crucial
Regular cleaning is not enough. To maintain the beauty and durability of your area rugs, you should deep clean them on a quarterly or yearly basis. There are 4 basic and easy steps to clean area rugs that everyone can do. Follow me!
First, Prepare Your Area Rugs For Deep Cleaning
Before cleaning, you should do some preparation before you start cleaning. This will help to protect the hardwood floor underneath.
Step 1: Collect every object on the area rug, including furniture, toys, and large debris.
Step 2: Use the vacuum to clean the area rug. This step aims to flash clean the area rug. The procedure is the same as the previous section on regular cleaning.
Step 3: Remove the area rug and rug pad from the hardwood floor by rolling them up.
Step 4: Vacuum or mop the hardwood floor dry.
Step 5: Place a plastic sheeting on the hardwood floor.
Note: You have to choose the one that is waterproof and is larger in size than your area rug. It will prevent the water and soap from making their way into the hardwood floor.
Step 6: Put the area rug on the plastic sheet.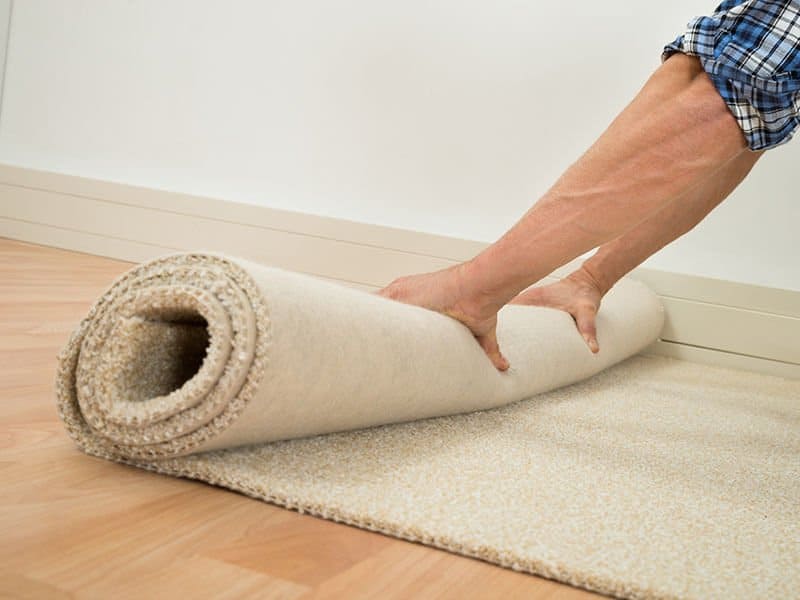 Next, You Need To Remove All Of The Stains
It is important that you eliminate the stains so that the cleaning process is smoother and more effective. Here are 4 ways that you can remove them, depending on the type of stain you have on your area rug.
Once you choose the appropriate method for the stain, test the solution on a small area of the area rug to see whether it causes any discoloration or damage to your area rug.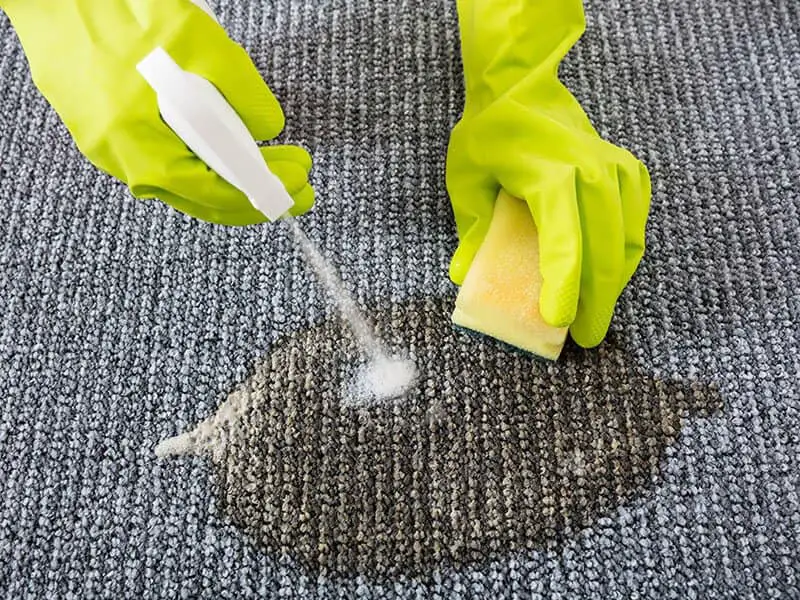 Method 1: Use Dishwashing Liquid
For water-based stains, you just need a simple cleaning solution. This method works best for alcoholic drinks, juice, soft drink, coffee, and tea.
What You Need
Dishwashing liquid
Warm water
A soft-bristled brush
A cloth
Step-By-Step Instruction
Step 1: Combine 1 teaspoon of dishwashing liquid with 2 cups of warm water. Mix them well.
Step 2: Apply the mixture to the stain. Make sure you do not soak that area. Next, move the soft-bristled brush according to the direction of the fibers.
Step 3: Clean the stain.
Step 4: If it does not completely disappear, you can combine oxygen-based bleach with water and apply it on the stain for 1-2 hours.
Step 5: Use a damp cloth to remove any liquid left. This is an important step to protect your hardwood floor from being excessively moisturized.
Method 2: Use A Bag Of Ice
This method is applicable to tough and sticky stains that can be hardened, such as wax and gum.
What You Need
Ice cubes
A plastic bag
A knife
Rubbing alcohol
Cloth
Step-By-Step Instruction
Step 1: Put the ice cubes in the plastic bag.
Step 2: Place the bag on the stain until it is hardened.
Step 3: Use the knife to gently scrape the stain.
Method 3: Use Sodium Bicarbonate (Baking Soda)
Sodium bicarbonate is a great substance to remove the sticky stain. It is also affordable and safe for your hardwood floor.
What You Need
Sodium bicarbonate
Water
Toolbrush (optional)
Cloth
Step-By-Step Instruction
Step 1: Apply a small amount of sodium bicarbonate to the stained area. Or you can combine it with some water to form a paste.
Step 2: Apply the stain on the stained area using a damp cloth or a toothbrush and gradually dab or scrub it to remove the stain.
Step 3: Vacuum the area rug.
Cleaning stains from your area rug is now easy with this tutorial.
You Also Need To Remove The Unpleasant Odor From Your Area Rug
Unfortunately, removing the stain is not enough to make your area rug shine and glory. Some stains leave a terrible odor on your area rug and you need to remove it. This is a very easy task. I will show you below.
Method 1: Use Sodium Bicarbonate
Sodium bicarbonate is proved to be an effective chemical compound to remove odor (1). Once you have it. Don't be concerned about smelly stains.
What You Need
Step-By-Step Instruction
Step 1: Sprinkle some sodium bicarbonate on the odored stain.
Step 2: Let it sit for a few hours. You can also leave it overnight.
Step 3: Vacuum the area rug.
Method 2: Use Vodka
Do you know that vodka has the ability to deodorize your area rug? It is particularly effective in treating pet urine's odor thanks to its alcohol content (2).
What You Need
Vodka
Spray bottle
Baking Soda
Step-By-Step Instruction
Step 1: Pour some vodka in the spray bottle
Step 2: Spray it on any smelly areas of your area rug.
Step 3: Wait for 15 minutes and dry the area with a cloth.
Step 4: If there is some remaining dirt, put some baking soda on it and let it sit for another 30 minutes.
Step 5: Vacuum the area rug.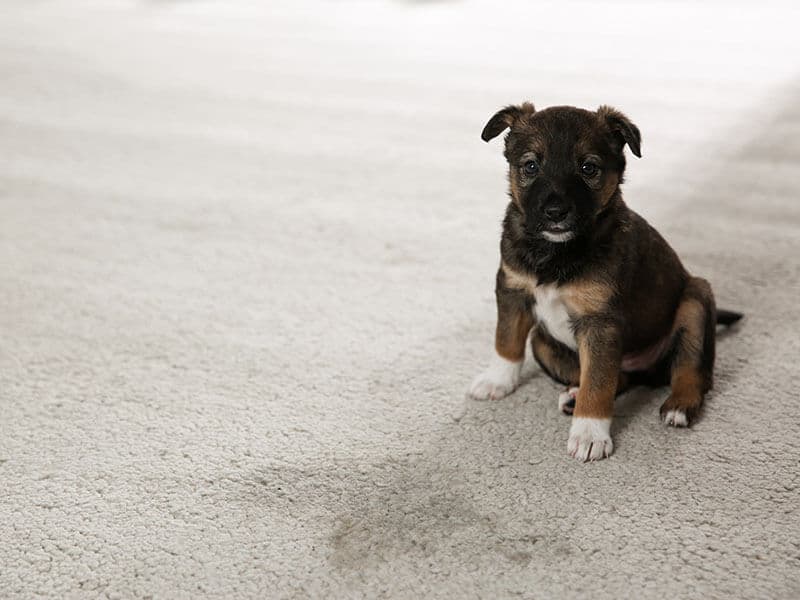 Deep Clean The Area Rug By Steaming Or Shampooing
After removing the stain, it's time to clean the entire area rug. There are 4 most effective methods that you can use to clean the area rug on hardwood floor. You can either shampoo it or steam it with a carpet cleaner. I will go through each method in detail below.
Use Carpet Shampoo To Clean The Area Rug
A common way to thoroughly clean area rugs on hardwood floor is to shampoo it.
What You Need
Carpet shampoo
Soft-bristled brush
Bucket
Gloves
Sponge mop (optional)
Garden hose (optional)
Step-By-Step Instruction
Step 1: Choose a suitable carpet shampoo for your area rugs. Read the label carefully. Choose the one that is designed specifically for your type of area rugs.
Step 2: Dilute the carpet shampoo in the bucket according to the instructions (if required). You should always wear gloves to prevent your hands from getting irritated.
Step 3: Use the soft-bristled brush or sponge mop to work the shampoo all over the area rug. Allow it to sit for 5 minutes.
Step 4: Rinse off the area rug either by the garden hose or clean water.
Pros And Cons
Overall, shampooing is a good way to completely remove all of the dirt and dust on the area rug. It is ideal for the area rug which is very dirty.
However, it can be quite harsh for some types of area rugs and can weaken and even damage them. Shampooed area rugs take more time to dry.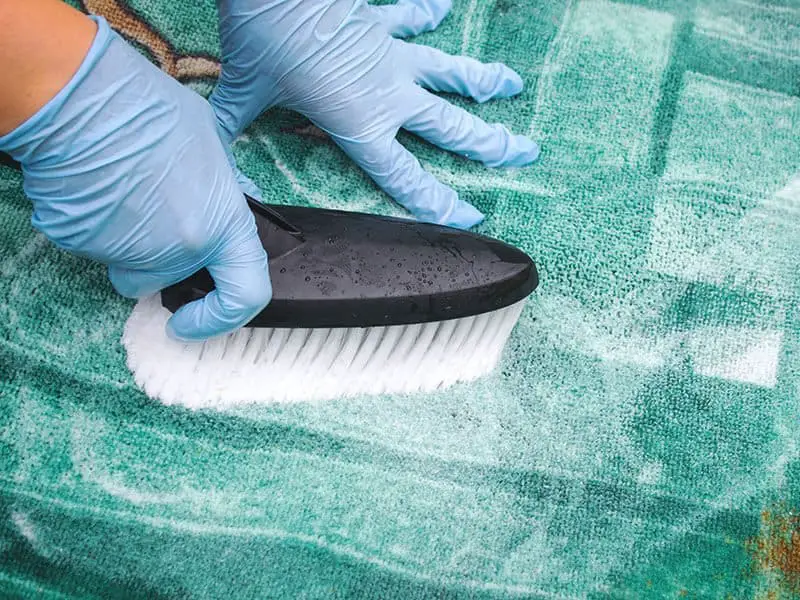 Use A Carpet Steam Cleaner To Clean The Area Rug
The steam cleaner is safe for your hardwood floor. The high heat will effectively and gently wipe out all of the debris on your area rug.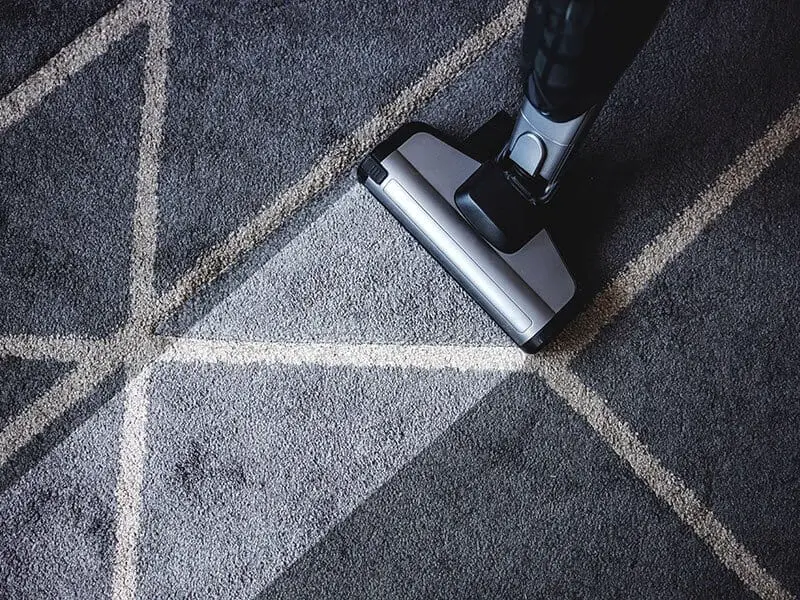 What You Need
A steam cleaner
A carpet cleaning solution
Step-By-Step Instruction
Step 1: Fill in the steam machine with the appropriate amount of cleaning solution and water.
Step 2: Put the appropriate attachment for your area rug and turn on the steamer cleaner.
Step 3: Gradually move the handle along the area rug, starting at the corner. Move it in a back and forth manner.
Step 4: After you finish cleaning, turn off and put away the steam cleaner.
Pros And Cons
Using a steam cleaner is a wonderful and affordable way to keep the texture of the area rug. It can also disinfect your area rug.
Yet, it may not be the ultimate solution for extremely dirty area rugs. In addition, the heat from the steam cleaner may affect the hardwood floor underneath.
Let'stake a look at the technique to steam clean the area rug.
Use A Pressure Washer To Clean The Area Rug
If you have a pressure washer, you can definitely use it to clean your area rug. If you don't want any water to interact with your hardwood floor, cleaning it outside with a pressure washer is the best solution.
What You Need
A pressure washer
A cotton cloth
A carpet cleaning solution
Water
Squeegee
Bucket
Step-By-Step Instruction
Step 1: Pick a large and clean place to clean your area rug and lay it out.
Step 2: Fill in the basin with the recommended amount of water and cleaning solution. You can use 1-2 cups of carpet cleaning solution.
If your pressure washer does not allow soap, you should get a bucket and fill it with water and the cleaning solution. Then, use a soft brush to apply the cleaning liquid all over the rug.
Step 3: Set up the pressure washer. You should follow the supplier's instructions for this step. Choose a tip that is the most gentle one so that your area rug will not be harmed.
Step 4: Move the nozzle all over the area rug to remove all of the dirt. You should move it in one direction to consistently wipe out the dirt. Keep a distance between the nozzle and the area rug.
Step 5: Turn the area rug upside down to clean the backside. Repeat the procedure when you clean the front side.
Step 6: Remove all of the soap from the area rug with the pressure washer.
Step 7: Squeeze the remaining water out of the area rug using your hands or a squeegee.
Note: You can step on the rug area while cleaning if it is too large. But make sure you set your barefoot on it.
Pros And Cons
The pressure washer is the perfect way to clean area rugs without affecting the hardwood floor. It works best for large area rugs. However, a pressure washer is a huge investment so this method is quite expensive. The procedure is also more complicated than other methods.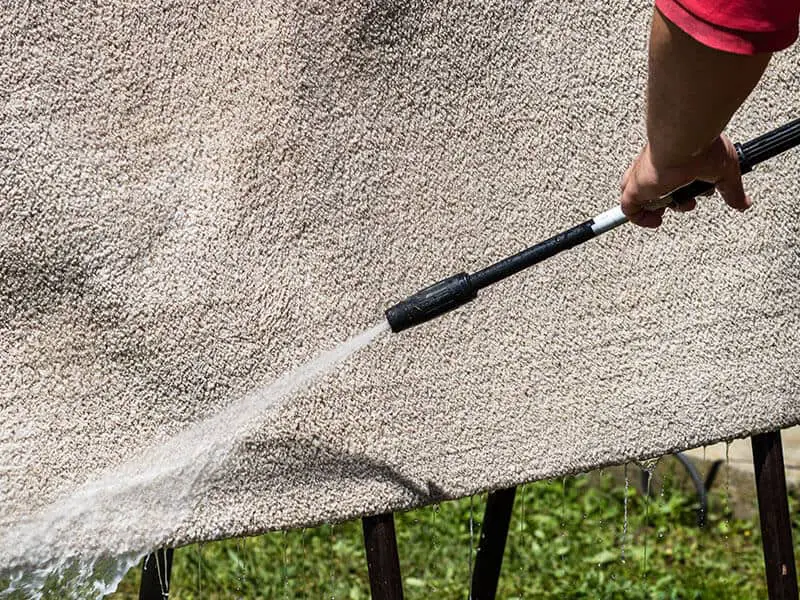 Finally, Dry Your Area Rug
This last step is entirely effortless. To this end, you've done with the cleaning process. Everything you need to do next is to let it dry.
Open the window and turn on the ceiling fan for the area rug to dry more quickly. When the front side is dry, flip the rug to dry the backside. It will take around 48 hours to dry completely, depending on the size and thickness of your area rug.
Make sure you do not let anyone step on it when it is still wet. After it is dry, remove the plastic sheeting and put it back on the floor. If the weather is sunny and your area rug is small, you can hang it on straight or use clothespins to hang it.
After the area rug is dry, you can enjoy a clean, flawless, comfortable, and warm area rug! You would not be able to resist stepping on it all the time.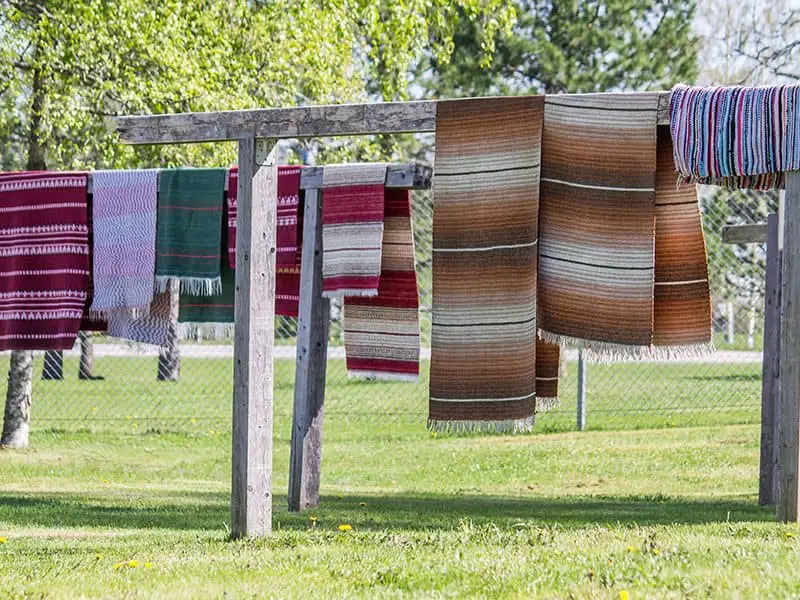 Use These Valuable Tips To Better Clean Your Area Rug
Here are some more tips to help to choose the appropriate method to clean your area rug. The type of your area rug is the determining factor that you should consider when cleaning.
For silk area rugs and those have dyes, shampoo cleaning may not be a good idea. You should steam clean these types of area rugs.
If your area rug is a tightly-woven fiber one, you should be careful when using a brush to clean it.
Area rug with a high nap should be steam cleaned to retain its shape.
You should note that not every area rug needs to be deep cleaned. Some just need some gentle cleaning on the front side.
Keep Tips In Mind To Protect Your Area Rugs From Dirt And Stains
Besides the methods mentioned above, I have some more tips for you to keep your area rugs as clean as possible. After all, the best way to keep the area rug beautiful is to not make it dirty from the beginning.
Do not step on the area rugs with your shoes because the dirt from the shoe will stick to the area rugs.
Rotate the area rugs every few months.
Keep your pet away from the area rugs as much as possible.
Remove the stain right after you detect it.
Read the area rug's label carefully to know if there is any special treatment required when cleaning.
Never forget to clean the backside of the area rugs.
If you plan on cleaning the hardwood floor and the area rug on the same day. Clean the area rug first.
Use a dehumidifier to keep the area rug from being excessively moisturized.
FAQs
Although I have provided every method and step to clean area rugs on the hardwood floor in the content above, there are some questions that people often ask. I have gathered all of them and answered them below. Take a look!
Good Results Take Effort! Treat Your Area Rug With Care
Now you've mastered all of the methods and techniques to clean an area rug on hardwood floor. The most important thing is to not damage your hardwood floor while cleaning the area rug thoroughly. So be careful when it comes to cleaning on a delicate floor like hardwood floor.\
Which method do you choose to clean your area rug? How often do you clean it? Leave some comments to get in touch!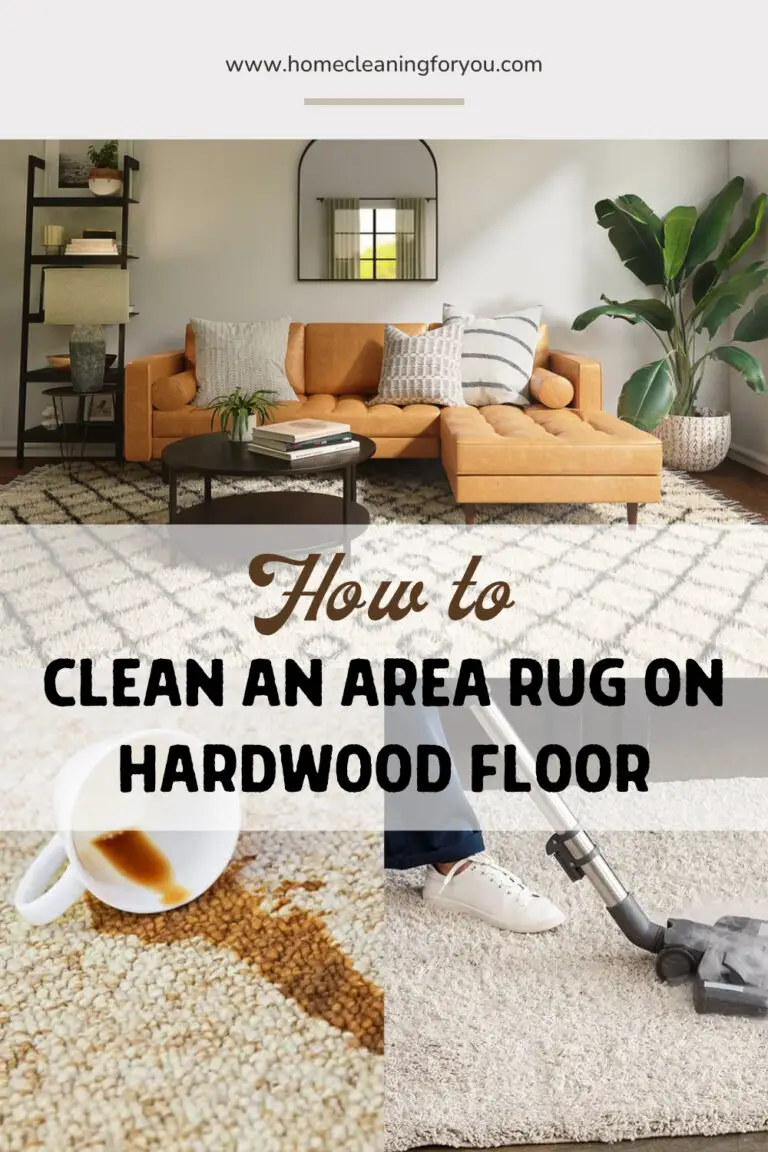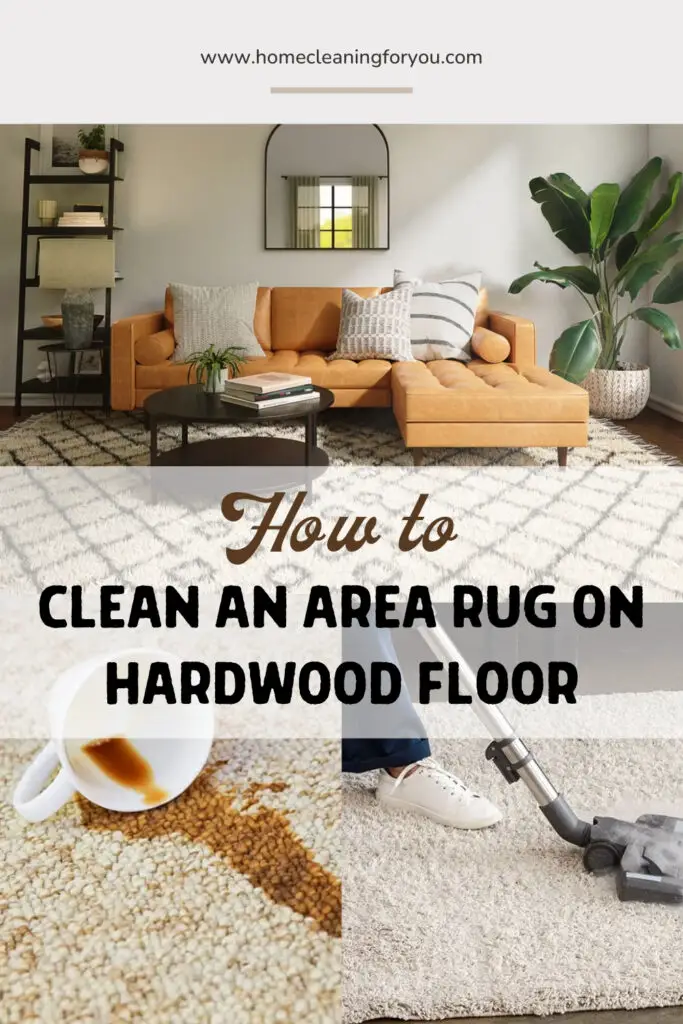 References
En.wikipedia.org. 2022. Sodium bicarbonate – Wikipedia.
En.wikipedia.org. 2022. Vodka – Wikipedia.