How to clean blood out of carpet? Many people have tried rubbing or steam cleaning, yet the result is not much of a success. At times, such methods can cause even a bigger mess, and the carpet looks straight-up like a prop used in horror movies.
If your carpet is in the same situation, I'm here to help. In this post, there are many solutions to your problem, so you can be assured that your lovely carpet will be looking good again in no time. Let's kick-start the work!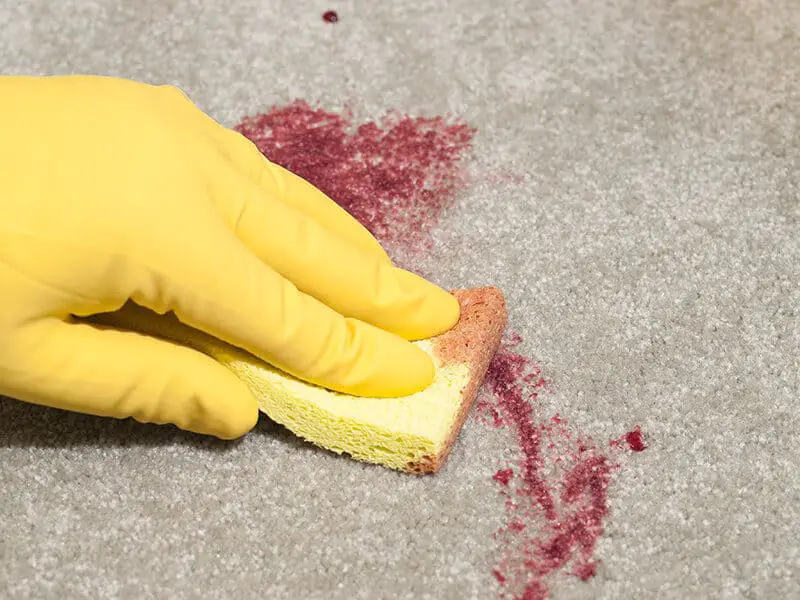 The Myth About Blood Stains
Do blood stains give you chills? Sure enough, they do, but the idea of removing them from a carpet is even more terrifying. To some people, when blood is involved in white clothes, rugs, or carpets, the issue is often unresolvable.
However, let's debunk that myth. Whether fresh or dried, bloodstains will be gone forever as long as you act fast. Given that, if you have just cut yourself or stumbled on your toe, I hope that you are okay. Patch up your wounds, and read on to find out how to deal with the mess.
An In-Depth Guide On Removing Blood From Your Carpet
First things first, you will need to determine whether the blood is still fresh or has dried up. In general, a fresh bloodstain is more straightforward to clean, whereas a dried one will require more elbow grease.
Wet Blood
If the blood is still wet, you have a higher chance of removing it from your carpet. Hence, act quickly as possible, or the blood will stay for good! Of course, the idea of rolling over a fluffy carpet stained with blood is just straight-up spine-chilling.
Option 1: Cold Water
With fresh bloodstains, follow this cold water treatment. It can guarantee success so long as you have enough time and patience.
What You Need
Cold water
Spray bottle
Microfiber cloths
Shop-vac
Potato starch
Stain remover (optional)
How To Do It
Step 1: Blot up as much blood as you can with a cloth rag.
Step 2: Fill a spray bottle with cold water and douse the bloodstain.
Step 3: Blot the area until dry with a clean rag and sprinkle a generous amount of cornstarch on it. Let it sit overnight.
Step 4: As the blood stain has gone by the following day, let it air dry or use a shop-vac for a quicker result. Should the stain persist, continue removing it with a stain remover.
Option 2: Salt Paste
Salt is gently abrasive, so you can rest assured that it will lift the bloodstain without leaving too much damage on your carpet. Besides blood, did you know that salt can remove coffee spills on your carpet as well? It's simply amazing!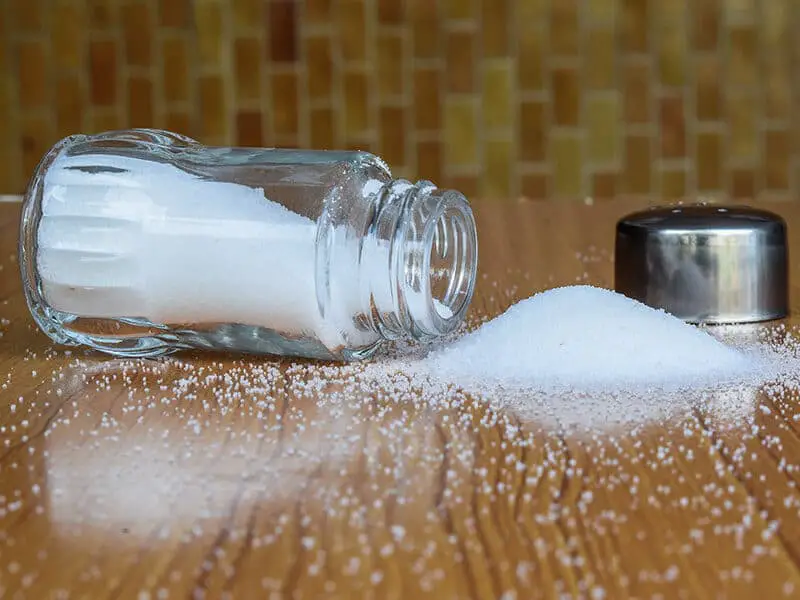 What You Need
Salt
Cold water
Microfiber cloths
How To Do It
Step 1: Form a paste by mixing cold water with a pinch or two of salt.
Step 2: Apply the paste to the stain and let it stand for about 5 minutes.
Step 3: Dab the blood gently with a clean cloth. As you notice, it has transferred to the cloth, wipe off the paste.
Note: This method will also work on dried bloodstains.
Option 3: Dishwashing Soap
If using the salt paste has come to nothing, your next option is dishwashing soap.
What You Need
Dishwashing soap
Cold water
Microfiber cloths
How To Do It
Step 1: Combine a tablespoon of mild dish soap with two cups of cold water. Stir to dissolve.
Step 2: Work the solution into the blood stain with a cloth rag. Avoid rubbing, or the stain will spread further.
Step 3: Rinse the treated area with cold water and blot until dry.
Note: Some people also report success when using dish soap to remove dry bloodstains. If the blood gives off a foul odor, you can add a little vinegar to the solution.
Accidents on your carpet have never happened, thanks to dish soap. Watch this video to know:
Dried Blood
To most people, treating dried blood stains on carpeting is a painstaking job, and some even cause further damage. However, the following section will prove the opposite. Keep scrolling and be amazed!
To start with, you will use a steel brush to scrape off the dried blood from the carpet surface. Don't be vigorous, or the fibers will be damaged. Once the solid bits are out, it's time to kick off your cleaning project!
Option 1: Cornstarch
With amazing absorbent qualities, cornstarch is a great substitute when you have run out of or don't prefer to use salt. Similarly, you will mix a sufficient amount of cornstarch with water to form a paste. After that, smear the paste on the blood stain and rinse it off afterward.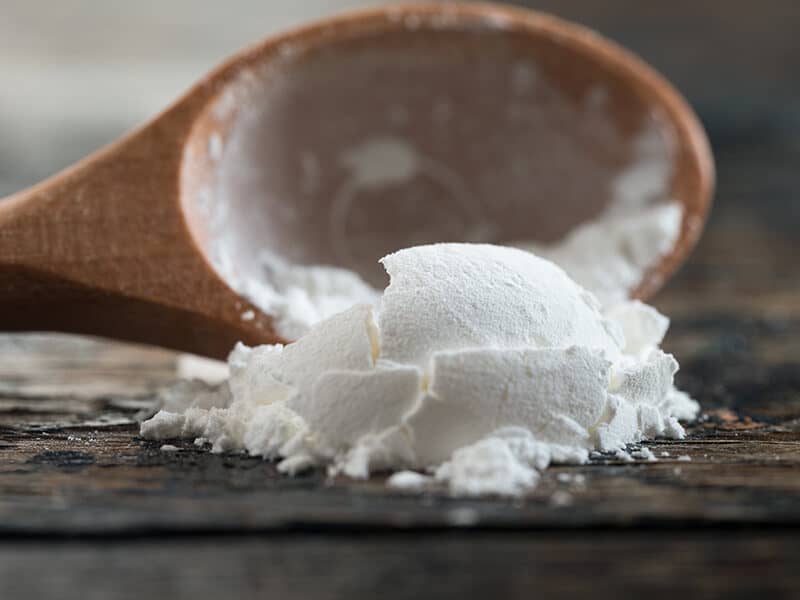 Option 2: Vinegar And Baking Soda
Vinegar and baking soda are perfect against stains, whether left by your pets, paint or even blood. These two household ingredients will create a fizzy chemical reaction and leave your carpet spotlessly clean in a flash.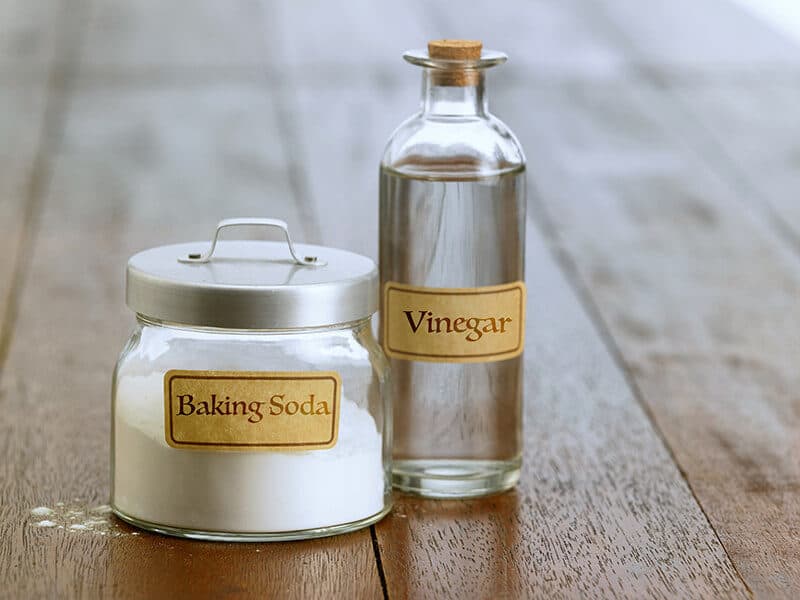 What You Need
Baking soda
Vinegar
Warm water
Soft brush
Microfiber cloths
How To Do It
Step 1: Create a cleaning solution as per this formula: two cups of warm water, two cups of vinegar, and four tablespoons of baking soda. Stir to combine, then transfer the solution to a spray bottle.
Step 2: Saturate the bloodstain with the solution and let it perform the magic. You can scrub the stain with a soft brush to speed up the process.
Step 3: With a damp cloth, blot the stain dry until the bubbly solution disappears.
Create a fizzy solution to remove blood with baking soda and vinegar. Watch this video to know:
Option 3: Hydrogen Peroxide
Perhaps you best know hydrogen peroxide as a disinfectant for your juicy fruits, but its uses turn out to be more extensive than you think. When you happen to cut your finger and spill a little blood on your carpet, this powerful cleaning agent is only one call away.
What You Need
Hydrogen peroxide
Cotton ball
Microfiber cloths
How To Do It
Step 1: Since hydrogen peroxide can cause discoloration on some fabric, you'd better carry out a patch test. Apply a small amount of it on a hidden area and see if the color changes. If not, move on to step 2.
Step 2: Dip a cotton ball into hydrogen peroxide and blot the bloodstain. Again, you should not rub the fibers.
Step 3: After an hour, rinse the carpet with plain water. The blood has magically gone away!
Seek help from hydrogen peroxide when you notice blood on your carpet. Watch this video to know:
Option 4: Ammonia
Ammonia is highly praised because it acts well against different stains, including blood. Still, it can be hazardous when contacting your skin, so don't forget to put on your safety goggles, gloves, and a respirator when working with it.(1)
What You Need
Ammonia
Warm water
Microfiber cloths
Sponge
Carpet shampoo (optional)
How To Do It
Step 1: Dissolve a tablespoon of ammonia in half a cup of warm water. If you are concerned about the smell, you can use lemon-scented ammonia instead.
For a more potent effect, employ a carpet shampoo of choice. Then, mix a tablespoon of ammonia and two teaspoons of carpet shampoo with one cup of water in separate spray bottles.
Step 2: Wet a clean cloth with the solution and begin treating the blood stain with caution. If you use the shampoo treatment, spray the solution and leave it on for five minutes, followed by a good spritz of the ammonia solution.
Step 3: Wick the solutions away with a damp sponge. Likewise, end the process by blotting the area dry.
Option 5: OxiClean
It's a crying shame if you have never heard of or tried Oxiclean. This fantastic product is not only cheap and safe for the environment but also works wonders with getting blood out of your precious carpet.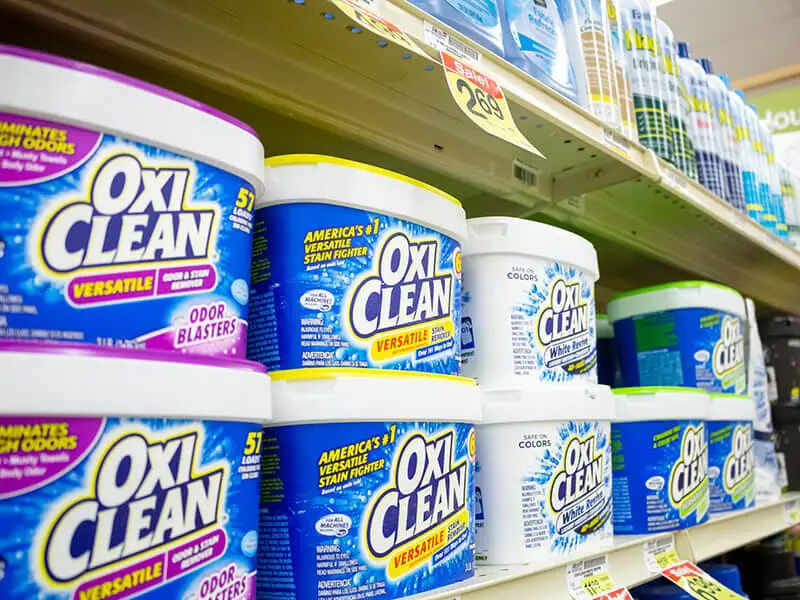 What You Need
OxiClean
Warm water
Microfiber cloths
How To Do It
Step 1: Dissolve OxiClean with warm water according to the instructions on the package.
Step 2: Wet the stain with the OxiClean solution and wait for a minimum of 5 minutes.
Step 3: Soak up the excess liquid with a clean cloth, and you're good.
Note: Besides OxiClean, there are plenty of stain removers on the market. Experiment with different choices, and you will find out the best one for your carpet!
Option 6: Enzyme Cleaner
With the best enzyme cleaner on hand, you can be assured that the issue is resolved. From pet urine, food crumbs, to blood, it has never surrendered. Apply your product as instructed on the label and finish the job by rinsing and blotting the area dry.
Note: Enzyme-based cleaners should not be used on silk or wool carpets because they will ruin the fibers.
More Oh-So-Amazing Tricks To Clean Blood From A Carpet
Below are two more options you can consider when blood trickles from your wound: shaving cream and club soda.
Shaving Cream
Surprisingly, you can turn to shaving cream for help when you notice drops of blood on your carpet. Just smear a dollop of it on the affected area and let it sit for 10 minutes (it does not matter if your product is a foam or gel type). Remove the cream with a damp cloth later.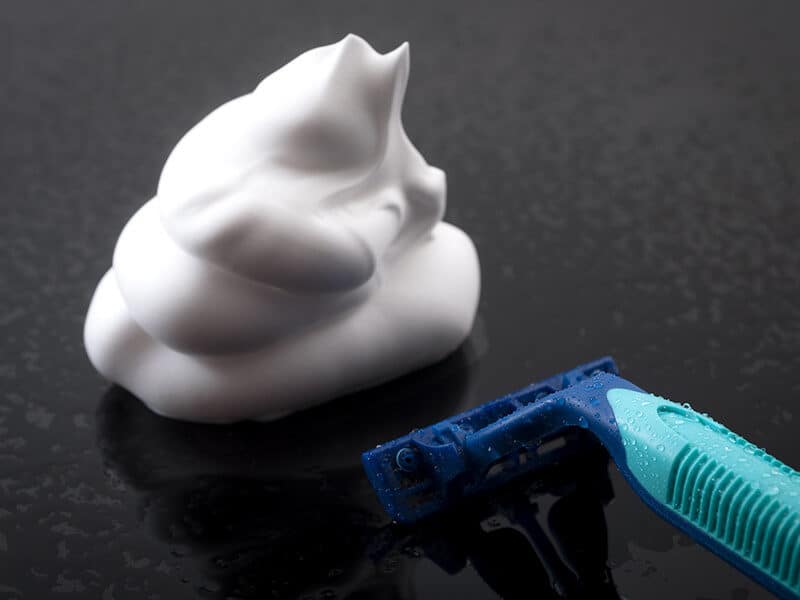 Club Soda
Don't freak out if you notice blood on your carpet (unless there's a murder scene). Open the fridge and grab a can of club soda right away. Then, saturate the stain and gently blot it until it vanishes. Leave the carpet to dry completely, or it will become a breeding ground for mold.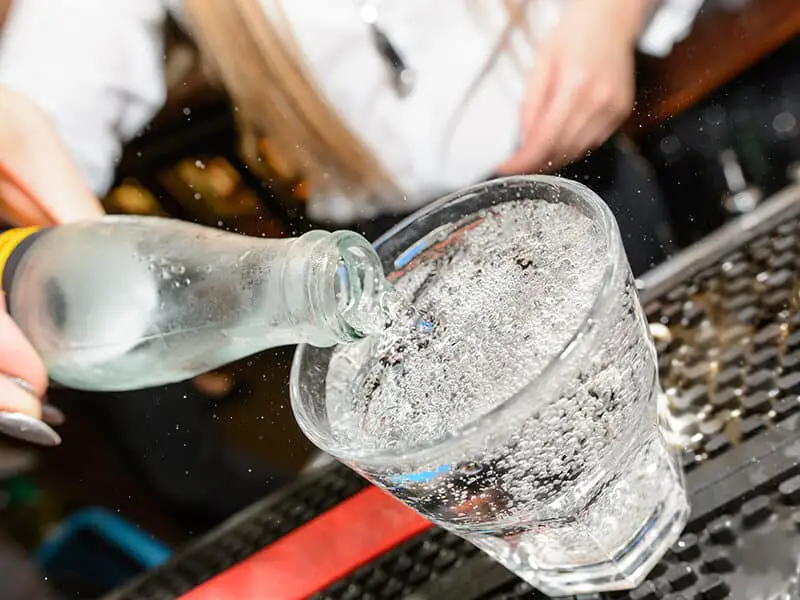 Extra Tips To Get Blood Out Of A Carpet Like A Pro
Cleaning blood out of your antique rug or carpet should not be a difficult job. All you need to do is gather the right tools and expend a little effort – and read the tips below. They are sure to come in handy should accidents occur again in the future.
Gloves On, Always: When dealing with blood stains, never forget to put on a pair of rubber gloves. This will help reduce the risk of bloodborne viruses or diseases, which can be fatal.
Do A Spot Test: Some carpets, particularly natural fibers, are delicate and should be given more care. Therefore, conducting a spot test is utterly important to see if your treatment is too invasive. Usually, changes will occur after at least 24 hours.
Avoid Using Pressure: A common misconception when cleaning blood or any other stain is that the more pressure you use, the more likely it will get out. However, when too much pressure is put on, the stain will likely get stuck in the fibers.
Finish Your Work Properly: Don't call it a day yet, even when you have successfully cleaned the bloodstain. Once done, run a round of vacuum to remove the excess of your cleaning solution. After that, dry the treated area using a fan or paper towels.
Restore The Carpet Fibers: To bring the glam back on your carpet, apply a shampoo of choice. Later, use the shop vac to clean the carpet, getting rid of excess moisture. The suction of the machine will also naturally fluff up the fibers.
As always, I don't recommend you to keep doing your job when something goes out of hand, for example, when the stain spreads further. Should such circumstances happen, pick up the phone and call in a professional right away. It's the last resort to save your carpet.
FAQs
Stop right here if you have questions running in your head! This section will have your back with further information on cleaning blood stains from carpeting.
Removing Blood From A Carpet Is No Sweat And Tears
So, that's everything about how to clean blood out of carpets. With clear instructions provided, I can guarantee that your carpet will soon be gorgeous again. Just some household supplies and a few minutes, and everything goes back to what it was. It's unbelievable.
As usual, the comment section is where you pour out your thoughts or questions. Type them down, and I'll respond as quickly as possible. Finally, don't forget to submit the result of your job. Thank you, and have a nice day!
References
1. Health.ny.gov. 2021. The Facts About Ammonia. [online] Available at: <https://www.health.ny.gov/environmental/emergency/chemical_terrorism/ammonia_general.htm#:~:text=Exposure%20to%20high%20concentrations%20of,and%20nose%20and%20throat%20irritation.>.
2. Nj.gov. 2021. [online] Available at: <https://nj.gov/health/eoh/rtkweb/documents/fs/1319.pdf>.