10 Ways on How to Clean Carpet Without a Vacuum in 2024
Cleaning the carpet without a vacuum cleaner is a common problem that gives many housewives a headache. Not all families are eligible to own a carpet vacuum cleaner, so in the above case, what is the optimal solution for carpet cleaning?
The vacuum cleaner is the perfect companion for carpet cleaning. However, different stains types will require more precise approaches, which sometimes large vacuum cleaners don't necessarily solve.
Don't worry too much, let me tell you about 10 cleaning methods compatible with each of your carpet types in the article right below.
Check it out, please!
Popular Types Of Carpet Fibers
The carpet's material depends on the consumer's purpose and the advantages and disadvantages of each carpet material in different areas. Below are the fiber materials used in the production of carpets.
You need to understand the carpet's fabric to choose the most suitable cleaning method, which will reduce the risk of damage to the carpet while cleaning and ensuring the carpet's beautiful durability for a long time.
1. Synthetic fibers – Olefin – Polypropylene
This type of yarn is commonly used in the carpet weaving industry. It is firm but soft and has no static charge. This synthetic fiber can be combined with different thin textile thicknesses at low to medium costs.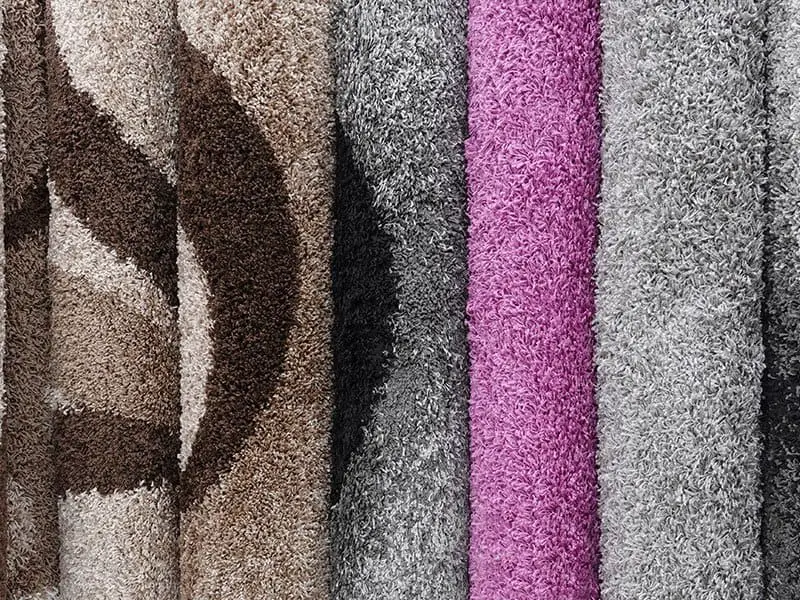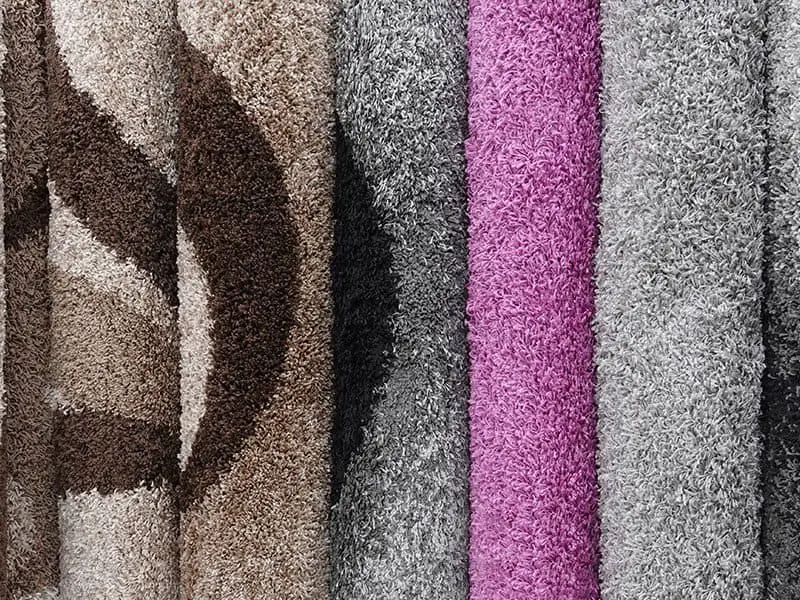 Synthetic fibers are often manufactured for thin frieze carpets such as event carpets and conference ones. A more dense woven carpet and a better quality carpet is used as an office carpet.
However, Polypropylene is flammable and does not self-extinguish.
2. Polyester
Often used for textured or ruffled carpets, Polyester resembles wool best in appearance and feels and is very soft, durable, and stain-resistant. Most often used as a blend, rather than itself.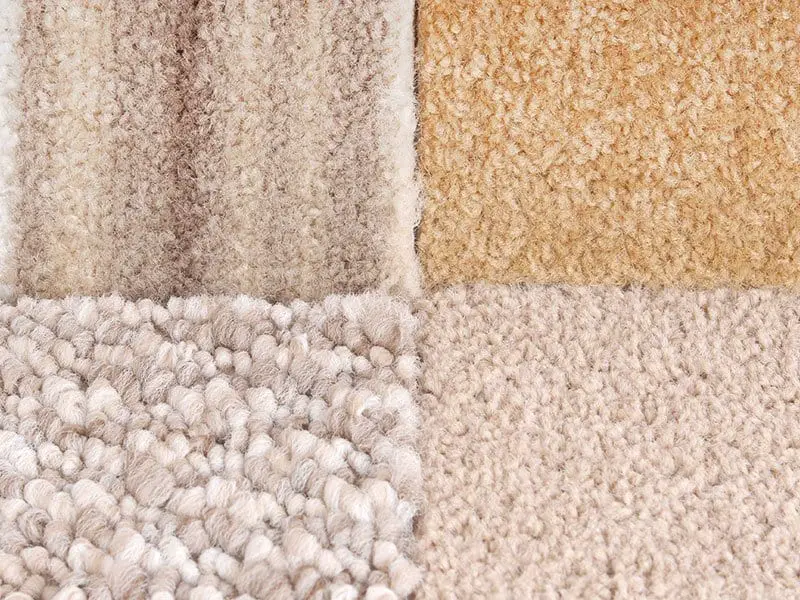 It is undeniable that the Beaulieu carpets from polyester fibers have high elasticity, do not absorb moisture. They are soft fibers and have better oil absorption than traditional fabrics. Due to the use of recycled materials, this carpet type is highly rated for its environmental friendliness.
3. Nylon
Nylon material has good elasticity, can withstand heavy, and withstand pressure well when moving objects. For instance, the shag carpets made of this material come in clean, shiny colors. On the market, this is the most popular carpet type because of its good carpet material, high durability, and long-term use.
Nylon carpets are widely used to design homes: dining room carpet, living room carpet, bedroom carpet, etc.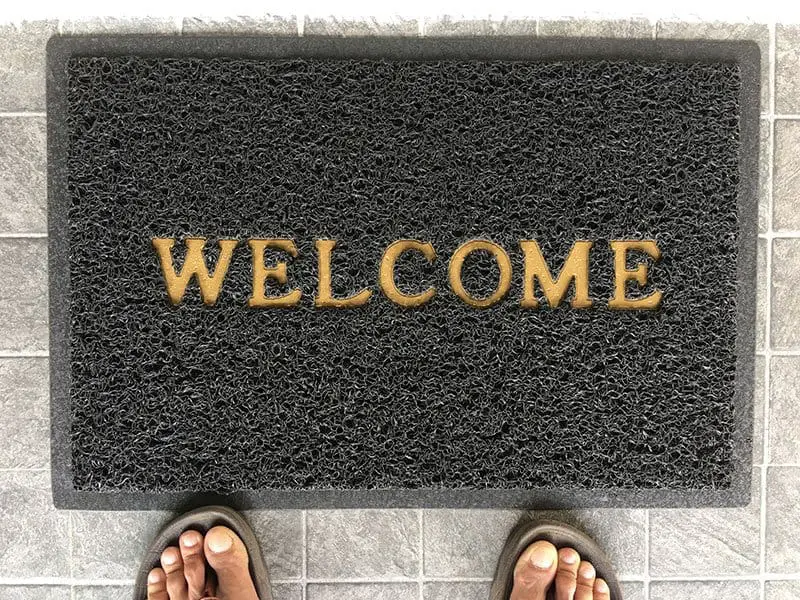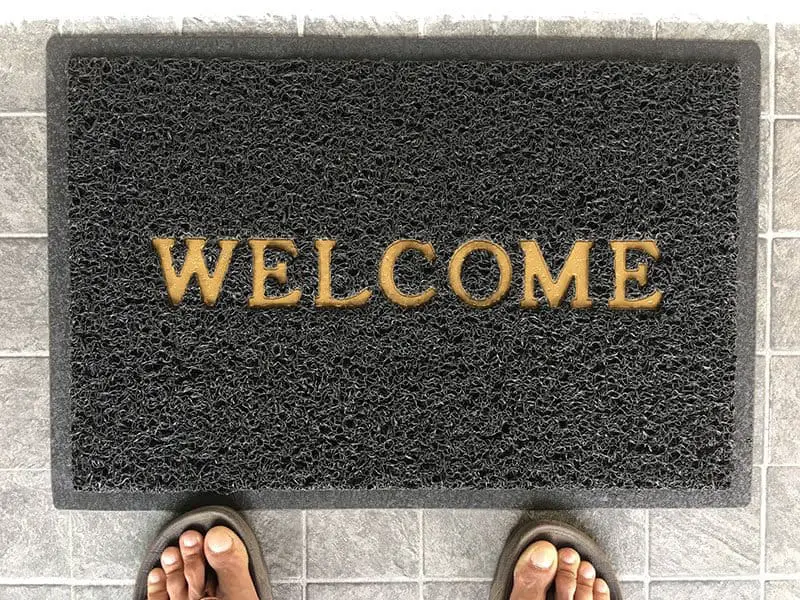 An additional outstanding advantage of nylon fiber carpets is that they have various colors, diverse designs, and affordable prices. That is why nylon carpet has such a great influence on the interior market during the past decades.
4. Acrylic
Acrylic fiber floor coverings, also known as velvet carpets with soft surfaces, are widely used by hotels because of their luxurious beauty. Or for the classic European style space, velvet carpet is also a favorite choice for many homeowners.
Acrylic fiber carpets are long-lasting fibers in humid and misty environments. They look almost like wool, but they are made from high-strength Acrylic fiber. The variety of colors and patterns also makes it easy for you to choose the best carpet for your living room space.
5. Wool
Wool carpets are always at the top of the most popular high-end carpets of all time. You are also quite clear about their excellent quality with strong wool that only this natural material can give you.
Wool carpet converges all the qualities to create high durability from 10 to 15 years, soft, supple, and delicate in color. High-grade wool fibers often produce hand-woven or semi-handcrafted wool sofa carpets with extremely impressive designs.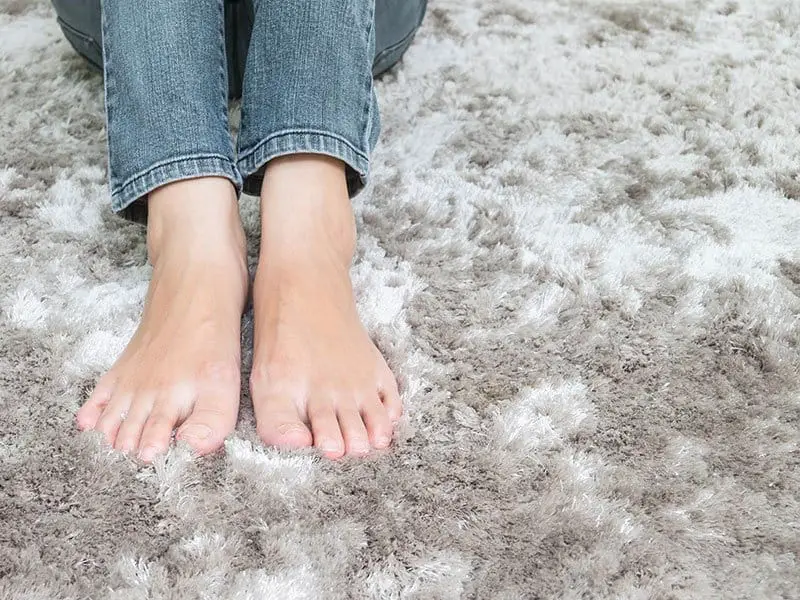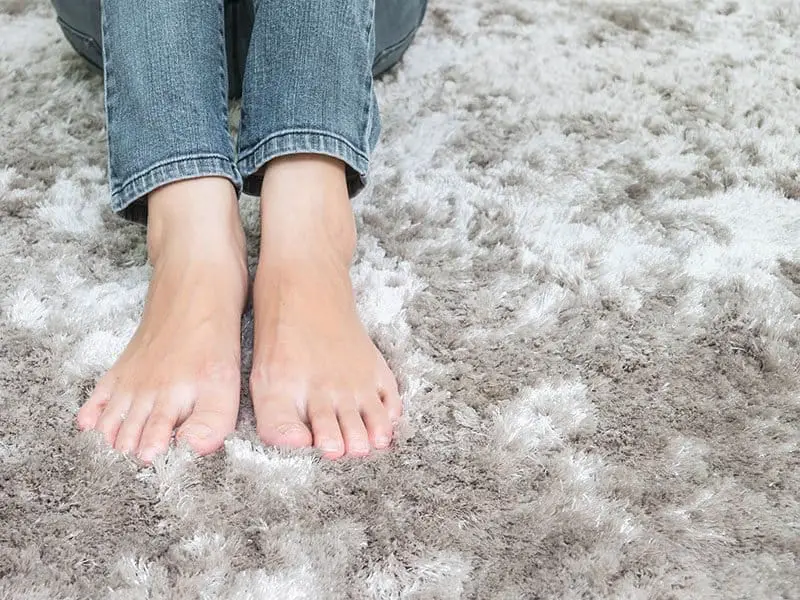 The color of wool carpets is delicate and less fading under the effect of water and detergent, the best abrasion and fire resistance of the carpets on the market.
Each carpet material will have its own unique advantages and characteristics to suit each living feature.
Do you have an overview of your carpet type yet? Now follow me!
What Is A Clean Carpet Like?
In addition to adding elegance to the living room and workplace, a carpet is also the friend of the feet, keeping them soft and warm. At the same time, the carpet is also an ideal place for babies and pets to have fun.
So, the carpet will contain a lot of bacteria and dirt. If you do not clean the carpeting periodically, it will not ensure the health of everyone.
1. No Harmful Dirt Appears on the Carpet
Every day, carpets will accumulate a lot of different dirt, be it from food, drinking water, fur, sweat. And especially the carpet is the destination of most indoor dirt. Therefore, cleaning the carpet will help remove dust and harmful dirt in the carpet.
2. Avoid Mold Grows
Suppose using for a long time with that dirt and dust without cleaning the carpet. This will then be a favorable environment for mold to appear and grow quickly, which affects the durability, aesthetics of the carpet, and human health.
However, regular cleaning of your carpet will be able to prevent the growth of mold effectively.
3. No Unpleasant Odor
Stains, food or drink can also make your carpeting smell very unpleasant. This really becomes your obsession every time you get home from work or wake up in the morning.
Taking a few minutes of cleaning the carpet will give you truly fresh and relaxed living space.
4. Prevent the Loss of Aesthetics
This is for sure, especially with carpets with bright colors such as white, blue, etc. Stains, mold or color changes from the drop of food and drinks in daily activities will make the carpet discolored. Deformed and quickly damaged.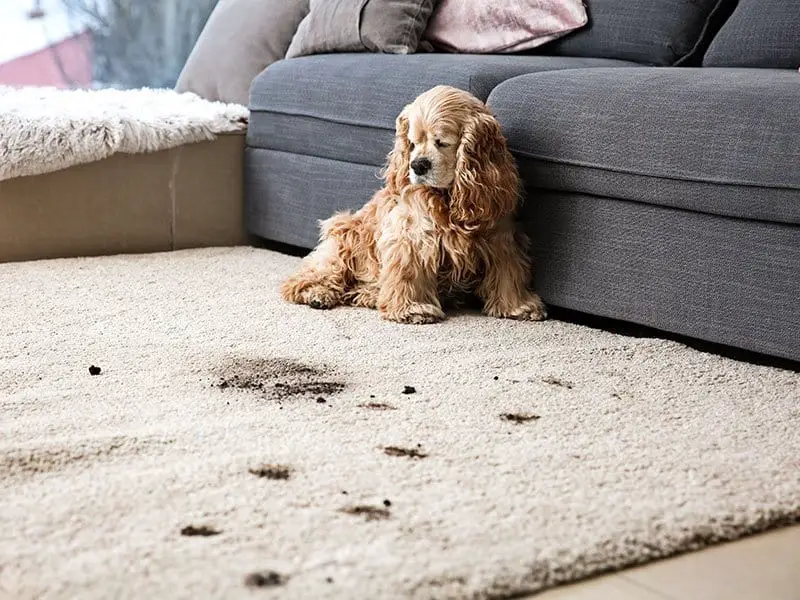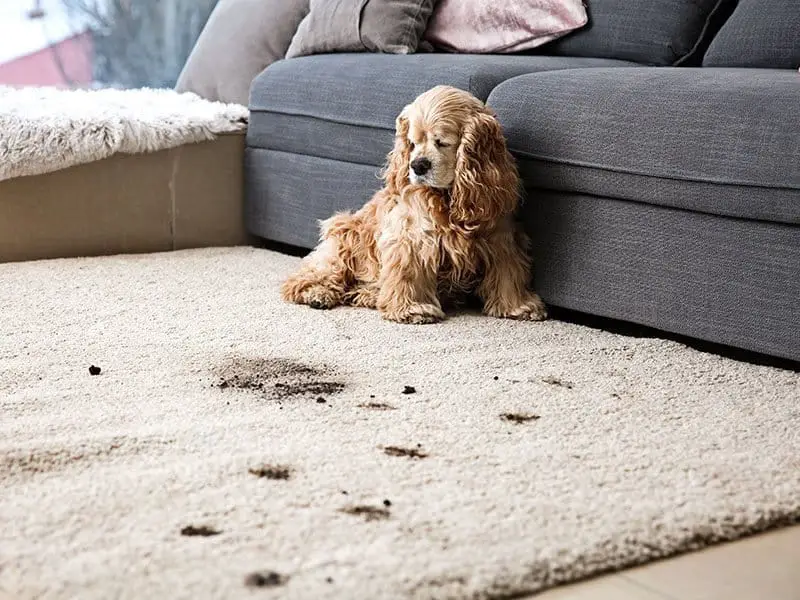 Accordingly, your space will no longer be as beautiful, luxurious, modern as in the first place. Still, on the contrary, it will be like a "bacteria nest" with the unavoidable pathogens from dirty carpets.
5. The Risk of Stepping on a Piece of Glass
Carpets are woven from fabric so they can retain pieces of glass, sawdust, etc., scattered in daily activities that we cannot see with the naked eye. Therefore, carpets must be cleaned regularly to eliminate this danger. Otherwise, your feet or children may step on it, causing the infection.
What Are Popular Kind Of Stain On Carpets?
If you want to know how to clean carpet without a vacuum properly, you need to know the properties and why the stains disturb your beautiful carpet. That is the prerequisite step for you to thoroughly solve each type of stain without affecting the carpet's color or durability.
1. Dust
Dust will slowly appear after a short period, which is something we cannot prevent. The only thing you can do to minimize the impact on your family is to clean the carpet every week.
In fact, this is not too difficult to deal with, and you will not take too much time to handle this type of dirt. All your carpet need is regular care from you!
2. Dry Garbage
I often consider this to be the easiest trash to clean (glass debris is the exception). You don't have to apply complicated methods or harsh detergents to it.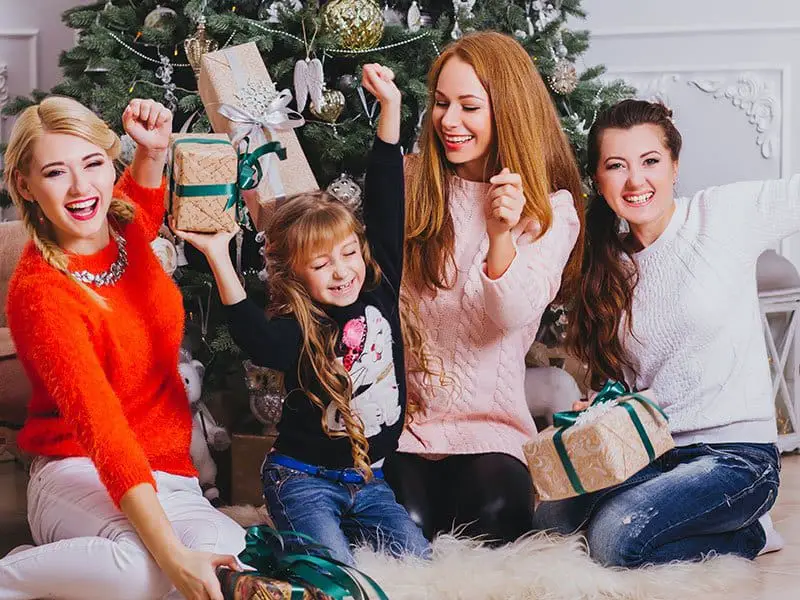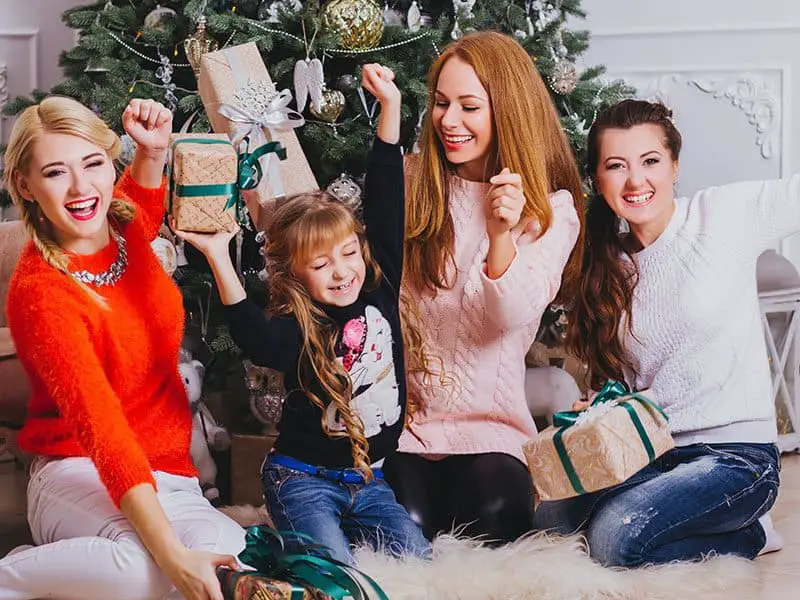 3. Stains Caused by Liquid
Food is scattered on the carpet, drinking water carelessly spilled onto the carpet, etc. – these stains are both unsightly when creating a large stain on the carpet and also leaving an unpleasant odor very quickly.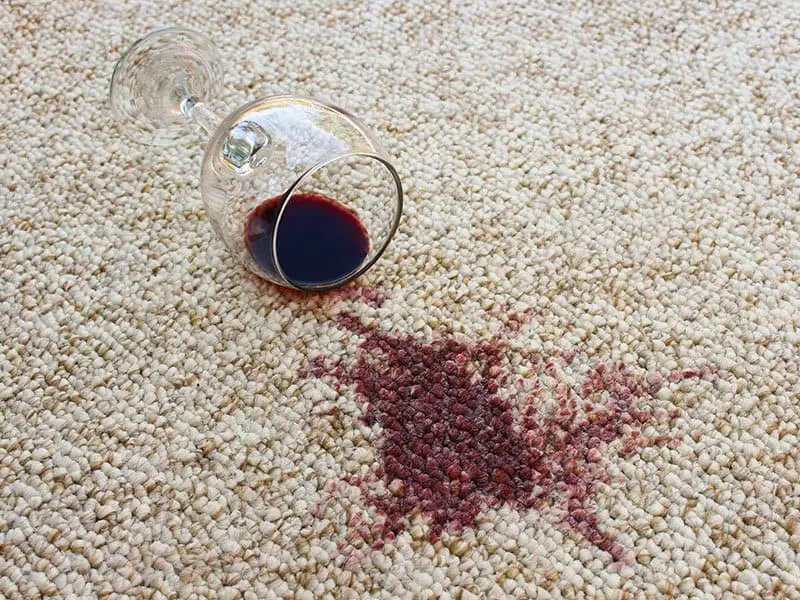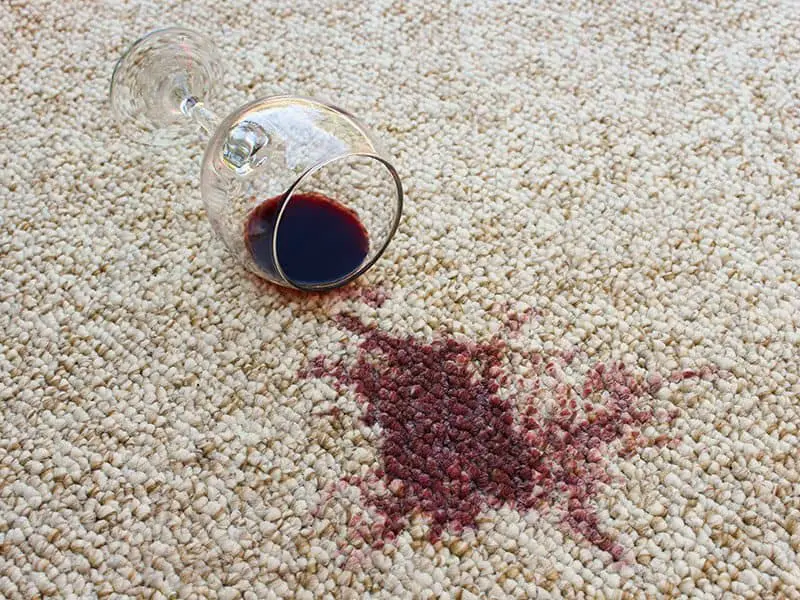 It may also take you longer to figure out how to get these stains out of the carpet, as they are often considered stubborn stains.
4. Pets' Fur
Pet hair is also one of the most formidable enemies of carpeting. Especially if you have an overactive dog or your cat is in a period of shedding, their fur will stick to your carpet more than usual. In such cases, without a vacuum cleaner, it's really inconvenient, right?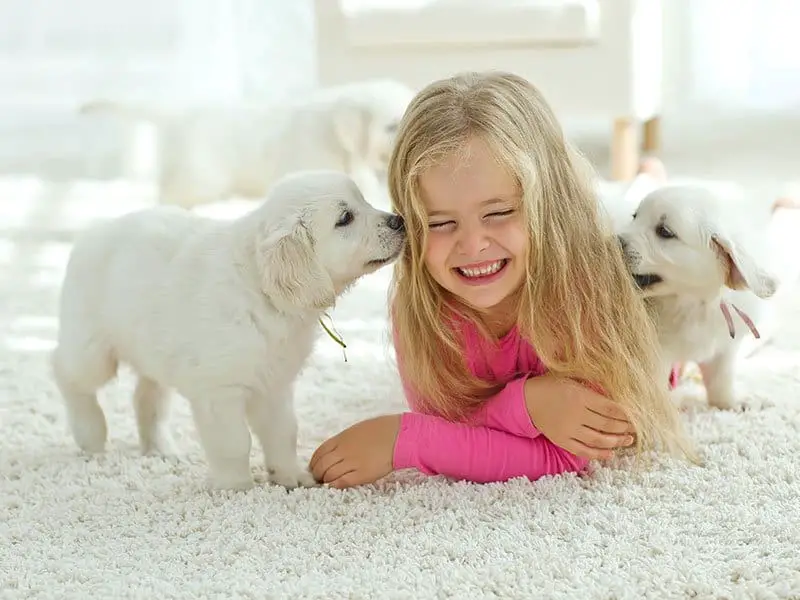 Read the next part of this article with great focus; you will probably find that some household items have more uses than you think!
5. Burns
Burns seem to one of the hardest stains to remove from carpets, and they can appear on all types of carpets when you accidentally drop down a cigarette or something relating heat on them. Therefore, you need to know tips and tricks to get burns out of your carpets. These ways are not always effective due to burns levels, but you should try to use them before changing new carpets.
How To Clean Carpet Without A Vacuum?
A vacuum cleaner is a popular device with many families. However, in urgent cases that need to be resolved but your vacuum cleaner is not ready, what do you need to do?
Keep reading the cool ways that I share below, and you will find you have more useful solutions than you think.
5 Dry Cleaning Methods
These cleaning methods will not require you to apply steam or solutions, they are often used to remove dirt and dry debris from carpets.
Clean by a Broom and Dustpan
This can be considered the most common carpet cleaning method without the presence of a vacuum cleaner.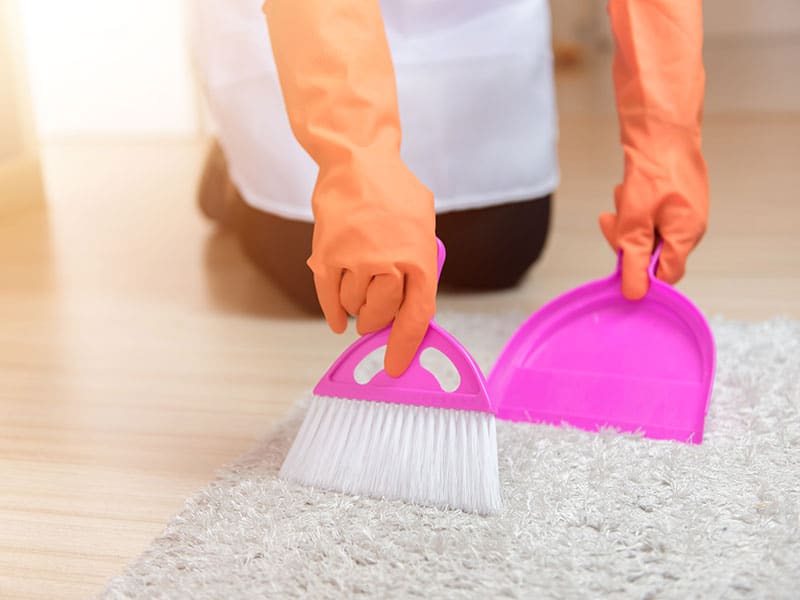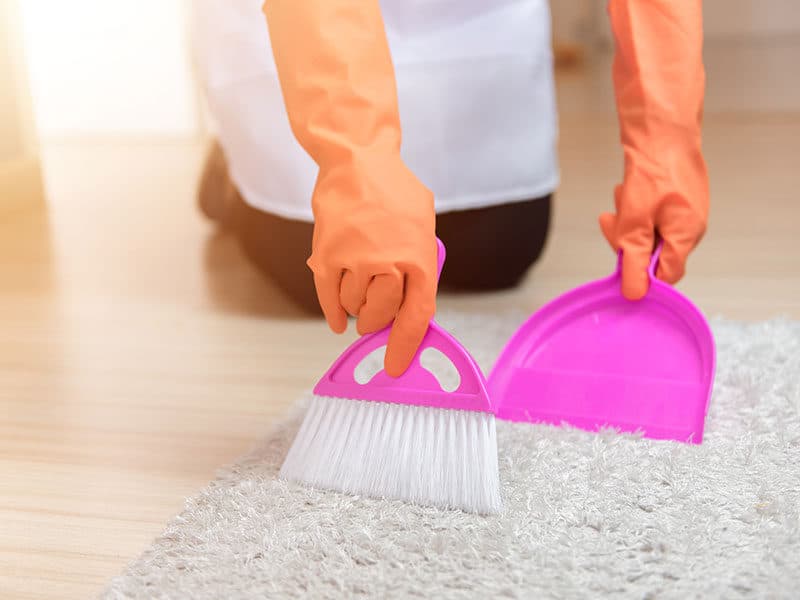 I usually advise people to remove the stain from the carpet in a certain direction, avoiding letting dirt fly in the air, which will adversely affect your health. You even can use your hardwood-floor broom to clean your carpet daily.
| | |
| --- | --- |
| Using tip | Choose a broom with fibers that are not too soft as this will make the cleaning process ineffective. |
| Recommended fiber types | Fine to all types of carpet fibers. |
| Work well with (the type of stains) | Dust, pets' fur, dry garbage ( scrap paper, bottle cap, etc.) |
You can see how this lady spoke effectively when sweeping her carpet with the broom in the following clip.
Clean by Sweepers
The best carpet sweepers can handle cleaning tasks on both floor and carpet. It is designed to be quite compact and fit comfortably in hand. They are capable of fast and effective cleaning without the need for an electrical source. This is a type of dry cleaning – absolutely no effects of steam or high temperatures.
| | |
| --- | --- |
| Using tip | Keep the sweeper low and close to the trash can when disposing of trash to avoid dust fly into your eyes. |
| Recommended fiber types | Fine to all types of carpet fibers. |
| Work well with (the type of stains) | Dust, pets' fur, dry garbage (scrap paper, bottle cap, etc.) |
Clean by Bristle Brush
A sturdy bristle brush will also be a worthy choice for carpet cleaning. If you choose to clean your carpet this way, brushing the carpet outdoors will be more comfortable for you.
You should take out your beloved carpet and find a way to hang it, then proceed to brush in the same direction, one at a time. Debris and dirt will also fall with it.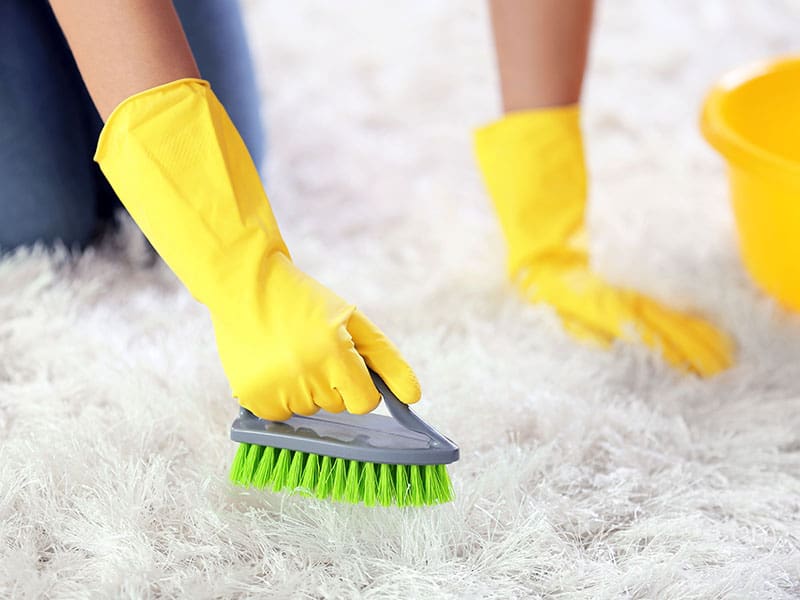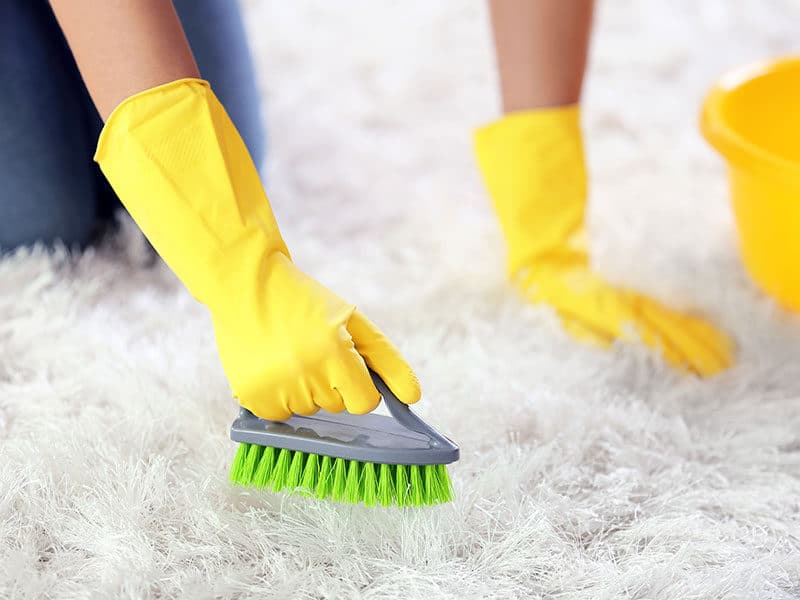 | | |
| --- | --- |
| Using tip | You should hang the carpet at your height. With large carpets, cleaning will take longer, that's why doing so will partially reduce your hand fatigue. |
| Recommended fiber types | Polypropylene, polyester and nylon. |
| Work well with (the type of stains) | Dust, pets' fur, dry trash. |
You can learn some useful tips for cleaning the carpet by brush from this video.
Clean by Beating or Shaking the Carpet
A carpet beater may not be a common tool in many homes, but it is not too expensive and simple to use, so I want to include it in this list as a good suggestion for you.
The carpet beater is usually a lightweight yet sturdy construction, with a fairly long handle. You also need to hang the carpet up and hit it hard with the beater.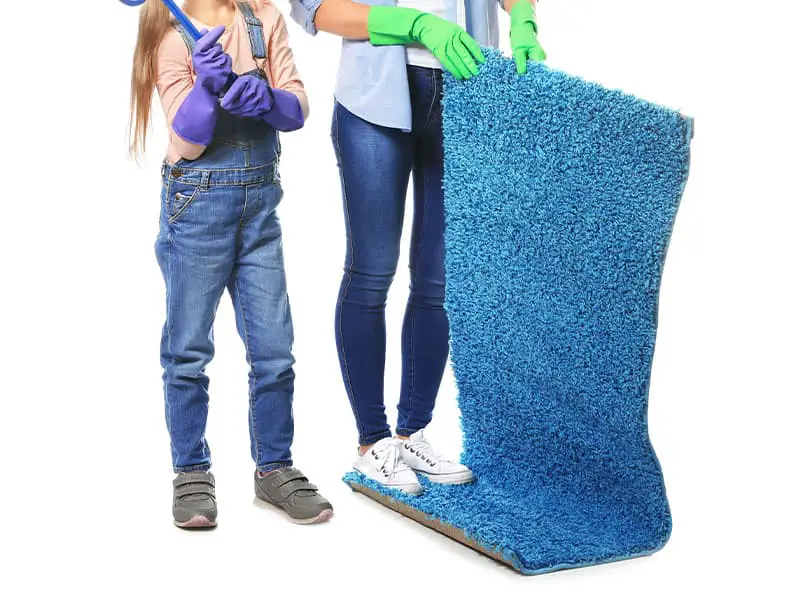 Besides, another good idea: shaking the carpets. This manipulation mainly requires a lot of force in your hand and does not need any other objects.
Plus, the carpet shake is really effective only on small to medium rugs. For large rugs, you need to follow another method that will save more time.
| | |
| --- | --- |
| Using tip | It is recommended to wear a mask when cleaning, as dirt will be scattered from the carpet. |
| Recommended fiber types | Polypropylene, polyester, nylon, and acrylic. |
| Work well with (the type of stains) | Mostly for dust. |
Click the video to see how dust fell out after you beat the carpet!
Clean by a Lint Roller
Lint roller is often used to pick up lint or pet hair left on clothing or furniture such as sofas and beds.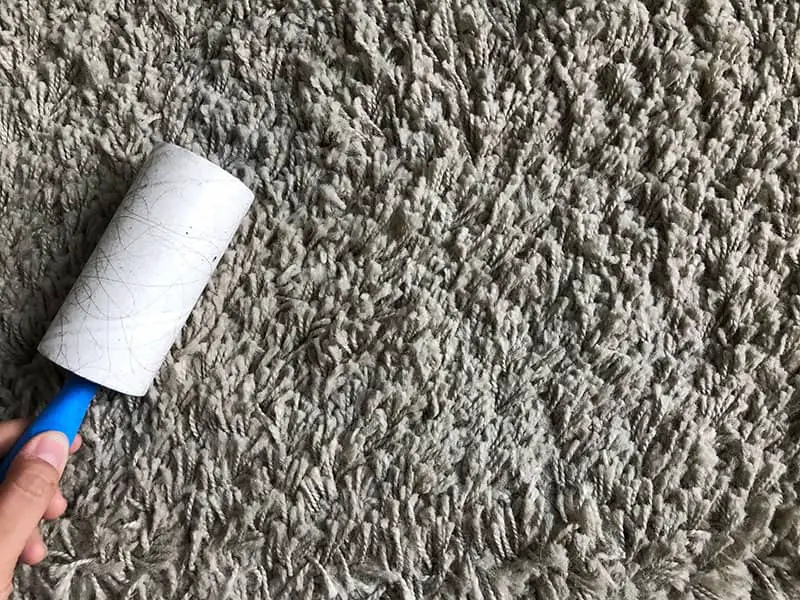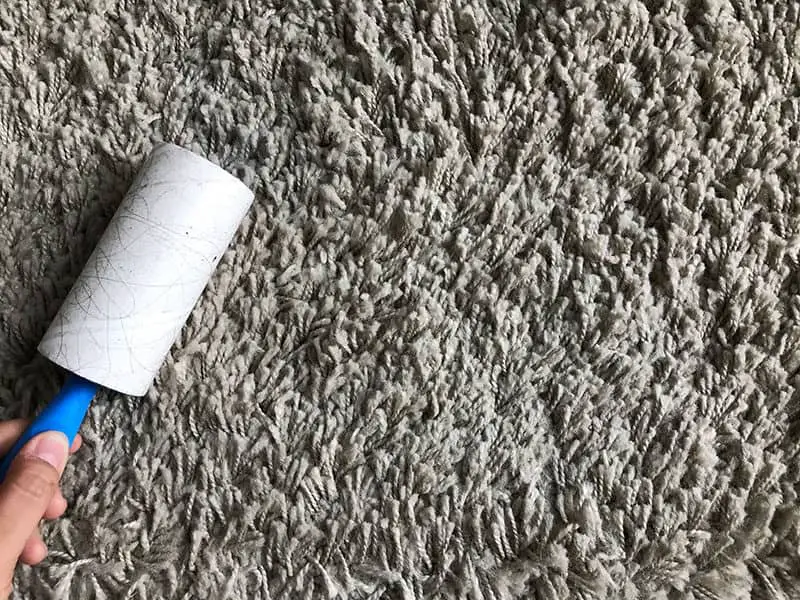 Making the most of the versatility of objects at home has always been my top priority. You can also test the lint roller's effectiveness in cleaning the carpet to get your carpet's best method. It would help if you did a quick, continuous rolling instead of leaving the roller in the same position for too long.
| | |
| --- | --- |
| Using tip | You can also use a large roll of duct tape if lint roller is not available. |
| Recommended fiber types | Polypropylene, polyester, nylon. |
| Work well with (the type of stains) | Dust and pets' fur. |
5 Wet Cleaning Methods
The yellow stains won't go away no matter how hard you shake the carpet or beat it, this is the time when cleaning measures with cleaning solutions come into play.
1. Clean by a Carpet Cleaner
This is one of the best ways to clean carpets without a vacuum cleaner. This measure can remove even stubborn stains on the carpet such as dirt, tea, chocolate, etc. The first thing you need to do is spray a special carpet cleaner on the stain. Then wait for 2-3 minutes for the cleaner to soak up the stain.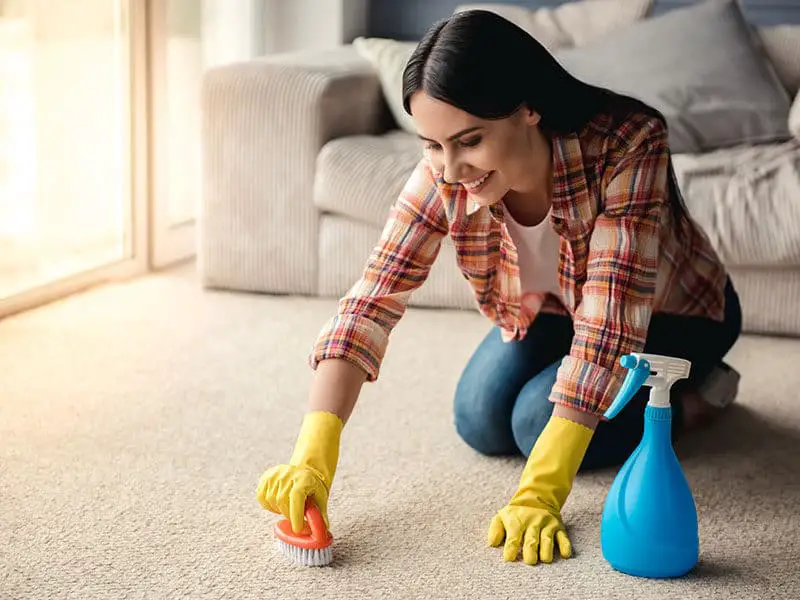 You can also get more help from the iron to complete remove stains. Apply the cleaner directly on the stain and place the clean-and-wet towel above it. Next, you need to iron the towel. Under the heat's impact, the stain will seep back into the towel, and your floor will be clean like new.
| | |
| --- | --- |
| Using tip | You need to urgently spray carpet cleaner on the stain before it has dried out for too long. |
| Recommended fiber types | Polypropylene, polyester, nylon, and acrylic. |
| Work well with (the type of stains) | Stains are caused by liquid. |
2. Clean by Beer
People often talk a lot about some of the uses of beer for hair as well as skin, but few people know that besides, beer is also a great assistant for cleaning stains on the carpet. Beer usually deals well with stains from other liquids such as alcohol or coffee.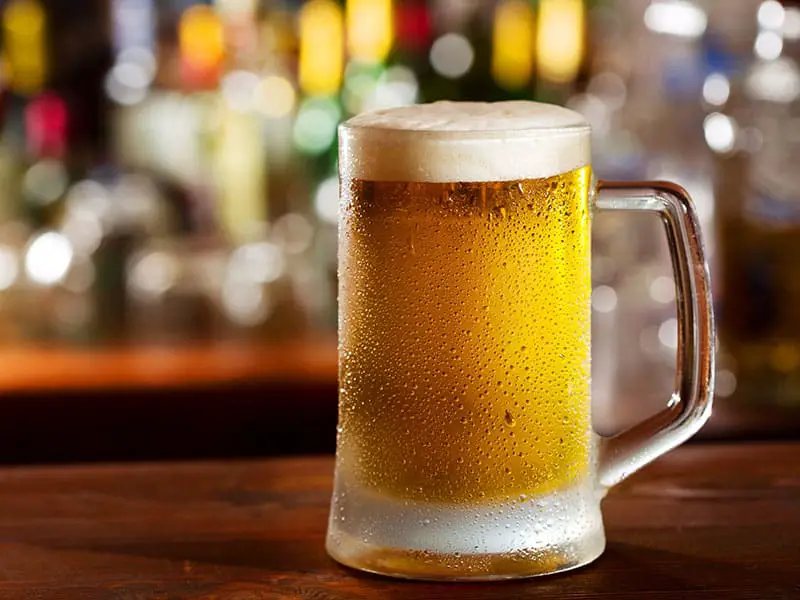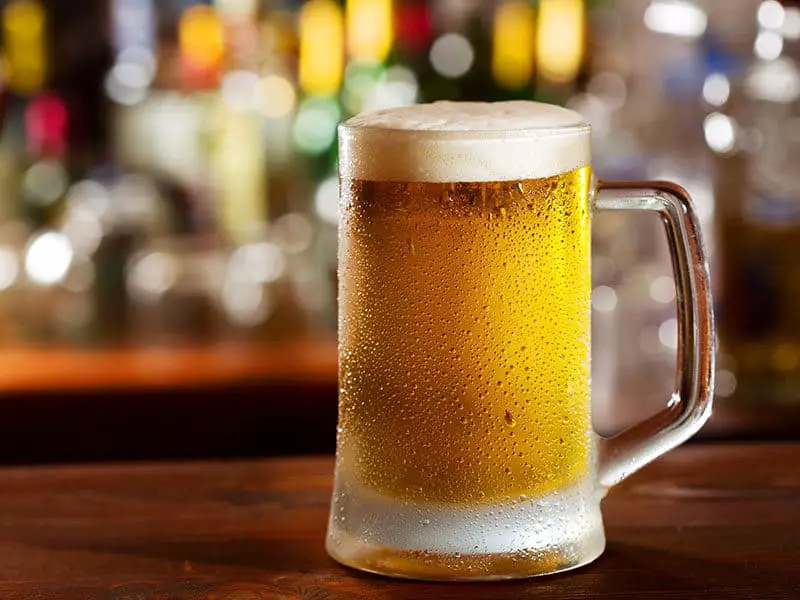 To remove stains by beer, you will need:
1 can of beer (you can prepare more if the areas are large.)
2 sponges
Hairdryer
How to do:
The first sponge you will use to blot the beer and rub the stain until it fades away.
Then you should use the remaining clean sponge to absorb the stain on the carpet and then dry with a hairdryer.
| | |
| --- | --- |
| Using tip | For new stains, dab after adding beer to it, not rubbing it vigorously. |
| Recommended fiber types | It's good for all types. |
| Work well with (the type of stains) | Stains are caused by liquid. |
3. Clean by White Vinegar and Dish Soap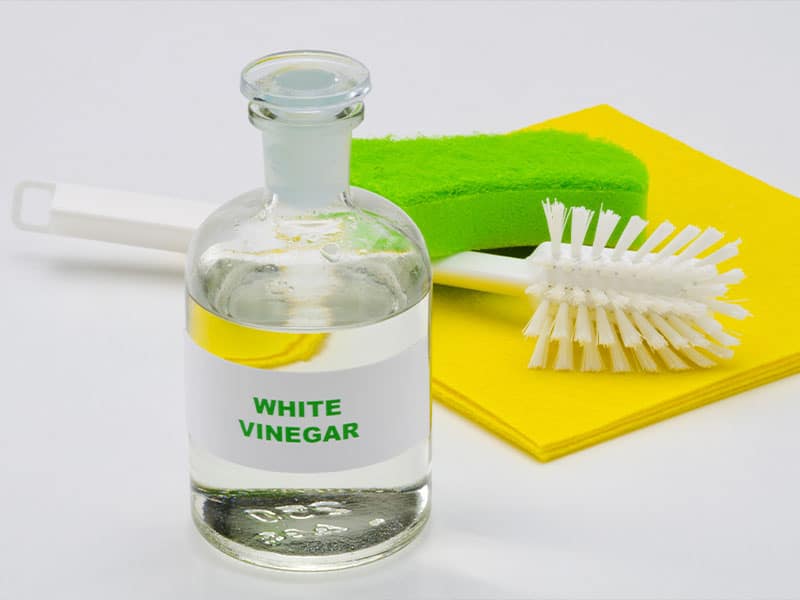 Housewives can use this method to clean the carpet. You will need to mix one teaspoon of white vinegar into the dishwasher cleaner with two warm water cups.
Then blot the solution with a cloth and wipe the dirt off the carpet.
Finally, you will need a dry cloth or paper to pat dry the cleaning solution.
| | |
| --- | --- |
| Using tip | You should wear gloves when cleaning with this method to avoid dry skin on your hands. |
| Recommended fiber types | It's good for all types. |
| Work well with (the type of stains) | Stains are caused by liquid. |
4. Clean by Washing Machine
Wash your carpet is considered the most drastic method when the other methods do not really satisfy you. However, you will need to clean the dry stains before putting the carpet in the washing machine to avoid getting stuck in the washer.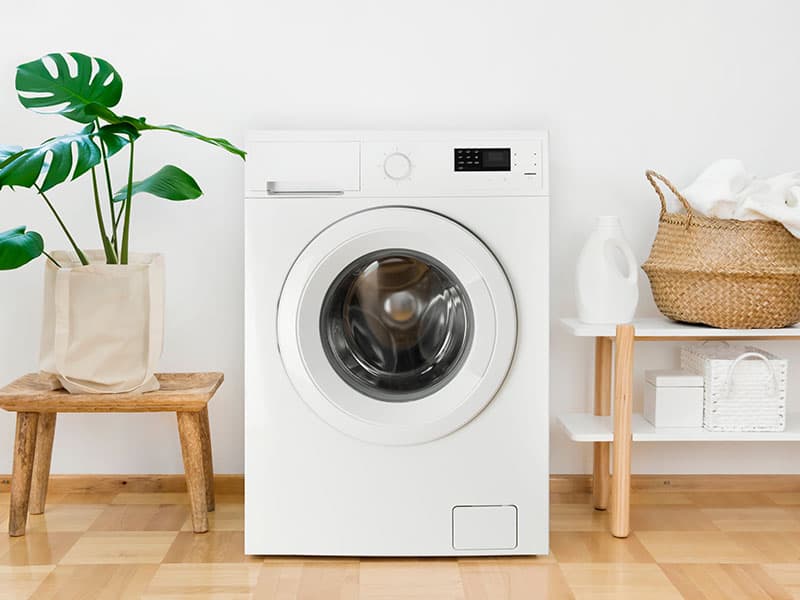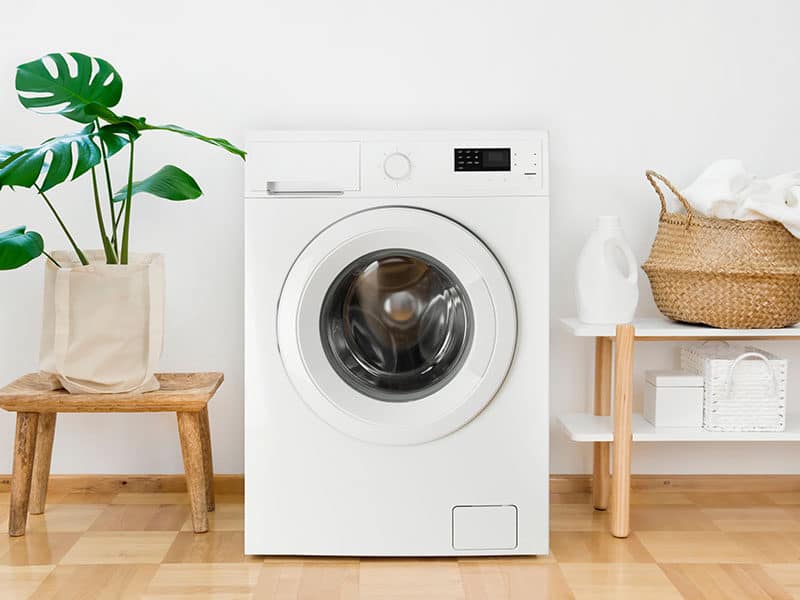 Most carpets are capable of being effectively cleaned using this method. However, you should consider cleaning by another method for rubber-lined carpets instead of washing directly in the washing machine.
Wool carpets are particularly prone to ruffling, so you should only choose to use neutral detergents with a pH of 5 to 8 and must dry quickly, not soak in water for long. When washing, do not rub too hard; use too hot water to avoid deformation, shrinkage of the wool.
Using tip
You should carefully consider whether the washing machine's capacity can really handle the size of your rug.

If the carpet is too large, then going to professional carpet cleaning facilities will be a wiser idea.

Recommended fiber types
It's good for all types.
Work well with (the type of stains)
It can remove all types of stains.
5. Clean by a Steam Mop
This can also be considered as a not bad choice. However, when you want to use a convenient steam mop to clean the carpet, you should make sure that no one will be at home or walk around the carpet area for a few hours so that the carpet can return to the state before the onslaught of new bacteria or dirt.
The process of cleaning the carpet by steam mop is also not too complicated. It is advisable to pre-treat dry rubbish as it can be a hindrance while you are using a steam mop.
In addition, you will also need to test the temperature and heat resistance in one corner of the carpet before cleaning the entire carpet directly.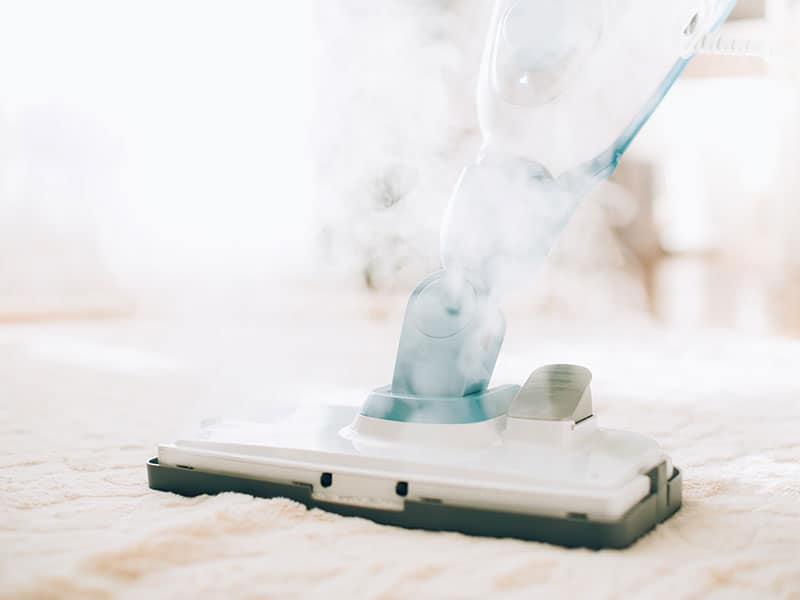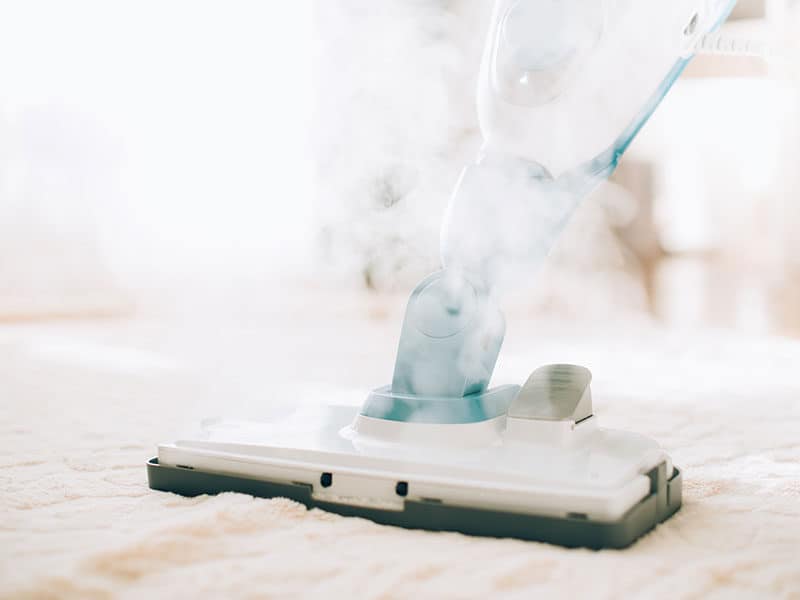 | | |
| --- | --- |
| Using tip | It would help if you moved the steam mop in straight lines on the wool carpet to avoid tangling the fibers. |
| Recommended fiber types | It's good for all types. |
| Work well with (the type of stains) | It can remove all types of stains. |
FAQs
There will be specific cases that the general information in the article cannot fully answer for you. I am going to raise a few such cases right below, let's see if you have the same concerns among the following questions.
Pick The Optimal Cleaning Method For Your Carpet
Although vacuum cleaner is not included, this list of effective carpet cleaning methods can still be found in your pocket with quite a few helpful tips and suggestions.
Other dry cleaning methods are useful, but the broom and dustpan are still superior when it handles glass debris without leaving much risk or injury when cleaning. In addition, the use of a suitable and specialized carpet cleaner for each type of carpet will give you more assurance that the carpet will not be damaged and discolored.
The above are my suggestions on how to self-clean carpeting at home without a vacuum cleaner. Hopefully, they will help you in the process of caring and cleaning the home.
Do not forget to leave great tips in the comment section and share this article so everyone can learn more useful knowledge together!