I bed you know that a couch is very expensive and it is therefore everyone's goal to keep it neat for a long time. In order to do, so you will not get around steam cleaning it. However, there are a few and important things you need to pay attention to avoid destroying furniture.
While you may have some cleaning instruction from the manufacturer or the seller, I have gathered for you valuable advice, and the most effective methods to achieve the best cleaning result.
Hence, if you are thinking that the time is right to give your beloved sofa a thorough steam cleaning, browse this article, and simply follow convenient step by step guide.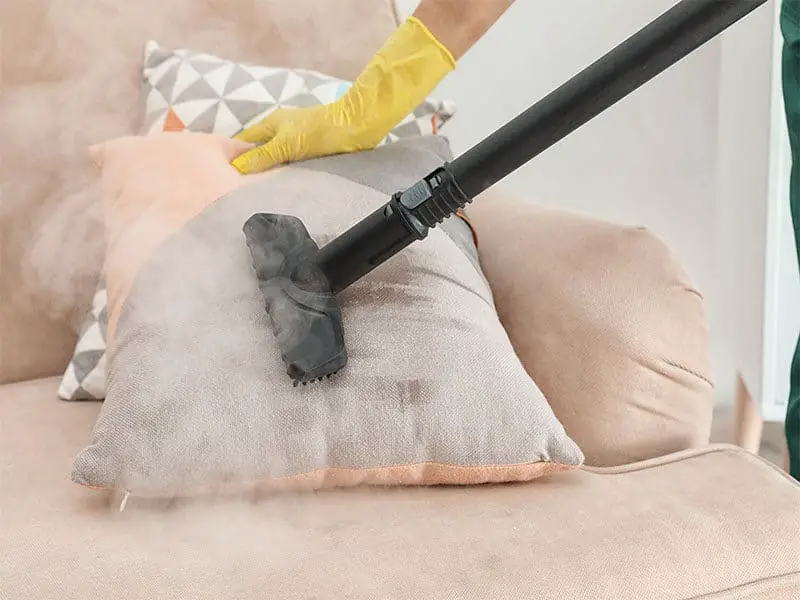 Few Preliminary Notes Before Steam Cleaning Coach
Understanding how a steam cleaning exactly works will make it a lot easier for you to apply it in the right way. So, before getting started, consider these points below:
Steam cleaning alone does not remove dirt. Instead it exerts the particles from the fabric to enable you to eliminate them. In short, this means that after steam cleaning, you either have to follow up with the vacuum or at least wipe your sofa with a microfiber cloth.
As the steam is very hot, you must take care to not bring it in close contact with your skin at all times. Maybe, you do not believe it, but your skin can get severe burnings from hot steam.
Another good advice is to always follow the cleaning instruction from both this article and the steam cleaning manual to prevent injuries.
Understanding Basic Cleaning Codes
Before you get started, try to get some information about your couch. Most items come with a label, that summarizes care instruction for the respective material. It could either be directly attach to the furniture; else you have received it as a separate paper at the time of purchase.
Start by looking at the label, and identify the cleaning codes, that will tell you how intensive you can treat the item. For example, an X means that the item cannot bear with water as this will damage fabric immediately. Therefore, you cannot steam cleaning a couch with an X cleaning code.
Nonetheless, if your couch features a W cleaning code, steam cleaning absolutely possible without any limitation. Finally, an S on the label means that the manufacturer recommends to clean couch with solvent based cleaners instead of steaming.
Sometimes, you may notice a combination of two letter, for example WS. This implies that both codes are valid, so you can steam clean or dry clean your couch in this case. If you do not make sure about label or you cannot find it, always contact the manufacturer or the seller first before using steam cleaner.
Choose The Right Steam Cleaner
Believe it or not but it also depends on the equipment when you want to achieve the best cleaning result. Even if you are a pro and you know a lot of different cleaning techniques, you could still destroy your couch eventually, if you do not have a proper device. Therefore, I have collected valuable information on how to choose a solid steam cleaner.
Comfort And Convenience
As you have to be able to reach all spots, and you will spend quite some times with the device, make sure it is handy to use and practical for you. For example, special steam cleaners for upholstery exist, which are east to handle and make to access to all small areas such as in between two seat cushions.
Accessories
If you do not get a specialized steam cleaner, then pay attention to accessories included in your set. Some universal cleaners come with an upholstery tool, that will help you steaming surface of your couch. More than that, it is also a benefit if steam cleaner can be filled with special cleaning detergent in addition to water.
Types Of Steam Cleaner
Basically you can choose between cold and hot steam cleaner. As the name tells cool steam cleaner releases cold steam and is therefore a good alternative for material, that cannot cope with heat.
On the other hand, cold steam is not effective to remove bacteria or viruses, so you would need to add another disinfecting solution. In contrast to that, a hot steam cleaner is boiling the water to release steam, and thus powerful enough to hygienically clean upholstery or fabric without the addition of extra cleaning solution.
Benefits Of Steam Cleaning A Couch
Perhaps you have never heard of people steam cleaning a couch and you wonder why you should do that. That is a good question, so let me convince you why steam cleaning is important, and worth the effort.
Most significantly, steam cleaning with a hot steamer sanitizes the couch from bacteria that can land their through sweat, food leftover or pets. Furthermore, the steam also removes unpleasant odors and you will find it much more comfortable sitting on your couch.
A side from that, if you suffer from allergy such as bugs, dirt or pollens you can greatly benefit from steam cleaning as it gets rid of the allergens, and thereby improving air quality in your entire home.
8 Convenient Steps To Have Your Couch Steam Cleaned
In the next section, you will learn exactly how to steam clean your couch. Make sure to follow all steps to reach a satisfying result.
What You Will Need:
Vacuum cleaner
Soft cloth
Spot removing couch detergent
Emulsifying solution
Steam cleaner
Optional: disinfectant, fabric cleaning detergent
Step 1: Challenge The Color
To absolutely make sure the color of your couch can sustain a steam treatment, quickly apply the steam cleaner on a less visible spot, such as the side that attaches to the wall. If you do not see the color to fade, then you can directly continue with the next step.
Step 2: Vacuum Thoroughly
Before apply the steam, you can remove all dirt that easily comes off first. Take a vacuum cleaner, ideally a handheld, and apply upholstery nozzle, and vacuum all surfaces of your couch, including pillows and seat cushions. Go over each area twice to make sure you do not miss any corner.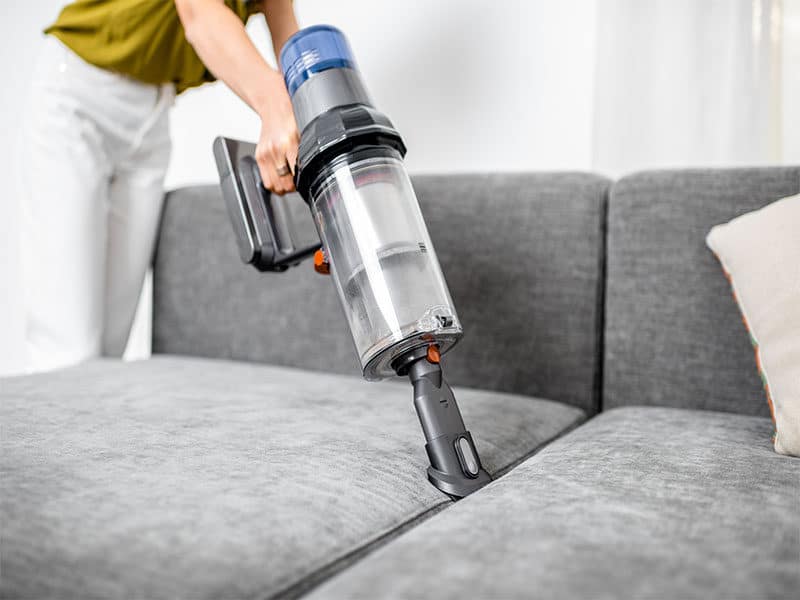 Step 3: Pre-Treatment
Once vacuumed apply a spot-removing couch detergent on the fabric, and let it sit for about 5 minutes, this will soften the material, and simplify the steaming later. This step is extremely crucial if your couch has suffered from oily food leftovers, and spilled alcohol or soft drinks.
If you have not cleaned your couch for a very long time, you may need to increase your effort. You can pretreat the surface with an emulsifying solution, and wait for a few minutes to obtain the full effect.
Keep in mind that those conditioners and softeners are strong chemicals mixtures, hence always read the instruction on the bottle carefully before using it.
Step 4: Set Up The Device
While you need to wait you can use the time to prepare the steam cleaner. Open it and take out the water tank, fill it with water and some fabric cleaning detergent if you wish to add that.
If you use the cold steamer, you can also reckon some disinfecting solution. Next, attach a suitable nozzle and upholstery brush, and plug in the cleaner. Some devices also need a few minutes to heat up the water.
Step 5: Steam Cleaning
To make it as simple as possible, start with steam cleaning the back pillow. Move over the surface with the nozzle and avoid stopping to treat all spots with the same intensity. Then, work your way towards the seat cushion and the remaining frame until you have covered all sides and surfaces.
To keep the overview, try to work within one area at a time, moving in stripes from top to bottom. In the event, that a spot does not become clean, avoid spending too much time on it with the cleaner. Staying on the same spot can damage the fabric as it will become too hot.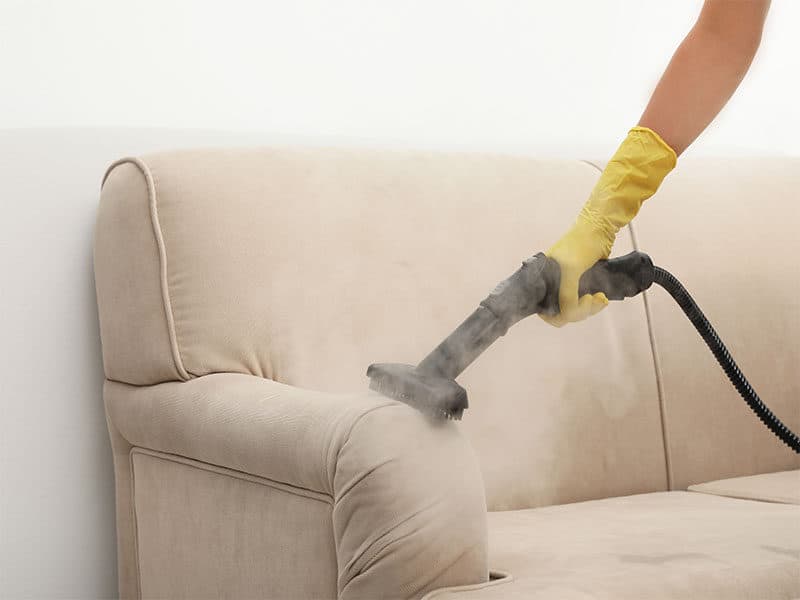 Step 6: Drying
Once you have treated the entire sofa, you must give it sufficient time for drying. Fabric dries best if fresh air can access the material, hence it is a good idea to not place all pillows back immediately.
To further accelerate the process, you may open windows in your living room or turn on a fan if you have one. Touch all sides to test whether it is completely dry before placing back the seat cushions, pillows, and any other accessories such as blankets or plus animals.
Step 7: Commercial Cleaner As A Back Up
If after the entire cleaning process, you still notice some dirty spots, you may need to consider using a commercial heavy duty cleaner. I suggest you Resolve or Tuff Stuff and Wine Away for red wine stains.
Apply the cleaner on a sponge, and heavily scrub the affected areas. As these detergents are strong in chemical, they should only use for spot cleaning, and not be applied on the whole couch.
Step 8: Collect The Dirt
Many people unfortunately stop after cleaning and drying. Nevertheless, as previously mentioned, steam cleaning only loosens the dirt particles, which means that you need to collect them by either vacuuming, or with a microfiber, magnetic cloth.
Bonus Tips
Since you spend some times to steam clean your couch, you certainly want the effect to last long. It is therefore a good advice to also wash any accessories on the couch at the same time when you steam clean. This way does from your pillows or blankets cannot transfer to the couch fabric.
To better imagine how to execute all of the above steps, simply watch this video:
Prevent Your Couch From Getting Dirty
Even better than to combat stains on your precious couch, is to prevent them from actually happening. With a few simple rules, you can achieve your couch to stay fresh for a much longer time.
No Eating On The Sofa
It may sound harsh but it is a very effective rule to prevent stains. Food often contains a lot of fat or sugar which quickly embeds in the fabric and is very difficult to clean up later. If you can be strong enough to eat only at the dining table and ban food from the sofa, you will not have any leftover or spill stains.
No Pets On The Couch
Pets naturally carry a lot of dirt particles on their fluffy skin, but also on their feet. Cats and dogs are often walking outside, collecting mud, insects, tree leaves and other types of dirt and will carry that into your home. Hence, quickly teach your pets that the couch is a now go zone for them.
Protect The Surface With Blankets
While the couch surface is indeed difficult to clean, blankets, for example, can easily be washed in the laundry machine. It can therefore be a good idea to actually cover huge parts of the seating area by blankets to keep your coach looking good for a longer time. If you then regularly wash the blankets, you will always have a sofa that looks like it just has been bought recently.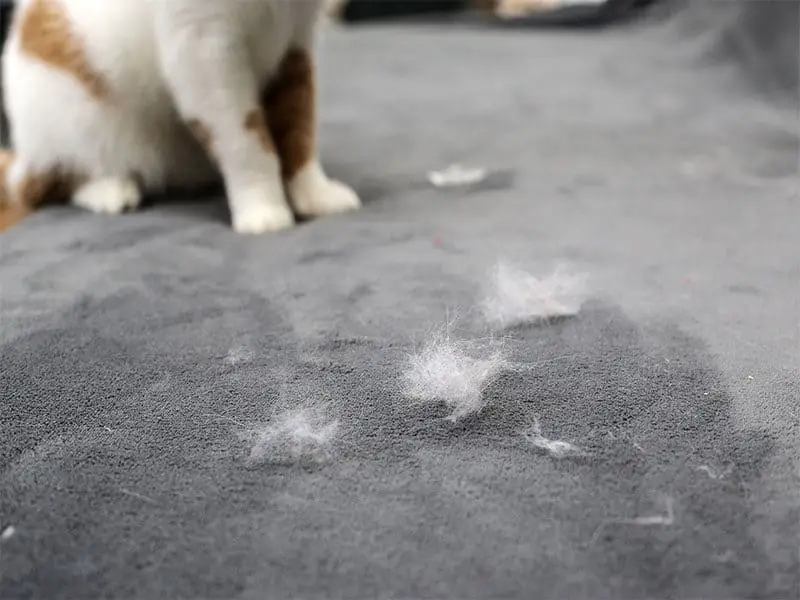 Expectation Vs. Reality
I understand when you work hard you expect to achieve a desirable result. While the method I describe you above is highly effective, it cannot always completely remove all stains. You might notice some heavily dirty spots to remain even after carefully executing all steps.
If this happens, you still do not need to become desperate as there still are some things that can be done. First alternative would be to repeat the entire cleaning process again. If you have not used already, add some cleaning detergent to the steaming water this time.
Furthermore, you can create your own, homemade mixture to shampoo the spot. For example, mix some gentle laundry detergent together with water in a one to one solution and scrub it heavily with a sponge. Let it rest for a couple of minutes and then rinse out the shampoo from the fabric.
If all ways fail, then you might need to find a way to cover the spot, such as by putting a blanket over it. Anyway, I hope that this article has helped you to figure out how to steam clean your couch and I wish you have been successful.
If so, please leave me a comment and share your steam cleaning experience with me and other readers, as I am curious to hear how it went. Good Luck!