Top 12 Best Vacuum for Berber Carpet Reviews 2022
Berber carpets can really tie a room together. Their eye-catching dyes and patterns of Berber carpets follow an ancient style that dates back several thousand years ago.
It's pretty clear that Berber carpets, being a delicate type of carpeting, require a light touch to leave its beautiful fibers full and intact. Sadly, not every vacuum cleaner is up to the job.
If your floors are covered in Berber or you plan on getting them installed, you can simplify the task of maintaining the carpet by choosing the most appropriate type of vacuum cleaner.
Today, I'll go over what I feel are the 12 best vacuum cleaners for Berber carpet and why. I'll also spend some time talking about the criteria used to measure the effectiveness of a vacuum cleaner and several time-tested methods of adequately cleaning Berber carpets.
What Exactly Are Berber Carpets?
Berber carpets are considered one of the most versatile types of carpeting. Though popularized by the European carpeting industry in the early 20th century, their roots go way, way back.
The earliest evidence of Berber textile originates from the 2nd century created by the expert women weavers of a nomadic people in the Middle Atlas in Northern Africa.
They were characterized by their distinct dark and white hue contrasts, as well as their unique carpet fiber's loop style. Today, the phrase Berber carpet has been watered down to include any type of looped carpeting, regardless of color choice.
Berber carpets have become a popularized style of carpeting for many homes, though they're mainly found in basement recreation and home office rooms. Their relatively inexpensive cost per square foot also contributes to their increase in popularity.
Why Won't Any Vacuum Cleaner do?
Cleaning a Berber carpet is relatively easy to do if you have the right tools and supplies. One major upside of Berber carpets is spills don't adhere and change the fibers' color very quickly, giving you time to clean up spills without discoloration.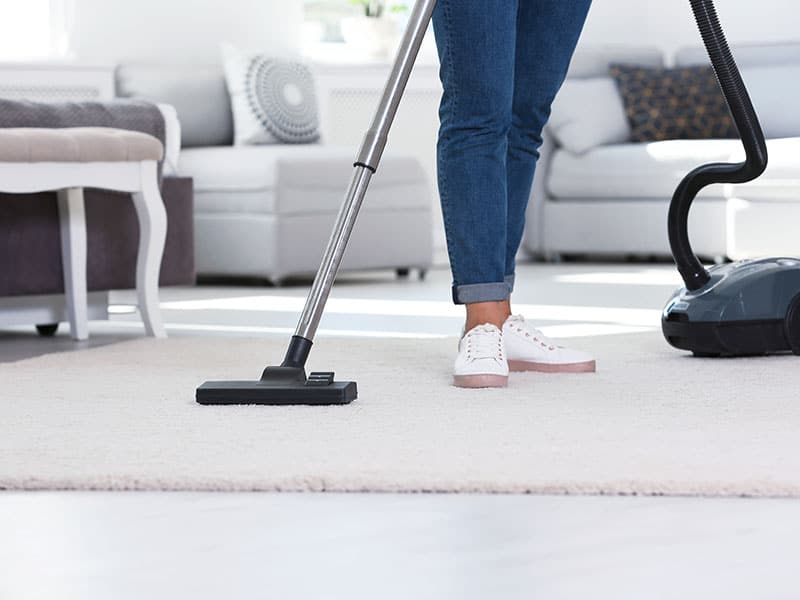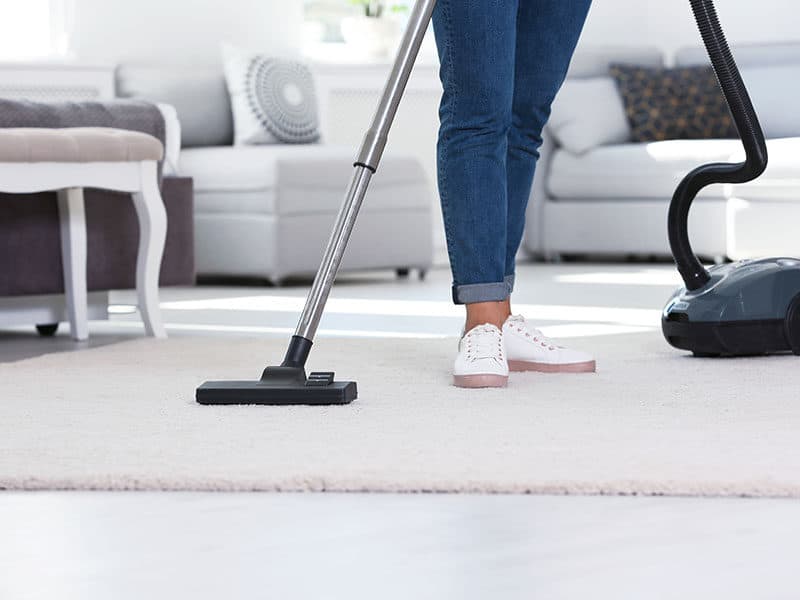 Although there is a multitude of reasons why homeowners should consider installing Berber carpets at home, they have one very huge flaw, namely the durability of each loop.
As you can imagine, if an object gets stuck in the loop, pulling it out will result in removing the loop from the carpet's warp, potentially leading to unsightly bald patches.
With the quality of vacuum cleaners being associated with high-power suction and aggressive bars, a vacuum cleaner made for carpeting, in general, may not work as admirably on gentle Berber.
Comparison Table 2022
If you don't have the time to sift through the reviews each of the 12 vacuum cleaners for Berber carpets, feel free to consult the following table. It mentions the most important features of each model and how they compare.
Best Vacuum Cleaner For Berber Carpet Reviews 2022
Now that you have a rough idea of what each of the 12 vacuums can offer, let's take a closer look at each. Here, I'll go over their shining features and some of their downsides.
1. Dyson Multi Floor Ball 2 Vacuum Cleaner
(Best Overall)
The Multi Floor Ball 2 by Dyson is a great option if you're in the market for an upright. It's lighter than it looks, but it eliminates the worst stains with relative ease in just a couple of passes.
Best of all is its adjustable cleaning head that adheres to the surface of your floor, whether it's floorboards, high-pile, or low-pile carpeting like Berber.
The Multi Floor Ball 2 comes with three standard attachments – a crevice tool, a dusting brush, and a stair tool – to help clean above-ground surfaces.
The Radial Cyclone filtration system separates fine particles from larger ones, leaving the filter free of debris and maintaining optimal suction pressure for longer.
Pros
Lighter than most comparable uprights
Filter never needs to be replaced
Powerful suction
This is what the Dyson Multi Floor Ball 2 looks like in action.
2. Miele Complete Marin C3 Vacuum Cleaner
(Best High-End)
The Marin Complete C3 from Miele is one of the brand's premium floor cleaners. It comes with three additional cleaning attachments (crevice tool, upholstery tool, and dusting brush) that make spot-cleaning a breeze.
The HEPA Filter traps up to 99.9% of dust particles as small as 0.3 microns and is fully integrated into the dust collection bag. Replacing the bags can accumulate into extraordinary costs, but perfectly clean floors are practically guaranteed.
The beater bar can be turned on and off any time you like, making this a super-versatile unit. It works extraordinarily well on Berber carpets as well as hardwood floors and marble tile.
The shining feature is its auto suction mod.
Pros
Long warranty
Non-crushable suction hose
Usable on delicate surfaces like Berber carpeting
Cons
Costly replacement filters
Limited bag size
This helpful video review of the C3 should show you what I mean.
3. Miele Classic Cat and Dog C1 Vacuum Cleaner
(Best for Pet Owners)
For those of you with cats and/or dogs, you'll need the ultimate vacuum cleaner that's not just light on delicate Berber but also great at removing fallen fur. And the Classic Cat and Dog C1 is just the tool for you.
To tackle dirt on Berber carpeting, just turn the dial to one of the first three cleaning speeds to leave the delicate loops intact. For everything else – from bare floors to high-pile carpeting – crank it up to 5 for the best results.
Apart from its super-fine mesh filter, it comes with a charcoal filter to remove foul odors, leaving your room feeling and smelling fresh after a hard day's work.
Pros
Best vacuum for removing fur
Adjustable power
Wide cleaning tool selection
Cons
Limited bag size
May leak
ibaisaic's channel has an awesome unboxing video of the Cat and Dog C1 that you can watch here.
4. Eureka 3670G Mighty Mite Vacuum Cleaner
(Most User-Friendly)
The Eureka 3670G is a multipurpose vacuum cleaner that doesn't just work beautifully on bare floors but also low-pile carpeting. Users mainly use the 3670G in media rooms or basements for quick, effortless cleaning.
The 12-amp motor delivers enough suction pressure to extract the finest particles out of Berber loops, and its long 20-foot power cord offers far reach and greater convenience.
The 3670G also has excellent maneuverability. equipped with a 20-foot power cord and a 7-foot suction hose, you'll have a wide range of movement from a single wall outlet.
Last of all is the HEPA filter that's designed to trap the smallest of particles nearly 100% of the time. Anything the 3670G picks out of looped carpet fibers stays in the canister.
Pros
Lightweight, compact
Strong suction for tiny size
Ideal for low-pile carpeting (Berber)
Cons
Obnoxiously loud
Not great at picking up large debris
Check this video to see what's inside of the Mighty Mite's box.
5. Shark Rocket HV320 Vacuum Cleaner
The first thing users will notice about the HV320 by Shark is how extremely lightweight it is. This isn't an accident – by keeping the unit light, you'll have able to clean above-ground surfaces without the use of cleaning attachments.
That's not to say the HV320 doesn't have its fair share of cleaning tools. This stick vac comes with a crevice tool for getting into tight spaces, a dusting brush for cleaning upholstery, and a TruePet Motorized Brush for pet fur.
All of these attachments are usable on Berber carpet thanks to the mighty 500-watt airflow delivery. Hardly anything is left over after every single pass.
The one thing you need to be aware of is its motorized brush. Though designed to pick up hair, the brush becomes easily tangled and will need constant cleaning. A pair of scissors should do the trick.
Pros
Extremely lightweight
Great suction for a stick
Cons
Leaky dust bin
Brush gets tangled easily
This is a video of GrumpyMan's surprisingly kind words for the Rocket.
6. Severin Nonstop Canister Vacuum Cleaner
(Quietest Vacuum)
The Nonstop Canister Vacuum is an excellent tool to have for floors covered in carpeting or even bare floors. There truly is a lot to love about this machine, especially its durability and energy-efficiency.
The Nonstop by Severin uses MultiCyclone technology to separate the collected debris. This process ensures that nothing large is clogging the HEPA filter so suction power remains at its peak for longer.
This canister's hose is a bit too short for most people. Measuring in at only 5 feet, you may need to bend forward a bit for standard vacuuming and practically kneel down to get beneath furniture.
Inside the box, you'll find a universal floor nozzle, a large floor nozzle, and a bag containing three accessory pieces. The combination of cleaning attachments makes this a magnificent canister for both soft carpets (Berber) and hard bare floors.
Pros
Not loud for a canister
Rubber wheels for delicate floors
HEPA Filter lasts a lifetime
Cons
Power cord is short
Not designed for tall people
Stop and watch this video to see what the Nonstop is all about.
7. Dyson Absolute V8 Vacuum Cleaner
Dyson has created some of the world's best vacuum cleaners, and their line of sticks outclasses most brands. The Absolute V8 is made for those who want the performance of a Dyson but don't have the budget for the V10.
Like the other models in the Cyclone product line, the V8 works well on all floor types. On low-pile carpeting, the built-in direct-drive cleaner extracts every bit of dust, dried food, and hair. Switch to the nylon carbon head for hard floors.
Best of all, it converts from along stick into a stubby handheld unit. Spot-cleaning above-ground surfaces and auto interior couldn't be easier if you have the V8.
Its extraordinary battery provides up to 40 minutes of continuous cleaning, but it requires more than five hours to charge.
Pros
Long battery life
Convertible means versatile
Made for all floor types
Cons
Still quite costly
Unbearable charging time
This is a quick marketing demo of the Dyson Absolute V8.
8. Tineco A11 Hero+ Vacuum Cleaner
Stick vacuum cleaners aren't particularly known for holding onto a charge for very long, especially when you activate HIGH power mode. But all that changes with the A11 Hero+ from Tineco.
You don't just get one but two batteries that supply up to 30 minutes (standard cleaning mode) of cleaning each. One can sit in the charger while the other is attached to the Hero+.
The 4-stage filtration ensures everything that gets sucked in will not exit through the exhaust, unless the plastic dust canister cracks, then you've got another problem on your hands.
Overall, the A11 Hero+ is a high value stick vacuum for those who can't shell out the money for a Dyson.
Pros
Dual batteries, extra runtime
Great for delicate carpets
Can charge both batteries simultaneously
Cons
Weak dust canister
Not for large debris
Take a moment to see what Jason Robert's thinks of the A11 Hero+.
9. Oreck XL2100RHS Vacuum Cleaner
Not many companies can boast powerful 8-pound upright vacuum cleaners, but Oreck isn't like most. The Cleaner XL works beautifully in most situations, and cleaning Berber carpets isn't even a question.
The scary part is that its beater brush is not adjustable so there is a very real risk of it tearing away looped fibers. However, customers hardly have anything bad to say about its carpet-cleaning performance.
This unit does not have the attachments needed to clean stairs and above-ground surfaces. It's a pretty basic upright, albeit extremely lightweight and powerful.
For any older readers out there, you might appreciate not only its light design but also the 35-foot power cord that requires less frequent moves between power outlets.
Pros
Ultra-lightweight
Able to deep-clean high-pile carpets
Fast-spinning brush roll
Cons
Warranty only 12 months
Drive belt requires replacing every six months
See what a professional carpet cleaner has to say about the XL2100RHS Cleaner XL.
10. Bissel Zing Corded Vacuum Cleaner
Although the Zing supposedly works best on hard floors, that's not to say it doesn't work like a charm on carpets – especially low-pile carpeting like Berbers. Its limited suction power actually makes it a great option for sensitive carpet fibers.
Moving the Zing from room to room and even between floors is easy thanks to its lightweight build. Holding the motor housing while navigating the wand and vacuum head requires hardly any effort at all.
Despite being so easy on the shoulders, its motor supplies quite a punch – bare floors, low-pile carpeting takes no time at all. Some users even got some use out of the Zing to spot-clean high-pile carpets.
Pros
Not too noisy
Lightweight and easy to maneuver
Sufficient cleaning power for low-pile carpets
Cons
No brush roll
No storage space for cleaning tools
This video will explain all you need to know about the Zing.
11. Miele Classic Olympus C1 Vacuum Cleaner
(Best High-End)
When it comes to Miele, there's really no reason to doubt their canisters' supreme cleaning performance. This time around, we have the Olympus C1 – a super-quiet machine that's designed for carpet cleaning.
Its brushroll-less vacuum head limits the type of carpets it cleans, but for Berber and other low-pile surfaces, the Olympus C1 is completely reliable. Plus, the telescoping wand reduces the need to stretch before vacuuming drapes.
Because there's no brushroll, the Olympus C1 relies entirely on suction power to extract every speck of dust from carpets. And I'm happy to report that this is one of the most powerful canisters you'll ever find.
I really wish that it came with a True HEPA Filter bag, but you'll have to purchase these separately.
Pros
Six suction power levels
Extremely quiet
An affordable Miele canister vacuum
Cons
No brushroll
HEPA filter bags sold separately
Need further proof? Check this video out.
12. Eufy RoboVac BoostIQ 30C Vacuum Cleaner
(Most Convenient)
Last but definitely not least is the Eufy RoboVac 30C – one of the best non-Roomba carpet cleaning robots on the market.
The biggest selling point of the Eufy is its convenience. Not only can you control the robot through the EufyHome app, but voice commands sent to Alexa or Assistant are relayed to the 30C.
The 3-point cleaning design pulls debris from the sides and into the centered suction inlet. Its suction power isn't all that great compared to uprights and canisters, but 1,500 Pa is more than you'll need for Berbers.
Best of all, BoostIQ Technology adjusts suction pressure based on the surface it's currently standing on. It'll crank it up to the max to ensure your Berber is as free of debris as can be.
There is not auto-resume function, so when it has completed its cleaning cycle and rested in the charging dock, you'll need to command the robot to begin working through your phone/virtual assistant.
Pros
100-minute cleaning time
Works well on all floor types
Comes with virtual boundaries (magnetic strips)
Cons
No auto-resume
Not the best navigation
The following video should convince you of why the RoboVac 30C is for you.
Vacuum for Berber Carpet Buying Guide
Vacuums that work on Berber carpet require a bit of finesse to ensure they don't tear away patches of the looped fibers. This quick buying guide will help you in your quest to find the best vacuum cleaner for Berber carpets.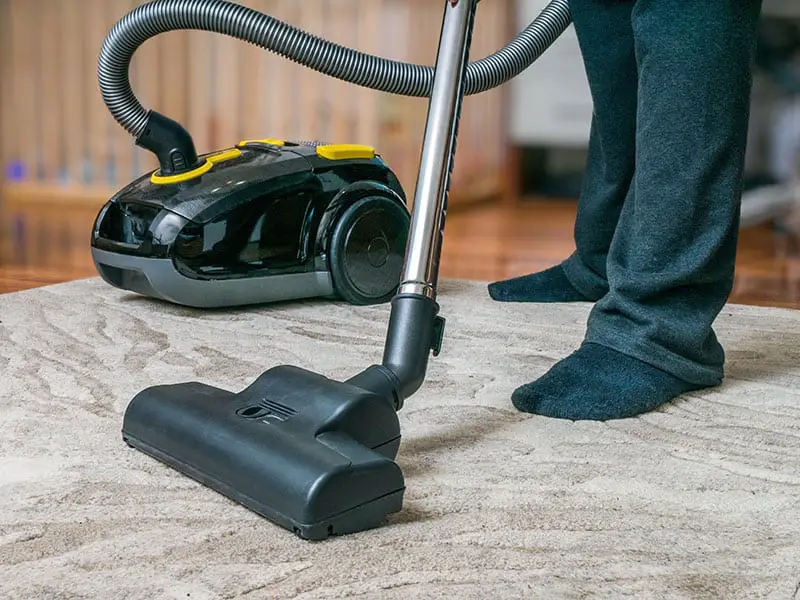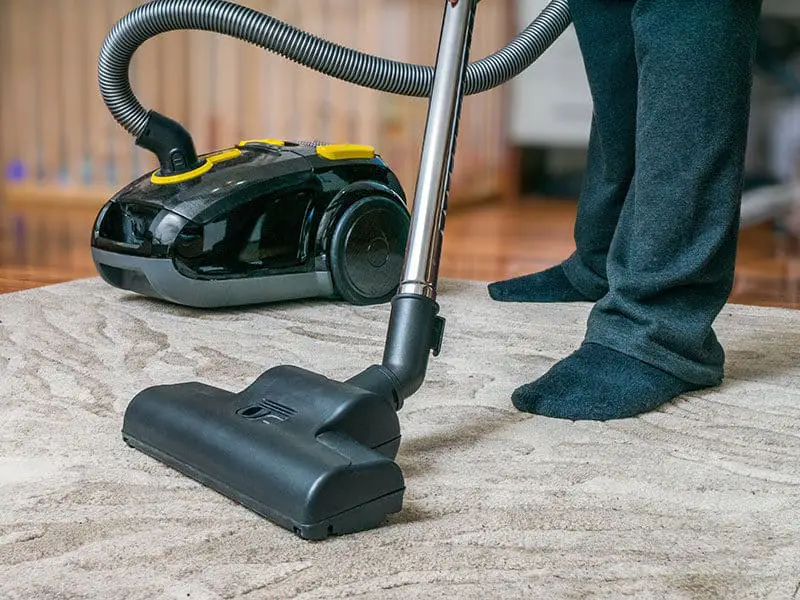 Most Important Features and Specs
Vacuum Type
Choosing between vacuum cleaners requires knowing what each type has to offer. For the most part, uprights and canisters are ideal for Berber, but I'll describe the benefits of each type in the following section.
Beater Bar
A beater bar is a Berber carpet's worst enemy. The beater bar should either be adjustable to stay out of the way when vacuuming or absent from the vacuum head. If it makes contact, your Berber carpet will most likely end up with bald spots.
Suction Power
Ideally, you'll want a vacuum cleaner with adjustable suction power. This will allow you to work not just on delicate carpets but also on bare floors.
Rubberized Wheels
Rubberized wheels ensure that the vacuum isn't digging deep into your Berber carpet while moving around. Try and keep the vacuum moving continuously to eliminate the risk of dimples in your carpet.
Filtration System
Filtering the large from the small not only preserves optimal suction power, but it also helps with cleanup after vacuuming. The last thing you need is dropping the bag or dust bin's contents onto your Berber.
Weight
Although weight has more to do with portability, it also plays a role in how much damage it does to your Berber carpet. Any vacuum cleaner weighing more than 25 pounds can leave permanent dimples in carpets if left standing for too long.
Uprights vs. Sticks vs. Canisters vs. Robots
The four main types of vacuum cleaners that work on Berber carpets are uprights, sticks, canisters, and robots. This section will go over what you can expect from each type.
Uprights
Uprights are the most standard type of vacuum cleaner. They deliver a great amount of suction power while also being relatively lightweight.
They typically come with a set of cleaning tools to simplify the task of spot-cleaning above-ground places.
Sticks
Sticks are famous for their lightweight build which allows users to carry them one-handed to clean overhead surfaces.
The major downside of sticks is their battery life. I recommend investing in multiple batteries to lengthen your cleaning time per session.
Canisters
Canisters are the largest and most powerful type of vacuum cleaner. They are extremely versatile and not very noisy thanks to their internal soundproofing systems.
However, without adjustable suction, they may prove to be too powerful for Berber carpets. Exceptions to this rule include the Bissell Zing Corded Canister and the Eureka 3670G Mighty Mite.
Robots
Robotic vacuums do all of the work on their own. All you need to do is set it up, connect it to your home's Wi-Fi (if it has Wi-Fi connectivity), and call it a day.
It's worth noting that no matter how advanced their navigation software is, they tend to get trapped quite often. You'll need to fish them out from beneath furniture every once in a while.
FAQs
In order to help you find the best model for your buck, I'd like to spend a few moments answering some of the market's most frequently asked questions regarding vacuum cleaners – specifically those made for Berber carpets.
Conclusion
And there you have it, ladies and gentlemen – my take on the 12 best vacuum cleaner for Berber carpet. Take a look at each model to see which of them, if any, will work best for your home.
I've included models from a wide selection of manufacturers, but I'm particularly fond of the Dyson Multi Surface Ball 2. This beast of a machine is extremely versatile and will clean Berber and bare floors without the slightest hitch.