7+ Versatile Homemade Enzymatic Cleaners Guide 2024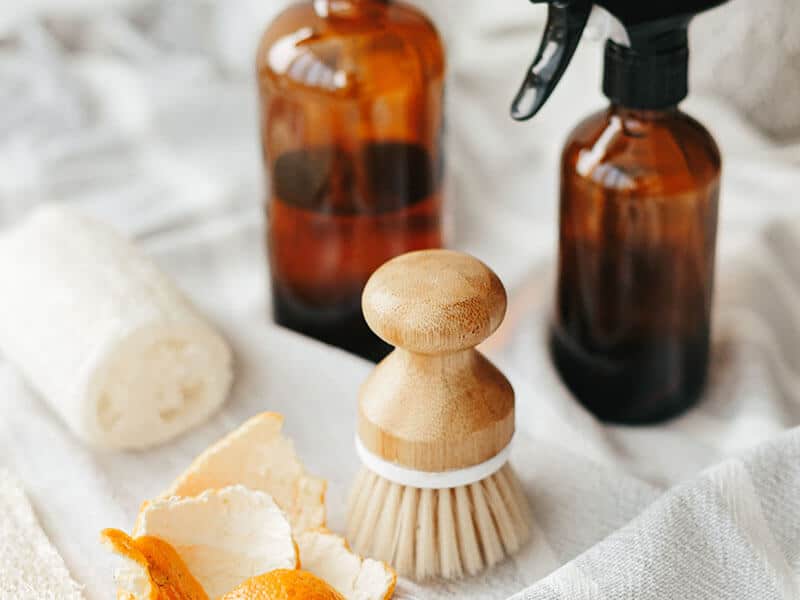 Perhaps during hours of scrolling and searching on the Internet for the perfect homemade enzymatic cleaner, you've stumbled on a variety of articles that label "Citrus Enzyme Cleaner" and wonder what's all the rave about.
Lucky for you, I am here to demystify all your questions and guide you step-by-step on how to correctly mix and use these DIY enzymatic cleaners, using all-natural, non-toxic ingredients that don't burn a hole in your wallet, right at the comfort of your own home.
What Is An Enzymatic Cleaner?
Fruit enzymes derived from citrus peels are natural, non-toxic cleaning agents which can effectively break down oil, soil, pets' waste, built-up filth, and clean other upholstery (1).
Enzymatic cleaners are gentle, efficient, and effective at cleaning and are perfectly safe for families with children and pets.
How Long Does It Take For An Enzymatic Cleaner To Work?
An enzymatic cleaner should be left on for some time to work properly, ranging from 15 minutes to 8-12 hours, depending on the purpose, the types of materials, and the stains you are working on. (Don't wipe it off straight away after spraying it on the surface).
These cleansers do continue to work for up to 80 hours after initial use and can be reactivated by adding a small amount of water (2). Here's a general guideline you can follow when using enzymatic cleaners at home.
For general cleaning, 10-15 minutes is a good timeframe for the enzymatic cleaner to break up unwanted dirt, grease, and grime.
For tough stains, approximately 8 hours
For wool and linen, less than 1 hour (check the fabric regularly).
If you use it as a drain cleaner, then leave it overnight.
8 Different Homemade Enzymatic Cleaner Recipes
Wait, don't throw your scrap yet! Whether you have lemon, lime or orange, or other types of fruit peels, save them all because I will show you 8 recipes to create homemade enzymatic cleaners and different ways you can use them to enhance your daily cleaning routine.
1. Natural Homemade Enzymatic Citrus Peels Cleaner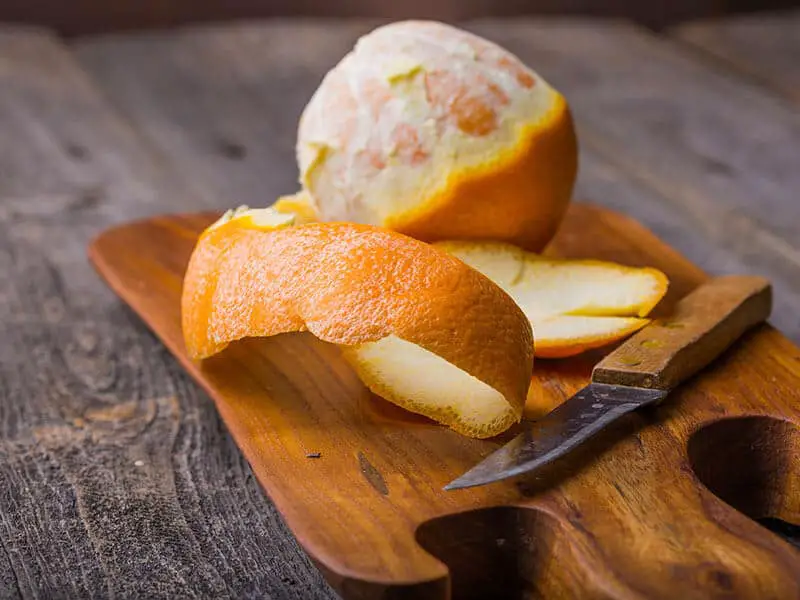 In this section, I will show you how to make a natural citrus enzyme cleaner, using only edible ingredients that can be found in every household. It's a no-fuss recipe, and the result is just as good (minus the toxic chemicals) compared to commercial products.
When it comes to homemade enzymatic cleaners, this formula is the best as it's ridiculously easy to prepare, and the required ingredients are effortless to find.
Prepare:
A 1-gallon plastic container
2 cups of tightly packed citrus rinds (you can use lemon, lime, orange, grapefruit, or a combination of all the above if you want).
½ cup of brown sugar
1 teaspoon of yeast
4 cups of distilled/filtered warm water
Mixing Instructions:
Step 1 – Prep your citrus peels by rinsing them with water and using a vegetable brush to scrub off any excess dirt or impurities.
Step 2 – In the container, place the citrus rinds, top it off with yeast and brown sugar. Fill it up with distilled/filtered warm water.
Step 3 – Close the lid and shake vigorously to combine. Place in a dark area to let the solution ferment at the temperature of 95 degrees Fahrenheit (35 degrees Celsius) for 1 month (I would place it on top of your refrigerator)
Step 4 – Shake it 2-3 times/day and open the lid to release built-up pressure (so the whole thing doesn't explode).
Step 5 – After 4 weeks, strain the mixture in an airtight container, wrap the solid scrap in a cheesecloth, and squeeze out the remaining liquid to utilize any lingering enzymes. Discard the scrap once done.
Step 6 – Store in an airtight container at a dark, cool place for another 2 months for use. Exposing the cleaner to oxygen will lead to a reduction in potency and its effectiveness in cleaning.
2. Multipurpose DIY Enzymatic Cleaner & Deodorizer (With Pineapple Rinds & Vinegar)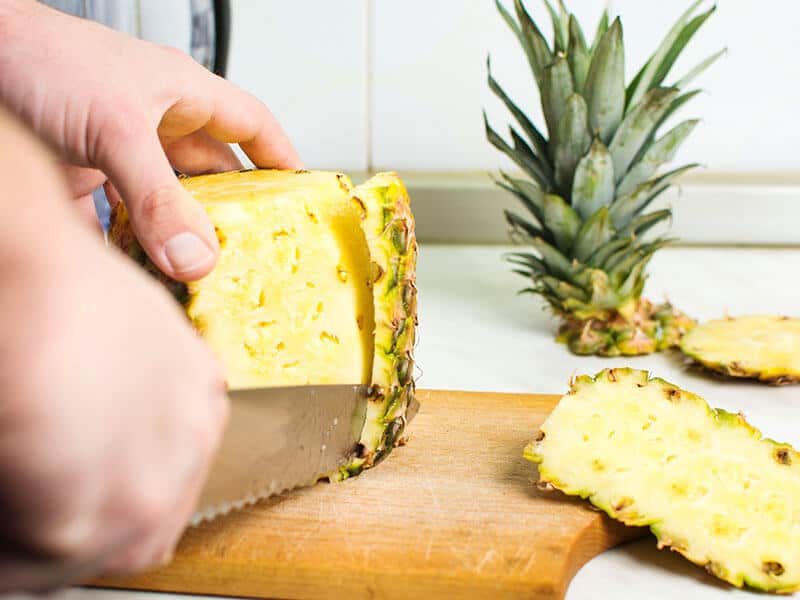 Perhaps you don't want to use citrus rinds and want something more interesting to mix it up. Look no further because this recipe will show you how to make a multipurpose enzymatic cleaner by using pineapple rinds and vinegar.
Prepare:
Rinds of 1 medium-large pineapple
1 ½ cup of brown sugar
1 cup of Mother of vinegar (you can use distilled white vinegar as a substitute).
3-4 whole cloves
1 cinnamon stick
6-7 cups of distilled/filtered water
2-liter bottle/container
A glass spray bottle
Mixing Instructions:
Step 1 – In the 2-liter container, place the pineapple peels, whole cloves, cinnamon stick, and brown sugar and top it up with filter water.
Step 2 – Close the lid and shake well. Place in a dark and warm area to let the solution ferment.
Step 3 – Stir 2-3 times/day to add oxygen and release built-up pressure. You will see it's starting to fizzle and bubble up after a few days, and it will subside approximately after a week.
Step 4 – Once the bubbling stops, take out the pineapple scrap and add the Mother of vinegar/white vinegar and continue to let the solution ferment for another 6-8 weeks. You only need to stir once per week at this stage.
Step 5 – After the time has passed, transfer the liquid into a glass spray bottle and keep the rest in the glass container. Mix it with some filtered water and use it as a daily multipurpose cleaner.
3. Simple Pineapple Peels Enzymatic Cleaner (Without Vinegar)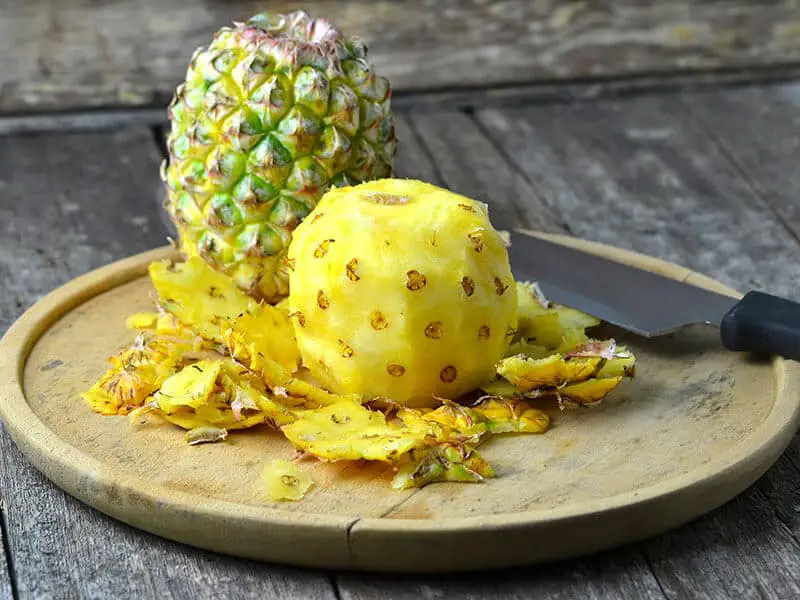 Pineapple is arguably the most well-loved tropical fruit by many. But did you know you can make the most of it by using its rinds to create an effective homemade enzymatic cleaner? The recipe below is oh-so-easy to make, and the best part is, it does not smell!
Prepare:
1-gallon plastic bottle/glass jar
A blender
4 cups of filtered water
Rinds of 1 pineapple
1 teaspoon of bakers' yeast
½ cup of brown sugar
Mixing Instruction:
Step 1 – Using the blender to blend rinds of 1 pineapple and filtered water on medium till the peels are finely chopped.
Step 2 – Add the brown sugar and yeast into the blender and pulse until everything is dissolved.
Step 3 – Pour the concoction into the plastic bottle/glass jar and let it ferment for 4 weeks in a dark & warm cabinet.
Step 4 – Shake 2-3 times/day and unscrew the lid to avoid gas built-ups.
Step 5 – Strain the liquid, wrap the pineapple rinds in a cheesecloth, and squeeze out the enzymatic residue liquid.
Step 6 – Transfer the solution into a glass spray bottle to use. Use it within 2-3 months
Simple DIY enzymatic cleanser (using pineapple rinds) recipe that you can't miss.
4. Effective DIY Enzymatic Cleaner (With Apple Cider Vinegar)
Apple cider vinegar is a safe, non-toxic, biodegradable ingredient that not only can be used in daily consumption, but thanks to its acidic nature it can help tremendously at removing mineral deposits, dirt, and other bacteria on various surfaces.
Hence, I will show you how to incorporate this amazing ingredient in your homemade enzymatic cleaner to create an even more potent solution for cleaning your home.
Prepare:
2 cups of citrus peels (again, use anything that you want/have)
1 teaspoon of yeast
½ cup of brown sugar
4 cups of distilled/filtered water
Apple cider vinegar (after fermentation only)
2-liter plastic container
A glass spray bottle
A strainer and a cheesecloth
Mixing Solution:
Step 1 – Combine all the first 4 ingredients in the plastic container and shake well.
Step 2 – In the following few days, you'll see a layer of white foam on top of the liquid. Shake the solution 2-3 times a day and let the air out.
Step 3 – Use a strainer and cheesecloth to squeeze out leftover enzymes. Transfer the solution into a clean glass container and add the apple cider vinegar into the mixture with a 1:4 ratio.
Note: When you use it for general cleaning, dilute the solution in a 1:10 ratio with water (1 part of enzymatic cleaner mixed with 10 parts of water). For spills or light stains, you can concentrate as it is to clean the affected areas more effectively.
5. Homemade Heavy-Duty Enzymatic Cleaner (With Hydrogen Peroxide)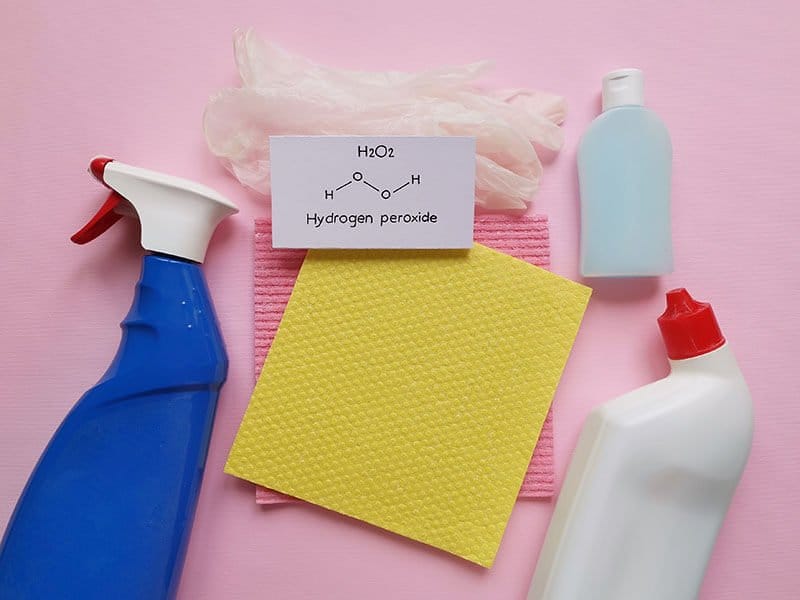 The recipe below is ideal for heavy-duty cleaning and has proven (in my experience) to be extremely effective on pets' waste, foul odor, oil-based stains, severely soiled carpets, and even paint.
The enzymatic cleaner breaks down the unwanted buildups. With the help of hydrogen peroxide as a powerful disinfectant and baking soda as a great (slightly abrasive) cleaner and natural deodorizer, the stubborn stains will go away in no time.
Prepare:
16 ounces of citrus rinds (you can use a combination of different fruits).
4oz of brown sugar
1 teaspoon of yeast
6 drops of citrus essential oils
4 cups of filtered warm water
½ cup of Hydrogen peroxide
A 2-liter plastic bottle
16oz glass spray bottle
2-3 glass/Mason jars.
A strainer and a cleaning cloth
Mixing Instructions:
Step 1 – Add the yeast, brown sugar, citrus peels, and warm water into the 2-liter plastic bottle. Shake well to combine.
Step 2 – For the next 2 weeks, store the container in a dark, warm area and make sure to shake the mixture 2-3 times/day and unscrew the lid to release the pressure inside).
Step 3 – Strain the liquid into a secured glass container. Chuck out the peels.
Step 4 – Drop the essential oils into the liquid and store the concoction in a dark, dry place.
Step 5 – To remove tough stains and pets' waste, simply mix 4 ounces of hydrogen peroxide with 1 cup of enzymatic cleaner in a clean glass spray bottle. Shake well.
6. Homemade Infused Enzyme Cleaners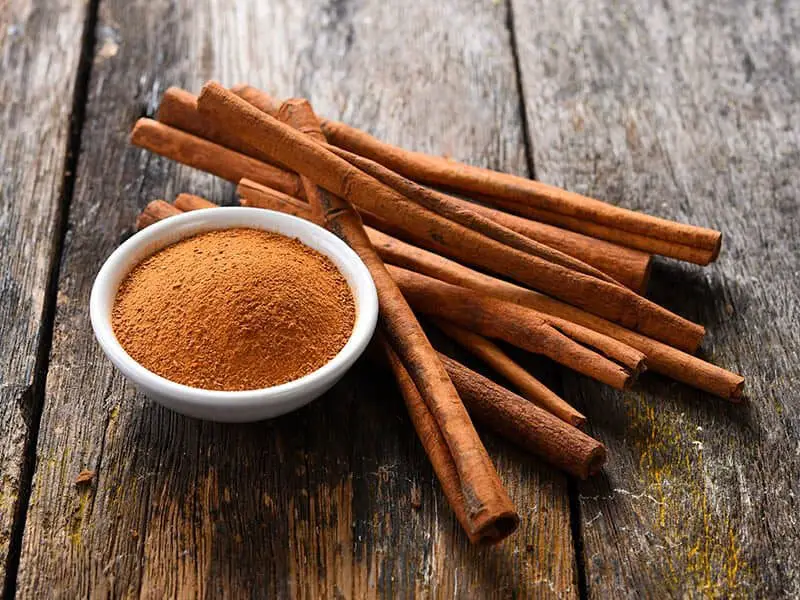 Another way to spice things up and create a memorable lingering fragrance for your home is to infuse enzyme cleaners with different herbs, flowers, and spices. Find out more by checking out the instructions below.
Prepare:
Clean citrus peels
Distilled white vinegar
Some cinnamon sticks
A few branches of rosemary
Lavender
Glass spray bottles
3 Glass jars/Mason jars
Mixing Instructions:
Step 1 – Create 3 different combinations in 3 different glass jars like the following – lemon peels & rosemary, grapefruit peels & lavender, and orange peels with cinnamon sticks.
Step 2 – Once each jar is packed with the above combinations, pour in the distilled white vinegar to fully cover the solid ingredients.
Step 3 – Place a sticker on each jar with the date that you made them and store them next 2-4 weeks.
Step 4 – Once ready to use, fill the glass spray bottles halfway with filtered water. Pour in one of the combinations to fill in the other half. Give it a little shake and spray it on the desired areas.
DIY enzymatic citrus cleaning spray that is guaranteed to bring stunning effects.
7. Natural Homemade Enzyme Scrub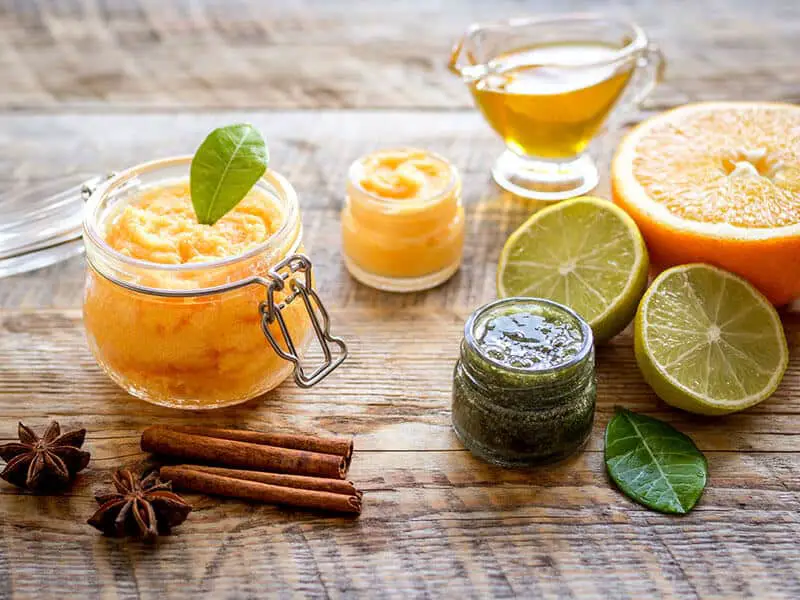 I am a no-waste policy type of person when it comes to kitchen ingredients. So I have created a sustainable, natural homemade enzyme exfoliator that does not clog your drains but is excellent at removing almost any type of stain, leaving the surface spotless.
All You've Got To Do Is:
Step 1 – Once the fermented solution is mature, use the strained rinds/pulpy stuff and place them in a blender/food processor. Keep the liquid and store it as instructed.
Step 2 – Pulse it until it becomes slushy.
Step 3 – Add baking soda (half a cup at a time) into the slushy content and whip it well to create a nice, thick paste (I use 1 ½ cup of baking soda in total).
Step 4 – Use this natural exfoliator to scrub corners/areas in your house that need a little more love and attention (I use this to scrub the sinks, bathtub, toilet bowl, and heavily stained areas). Rinse/wipe clean with a damp cloth.
I swear it smells so good and pulls out all the grease, grime, and dirt in the blink of an eye.
8. All-Purpose Enzyme Cleaning Spray With Enzyme Concentrate
Don't have time to wait for your enzymatic cleaner to ferment? If so, this recipe is made just for you. As long as you can find some liquid enzyme concentrate, this cleaning formula can be prepared within only a few minutes.
Prepare:
Distilled water: 14 oz
Liquid enzyme concentrate: 25 grams
Broad-spectrum preservative: 2.5 grams
White vinegar: 75 grams
16-fluid-oz spray bottle
Essential oil (optional): 20-25 drops
Mixing Instructions:
Step 1 – Pour the prepared ingredients into a spray bottle and shake until the ingredients are well mixed together.
Step 2 – Spray the surface with this solution mixture and use a clean towel to wipe away the buildup of dirt or grimes.
Step 3 – For boosted cleaning powers, you can spray some isopropyl alcohol onto the surface and clean it for a second time.
Start making this cleaning formula right away with this visual guide.
13 Fantastic Ways You Can Utilize Your Homemade Enzymatic Cleaners
An enzymatic cleaner sure is a powerhouse when it comes to cleaning. And a little goes a long way. That's why I have created the following compilation of 13 different ways and instructions that you must follow accordingly to achieve maximum results.
1. All-Purpose Cleaner
Use one of the above recipes and dilute it by adding 4 cups of water with 1/2 cup of enzymatic cleaner. Spray the concoction onto the desired area(s), let it work for 10-15 minutes, then wipe with a clean cloth.
2. Pets' Stains Remover
Getting rid of your pets' waste can be frustrating and a deeply unpleasant process to get through. But don't you worry, because I will show you the perfect way to combat this issue that will effectively remove all trace stains & odor, leaving nothing lingering behind.
Using Instructions:
Step 1 – Take out the heavy-duty enzymatic cleaner (the 5th recipe) that you have prepared.
Step 2 – Sprinkle the baking soda in a generous amount on the affected area(s) and spray the concoction on top. Let it sit for 10-20 minutes (depending on how severe the stains are).
Step 3 – Blot and clean the area well with a damp cloth (don't spread the mess to other areas). Repeat these steps if necessary.
3. Clean & Unclog Drains
To clean and unclog drains, I highly recommend using recipes with vinegar as they work best in these cases. Simply pour the citrus-infused vinegar down the drain and cover it for 30 minutes with a drain plug. Pour boiling water down the drain, and you're all done!
4. Laundry & Dishwashing Natural Detergent
Since citrus-enzymatic is known for its effectiveness in breaking down oil, grease and removing protein stains, using homemade citrus-enzyme cleaner instead of commercial detergent is a natural, non-toxic way to clean your clothes and dishes.
Just add ¼ cup of the cleaner and run your washing machine/dishwashing machine on standard settings, and your clothes and dishes will come out totally fresh and clean.
5. Floors
In a bucket, mix the cleaner in a 1:15 or 1:20 ratio (approximately 1 gallon of water) and dip the mop in the liquid, squeeze out excess and start cleaning. No rinse is required.
6. Insect Repellent
An interesting fact about citrus-enzymatic cleaners is that they can repel all types of insects – bugs, ants, spiders, caterpillars, you name it. Simply spray it (undiluted) on the affected areas or directly onto your fruits to repel insects in an instant (it's 100% safe).
7. Fruits And Vegetables
Mix 1:15 of enzymatic cleaner with water to wash fruits and vegetables. Rinse with cold water. Alternatively, you can spray the cleaner (undiluted) directly onto the fruits/vegetables, rub gently and rinse.
8. Mirrors And Glass Windows
Dilute enzyme cleaner in 1:15 or 1:20 with water, spray all over the surface, then wipe with paper towels or newspapers. The result should be completely clean and streak-free.
9. Bathroom Fixtures
Pour the diluted cleaner directly onto the bathtub, sink, and toilet bowl. Let it sit for 10-15 minutes, then use a scrub or a sponge to scrub. Rinse with water.
10. Stove Hood Vent Filter
In a sink filled with water, soak the filter completely and add 2-3 drops of dish soap with 1 cap of enzyme cleaner for an hour or two. Use a brush/sponge to clean thoroughly and rinse well with water (repeat the process until there is no trace of grease left).
11. Molds Fighter
Spray the diluted enzyme (1:10) on the affected areas, let it work for 10-15 minutes, scrub and rinse away.
12. Plant Fertilizer
Water the plant 1:20 enzyme water solution once every fortnight (or you can use the leftover mop water).
13. Car Wash
Soak a soft sponge in the diluted enzyme cleaner and give your car a good wash. It will look shiny and spotless.
8 Essential Top Tips & Tricks For DIY Enzymatic Cleaners
Knowing the best recipes for enzymatic cleaners is not enough. You also need to know how to utilize these amazing cleaners to yield the best results. Check out for some tips on how to use enzymatic cleaners.
DO NOT use peels that are rotten/have fungus on them.
Opt for a plastic container for the fermentation process as they are not as rigid as glass jars and can release the gas/pressure much more easily.
A strong scent/odor will occur during the fermentation process, so make sure the lid/cap of the container is securely closed.
To make a smaller batch, follow the 10:1:3 ratio (10 parts of water, 1 part of brown sugar, and 3 parts of citrus/vegetable peels).
A layer of white-bio film on the enzyme's surface is the key indicator that the fermentation process is going well.
Beware if you're intending to use it on natural stone (the acidic nature of the concoction might damage the stone's surface).
Contrary to popular beliefs, the fermentation process only needs 4 weeks if you add yeast to the recipe. Without yeast, it will take 3 months.
You can infuse the solutions with cinnamon sticks, rosemary, lavender, whole cloves, or essential oils (can be citrus, peppermint, tea tree, or any other types that you prefer) to create a lovely fragrance that lingers for hours in your home.
FAQs
Below are the 5 frequently asked questions that I often receive in relation to the making and using of homemade enzymatic cleaners. Please check them out and apply the information whenever you encounter any issues during the cleaning process.
Make Bang For Your Bucks Using These Efficient Solutions
Now that you have these powerful weapons in your fight against grime, toxic chemicals, and high prices, you can be totally confident when dealing with heavy stains and those stubborn dirty corners that once seemed impossible to get rid of.
Let me know what you think in the comment section below. Are you a natural ingredient type of person? Which method do you love best and why? I'd love to explore and hear your thoughts. As always, stay tuned for more useful DIY hacks and tricks.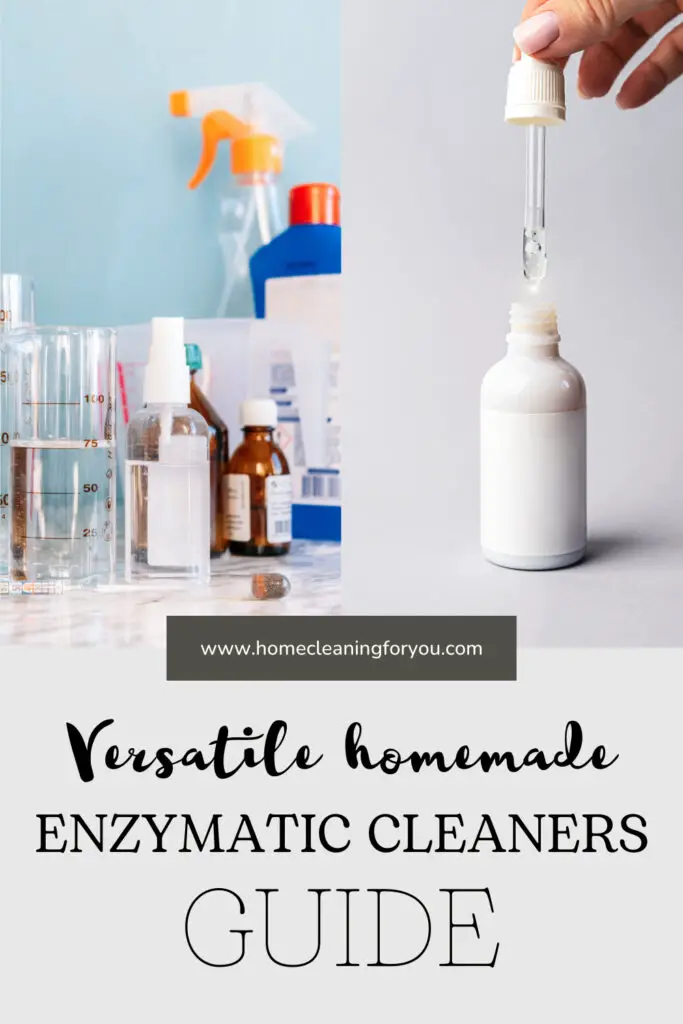 References
Steris.com. 2021. What are Enzymatic Cleaners? | Knowledge Center.
Mejia, L., 2021. Bio-Enzymatic Cleaners: How Do They Work? – Multi-Clean.