How To Get Glue Out Of Carpet
How to get glue out of carpet? Undoubtedly, glue is one of the greatest inventions. It is made to join things together, from paper, wood, to other household surfaces. Indeed, you want this bond to last – but what happens when it's an accident?
If you don't err on the side of caution when working with glue, it can get to places it shouldn't be (in this case, it's your precious living room carpet). Luckily, the issue can be resolved with my instructions below. Scroll down, and I'll show you how!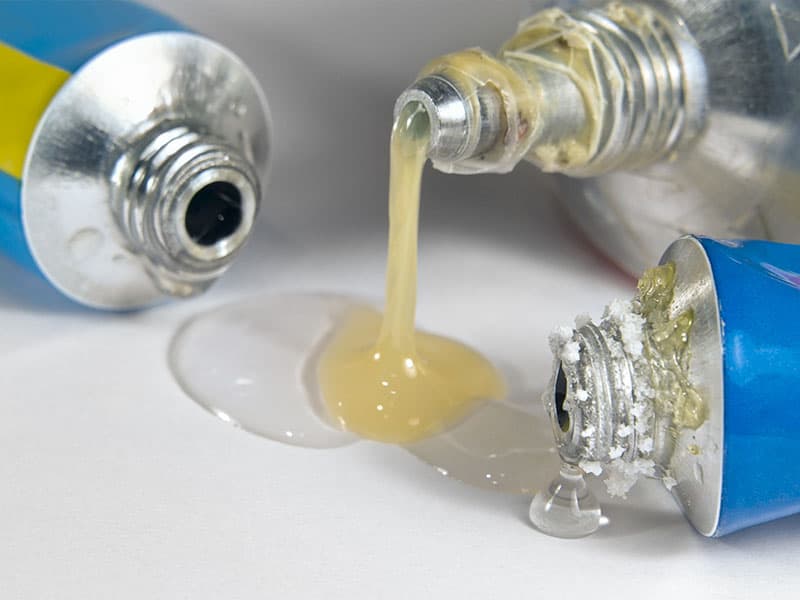 A Sticky Situation
Without glue, your life will be falling apart. The adhesive was believed to have been invented by the Egyptians 4,000 years ago and mostly used for building houses and temples. It is one of the most important creations of humankind and is highly appreciated for many reasons.
Out of other adhesives, glue is cheap, easy to use, and has a vast range of applications. For children, it is an indispensable part of their painting or crafting projects. When the furniture in your house is cracked or broken, the glue will also be on its way to reverse the damage.
Despite that, glue can sometimes be such a pain in the neck. The bond it creates is firm and sometimes unbreakable, not to mention that it dries up too rapidly. When you happen to spill a bit of glue on a fabric surface, such as your carpet, removing it seems nearly impossible.
If you are in this sticky situation, no need to freak out – glue can be removed with a few tools and a little elbow grease!
A General Guide To Removing Glue From A Carpet
In short, the more quickly you act, the better chances the glue will come off. Therefore, if you or your children have accidentally squeezed out a little glue on the carpet, do not hesitate, or the issue will exacerbate.
Fresh Glue
Glue is considered "fresh" when it has not turned into solid matter. This process is known as drying or bonding and will take from a few seconds to hours, depending on your glue. Then, the bond will require some extra hours to become cured and stronger.
Pre-treating
Once you notice a blob of fresh glue on the carpet, immediately grab a knife and scrape it off as much as you can. Prepare a small container next to the working site to keep the glue from spreading to other areas.
Alternatively, grab some old washcloths or paper towels and dab the glue gently. You will see that the glue will gradually transfer from the carpet to the fabric. If this method is not working, the glue has become dry.
Cleaning
Once you have gotten the majority of glue from the carpet, it's time to clean its remnants.
Tools And Supplies
White vinegar
Warm water
Disposable cloths
Dish soap (optional)
How-to
Step 1: Rub the glue residue gently with a damp cloth to soften it. Do not press, especially if you are working with wet glue; otherwise, the glue will penetrate the carpet's backing.
Step 2: As the glue begins to soften, saturate it with distilled white vinegar and give the spot another rubbing. Let the vinegar sit for about 15 minutes. As a substitute, you can mix water with vinegar in equal parts and leave the solution on the glue overnight.
Step 3: Should the stain persist, you will need to employ dishwashing soap. Ensure that your product does not contain bleach, a chemical that can destroy pigments. Dilute a tablespoon of dish soap in a cup of water and apply the solution to the spot. Scrub gently and blot it dry.
Dried Glue
When the glue has entered its curing stage, it will be somewhat more challenging to remove. Still, it is not a mission impossible – the iron trick below is the proof.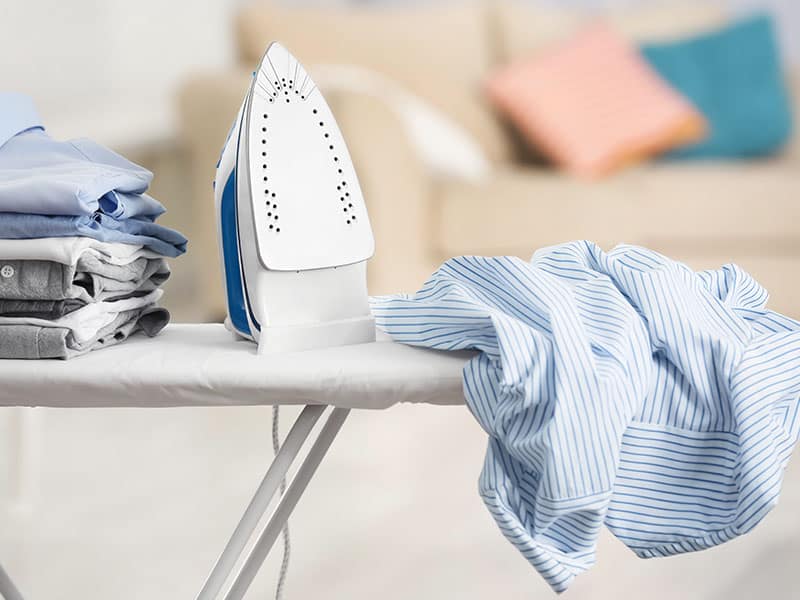 Pre-treating
Assuming that the glue has hardened, scrape it off with a small knife or a razor. You can use a plastic knife to prevent fraying. Afterward, run the vacuum to rid the loosened bits, and you are done.
A more effective solution is to place atop the glue stain a washcloth. Then, turn on the iron and run it over the cloth. The steam will cause the glue to melt and be drawn into the fabric. This method is the most ideal for carpets with long, thick fibers.
Another solution you can consider is to trim off the affected fibers with a pair of scissors. This method will only work if you have a carpet with long fibers or fluffy texture since the cut won't be too noticeable. If you use this method, you can skip the cleaning part.
Cleaning
With dried glue, you will need something more powerful. Here, I present to you: acetone and ammonia.
Tools And Supplies
Acetone or nail polish remover
Cotton balls
Ammonia (optional)
Water (optional)
Disposable cloths (optional)
Protective gear (optional)
How-to
Step 1: Moisten a cotton ball with acetone or nail polish remover and press on the glue blob. If the glue does not seem to lift, skip to step 2.
Note: This step can also be applied to wet glue.
Step 2: When acetone has dashed your hopes, you will need to employ ammonia. Ammonia is a harsh chemical that gives off toxic fumes, which can cause irritation, burning, or difficulty breathing. (1) Hence, you must put on your mask and gloves for safety reasons.
Step 3: Dilute a teaspoon of ammonia in a cup of water.
Step 4: Saturate a cloth rag with the solution, then apply it to the glue stain.
If ammonia does not even seem to work, your last-ditch effort is a commercial stain remover, such as Goo Gone. To use it, follow the instructions on the label and rinse once finished. It is the ultimate choice, and even the most persistent glue will have to give in!
Check out this visual guide to clean glue from carpet, whether fresh or dried.
Cleaning Different Types Of Glue From A Carpet
This section will dive deeper into specific types of glue and how to remove them. Check your bottle to see what glue you have, and let's get to work!
1. Craft Glue
Overall, this type of glue is non-toxic and often involved in your children's and other DIY craft projects. Most products you come across are white or transparent, but colored glues are also available and can be used to make small home decors or 3D paintings.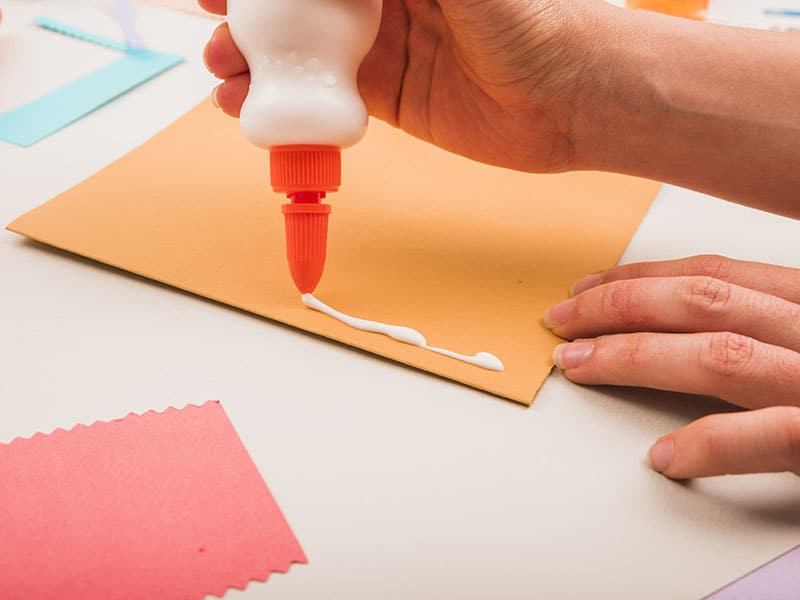 Tools And Supplies
White vinegar
Warm water
Disposable cloths
Dish soap (optional)
How-to
The instructions for removing craft glue are the same as the general guide for wet glue.
2. Glitter Glue
As much as your children love glitter glue, an art material sparkling with joy, the huge mess it leaves behind is not so much fun, particularly when it ends up on your carpet. Also, since it's made of microplastic, glitter glue has exerted a negative impact on the environment.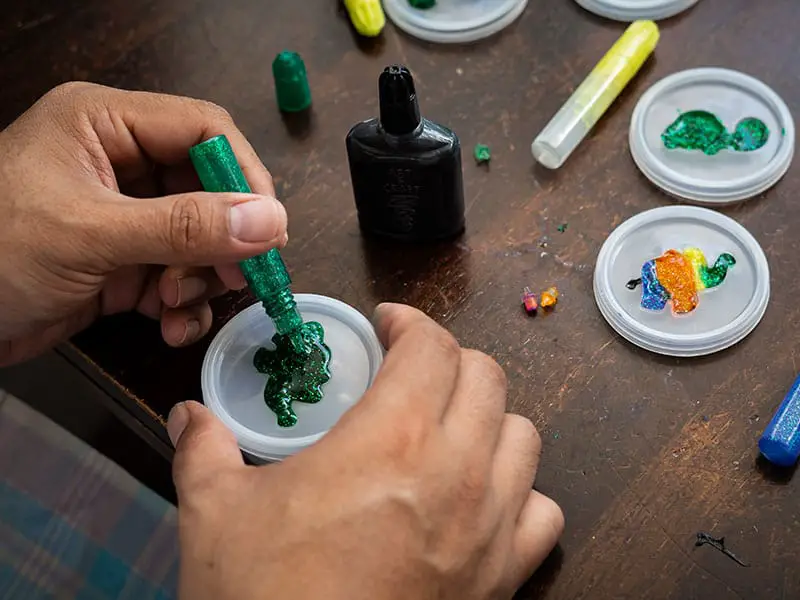 Tools And Supplies
Water
Carpet shampoo
Rubbing alcohol or stain remover
Sponge or disposable cloths
Instructions
Step 1: Wet a sponge or a paper towel with water and wipe the glue blob. To prevent it from spreading, start from the outer areas and work your way towards the center.
Step 2: Should the stain persist, moisten a new sponge or a towel with rubbing alcohol, then blot it repeatedly. The stain should dissolve after a while. If you don't like the smell of rubbing alcohol, switch to a commercial stain remover and proceed similarly.
Step 3: Wash the working site with shampoo to get rid of the residual cleaner, or it will attract dirt, dust, and other debris later.
3. Hair Glue
Hair glue is not exactly a kind of glue. Also known as wig glue, it is a product used for styling and securing wigs or extensions into place. It provides long-lasting hold, ensuring that your hair won't come off even when you are in the shower.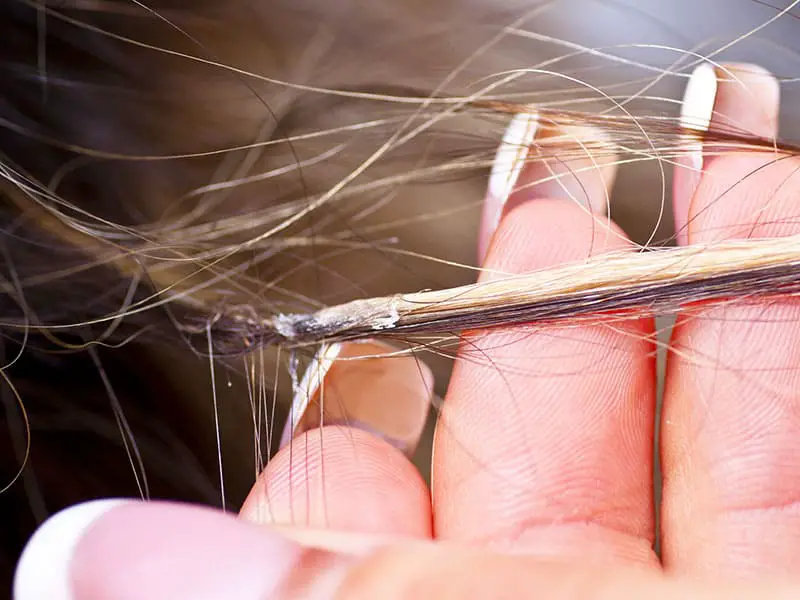 Tools And Supplies
White vinegar
Warm water
Acetone or nail polish remover
Cotton balls
Disposable cloths
How-to
Most hair glues are water-based and can be dissolved easily using vinegar. You will combine equal portions of vinegar and warm water and dampen a cloth into the solution. Then, work the solution into the stain until the hair glue breaks down.
If your hair glue is not water but solvent-based, moisten a cotton ball with acetone or a polish remover that contains acetone. Apply the cotton ball to the glue spot.
4. Wood Glue
As per the name, this type of glue is used to join wood pieces and structures together. It can create a strong permanent bond and dry up pretty quickly, so you'd better hurry when it drips on your beautiful carpet.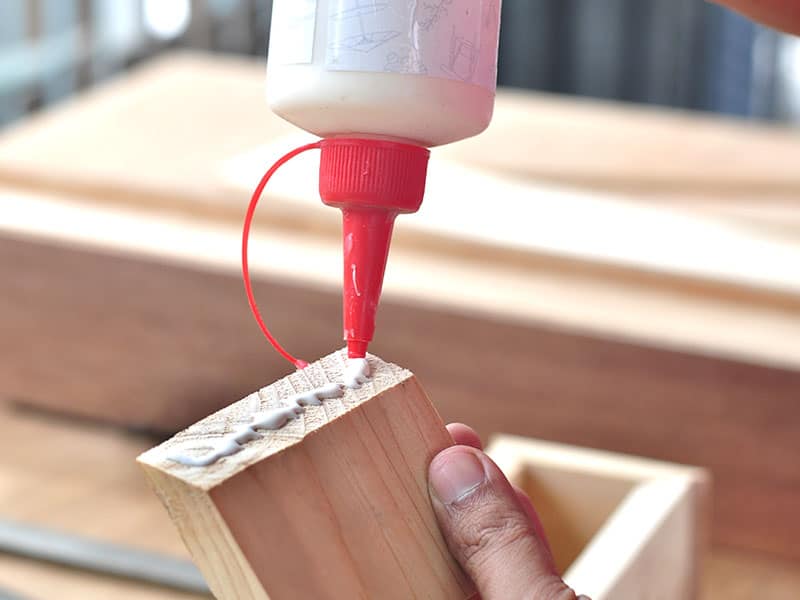 Tools And Supplies
White vinegar
Dish soap
Warm water
Thin cloth
Iron
How-to
Step 1: To dissolve the wood glue, you will need a solvent. In this case, it's no other than the pantry staple vinegar. Dampen a sponge or a clean washcloth with white vinegar and apply it to the glue spot.
Step 2: Continue using steam to soften the glue. To do this, follow the iron method instructed earlier.
Step 3: Once the glue has lifted from the carpet surface, rinse the area with a mixture of dish soap and warm water.
5. Mouse Glue
Setting up a glue trap in your home is an excellent way to get rid of rodents and insects. That said, it's also the start of something more irritating: imagine that the rodents escape and walk over your living room rug – now, you've got sticky footprints all over it!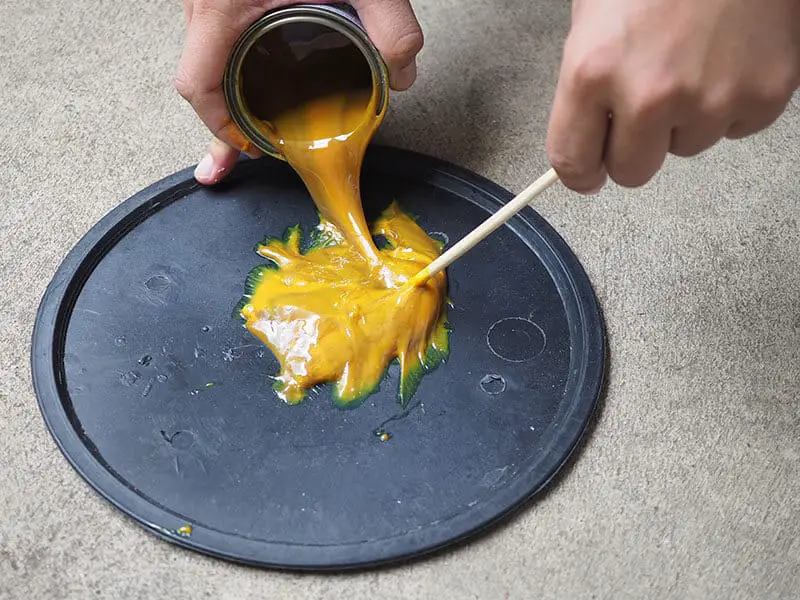 Tools And Supplies
Oil or peanut butter
Dish soap
Water
Disposable cloths
Sponge
Small knife
How-to
Step 1: Pull up the glue as much as possible, whether fresh or dried, using a small knife.
Step 2: Pour a sufficient amount of vegetable oil or peanut butter on the glue. If vegetable oil is not available, you can use canola, olive, or baby oil instead. Let it sit for a few minutes.
Step 3: With a small knife, lift the oil or peanut butter away from the glue stain.
Step 4: Saturate the area with soapy water and give it a good scrub.
Step 5: Next, remove the excess solution with a clean cloth rag.
Step 6: Pat the area dry with another cloth, and you're done.
6. Hot Glue
With great strength and durability, hot glue (also known as hot melt) is highly valued because of its assorted uses. Besides applications in woodwork, textile, and commercial products like books or labels, people also use hot glue for their DIY crafts.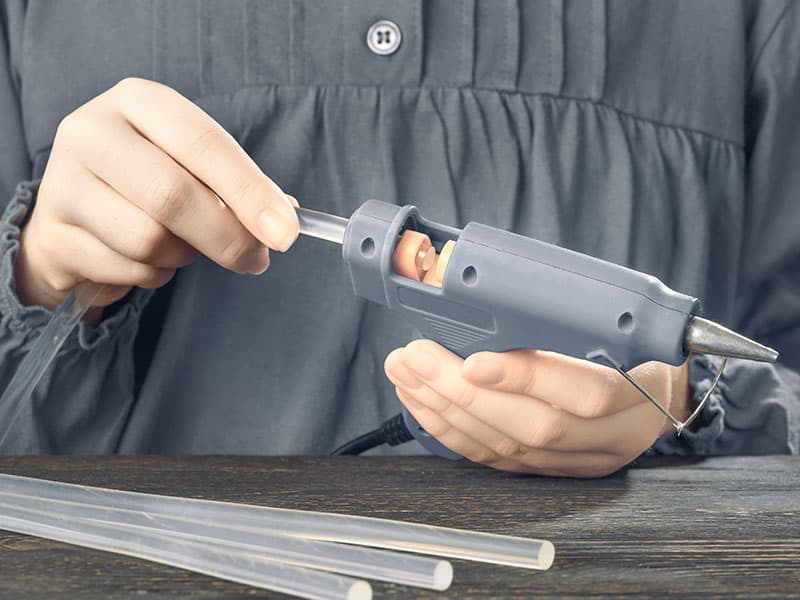 Tools And Supplies
How-to
To remove hot glue from the carpet, you will also resort to heat from the iron. Layout a piece of thin fabric on the glue and run the iron over repeatedly. The hot glue will return to its liquid form and be absorbed into the cloth.
7. PVC Glue
Also referred to as PVC cement, it is an adhesive that connects PVC pipes used in waste or drain systems. Be careful not to let it contact your skin, as its vapor is toxic to human health, causing symptoms like irritation, headache, or even breathlessness.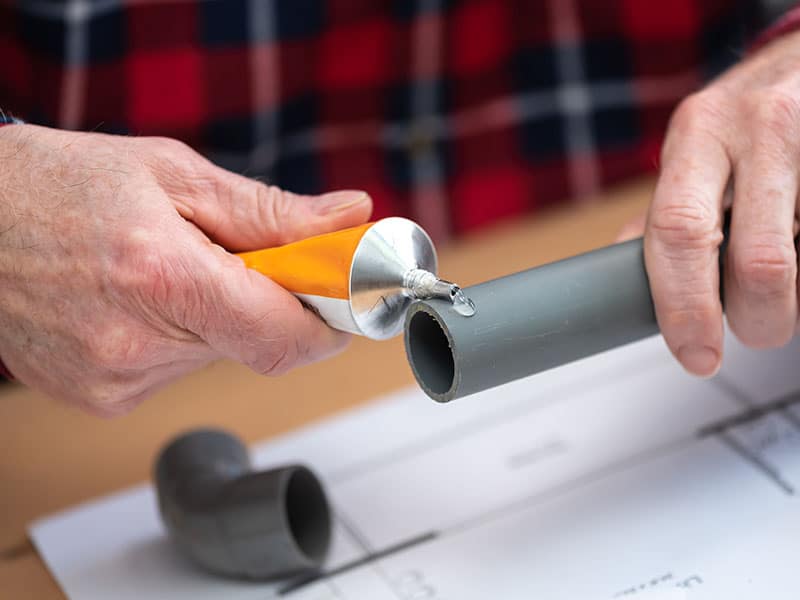 Tools And Supplies
Water displacement spray
White vinegar
Dish soap
Warm water
Disposable cloths
Small knife
Air mask
Respirator
Rubber or latex gloves
How-to
Step 1: If the glue has not solidified, use a small knife and take up as much glue as you can. Fresh PVC glue is not safe for human skin, so you will want to put on a pair of rubber gloves, along with an air mask and a respirator to protect your eyes and nose.
Note: If you struggle while doing this, spray the glue with a water displacement agent and try again.
Step 2: Next, create your cleaning solution of choice like previous methods with dishwashing soap or vinegar. Dip a cloth rag into the solution and rub the hardened glue with gentle force. The glue should come off minutes later.
8. Super Glue
Super glue is perhaps the second-most common type of glue, outranked by craft glue. It is a heavy-duty adhesive that can repair your children's broken toys, boots, and other household products. Depending on your choice, some glues can dry as fast as 3 seconds.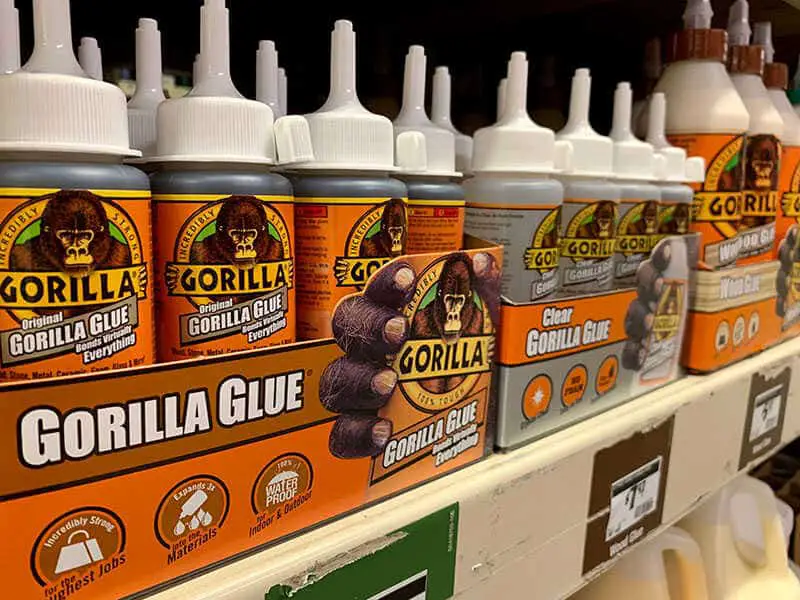 Tools And Supplies
Acetone or nail polish remover
d-Limonene or gel solvent
Cotton balls
Disposable cloths
Small knife
Air mask
Respirator
Rubber or latex gloves
How-to
Step 1: It only takes super glue a few seconds to minutes to become hardened, so there's a slim chance that you can remove it while it's fresh. To get dried super glue out of your carpet, scrape it with a small knife. A plastic one is your best bet if you have a silk or satin carpet.
Step 2: Dab the remaining glue with a cotton ball dampened with acetone. If pure acetone is not at your disposal, you can use a nail polish remover instead. Acetone vapor is harmful, so don't forget to put on your air mask, respirator, and gloves for safety reasons.
Step 3: Wick the acetone or nail polish remover away with a damp cloth.
Step 4: Once the majority of adhesive has gotten out, carry on the process with d-Limonene. It is a gentle cleaner but potent enough to remove stains, grease, ink, and adhesive. Apply it to the stain with a clean cloth and let it sit as directed on the label.
Note: If you can't find d-Limonene, your alternatives are Goo Gone or De-Solv-It.
Step 4: Wipe the solution away with another cloth.
Things To Avoid When Cleaning Glue Out Of Your Carpet
The process of removing glue involves many perils for you and even your carpet. Given that, this section is made to ensure that you will finish the work safe and sound. You don't want to skip it!
Don't read the label: Many people (intentionally) forget to read the label on products they use to clean their carpet. Don't neglect it! The label will tell you the ingredients it contains and can help you determine if it's safe to use on your carpet.
Skip the patch test: Conducting a patch test is utterly important. Some solutions are gentle; some are harsh and can strip off the pigments of your carpet. To conduct your test, apply a tiny amount of your solution to a hidden area and wait for the result.
Work in an enclosed space: As mentioned earlier, the fumes released by ammonia and other commercial products are lethal. Therefore, you will want to keep the space well-ventilated by opening the windows or running a fan until the work finishes.
Soak the carpet: Contrary to popular opinion, soaking the glue does not help loosen it at all. When too much water is used, the excess will penetrate the underlayer of the carpet. If not extracted, it will become a new colony for mold and mildew. (2)
Try in vain: Sometimes, the glue blob won't even budge even though you have given your best shot. If that's the case, don't hesitate to contact a professional for help.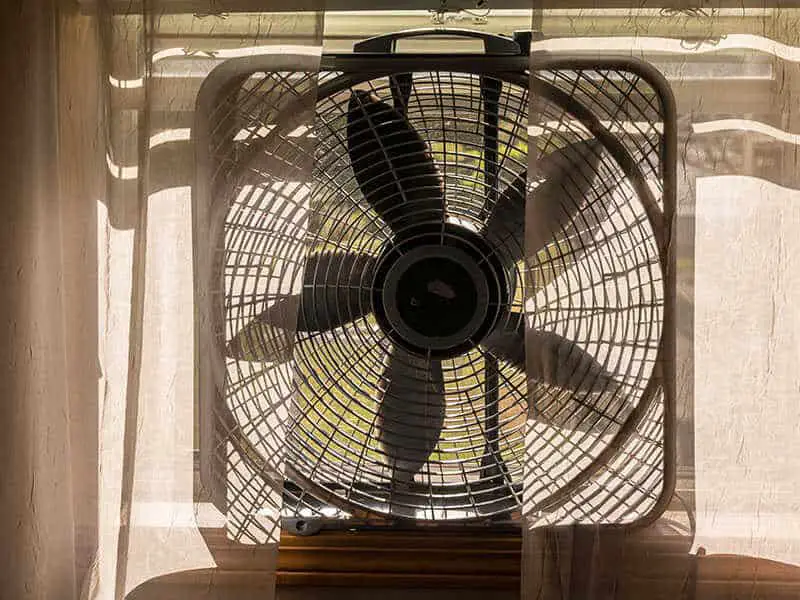 FAQs
The glue removal process can bring endless questions to your mind. No need to look further, as every answer is waiting for you in the following section.
No More Blues About Glue On Your Carpet
With this post, I'm confident that you will no longer be concerned about how to get glue out of carpet. From now on, you will want to be cautious when you open a bottle of glue. Steer clear of your carpet, or it's another round of cleaning!
How did you like my guide? Were the instructions clear enough, and did I miss anything? I would love to hear some further tips from you. Like always, don't forget to submit the result of your cleaning work. I'm positive that it's a huge success!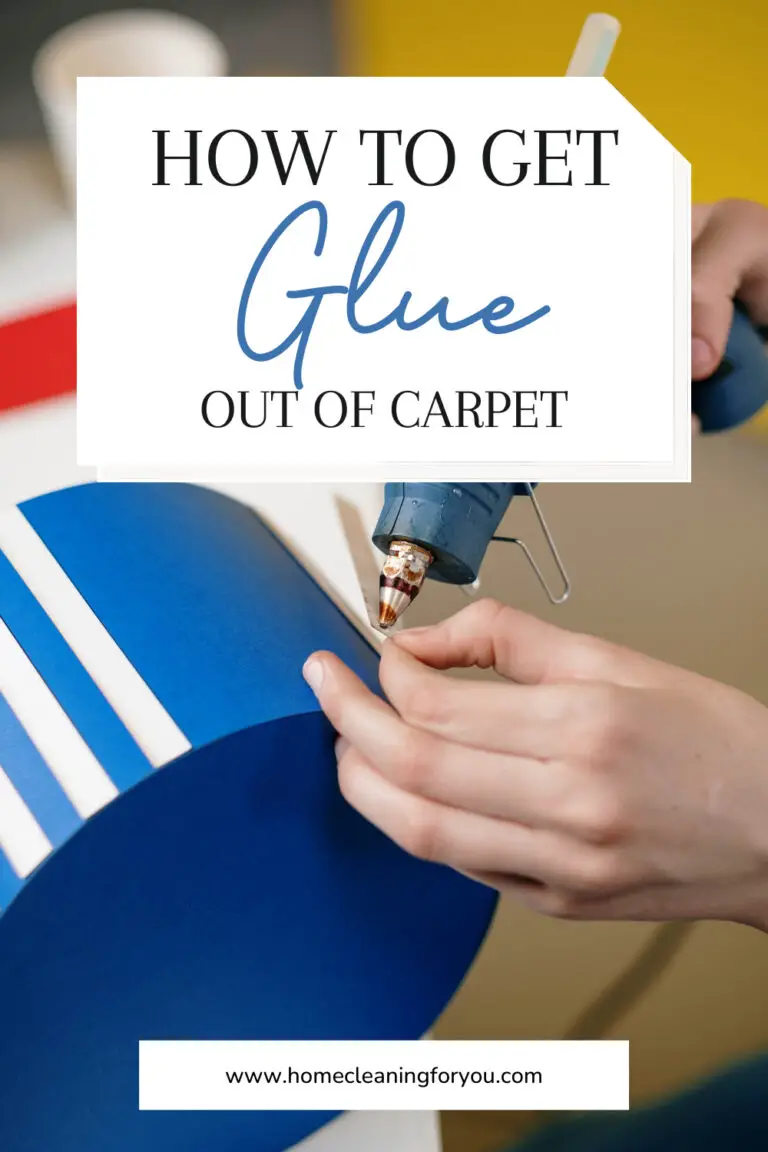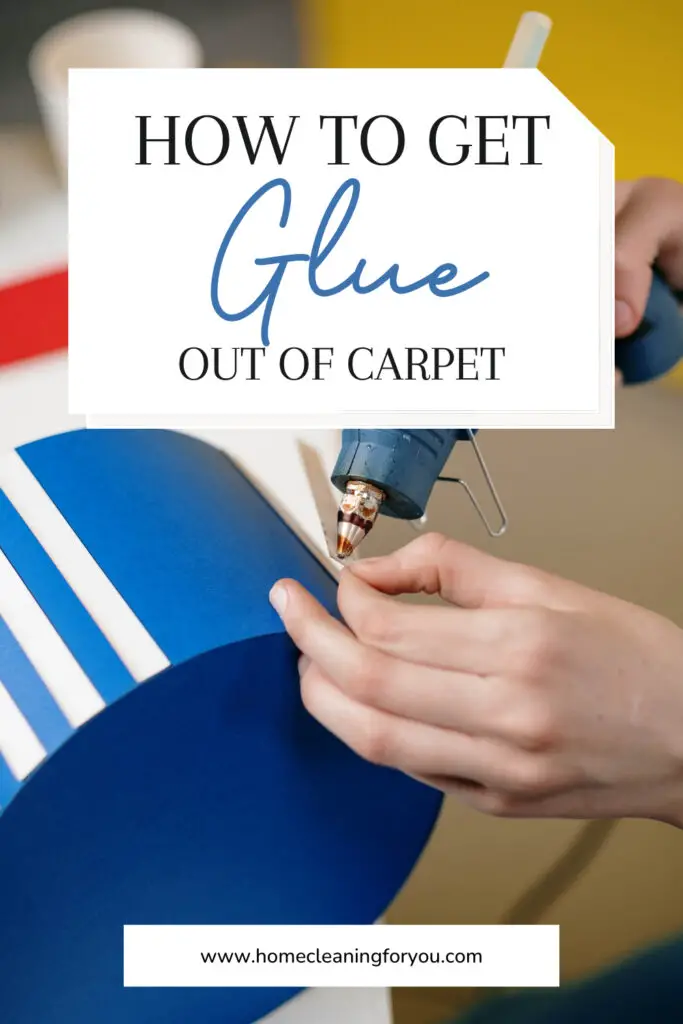 References
Health.ny.gov. 2021. The Facts About Ammonia. [online] Available at: https://www.health.ny.gov/environmental/emergency/chemical_terrorism/ammonia_tech.
Lung.org. 2021. Mold and Dampness. [online] Available at: https://www.lung.org/clean-air/at-home/indoor-air-pollutants/mold-and-dampness.