Getting the scoop on how to use a shop vac to clean carpet is essential for any homeowner with lots of carpeted areas around the house. While this device has long been used for heavy-duty cleaning applications, you'll be surprised to know how it can restore your carpet's former shine.
Does your carpet look stained and dirty due to everyday foot traffics? In cases like this, a shop vac is certainly your best bet, given that the tool can handle both wet and dry messes. With powerful suction, you can rely on it to pick up the most stuck-on stains from the carpet fabrics.
In this guideline, you'll be able to grasp the best carpet cleaning tips and tricks as well as how to make the best out of your powerful wet-dry shop vac in this process. If you're ready, let's dive right into it!
What Is A Shop Vac?
Originally, a shop vac is an industrial vacuum specifically designed for heavy-duty jobs in woodworking and construction sites. With a high-powered motor and a large containment tank, this device is used for sucking up large pieces of dirt and debris in high amounts.
While the term "shop vac" is often lumped with wet-dry vacs, many of them can only handle dry messes. It's critical to determine what type of your machine is before using it for wet solutions and water spills.
Besides being a helpful addition for outdoor applications, a shop vac also excels in carpet cleaning, especially when it involves stubborn stains. With a full package of essential features and powerful suction, this device easily takes on both industrial and domestic cleaning works.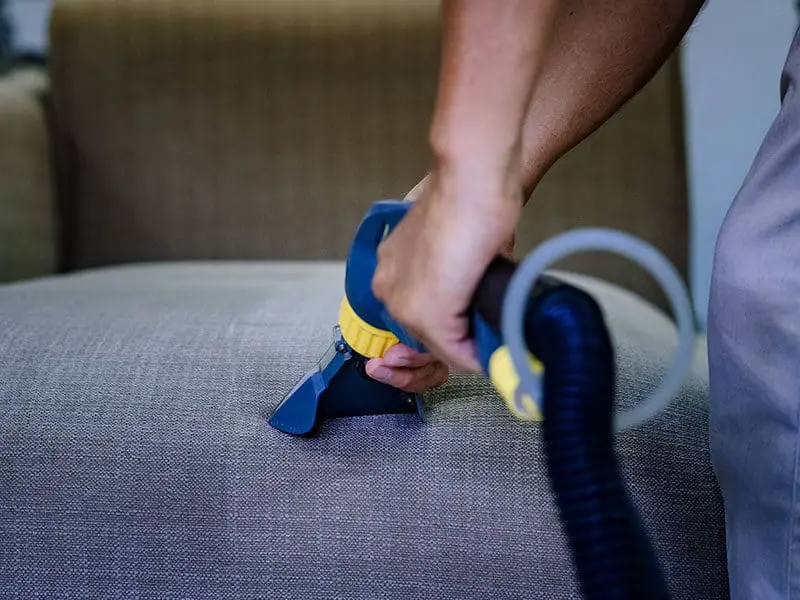 Benefits Of Using A Shop Vac For Carpet Cleaning
If your carpeted areas are subjected to heavy foot traffics and activities, having a small shop vac at your disposal can be a real game-changer. From extreme ease of use to unparalleled power, here are a few key reasons why this machine is the best fit for the job.
Versatility
Unlike vacuums and commercial carpet cleaners in your closet, which are solely intended for household uses, a shop vac is an ultimate device to let you tackle any cleaning tasks both indoors and out.
This powerful tool can easily pick up liquid spills, nails, wood chipping, toys, and other objects on a large scale.
High Power
A shop vac's motor size and power certainly outweigh that of regular household vacuums. As a result, this machine creates more suction power for collecting large chunks of debris without posing the risk of clogging or breaking off the works.
Large Capacity
While their tank capacities can be anywhere between 1/2 and 15 gallons, it's safe to say that most shop vacs are larger than regular vacuums designed for carpet cleaning.
This extra containment space comes in handy when you're pooling toys, cleaning up the garage, or draining a flooded basement floor.
Easy Mobility
Despite their sizes, these shop vacs often feature large rear wheels, which allows for ease of mobility around the house and garage without creating a hassle. Plus, the rubberized wheels also make it a breeze to carry them up and down the stairwells.
Extreme Durability
Given that shop vacs are primarily used for construction sites, you can expect the device to last for many years to come. It will help you handle most heavy-duty cleaning jobs with little damages from heat and solvents, things that are prone to happen with a regular vacuum.
Tackle Wet Messes
Most shop vacs are designed to handle both dry and wet messes, making it the ideal choice for households with lots of kids or animals, where accidents are prone to happen.
Rather than having to drag a cloth or sweeper across the liquid multiple times, this handy tool allows you to get rid of the wet and sticky spots with minimal time and labor.
Reasonable Price
Compared to household vacuums cleaners, shop vacs are way more affordable to purchase and maintain. Especially if you have lots of wall-to-wall carpets and rug areas, having an all-rounder shop vac at your disposal is more economical than renting a carpet cleaner every other month.
Essential Tools For Cleaning Carpet With A Shop Vac
Before starting the treatment, make sure that you have all the essential tools gathered around. Asides from the shop vac, here are a few more things you're going to need to restore your carpet's former shine in total.
1. Shop Vac
You'll want to move the device from the closet or garage into the treated room beforehand. Also, to handle this job, it's important to make sure that your portable wet-dry vac can clean wet messes and spills to avoid damaging its works.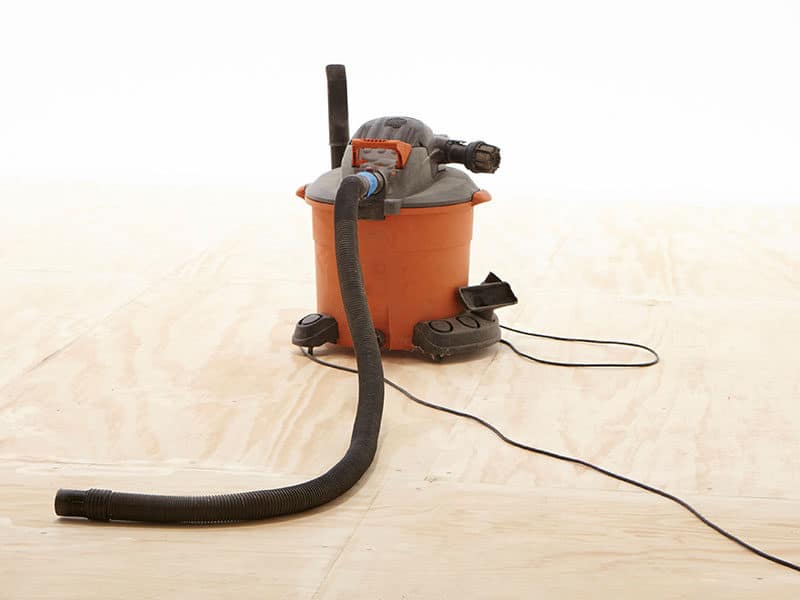 2. Carpet/Floor Attachment
Most shop vacs usually arrive with a set of floor and carpet extensions. These attachments help to create smoother and easier movements as you glide it across the floors. Plus, selecting the right accessory will make sure to cover all the dirty nooks and crannies.
3. Scrub Brush
If you're getting rid of stains on your carpet, a soft-bristled scrub brush is your best tool. The soft bristles will protect the delicate carpet fabrics from damages while being able to cut through the stains.
4. Carpet Cleaning Products
For maximum protection, you should opt for a cleaning solution specialized for carpets. If you plan to clean up the mess using a homemade solution, make sure that it's safe and doesn't cause colorfastness on your carpet by testing it on a hidden spot beforehand.
How To Use Your Shop Vac To Clean Carpet
While carpets and rugs are meant to add an extra dimension to any room's decoration, they're also subjected to lots of dirt, debris, and even stuck-on stains from everyday traffic.
If you plan to clean up visible stains or messes on your carpets, follow this stepwise instruction to get the most satisfactory result with minimal effort.
Step 1: Prepare The Room
Before conducting any cleaning, you need to pay attention to space where the treatment will take place. Remove any furniture pieces like beds, tables, and dressers away from the spot. If you're treating a wall-to-wall carpet, it's best to move all the furniture to a different room.
Not only does this allows you plenty of space to move around and work swiftly, but it'll also prevent the cleaning solutions and water from damaging your furnishings.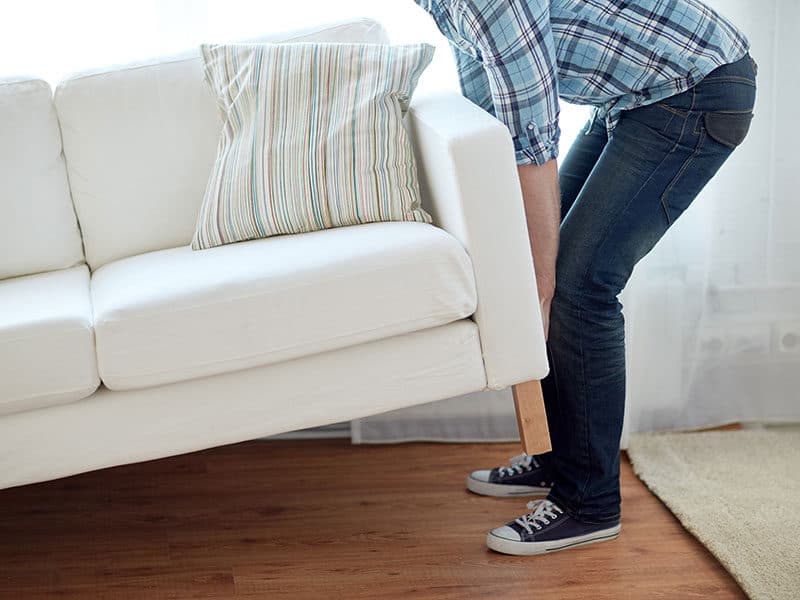 Step 2: Remove Surface Debris
The treated area should be cleared of hair, loose dirt, and debris prior to the job. You can use a dust mop to run across the carpet and the surrounding floor a couple of rounds.
If you're concerned that the stiff bristles on the mop will damage the carpet's fragile texture, take a regular vacuum cleaner, pass it back and forth until you see that the carpet is ready for treatment.
Step 3: Apply The Carpet Cleaner
Rather than commercial detergents or dish soaps, it's best that you use a cleaning solution specifically designed for carpets. These cleaners are easily found at most hardware and grocery stores if you don't have any available in your closet.
With a cleaner in hand, make sure that you read the instructions carefully to know whether it's safe for your carpet type. Then, follow the recommended dosage while diluting a proper amount of it into water.
On a side note, it's crucial to test for carpet colorfastness, so you can avoid permanently ruining it while cleaning. Put a bit of the cleaner onto an inconspicuous spot and wait for a few minutes. If no color running or bleaching occurs, you can carry on with the treatment.
Next, apply the solution evenly on the spotted area using a spray bottle or a garden watering can. The carpet should be adequately wet to form suds without looking flooded.
After covering all the stains, you should leave it with a proper allotted time, so the cleaner can penetrate deep into the carpet fabrics.
Step 4: Scrub The Carpet
This is oftentimes the most labor-intensive part of the process. To evenly and deeply disperse the cleaning solution into the carpet, you'll need some manual effort and a scrub brush, preferably with soft bristles.
Moderately scrubbing the carpet should make it easier for dried, stuck-on dirt and stains to loosen up. Also, make sure to work the cleaner into nooks and crannies where it's needed.
Step 5: Remove The Dirt And Water
It's finally time where a powerful shop vac comes in to save the day. Instead of manually blotting the cleaner and the water away, which can take up to an hour of exhaustion, take out your shop vac and get it ready by plugging it into the socket nearest to the troubled area.
Now, attach the flat floor attachment to your shop vac to increase the suction power as you glide it across the carpet. Also, make sure to lightly press down the extension on stained areas to suck up all the excess dirt, cleaning solution, and moisture.
Step 6: Rinse With Clean Water
After you've eliminated all the stains and cleaner, you should rinse the entire treated area with plain clean water. Apply the water onto the carpet using a water canister or a spray bottle without flooding the surface.
Then, slide your shop vac a few passes on the carpet to suck up any remaining water. Repeat this step a few times until you're satisfied with the outcome.
Step 7: Let It Dry
Before allowing your family to walk on the carpet or move back furnishings that sit on it, you should let your carpet air-dry for a few hours.
To speed up this process, open all the windows and doors so that the room is well-ventilated. If possible, place the carpets in front of a fan or indirectly under the sunlight.
If you need a visual demonstration from the expert, the following video will guide you through each step of this carpet cleaning regimen:
Drying Wet Carpets Using A Shop Vac
While most homeowners have a tendency to leave their wet carpets to air-dry on their own, this may give mold and mildew a chance to grow.
Thusly, whether it's a minor water spill or a soaking wet situation, here's how you can dry your carpet quickly and prevent mold with the use of a shop vac.
Step 1: Make Sure The Tank Is Empty
For this wet application, it's essential to empty the collection tank before you fill it with water. Dump all the wastewater and debris into the trashcan. If your shop vac has a dust bag beside the wet tank, be sure to remove it too.
Step 2: Remove The Filters
While filters are necessary for most dry messes, these parts should be removed from the machine when working on a certain amount of liquid. This is because liquids pose a risk of damaging the filters and create potential breeding grounds for mildew and mold.
Step 3: Attach The Nozzle
The most helpful accessory for wet carpet cleaning is a squeegee nozzle as it can absorb large and wet spills quickly. You can also pick a brush attachment, which does a great job in scrub away embedded dirt along with the liquid.
With a carpet attachment, here's how you can quickly convert your shop vac into a carpet cleaner.
Step 4: Vacuum The Water
With the right nozzle firmly attached, plug the cord into a near socket where you have lots of ample space for conveniently working on the carpet. Hold the nozzle on top of a carpeted area until the water is completely gone before moving onto the next section.
If the carpet holds a large volume of standing liquid, make sure to attain as much water as possible. Once you hear a high pitch noise, that means the collection tank is full, and you'll have to turn off the vac to empty the tank.
Step 5: Extract The Remaining Water
After vacuuming the majority of water, you should take a few dry towels and place them on top of the treated area. Then, jump or walk on the towels multiple times. This will force all the liquid out of the carpet fabrics and pads into the towels.
Replace the towels when they're saturated and repeat this process until the towels remain dry when you step on them.
Step 6: Let It Dry
At this point, you've been able to remove most water and moisture from your carpet. Now, to dry it up within a couple of hours, turn on your portable fans and/or ceiling fan at the highest settings.
If possible, carefully place a box heater next to the carpet to let the warm flow of air draw out any excess moisture from both the carpet surface and paddings. If the air outside is dry and warm, you should also open all doors and windows.
Step 7: Empty The Vac's Collection Tank
After the work is completed, unplug the shop vac from the electrical socket and perform a simple cleaning regimen on it before you put it away for storage.
To avoid making more of a mess, bring the unit outside to dispose of the wastewater. Then, replace the floor attachment and reattach the filters into the works.
Additional Tips And Tricks
It goes without saying that having this gadget in hand can take carpet cleaning to a new level in your home. To make the best out of your wet-dry vac, let's get the scoop on some more amazing tips in the following list.
1. Test For Colorfastness Prior To Wash
Since not all carpets are created equal, it's critical that you test the cleaning solution on an inconspicuous spot before diving into the full treatment. If there're no signs of discoloration or unsightly markings after a few minutes, you're good to go on the entire carpet.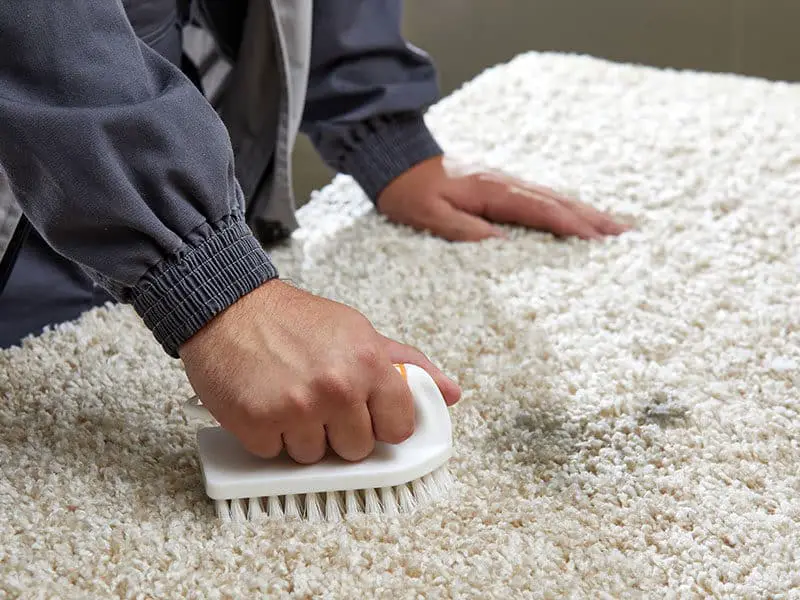 2. Clear All Nearby Furniture
Any removable pieces of furniture should be removed from the troubled area before cleaning. By clearing out the area, you'll have more space to work into the carpet's corners to make quick and easy work.
Otherwise, the water and cleaner used in cleaning stand a chance of spreading onto them, causing mold and odor to thrive. Plus, wet furnishings are likely to rot, warp, and even fall apart due to water damage.
3. Pick The Right Attachment
When using a shop vac for wet applications, make sure that you install the appropriate filters and floor attachments. Not only does this let you make the most out of your device, but it'll also prevent possible damages from the water and cleaner during carpet cleaning.
Most shop vacs arrive with a set of accessories, including fine slotted, brush, and floor attachments. If these don't come with your device, you can always purchase them separately from the store.
4. Work In Small Sections
Your carpet is likely to get quite a lot of foot traffic every day, which is why carpet cleaning involves a certain amount of hard work.
Rather than gliding your shop vac across the treated area multiple rounds, it's best to firmly hold it down in one spot until it's all clean and dry before moving on to the next section. This way, you'll be able to remove virtually all stains, excess water, and cleaner.
5. Mix The Cleaner
Regardless of how stained and dirty your carpet might be, you should always mix the carpet detergent with tap water before applying it to the treated area. Also, strictly follow the guide on its label so that you can get the best mixing ratio for the cleaning solution.
6. Call For Professional Help
If your carpet desperately needs a stain removal treatment and you don't want to risk ruining it with a DIY cleaning session, you'd be better off leaving it to the experts. Consult a reliable carpet cleaning service to restore your carpet's former shine and keep the damages minimal.
How Often Should You Clean Your Shop Vac?
By regularly cleaning, you're extending the lifespan of your shop vac, allowing it to serve for many years at its peak performance. Whenever you notice dirt and grimes sticking to the unit's compartments, it may be time for a much-needed cleaning regimen.
To clean your shop vac, you should wash the collection tank with water and a bit of a mild all-purpose detergent to crop up all the dirt.
Then, rinse out the hose and filters under plain tap water until the water runs clear. Finally, grab a damp rag and wipe the exteriors to eliminate any residual dirt and stain.
On a side note, it's crucial that you empty the containment tank after every use before putting the machine away for storage. This doesn't only get it ready for the next use but also prevents germs and bacteria from thriving and spreading.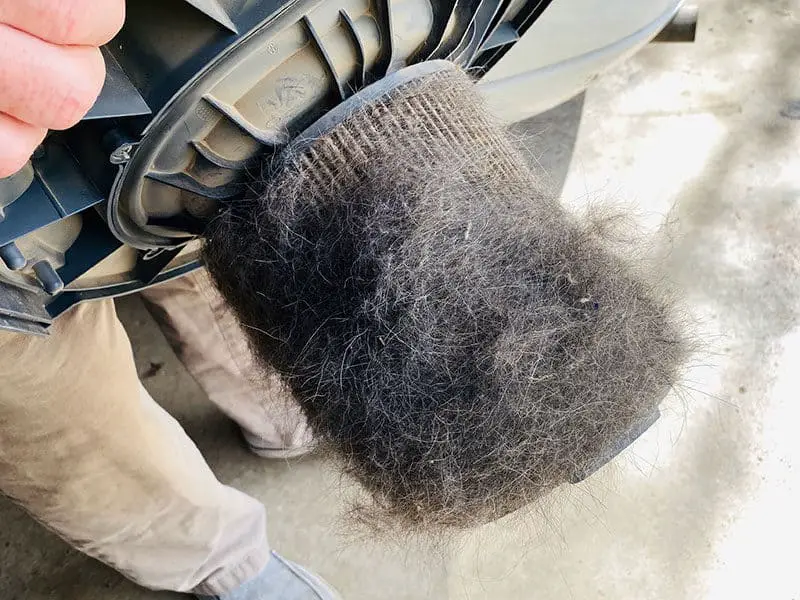 Frequently Asked Questions
To help you make quick work of carpet cleaning with a shop vac, I've put together some of the most asked questions regarding the topic.
Expectation Vs. Reality
That was everything you need to know about how you can restore your carpet's former shine with a powerful shop vac. Now, whenever your carpet calls for a much-needed cleaning session, you can tackle the job with minimal effort and time.
It's safe to say that having a shop vac in hand can take lots of weight off your mind and your wallet. This all-rounder machine excels at various cleaning scenarios beyond carpet cleaning. With a bit of TLC, it should help your carpet look clean and primed for years to come.
Now, if you have concerns regarding each of the recommended steps or want more advice about the process, please leave a comment down below. I'll be glad to assist you through it as always!