Homemade Dust Cleaner – Super Easy Guideline 2024
Homemade dust cleaner is exactly what you are looking for if you live in a polluted city that makes your house always full of dust. You can even see every speck of dust on your furniture, your floor, and in the air.
Frequent cleaning is necessary; however, you don't want to use detergents made of toxic ingredients since they make your hands dry, rough and may lead to skin irritation.
You want to clean hard-to-reach spaces, yet you can't take advantage of your vacuum cleaner.
You would never have thought that you could enjoy cleaning, but after reading this article, you would. This post will provide a list of excellent DIY dust cleaners to make your work easier.
Let's scroll down to find the answers to all your questions.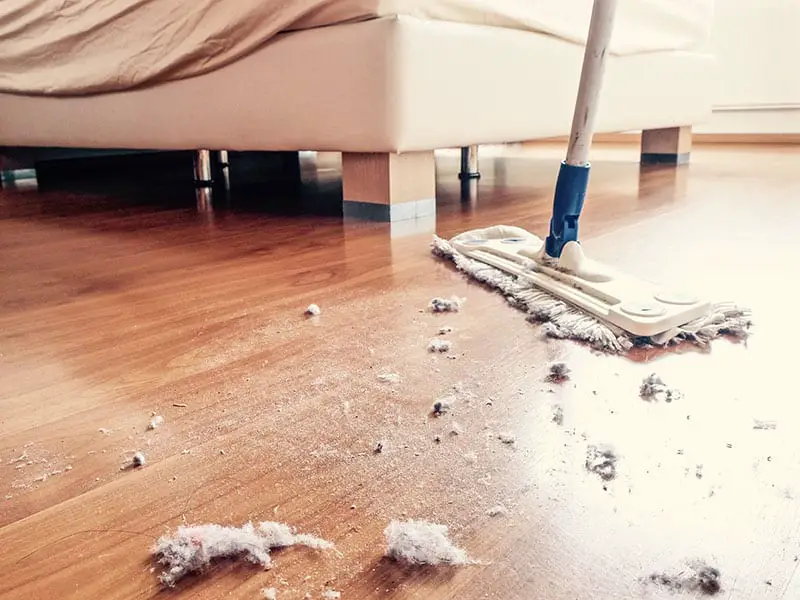 The DIY Dust Cleaners That Make You Forget Expensive Machines
There are various ways to eliminate dust without using any cleaning assistants like vacuum cleaners or Swiffer dusters. Here are some of my suggestions in case you can not use a vacuum cleaner.
Homemade Duster From Cloth
Why don't you make a duster yourself by recycling your old clothes instead of purchasing a new one in stores? Also, that will make you satisfied and entertained when doing homemade stuff and enjoy cleaning at once.
What You Need:
8 pieces of flannel cut on the bias ( two 5 x 7-inch pieces; two 4 ½ x 7-inch pieces; two 4 x 7-inch pieces; and two 3 ½ x 7-inch pieces)
Marking pen
Ruler
Pins
Swiffer duster handle
Pinking shears
How To Do:
Step 1: Place 2 pieces of flannel 5 x 7-inch together, let the wrong sides face each other. Draw a line down the center by the marker and ruler. Next, draw two lines on either side of the centerline; the distance is ¾-inch. Then pin them in place.
Step 2: Sew along lines.
Step 3: Let the 5 x 7 inch flat on your table. In turn, center the 4 ½ x 7-inch piece, the 4 x 7-inch piece, and the 3 ½ x 7-inch piece on the top. Flip the stack and do the same on the other side. Ensure you put the widest fabrics on the bottom and the narrowest on the top.
Step 4: In the center of the fabric, draw a line down and pin it in place. Sew through all 8 layers.
Step 5: Cut slits that are perpendicular to the seam with the pinking shear. Do not cut the stitching on the centerpiece.
Step 6: Put the handle into the pockets in the centerpiece. Finally, fluff the duster.
See a step-by-step guideline of homemade duster from used cloth.
Now, you have a new homemade Swiffer duster and can finish your dusting work efficiently.
DIY Air Purifier
Another option to improve your air quality, helping you reduce dust that is invisible in the air, is a homemade air purifier.
Option 1: Homemade Air Purifier Made From Plastic
Plastic is one of the most common materials when you come to DIY things. Why don't you learn how to make an air purifier from plastic? Your family will wow when seeing your machine.
Materials:
A fan.
Sandpaper
A Drill
A filter
A round container (about 2 gallons) and its cover.
How To Do:
Step 1: Examine the head diameter of the fan and the top of the bucket lid.
Step 2: Inside the cover, you create a hole. Ensure the fan's head fits this hole.
Step 3: Drill holes go through the bucket (1-2-inch diameter) and create four-orifice vertical rows.
Step 4: Sand down around the holes to clean up the newly made openings.
Step 5: Cut the filter to fit with the bucket.
Step 6: Install the filter into the bucket
Step 7: At the top of the container, make a hole to allow the fan's wire to pass through.
Step 8: Before closing your bucket, ensure the lid and the fan are secured.
Now you have a DIY air purifier; you just need to connect the fan to power. A plug, battery, or solar panel can be used.
You can make an air purifier from cardboard like this one.
Option 2: Air Purifier Made Out Of Wooden Materials
You have some old wooden materials that you don't need anymore. Don't throw them away; you can utilize them to make a new air purifier. Wood is also acceptable if you don't have plastic. Let's follow the below steps:
Materials:
A wooden furniture
Screens
A fan
How To Do:
Step 1: Use wooden furniture. Remove three side panels. Remain its corner and bottom parts.
Step 2: Use three screens (same size as the panels) to install into the panel's position. Then, fasten the filters to the furniture.
Step 3: Create a small hole on the remaining panel, and add an air vent.
Step 4: Make a space for the fan's wire to pass through.
Step 5: Insert the fan into the furniture you've made. Alternatively, you can drill a hole in the cover and set up the fan into the opening.
See how simple it is to make an air purifier yourself.
Option 3: HEPA Air Purifier
HEPA filter (1) helps to protect you from asthma or allergies ( caused by dust). Although the HEPA filter's price is higher than other screens, it will provide better results. It's deserved, isn't it?
For this homemade air purifier:
Materials:
HEPA filters ( those fit with the dimensions of that fan)
4 zip ties ( or some tape)
A fan
How To Do:
Step 1: Drill four holes in the fabric, one at each corner.
Step 2: Set up the filter on the back of the fan. Then, set up the screen. Follow the airflow direction indicated on the filter frame.
Step 3: Insert the ties into the holes and let them secure to the fan.
Just within about 30 minutes, you have a new air purifier. That's awesome!
Homemade Dust Cleaning Slime
A dust cleaning slime is usually used to clean hard-to-reach spaces like inner parts of cars or corners.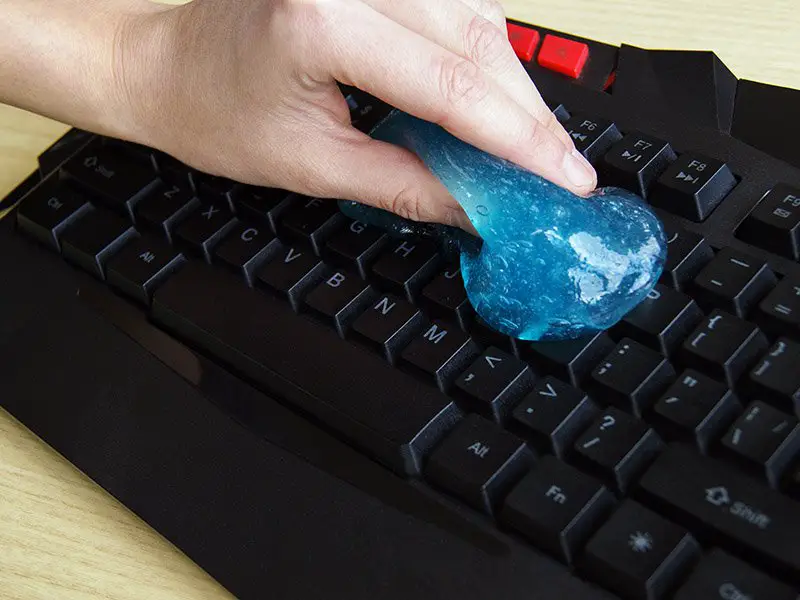 Materials:
School glue
Food coloring ( Optional)
Borax
Warm water
Instruction:
Step 1: Pour the glue and add ½ cup of water into the bowl. Stir to combine water and glue. You can add some drops of food coloring if you like. (2 drops are recommended)
Step 2: Mix up ¼ cup of Borax with 1 cup of water, then whisk continuously until everything is dissolved.
Step 3: Pour the Borax and glue into the bowl, and stir until the slime comes together. Continue to let it be less sticky.
Step 4: Don't forget to knead it with your hand. You have to spend at least 5 minutes doing this step, or your slime will be a gooey mess instead of a dry ball.
Step 5 (optional): To save the sticky ball, you can add 2 tablespoons of borax and continue kneading.
Step 6: Place the slime in an air-tight container.
To remove dust with slime, you need to form it into a firm ball and place it on the surface to be cleaned.
You can use slime when you need to clean hard-to-reach places. The slime picks up minor debris. Ensure you do not place slime on any electronics if the ball still is not firm.
The Best Homemade Dust Cleaners To Protect You From Harsh Chemicals
Now, you have already made a new duster; however, you can't eliminate dust effectively without cleaners. And you're not interested in commercial products that are full of unsafe chemicals and may cause skin irritation, especially for sensitive people.
Don't worry. You can make a cleaner yourself to protect you and your family from these risks with cheap and all-natural ingredients. Homemade dust cleaners can serve multiple purposes like cleaning wood surfaces or electronics.
You can try one or more options to make which one you like best and meet your demands.
Homemade Dust Cleaners For Wooden Furniture
These two recipes on the list are more specifically designed for cleaning wooden furniture. This solution can be safely used on all wood surfaces to eliminate dust and keep surfaces shining.
Option 1: DIY Dusting Spray Recipe From Vinegar and Oils
This home remedy, mainly made of four natural ingredients: vinegar, olive oil, soap, and essential oils. It is cheap, safe to make, and as great as store-bought products.
The acidic nature of vinegar combined with soap and the fragrance of essential oils is an effective dust cleaner.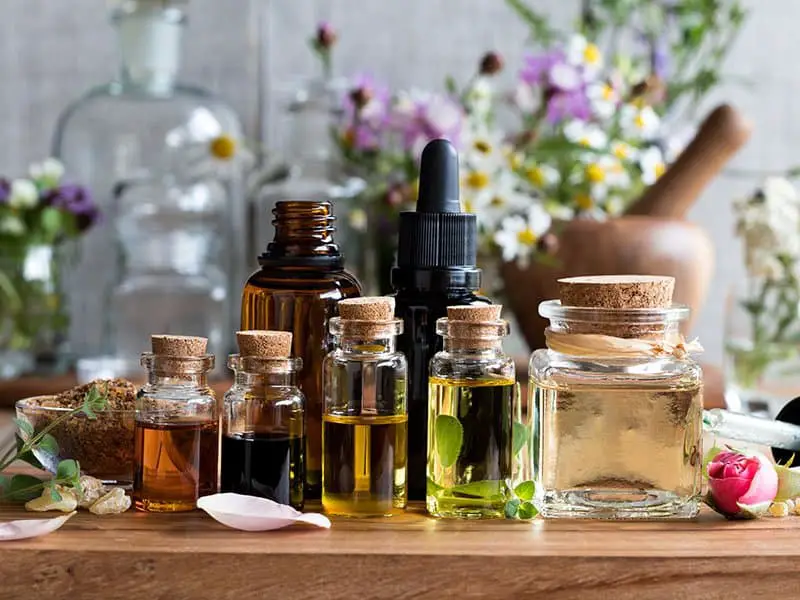 Ingredients:
Water
Vinegar
Olive oil
Soap
Lemon essential oil
First, make a mixture containing: 1 cup of water, ½ cup vinegar, 2 tablespoons of olive oil, 1 tablespoon of soap, and 3 drops of lemon essential oil in a spray bottle.
When cleaning, spray the liquid directly on the surface and wipe it with a clean cloth. Remember to shake the cleaner well before each use.
Option 2: Fragrant Dust Cleaning With Cedarwood Oil
For this recipe, you mix vinegar with some essential oils, especially cedarwood essential oil. In addition to a like-new surface, your space will be full of wood aroma.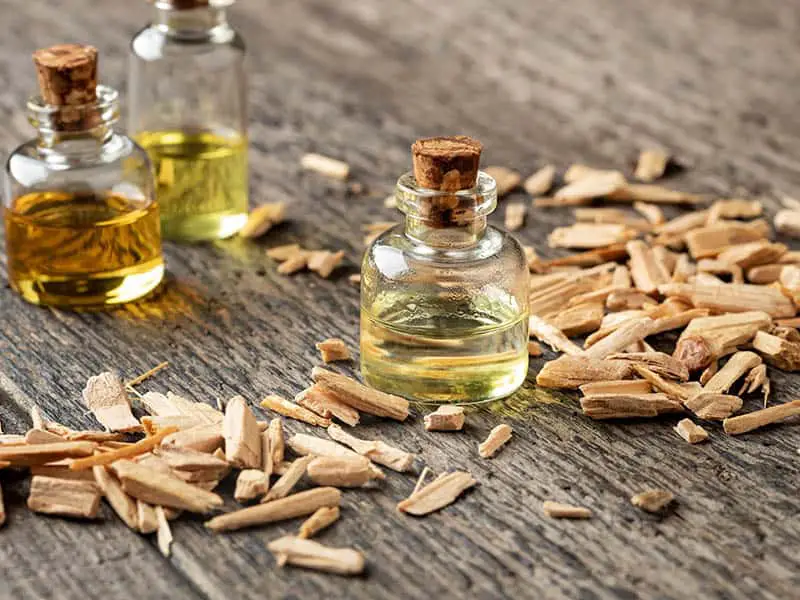 Ingredients
Vinegar
Water
Sunflower, olive, grapeseed, or coconut oil
Lemon essential oil
Cedarwood essential oil
To start, prepare a spray bottle and dilute ½ cup of vinegar with 1 cup of water, 2 tablespoons of any available oil, 10 drops of lemon essential oil, and 5 drops of cedarwood essential oils. Mix up the mixture thoroughly.
Apply to any wood surface to get rid of dust and enjoy the cedarwood scent.
Option 3: Homemade Furniture Polish
Another homemade dust recipe uses lemon oil and mineral oil. The solution not only removes all dust but also gives you a shiny surface.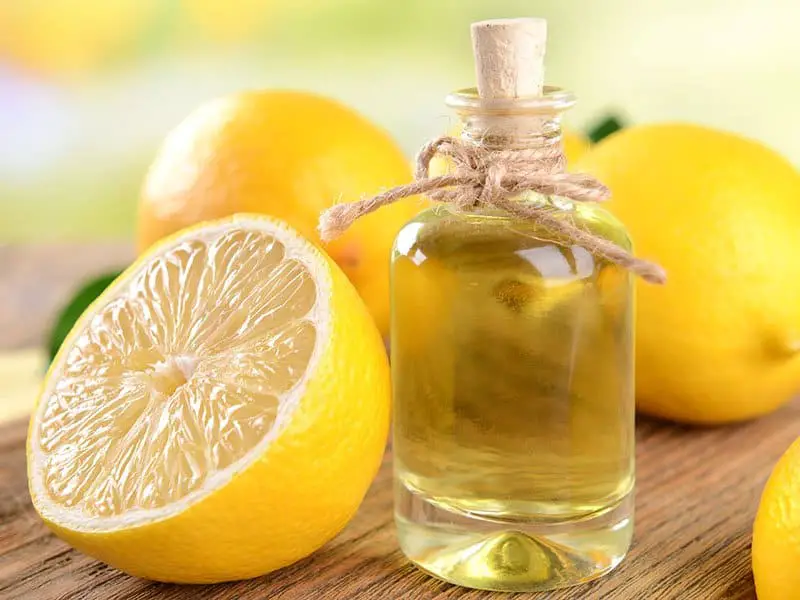 Ingredients
To begin, mix 2 tbsps lemon oil with 2 cups of mineral oil into a spray bottle. Then, apply the mixture onto a clean cloth and wipe over the surface until all stains are removed.
Option 4: Using Infused Vinegar
Another way to make cleaning recipes when you don't have any oils on your hands, you can try infused vinegar with orange.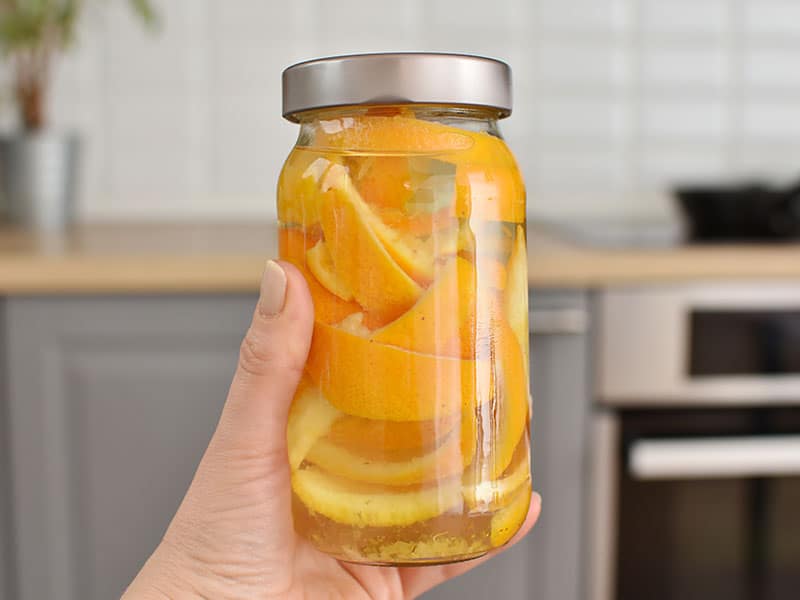 Ingredients
Peel the orange, put it and vinegar into a glass container (enough to cover the orange). Allow the solution to sit for two weeks or more. The reaction between orange and vinegar creates a perfect dust cleaner with a pleasant smell.
Now you can pour the liquid into a spray bottle, apply it to the surface. Gently wipe it off to remove all dust. You can replace orange with any scent you want.
Best Natural Dust Cleaners For Wood Floors
Wood floors need to be cleaned regularly because they usually leave stubborn dirt like dust, marker or foot traces, animal fur, etc.
Wood floors are also easily scratched by hard objects and harsh chemicals. Therefore, you should consider the below recipes to protect your wood floor.
Option 1: Vinegar, Vegetable Oil, And Hot Water
The combination of vinegar and vegetable oil will effectively breakthrough stubborn dirt and make it a wise choice as a natural wood floor cleaner.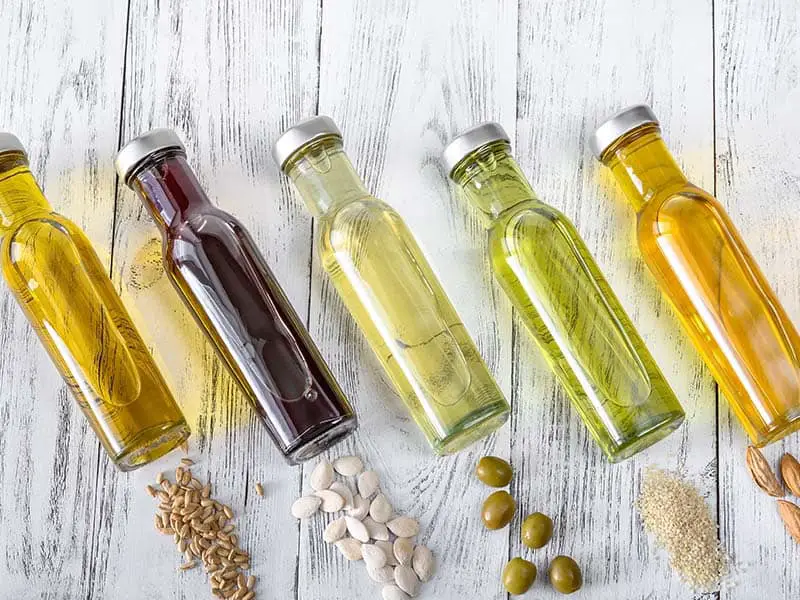 Ingredients
Vinegar
Vegetable oil
Hot water
Microfiber mop
Firstly, you mix small amounts of vinegar, vegetable oil in hot water. Then, use the mop to clean the wood floor. Wait for minutes until the floor dries thoroughly.
Option 2: Dish Soap, Water, And Vinegar.
Another option to eliminate your floor from dust is using dish soap and vinegar. You can easily find these ingredients in your kitchen. Believe me, the recipe works well.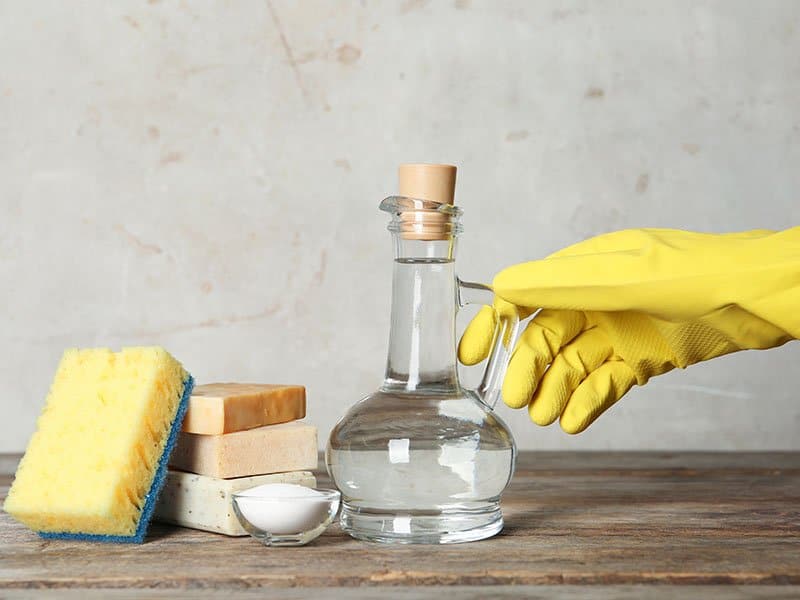 Ingredients:
Dish soap
Vinegar
Hot water
To begin cleaning, mix a tablespoon of vinegar and dish soap with hot water. Dip the mop into the cleaner and squeeze it well.
A dampened mop is ideal for wiping your floor; too much water in the mop can damage the surface. Then, you clean the floor with a mop and let the surface dry.
Option 3: Teabags
After enjoying your tea, don't throw the tea bags. They can be reused in cleaning the hardwood floor. The tannic acid found in tea can make your wood shine like a new floor.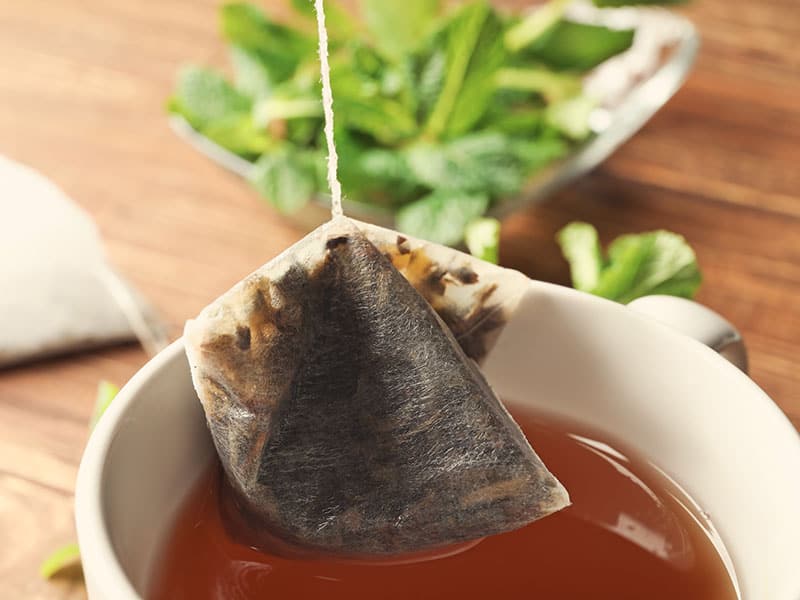 Ingredients:
Add 5 or 6 tea bags to a large pot of boiled water. Then let the tea steep for several minutes. In the next step, slightly dip the mop into the tea water. Don't forget to squeeze the mop to remove excess water and clean the floor.
The leftover liquid can be stored in a bottle for later use; never mistake it with your "regular tea". The best way is to write a label to warn others. Only use tea water on hardwood, not on other floors.
Cleaning Solution For Wood Blinds With Soapy Water
Blinds are exposed directly to a polluted atmosphere; thus, they quickly gather dust from outside. You better think of an excellent detergent. I will suggest some incredible ways to clean wood blinds.
Ingredients
You can remove stubborn dust from wood blinds by letting them soak briefly in a soapy water mixture. Don't let them in the water too long; wood is sensitive to moisture. For normal situations, using a cloth-absorbed cleaner to wipe the blinds is enough.
Homemade Dust Cleaner For Electronics
There's a solution for electronics and computers, laptops, and screens without pungent smell and damaging them that is to use alcohol mixed with distilled water.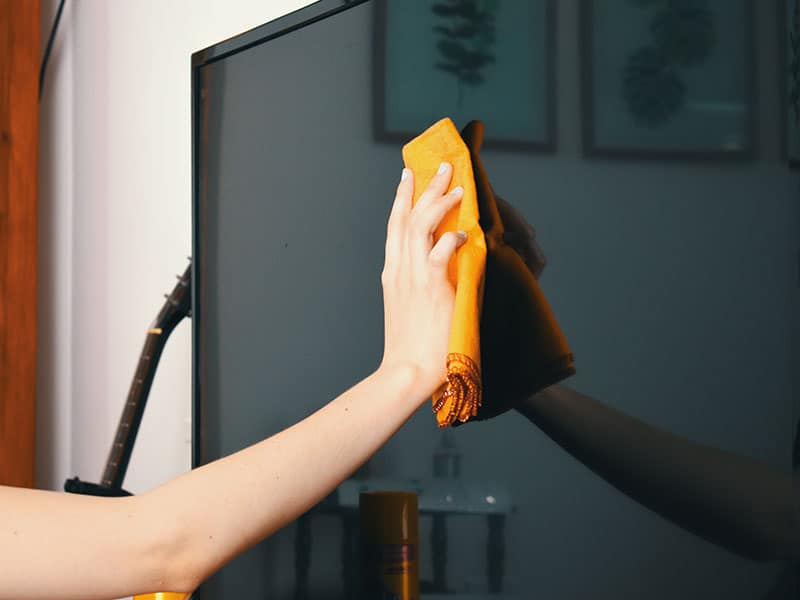 Ingredients
Isopropyl alcohol
Distilled water (Make sure you don't use tap water to avoid leaving stains after cleaning)
Combine rubbing alcohol and distilled water into a spray bottle. Rubbing alcohol is available in 70%,90%. If you use 90% type, you should change the ratio to 1:1:25 rubbing alcohol to water.
Next, apply the mixture on the surface and use a clean, soft cloth or 100% cotton fabric to clean. Because it is alcohol-based, make sure you do not spray directly onto the devices.
Don't use the vinegar and water solution on plastic-cased electronics because alcohol can make the surfaces yellow over time.
Homemade Dusting Spray
Why do you have to pay more money and put your health at risk? I mean being exposed to toxic chemicals in commercial cleaners, while you can make an all-nutritional cleaning solution. That's why I decided to make my cleaners, including dusting sprays.
Option 1: Homemade Dust Cleaning Spray With Citrus
The combination between vinegar and citrus makes your cleaning more enjoyable. You can spray the mixture directly on the surface and wipe it with a soft and clean cloth.
Ingredients
Water
White vinegar
Olive oil
Orange essential oil
Mix all ingredients containing 1 cup water, ¼ cup white vinegar, 2 tsps of olive oil, and 10-15 drops of orange essential oil. Then, shake the bottle lightly. Finally, spray directly on surfaces and wipe them off with a dry fabric.
Also, you can replace citrus with your other favorite essential oils. The cleaning effect won't change.
See how to mix your favorite citrus to make custom cleaner with a fresh scent.
Option 2: Cleaning Solution With Essential Oils
The reaction between vinegar and some essential oils such as lemon, olive, and tea tree,.. creates a perfect solution for you who are looking for an effective and pleasant spray.
Let's see how to make it:
Ingredients:
Olive oil
Soap liquid
Lemon essential oil
Tea tree oil
Distilled water
Vinegar/Witch hazel
Mix all ingredients: 1 cup water, ½ cup vinegar/witch hazel, 1 tablespoon of olive oil, 1 tablespoon unscented soapy liquid, 15 drops lemon essential oil, and 1 drop of tea tree oil. Next, you apply the mixture onto the surface and wipe it with a dry cloth.
You can replace olive oil with sunflower or jojoba oil. The result won't change.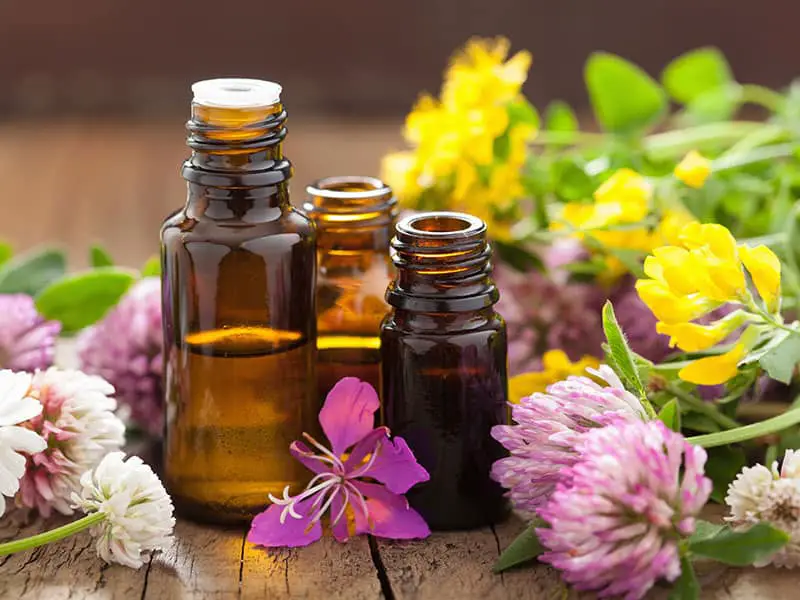 Option 3: Olive Oil, Lemon Juice, And Water
Olive oil is such an awesome ingredient in cooking; moreover, it can help to moisten and loosen stains, dust, and polish the surfaces.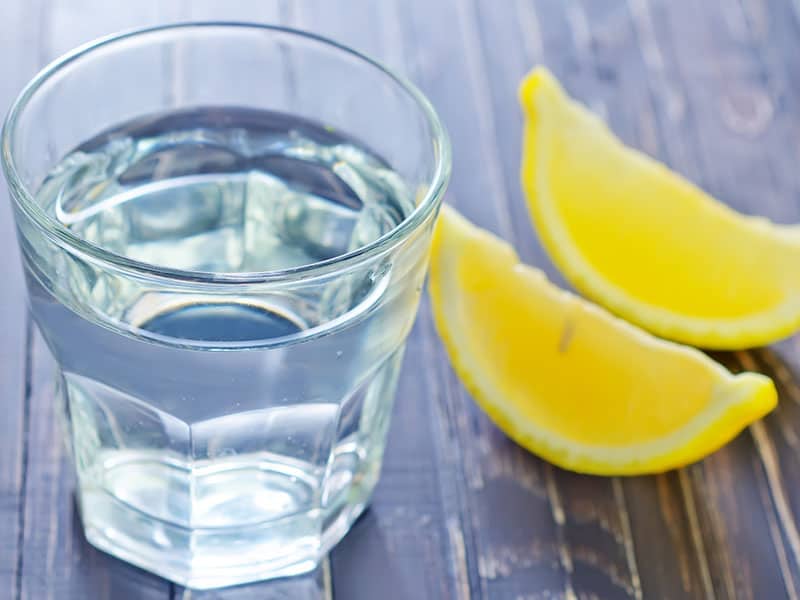 In this recipe, together with olive oil, I also have lemon juice and essential oils as the main ingredients. The acidic nature will remove all remaining dirt and leave a pleasant smell in your space.
Ingredients:
Water
Lemon juice
Olive oil
Essential oil ( whatever scent you like)
Mix ingredients including 1 cup water, 1 tbsp lemon juice, 1 tbsp olive oil, and 3 drops of essential oils in a spray bottle. Gently shake the bottle to mix up all ingredients. Now, you can dust and dirt on all kinds of surfaces throughout the home.
Striking Combinations Of Oil Scents
You can be flexible in choosing what smell you like and make one that meets your demands. Below are my suggestions:
To make your home fresh, you should combine about 20 drops of lemon with 10 drops of lavender.
If you prefer a citrus grove, mix 15 drops of orange, 10 drops of lemon with about 5 drops of grapefruit.
For a clean and fresh space, use 20 drops of lemon and 10 drops of peppermint.
Mixing 20 drops of orange, 5 drops of cinnamon, 3 drops of cardamom with 2 drops of clove will make your space cozier.
Store And Caution For Oil-based Cleaners:
Essential oils are potent. Remember to shake before each use to keep the essential oils from damaging the bottle. Instead, they are not recommended for unfinished wood or fine antiques.
Option 4: Vinegar And Water
If you don't have any essential oil available at home, you can try this simple recipe with only two ingredients.
Ingredients
Add 1 part of water and 1 part of vinegar to a spray bottle and shake until the liquid is mixed perfectly. To clean dust, you just need to apply the mixture on surfaces and wipe it off.
Option 5: The Mixture Of Soap And Water
Soap is the most common detergent, and it is always available in your kitchen. Let's try to mix soap with other ingredients to make your dust cleaners. That will work well.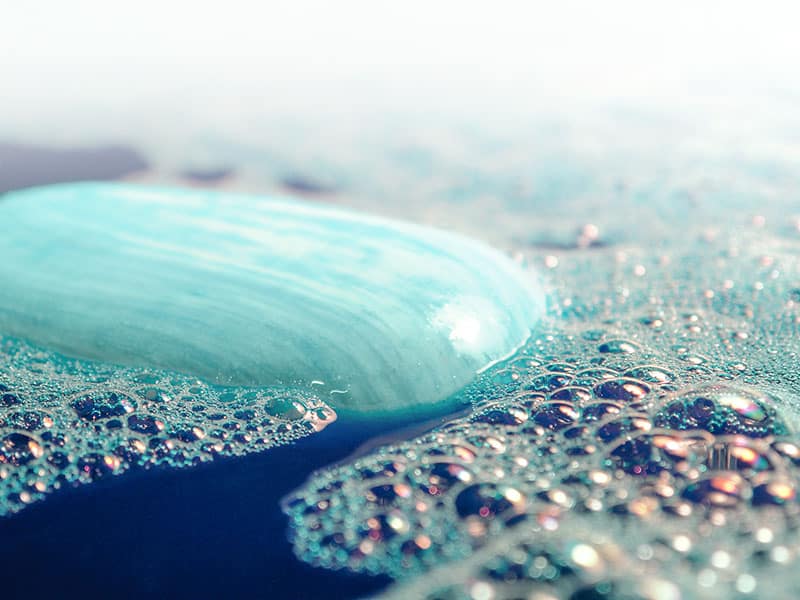 Ingredients
Water
Soap
Virgin olive oil
Lemon essential oil
First, combine 1-3 drops of oils, 2 teaspoons of soap, 1 tablespoon olive oil, and 1 cup distilled water in a spray bottle. Then, spray the liquid on furniture and areas where ants and spiders may lurk.
Homemade Dust Cleaner For Glass Table
Not only wood surfaces but glass tables are also prone to get dusty. It only takes a few days; your glass-top table is coated with dust and dirt. Therefore, you should have an everyday cleaner for your glass table. And a cleaner made of fabric softener is my suggestion.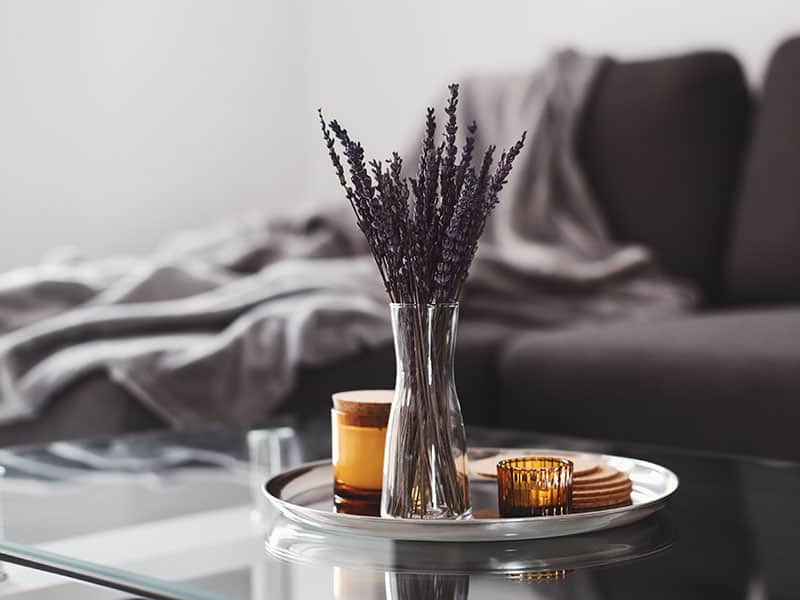 Ingredients:
Distilled water
Fabric softener
First, mix water to fabric softener with the ratio 4:1 in a spray bottle, then shake the bottle for 20-30 seconds to blend the solution. The distilled or purified water is better than the normal one.
Spray the cleaner onto a soft cloth and wipe down the whole glass surface. Use the other side of the cloth or a new cloth to remove the remaining traces.
How To Make A Disinfectant For Your Dusty Toilet Tank Lid
Most people clean their bathrooms every day, but they forget the toilet tank lid. The lid is also easy to accumulate dirt, bacteria, and more that cause an unpleasant smell. Thus, you should clean your toilet tank regularly.
Ingredients
To clean your toilet tank lid, combine 1/2 cup of borax with a gallon of warm water in a spray bottle and thoroughly mix them up. Then, squirt the solution onto a clean microfiber cloth and wipe off all dust on the lid. Besides cleaning ability, this solution helps you disinfect the surface.
How To Prevent Dust From Air
After cleaning the surfaces in your home, you'll want to clean dust from the air in your house, too. Here are some valuable tips
Use an air purifier, or make one yourself (instruction in the previous part) because it helps circulate the air more effectively and filter dust that you can't see.
You should open your windows regularly to allow the air in and out of your space. It's better if you glaze a curtain so that it prevents your home from houseflies.
Put some kinds of houseplants in your home. They can absorb harmful chemicals in the air and purify the air.
3 Tips To Help You Save Time In A Dusting House
After finishing your homemade dust cleaners, you may find some tips to accelerate your cleaning process. Here are my suggestions:
You should plan to clean your house; it's better to remove dust before vacuuming since the dirt will spread out and drop to the floor. You surely don't want to waste time cleaning your house twice.
There is no towel better than a microfiber cloth to remove dust. Keep in mind dampening your cloth instead of wetting it, as excess water will leave streaks after cleaning. You should clean corners carefully.
Move from top to down. When dusting your wall, blind, or bookshelf,… make sure you begin at the top. Don't skip objects; they are ideal places for dust to accumulate.
FAQs
If you are still curious about this topic, here I have some frequent questions. After referencing them, your problems surely are solved.
Make Your Cleaning Work Easier
To make your cleaning effortless, in addition to using homemade dust cleaners, you should clean around your house regularly, both daily and weekly.
Do you find answers to all your questions? I hope you do. With all recipes of homemade dust cleaners, and valuable tips that I suggest, now you can make one yourself and enjoy cleaning.
If you find this helpful article, leave your comment and subscribe to my page.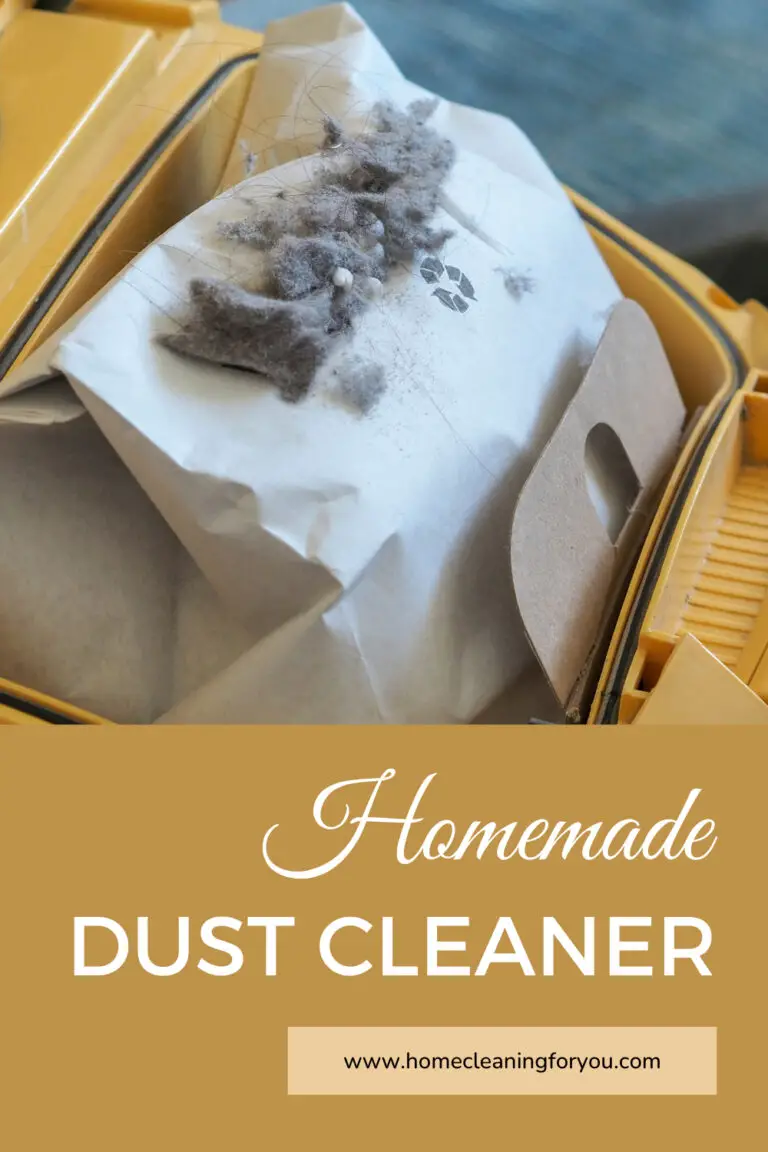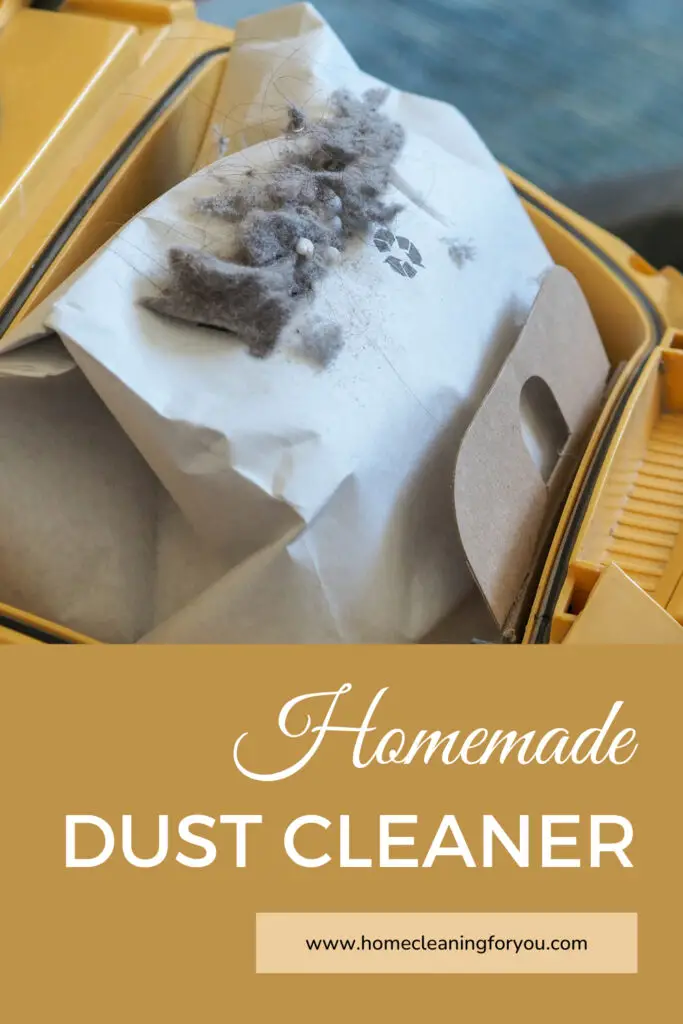 Reference:
Vijayan, V. K., Paramesh, H., Salvi, S. S., & Dalal, A. A. K. (2015). Enhancing indoor air quality–The air filter advantage. Lung India: Official Organ of Indian Chest Society, 32(5), 473.