How To Get Bleach Out of Carpet Like A Pro 2024
How to get bleach out of carpet is an issue that many people have experienced. This product has many applications in daily life, but it comes with a downside. When bleach contacts your skin, clothes, or other household surfaces, it leaves an unsightly, dull-looking stain.
If your carpet is the latest victim of bleach and in need of help, don't panic. With the right set of tools and instructions, your carpet will be saved and look gorgeous again in no time. Let's get to work now!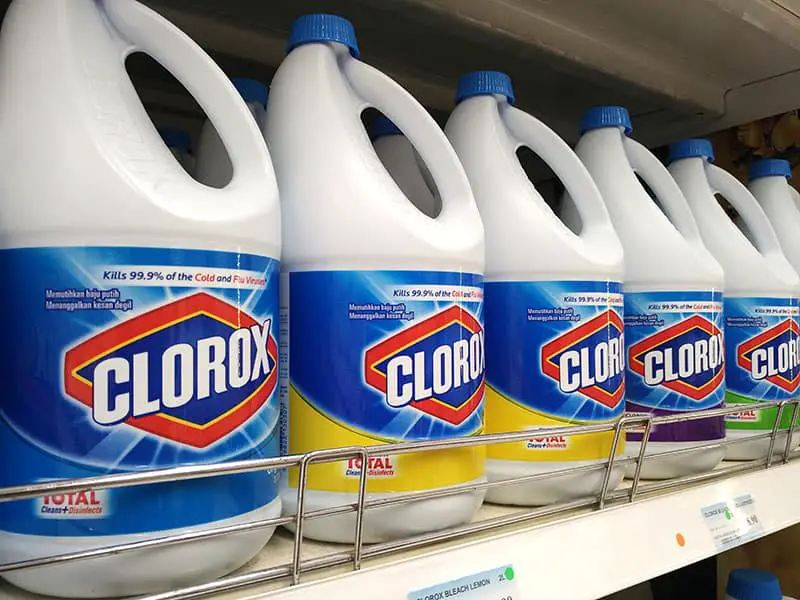 About Bleach And Why It Is A Double-Edged Sword
Bleach is a chemical product available in both solid and liquid forms and offers a wide range of uses in your daily life. From whitening laundry, removing stains, to disinfecting household surfaces, bleach has never failed your expectations. Some other benefits of bleach include:
Kill mold and mildew
Clean toilets
Keep flowers stay fresh for longer
Deodorize trash cans
Brighten glassware
However, everything has its ups and downs, bleach included. When used on colored clothes or dyed fabrics, bleach will strip away the pigments and leave unsightly stains behind. If you happen to spill bleach on the carpet, you know the drill.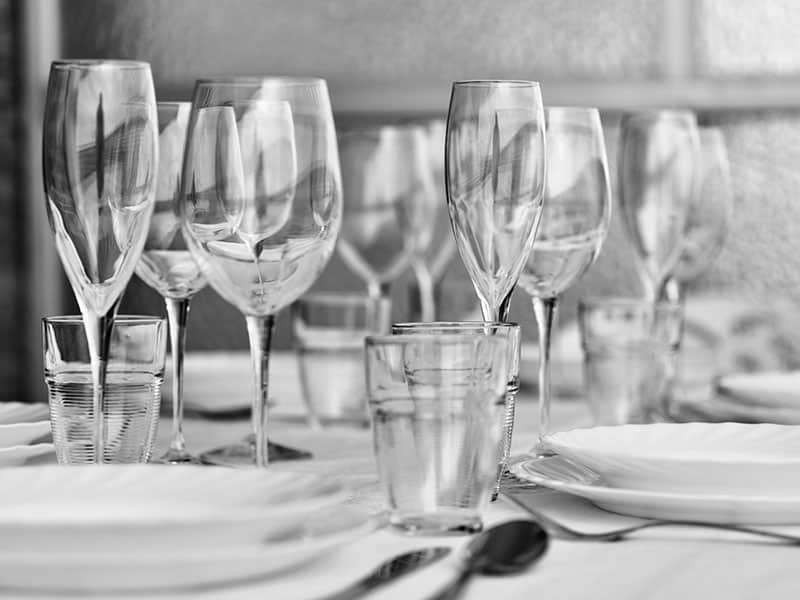 Say Goodbye To Bleach Stains On Your Carpet
While it is true that the damage caused by bleach is often irreparable, there is still a glimpse of hope for you – so long as you act rapidly and gather the correct tools. Without further ado, I'll show you where to get started!
Treating The Bleach Stains
In this section, I'll show you how to soften bleach's impact to prevent it from damaging your carpet further. Your options include a bleach neutralizer, white vinegar, and dish soap.
1. The Beach Neutralizer Method
With corrosive characteristics, bleach can damage or even eat through your carpet. Thus, it is important to minimize its effects as soon as the accident occurs. A neutralizing agent can be purchased at home retail stores, so stop one in your local area to find out.
There are many choices for your consideration, such as:
Bisulfite/metabisulfite: cheap but effective.
Thiosulfate: somewhat weak, suitable for delicate materials.
Hydrogen peroxide: most accessible choice.
If you are not certain which one's the right one, consult an employee. If possible, elaborate more details of your carpet, including the material, the size of the damage, etc.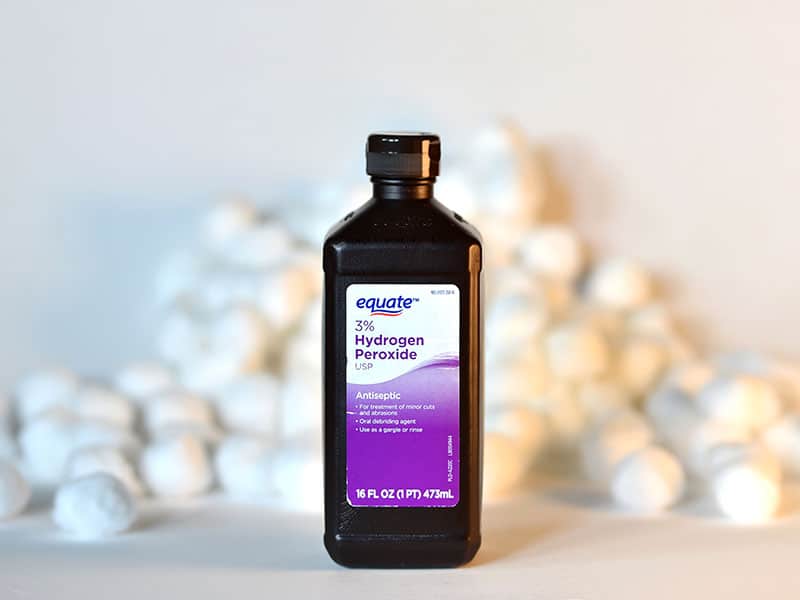 What You Need
Bleach neutralizer
Water
Sponge or paper towels
Shop-vac
What To Do
Step 1: Dissolve your bleach neutralizer with clean water. The amount of water you need is often written on the label.
Step 2: Pour the solution on the bleach stain. For smaller sections, apply the solution with a sponge or a paper towel. Wait for 5 minutes.
Step 3: Run the shop-vac to extract the fluids. The device can be rented at many equipment stores, but you can consider investing in one if household accidents often take place on your carpet. A shop-vac can help you clean carpets with no effort.
Step 4: Allow the carpet to air dry.
2. The Vinegar Method
Vinegar has further applications than just marinating or tenderizing meat. The pantry staple has received much praise recently due to its wonderful cleaning properties. If you have got some bleach on your carpet, vinegar is here to help.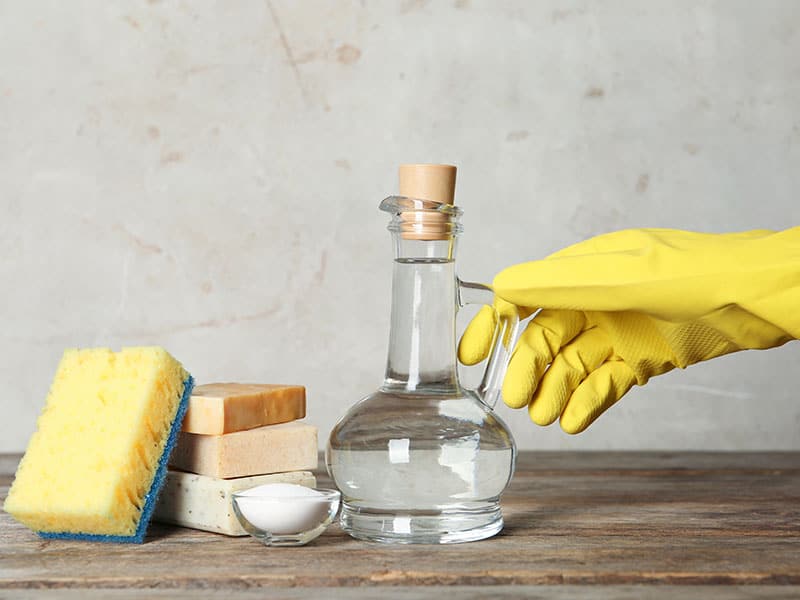 What You Need
Vinegar
Warm water
Sponge or paper towels
Gloves
Respirator
Air mask
What To Do
Step 1: First and foremost, don your protective gear. The chemical reaction between vinegar and bleach will release chlorine gas. (1) Excessive exposure to this gas will cause symptoms like nausea, coughing, headache, and so on.
Step 2: Combine 2 tablespoons of white vinegar with 4 cups of warm water. Stir well.
Step 3: Pour the solution all over the bleach stain. It should be slightly dampened instead of soaking wet. Allow the vinegar solution to do its job for 5 minutes.
Step 4: After that, give the spot a good rinse with clean water. Repeat the steps if the bleach stain persists. If not, let the carpet dry.
3. The Dish Soap Method
When you happen to spill a little bleach on your carpet, grab a bottle of dish soap right away. This household product does an excellent job breaking down many stains, although you are well-advised to use it with extreme caution. The reason will be explained in the instructions.
What You Need
Dishwashing soap
Warm water
Sponge or paper towels
Gloves
Respirator
Air mask
What To Do
Step 1: Put on an air mask, a respirator, and a pair of gloves before jumping to action.
Step 2: Wick away the excess bleach with a sponge or some paper towels. Do not use a rag to do this, especially a colored one, or the pigment will transfer to your carpet.
Step 3: Create a sudsy solution using 1/4 teaspoon of dish soap and 1 cup of water. Check the label whether your dish soap contains bleach before using, or you will add fuel to the fire!
Note: Many scientists have warned against treating bleach stains with Dawn dish soap since these two cleaning agents will release toxic vapor when combined. If you are not certain that your product is safe to use, contact a professional or skip this method.
Step 4: Saturate the bleach spot with the solution and let it sit for 5 minutes.
Step 5: Blot the stain with a sponge, starting from its outermost to prevent spreading.
Step 6: Rinse the treated area thoroughly with plain water and pat until dry.
Watch this video to know more:
4. The Baking Soda Method
If all else fails, grab a box of baking soda and give it a try – the result will wow you!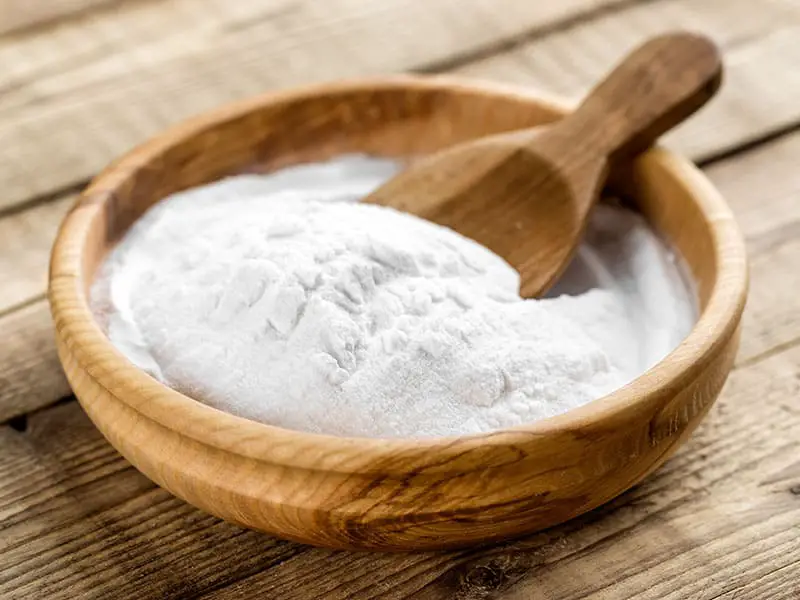 What You Need
Baking soda
Water
Soft brush
Gloves
Respirator
Air mask
What To Do
Step 1: Get your mask, respirator, and gloves on before getting down to work.
Step 2: Combine three parts of baking soda with one part of water to form a paste.
Step 3: Smear the paste on the affected area and scrub lightly using a brush.
Restoring The Carpet Fibers
The carpet fibers will be subject to fading or discoloration, even when it's just a tiny splash of bleach. Now, it's time to bring out the artist in you and revive the carpet! From ink, acrylic to interior paint, the options below will blow your mind. Read on!
1. The Crayon Method
Indeed, you won't be using crayons to clean the bleach! When the damage is beyond repair, borrow a crayon that matches the carpet's color from your children, and let's get coloring!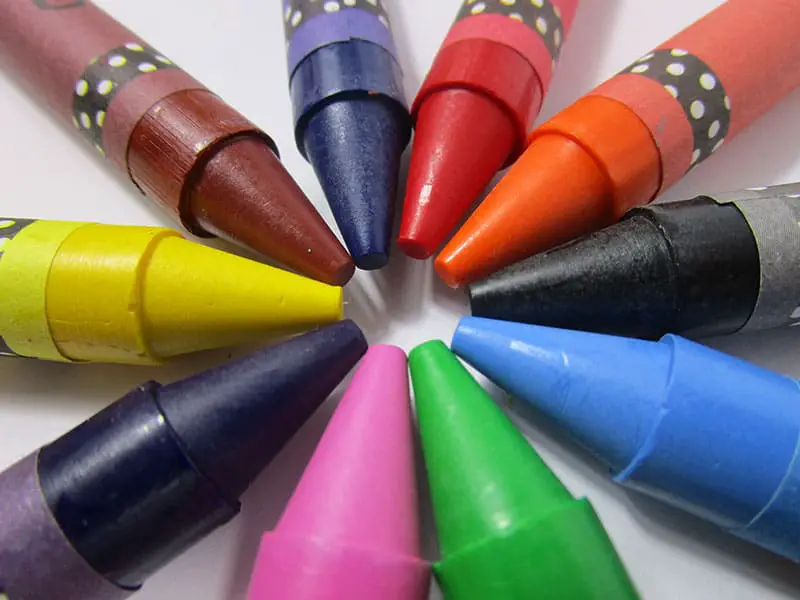 What You Need
Crayon
Warm water
Sponge or paper towels
Fine-tipped paint brush
Gloves
Respirator
Air mask
Paper (optional)
What To Do
Step 1: Like the previous methods, you will begin by putting on your protective clothing.
Step 2: Blot up as much bleach as you can with a sponge or some paper towels.
Step 3: Grab a crayon that matches the color of your carpet. If possible, color a small piece of paper with the crayon and place it atop the bleach stain. If the color blends well, move on to the next step.
Step 4: Color the affected fibers with light strokes, ensuring that they absorb the pigment. A little patience is needed to achieve the desired result.
Step 5: Finally, use a damp paper towel and dab the colored fibers to blend the pigment.
Note: If the damage takes place in an inconspicuous area such as a corner of your room or somewhere not visible, your alternative is interior paint. Likewise, you will have to determine the matching color first. Then, grab a paint brush and give the fibers a new makeover.
Blow your mind with this amazing crayon trick to repair bleach damage.
2. The Ink Method
An alternative to crayon is ink, which can cover up the stained fibers perfectly if you give in a little time and effort. Your best bet is a bottle of ink in the matching shade, but should you not be able to find it, a pen, a sharpie, or a permanent marker should work just fine.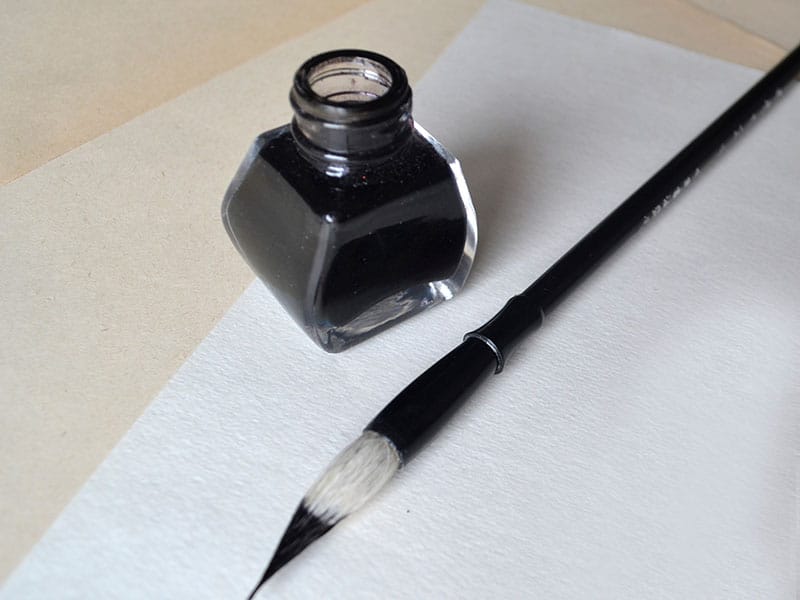 What You Need
Bottle of ink, pen, sharpie, or marker
Water
Fine-tipped paint brush
Small container
Gloves
Respirator
Air mask
What You Do
Step 1: To start with, wear your gloves, air mask, and respirator to minimize contact with the bleach stain.
Step 2: Prepare a container filled with a dab of water. If you use ink, pour it into the container and give it a stir. As an alternative, cut a pen, a sharpie, or a marker open. Then, extract the interior and submerge it in the container until it's fully dissolved.
Step 3: Now, it's time to use your new "dye" and paint the fibers. Add more water if the ink is darker than the carpet's color.
Note: This method should only be used when the damage is not too enormous because it is pretty time-consuming.
You should see the video below:
3. The Hair Dye Method
Hair dye is another wise choice to repaint the fibers. With an extensive range of shades, you can rest assured that you will find one that suits your needs. Moreover, when used on fabric, hair dye will not fade even after months or years.
What You Need
Hair dye
Fine-tipped paint brush
Blow dryer
Gloves
Respirator
Air mask
What You Do
Step 1: Shield up to prevent the bleach fumes with an air mask, a respirator, and gloves.
Step 2: Use a fine-tipped paint brush to apply the hair dye. No dilution is needed.
Note: If you see the dye turns black, this is normal. That's just how hair dye is when you first apply it.
Step 3: Blow-dry the painted fibers using a hairdryer. The heat will allow the dye to seep into the fibers more rapidly.
4. The Acrylic Paint Method
Acrylic paint is well-known for its versatility and durability. Like hair dye, the paint is available in various options, so it should not be too challenging to choose the appropriate color for this job. Even if you don't, you can mix different paints to create the shade you need.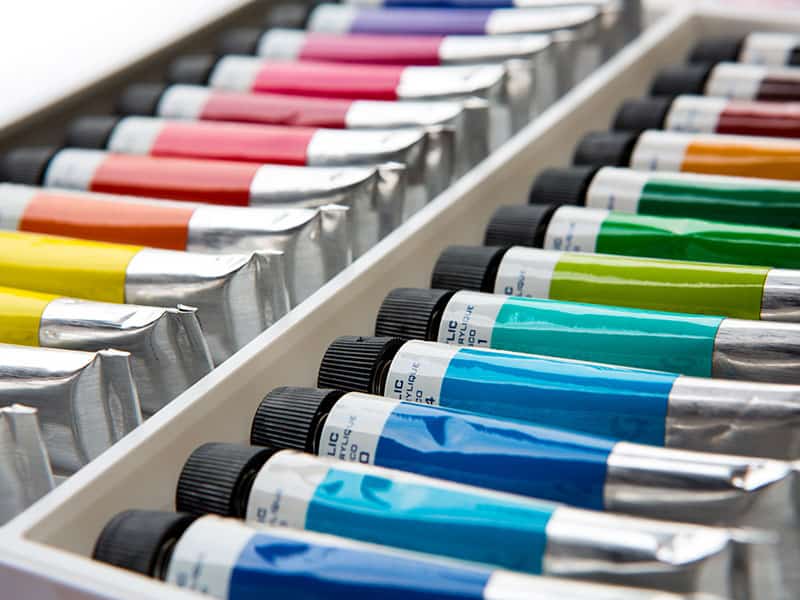 What You Need
Acrylic paint
Fine-tipped paint brush
Gloves
Respirator
Air mask
Sample swatch (optional)
What To Do
Step 1: The same old rule: prioritize your safety with a mask, a respirator, and gloves.
Step 2: Paint the bleached area with the acrylic paint that you choose. If you are not so sure about your decision or think it needs a little modification, buy a sample swatch. It is available at many arts and crafts stores.
5. The Interior Paint Method
If crayon did not produce the desired effect, your next option is interior paint. However, keep in mind that this option is only suitable when the bleach damage is minor or happens in an inconspicuous area, such as a corner of the room.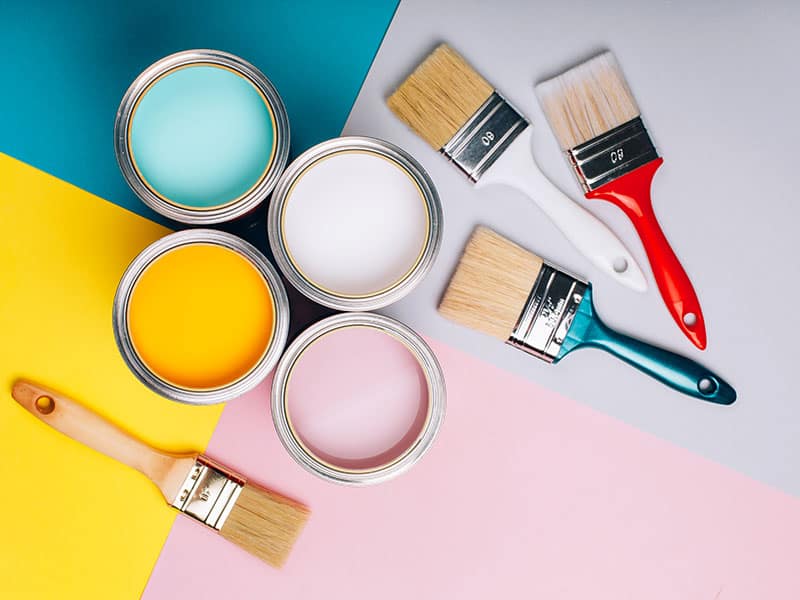 What You Need
Interior paint
Sponge or paper towels
Vacuum
Fine-tipped paint brush
Gloves
Respirator
Air mask
What To Do
Step 1: Besides bleach, interior paint fumes can cause some health effects. Therefore, don't forget to protect yourself with safety gear.
Step 2: Run the vacuum over the carpet to get rid of dirt and debris. Alternatively, there are many ways to clean your carpet without a vacuum. For instance, if your carpet is small, just shake it and let the dirt fall out.
Step 3: With a damp sponge or a paper towel, pat the bleach stain gently.
Step 4: Use a fine-tipped paint brush and start painting the affected area. Make sure that the color matches, or your carpet will look weird.
6. The Automotive Carpet Paint Method
In some cases, you can use automotive carpet paint to reverse the damage. It is designed to give car carpets a new look, but some products will also work on home carpets, particularly if the damage caused by bleach is not too severe.
What You Need
Automotive carpet paint
Old Tupperware
Fine-tipped paint brush
Gloves
Respirator
Air mask
What To Do
Step 1: Again, gear up before diving in – you don't want to inhale these toxic fumes.
Step 2: Like interior paint, this type of paint can make the fibers rigid. Here is a trick to thin it out. Spray the paint on a Tupperware that you no longer use. Then, grab a brush and apply the paint to the affected area.
If none of the methods above turn out successfully, your last resort is to cut out the damaged sections and replace them with patches from another carpet. You can do this by yourself, but I recommend seeking help from a professional, as this is not an easy task.
Things To Note While And After Removing Bleach From A Carpet
The following section will provide you with some useful tips when cleaning bleach from your carpet. You will wish that you knew them sooner!
Do a spot test: Not every product is created the same. Some can be much stronger than you can imagine, so it's practical to conduct a spot test to avert unwanted risks.
Improve ventilation: Donning your protective gear is not enough. When using paint spray or hair dye, you are well-advised to open the windows or run a fan to dissipate the fumes.
Do not rub: If you scrub or put too much pressure, bleach will penetrate the backing layer and cause even further damage. Dab gently as much as you can – you want to get the bleach out, not push it into the fibers.
Rinse the carpet: After finishing the work, it is a good idea to wash your carpet with shampoo or a commercial carpet cleaner. Remember to dry it properly afterward, or you will soon face moldy issues. (2)
Vacuum the carpet: Once the carpet has become fully dry, it will look slightly dull or lackluster. To bring your carpet back to its former glory, run the vacuum over the site to fluff up the fibers.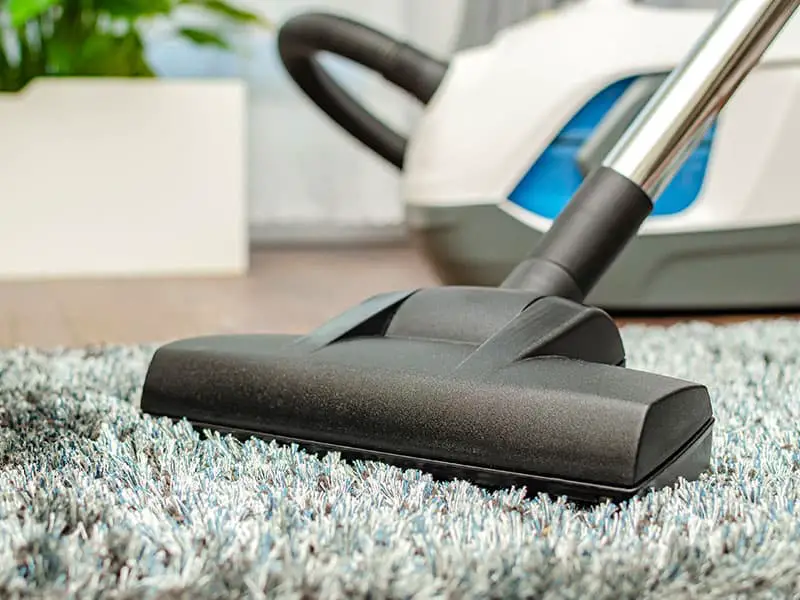 FAQs
All your further inquiries about cleaning bleach from the carpet are waiting in this section.
Beat The Bleach
By now, I'm sure that the question of how to get bleach out of carpet is no longer a burden in your head. No matter how potent bleach is, it will give in to your effort and determination and eventually vanish!
Should you find my post helpful, don't forget to share it with your loved ones. Also, I'd love to hear how your cleaning work went. Share the result via the comment section – I'm right here waiting for all of you!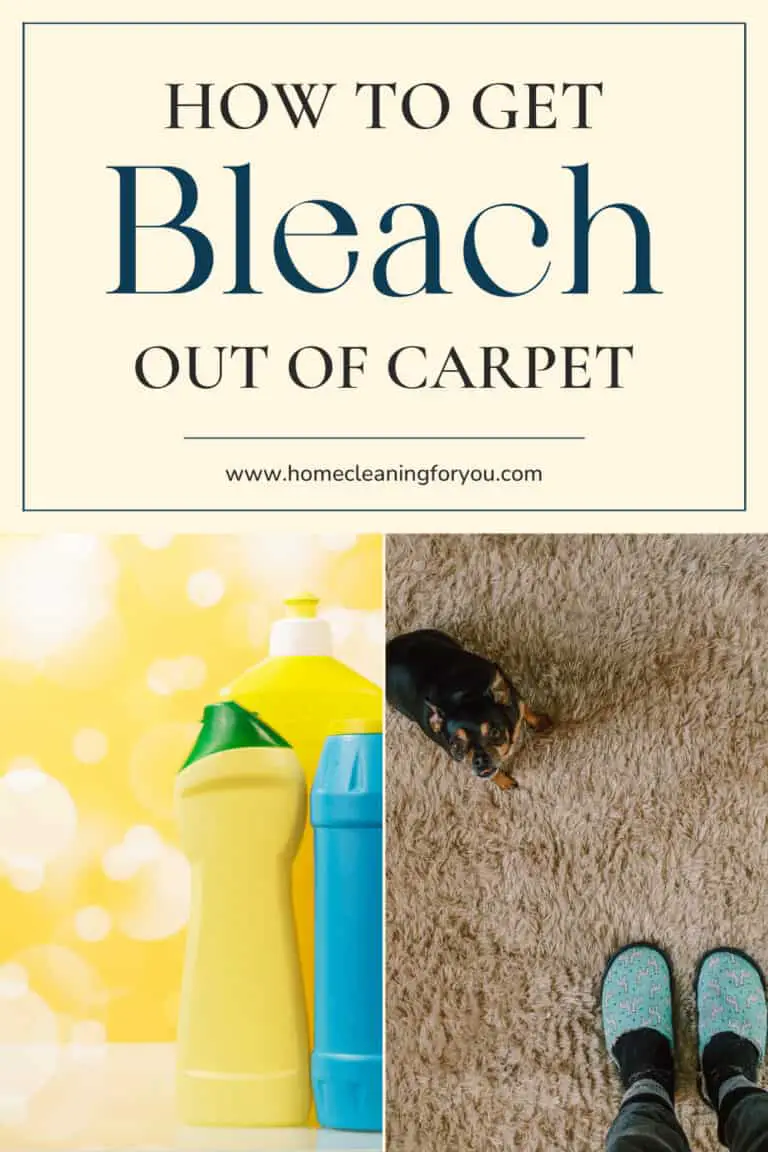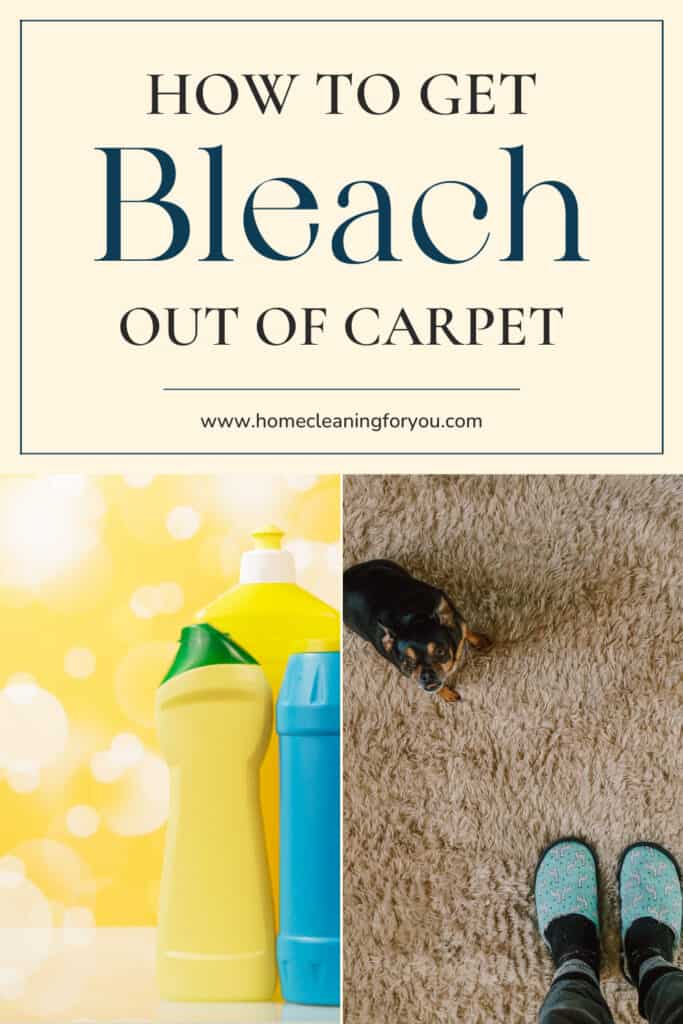 References
Morim, A. and Guldner, G., 2021. Chlorine Gas Toxicity. [online] Ncbi.nlm.nih.gov. Available at: <https://www.ncbi.nlm.nih.gov/books/NBK537213/>.
Nachi.org. 2021. Mold, Moisture, and Your Home. [online] Available at: <https://www.nachi.org/mold.htm>.