How To Take Apart A Dirt Devil Vacuum Cleaner?
Vacuum cleaners are designed to clean up your house, but how about cleaning your vacuum cleaners?
With time your vacuum cleaners accumulate dust and debris within their critical components that might hamper the functionality and features such as suction in the long run.
In case you are a fan of the dirt devil vacuum cleaner, you know how pricey these cleaners are, and keeping them in their optimum shape is just as important!
In this guide, we will talk about the right way to take apart a dirt devil vacuum cleaner without causing any unfortunate error doing so.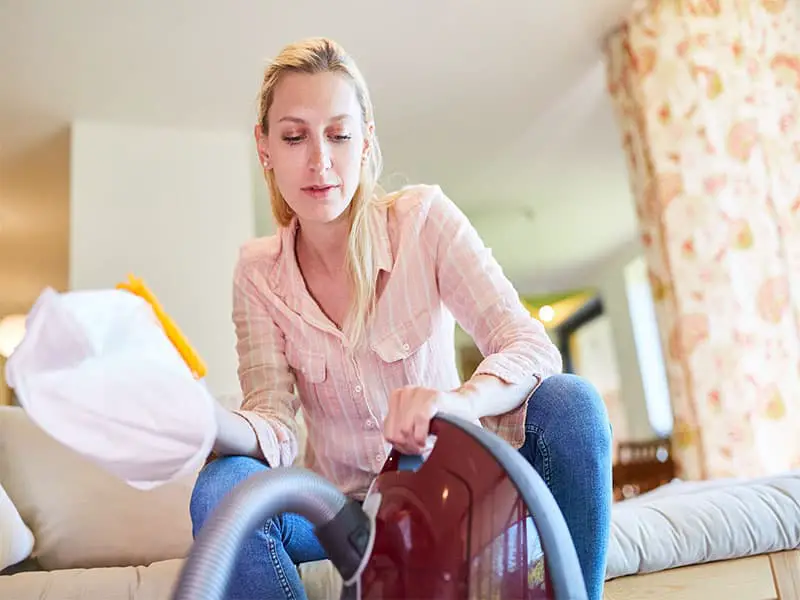 What Are Dirt Devil Vacuum Cleaners?
Coming from a brand of the very same name, the Dirt Devil Vacuum cleaners are versatile machines that help deal with messy premises and involve top-quality suction meant for carpet cleaning, hardwood floors, ceiling, and any place that is hard to reach.
Their multi-floor capability makes them wonderful machines for daily cleaning needs. Apart from that, all the cleaning machines by this maker flaunt a longer battery life with a shorter charge time. The easy to empty dust cup helps you get rid of dirt in a faster manner without causing any mess.
However, even with so many amazing features, cleaning machines surely accumulate dust and debris within their components with time. So, it is essential to take apart the dirt devil vacuum and clean it thoroughly to ensure better functionality.
Important Safety Instructions to Consider
Always read through the instruction manual before using the appliance.
Follow the safety instructions thoroughly and do not indulge in random practices.
Do not ever leave your Dirt Devil Vacuum cleaner unattended when plugged into a socket.
Keep checking your filters regularly to clean & replace them when necessary.
Refrain from using any sharp objects to clean the hose as they might cause damage.
Regularly remove the cleaning brush & dust off the debris from the end caps to ensure smooth rotation.
Warnings to Abide by When Using or Cleaning the Dirt Devil Vacuum (Avoid Electric Shock)
When cleaning or taking apart the Dirt Devil, make sure you unplug the machine.
Do not keep the machine on any wet surface or outdoors when taking it apart or when storing it post use.
Do not make use of the Dirt Devil vacuum if the cord or plug is damaged, and seek professional help as soon as possible.
Refrain from handling the disassembled parts with wet hands as it might lead to electrocution after assembly due to a short circuit.
In case of tangled hairs, make sure you refrain from pulling the same, rather cut through it with a set of sharp scissors or untangle it slowly with fingers. Failure to do so could lead to broken parts and eventually electrocution or a short circuit.
Refrain from vacuuming, smoking, or burning objects such as matches, cigarettes, or hot ashes.
Don't use the vacuum without any filter or dirt container in place.
Before you go ahead and disassemble the Dirt Devil, make sure you know the parts involved. Let us check out more about them.
Front Parts in the Dirt Devil Vacuum Cleaner
Handle Grip
Hose
Power Brush Tool
Crevice Tool
Dirt Container
Extension Wand
Clean Release (Empty Button)
Center Dirt Path
Headlight
Brushroll (Off/On Lever)
Headlight
Height Adjust Knob
Air Directors
Bumper
Release button for dirt container
Back Parts in the Dirt Devil Vacuum Cleaner
Hose Guide
Cord Clip
Long Power Cord
Cord Wrap+ Quick Release Cord
Wheels
Off/On Pedal
Carry Handle
Pedal for Handle Release
Dust Brush
Now that you know the basics of your vacuum cleaner let us dive deeper into the right way to take apart the Dirt Devil Vacuum Cleaner.
Dirt Devil Disassembly: How to Do it the Right Way?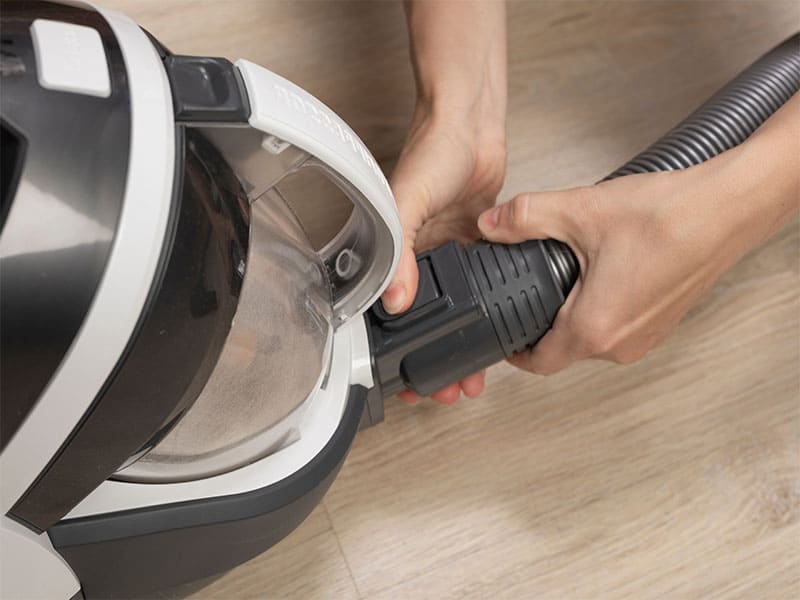 Before you get started on taking apart the Dirt Devil Vacuum Cleaner, you must have some tools to ensure an easy disassembly process. The first thing you need to have is a good screwdriver along with a sturdy glove that ensures you do not nick yourself on any metal or point end.
Once you are done finding the screwdriver and glove, you can get started with the disassembly process. Additionally, you can spread a sheet on the ground to ensure water doesn't seep into the machine if the space is wet. Regardless, it is advised that you do so. It helps you keep the screws in one place while ensuring that the dirt or dust doesn't spread out all around.
Now, here are the processes to get things done.
Step 1: Start With Removing the External Battery
Depending on the type of Dirt Devil vacuum cleaner you have, the first move, in any case, would be to remove the power supply. Most of the models manufactured by this maker come with an externally located battery. This battery-type is called the power brick. So, you can easily locate the same on the sides of the vacuum cleaner.
Now, before you put down the battery anywhere you like, make sure space is away from any water area to ensure that moisture doesn't seep into the same. Additionally, you can keep it in a bag or pouch for safety purposes.
Step 2: Disconnect the Handle
When processing the ways to disassemble the Dirt Devil vacuum cleaner, you need to understand that getting to the prime step might get a tad messy. Before you remove the handle, cover the complete floor area as stated at the step before this.
The reason behind it is that dirt and dust might pop off when you open the handle. Next, lay your Dirt Devil on one of its sides to ensure that the attachment of the handle keeps facing in an upward direction. Now, turn this collar in a counterclockwise direction & pull out this handle.
Step 3: Unscrew Each Section One-by-One
When you turn this handle toward the side, you will see one screw. With the help of your screwdriver, you need to take it out & place the screw in a box or a pouch that won't be lost. Further, it is also recommended that you take a picture before unscrewing all the parts to help you remember what goes where when you reassemble the same.
Now, disconnect the 2-sections of the vacuum cleaner by pulling them gently apart.
Step 4: Release the Canister
Each Dirt Devil Vacuum Cleaner comes with a specially designed button before the release of your dirt cup. First, hold your vacuum canister with the help of one hand & using the other hand, push the release button.
Doing this will ensure a quick release of the vacuum cleaner. Now, go ahead and pull out its filter & take the vacuum canister to the garbage can to be emptied.
Once you are done cleaning the content of the cup, rinse the same with the help of cold water completely till you feel that it is clean.
Step 5: Remove the Metal Plate
After you are done cleaning the canister, set your Dirt Devil right back on your floor while ensuring that the end with the brush-head is facing in the upward direction. Now, grab the screwdriver & simply unscrew any necessary sections planted on two sides of its roll. Once you are done removing these screws, place the same over the container or any other object you have been using to store the screws of the handle.
Now that you have managed to unscrew the head, you need to tug its metal plate straight from its bristles.
Step 6: Pull Off the Brush Head
To take off your Dirt Devil's brush head completely, you have to remove any screws that have been screwed into the frame. Similar to the steps above, store these screws safely to ensure that you do not have to purchase new ones in case any of them are lost.
Following this, you can pull each section one by one while cleaning each of them with the help of a dry cloth and setting aside atop a clean towel. In case you are using a wet towel to clean the parts, make sure you air dry the components completely before screwing them back together.
How to Check if Your Dirt Devil Vacuum Needs Cleaning?
In case you have planned to take your Dirt Devil apart, there must be a reason for you to do so. Be it regular cleaning sessions or long-due maintenance, taking apart your vacuum cleaner stems from certain signs and symptoms stating that something is wrong with the machine.
In general, your vacuum cleaner must be cleaned every few weeks, depending on the usage. However, at times, this cleaning session might be required way earlier than expected. So, how exactly would you know that it is time to clean your devil?
Here are some signs that you need to look out for before you suspect any cleaning urgency.
Sign 1: Strange Noises From Your Vacuum
Your vacuum cries for help when there is obstruction due to dust and dirt collecting in the parts. In case your Dirt Devil vacuum cleaner has been making strange noises in recent, it could be dust that has collected on the parts over time. In simple terms, it means that the vacuum has been working way too hard to get the job done, given the fact that the parts have been obstructed due to dirt.
Additionally, it could also point out any broken parts in your vacuum cleaner which needs to be repaired immediately, and the costs at times can be way too high, sometimes close to the price of a new one. That is why it is advised that you clean the parts regularly to avoid such circumstances. In case you do not have the time to do that, you can always call in a professional to help you out.
Sign 2: Suction Reduction
Do you remember the last time your Dirt Devil cleaned up a big pile of bread crumbs or dust bunny with ease? If things haven't been the same for your cleaner, it might be due to a massive reduction in suction power. Moreover, when your cleaner fails to pick up even the small dirt particles, it could point to a significant reduction in the suction power.
If your machine is beyond the scope of repair, it is recommended that you start looking for the best suction vacuum cleaners soon.
To get rid of this issue, regular cleaning is a must. Doing this on a scheduled basis ensures that you save a lot on the need for repairs that might surface when you keep the vacuum cleaner dirty.
With these factors in mind, you can scope out the time when your Dirt Devil needs a quick disassembly and proper cleaning in and out.
Apart from all these to-remember pointers, make sure you change the filter of your vacuum cleaner as recommended by the manufacturer. With an average vacuum cleaner, the filter should be changed every 6 vacuum bag replacements or so, depending on the usage factor.
Is it Time to Upgrade?
Vacuum cleaners today are designed to function better with a minimalistic design with better features. The designs today ensure that they can be bent around the corners & made to fit under the furniture with ease. Most of the vacuum cleaners manufactured by Dirt Devil are pocket-friendly and sturdy while lasting a long time.
So, with regular maintenance and proper cleaning, you might not have to replace it with a new one way too soon. However, each machine comes with a capped life. With proper management, you can surely extend it to a few more years. But eventually, you might have to replace it with newer and fresher technologies.
FAQs
Conclusion
When opting to disassemble a Dirt Devil vacuum cleaner, make sure you adhere to all the warnings and keep yourself safe.
In any case, having someone to help you out would be a wise decision. You could also seek professional help to ensure there is no damage to the product.