Top 10 Best Hoover Vacuum Cleaners 2024
When you love a brand is very difficult to change your mind and try a different one. This is even truer when it comes to home appliances that you need to use frequently, such as a vacuum cleaner.
So, if you are a Hoover fan and your old model just broke, how can you choose one of the best Hoover vacuum cleaners from their portfolio?
Let me tell you that it is not an easy job because they really have very good and reliable products and even for me that I test vacuum cleaners daily was very hard to choose.
However, the good part for you is that I did the hard job and all you have to do is to read this article and decide in the end on one of the models that I propose. So let's get into business!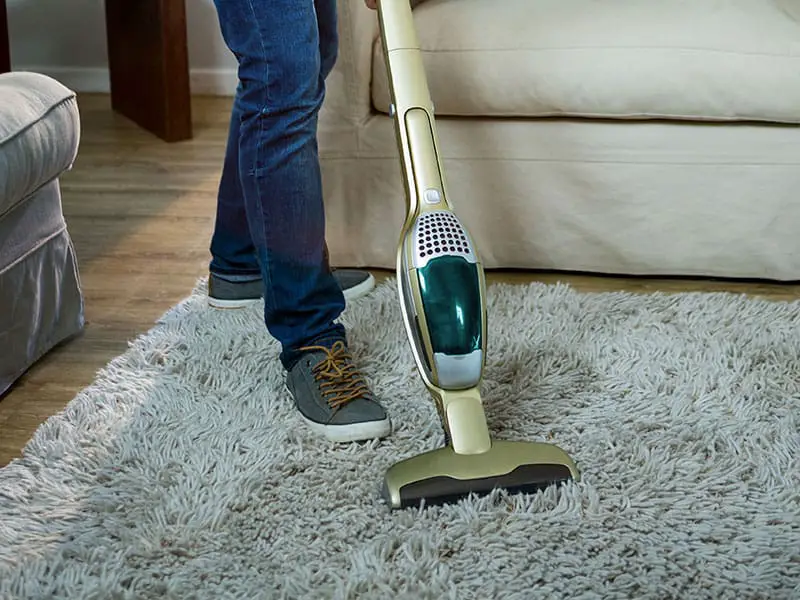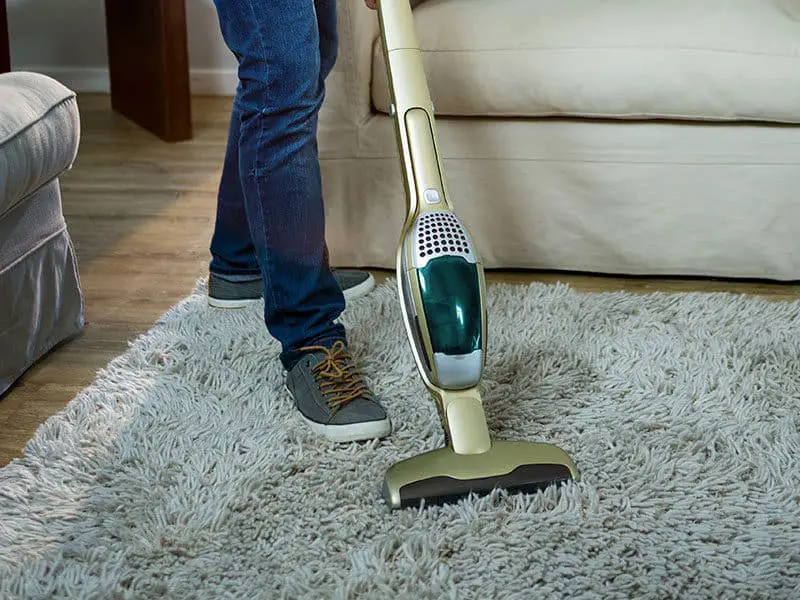 List of Recommended Hoover Vacuum Cleaners
So did you decide what kind of vacuum cleaner you want to buy? If not, I'm sure you will in a short amount of time. All you need to make a decision is in this article, but most importantly think about your needs.
To be sure you didn't miss the highlights of the day let's take a short recap:
Best Hoover Vacuum Cleaners Comparison Chart 2022
Top 10 Best Hoover Vacuum Cleaners Reviews 2022
1. Hoover Windtunnel UH71100 Vacuum Cleaner
(Best Overall)
I think that the most difficult thing, when testing multiple models from the same brand is to find the best one. However, after multiple tries, I decided that the one I like best is the Hoover Windtunnel UH71100.
This is an upright bagless model that has 5 height adjustments that permit multi-surface vacuuming. Also, it has an extension wand that will permit you a 12 feed extended reach. This means that you will be able to clean very hard to reach places.
Speaking of hard to reach places, the Hoover Windtunnel UH71100 comes with an above floor toolkit that includes a dusting brush, a crevice tool and more,
It has a big dirt cup capacity (1.5L) that will allow you multiple cleaning before emptying it.
The last thing I want to mention about this vacuum cleaner is its multi-cyclonic filtration feature that will help the machine to capture every particle without losing any suction.
Pros
Great reach;
Works on multi-surfaces;
Big dirt cup.
Cons
It could have had a longer cord.
Personal opinion:
The Hoover Windtunnel UH71100 is a wonderful model. You might wonder why it is my best overall choice since it doesn't have anything out of the ordinary.
Well, I chose it as my favorite because it is a very qualitative vacuum cleaner that is easy to use, offers great suction and can vacuum multiple surfaces. And of course, it comes at a very good price.
I actually needed a lot of time to find it a minus.
2. Hoover WindTunnel UH72625 Vacuum Cleaner
(Runner up)
My next best favorite model is a similar one and it is called Hoover WindTunnel UH72625. I must confess that the thing that made the difference for me between number one and number two in this article was only the price. But let's see what this vacuum cleaner has to offer.
It is also a bagless upright model that comes with great powerful suction that is not lost during its use.
It also has HEPA filters that will help retain 99% of the particles and allergens sucked in.
Due to its on/off brush roll feature, you can make the transition for carpets to hard floors with ease.
This model is also a pet-friendly one because it includes a pet turbo tool among its accessories.
Pros
Works on multi surfaces;
Comes with a tool for pet hair;
Has HEPA filters.
Cons
It could glide better;
Kind of heavy.
Personal opinion:
I think that just as the model before it, this is also a great model from Hoover. It just depends on your preferences and your money possibilities which one you choose.
If you also want to see a short presentation, you can find it below:
3. Hoover Sprint QuickVac Vacuum Cleaner
(Best Budget)
I cannot say that Hoover offers very expensive models, but for some people even these ones can be out of reach. So if you are looking for a cheap but also good model from this brand, you should pick the Hoover Sprint QuickVac model.
It is a lightweight, yet powerful upright vacuum cleaner that is compact and therefore easy to use and storage.
It has a removable handle that connects with the stretch hose and will let you clean the stairs, ceiling fans or other hard to reach places very easily.
For a multi-surface cleaning, this model offers a 3 position adjustment for the height.
Since it is a low-budget model it doesn't have HEPA filters, but it does have multi-cyclonic technology that separates the very fine particles before entering the filter.
Pros
Very good price;
Washable filters;
It can be used for hard to reach places.
Personal opinion:
I think that if you don't have extremely high expectations regarding the Hoover Sprint QuickVac model, you will be extremely happy with the results you will see.
Yes, it is not the best for people that own a dog or a cat, but it has a very good price and this is why it is my best budget suggestion of the article.
4. Hoover PowerDash FH50700 Vacuum Cleaner
(Best for Pet Hair)
This Hoover model is actually one that also washes your carpets and actually, it has twice as much power than any other lightweight wet vacuum cleaner available on the market.
The Hoover PowerDash FH50700 has a PowerSpin Pet Brush Roll that not only will help you get rid of the dog/cat hair but it will also offer a very increased antimicrobial protection.
Speaking of features, this model also has a one called HeatForce that will ensure a faster drying.
Even though it has a generous water capacity of 0.5 gallons, it is very lightweight and easy to use.
Pros
Washes carpets;
Good for pet owners.
Personal opinion:
I am a big fan of wet vacuum cleaners and I think that this model from Hoover is a very good one. It offers great cleaning results and can even be used in small spaces.
However, I don't recommend it for rugs.
If you want to see a small presentation, watch the one below:
5. Hoover WindTunnel UH30600 Vacuum Cleaner
(Best Upright Bagged Model)
The model I want to present next is what I consider to be the best upright bagged model from Hoover. With a big bag capacity of 2.9 Liters, the Hoover WindTunnel UH30600 has a great suction power that will not only lift the dirt from the surface but also the one embedded in the carpets.
It has HEPA filters that will keep in approx. 99.7 % of the particles that it vacuums. All you have to do is to press a button and the bag will be released without touching it.
It has a great height adjustment – 7 levels. This will allow you to clean multiple surfaces with ease.
Another important thing that I want to mention is that the Hoover WindTunnel UH30600 allows you to reach very high and heavy to reach spaces (up to 17 feet).
Pros
HEPA filters;
7 levels of high adjustments;
Big dust bag.
Cons
Not the best for pet hair.
Personal opinion:
I can't say that this is my favorite Hoover model because I am not the biggest fan of bagged upright vacuum cleaners. However, there are many people that will love the Hoover WindTunnel UH30600.
Though I am not a fan, I do appreciate the tools that come with this vacuum cleaner. An extension wand and an Air Powered Hand Tool are just a few.
For more details about this model, I recommend you to watch the following video:
6. Hoover UH74110 Vacuum Cleaner
(Best for Multi Surfaces)
The Hoover UH74110 model is a great one in many aspects, but I think that its best quality is its multi-surface adaptability.
Due to its Multi-Floor Performance feature, it offers great results on both hardwood floors and also on carpets. This is mostly possible due to the brush roll that is triggered by an on/off switch.
It has a big dust cup 2.5 liters. This will let you clean multiple times before emptying it.
With its help, you can reach tall areas such as ceilings due to its 12 feet extension wand. Another great feature that I want to mention is its pet tool kit that will allow you to remove the hair from your hairy friend from carpets, couch or stairs.
Pros
Qualitative filters;
Works for multiple surfaces;
Big dirt cup.
Personal opinion:
The Hoover UH74110 is a very nice model that can be used for any surface you want.
I like that even though it doesn't come with HEPA filters, it still has great quality filters that will capture 97% of the dust and other particles.
When you order it, you also receive lots of tools such as a crevice tool or a flexible dusting brush.
7. Hoover C1703900 Vacuum Cleaner
(Best for Commercial Purposes)
I don't want you to think that Hoover only offers products for home use, so the next product that I want to talk about is a commercial one. From my point of view, it is the best one from this niche.
Just as other vacuum cleaners presented today, the Hoover C1703900 also comes with the WindTunnel Technology. This means that the device has the possibility to suck both the surface and the deeply embedded dirt.
For an easy transit for a surface to another one, the Hoover C1703900 has 5 levels of height adjustment that can be manually picked. Also for a smooth transition, this vacuum cleaner has very qualitative urethane wheels.
Pros
For commercial use;
Multi-surface use.
Cons
The suction could be better.
Personal opinion:
I am not the best person to speak about commercial vacuum cleaners, but in my opinion, this is a great model for this purpose. It is very easy to use, doesn't let scratches on the furniture and can easily bend under the tables or chairs.
I think that it could have a slightly better suction, but it is a great model that can be purchased at an incredible price nevertheless.
For more details, just check out the next presentation.
8. Hoover C2401 Vacuum Cleaner
(Most Portable)
To remain in the commercial area, I want to present another model but this time it is a very portable one. The Hoover C2401 model is, in fact, so portable that it is a backpacked one.
With a weight of 9.2 pounds, this model is designed by a chiropractor to reduce strain and increase productivity.
Also, it is very quiet, creating only 66 dBA when is on. This means it can be used even when people are working around you or of course small children are sleeping.
For easy maneuverability, it comes with an extremely long cord – 48 feet. This means that you won't need to change too many outlets while working with oy.
Last, but not least, it has HEPA filters and comes with a cleaning accessory pack.
Pros
Portable;
Extremely lightweight;
HEPA filters;
Very quiet.
Cons
Its straps are not very good.
Personal opinion:
I think that backpack vacuum cleaners can be extremely useful and easy to use.
So, if you need to clean a busy and crowded office while people are actually working, you will need to move fast and in the most possible silence. For these kinds of situations, I definitely recommend the Hoover C2401.
For a better understanding of its features, watch the video below:
9. Hoover BH50020PC Vacuum Cleaner
(Best Stick Vacuum Cleaner)
For everyday cleaning, I selected a stick that will ease your work. The Hoover BH50020PC is a 10 pounds stick vacuum cleaner that is very easy to use.
It can be used for both carpets and hard floors and the transition between them is done with ease.
Just like many other Hoover models, the Hoover BH50020PC also has the WindTunnel technology, permitting to remove both on surface dirt and deeply embedded filth.
It is a cordless model that actually has a very interesting Cordless Lithium-Ion Battery System. This means that the interchangeable batteries will provide a cordless freedom to vacuum anywhere.
Pros
Cordless;
It can clean under the furniture.
Cons
Could have a better suction
Personal opinion:
Stick vacuum cleaners are amazing to have around the house and of course, the Hoover BH50020PC model is not an exception.
I like how easy to use it is, but the best thing about it, from my point of view, is its interchangeable battery.
10. Hoover FH52000 Vacuum Cleaner
(Best for Carpets)
The last model that I want to present from Hoover is the FH52000 model which is actually a model that will clean your carpets in such an easy way that you won't want to use anything else ever again.
To wash your carpets all you have to do is push forward the device. When you will pull it back, well, it automatically dries the washed area.
For an optimal cleaning, this model has an auto-mix feature that mixes and distributes the solution in an accurate way.
Another feature worth mentioning is its FlexForce PowerBrushes that has the capacity to remove deep filth, dirt, and pet mess.
Pros
Great washing capacities;
Easy to use.
Personal opinion:
I think that keeping carpets clean is not as easy as hard floors. Therefore you need better devices. However, I must confess that there are fewer models that I find as easy to use as the Hoover FH52000.
To see a short presentation, you can watch the following video:
Hoover The Company and Their Offer
The Hoover company was founded more than 110 years ago by William Henry Hoover in Ohio, USA. In the 20th century, it was so popular that the name of Hoover was actually synonymous with vacuum cleaners in the United Kingdom.
Also, Hoover was a member of the Whirlpool Corporation. Just as a mention, you should also know that, this brand also produced washing machines and tumble dryers that were very well received by the public.
Today they returned to what they know best – vacuum cleaners and this is exactly what I am going to present today.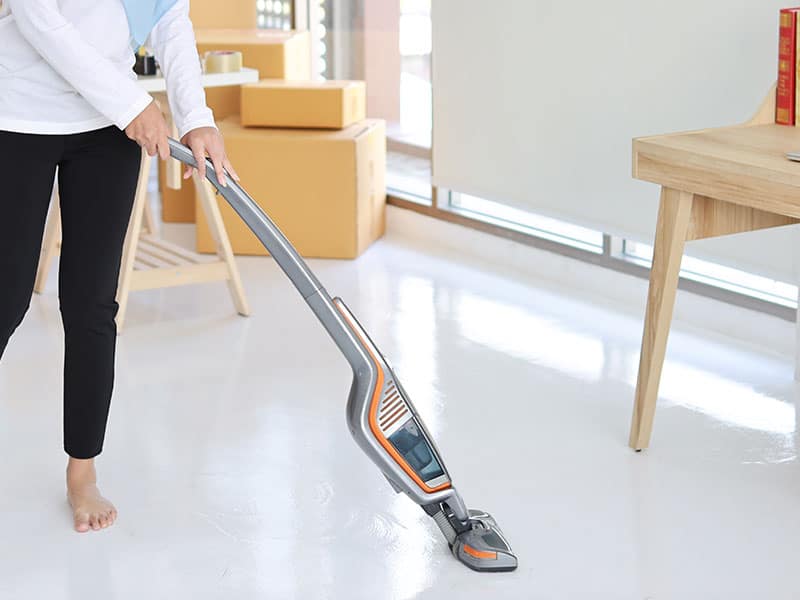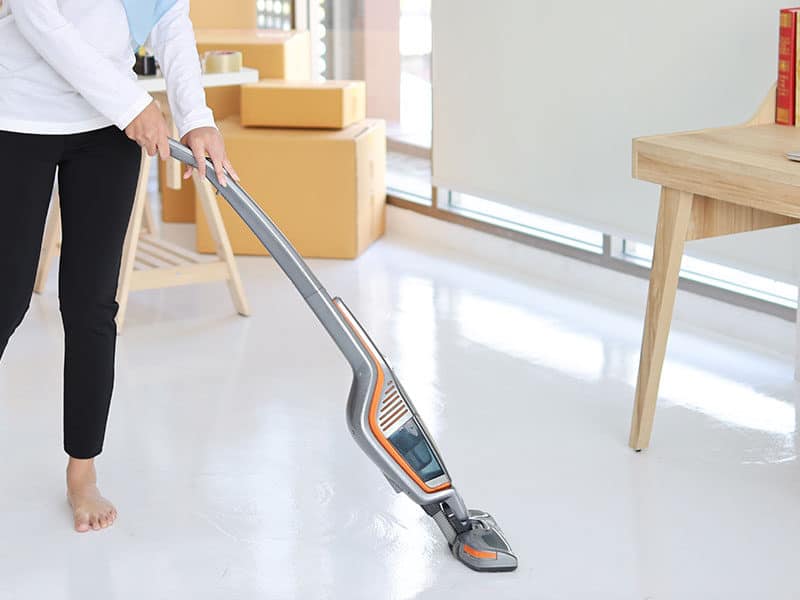 The Hoover OnePWR System
Before moving forward and presenting the vacuum cleaner types that Hoover has to offer, I want to present one of their patented technology.
Their HOOVER® ONEPWR™ System represents a group of 9 easy to use, cordless, high-performance cleaning products.
What makes them similar is the fact that they all have the same amazing Lithium-Ion battery. With this technology, Hoover took the cord-free cleaning at a new level.
Every Hoover ONEPWR battery is compatible with all the products of this series.
For creating them, Hoober used the most advanced Lithium-Ion technology. This means that the ONEPWR batteries can give you a fade-free power and therefore runtime you might need to finish any cleaning job, anywhere in the house.
To understand more about this very advanced technology, I recommend you watch the following presentation that Hoover made for one of their ONEPWR products:
Hoover Vacuum Cleaners Types
Hoover offers any kind of vacuum cleaner that you can dream of and probably even more. But let's take each type separately for a short presentation. This way, you will be sure that no misunderstandings occur.
Canister Vacuum Cleaners
Just as all canister models, the Hoover vacuum cleaners also have their bags/dirt cups along with their motors located in the main body, while the head is attached to it with the help of a long, bendable tube.
They are great ways to clean stairs, corners and also underneath your furniture without any other extra tool. They usually are lightweight and with the help of a handle, they can be easily transported from a part of the house to the next one.
Upright Vacuum Cleaners
As you can imagine, Hoover's upright vacuums are also made from one-piece that has the head at the bottom, while the motor and bag/dirt cup are in the body. This model finishes with a handle at the top.
Some of the models from the Hoover portfolio have motorized or rolling brushes. This makes them great for cleaning carpets and then make a smooth transition to hard floor types.
Smart Vacuum Cleaners
Even though Hoover is not very known when talking about robots, it does produce one model. It is called Rogue and has great sensors that will map and clean your floors without any help from your side.
It can be controlled using its Hoover Home App. Also, it's compatible with both Google Home Assistant and Amazon Alexa.
Handheld & Stick
These vacuum cleaners are very easy to use, lightweight and most of them are cordless. Actually, Hoover offers very powerful handheld and stick vacuum cleaners that are great to have around the house for urgent cleaning or reaching corners that you usually miss.
Wet Vacuum Cleaners
Hoover offers some amazing wet vacuum cleaner models that will help you wash your carpets and your hard floors. They are easy to use and some of them even are specialized in combating old stains or pet dirt.
Hoover's Cleaning Solutions
Hoover not only has some of the best wet vacuum cleaners on the market but it also recommends its own cleaning solutions that can be used for their better function.
Carpet Solutions
Even though there are many universal detergents, Hoover also offers some specialized shampoos for your carpets.
They are made using a Stainguard Technology that will help the carpets to stay cleaner for a longer period of time and also will help to prevent any future stains.
They clean using enzymatic ingredients that take on the pet specks of dirt and at the same time, it provides the carpet a very clean and fresh smell.
As an example, their "Paws & Claws Carpet Cleaning Solution" will continue to work in the depth of the carpet even after you finish the actual washing.
Hardwood Floors
As you could probably imagine, since Hoover offers special carpets cleaning solutions, they also offer detergents that are meant to clean your hardwood floors.
They are designed to remove any sticky mess or everyday grime. They even will remove your friend's paws from the floor.
When you will finish washing your floors with one of the solutions Hoover recommends, you will have a clean, smooth and very nice smelling hardwood floor.
Parts and Accessories
Regardless of what kind of vacuum cleaner you but, you will need to purchase some accessories for it too.
This is why Hoover made a list of any kind of accessory you might need and they offer branded, high-quality ones that your vacuum cleaner might need.
If you will look into their offer, you will find bags, filters, belts, tools, attachments and even replacement parts.
This probably goes without saying, but I recommend you to buy from Hoover and from scammers any replacement parts or accessory if you want your vacuum cleaner to have a long life and you a happy one using it.
Buying Guide – How to Pick a Hoover Vacuum Cleaner
Most probably, till this part of the article you have an idea of what you want from a vacuum cleaner, but let's take each point at a time so you won't miss any aspect that could keep you away from your dream Hoover model.
Model
The first thing that you have to decide is the model that you want to buy and use for the next period of time. This decision should also be taken based on your needs and not just on your wants.
Canister
If you want a model that is less noisy, easy to use and lightweight, then you should most probably think about buying a canister model.
However, canister vacuum cleaners come with a more narrower cleaning path than the upright version. This means that it will take you longer for you to clean larger areas. Also, you should think about storage for this kind of vacuum cleaner. Due to the long tube and the fact that it is made from two parts, it can require more deposit space.
Upright
Upright vacuum cleaners have wider cleaning paths when compared to the canister models. This makes them great for vacuuming large spaces. Also, they can be stored more easily.
However, even though Hoover offers amazing upright vacuums, they tend to be kind of heavy and therefore, harder to transport. Also, they don't permit too much flexibility to clean underneath the furniture or hard to reach places.
Robot
If you need a model that will do all your daily cleaning work, then, of course, you should buy the Hoover robot.
However, it doesn't have an auto-emptying feature and since it doesn't have a big storage capacity, you will need to clean it frequently.
Also, since it is a smart vacuum cleaner that does the job by itself, it is more expensive than the classical models.
Handheld and Stick
Handheld and sticks are amazing to have around the house. However, think of your needs. Do you want a vacuum cleaner that will do the heavy-duty work or just normal everyday cleaning after you prepared a meal or something similar?
Keep in mind that even though some of them have great suction, they still are not meant for deep cleaning.
Handheld Hoover vacuums are compact models designed for occasional spot cleaning.
Wet Vacuum Cleaner
Maybe what you need is not an actual vacuum cleaner per se. Maybe you want a model that will wash your carpet and remove possible stains from your floors.
Keep in mind that this kind of vacuum cleaner will wash your surroundings, so don't expect it to do more than it was designed for.
Budget
Unfortunately, in the end, everything comes back to the money issue. Think about how much you want and can spend on a vacuum cleaner. With a budget in mind, it will be easier to eliminate models that are either too expensive or too low budget for you.
Commercial or Home Use
Think about what you need that vacuum cleaner for. Do you want to clean your personal house or do you have a cleaning business?
In either case, you don't want to buy the wrong kind of model. Commercial vacuum cleaners have much more suction since they are for heavy-duty jobs and therefore they consume more energy.
There is no reason to do this at home.
Also, if you have to clean very good and very fast many office spaces in a day, you don't want to do it with a vacuum cleaner for home use.
Noise
Do you live in a small flat that has thin walls and crazy neighbors? Or do you have a small baby that needs to sleep while you clean the house?
Then you should consider buying a model that has its decibel emission on the lower part of the scale. Check out the instruction manual for this aspect. It has to be specified.
Also, as a piece of advice, usually the most silent ones are the canister ones, but of course, there are also exceptions.
Bagged Model or a Bagless One?
People tend to either love a model or the other. There are very few of them who actually don't care if they have to clean a filter or remove a bag.
Think about what you like. Do you prefer to wash a filter and most probably reuse it or do you prefer not to get any mess on you and just dispose of a dirtbag?
Keep in mind that the bagged models, tend to have a better suction.
Plugged-in or Cordless?
Since Hoover offers an amazing cordless experience, you should think twice before buying a vacuum cleaner. Do you want a great maneuverability or more power?
Again, after deciding on this aspect, it will be much easier to sort out some models.
FAQ
Conclusion
So, this is it, guys! I hope that you know what kind of Hoover vacuum cleaner you want to buy. If you want to find extra things that are not stated in this article, just use the comment section below and I will be more than happy to answer any questions you might have.
Also, if you enjoyed reading this and you've found it useful, you can share it with your friends and help them as well to make a decision.