Top 15 Best Cordless Steam Mops For The Money 2024
Purchasing the best cordless steam mop is easy as you have this guide now. As you keep reading it, you will understand all the actions performed by the 15 top products, and you will see that they are unique in their way. Few can blast out the stubborn stains while few others can even steam garments.
One steam mop cannot perform specific actions performed by another with ease. Whatever they have to offer, every steam mop does one function without fail, i.e., sanitization. Therefore check your space and utility to find the suitable steam mop from the below-given list.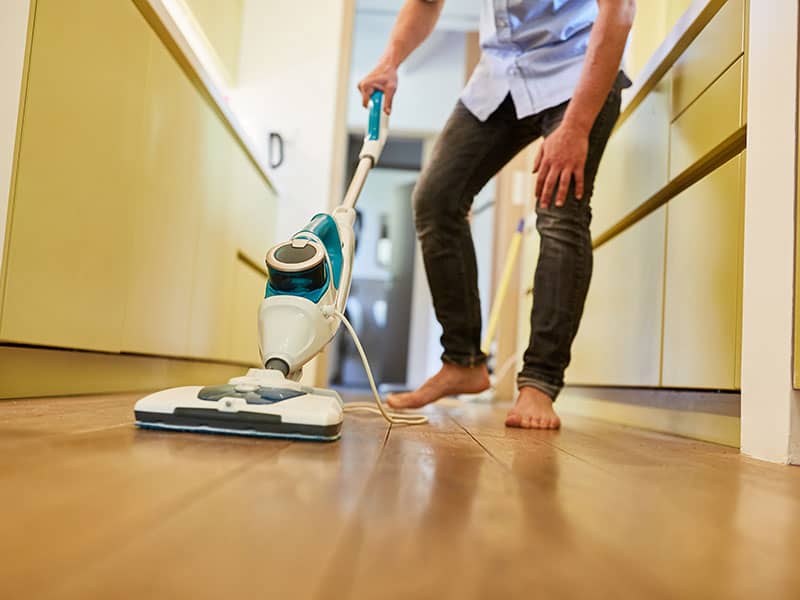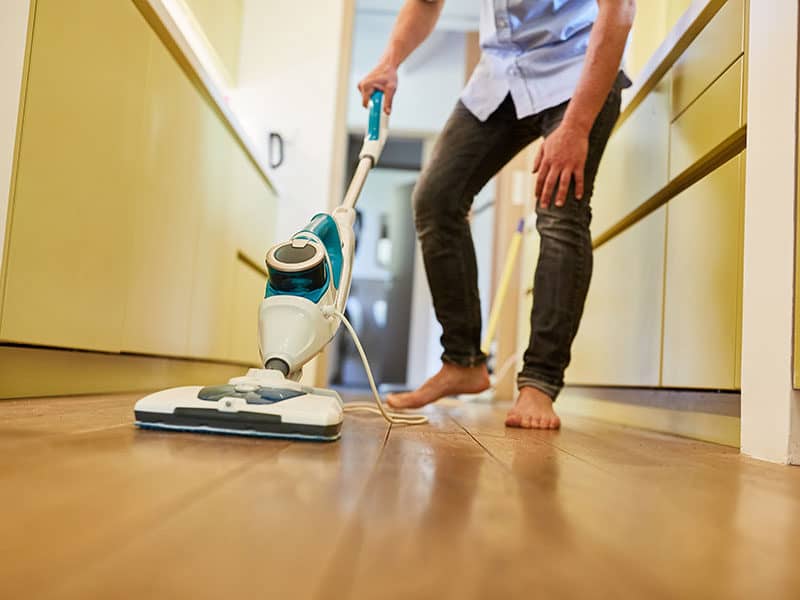 Benefits Of A Cordless Steam Mop
Once you get used to a cordless steam mop, you will never think of going back to any other kind of mops. Want to see why? Check these benefits it has to offer.
Steam gives out the optimal heat levels required for efficient disinfection
Does not require harsh chemicals for cleaning
Safe and eco-friendly cleaning method
Suitable for allergen affected people
Loosens grime effectively and clean it
Even old stains and dirt are cleaned without complaint
Best Cordless Steam Mop Comparison Chart 2022
For deciding the best cordless steam mop, the vacuum head plays a significant role, and its cleaning path gives you an idea of how quickly it can clean. Knowing its type and what accessories it has gives you an overall idea of what the vacuum can.
Which Are The Best Cordless Steam Mops To Buy?
The best cordless steam mops by PurSteam and O-Cedar are offering interesting mops with versatile functionality. Another Shark vacuum with its touch-free pads gives you a cleaner experience. Know more about the chosen products below.
Top 15 Best Cordless Steam Mop Reviews in 2022
Check out the best cordless steam mop suitable for you reviewed in detail below. Below you have every minute detail you require to understand the cordless steam mops better.
1. PurSteam 10-in-1 Steam Mop
(Best Overall)
The PurSteam steam mop is capable of performing 10 various actions along with cleaning your floors. Namely, it accomplishes garment steaming, glass cleaning, carpet sanitization, steam cleaner, and many more cleaning cum sanitization purposes as it kills 99.99% bacteria without using chemicals.
The steam takes just 30 seconds to form once you plug in the vacuum and the 340 ml container is enough for 20-25 minutes of cleaning in the minimum setting. It is safe to use on tiles, finished hardwood floors, vinyl, marble, ceramics, and similar finished surfaces for quick and efficient cleaning.
Key Features:
3 adjustable steam modes
340 ml tank capacity
10 actions in one
30 seconds for steam
Detachable handheld unit
Pros
Multiple cleaning accessories for cleaning most of the surfaces
Prepares the steam quickly in 30 seconds after you plugin
Safe for pets and kids as it uses pure water for cleaning
Steaming garments using the handheld unit is quick and easy
Cleaning the greasy areas above the floor is possible using a removable unit
Cons
No hose accessory for a handheld steamer
Product Specification:
| | |
| --- | --- |
| Mop Pads | 3 x ultra-fine microfibers |
| Action | Sanitizing steam, garment steamer, multipurpose cleaner |
| Color | Blue and white |
| Weight | 2.2 pounds |
| Brand | PurSteam |
Find the working of PurSteam 10-in-1 Steam Mop here:
2. O-Cedar ProMist Max Cordless Spray Mop
(Best Budget)
The O-Cedar mop is different from other spray mops in various ways. It does not use any kind of power to operate. The dual flip mop pad found only in high-end models is available in a pocket-friendly version. Velcro containing mop is quick to remove or attach it to the mop head.
Filling the liquid or adding a cleaning agent is easy as it features a detachable bottle, which is pretty much like a water bottle, and you can manage it similarly. The microfiber pads are super-absorbent and help you clean the dirt with the aid of spray mist without any hassles.
Key Features:
Dual-sided mop head
Refillable 750 ml bottle
Super-absorbent microfiber mop
One-touch release of the bottle
100 times reusable mop pads
No batteries required
Pros
Operates without batteries or power and uses only mechanical action
Trigger controlled spray action regulates the liquid mist
The removable bottle comes off easily, and filling it is a breeze
Removing and attaching the microfiber pad is quick due to Velcro
Dual side and washability are the advantages of the microfiber pad provided
Cons
Suits lighter cleaning jobs and not for deep cleaning
Product Specification:
| | |
| --- | --- |
| Mop Pads | 1 x microfiber mop pad |
| Action | Wet mop |
| Color | Red and grey |
| Weight | 2.4 pounds |
| Brand | O-Cedar |
Random reviews on O-Cedar ProMist Max Cordless Spray Mop are here:
3. Shark S5003D Steam Mop
(Best Shark)
Dual surfaced steam mop with flipping rectangular mop head, where you have two sides for cleaning. It also features no-touch technology where you need not touch the mop pad to dispose of it for cleaning. You can simply press one button, and the mop comes off from the head easily.
Then you can wash the mop head in the machine or by hand and reuse it for further cleaning sessions. The surface of the mop pad has scrubbing lines that help in loosening the dirt that does not come off quickly. The direct steam channeling is powerful enough to deal with stubborn and sticky messes.
Key Features:
3 steam control settings
Dual-sided dirt grip no touchpads
220 ml capacity water tank
Genius mop head
Steam blaster technology
Pros
No touch technology mop pad is machine washable and reusable
Dual-sided rectangular mop pad traps dirt excellently
Steam cleans the stuck-on dirt effectively and sanitizes
Three steam levels offer versatile function compatibility
Cons
Does not have provision for handle height adjustment
Product Specification:
| | |
| --- | --- |
| Mop Pads | 2 x dirt grip pads |
| Action | Sanitizing steamer |
| Color | Grey |
| Weight | 5.78 pounds |
| Brand | Shark |
Look for the complete review on Shark S5003D Steam Mop:
4. Vmai Dual Motor Cordless Electric Mop
(Best for Tile)
The device has powerful waxing, cleaning, and scrubbing mop with spray action. The high rotating rate gives an excellent finish to your floors as it gives a polishing effect. The multiple surfaces cleaning spray mop is useful in cleaning tiles, marble, and wooden floors alike.
It can stand free for storing it conveniently. Its mop head can rotate up to 60 degrees for easy, under furniture cleaning. The battery is detachable for cleaning. The tank provided at the bottom contains the water required for spray moping.
Key Features:
250 rotations per minute
LED on the headlight
4 reusable microfiber pads
Buttons on handle
20 – 35 minutes run time
Pros
The height-adjustable handle is adaptable according to your height
The 60-degree rotating mop head is flexible for cleaning
A detachable battery is replaceable when it is not functional
High-speed rotation allows you to effectively wax and polishes the floors
Cons
Runtime is not enough to clean the whole house in a go
Product Specification:
| | |
| --- | --- |
| Mop Pads | 2 x scrubby pads, 2 x soft pads |
| Action | Scrub, clean, spin, wax, polish, wet and dry mopping |
| Color | White |
| Weight | 6.9 pounds |
| Brand | Vmai |
Check the working of Vmai Dual Motor Cordless Electric Mop here:
5. Bissell 2307 Cordless Spin Mop
(Best Rechargeable)
The Bissell spin mop comes with a dual-purpose tray where you can store the mop pads and attach them conveniently for cleaning the floors. Its spin action is powerful and tough on stains, but gentle on your floor as its soft microfiber mop pads scrub them carefully yet meticulously, leaving no tinges.
The spray facility of the mop activates when you press the trigger on the handle, and thus, you have complete control of formula or water disposal as required. It operates quietly, but its efficiency is unmatchable as it does not leave any debris and makes your floors sparkling clean after using this mop.
Key Features:
Soft-touch microfiber pads
On-demand spray trigger
Dual-purpose storage tray
18 V lithium-ion battery
14-inch cleaning pathwidth
830 ml tank capacity
Pros
Large tank capacity allows you to clean more area in a go
Excellent spinning action buffs the wooden floors for regaining the shine
The Spray regulator trigger allows you to have manual control over the liquid
The large 14" cleaning path width cleans your floors in lesser time
Hassle-free movement as it is cordless and hence does not tangle
Cons
20-minute runtime is not enough for large houses
Product Specification:
| | |
| --- | --- |
| Mop Pads | 2 x soft touch microfiber pads, 2 x scrubby microfiber pads |
| Action | Wood floor buffer and cleaner |
| Color | Grey |
| Weight | 11 pounds |
| Brand | Bissell |
A short video on Bissell 2307 Cordless Spin Mop here:
6. Bissell PowerFresh Steam Mop
(Best Bissell)
The steam from Bissell is capable of loosening the dried-on messes and the stubborn grout dirt and cleans them easily. Hot steam is capable of sanitizing the surfaces and makes them bacteria-free. It comes with two types of washable and reusable microfiber mops for thorough cleaning.
A flip scrubber helps in efficient scrubbing of the floor where you need spot cleaning. The freshness infusing pads takes your cleaning effect to another level by inducing lovely smells that change the ambiance. Tank capacity of 470 ml is enough to clean a large area without refilling.
Key Features:
23-foot power cord
Flip down scrubber
Spring breeze fragrance discs
1500 watts power rating
3 smart digital steam settings
Pros
Provided with a scrubber that flips down when you need to do the scrubbing
Choice of high, medium, and low steam settings using buttons
Fragrance discs add a touch of freshness when you clean
Cleans the sealed surfaces safely by sanitizing them from 99.99 % of bacteria
The chemical-free cleaning is eco-friendly and safe
Cons
The instruction manual is not clear
Product Specification:
| | |
| --- | --- |
| Mop Pads | 1 x microfiber soft pad, 1 x microfiber scrubby pad |
| Action | Spin, scrub, clean, mop |
| Color | White and blue |
| Weight | 6 pounds |
| Brand | Bissell |
Working of Bissell PowerFresh Steam Mop is here:
7. Light 'N' Easy 7688ANW Steam Mop
(Best Handheld)
The steam mop is suitable to clean multiple surfaces like tiles, laminated, hardwood, ceramic, and similar floors to a spick and span. Its unique stand by mode is activated smartly when you place it upright were steam ceases to come out of the mop. Just slant it and glide for reactivating the steam.
The detachable steamer comes with various accessories to facilitate steaming garments, cleaning mirrors, glass windows, and similar above-ground cleaning activities. As this mop sanitizes using just the hot steam, meaning pure water and no harsh chemicals, it is safe for pets and kids.
Key Features:
Smart steam standby mode
3 modes of steam settings
212 °F temperature steam output
Detachable handheld steamer
Accessory hose and nozzles
Pros
Cleans without using harsh chemicals and only water
Select from the high, medium, and low steam settings for various purposes
The handheld steamer is versatile and performs several cleaning jobs
Multiple surface cleaning and sanitizing mop using the steam
The manufacturer provides a one-year warranty and free replacement
Cons
The water level indicator is not present
Product Specification:
| | |
| --- | --- |
| Mop Pads | 1 microfiber mop pad |
| Action | Sanitizing, cleaning, garment steaming |
| Color | White and Grey |
| Weight | 6.3 pounds |
| Brand | Light 'N' Easy |
Complete review of Light 'N' Easy 7688ANW Steam Mop is here:
8. Shark VM252 Cordless Vacuum Mop
(Best Mop and Vacuum)
The cordless vacuum cum mopping device captures debris and cleans dirt simultaneously. The no-touch technology allows you to dump the waste into the dust bin directly without the need to touch the mop pad. This mop can operate as a vacuum when the vacuum trigger is pressed.
It also has a spray mopping button that, when triggered, sends out an even mist of spray, which helps you in wet mopping the required place. The magnetic charger provided with the mop is convenient to charge it. The LED headlights help in checking the cleaning spot even if there is no proper lighting.
Key Features:
Mops and vacuums together
Flexible swivel head
Pad release button
Magnetic charger
VacMop pad
Pros
This mop vacuums the debris without pushing them around
Dual-action in a single go with one unit is convenient and money-saving
The magnetic charger charges the mop quickly and easily
The pad release button on the mop head helps in no-touch disposal
The spray action offers wide coverage allowing thorough cleaning
Cons
Should go on buying disposable pads
Product Specification:
| | |
| --- | --- |
| Mop Pads | 1 VacMop pad |
| Action | Vacuuming, wet mopping |
| Color | Grey |
| Weight | 5 pounds |
| Brand | Shark |
Unboxing and review of Shark VM252 Cordless Vacuum mop:
9. Bissell 1543A Steam Mop
(Best Disposable)
The steamer cum vacuum is an overall solution for all your cleaning woes. You don't need to buy separate devices for vacuuming, mopping, and steaming. It is effective even in vacuuming pet hair so it serves multiple purposes and saves space and money that you will need to invest in various types of equipment.
This device comes with both reusable and disposable mop pads. The disposable mop pads are for cleaning messes you don't want to wash, such as pet litter. Emptying the trash can after vacuuming is quick and touch-free as you just need to press a button to empty the trash without touching it.
Key Features:
Swiffer disposable mop pads
Soft microfiber reusable mop pads
Cyclonic vacuum
The easy empty dust cup
Steam mopping
Pros
Multipurpose vacuum with mopping and steaming capability
Quality Swiffer disposable mop pads for dealing with litter
Steam sanitization of surfaces with powerful streaming technology
Easy emptying of the dirt cup using drip-it technology
Cyclonic action vacuum for efficient vacuuming
Product Specification:
| | |
| --- | --- |
| Mop Pads | 1 x soft mop pad, 1 x scrubby mop pad, 4 x disposable mop pads |
| Action | Sanitizing, cleaning, wet and dry mopping, vacuuming |
| Color | Purple |
| Weight | 9.74 pounds |
| Brand | Bissell |
In detail review of Bissell 1543A Steam Mop:
10. Swiffer 85801 Steam Mop
(Best Lightweight)
The starter kit by the Swiffer has two disposable mop cloths from which the steam can penetrate effectively. It features the steam boost technology with deep reachability to pull out the dirt and grime from various floor surfaces for excellent cleaning and sanitization of the exteriors.
The manufacturer is confident about the working of the product and is willing to accept the returns for up to 30 days if you do not find the product satisfactory. The lightweight and the multiple surfaces cleaning ability make it an ideal mop to use for daily cleaning around your home safely and efficiently.
Key Features:
2 steam mopping cloths
Steamboost technology
20 ft cord length
Lightweight
360 degrees swivel
Pros
It is safe for every finished floor type for cleaning and sanitizing
Deep cleaning using powerful vapor emitted due to the steam boost
Moneyback facility within 30 days of purchase if not satisfied
Extremely lightweight and apt for daily cleaning usage
The steam cloth is textured and locks the dirt effectively
Cons
Not for use on unfinished or waxed floors
Disposable mop pads are expensive
Product Specification:
| | |
| --- | --- |
| Mop Pads | 2 disposable textured steam cloths |
| Action | Sanitizing, cleaning |
| Color | Blue and white |
| Weight | 1.3 pounds |
| Brand | Swiffer |
Working and review of Swiffer 85801 Steam Mop is here:
11. Gobot Microfiber Cordless Electric Mop
(Best for Hardwood Floors)
The microfiber spinning pads clean the floors by scrubbing the surface at 140 rotations per minute. These round pads are reusable and machine washable. Once fully charged, this device runs for 50 minutes. It eliminates the need for scrubbing the floors on your knees.
The head rotates horizontally to 180 degrees and vertically to 90 degrees for easy maneuvering under the furniture. An extendible handle gives you the flexibility to clean when you need access for hard to reach places.
Key Features:
21" – 47" extendible pole
50 minutes runtime
3.5 hours charge time
180 degrees horizontal mop head rotation
90 degrees vertical mop head rotation
140 rotations per minute
Pros
Quite an operation at 30 dB to 60 dB sound
Stands upright for charging and storage is convenient
LED floodlight on the head helps clean in darker places
The battery level indicator shows you how much battery is remaining
It can scrub, polish, and wax your floors as per your requirement
Cons
Does not have provision to spray liquid
Product Specification:
| | |
| --- | --- |
| Mop Pads | 2 x cleaning pads, 2 x scrubbing pads |
| Action | Scrubs, cleans, polishes and waxes |
| Color | White |
| Weight | 3 pounds |
| Brand | Gobot |
Check the working of Gobot Microfiber Cordless Electric Mop here:
12. Homit 48-Inch Cordless Spray Mop
(Best for Wood Floors)
The 2 LG battery supported spin mop rotates at a speed of 120 to 150 rotations per minute. This device, once charged for 3.5 hours, runs for 40-50 minutes without interruption. The two types of mop pads serve different purposes, and the spinning mop cleans your floors without scratches.
The handle length is adjustable, and the mop head can rotate up to 90 degrees giving you a flexible cleaning facility. Using the spray from the bottom tank, the spinner mops the floor effectively.
Key Features:
40.1" to 46.5" length adjustable handle
4 reusable mop pads
120 to 150 rotations per minute
3.5 hours charging time
40-50 minutes runtime
90-degree rotating mop head
Pros
Not bounded by cords and moves freely using the battery power
Light enough to carry over the stairs for cleaning upstairs
Simple operation using two keys, one for spray and one for spin control
Adjustable handle length gives you flexibility and reachability
Cleans versatile surfaces effectively
Cons
Not for complete cleaning of large homes
Product Specification:
| | |
| --- | --- |
| Mop Pads | 2 x scrubby pads, 2 x soft pads |
| Action | Scrub, clean, spin |
| Color | White |
| Weight | 2.84 pounds |
| Brand | Homit |
Demo and description of Homit 48-Inch Cordless Spray Mop:
13. Gladwell 3-in-1 Cordless Electric Mop
(Best for Laminate Floors)
The glider by Gladwell is a 3-in-1 device that can buff, scrub, and polish your floors. Its handle can rotate 180 degrees giving you easy maneuverability. Also, the battery runtime and charge time are impressive as it lasts long and charges quickly. The triple-action glider gives you a versatile mop.
This mop can deal with tough stains and handle them effectively. It can spray both water and cleaning solution and has a speed setting button. The mop has an LED light on the head to guide you through the cleaning process, even if there is no proper lighting in the place.
Key Features:
180-degree rotation handle
330 ml tank capacity
Scrub, spin, and waxing actions
LED light
Battery indicator
Cleaning solution tank
Pros
Charges quickly in 2 hours so apt for daily use
Operates quietly without any annoying noise
Gives a runtime of 50 minutes for each charge
3-in-1 action helps you to clean as required
LED light guides you even in dark corners enabling effective cleaning
Cons
Handling the powerful action is a challenge until you learn it
Product Specification:
| | |
| --- | --- |
| Mop Pads | 2 x Mopping pads, 2x waxing pads |
| Action | Waxing, spinning, and scrubbing |
| Color | White |
| Weight | 11.48 pounds |
| Brand | Gladwell |
In detail review of Gladwell 3-in-1 Cordless Electric Mop here:
14. Dirt Devil PD20100 Steam Mop
(Best Vacuum Free)
The triangular-shaped mop head offers you a wall-to-wall cleaning edge without leaving any edges or corners uncleaned. The handle is detachable, and hence the steam mop turns into a handheld unit for above-floor purposes. You get several accessories for using with the detached mode.
An interesting attachment suing which you can steam the carpet is provided in the kit. It is not found in many steam mops sets and a plus for this vacuum. The water filling process into the tank is straightforward. The swivel mop head allows you to manage cleaning under the furniture efficiently.
Key Features:
Water level indicator
Swivel and steer head
Carpet glide attachment
Detachable unit
Crevice nozzle
Pros
Triangle shaped head for cleaning the corners and edges well
The water tank is accessible to both fill and empty and has an indicator
Microfiber mop pad is conveniently machine washable
Handle detached unit has a crevice nozzle attachment for deep cleaning
The swiveling mop head steers the device in all directions as you need
Cons
Garment steaming provision not provided with the handheld unit
Product Specification:
| | |
| --- | --- |
| Mop Pads | 1 x microfiber steam mop pad |
| Action | Sanitizes, cleans |
| Warranty | Red |
| Weight | 3 pounds |
| Brand | Dirt Devil |
Working of Dirt Devil PD20100 Steam Mop:
15. Oreck 100LRH Steam Mop
(Best Upright)
It cleans the tiles and grout effectively using only tap water. This mop is safe to use upside down, and you are safe from any hot water spills as it is sealed tight. Achieve sanitized surface within 5 seconds of focus on the spot using the steam and mopping action.
The high temperature of the steam melts the stubborn grime and dirt, exposing the clean surface underneath as you wipe away the loosened filth. You can adjust the steam settings as required by the purpose or by the type of the floor you are cleaning.
Key Features:
1-gallon water tank
40 minutes of high steam per fill
Adjustable steam settings
Washable cleaning pads
No-spill design
Several accessories
Pros
You can clean both floors and glass windows using this steam mop
The powerful steam cleans the old grime easily
Washable and reusable pads are easy on your pocket
Natural cleaning method without using chemicals
Large cleaning path width for quick process
Cons
Price is higher when compared to other mops
Product Specification:
| | |
| --- | --- |
| Mop Pads | 1 x washable cleaning pad |
| Action | Sanitize, clean |
| Color | White and black |
| Weight | 1 pound |
| Brand | Oreck |
Description of Oreck 100LRH Steam Mop is here:
Ultimate Buying Guide On Cordless Steam Mop
Diverse factors are involved while buying a cordless steam mop. Though not all apply to every mop you choose, know what they are and apply according to the mop you select and your preferences.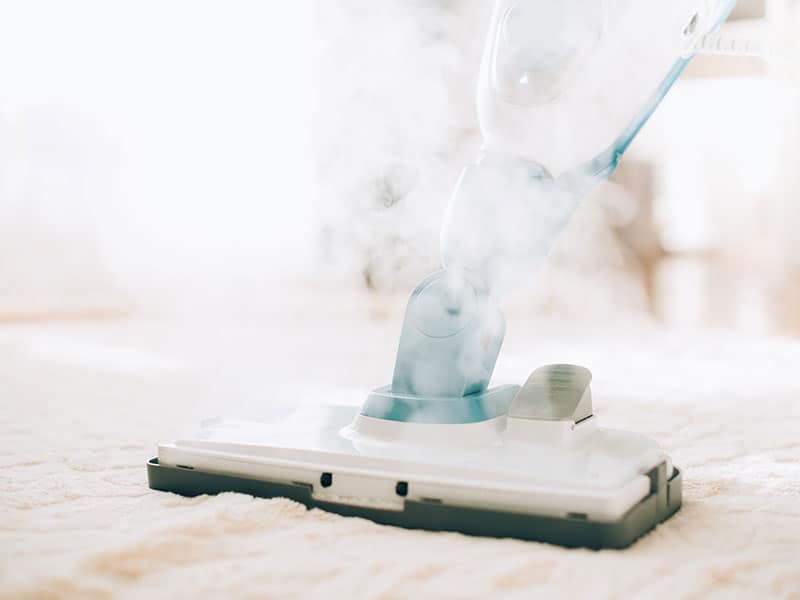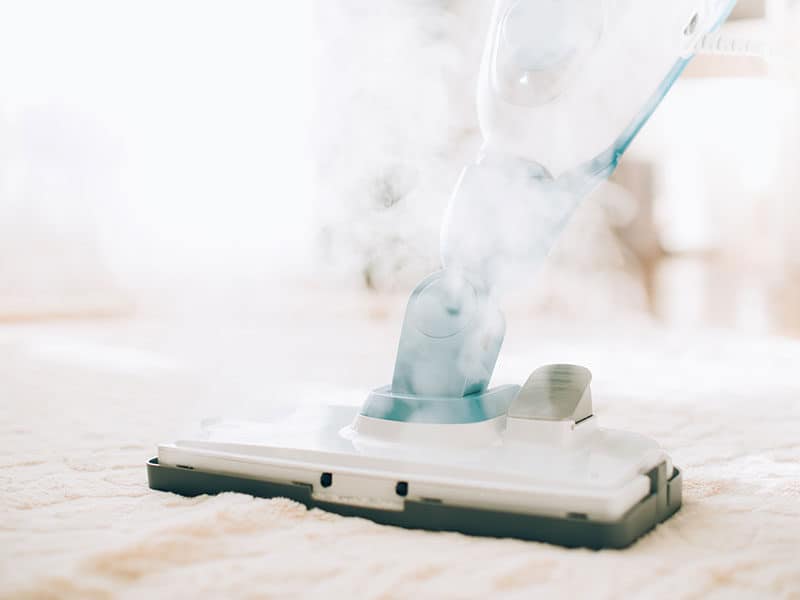 Setting Levels
Steam, when sent out in a controlled manner, serves various purposes. If you have only one speed of steam, then it cannot be customized to multiple uses. Being able to set the speed enhances its functions.
However, if you have several settings of speeds where you have control of how speedily it should be coming from the vent, then you have better control power. Eventually, more useful it will prove to be.
Tank Capacity
Tank capacity should be balanced, not very large, that it weighs down the vacuum and not very small that you need to refill it for every room. Therefore, both medium and large capacity is preferable for big homes as you can fill according to your need.
Smaller tanks are useful if you intend to use them for only individual rooms or only in a few places.
Versatility
Steam has many uses along with sanitization, and steaming garments is one such handy function. Loosening the grease and cleaning the greasy household surfaces without chemical detergents or abrasive tools is another specialty. Finding the appropriate mop with multiple uses is a bonus.
Size
The size rules both storage and usage of the mop. If your mop is bulky and requires more space, you must think well if the storage space required by it is worth every penny. As the size increases, the functions also increase, but there must be a balance between dimensions and usage.
Mophead Type
Mop head plays a vital role in making or breaking the entire functionality. Having a proper mop head matters as it is the part that touches the ground and carries forward the action implemented by the mop. If the design and the technology of the mop head are right, then the mop turns out to be useful.
Weight
Heavy mops are not comfortable to move around quickly. Especially considering you might be mopping daily or every other day, these are the most used devices. Hence choosing a lower weight vacuum is ideal for you to use it frequently without much hassle.
Warranty
You need the mop to function for at least a specific time without issues for the value of money you spent on it. Having a warranty will protect your money if something goes wrong, and you will have your mop repaired, replaced, or money backed as per the company's policies.
Having a reasonable claim period is also a healthy indication of the longer working time of the mop. If the company is confident about its working for a longer time, you must consider buying it.
FAQs
Some simple yet useful insights about the cordless steam mops are given below in questions of general interest. Check them and know more about these mops.
My Top Pick
The PurSteam 10-in-1 Steam Mop offers both mop and handheld mode, which I find very innovative. You can steam garments as well as several clean things apart from floors using the handheld mode. Its long list of uses makes it the most preferred cordless steam vacuum.
Despite several prominent brand vacuums present here, you will have a clear idea of what to choose due to their varied functionalities. Know each vacuum closely, and you will automatically get an idea of which is yours.
These vacuums make your floor look and feel better than how they were before using them. Therefore grab one and help your floors shine.