Top 15 Best Mop for Vinyl Floors To Buy in 2024
This article will guide you choose the best mops for vinyl floors. Vinyl floor tiles have maintained its popularity since the 1940s and have remained a high demand. Vinyl is considered one of the top choices of floorings for homes, offices, and even business shops, but requires the right cleaning equipment.
The suitable cleaning tool for vinyl floors should maintain its luxurious look and keep it brand new. Every time you do the cleaning job, you are assured that it does not leave any marks, scratches, and damages. Though there are various cleaning equipment in shops, floor mops are still the choice of most housekeepers and cleaners.
A vinyl floor mop is essential to maintain the sophisticated look of your vinyl tiles while keeping it clean and tidy. So, let's check out the 15 best mops for vinyl floors and its unique features that suit your needs and preferences. But first, let's learn the different types of floor mops and their features.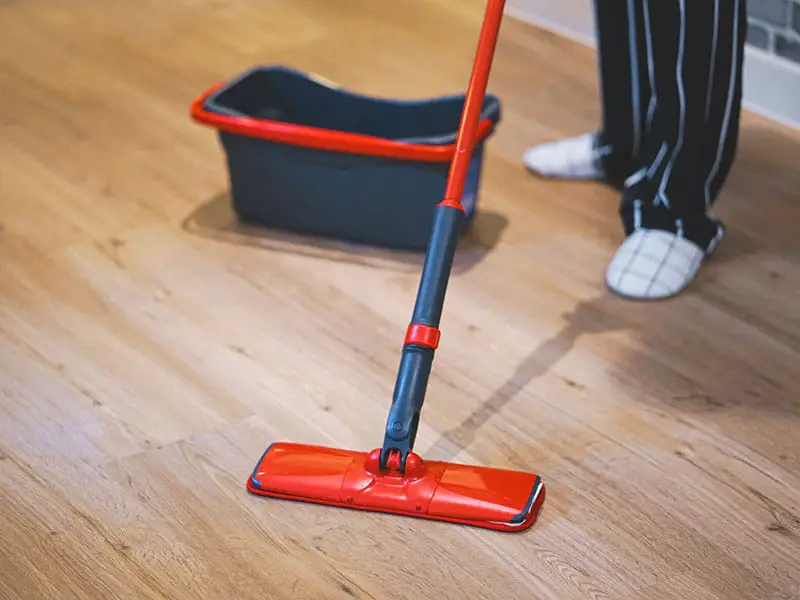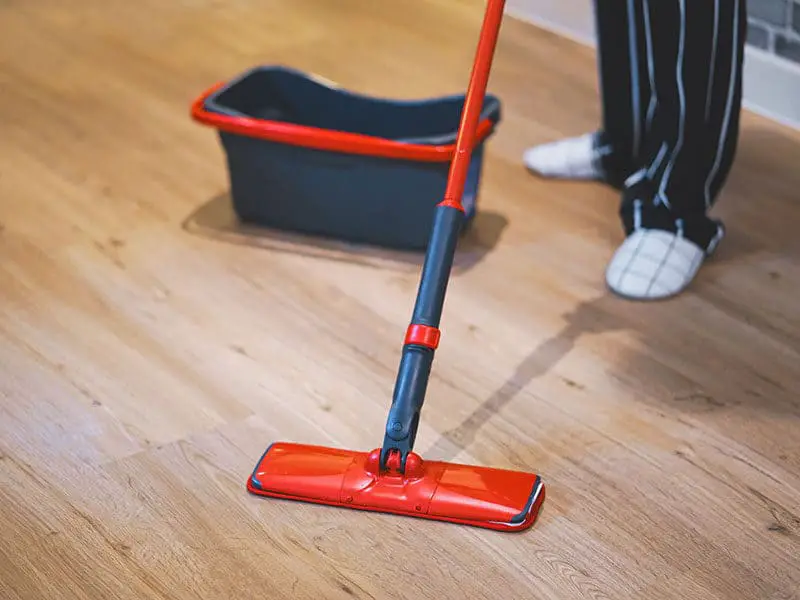 What Are The Types Of Vinyl Floor Mops?
Here's a guide to learn the different types of vinyl floor mops so you can determine which is best for your floors. Steam mops will help you clean vinyl floors without using any assistant, while other mops need to be supported with cleaning recipes. If you don't know anything about it, you should reference the ultimate guide about how to discolored vinyl floors to help you treat the problems.
Flat Mops – Flat mops are the most widely-used type of mop and are easy to use and store. It comes with a detachable pad that can be reused or replaced. These types of mops are useful for daily mopping chores and could clean corners.
Though flat mops are inexpensive, they are not good at scrubbing stuck food particles without the aid of cleaning substances.
Sponge Mops – Sponge mops have an attached sponge and a wringer at its end. This type of mop can be either used for wet or dry mopping, and it is also suitable for cleaning uneven surfaces. However, the sponge can easily harbor bacteria; thus, it should be properly cleaned and maintained after use.
Dust Mops – Dust mops are best used for cleaning dry and dusty surfaces, and are not preferable as a wet cleaning tool. These mops are usually made of microfiber material to hold the dust. Also, it has detachable pads that can be reused and replaced.
Steam Mops – The suitable mop for cleaning and disinfecting surfaces. This electrical appliance has a refillable water tank that heats up and turns into steam vapor. The steam sprays onto the mopping pads, which helps remove the dirt effectively. However, this is not economical compared to other mops.
Spin Mops – Spin mops come with a wring bucket to remove the excess water. These mops rely on the force you apply on squeezing to remove the excess water and avoid dripping. These mops are economical but demand more effort when cleaning.
Spray Mops – The spray mops work by pulling the lever on its handle to wet its mopping pads. You may add cleaning and disinfecting solutions in its reservoir. Plus, you can control the amount of spritz you need while cleaning. But, it also requires proper care after using it.
How Often Should I Mop My Vinyl Floors?
Vinyl floor tiles are made up of colored Polyvinyl Chloride (PVC) pellets and are formed into sheets. Moreover, vinyl has a satin finish that demands waxing to maintain its brand new appearance. Thus, taking into consideration how frequently you clean your vinyl floor tiles.
Use the dry cleaning method when liquid spills on to your vinyl floor to prevent stains. You need a thorough cleaning at least once a week by a wet mop. Then, to maintain its fresh-look, you may damp a few drops of baby oil and apply it onto your floors as a substitute for a commercial wax.
Now it's time to introduce the 15 best mops for vinyl floors.
What Are The Best Mops for Vinyl Floors?
The best mop for vinyl floors are PurSteam, Bissell Spinware, and Gladwell due to its versatility and excellent performance. Moreover, the O-Cedar Promist and Bona Premium vinyl mops are a pro in removing deep-seated dirt and convenient to use.
Here is a brief information on the summary of features of the 15-best mops for vinyl floors.
Best Mop for Vinyl Floors Comparison Chart 2022

Here is the comparison table that showcases the 15-best Vinyl floor mops to help you decide the suitable product for your cleaning needs.
Top 15 Best Mop for Vinyl Floors Reviews in 2022
To guide you to choose the best mop for your vinyl floors, let us take a look and go through the detailed reviews of the best cleaning tool one-by-one and decide the right product.
1. PurSteam 10-in-1 Handheld Steam Mop for Vinyl Floors
(Best Overall)
There are numerous floor mops available in the market and has its unique characteristics and purposes. The PurSteam 10-in-1 handheld steam mop is intentionally made for multi-purpose needs. Works great on your vinyl floors, garments, carpets and
This handheld steam mop does not use harmful chemicals, so it is safe for your kids and pets. The package also includes various accessories, a jam-packed device that serves different purposes for your cleaning needs. This cleaning device is not limited to floors, but it can also be used for your glass windows.
The multi-purpose features of PurSteam mops give satisfaction, a remarkable cleaning experience, and worth the price. However, the size of the mop pads is relatively smaller than the regular mops.
Key Features:
10-in-1 Multi-purpose cleaner; Package includes several accessories for your overall cleaning needs
Can be utilized on different types of floors for cleaning and polishing
With built-in and detachable handheld steam cleaner
Heats up quickly; ready to use in 30 seconds after switching on
Has a huge reservoir; 340 ml capacity
Pros
Could loosen dirt and grimes
Ultra-fine Microfiber pads are replaceable, washable, and reusable
Microfibers are soft and gentle, leaving our floors clean and polished
Versatile
Lightweight
Cons
Mop pads do not secure well
Steam mop pads are smaller than standard mops
Product Specifications:
Color
Blue
Dimension
24 x 9.5 x 8.5 inches
Expandable Handle
No
Rotation
360 degrees
Package Inclusions
Handheld Steam Cleaner,
2- Mop cleaning pads,
Window Squeeze,
Straight Nozzle
Bent Nozzles, and Nylon Brushes
Brand
PurSteam
Here is a video to amaze you on how PurSteam mops work. Also, this recording will showcase the multiple accessories for your cleaning essentials.
2. O-Cedar ProMist Max Spray Mop for Vinyl Floors
(Best Budget)
The double-sided feature of O-Cedar ProMist Max spray mop for vinyl floors stand out amongst the other competitors. With its ergonomic and eco-friendly design, I recommend this as the best value for the price.
The O-cedar flip feature saves your time during the cleaning process. Rather than squeezing the excess water or replacing the soiled pads, you can use flip and use the opposite side. Also, its microfiber pads absorb water, dirt, and dust efficiently.
The spray container is refillable, and you can choose your solution without the hassle. Furthermore, you can control the amount of wetness on your pads for better cleaning. But, the O-Cedar spray mop is not preferred for tough cleaning jobs.
Key Features:
Use for wet or dry mopping of surfaces
Useful for different types of flooring rather than vinyl tiles
Innovative design with one-touch bottle release for effortless refilling
The head of the mop can be tossed up to 180 degrees
Microfiber pads are machine washable up to 100 times
Pros
Durable
Comfortable grip handle
Leak-proof
Versatile
Convenient
Cons
The head of the mop is not secured
Not suitable for tough cleaning jobs
Product Specifications:
Color
Red
Dimensions
54.5 x 0.5 x 4.4 inches
Expandable Handle
No
Rotation
180 degrees
Package Inclusions
Refillable solution tank;
1- extra spray bottle
Brand
Freudenberg Household Products
The ultimate performance and features of the O-Cedar spray mop can be viewed on this video:
3. Bissell PowerFresh 1940 Steam Mop for Vinyl Floors
(Best for Deep-Seated Dirt)
If you need a vinyl floor mop that provides deep-cleaning and disinfecting your vinyl floors, Bissell Powerfresh 1940 Steam Mop is a great choice. Plus, it gives your vinyl floors a spring breeze fragrant for a fresher and cleaner scent.
This floor mop has a flip-down feature that works amazingly in scrubbing tough and sticky stains on your vinyl floors. Moreover, this unit has three smart set digital steam control levels where you can set from the high, medium or low steam depending on your need.
Furthermore, the package includes one soft microfiber pad, one microfiber scrubby pad, two spring breeze fragrance discs, and a carpet glider. However, the levels of steam controls have no distinct variation and inconsistent in providing mists.
Key Features:
Sanitizes hard surfaces without using harsh chemicals
Removes dried and stubborn stains with the aid of easy scrubber
Has a water tank capacity of 16 ounces
Easy to use; readily available in 30 seconds
Can clean hard-to-reach floor crevices
Pros
Eliminate bad odors
Can remove deep-seated spots
Removable and easy-to-fill water tank
Easy to assemble
No chemical residue left after cleaning
Cons
The steam setting tends to be inconsistent in providing its mists' levels
May alter the appearance of the vinyl tile
Product Specifications:
Color
Blue
Dimension
11.6 x 7.1 x 8.6 inches
Expandable Handle
No
Rotation
270 degrees
Package Inclusions
Accessory kit includes 1-washable soft mop pad,
1- washable scrubby mop pad, and 2- Spring Breeze fragrance discs
Brand
Bissell
The Bissell PowerFresh 1940 Steam mop works a great job in cleaning vinyl floors. To learn more on how to operate this unit and its inclusion packages, check out this video:
4. O-Cedar EasyWring Microfiber Spin Mop for Vinyl Floors
(Best in Portable)
The convenience and affordability of vinyl floor mops are considered a wise choice. The O-Cedar Easywring microfiber spin mop is economical and provides a handsfree wringing with a pedal bucket system. The effort comes from your foot and not from your arms.
The microfiber pads can be easily detached and cleaned even with the use of the washing machines. Moreover, the handle can be elongated up to 51 inches in total length to prevent back pains and slouch, thus maintaining a good posture.
O-Cedar spin mop is easy to carry anywhere around. Also, this bucket mop can be used for wet and dry cleaning of surfaces. Though this unit is economical, it is fragile and does not last for a long time.
Key Features:
With deep-cleaning microfiber
Triangular in shape to reach and clean corners
Flexible can rotate up to 360 degrees to get surfaces under the furniture
With splash guard to prevent water from splashing while wringing inside the bucket
Has a telescopic handle which can be expanded up to 51 inches maximum length
Pros
Refillable microfiber
Easy to spin
It has a super-absorbent microfiber
Easy to clean after use
For wet and dry cleaning purposes
Cons
Fragile; does not last long
The microfiber appears smaller in actual size
Product Specifications:
| | |
| --- | --- |
| Color | Red |
| Dimensions | 19.5 x 11.7 x 11.5 inches |
| Expandable Handle | Up to 51 inches |
| Rotation | 360 degrees |
| Package Inclusions | Bucket Spinner |
| Brand | O-Cedar |
For proper use and care of this vinyl floor mop, here's a video demonstration on using the O-Cedar Spin mop foot pedal bucket system.
5. Turbo Mops 360 Degree Microfiber Flat Mop for Vinyl Floors
(Best Lightweight)
Turbo Mops 360 degrees is the premium choice in terms of durability. The floor mops are manufactured from high-quality standards to provide a lasting and satisfactory cleaning experience—a good value for your money.
The handle is made up of an aluminum alloy, which makes it durable and lightweight. Apart from this, it has a 360-degree feature for hard-to-reach surfaces. The pads are thick and super absorbent and can clean your floors effectively while keeping it from any scratches and damages.
All in all, Turbo Mops 360 degrees are good quality from the handle down to its pads and works conveniently on your vinyl floors. However, the telescopic handle tends to slide back and doesn't hold on to the preferred size.
Key Features:
Reusable and washable pads
Handle pivots up to 360 degrees for hard to reach surfaces
Has a telescopic handle that extends from 36 inches to 60 inches
Pads can be easily attached and secured to refrain from detaching while mopping
Microfibers attract and grips dirt, hairs, and furs
Pros
Convenient
Portable
Durable
Easy to rinse
Easy to assemble
Cons
The adjustable handle slips and does not retain the preferred size.
The dirt is heavily attached on microfiber pads and has to be removed by hand
Product Specifications:
Color
Green
Dimensions
60 x 4 x 17 inches
Expandable Handle
Up to 60 inches
Rotation
360 degrees
Package Inclusions
2-scrubby, 2-soft mop pads
2-trial size Multi-surface formula
Brand
Turbo Mops
Here is a video of the included package of Turbo Mop and a simple demonstration on how easy to assemble this type of cleaning tool.
6. Bissell Spinwave Powered Mop for Vinyl Floors
(Best Versatile)
If you've hated cleaning your vinyl floors all your life, then the Bissell Spinwave is a good match for you. With just a minimal effort, this mop can clean your entire vinyl floor in no time. The marks and stains can be removed with this floor mop.
The unique feature of this floor mop is its versatility. The two swivel steering scrubs that come in this package rotate in the opposite direction, and this can be used for scrubbing surfaces or soft-touch pads for polishing. This depends on your needs.
Furthermore, the floor mop is convenient to maneuver even underneath your furniture. Though it is considered versatile, one drawback is that the pads do not absorb well.
Key Features:
Powered by electricity
Has two swivel steering scrubs that pivot in a different direction for maximum cleaning
Amount of spray solutions can be controlled
The capacity of the water reservoir is 28 ounce
Consists of scrubby and soft microfiber pads
Pros
Lightweight
Easy to use
Instructions are simple and easy to assemble
Mop pads are washable
Easy to fill the water reservoir
Cons
It tips over when in a standing position
The pads are not super absorbent
Product Specification:
Color
Green
Dimensions
8 x 16 x 45 inches
Expandable Handle
No
Rotation
360 degrees
Package Inclusions
2-scrubby pads, 2-soft mop pads, and
2 trial-size Multi-Surface Formula
Brand
Bissell
Here's a quick video to watch on how Bissell Spinwave can do for you and its remarkable cleaning job.
7. Bona Premium Spray Mop for Vinyl Floors
(Best Time-Saver)
Bona Company is operating for over 100 years with a passion for creating innovative tools to keep your vinyl floors clean and beautiful. Cleaning becomes more comfortable with one of their cleaning mops, the Bona Premium Spray Mop, which can be utilized for various types of floors.
This spray mop is an all-in-one system to achieve flawless cleaning. The pads' size is 40 percent larger than the standard sizes of floor mops, which makes the mopping done in no time.
Moreover, this cleaning device can provide a massive job to keep your floors beautiful and stunning. However, despite this floor mop's positive features, one notable disadvantage of this mop is the water reservoir, which tends to leak.
Key Features:
Has 24-ounce refillable cartridge which is compatible with any Bona floor mops
Supersized mop heads for quick cleaning purposes; length of pads are 16.5 inches in length and 4.5 inches in width.
Produces a fine mist spray to keep the pads from heavy wetness
Composed of 2 rubber grips, let you control your mop.
Made up of flexible rubber sides to protect your furniture from knocks and scratches
Pros
Easy to store
Refillable cartridge
Lightweight
Durable
Quick and effortless to assemble
Cons
Fluid leaks
The spray doesn't work effectively
Product Specifications:
| | |
| --- | --- |
| Color | Blue |
| Dimensions | 4.38 x 5.88 x 28.38 inches |
| Expandable Handle | No |
| Rotation | 360 degrees |
| Package Inclusions | Refillable solution tank |
| Brand | Bona |
Bona Spray Premium provides a quick-cleaning job not just limited to vinyl floors, but also for stone, tile, and laminated floors. Watch the video demonstration on how to assemble and use this mop.
8. Gladwell Cordless Electric Mop for Vinyl Floors
(Best in Convenience)
Gladwell Company has manufactured the most innovative cleaning device. The floor mops are designed in an all-in-one system for superb cleaning. It can be used for scrubbing, polishing, disinfecting, and light cleaning, a good match in keeping your vinyl floors look stunning and free from harmful microbes.
This type of cleaning tool is larger than the standard mops in the market. It helps you do the job quicker and saves your time for other priorities. Plus, the cordless design makes your cleaning experience comfortable and limitless.
Though it makes your floor sparkling and beautiful, it is quite challenging to clean the corners, and the battery could stand only until 30 minutes, and there are no separate batteries that could be purchased.
Key Features:
The cordless design makes the cleaning convenient without the need for plugging and unplugging.
Multipurpose, can clean on different types of floors
It has an LED light to illuminate your way and gives you a view on the amount of spray mist it provides.
With 2200 mAh rechargeable Lithium battery
330ml water tank capacity
Pros
Can be set-up effortlessly
Ergonomic handle, for easy control system
Expandable handle
Cleans quietly
Fast-charging batteries
Cons
The battery lasts for about 30 minutes
The manufacturer does not sell separate batteries
Product Specifications:
| | |
| --- | --- |
| Color | Blue |
| Dimensions | 20.3 x 16.6 x 5.6 inches |
| Expandable Handle | Yes |
| Rotation | 180 degrees |
| Package Inclusions | Cleaning pads |
| Brand | Gladwell |
Gladwell cordless electric mop with a 3-in-1 cleaning system is the most convenient floor mops in the market. For more details on the fantastic features of this device, here is a video to watch:
9. Rubbermaid Reveal Spray Mop for Vinyl Floors
(Best for Scrubbing)
If you are annoyed on the hassles of scrubbing and maintaining your vinyl floors, the Rubbermaid Reveal Spray mop is suitable for you. This mop comes in three different types of pad that rely on your preferences. It has a multi-purpose pad, dry dusting pad, and scrubbing pad.
The installed scrubbing pad is the most significant feature of this floor map, perfect for stubborn stains. Also, its microfiber pads are thick and super absorbent but do not look drenched. So, no worries, your vinyl floor will not appear soaking wet after cleaning.
The refillable and detachable spray bottle allows you to choose your solution. However, despite the advantages, the trigger spray gets stuck and won't release mist efficiently.
Key Features:
Has 54-inch spray trigger attached on its handle for convenience
The microfiber pads can grip more dirt and dust than conventional mops
Has 22-ounce refillable bottle which allows you to mix your solution
Thick microfiber pads are reusable and washable
Non-battery operated spray, will enable you to dispense
Pros
Durable
Lightweight
Easy to maneuver
Does not get the floors soaking wet
Sturdy
Cons
Can leave the floor streaky
The trigger on sprayer gets stuck and won't release
Product Specifications:
| | |
| --- | --- |
| Color | Red |
| Dimensions | 57.3 x 4.36 x 6.87 inches |
| Expandable Handle | No |
| Rotation | 360 degrees |
| Package Inclusion | Has 1 extra bottle |
| Brand | Rubbermaid |
The Rubbermaid Reveal Spray mop is economical and more comfortable to use. Let us have a peek at this informative video of this efficient floor mop:
10. Shark Steam S3501 Steam Pocket Mop for Vinyl Floors
(Best-Sized Water Tank)
This purple-colored steam mop is designed to meet every household cleaning needs. The large-sized refillable tank allows you to spritz for a more extended period without falling short. Plus, you can control the amount of solution you preferred while mopping your vinyl floors.
Another feature of the Shark Steam spray mop is the two-sided microfiber pads. These pads allow you to extend your cleaning experience without replacing it in between. It attracts dirt and dust instead of pushing it around.
However, I just find the pumping method of spraying quite exhausting; it needs extra effort. Not a great idea if you have back problems.
Key Features:
Dual-sided microfiber pads to clean and sanitize on both sides
Steam power heats up faster in 30 seconds and delivers super-heated steam
Sanitizes with no harmful chemicals
With two washable and reusable pads
Pumping action for spray
Pros
Lightweight
Convenient to maneuver
Easy to assemble
Quick to install pads
Swivel steering
Cons
The cord is cut short, and it limits your working space
Tends to leave streaks on floors
Product Specifications:
Color
Purple
Dimensions
51.2 x 12 x 5.9 inches
Expandable Handle
No
Rotation
360 degrees
Package Inclusions
2- Washable microfiber pads,
Filling Flask,
Quick Release Swivel Cord Wrap
Brand
Shark
Here is a video recording to guide you on how to assemble and operate the Shark Steam Pocket S3105.
11. Microfiber Wholesale Professional Microfiber Mop for Vinyl Floors
(Best in Microfiber Pads)
This flat mop's most innovative feature is its microfiber pads that absorb water efficiently compared to other cleaning mops, which won't leave your floors wet and streaked. The Wholesale Microfiber mop can make your vinyl floors shiny and well-polished.
The microfiber mop is a flat mop suitable for wet or dry cleaning purposes. You may use the included microfiber dust pad for picking up debris like hair, dirt, and dust. Simultaneously, the thick microfiber wet pads are made explicitly with added absorbency for thorough cleaning and sanitation.
Besides, the stainless handle can be extended depending on your chin height to refrain from bending that causes back pains. However, this device lacks a scrubbing feature, and you need to provide an extra spray bottle to dampen your pads.
Key Features:
Multipurpose, can be used for different types of floors
The package includes 2-Microfiber Wet Mop Pads, 1-Microfiber Dust Mop Pad, and 2-Premium Microfiber Cloths
Steel handles can be extended from 42 inches to 70 inches
Have 360-degree swivel to reach corners and tight spaces
Microfibers are washable and reusable
Pros
Economical
Heavy-duty
Durable
Convenient to use
Easy to glide
Cons
Lacks scrubbing power
Doesn't have a built-in mechanism for water solutions, you need to provide a sprayer
Product Specifications:
Color
Blue
Dimension
41.2 x 7.5 x 1.8 inches
Expandable Handle
Up to 70 inches
Rotation
360 degrees
Package Inclusions
2-Microfiber Wet Mop Pads
1- Microfiber Dust Mop Pad
2-Free Premium Microfiber Cloths
Brand
Microfiber Wholesale
Here is a video to guide you to be effective and efficient when cleaning your floors; and make use of your Wholesale Microfiber flat mop.
12. Tethys Flat Hands-Free Cleaning System Floor Mop for Vinyl Floors
(Best in Storage)
One problem with every household is the storage space for keeping your mops. You used to hang it on the back of your doors, walls, or even at the corners. This idea seems not pleasing to the eyes.
The Tethys handsfree flat mop with its bucket system has two sections designed for storage and cleaning purposes. The bucket can be used for wringing damped pads and for keeping the dismantled parts of the mop. It saves you more space, and you can store it anywhere in your house.
However, the bucket is not specialized for rinsing your soiled microfiber pads. You have to provide an extra bucket to wash-off the pads, which is quite inconvenient during a thorough cleaning.
Key Features:
The handsfree cleaning system includes two reusable pads for dry or wet cleaning purposes
Includes 15-inch (length) x 8.75 (wide) bucket with two storage sections, one for collecting squeezed-off water, and the other is for storage of dismantled pieces of mop.
With a telescopic handle that extends from 53.5 inches to 67 inches long to alleviate back pains
The bucket has twistable holes in the bottom for effortless draining
Can swivel up to 280 degrees that can reach beneath and around your furniture
Pros
Easy installation
Can be assembled based on your height
Easy to use
Sturdy handle
Lightweight
Cons
The bucket is not designed for rinsing; only limited for drying or wringing purposes only
You need an extra effort when squeezing the pads, and it bunches up into the grooves of the bucket
Product Specifications:
Type of Cleaning Mop
Beige/Gray
Dimensions
16.25 x 9.75 x 8 inches
Expandable Handle
Up to 67 inches long
Rotation
280 degrees
Package Inclusions
2-Washable, Microfiber Pads,
Bucket
Brand
Tethys
This recording is right for you for additional information and a better view of Tethys' flat mop's innovative design.
13. Swiffer WetJet Spray Mop for Vinyl Floors
(Best for Cleaning)
If you're not a fan of a mop with a bucket, this cleaning device is best for you. The Swiffer WetJet spray mop is manufactured by Procter and Gamble, a renowned company known for quality products.
Swiffer mop is a multi-purpose cleaning tool that dissolves tough stains and dirt. The extraordinary microfiber pads are structured in a way that traps and locks-in dirt rather than pushing it around. It is tough on dirt and grimes yet gentle and safe for your finished floors.
Besides the convenience it offers to your homes, this spray mop brand does not allow you to mix your cleaning solutions. So you have to purchase their exclusive cleaning liquid bottles. Thus, not a good idea for frugal housekeepers like you.
Key Features:
Multipurpose, all-in-one mopping system
With an extraordinary dual-nozzle Sprayer that solution dispense an exclusive and powerful clean solution
The handle dispenses the adequate amount of solution with the touch of a finger
The Microfiber pads have multiple layers that absorb and locks-in to trap dirt and grime
Battery operated
Pros
High quality
Easy to assemble and operate
Convenient
Dissolves tough stains and dirt
Safe for finished floors
Cons
You need to purchase the manufacturer's cleaning solution rather than mixing your own choice of liquids
Does not scrub and can leave streaks
Product Specifications:
Color
Purple
Dimensions
4.53 x 18.9 x 6.02 inches
Expandable Handle
No
Rotation
360 degrees
Package Inclusions
6- Heavy Duty Mopping Pad refills,
4-Original Mopping pad refills,
1-bottle of cleaning solution,
4-batteries
10-Pads,
1-Cleaning Solution
Brand
Swiffer
Since the Swiffer Wet Jet of Procter and Gamble is exclusively selling its solution and pads, this video you will watch are tips on how you can replace your pads and solutions:
14. Swiffer Sweeper Dry and Wet Flat Mop for Vinyl Floors
The Swiffer Sweeper flat mop of Procter and Gamble upgraded their cloth pads. Their mopping pads are designed for heavy duties, which is 50 percent better than any pads in the market. These high-quality pads can trap and lock-in dirt, dust, and hair in one sweep.
This flat mop allows you to clean your floors quicker and easier, thus saving your time and energy for other priorities. It can pivot up to 360 degrees for hard to reach surfaces such as under your couch while keeping your furniture protected from any scratches.
The sweeper cloths are securely fastened around the mop's head, so it doesn't come off while cleaning your floors. However, Swiffer Sweepers are not useful in cleaning tough stains that require scrubbing; this is the missing piece.
Key Features:
Heavy-duty sweeper cloths with ridges and grooves for dry mopping
With super-absorbent pads with lock-in feature for wet cleaning
The dry cloth has ridges and grooves
Package includes heavy duty mopping pads for wet and dry cleaning
360-degree swivel head to fit under the couch a lot easier
Pros
Easy to assemble
Nonslip handle
Grips cloths and pads securely
Lightweight
Cleans effectively; suitable for pet owners
Cons
Refills are expensive
Flimsy handle
Product Specifications:
Color
Green
Dimensions
2.76 x 12.4 x 5.91 inches
Expandable Handle
No
Rotation
360 degrees
Package Inclusions
4-Dry Heavy Duty Cloths,
3-Wet Heavy Duty Pads,
10-Dry Sweeping Cloths,
2- Wet Mopping Pads
Brand
Swiffer
Here is a video to watch to discover the quality and innovative design of the Swiffer Sweeper flat mop.
15. Aootek Upgraded Stainless Steel Deluxe 360 Spin Mop for Vinyl Floors
Aootek spin mop comes in with a stainless steel bucket spinner. This feature stands out among other spin mops brands that are made up of pure plastics or aluminum. Moreover, the handle down to its head is consists of stainless steel.
Besides, the bucket is designed with a drain spout at the bottom side for effortless draining rather than pouring it. Also, the microfiber is of good quality and soft to touch but tough on dirt and dust.
However, the microfiber pads do not absorb water and tend to push the dirt around rather than trapping it. Also, the bucket tilts a little bit when carrying around.
Key Features:
Stainless steel spinner, handle and head with a 1-year warranty
Super microfiber mop head 12 inches in diameter, three times clean better than cotton,
Machine washable mop heads last up to 6-12 months
Has a built-in draining plug on its side for draining water efficiently
With a built-in detergent reservoir
Pros
The bucket is sturdy yet light in weight
The bucket is easy to carry
Mops are easy to attach and remove on its mop head
Expandable and telescoping handle
Durable
Cons
The handle is relatively short, not suitable for tall ones, which might cause back problems.
Needs an added effort when wringing
Product Specifications:
Color
Blue
Dimensions
18.4 x 10.8 x 9.8 inches
Expandable Handle
95 – 123cm
Rotation
360 degree
Package Inclusions
1-Bucket
2-Microfiber mop heads
Brand
Aootek
Aootek spin mop is of good quality compared to other spin mops on shops. Here is a video to check its actual features.
Things To Consider When Buying The Best Mop for Vinyl Floors
There are many types of floor mops in the market. It was designed uniquely to meet your cleaning needs, such as polishing, disinfecting, waxing, scrubbing, or sweeping your floors. Therefore, you should also consider several reasons when purchasing these cleaning tools.
The following top features serve as a guide to help you choose and purchase a suitable product to meet your needs.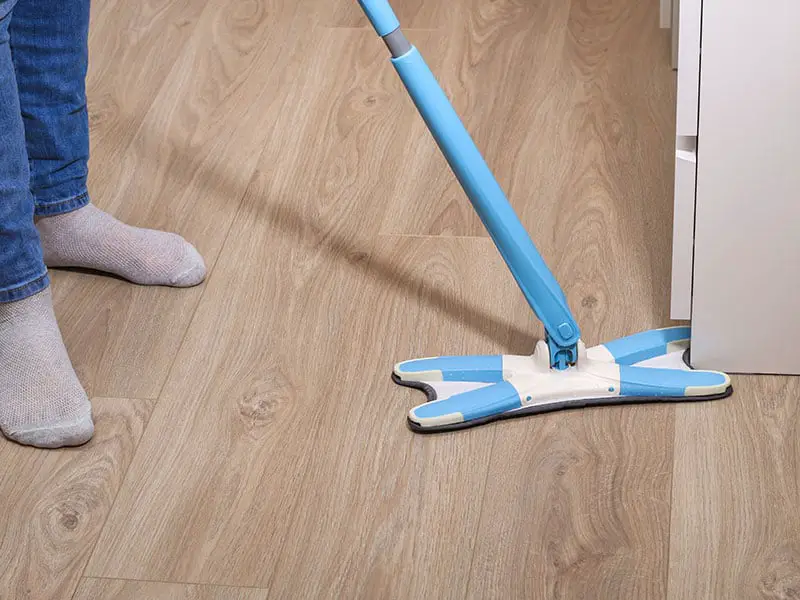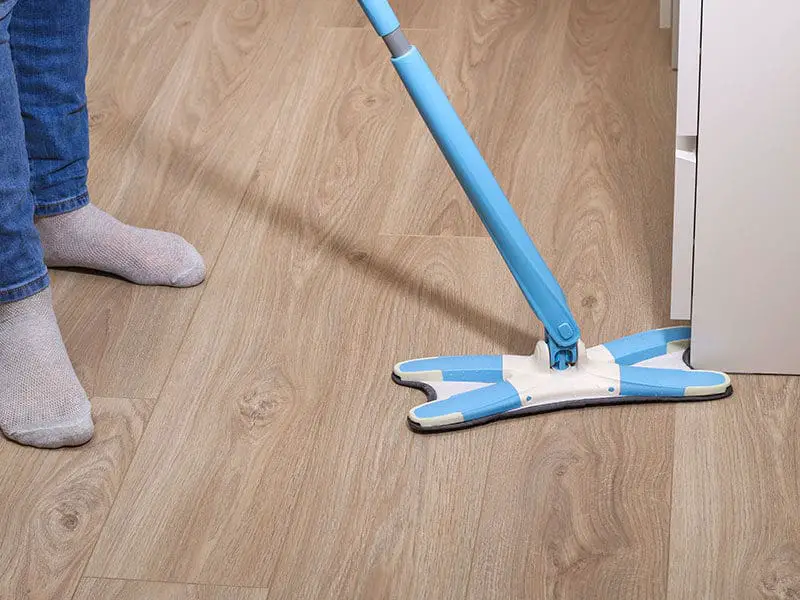 Durability
One best feature of a floor mop is its durability. When purchasing a floor mop, you have to check if it can withstand pressures and damages despite repeated use. Value for money is linked with the long storage life of any cleaning material.
Easy To Assemble
Brand new floor mops are usually dismantled into pieces and stored inside the box. Consequently, you have to assemble those pieces before using it. Thus, the product should be readily available, easy to follow instructions, and quick to assemble.
Convenience
Cleaning and maintaining the floor is a regular and challenging household chore that requires a lot of work. Therefore the product should offer convenience for you to complete this demanding task. With its unique features, these can help you do your cleaning needs with comfort, ease, and saves your time.
Versatile
A cleaning tool is designed to meet your specific needs. Aside from the value for money, the mop's feature should be versatile and used for various cleaning essentials, whether you need it for dusting, polishing, scrubbing, or disinfecting.
Safe For Vinyl floors
Vinyl floors are made up of thin sheets and are delicate compared to tiled floors. It can be easily scratched and damaged by sharp or metal objects. Thus, the type of mop that you should consider must be gentle, and its metal frames do not scratch your vinyl floors.
FAQs
Here are some frequently asked questions about mop for vinyl floors and their answers. I hope they will be beneficial to you.
My Top Pick
You have read my article, and I hope it can guide you to pick the best mop for vinyl floors. If you are curious about which cleaning tool I prefer the most, it is the PurSteam 10-in-1 Handheld Steam Mop because it is an all-around cleaning device.
This handheld steam mop has several accessories. Besides the multi-purpose feature, it is portable, versatile, and a good value for money. Plus, the manufacturer offers a warranty for up to 2 years. Which I consider a good buy.
If you have any questions in your thoughts, just leave me a message. I'll love to answer your queries.