How To Clean LifeProof Vinyl Plank Flooring Like A Pro 2024
How to clean LifeProof vinyl plank flooring? If you live outside the United States, the chances are that you have never heard of LifeProof. Sold exclusively by Home Depot, it is popular not only for attractive designs but also for durability and easy application and maintenance.
However, like every other flooring, LifeProof vinyl plank flooring won't last forever if you fail to give it special care treatment. Hence, I'm here today to show you how to maintain the appeal of your flooring, along with some valuable tips to keep the wear and tear away. Read on!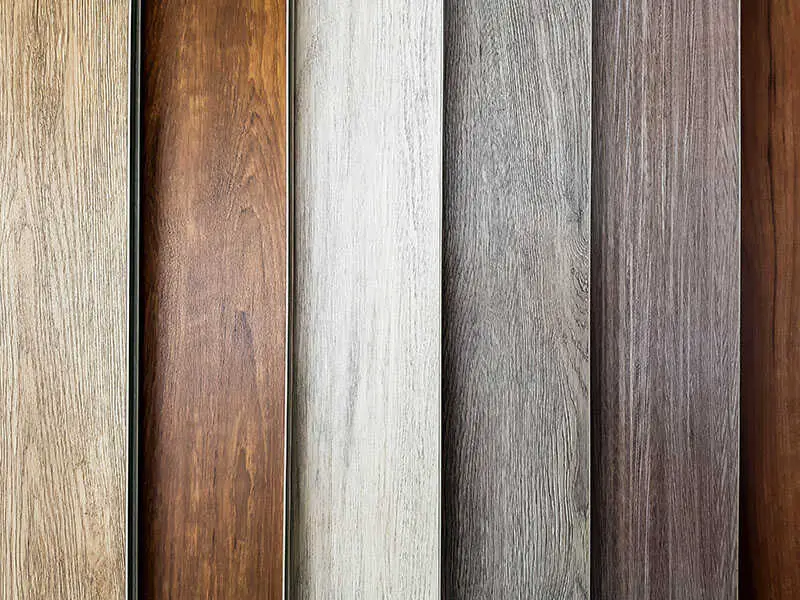 Some Facts About LifeProof Vinyl Plank Flooring
If you ever feel that something's missing in your life, the answer is no other than LifeProof. It is an in-house brand of Home Depot and specializes in LVP or vinyl plank flooring. With lots of amazing features, it is a little surprise to see LifeProof vinyl plank flooring win rave reviews.
Here are a few particular features that make it a solid choice for your home:
Vast range of options: Perhaps one of the reasons that make LifeProof LVP hit the big time is its profuse plank size and design choices. Everything you look for is here, from elongated to square tiles or wood to concrete.
Versatility: Since no underlayment is required, feel free to install this type of flooring anywhere you want, from your bedroom, dining room, to high-moisture areas like the kitchen or bathroom.
Easy installation: Installing LifeProof vinyl planks is an effortless task. In fact, many people have decided to opt for the DIY route and save their money. If you are just as crafty, give it a try – it will void your warranty, so consider the decision carefully.
Minimal upkeep: LifeProof LVP doesn't require refinishing like other flooring options, such as bamboo or hardwood. Plus, thanks to its antimicrobial properties, it can hold out against dirt, stains, and scratches pretty well – ideal for households with kids and pets.
Affordable price: Compared to the installation cost of hardwood flooring, you do not have to pay through the nose for LifeProof vinyl plank flooring. Indeed, the final price depends on many factors, such as the project range, but overall is not too pricey.
Great warranty: You are guaranteed to receive a limited lifetime residential warranty for factory defects or other minimal wear-and-tear issues.
Lastly, it's low-VOC certified and can work with radiant heat – what's not to love about it?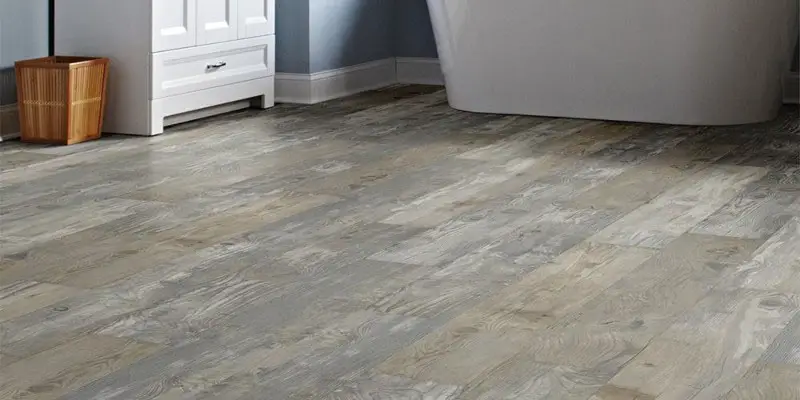 Methods To Clean Your LifeProof Vinyl Plank Flooring
LifeProof LVP sounds like a gift from heaven. However, without some TLC, your LVP is sure to become lackluster and make you go OMG. This section will teach you a few tricks to keep your vinyl planks spotless, and the result will be more than just good. You have my word.
Regular Cleaning
Even though you are advised to clean your vinyl floors at least once a week, it is a good idea to clean them every day (or a couple of days) to maintain their glossiness. Keep reading and get your cleaning gloves on!
What You Need
Apple cider vinegar
Water
Dishwashing soap or baby oil
Vacuum
Microfiber mop
What To Do
Step 1: Vacuum or dry-mop your flooring to get rid of dirt, dust, and debris. Don't neglect the small crevices or areas under the furniture, where dirt often accumulates.
Step 2: Combine one cup of apple cider vinegar with a gallon of hot water. To maximize the cleaning performance, a few drops of dish soap can be added to the solution. Another option is baby oil, which can make your floors sparkle again in no time.
What about commercial products? Feel free to use them when you have no vinegar left. Still, make sure that you steer clear from wax, wax-based, or mop-and-shine products. According to experts, these products will damage the protective layer of your LifeProof LVP.
I have rounded up a few recommendations below, just in case you are wondering which one is the most suitable for your flooring:
Step 3: Start wet mopping your floors. You will begin from the corners, then mop your way to the entrance.
Step 4: Don't forget to rinse the floors once done. If you skip this step, the remaining solution will attract dirt and dust within days later, and you will have to bring out your mop and bucket again.
Note: Let the floors dry wholly before stepping on them, or say hello to dirty footprints!
Dive in for Home Depot's ultimate solution for a squeaky clean LVP
Deep Cleaning
Dive in for a comprehensive guide on dealing with stains, scuffs, and more on your LifeProof LVP! Surprisingly, such issues are not too difficult to be resolved. With household ingredients and a little elbow grease, your flooring will return to its former glory quickly.
What You Need
Water
Vinegar
Dishwashing soap
Baking soda
Rubbing alcohol
Mineral spirits
Nail polish remover
WD-40, jojoba oil, or olive oil
Cotton balls
Washcloth
Tennis ball or rubber eraser
Shop vac
What To Do
For food or rust stains like wine, butter, or tomato sauce, combine baking soda with water to form a paste. Smear the paste onto the stain and give it a little rub. Once the stain has disappeared, run the shop vac to suck up the remaining clumps.
For makeup, hair dye, or ink stains, rubbing alcohol is your best bet. Wet a cotton ball with small quantities of alcohol and dab the stain gently until it fades away.
Watch this video to know more:
For pigment ink stains, use mineral spirits and cotton balls like instructed above.
For nail polish stains, grab a bottle of nail polish remover. Likewise, you will apply it using a cotton ball and gentle dabbing motions.
For grease, a few drops of dish soap will do the trick. Mix it with a bucket of lukewarm water, dip a cloth into the solution, and rub the stains vigorously.
For light scuffs, here's a trick: rub the marks with a tennis ball or a rubber eraser. It sounds unbelievable, but it works like a charm!
For heavy scuffs, WD-40 is your savior. Spray the lubricant directly on the marks, then grab a soft cloth and rub them lightly. Once finished, rinse the working site with a solution made of water and vinegar. If WD-40 is nowhere to be found, use jojoba or olive oil.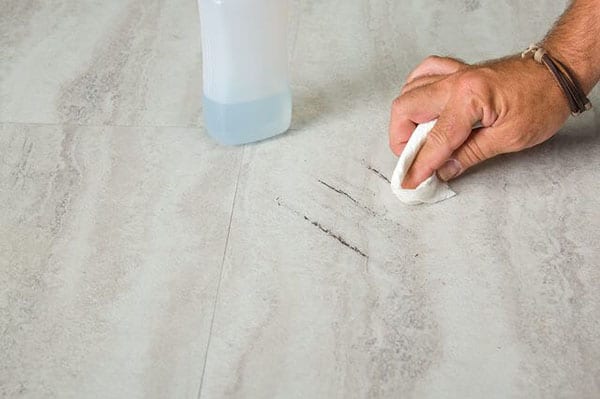 For more severe damage, such as dent or gouge, cleaning will no longer help – you will have to stop by your local Home Depot and purchase replacement planks.
Note: Rubbing alcohol, mineral spirits, nail polish remover, and WD-40 are harmful chemical products. Symptoms such as dizziness, nausea, or irritation to the eye and throat will arise if you are exposed to high levels. Hence, remember to maximize air circulation and wear your protective clothing for safety. (1)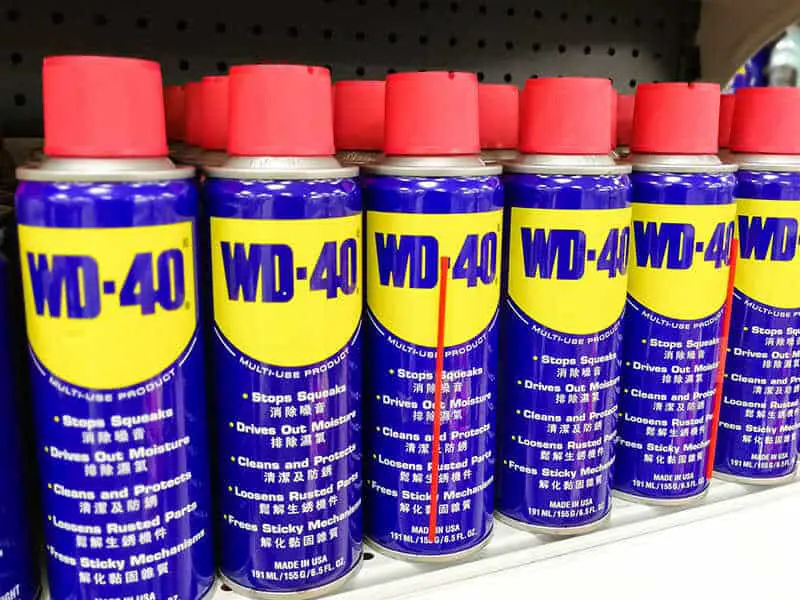 Extra Tips To Preserve The Shine On Your LifeProof LVP
Cleaning your LifeProof vinyl plank flooring is not a daunting task, but sure enough, it wastes much of your time and effort. Thus, this section will provide you with some useful tips to keep the glam on your flooring and make your future cleaning jobs somewhat less painstaking.
Take prompt actions: When spills occur, you should not hesitate. Although vinyl is a water-resistant flooring, it does not hold up standing water too well. If left for too long, the moisture will even seep through the surface, causing mold to grow afterward.(2)
Throw a doormat: A doormat or an area rug should help prevent dirt, dust, and other debris from entering your house. Although invisible to the naked eye, these impurities can damage your flooring when walked on, resulting in unsightly scratches.
Invest in floor protectors: Also known as furniture pads and usually made out of felt or rubber, they are utilized to cover the furniture's legs in order to safeguard the floors from permanent indentations. You will want to kick the habit of gliding your chair from now on as well.
Minimize exposure to sunlight: You can't control the weather, but you can put down the curtains to keep the sunlight from shining on your flooring. Excessive exposure to the UV rays will dull its appearance – still, rest easy; cleaning discolored vinyl floors is not a challenge.
Use the correct tools: There's no need to go extra with a beater bar or wire brush. A microfiber mop or cloth should be enough to restore the shine of your vinyl flooring. If you prefer vacuuming, make sure to use the correct settings and attachments.
Let it shine again: Over time, the protective urethane coating that protects your vinyl flooring will wear out and ruin its beauty. Therefore, don't hesitate to apply one or two new layers to keep it looking good again.
Kick-start your refinishing project with ease – thanks to this guide.
If serious damage has occurred, stop what you are doing and immediately reach out for help from a professional. You can also contact Home Depot, though it is not guaranteed that the brand will cover the entire recurring expenses.
Nonetheless, you don't have to fret because the damage can be repaired at a fairly low cost. LifeProof vinyl plank flooring is often installed using the floating method, which allows you to swap out the damaged planks without having to lift up the entire surface.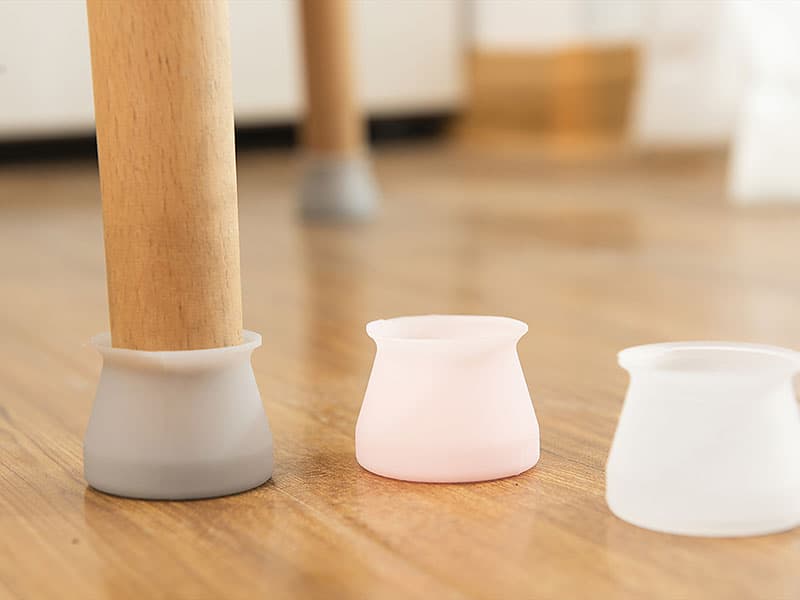 FAQs
All your related questions about cleaning LifeProof vinyl plank flooring are here, so don't skip this section!
Your LifeProof Vinyl Plank Flooring Is Here For Life
All about how to clean LifeProof vinyl plank flooring is now as clear as day. I believe that my instructions have made the job less tiring for you, and at the same time, keeping your floors looking as if they have just been installed.
As always, the comment section below is where you submit your additional questions or tips about the cleaning job. And, don't be shy to share your success with other readers and me – I'm looking forward to it!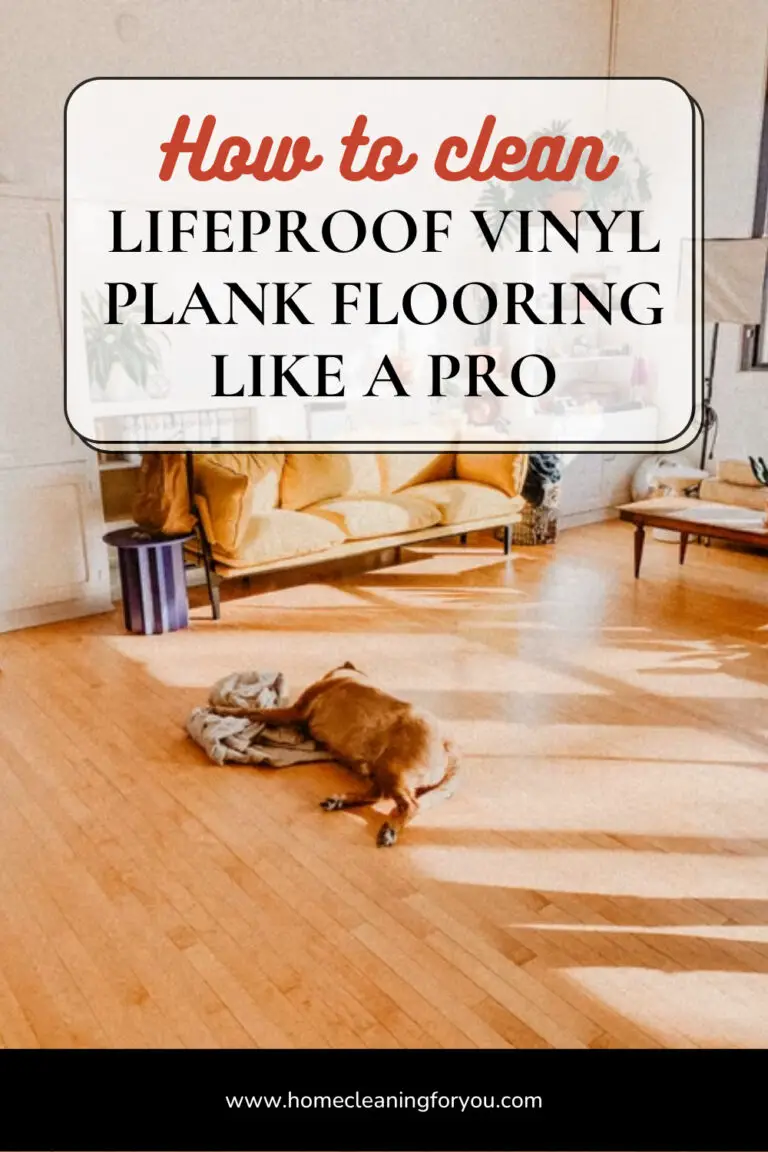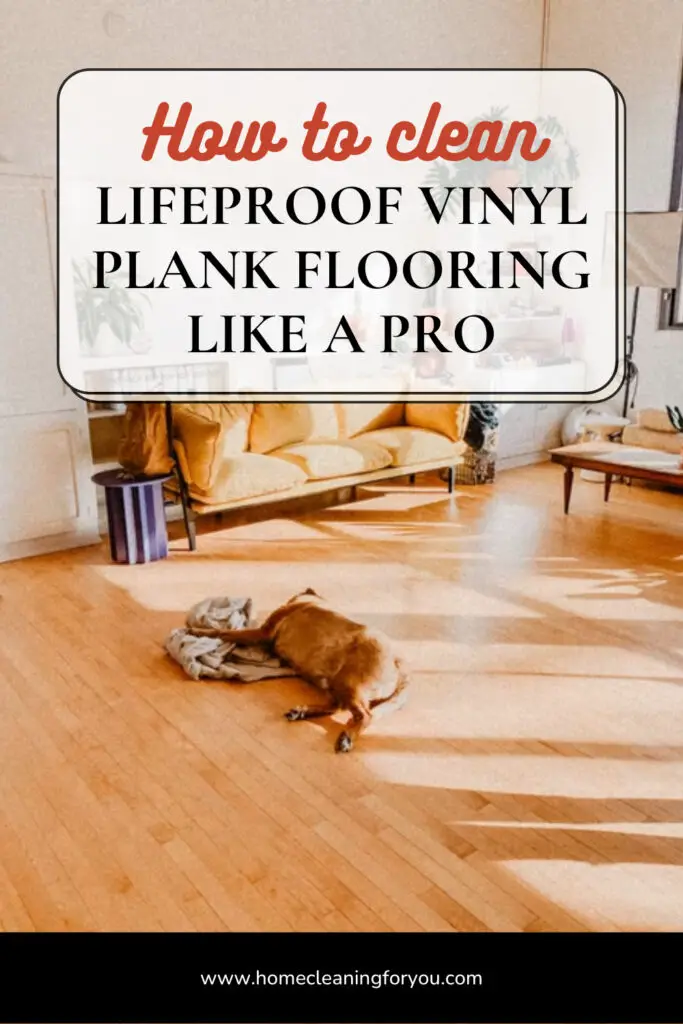 References
Canada, H. (2022). Exposure and health effects of chemicals – Canada.ca.
A Brief Guide to Mold, Moisture and Your Home | US EPA.