Unpleasant vacuum cleaner smells can quickly become a problem since you won't be able to use your appliance as you should. If you try to clean your house with a smelly vacuum cleaner, you will only cause the bad smells to spread. I know as I've been there, and one thing I discovered is that the causes for these foul odors are multiple.
Sanitizing your vacuum cleaner will surely help, and I will explain the necessary techniques in detail. However, there is more to solving this issue than just keeping your vacuum cleaner in top-notch condition.
Addressing each situation and cause that makes your vacuum cleaner smell badly is the best course of action. I will teach you how to tackle such problems and prevent your vacuum cleaner from spreading foul odors again.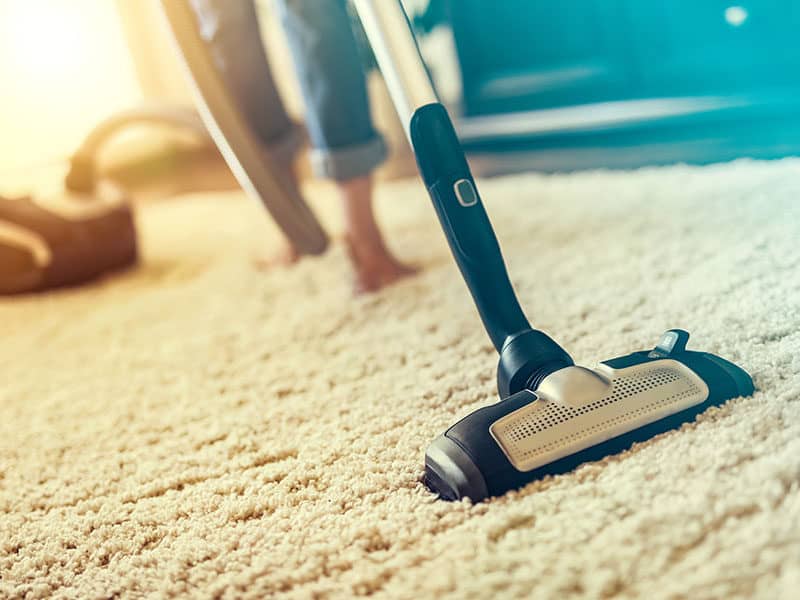 What Causes Vacuum Cleaner Smells?
What makes a vacuum cleaner smell so badly in the first place? I always start with what causes the problem so I can solve the issue. Here is a list of causes responsible for turning your home appliance into a source of foul odors.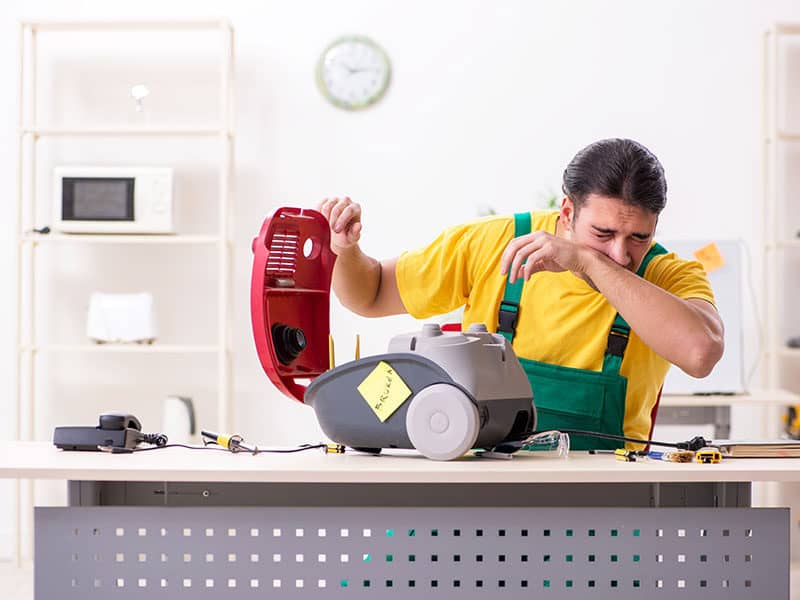 Rotten food. When you vacuum around the house, you inevitably end up with many crumbs and other small particles of food inside your appliance. These particles will go through a natural decay process and cause your vacuum cleaner to start smelling bad.
Coffee grinds that caught on mold. The suction power of your vacuum cleaner inevitably pulls such debris inside. While it leaves the floor looking clean, the vacuum cleaner will become a home for this debris that will start decomposing and catching mold due to moisture.
Pet hair. Even if you use the most efficient vacuum cleaner for pet hair, you will stumble upon this problem. The pet hair and dander will start clogging the appliance and cause unpleasant smells in the long run.
Pet urine. While it doesn't get inside your vacuum cleaner directly, pet urine sticks to shed hair and dander. That's why you notice your vacuum cleaner starting to smell like cat litter.
Accumulation of mold. The debris and dust you pick from the floors and carpets in your home can contain particles of water. Inside the vacuum cleaner, a closed environment, these particles find the perfect spot for starting to develop mold.
Too much dust. You clean your home because you want it to smell nice and fresh, and you do so by vacuuming. But all the dust you eliminate this way, if left inside a bagged or bagless vacuum cleaner, will start smelling.
A burnt belt. The rubber belt that makes the brush roll can become stretched and damaged if the brush doesn't work correctly. This happens when too much hair gets stuck in the brush, thus preventing the rotation. You can recognize a damaged belt by the burnt plastic or rubber smell.
What to Do When Your Vacuum Cleaner Smells Bad
Even if you don't know what caused the bad smells in the first place, you can apply the following instructions to eliminate most of the problems.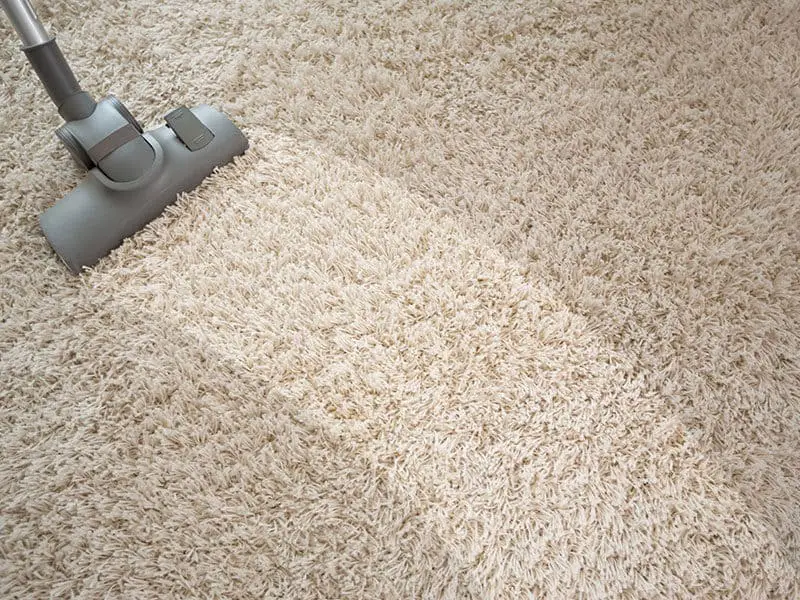 Step by Step Instructions
Remove the bag. If you have a bagged unit, getting rid of unpleasant smells is sometimes easy, as you may only need to replace the bag. Get original bags and opt for models that come with built-in filters. They can reduce the intensity of foul smells as they keep them inside.
Empty the dustbin. In case you have a bagless model, consider emptying the debris accumulated in the dustbin. Top-notch bagless vacuum cleanersallow you to get rid of the debris in an efficient and hassle-free manner.
Clean the inside of the vacuum cleaner. The smells might persist if you only apply the steps above. Therefore, you should consider cleaning the vacuum cleaner on the inside. Using a damp cloth dipped in a mixture of water and liquid soap, clean all the parts thoroughly. Wipe dry with a clean cloth to ensure that no moisture remains inside.
Check the filters. Another source of foul smells can be the filters inside your vacuum cleaner. They serve an essential role in catching all the allergens and dust, but they can get pretty dusty themselves. Therefore, you should consider cleaning your HEPA filter – if washable – or replacing it.
Clean the brush. This part of your vacuum cleaner is very important, but it can get tangled with hair and debris. Remove it from the main unit – unplug it first – and give it a good wash with water and soap. If too much hair or debris is stuck, remove it with a pair of scissors, but pay attention not to cut the bristles.
Clean the hose. The smells might persist because of a dirty hose. Remove it from the main unit and immerse it in a sink filled with hot water. Mix in one tablespoon of dish soap and two of bleach and move the hose around so that the water gets through. Rinse thoroughly afterward by letting clean cold water run through. Dry it thoroughly before putting it back. A clean hose will help your vacuum cleaner smell fresh.
To make sure the entire process is trouble-free, see how pros do it:
What to Do When Your Vacuum Cleaner Smells Like Burning
A vacuum cleaner is a complex mechanism with moving parts that ensure its ultimate purpose, eliminating dirt and debris from your home. If you notice a burning smell while using it, it could be a sign of a severe problem.
Step by Step Instructions
Turn off the vacuum cleaner and unplug it. To eliminate the risk of accidents, unplug the vacuum cleaner the moment you notice the burning smell.
Check the belt for signs of damage and malfunction. Plenty of times, a malfunctioning rubber belt can be the cause. See if there is anything such as stuck debris or hair stopping it from rotating normally. Sometimes, a broken belt is the culprit. If that's the case, consider replacing it.
Check for things stuck between the brush roller and the belt. Sometimes, large debris can get caught in there, causing a burning smell to appear.
Check the brush roller. Your brush roller may break during operation, and that can be the source of the smell. If that's the case, you must replace it.
If none of the above applies, the source of the problem can be a malfunctioning motor. In that case, I recommend enlisting the help of a professional. Also, you may want to purchase a better unit. High-quality vacuum cleaners with HEPA filters should be high on your list.
See this video on how to diagnose such a problem correctly:
What to Do When Your Vacuum Cleaner Smells Like Burnt Rubber
Sometimes, vacuum cleaners break down, but it is quite often that the rubber belt ensuring the rotation of the brush roll is the culprit. When that happens, a persistent burnt rubber smell appears.
Step by Step Instructions
Unplug your unit. To ensure that you check your vacuum cleaner in perfect safety, this is the first step you should undertake.
Observe the state of the rubber belt. If it's broken or too stretched, you've identified the problem.
Replace the belt. The manufacturer's manual should be able to point you in the right direction. Never opt for cheap, inferior quality parts.
Make sure everything works flawlessly. With the new belt in place, the roller should be able to rotate without any problems.
Bonus tip: Replace the rubber belt once a year. Even if you use your vacuum cleaner correctly, the rubber belt will stretch and begin to malfunction. Metal belts are also a solid choice as they break down less often.
To learn how to replace a rubber belt correctly, check out this video:
What to Do When Your Vacuum Cleaner Smells Moldy
A common problem reported is the mold that appears to find a suitable environment inside your vacuum cleaner. To deal with this problem, you will need to do a few things.
Step by Step Instructions
Take the vacuum cleaner apart. Unplug the unit and open it to check the situation. Sometimes, debris and pet hair can clog the valves. Remove all these blockages.
Remove the filters. Most often, the mold finds a thriving environment inside the filters. Take them out of the house to prevent the spores from spreading.
Wash the filters. A good option is a mix of vinegar, baking soda, and water. The active ingredients will kill the mold spores, thus eliminating the problem.
Wash other parts. The canister and the hose should also be washed. A cleaning solution with water and baking soda will do the trick.
Leave the filters to air dry. This way, you will ensure that the spores don't remain trapped in water particles.
Wipe dry the canister and all the parts. Nothing should contain traces of water once you place them all back as they were.
Leave the hose to hang and dry for at least 24 hours. This part is the hardest to dry, which is why you need to make sure there are no traces of moisture left.
Bonus tip: Prevention is better than the cure, so make sure you don't pick up spilled liquids with your vacuum cleaner. Unless it is labeled as a wet vacuum cleaner, it will develop mold as a result. In case the unit starts to smell musty, the above steps will help you get rid of it.
If you don't know how to remove the filters on your vacuum cleaner and put them back in, see how it's done here:
What to Do When Your Vacuum Cleaner Smells Like Cat Litter
As any pet owner who loves her loyal companions, I cannot deny that dealing with the smells they cause can be an uphill battle sometimes. It's not unusual for your vacuum cleaner to start smelling like cat litter. If that happens, here's what to do.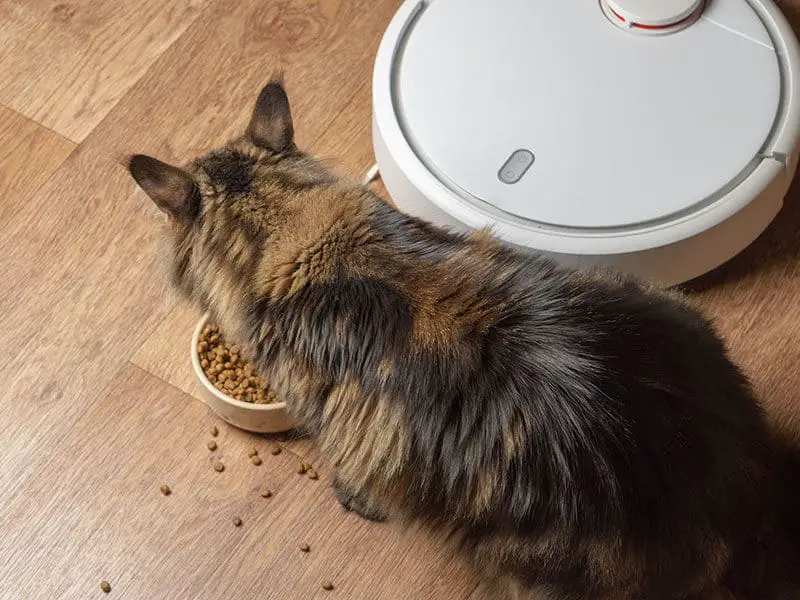 Step by Step Instructions
Remove the filters. They are there to ensure that they trap allergens, but that means that they can get loaded with them after a while.
See the manufacturer's manual for instructions on how to remove the filters. There should be information in there related to how to wash the filters.
Check if the filters are washable. Some filters shouldn't be washed, as they are disposable. If that's the case, you should know so that you don't end up with faulty filters on your hands.
Wash the dustbin. If you have a bagless model, you should thoroughly wash the dustbin with soapy water.
Replace the bag. If you have a bagged vacuum cleaner, this simple step will eliminate most of the problems.
Make sure to dry all the parts before putting them back on.
Opt for essential oils to fight off the bad smells. To ensure that your vacuum cleaner smells fresh even with cats around the house, here's a simple solution. Mix 30 drops of lemongrass or thyme essential oil with water and a teaspoon of baking soda inside a 32-ounce bottle. Spray the inside of the dustbin or the bag while making sure not to wet it excessively.
Bonus tip: Not all vacuum cleaners are fit to pick up cat litter. While the smell can be caused by pet hair with urine stuck to it, reduce the occurrence of this problem by not using your appliance for picking up spilled cat litter. Use a broom and a dustpan for this task instead.
To clean a filter efficiently, you need to follow a few simple steps, as shown here:
What to Do When Your Vacuum Cleaner Smells Like Dog
In a house with pets, vacuuming regularly is close to a religion for most people, including myself. However, as thorough as you may be when cleaning the house, your vacuum cleaner may still smell like a dog all the time. This is what you can do to stop the foul odor.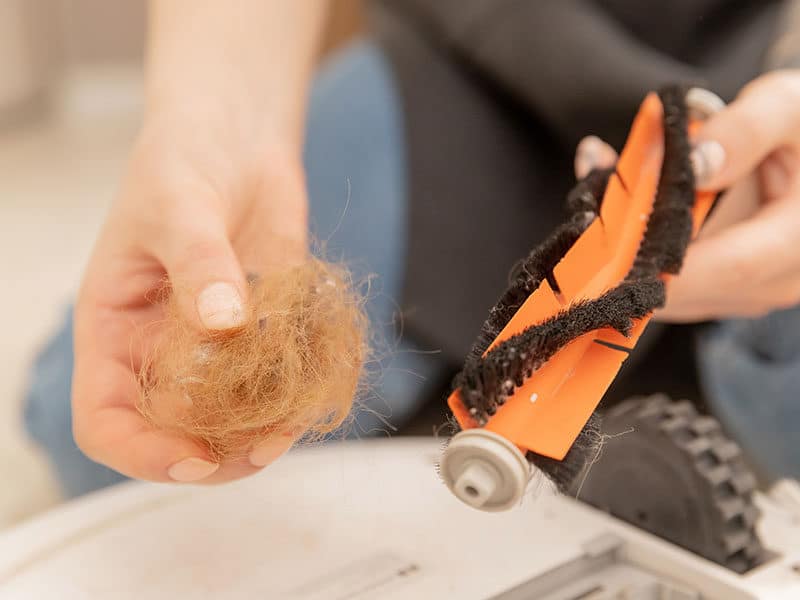 Step by Step Instructions
Empty the dustbin first. Most of the time, the source of smell comes from the dustbin in bagless models. If there is too much hair from your dog trapped inside, a musty odor may appear.
Replace the bag before each vacuuming. If you have a dog that sheds a lot or more than one, one thing you can do to prevent such smells is to replace the bag on a bagged unit each time you clean the house.
Clean the filters. Dog hair is not the only one causing problems. Pet dander gets caught in the filters, causing unpleasant smells. Wash the filters with a mix of baking soda and water, and leave them to dry before putting them back in.
Check the brush. A lot of pet hair gets trapped in there, and thus, unpleasant smells appear. Remove the blockages and use scissors if there are tough hairs caught in the bristles.
Use cinnamon as a prevention method. Dog hair and dander cause trouble because they are a suitable environment for bacteria to thrive. But if you place half a tablespoon of this pleasant smelling spice inside the bag or bin, its antibacterial properties will fight them off.
What to Do When Your Vacuum Cleaner Smells Like Vomit
All kinds of nasty smells may appear when using a vacuum cleaner. In case you used your vacuum cleaner to clean up vomit, it is not unusual that the unit starts smelling foul. To eliminate this problem, I recommend following the next steps.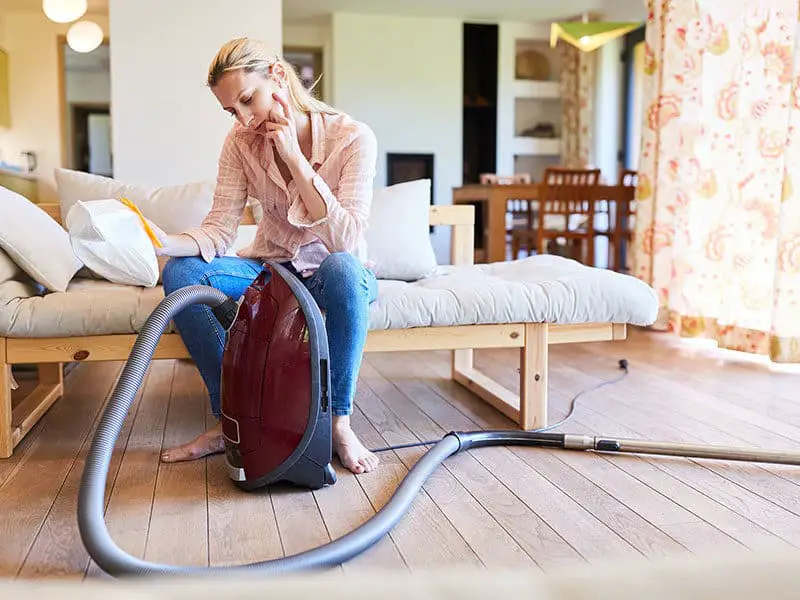 Step by Step Instructions
Take out the filter. The foul smells often come from the filter used to prevent the allergens from spreading into the air you're breathing. However, that means that it also acts as a barrier that gets clogged with debris.
Clean the area around the filter. The chances are that the smell has spread inside, so wiping the inside with a damp cloth should eliminate this problem.
Wash the filter thoroughly. Baking soda and water are your biggest allies when you must deal with foul smells like vomit. Your number one priority must be to eliminate bacteria, and that's what this mix does.
Replace the bag. On bagged units, it is highly recommended to remove the bag and place a brand new one inside.
Clean the dustbin. You should pay extra attention to this step, as germs and bacteria can remain glued to the dustbin walls when you use a bagless model.
Remove and wash the brush. If you used the vacuum cleaner to clean up vomit, the brush surely stinks now. A solution with vinegar and water will do wonders and eliminate the bad smells.
Wash the hose. Remove the hose and place it in the sink with water and dish soap. Letting the water go in and out, you will ensure that the inside of the hose gets properly clean.
Leave the hose to dry in the sun. The last traces of moisture must be eliminated before you put back together your vacuum cleaner.
A few steps are needed to clean a vacuum cleaner hose, as described in this video:
Bonus Tips
You don't have to let bad vacuum cleaner smells become a problem. You can prevent such an issue by adding vacuum scented granules or use other products with antibacterial properties. Pieces of orange peel inserted in the bag or the dustbin, as well as baking soda and cinnamon, will help your vacuum cleaner smell fresh.
Nonetheless, you shouldn't overlook regular cleaning. Keeping your vacuum cleaner free of germs and bacteria is essential for your health. Clean the parts thoroughly once a month, and you won't have to fear bad smells or bacteria again.
If you liked this article and found the information you were searching for, please don't forget to share it on your social media.