How Much Does Carpet Cleaning Cost in 2024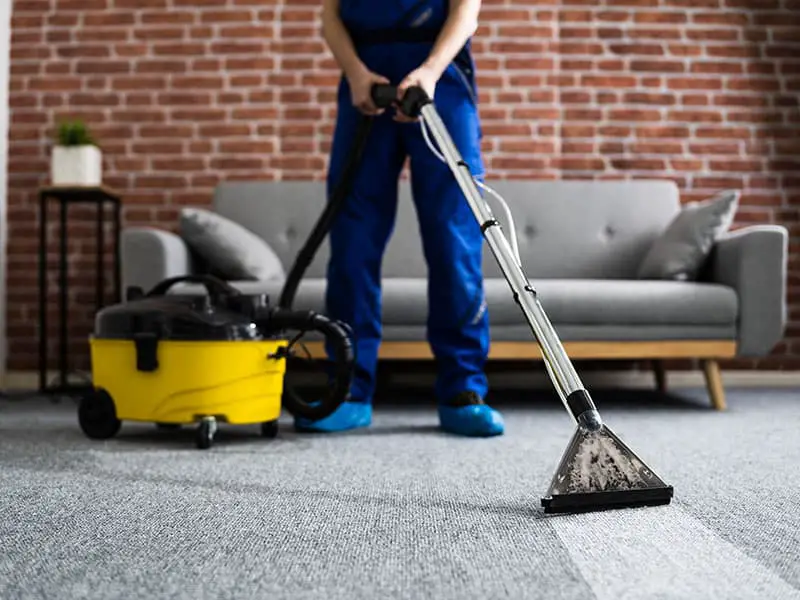 If you're wondering how much does carpet cleaning costs, this article is for you.
As someone with an obsessive-compulsive disorder for cleanliness, I know how irritating those old stains or grime underneath your carpet can be. You try to clean them but see no success.
This is when it's time to hire professionals that will deeply cleanse and refresh your carpet. They have in-depth knowledge and cleaning machines but their services come at different prices.
In this article, I will talk about the average cost and share a detailed hiring guide.
How Much Does Carpet Cleaning Typically Cost?
According to the industry's average, expect to pay between $125-$250.
Most homeowners pay around $175. However, if you want to know the exact price, it's best to request a free estimate from different cleaning service providers and make your final choice.
Keep in mind that the final cost can vary depending on your location and the company, most of the time. Make sure to ask if what they're providing is a non-binding or free binding estimate.
In the next section, I will explain the factors that determine the final cost.
Local Carpet Cleaning Price Per Square Foot
Carpet cleaning companies charge based on your square footage or per hour per individual. The first one is more popular among homeowners and commercial establishments because it's cost-effective.
As I already mentioned at the beginning, the average cost per square foot for carpet cleaning goes from $0.20-$0.40. Let's take a look at some estimates for carpet cleaning based on area square footage.
| | |
| --- | --- |
| Square footage | Average cost |
| 200-400 square foot | $70-$130 |
| 500-1,000 square foot | $100-$250 |
| 1,000-1,500 square foot | $200-$300 |
| 1,500-2,000 square foot | $250-$450 |
| 2,000-3,000 square foot | $400-$600 |
Carpet Cleaning Price Per Room
Some cleaning companies charge per room, especially if it's a smaller space. The typical cost per room is between $25-$80. But here's the real kicker. You can ask your cleaning service company for a discount if you're going to have a few rooms cleaned. Let's check the average prices per room.
| | |
| --- | --- |
| Number of rooms | Average cost |
| 1 room | $25-$80 |
| 2 rooms | $50-$150 |
| 3 rooms | $75-$225 |
| 4 rooms | $100-$300 |
| 5 rooms and more | $150-$600 |
Price Per Carpet Cleansing Technique
Different companies have different approaches for different types of carpets and stains present for their customers. Most homeowners prefer the steam cleaning option since it's super effective.
This cleaning method effectively takes down hairs, deep-seated stains, and grime on different carpets. If you're interested in a specific cleaning method, inform yourself of prices and extra costs.
Carpet Steam Cleaning
As I already said, the carpet steam cleaning method is a popular choice among homeowners. It ensures a 90% deep cleansing action for all carpet types.
If you opt for this method, expect to pay between $100-$500. The best part? Some companies also offer warranty services for their cleaning packages.
Carpet Shampooing
Another popular cleaning method is carpet shampooing. It's perfect for heavy soils and stains. The worst part? It uses substantial water volume to take off all those foams. If you opt for this technique, expect to pay between $80-$400.
Dry Carpet Cleaning
Unlike carpet shampooing, dry carpet cleaning uses minimal water and provides a faster drying time. It's also called encapsulation. The name comes from the special cleaning powder that coats soils, stains, and dust. Then, they're vacuumed out from your carpets.
Expect to pay between $75-$350 for a dry carpet cleaning. This cleaning method is a go-to among offices and hotels with high foot traffic in their carpeted areas.
Carbonation Process
The carbonation process is a new method among cleaning companies. It consumes a small water volume for cleaning your carpets and costs between $125-$600.
Factors That Determine the Final Carpet Cleaning Cost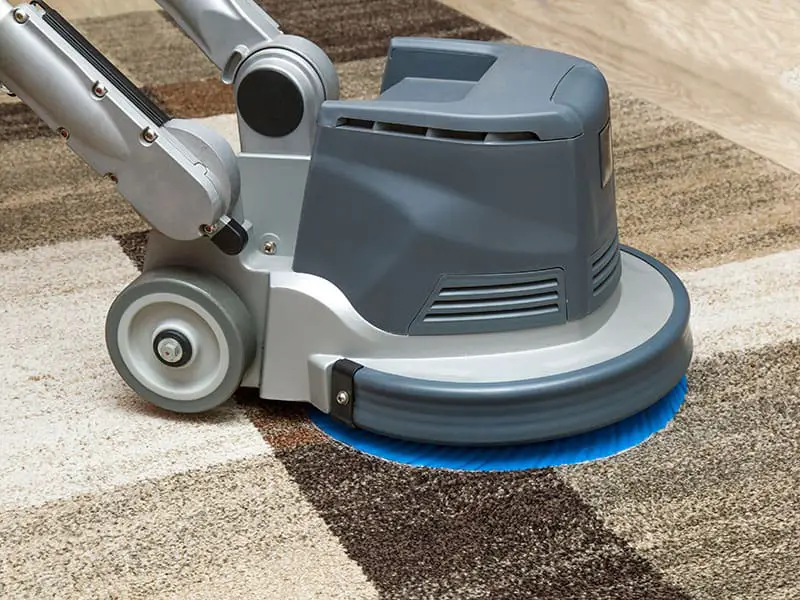 Carpet cleaning costs between $25-$70 per room or $0.25 per square foot of carpet. Most homeowners and other customers pay around $50 per room.
Therefore, a three-bedroom home will cost around $175 whereas bigger home cleans can cost between $300-$600. Ask for a free estimate from local carpet cleaners for a precise cost.
Also, keep in mind that extra tasks can increase your bills, so you need to consider the following factors impacting the overall cost of your carpet cleaning.
Type of Carpet
Carpets come in different materials including wool, polyester, nylon, cotton, wool, and olefin. And each material affects the intensity of the carpet cleaning process.
Often, the harder your carpet material to clean, the higher the carpet cleaning cost will be. For example, wool and cotton come at high prices and aren't easy to clean. Thus, the cost for cleaning these materials is between $110-$160. They're expensive to purchase and expensive to clean.
Cut and level loop, on the other hand, is a mid-range carpet material. Typically, it will cost you between $75-$120. Berber costs the least ($80-$100) because it's extremely easy to clean.
Carpet Cleaning for Apartments
If you reside in an apartment, expect to pay between $30-$60 for carpet cleaning per room. The cost can change depending on what floor you're on. The location will influence the convenience of moving all the cleaning equipment to your home which will affect the final price.
Stairs
The average extra price for cleaning carpeted stairs is between $2-$3 for every step. Typically, most local cleaners will put this on a different fee, apart from your overall square footage.
Stains Present
Normally, the harder the stain to clean, the higher the cleaning cost. The stain removal service for spilled foods, drinks, or pet accidents, will add between $40-$300 to your overall price.
Moving Furniture Aside
This might surprise some people but the company will also charge for moving your sofas, furniture, and chairs on the side. Thus, make sure your place is prepared for the carpet cleaners. Otherwise, expect to pay between $20-$50 per hour per staff.
Additional Considerations and Costs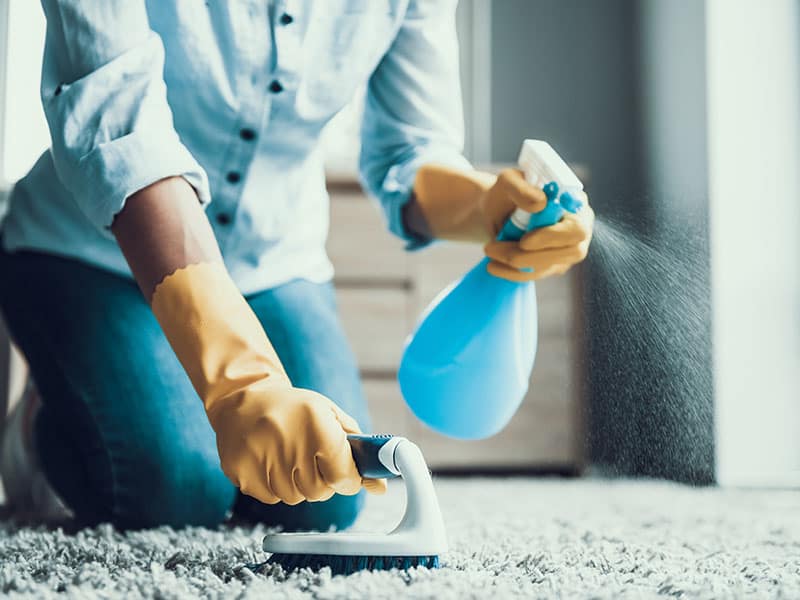 Many carpet warranties ask for professional carpet cleaning at least once a year. Usually, manufacturers ask for steam cleaning or deep cleaning methods to keep the flooring warranty valid.
These methods cost between $40-$70 per room. Extra fees include anti-static sprays, which range from $0.07-$0.10 per square foot. Or deodorizers, which range from $0.10-$0.30 per square foot.
Keep in mind that hiring a cleaning service to handle more than a single process at once usually leads to a discount. Meaning, many companies provide a lower price for cleaning a few rooms at once.
If you want to save some money and tackle stains with homemade cleaners, never rub them. Otherwise, you can push them deeper into the fibers. You can use different products for different stains.
Shaving cream and club soda have the power to remove stains. Use ice to remove gum and dishwashing detergent to lift away grease. Warm iron is perfect for removing wax and hydrogen peroxide can handle bloodstains. You can remove the stains before you hire professional service and save money.
Last but not least, don't forget to remove your furniture before you hire a carpet cleaner. Otherwise, the carpet cleaning company will charge you for moving the furniture, sofas, and chairs.
You should see the video below:
How to Choose the Best Carpet Cleaning Company?
When choosing the right carpet cleaning companies, use the following tips to ensure you make the best choice for your home.
Check Licenses and Insurance
Make sure that your carpet cleaning company or cleaner has the right business license for your state or city. Not every carpet cleaner is required to have a certification, however, some may be approved by the Institute of Inspection, Cleaning, and Restoration Certification.
Also, before you hire anyone, ask the cleaner or company if they deliver a warranty. This will protect you and them in case of different accidents during the cleaning process.
Consider Online Reviews and Ratings
It's always a good idea to google the best carpet cleaning services in your area and read their reviews or check their ratings.
Their online profiles will give you a sense of the type of services they offer. You can determine if they're good is by looking at before and after photos of their customers' carpets.
Take time to browse through reviews left by both satisfied and unsatisfied past customers, so you know what you're getting into.
Ask For Free Estimates From 3-5 Companies
Try to narrow down your options. Meaning, ask for free estimates from a few companies. Give the pros as much information about your cleaning needs as possible to ensure you get accurate quotes.
For instance, specify the number of areas you need to have cleaned, your carpet type and condition, and the square footage. Then, pick the company or cleaner that provides the best value for money.
When you're in touch with the company or cleaner, make sure you note all of the fees you can expect to pay for their services. Some companies add extra fees for add-ons like deodorizers or spot removal, so if you believe you may need extra services, state your needs so you get a more accurate final cost.
Is it Worth Getting Carpets Professionally Cleaned?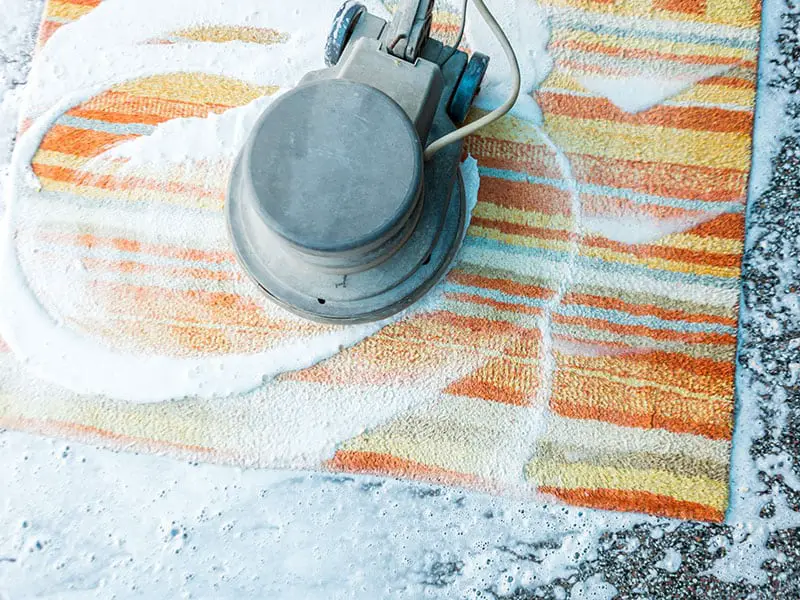 Of course, it's worth getting carpets professionally cleaned. It's costly but takes less time. Let's compare DIY vs professional carpet cleaning and summarize the pros and cons of both cleaning methods.
| Type | Pros | Cons |
| --- | --- | --- |
| DIY carpet cleaning | Less expensive | Potential equipment failure |
| | | Required knowledge of cleaning machine |
| | | Risk of carpet damage and mistakes |
| | | More time-intensive |
| Professional carpet cleaning | Insurance protection | More expensive |
| | No knowledge of cleaning machines required | |
| | No responsibility for equipment | |
| | Less time-intensive | |
If you take the DIY route and decide to clean your carpet yourself, you can easily rent a steam cleaner at grocery stores, home improvement stores, and other local retailers. They cost between $35-$50 per day, plus the cost of the detergent. Or you can buy a steam cleaner and save money in the long run.
Watch this video to know more:
Maintenance Tips
The following maintenance tips can help you keep your carpets in good condition. Proper maintenance is the key to the longevity of any product including a new carpet.
Cleaning your carpets before they look dirty prevents deep-seated stains and keeps dirt and debris from piling up. Regular vacuuming also keeps your living space healthier.
The worst part about a super dirty carpet? It costs more to clean because it takes longer. I highly suggest cleaning and maintaining your carpets daily, weekly, or monthly to lower the risk of permanent stains or damage. Vacuuming at least 2-3 times a week can keep dirt from setting into the fibers.
If you vacuum your carpets regularly, a homemade or commercial stain remover can lift away any stains easily. Also, always test products on a smaller part of your carpet before applying them to a large spot of your carpet. Lastly, hire professional carpet cleaners every 12-18 months for a deep clean.
Vacuuming only can prevent damage but a deep clean once per year or more frequently, depending on the daily traffic will take care of the dirt that sets deeply in your carpets.
Treat your carpets with a protective solution or apply a stain-resistant spray
Avoid walking with shoes on your carpets, so dirt and debris doesn't become stuck in them
Check if rugs stain when they become wet before applying them on top of carpets
Show Your Carpets Some Love!
When planning your carpets' cleaning, how much does carpet cleaning cost is a question you can't skip, especially if you've never hired a carpet cleaning service before.
Hopefully, today's article has given you some answers. There's a list of things that influence the end cost such as the size of your room, the type, and condition of your carpet, methods, etc.
However, you now have a clear overview of both overall costs and extra costs. While DIY carpet cleaning is a cheaper option, the amount of effort doesn't always weigh up against the cost of professional carpet cleaning. Carpet cleaning costs will range from $120-$230 based on different factors.
Therefore, if you're interested in a carpet cleaning service, it's best to contact a few local businesses and get a free estimate. That being said, do you have any experience with professionals?
If so, drop a comment below and share your tips and tricks with other homeowners. Also, share this cost guide with your social media friends and help someone in need.