Having dogs is for sure fun, however, they can cause a lot of work. In addition of walking them out regularly, a dog, especially a young one, can from time to time leave some traces in your home.
While hardwood floors are relatively easy to clean, poop on carpets, especially fluffy ones such as wool, oriental, or carpets with long fibers require a more complex cleaning.
At first sight, you may be shocked wondering how to have your carpets cleaned again. Do not worry, there are multiple ways of cleaning your carpets again, including the removal of unpleasant odors and bacteria.
Hence, if your dog has left poop on your rug or carpet, continue reading and find out how to get dog poop out of your carpet. Depending on the type of carpet, there are different cleaning methods, and you can conveniently find them all in this article.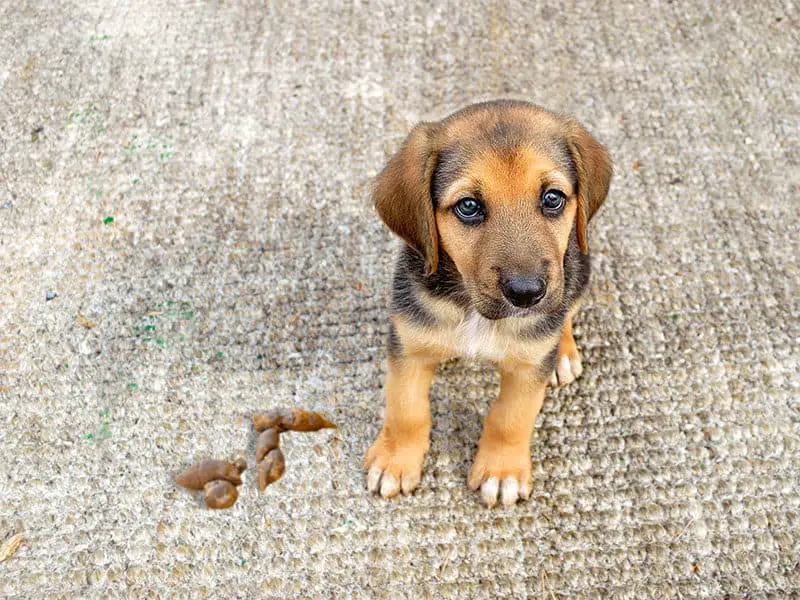 Cleaning Your Carpet From Dog Poop
In order to find out how to get dog poop out of your carpet, follow the easy and effective steps below:
Method 1: Non-Wool Carpets
Pet stains differ a lot from other carpet stains, as there can be some acids in the poop which are attacking the rug fibers, hence the cleaning methods differ from what you may be used to.
All except wool made carpets are able to cope with the strong and effective cleaning method, using hot water. Make sure to check that your carpet does not contain any wool before going ahead with this method.
What You Will Need:
Ingredients:
Pre-treatment laundry solution containing oxygen bleach
Distilled water
Liquid laundry detergent
White vinegar
Mineral water
Baking soda
Tools:
Plastic glove
Cardboard
Knife or spatula
Brush or sponge
Bucket
Paper towel
Step by Step Guide:
Step 1:
Whenever you experience some solid stains such as vomit or feces, start off by trying your best and remove grabbable, solid parts as soon as possible. Get a thin plastic glove, or a paper towel and try to move as much as possible onto a cardboard. Make sure to not rub on your carpets as this will make it much more difficult later on.
If the poop is rather dry, you can use a knife or a cake spatula to remove most of it. For more wet feces, you should better use your hands covered by a glove, allowing you to get a good grip.
Try to lock the poop immediately in a plastic bag and carry it to the trash can. Remember, pet feces can contain viruses and bacteria, so you should avoid touching it or breathing nearby.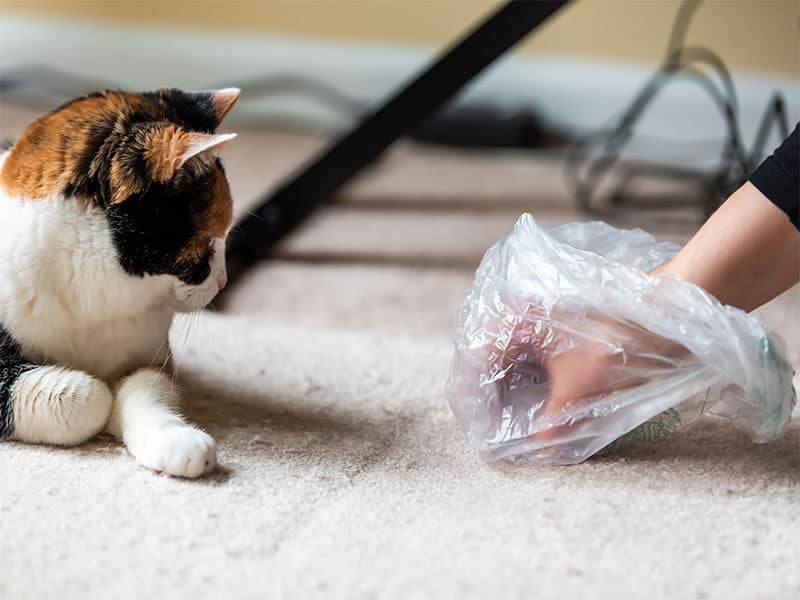 Step 2:
Next, it is important to sanitize the spot. Use a pre-treatment laundry solution that contains oxygen bleach. If you can fill this in a spray bottle, do so and spray it on the affected spot. If you do not have a spray dispenser at hand, then simply pour some solution on the spot of the carpet.
Let it sit there for about 10 minutes. While waiting, go ahead and prepare another cleaning solution.
Step 3:
Mix distilled water together with heated spring in a gallon bucket and add two tablespoons of liquid laundry detergent. Apply the solution to the affected area and be very generous on both the range and the volume. Let it sit again for about 10 minutes before continuing with the next step.
Step 4:
Take a brush, or a sponge and dip it into the laundry detergent solution bucket. Then, start brushing until you feel that the stain is completely gone.
The best way to move over the affected spot is to start from the outside and moving more and more inside, while doing a forward and backward movement. In between, wash your brush or sponge under tap water and then dip it again.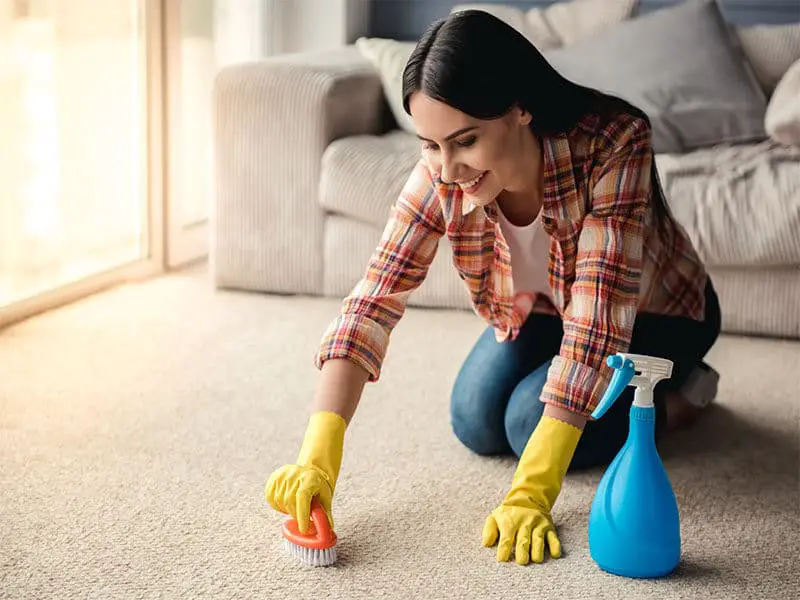 Step 5:
If you have a second bucket, fill it with fresh distilled water. If not, empty the first one and refill it. Take a paper towel to remove excess foam on the carpet. Then, brush again with sponge or brush being dipped into the fresh water.
Be generous again to make sure you remove all soap water from the carpet. Try to dig a little into the fibers with your hand to make sure you reach all areas.
Step 6:
Once you have been successful to remove the poop and the soap water, it is time to help your carpet dry again. Take a bunch of paper towels and press them onto the wet area of your carpet, letting them suction out most of the moisture.
Step 7:
In some cases, the feces from your pet actually have left a strong odor on your carpet. If you can still smell it after cleaning it up already, you need to apply a few more steps.
Take a bowl and mix white vinegar together with mineral water, such as Seltzer, in a one to one mixture. Pour that liquid directly onto the affected area and use paper towels again, pressing them onto the area to remove excess liquid.
Step 8:
Take some baking soda and sprinkle it over the area. Baking soda is great in removing odors, and the best effect is achieved after waiting at least 24, but ideally 48 hours. After that time, vacuum the carpet to remove the baking soda powder again.
During the waiting time, make sure that no one is walking over the carpet as this could move the baking soda away from the spot it is supposed to work on.
To fully see all steps of how to clean dog poop out of your carpet, watch this video
Method 2: Wool Carpets
As you may know already from doing laundry, wool is a much more sensitive material than others. Hence, you need to apply a more delicate method than with other carpets.
What You Will Need:
Materials:
Distilled water
White vinegar
Wool spot remover
Baking soda
Wool absorbing product
Tools:
Knife or spatula
Plastic glove
Cardboard
Paper towel
Step by Step Guide:
Step 1:
Similar as above, start with removing everything that is still grabbable. If the poop is hard, take a knife, a spoon, or a spatula to pick up as much as possible. If it is more wet, then it is best to take a thin plastic glove and try grabbing it with your hand.
You can move it onto a sheet of cardboard or directly into a plastic bag. Once collected, make sure to lock it in a plastic bag and bring it out to the trash can as soon as possible. At all times, pay attention to not push or rub it further into the carpet.
Step 2:
Create a mixture using 2/3 of a cup of distilled water and 1/3 of a cup of white vinegar. Ideally, you can mix that into an empty spray bottle if you have one at home. If not, add it into a bucket or a bowl.
Remember, wool is not capable with heat. Hence, avoid using warm water at all times. Also, do not use any steam cleaner on your wool carpet, as this will permanently damage the material of your rug, and you will lose the soft and comfortable feeling.
Step 3:
Spray on the affected area and use a white paper towel or cloth to blot it. It is very important to not rub or scrub the spot as this can destroy your wool carpet. Remember, wool requires a gentle cleaning, therefore blotting is much better in this case.
Continue to blot and exchange the paper towels from time to time, until the stain has successfully been lifted from the carpet.
Step 4:
If there are still some traces left, apply a wool spot remover. Spray some of the detergent onto the affected area and blot it again with a white paper towel. Next, place a clean cloth over the wet area, and step on it to help removing any excess liquid from the wool.
Step 5:
To tackle the unpleasant odor, use baking soda and sprinkle it over the affected spot. If you have, you can also use absorbing products approved for wool, in addition to the baking soda.
Keep both powders sitting at least for 24 hours and vacuum afterwards.
During the waiting time, it would be good if nobody is stepping on or walking over the carpets, so that the baking soda can achieve the best results.
Step 6:
Lift the carpet and touch the bottom to check whether it is dry. If you still can feel some moisture, fold it halfway to allow that fresh air can access the affected spot from both sides, to speed up drying.
Failing to do that can actually support the growth of mold or fungus. Hence, it is important to do this final check.
General Advice On Cleaning Dog Poop Out Of Your Carpet
In addition to the step-by-step guide above, pay attention to the points below also to make sure you achieve best and satisfying results, while preventing your carpets from further damage.
The Early Bird Is More Successful
As with many things, time matters. It is very important to get started with cleaning as soon as the mess happened. If you act immediately, there is a high chance that you can remove the accident completely.
If, however you wait for too long, the acids in the poop will start to attack the material, and you may not be able to fully remove it anymore.
Fix Your Dog Somewhere Else In The Home
It is important to make sure that the dog is not stepping on the poop again, as this would press it even further into the fibers.
To make sure you can concentrate on cleaning, try to tie your dog up in another room, or ask someone from your family to take your dog out for a walk while you are cleaning.
Keep Calm
When this happens the first time, or the carpet is very expensive, many people tend to panic. This is however unfavorable as people tend to rush and stop being careful.
However, rushing and not following the steps carefully can damage your carpet further. Hence, I advice you to keep calm, and carefully follow the steps from above.
Be Much More Generous With Rinsing
Be much more generous with rinsing than you have been with the cleaning detergent. It is important to rinse out all soap afterwards. Especially carpets with a very high density of material must be thoroughly rinsed.
Pay Enough Time To Drying
Most people forget to also take care of drying the carpet after the tough cleaning process. Once the carpet is clean, people are so glad that they could save their precious carpet, that they do not think anymore about cleaning.
Therefore, I want to remind you again to make sure that your carpet has the chance to get dry. Make sure that your carpet has access to enough fresh air, ideally from both sides. You may fold it over, or even hang it over a laundry horse.
How To Prevent Your Dog from Pooping On Your Carpet?
In addition of knowing how to clean your carpets from dog poop, you can apply a few strategies to prevent such accidents from happening in the future again.
Go For A Walk Often
If you walk your dog outside for about three to four times a day, your dog has plenty of occasions of doing the poop affair outside. Try to bring your dog to an area that is comfortable for him, such as a forest, or a lake.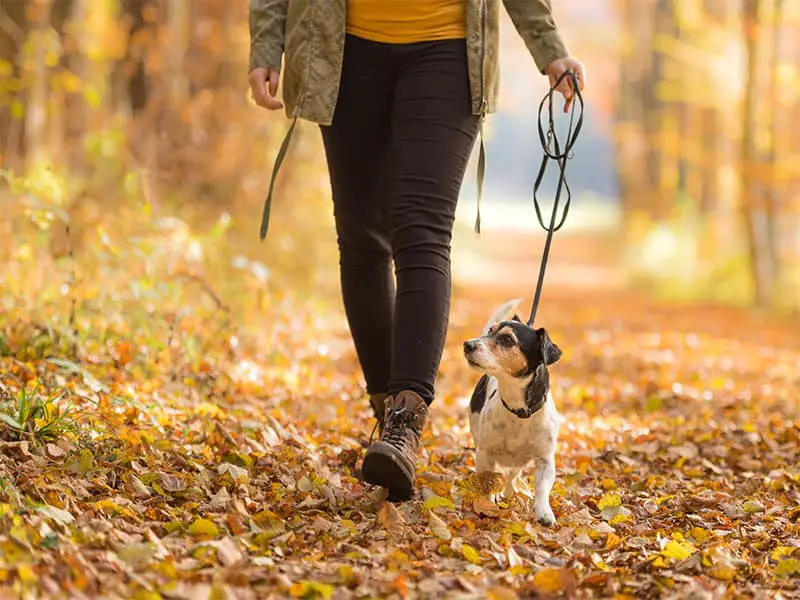 Conditioning With Rewards
Professional pet trainers do reward their animals up to four times more than private pet owners do, according to a recent study in the U.S. Use this tactic and praise your dog, showing extreme love whenever he did his business outside of the home.
Your dog will notice your appreciation for pooping outside. In addition, watch your dog carefully at home and when you notice he will do his business on your carpet, instruct him to go outside using loud, powerful voice. Over time, he will learn that you appreciate pooping outside and dislike pooping inside.
Consistent Feeding Schedule
Like us humans prefer to have a rhythm and routine in our everyday life, dogs will adapt to a schedule as well. If you will always prepare food for your dog at the same time, his days will become a routine as well.
This includes the time for pooping. If your feeding schedule is consistent, then your dog will most likely poop more or less at the same time as well.
Buy A Puddle Pad
If the above ways are not working, you can consider buying a puddle pad. This is a pad, looking very similar to a carpet, attracting your dog to do business there. Some puddle pads can be placed outside as well, which means you can use it to train your dog going outside.
Effectiveness Vs. Reality
Now that you know a few methods of cleaning carpets from dog poop while at the same time also knowing strategies to prevent your dog from actually pooping inside your home, you may wonder how effective the measures are.
The cleaning methods had been tested and if you follow all the steps carefully, your chances are very large. However, every carpet is different and hence a perfect outcome can never be guaranteed.
If you are not satisfied with the result, you can leave a comment and discuss your issues with others having similar problems. If you are successful, I am also happy to hear your comment, as I am curious to know whether my article was helpful for you.
Good Luck!