Low vs. Medium vs. High Pile Carpet – Learn The Difference
Low vs. medium vs. high pile carpet, what type will you opt for? Indeed, choosing carpet is not only about its material, design; it is also about its pile. But what is the quality of these pile heights? Will it best suit you, your family, and even your cute fur babies?
In this article, I will tackle the whole idea about the low, medium, and high pile carpets, showing you the difference through their characteristics to make the right decision.
After all, all you want is a beautiful, durable, and warm floor covering, right? So keep rolling down the page to find out.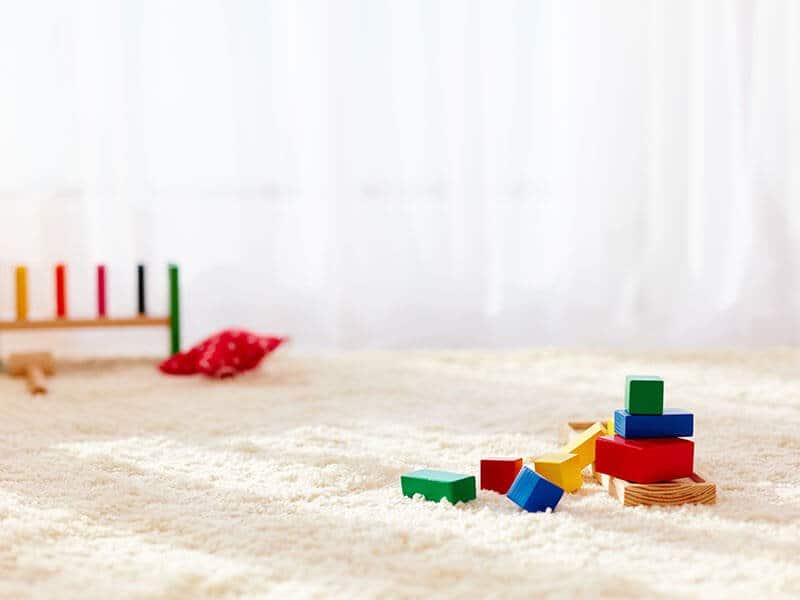 What Are Carpet Piles?
In short, carpet piles are the fiber loops that are attached to a carpet backing. It refers to the thickness (or the height) of the pile carpet. Plus, the origin of the term 'pile' is from 'pilus' in Latin, which means hair (1).
Based on that, people classify them into 3 particular classes: Low, Medium, and High, which are also the main topics in this post.
The feature of each height will provide a different softness, looseness, or tightness that can meet various inquiries. So if you want to know whether low, medium, or high pile carpet fits your preference, the next part will give you the answer you are looking for.
Low, Medium, and High Pile Carpet – What To Consider
First of all, remember that the pile carpet's height (or length) excludes the carpet backing. It is just the soft fibers that you can see on the surface. In choosing the appropriate height, you need to consider 6 factors thoroughly.
Now, let's check the following table for quick information about these 3 fibers' carpet lengths.
Features
Low Pile Carpet
Medium Pile Carpet
High Pile Carpet
Length
Texture

Shorter and tighter loops with denser and flatter texture
Smoother surface
Not too soft

Softer and more comfortable than low ones

Incredibly soft with a plush and looser appearance

Cleaning and Maintenance
Convenience and Safety

Easy to shift stuff/furniture on them
Will not leave dents when placing heavy furniture
Suitable for an allergic person

Suitable for an allergic person

Great insulation and soundproof
Safer for kids, particularly when they fall

Best Used In

High-traffic areas (e.g., living, kitchen, or playroom)

Moderate-traffic areas (e.g., living room, kitchen, or bedroom)

Low-traffic areas (e.g., office, reading/working room, guest room, or bedroom)

Cost
1. Length
There are 3 main length ranges to determine which one is low, medium, or high pile of carpeting. And they are:
Low pile carpet: less than 1/4 inch
Medium pile carpet: from 1/4 inch to 1/2 inch
And High pile carpet: from 1/2 inch to 3/4 inch
In reality, you can also find some pile carpet that is longer than 3/4 inches, often called shag.
Plus, some manufacturers only list the pile height into 2 main groups: low and high, so if you want to ensure the number, you can use the tape to measure it. Just do not forget to exclude the carpet backing.
What is the fundamental criterion that makes a high pile carpet? You can see this video to know more: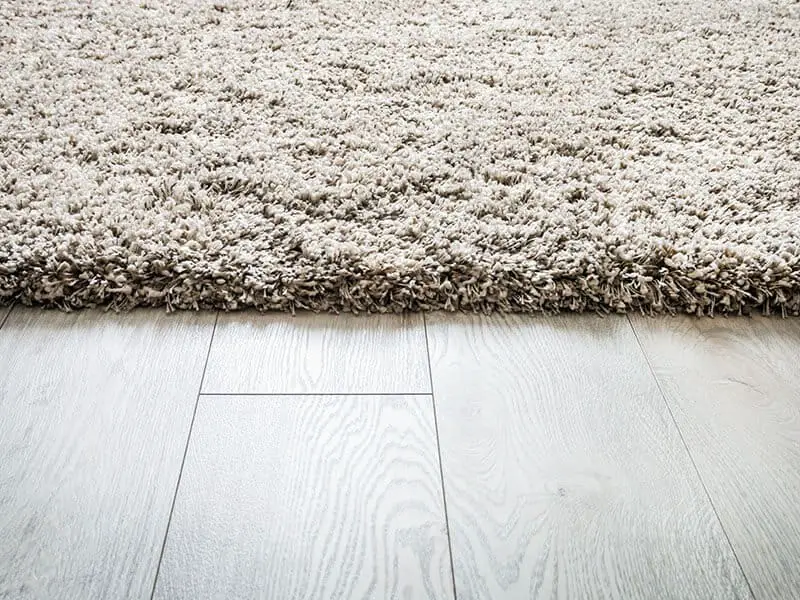 2. Texture
Low pile carpets have shorter and tighter loops, making their texture look denser and flatter than the other 2 types. Short fibers also make their surface look smoother. However, their softness is not too good. You can even feel a little bit coarse when barefoot walking on them.
Medium pile carpets, which are the middle types, can share the advantages of low and high pile carpets. Their fibers are not as tight as low ones, making them softer and more comfortable to walk on. They also have a luxurious look like the high pile carpet.
As the name suggests, if you are looking for a long-fiber floor covering which can offer you super softness underfoot, a high pile carpet is the one. They have a plush and looser appearance that can boost the luxury of your room by their full and fluffy look.
3. Cleaning And Maintenance
It is clear to see that low pile carpets are much easier to clean than long types, thanks to their flatter surface with short and tight fibers. That's why hair, tough dirt, debris, etc., can barely stick on them.
Or even if there are some, you still can use a vacuum to suck and clean these objects quickly. So suppose you want a low-maintenance carpet or are too busy to clean them regularly, choose a low pile sort.
Though not as easy as the low-pile, the cleaning part for medium pile carpet is still manageable. They do not have long fibers, and their density is dense enough to ensure there is not too much dirt that can be trapped on them.
You can use a regular vacuum with motorized brush rollers to clean and maintain this type of carpet. Avoid using the machine with automatic height adjustment.
In contrast, a long pile carpet would be more challenging to clean. They can accumulate higher levels of allergens than the other two. Also, their long fibers can be stuck in the vacuum cleaner, which will take more time and effort to get rid of dirt, debris, stains, etc.
Long pile carpets also require better maintenance by using the appropriate vacuum. The suitable ones could be a height adjustment appliance with a power nozzle tool. But do not worry, you can easily find various best vacuum cleaners for high pile carpet on the market.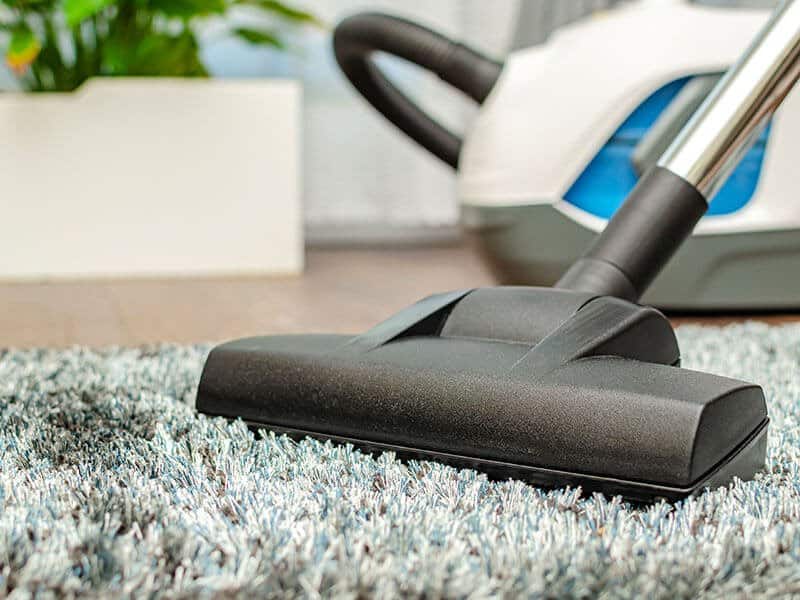 4. Convenience and Safety
Speaking of convenience, low pile carpets allow you to move your stuff or furniture on them easier, which you can hardly do the same on high sorts.
Moreover, when you place heavy stuff on shorter-fiber carpets (like low and medium ones), the chance of leaving dents is fewer or barely noticeable. People also have proven that the higher pile density (like low and medium-pile carpet), the lower deformation of carpet (2).
And if you are an allergic person, low or medium-pile carpets are your better choice as they will not hold too many allergens on their surface.
Sounds like high piles carpet is not too ideal for convenience and safety aspects? Actually, these high types are still a good choice for your kids when they fall on the carpet, thanks to the long fibers.
And if you need good insulation and soundproof, the winner is high pile carpet since they can keep the heat well and isolate the sound.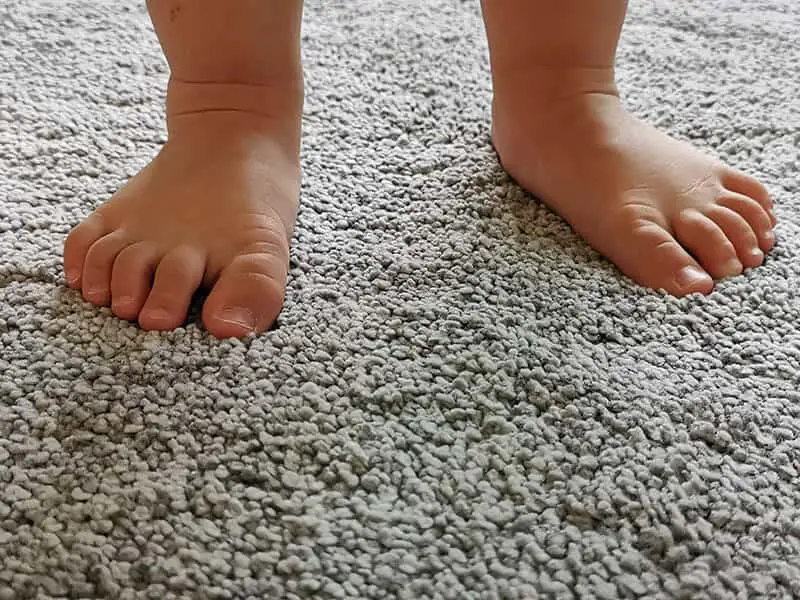 5. Best Used In
Based on the distinctive features and cleanability of these 3 types of height, you can determine where they should belong.
With low types, it would be better to install them in the high traffic areas, for example, living, kitchen, or playroom of your kids because you can easily clean them.
With medium pile carpet, as they have the perks of short fibers, they can handle the moderate foot traffic with no problem. So you can still use it in the living room, kitchen, or even bedrooms as they can offer the relative softness as the high-height sort.
However, it is not recommended to put high pile carpet on heavy traffic areas. They are best placed in the office, reading or working room, guest room, and bedroom to enhance comfort, warmth, and coziness. They make your room look more luxurious as well.
This detailed instruction will show you why lower pile carpets should be used in high-traffic rooms.
6. Cost
Obviously, shorter fibers mean a lower price, so you can consider using low to medium pile carpets if your budget is tight.
High pile carpet, in contrast, is more expensive because it needs more fiber and more complex manufacturing. Some people in middle-class households think they cannot afford these floor coverings.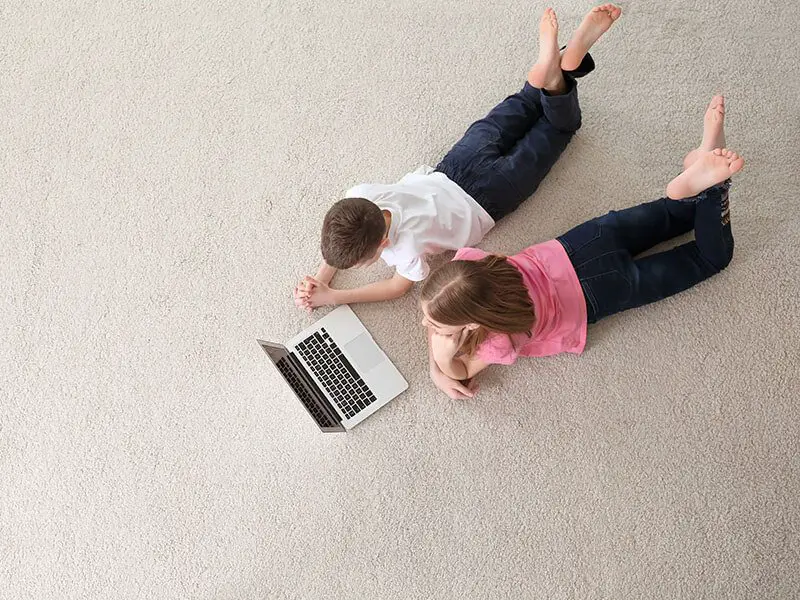 Pros and Cons Of Low, Medium, And High Pile Carpet
To better grasp, let me sum up some key points of these 3 objects' pros and cons when choosing the most suitable carpet pile.
Pluses and Minuses of Low Pile Carpet
If you want to buy a low pile carpet, here are some advantages and disadvantages to ensure you are making the right choice.
Pros:
Perfect for busy bee and allergy suffers
Easy to clean and maintain
Easy to move furniture and stuff
Suitable for high-traffic spaces
Higher durability
Friendly-budget
Cons:
Lack comfort, warmth, coziness, and aesthetic
Lack softness as you might feel coarser underfoot
Not good at insulation
Pluses and Minuses of Medium Pile Carpet
The medium type has characteristics of both low and high pile carpets. Thus, depending on their heights closer to low or high types, they will have similar pros and cons as such. Below are general pros and cons that you can note.
Pros:
Can provide the softness
Easier to clean and maintain compared to high pile carpets
Good for medium foot-traffic level
Cons:
More prone to accumulate debris, hair, dirt, etc., than low pile carpets
Cannot be cleaned by an automatic height adjustment vacuum
Pluses and Minuses of High Pile Carpet
Similarly, longer-fiber carpets also have their distinctive advantages and drawbacks that cannot satisfy all people, which are:
Pros:
Can protect your kids from falling pain
Offer the most luxurious and 'family' feeling
Increase the coziness, comfort, and warmth of your room
Can dampen noise
Good soundproof
Cons:
Easily damaged by hard furniture or high-foot traffic areas
Not suitable for stairs
Difficult to move furniture or stuff on it
Collect allergen, debris, dust, etc., which is not good for allergic people
Harder to clean and maintenance than shorter-fiber pile carpets
Type Of Carpet Piles With Specific Pile Height
Carpet piles can be grouped into 3 main types: Cut Pile, Loop Pile, and a combination of Cut and Loop Pile. These types can be made from various fiber materials like natural (e.g., wool) or synthetic (e.g., polyester, nylon, acrylic, triexta, etc.).
They also have different ranges of heights and styles. Please check the following table for more information.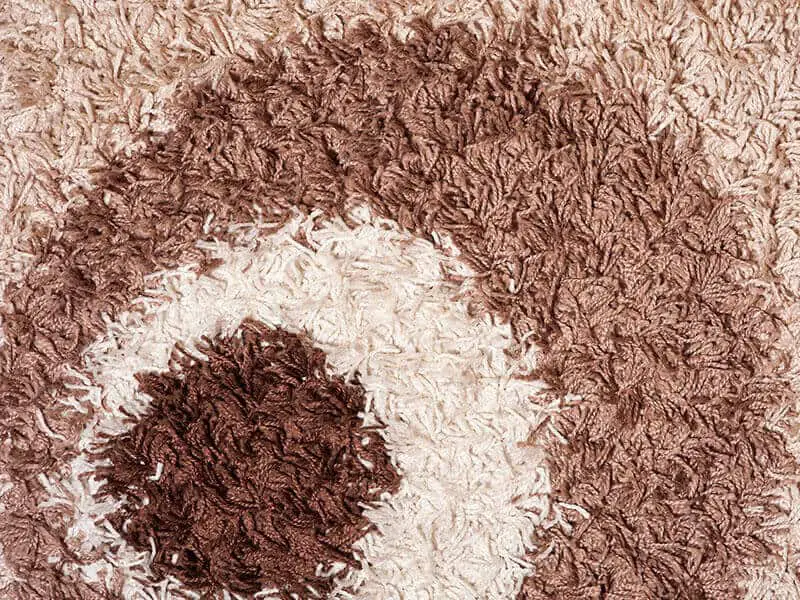 Carpet Pile
Styles
Height
Cut Pile Carpet
Made from cutting yarn loops at the top to create the same-length fibers.
Velvet

Low
Velour
Low to Medium
Saxony
Medium
Plush
Medium to High
Shag
High
Frieze
Varies
Loop Pile Carpet
Made from full loops of fibers to create different styles, patterns, and loop heights
Berber/ Heather/ Tweed
Low
Sissal/ Cord
Low
Level Loop
Low to Medium
Multi-Level Loop
Low to Medium
A Mixture of Cut and Loop
Made from looped and cut fibers
Level Cut and Loop
Low to Medium
Textured Cut and Loop
Low to Medium
How do a cut pile and a loop pile carpet differ from each other? Here is the answer.
FAQs
Feel more confident when choosing low, medium, or high pile carpet yet? If not, the following are frequently asked questions relating to these fiber-length carpets that many people are also concerned about. I hope it helps you.
Final Verdict For The Right Carpet
Personally, I will list my priorities, goals, and lifestyle first. Then I will compare it with the features, qualities, properties, etc., of these types of carpets, analyzing their pros and cons before making any decision.
Everyone has different requirements and demands; therefore, there is no good or bad carpet, particularly when you choose them based on their fibers' height.
Lastly, do you like this post? Please let me know your opinions in the comment section. And do not hesitate to share your own experience with these carpets. I appreciate your support.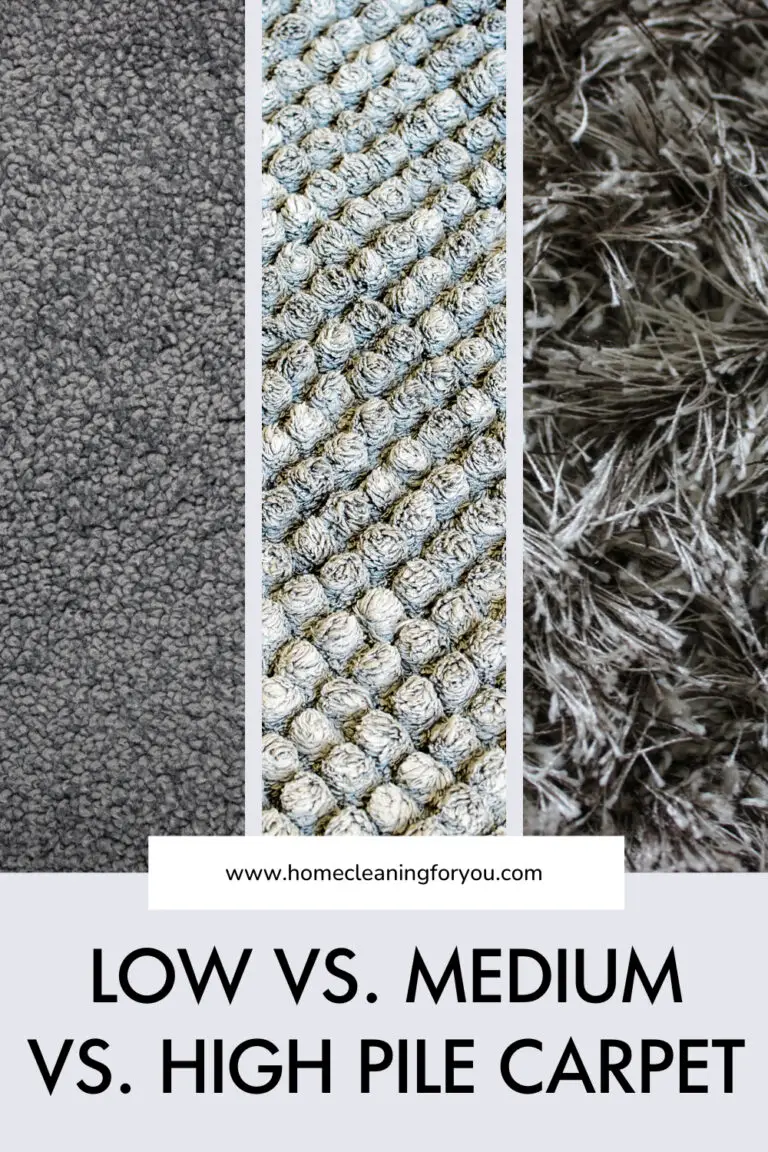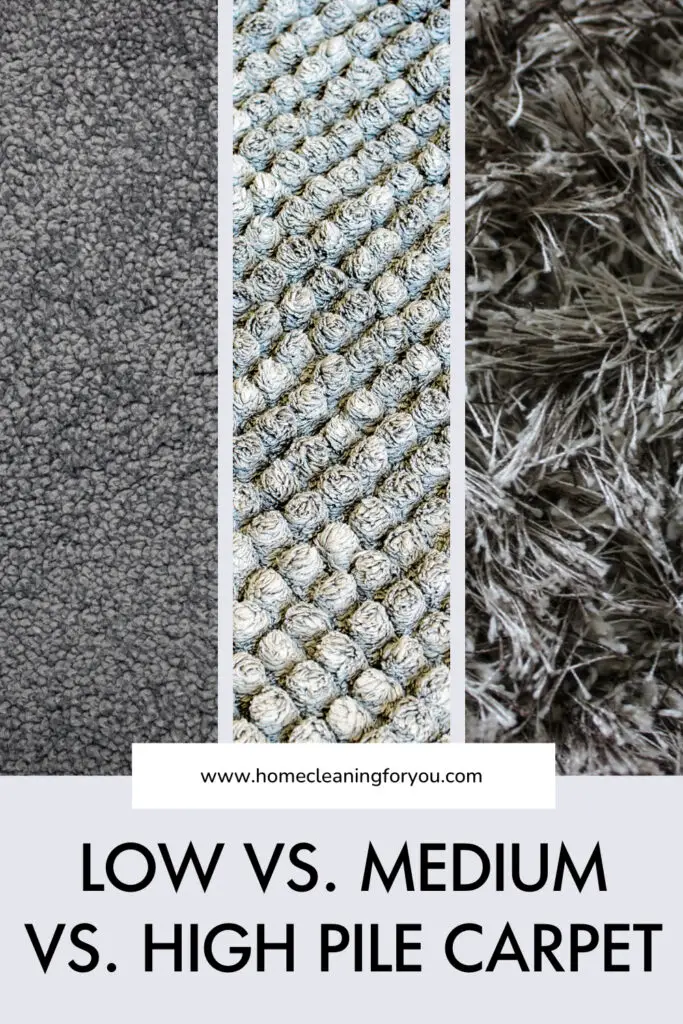 References
En.wikipedia.org. 2021. Pile (Textile) – Wikipedia. [Online]. Available at: <https://en.wikipedia.org/wiki/Pile_(textile)>.
Milašius, R., Dubinskaite, K., and Van Langenhove, L. 2008. 'Influence of Pile Height and Density on the End-Use Properties of Carpets'. Fibers and Textiles in Eastern Europe, vol.16(3), pp.47-50.